Fernando Alonso's attempted intimidation on Kimi Raikkonen at the start, while perfectly legitimate in a racing sense, seemed an unusual choice for a guy with a good points lead with just six races to go, and a car that's not the fastest.
With the Ferrari strangely recalcitrant and the Red Bull dynamite-fast, securing points would have seemed the order of the day - not the sort of no-compromise heroics you need from 11th on the grid mid-season in Valencia. And Alonso is usually very strategic about when he chances his luck.
From the dirty and shaded side of his sixth-position grid slot, his getaway wasn't great. With the fast right-hander of Turn 1 coming up fast, Raikkonen's Lotus was coming level with him to the left. Alonso moved across on it before it got fully alongside, but Raikkonen simply kept his foot in.
A second intimidatory move was no more successful, the Finn's left-rear kicking up the dirt at the track's edge but Kimi still not backing down. Then the Lotus's front-right wing endplate punctured the Ferrari's left-rear tyre, pre-booking Alonso for a lurid ride that left him beached in the run-off area as the pack surged by.
What was the worst compounding thing that could have happened to Alonso's title hopes from there? A Sebastian Vettel victory, of course - and that had looked inevitable since the cars started running on Friday and Red Bull locked into a great Suzuka groove, double DRS and revised front wing working just fine.
Already Vettel was away and gone, untroubled from pole and leaving behind the dust, not just from the Alonso incident but also a separate one through Turn 2. Here, Romain Grosjean again messed up in the opening seconds of a race, so intent on preventing Sergio Perez's Sauber coming around his outside for fourth that he failed to notice the Red Bull of Mark Webber braking in front of him - as it would be with a corner looming.
Alonso's title chances suffered a blow right at the start © XPB
The quick-starting Nico Rosberg could see it all unfolding in front of him and braked the Mercedes hard, only to be collected and spun by Bruno Senna, who had bounced the Williams over a kerb and been unable to brake when in mid-air.
Alonso and Rosberg out, Grosjean, Senna and Webber trailing to the pits for new noses, safety car deployed. In a line behind it were Vettel, Kamui Kobayashi's Sauber (which from the clean side had outaccelerated Webber off the line even before the shunt), Jenson Button's McLaren, Felipe Massa's Ferrari, Raikkonen, Perez, the McLaren of Lewis Hamilton (who had lifted as Alonso spun, leading him to be zapped by Massa), Nico Hulkenberg's Force India, Pastor Maldonado's Williams.
So the structure of what was going to be a fairly simple race was now planted. There was no one to challenge Vettel, his 29-point deficit to Alonso looking near-certain to be reduced to just four. There were get-out-of-jail-free cards for Button and Massa, their poor grid slots instantly neutralised. And it became a two-stop race rather than three for pretty much everyone, the tyres eased past their heaviest loads by circulating at safety-car speeds.
There had been a concern about blistering - of fronts and rears - coming into the race and the shoulder wear of the left-front around these long, high-speed bends defined the stint lengths at around 15 laps (including the qualifying laps) for the soft, 25 for the hard. The soft was substantially quicker, but if you couldn't get the necessary stint length from it you were going to be squeezed onto the slower three-stop strategy.
Vettel's luck just kept getting better, for on the restart at the end of lap two, as he accelerated away between 130R and the chicane, Kobayashi's car was briefly stuck in first gear, obliging everyone else to line up behind. Only after braking for the chicane did the Sauber 'box free itself, by which time Seb was long gone. It would only get better.
"When you dream at night, you dream about being able to race a car like that," he would later say. "The balance was fantastic and I was enjoying every lap." Four laps after the resumption of racing he was 3.5s clear and counting.
Kobayashi, Button and Massa ran behind as a high-speed trio. Raikkonen was not quite able to join them, his aero balance not ideal, with a chunk of his front-wing endplate last seen flying high in the air during the Alonso incident. Also, his soft tyres were six laps old before the race had even begun, for he'd had to start on the set with which he'd set his banker Q3 lap, which was already used even then.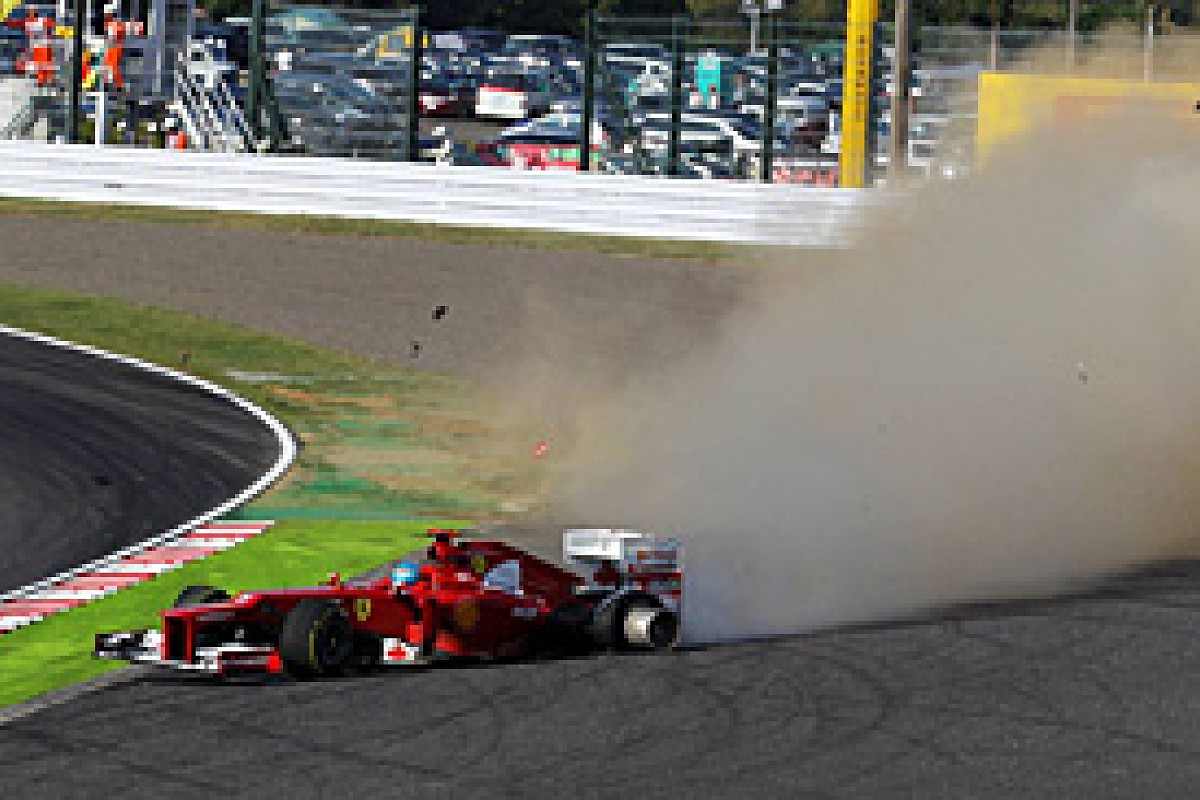 Perez passed Hamilton on track, but failed at the second attempt © XPB
Perez had got within DRS range of Raikkonen down the pit straight on the restart and naively tried hanging on around the Lotus's outside into Turn 1, thinking he might intimidate him into backing off into Turn 2. Predictably, Kimi stayed right where he was and Perez was forced to take to the Tarmac run-off, Hamilton nipping by him for fifth before he could rejoin.
A lap later Perez put an impressive, wheel-locking pass on Hamilton from a long way back into the hairpin - needing a bit of apex kerb to slow him further - to get the place back. Lewis was struggling, his set-up change into qualifying continuing to hurt him, the McLaren reluctant to nose into an apex.
The team's other car was stuck between a strategic rock and a hard place. Following Kobayashi but finding it impossible to pass, Button also had Massa right on his tail and making things difficult for him. With Felipe having not made it to Q3, his tyres had been brand-new when the race had started, and it looked for all the world as though the Ferrari was being held up by Button.
It was therefore going to be tricky for McLaren to try undercutting Kobayashi without then being vulnerable to being passed by Massa. Complicating matters even further was the fact that they were not yet far enough clear of the traffic to have a handy gap to drop into with the first set of tyres coming to the end of their natural life, thanks to the safety car closing the field up.
"We took a gamble by bringing him in a bit early," admitted McLaren boss Martin Whitmarsh of Button's stop at the end of lap 13, "and it didn't really work." The thinking was that, with the tyres beginning to wilt, Kobayashi starting to pull away, and Button looking sure to be jumped by Massa on his newer tyres anyway, they may as well try to undercut Kobayashi. The stop for fresh, hard prime tyres went OK, but he exited behind the yet-to-stop Toro Rosso of Daniel Ricciardo.
Raikkonen pitted on the same lap, his old soft tyres totally out of grip, losing him a big chunk of time. He exited 10s behind Button and continued his struggle with understeer on the fresh, hard rubber. Button thought his race was about to end at this point with the all-too-familiar feeling of the gearbox selecting neutral as he tried to downshift.
"The limiter was doing weird things too when I upshifted," he reported." The rear brakes had got very hot at the stop, and it was suspected that heat from the wheel hubs had played havoc with the sensors - and it was this that was giving the gearbox glitches. After three laps or so the problem would go away, only to briefly reappear after the second stops.
As McLaren had hoped, Sauber responded to Button's stop by bringing in Kobayashi on the next lap. Although his in-lap and stop were slower than Button's, his earlier gap ensured he got out still just ahead, with both of them now stuck at the pace of Ricciardo's old-tyred Toro Rosso for the next few laps.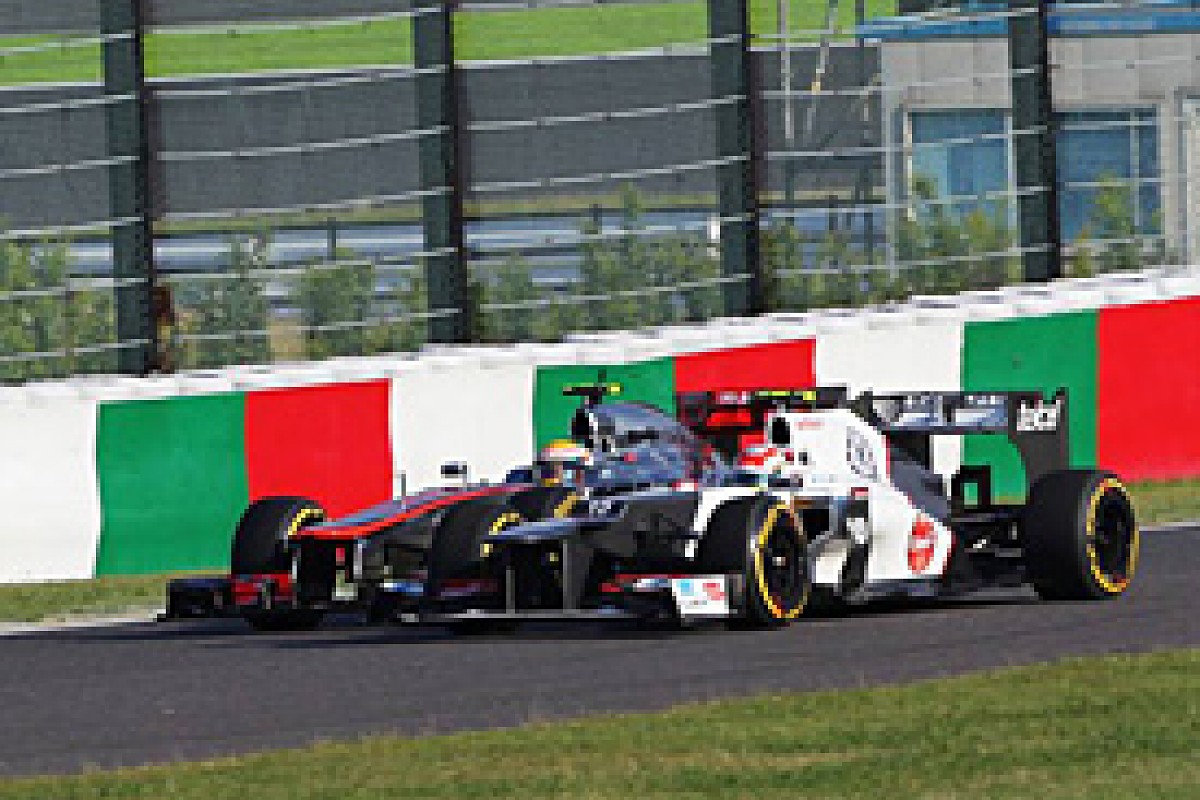 Button lost time behind Ricciardo after his pitstop © XPB
"I've no idea why he was staying out on tyres that were so grip-less," said Button in frustration at being trapped there. Massa, in clear air for the first time, was able to step up the pace, banging in three hard laps that built up enough of a gap that would leapfrog him past both Button and Kobayashi.
Perez pitted from a couple of seconds ahead of Hamilton at the end of the 15th lap, but a ragged in-lap on fronts that were surrendering lost him 3s. When Hamilton responded with his stop on the next lap, he was able to get out back ahead of the Sauber.
Vettel and Massa, separated by 11s, pitted from first and second on the 17th lap. The Ferrari's race pace was more than a match for anyone other than Vettel, suggesting the sort of race that Alonso could have had. Felipe was driving well, locked into a fast groove with none of the familiar desperation. It was almost like watching the driver of 2008.
With the leading group all having made their first stops, Vettel's lead was apparently impregnable. Massa was cutting the odd couple of tenths into it, but it was very clear that Seb had plenty in hand. Kobayashi continued to delight the crowd, just a couple of seconds back from the Ferrari and initially just out of reach of Button. Then it was Raikkonen from Hamilton, Hulkenberg and Maldonado, the Williams being the only car on a second set of softs.
Perez had gone. On the 19th lap he'd pushed hard through the kink of Turn 10, trying to get another run going on Hamilton into the hairpin. Hamilton placed himself defensively in the middle of the track on the exit, leaving Perez arriving too fast on a line to oblivion, crossed up and on the marbles - and from there into the gravel trap. McLaren's new signing had just had his wildest, least-convincing race of the season.
Further back, the compromised Michael Schumacher, who'd started his Mercedes from 23rd, was making good progress through the lower midfield while Mark Webber - who had still been 17s behind the tail of the pack after his pitstop when the safety car came in - was effectively on a one-stop strategy, having switched to primes when his nose assembly was replaced on lap one. There's no regulation saying so, but the safety car does usually wait until the pack is together before coming in, and it made Webber's task yet harder.
Into the second stint Kobayashi had tried hard to hang onto Massa, and would soon suffer for it. The tyres began to wilt after seven laps, the deficit to Massa ballooned from 3s to 8s over the next few laps and Button moved back onto the Sauber's tail, but could still find no way past.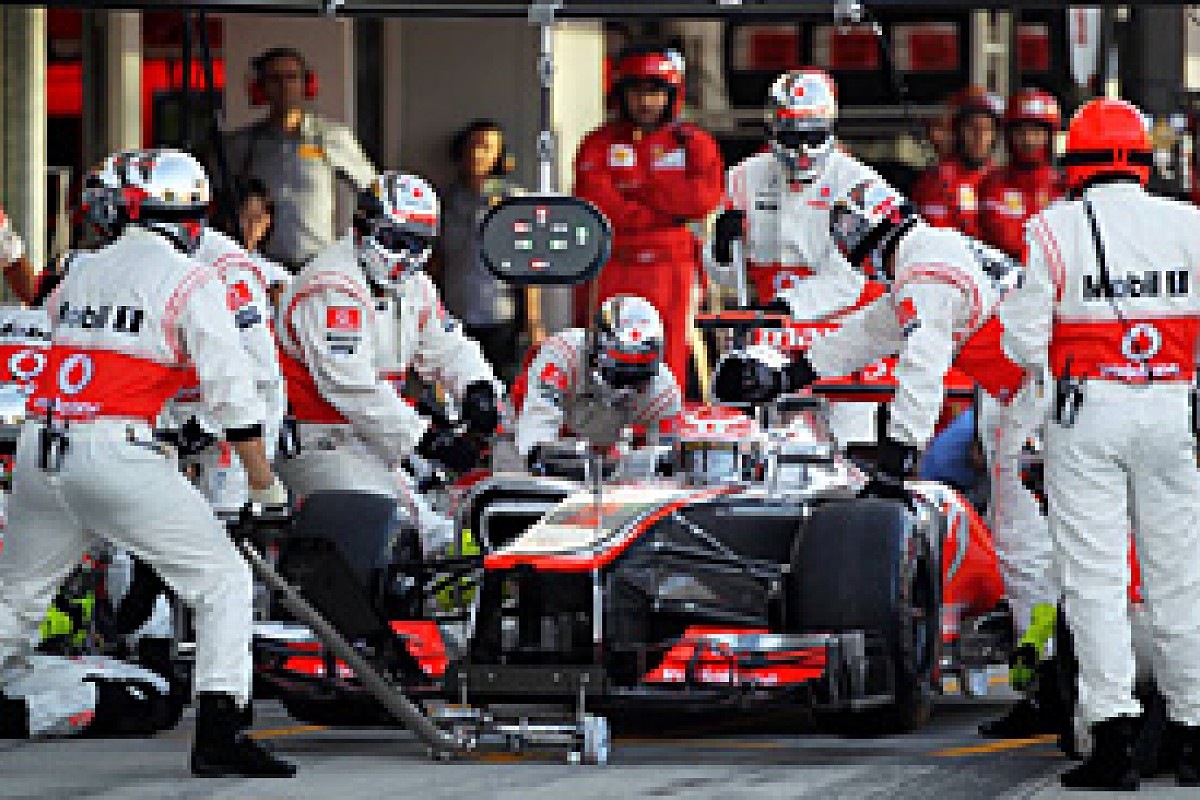 Kobayashi had to work hard to keep Button at bay © LAT
Sauber was now going to have to try a strategic solution to the problems Kobayashi's iffy tyre management had brought, to try to not lose more time in the middle of the race yet not have too long a final stint.
Hamilton and his understeering McLaren initially fell away even from the struggling Raikkonen early in the second stint.
"There was something very, very, very strange going on with my car," reported Hamilton post-race. "The amazing understeer I had through qualifying was still there at first, and with the set-up we had it should never have been understeering that much. Then in the second stint coming through [Spoon] I felt a big thud from the rear. Suddenly it was like something was released from the car and all of a sudden it could turn. I then had a really good balance and was able to catch Kimi quite quickly. I've never experienced anything like that before."
A look at the lap times certainly backs up Hamilton's feelings: the thud came on lap 24, prior to which he'd been lapping in the mid-1m40s, around 1s slower than his team-mate. Thereafter he was in the low-1m39s. It really was a sudden night-and-day difference.

As Hamilton's pace improved, so Hulkenberg fell away and his focus shifted to Maldonado behind. The Williams had been set up very much with tyre preservation in mind, this partly explaining its qualifying shortfall. The idea was to enable an option/option/prime combination rather than the more commonplace and safer option/prime/prime.
The option was a faster tyre and Williams was trying to be on it longer without falling into a three-stop strategy, and for the first 10 laps of the second stint Pastor had shown great discipline as he drove 4s or so behind the Force India, but to a delta time. When let off the leash on the 28th lap, he found a whole second, as fast as Vettel was going at the time (on the hard tyres).
With Hamilton gaining fast, Lotus brought Raikkonen in for his second stop on the 30th lap, before it was too late. He was stationary for around 4s. "Although we hadn't intended to stop this early," said Whitmarsh, "we realised that if we could do a 2.5s stop on the next lap, then we'd get out ahead. That puts a lot of pressure on the crew, but they did it - and it enabled Lewis to get out just in front."
As they went through Turn 1, with Raikkonen on the outside but with more momentum, it looked like Kimi had done enough to retain the place. But as he hung on there, wheel-to-wheel, so Hamilton was able to just squeak ahead into Turn 2. "Kimi's a fantastic driver," said Lewis, "totally clean yet very hard, and I knew I could race like that with him."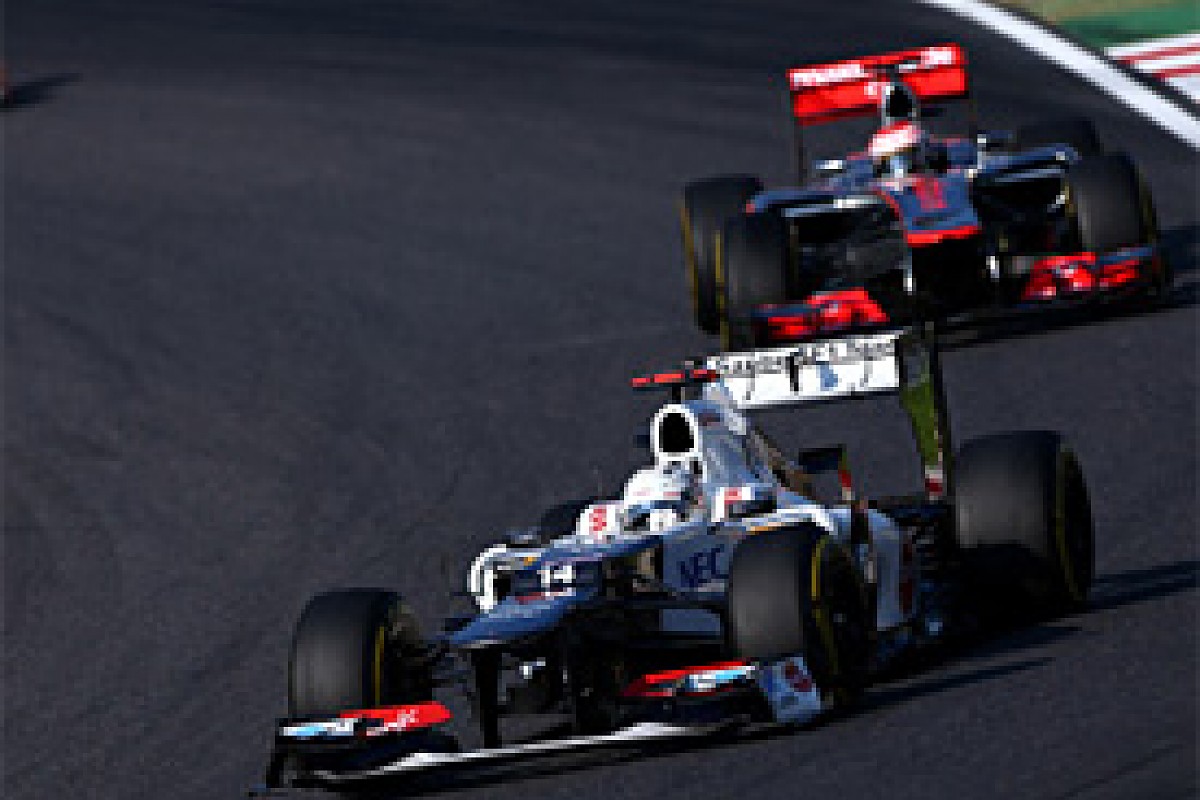 Hulkenberg drove a strong race to seventh from 15th © XPB
A few seconds back Force India found itself in a similar position to Lotus. With the Williams gaining quickly, Hulkenberg was brought in for his second stop before it was too late. Maldonado ran another three laps before the tyres finally began to wilt and he was brought in, exiting only just behind. "Unfortunately a lot of our speed was in sector one, where you can't pass," observed the team's Mark Gillan, "and not in sector three, where you can."
Meanwhile, Vettel continued serenely out front. So serene, in fact, that he found himself having to focus. "I was trying not to drop too much time," he recalled, "because with the sun coming down quite low and a couple of tricky corners, especially Degner 2 and the entry to Spoon, it's easy to get carried away and think about the corner after the present corner.
"You start to lose focus and do a little mistake. I tried to stay in the moment and until the end it was fantastic, because I had the car where I could control the race and push as hard as I wanted and take care of the tyres."
Kobayashi pitted from third on the 31st lap from a couple of seconds ahead of Button. Jenson stayed out for a few more laps, losing a few tenths each lap to the new tyres of the Sauber, but planning to attack on fresher tyres into the last few laps. He finally came in on the 35th lap, losing himself a bit of time by overshooting his marks, but quickly closing down the Sauber as he came back out, giving the crowd an anxious time. Was the home hero going to be denied a podium at the end?
Massa and Vettel were in for the last time on laps 36 and 37 respectively, the Red Bull now around 18s in front and still edging away. Kobayashi was back to within 4s of the Ferrari, with Button closing him down a few tenths at a time. The laps were running out and Button badly needed to get himself within 1s at the DRS-detection point just after the chicane. "But every time I tried to do this I'd just lock the front brakes," he explained. "He was really managing his tyres well in that final stint and I couldn't quite find a way through."
It was only as he began the final lap without Button in the DRS zone behind him that Kobayashi, his Sauber now oversteering heavily, finally believed he was going to be on the podium for his home race.
The relief of his team on the pit wall was plain to see, but perhaps even more relieved was Vettel's race engineer 'Rocky' Rocquelin as Vettel completed the last lap fairly conservatively, having pumped in a stunning 1m35.774s on the penultimate time around, the alarm on the radio no doubt causing some amusement in the cockpit. But perhaps the most relieved man in the whole place was Massa, a podium at a critical time.
Hamilton's curious slow/fast race netted him fifth place, 20s behind his team-mate, with Raikkonen, Hulkenberg, Maldonado and Webber next before a quick and tenacious Ricciardo, fending off serious late pressure from Schumacher for the final point.
As Vettel recalled his tale of low sun, focus and dream-like car, Alonso was long gone. There's a lot still to play out but the title fight has just turned. Will this go down as the Alonso equivalent of Webber's 2010 Korea?