In a sport (business?) continuously blighted by controversy, one issue has bubbled under longer than most - since late 2008, in fact, when former FIA president Max Mosley first touched on the subject of eco-friendliness in Formula 1.
KERS was the first step; the next, fully integrated 1600cc four-cylinder hybrid units, scheduled for 2013 and timed to coincide with a revamped Concorde Agreement, the covenant which sets out the obligations of the governing body, commercial rights holder and teams.

At the end of 2009 Mosley was ushered out of FIA office. Then, in typical F1 fashion, the players bickered and vacillated long and hard enough to ensure the four-pot engines could not be introduced as planned - two years' notice is required in the event of major rule changes. Thus they are scheduled to make their competition appearances a year later, in V6 form...
However, for over a year now, race promoters have raised objections to said engines on the basis of (lack of) aural qualities, fearing spectators will stay away in droves.
Maybe they will - yet the same promoters doggedly cling to out-dated business models which require fans to shell out 400 quid for a single grandstand seat from which to view/hear antiquated, rev-limited V8s. If anything keeps fans away it's those prices...
Post-Singapore, F1 tsar Bernie Ecclestone again voiced his opposition to the new engine formula, suggesting it was mainly the fault of his friend of 30 years Max Mosley - thereby neatly granting current incumbent Jean Todt, a known advocate of the technology and the man who forced through the regulations in the face of stiff opposition, an out should he wish to about-turn.
"I listened to the noise of the engines in Maranello the other day, the new engine and the old engine, and even [Ferrari president] Luca di Montezemolo said it sounded terrible and didn't like it," Ecclestone reportedly said last week.
"I think it is sensible to get rid of [them] and stick with what we've got. It is much cheaper than new ones. It probably could be 30 per cent of the price," he added.
Renault Sport's managing director Jean-Francois Caubet © XPB
"I blame the FIA for this stupid engine formula. It really wasn't [Jean] Todt's fault, Max Mosley started the engine [issue], then he got carried away..."
Independent teams, too, have voiced concerns over the cost of the engines, which could come in at up to 300 per cent over the current, heavily subsidised units. Where they now pay around £6-8 million in terms of a FOTA-struck deal, they could soon face bills of up to £20m for an annual two-car supply - which, in these straitened times, can only impact enormously on the budgets of back-of-the-gridders.
Ferrari has also blown hot and cold over the engines, having pushed - with Mercedes - for a change of architecture on the basis that the four-cylinder units have little or no high-end production car relevance, whereas V6s do (just). However, during his September visit to Monza, di Montezemolo again questioned the rationale behind F1's eco quest.
That said the world has become increasingly 'green', with quirky terms such as hybriddrive, bluemotion, efficientdynamics, ecoflex and skyactiv proliferating during the recent Paris (and other) motor salons.
Simply put, every responsible car company - including, of course, current F1 engine suppliers Ferrari, Mercedes and Renault - has of late developed products that go farther and are greener and cleaner than ever before.
But, fans fed on diets of 18,500rpm and 750 raw horsepower may dread the 2014 season-opener, particularly as a 'silent' pitlane - cars will be required to cruise through on electrical power only - is still very much on the agenda.
Thus F1 faces its age-old conundrum: sporting spectacle versus road car relevance with commercial reality throwing a further spanner in the works. Seldom, if ever, the twain shall meet...
More affected than the other two is Renault, for the French company no longer owns a team, having sold its chassis operation, now known as Lotus, to Genii Capital, and is present in F1 solely as engine supplier with the stated intention of using the sport as marketing pedestal for its products. Thus a direct link between track and road is crucial to the company's continued grid presence.
In Singapore, during the FIA's Friday press conference, Grapevine questioned Jean-Francois Caubet, managing director of Renault Sport - therefore the man directly responsible for the company's F1 programme - about its involvement.
"I think the V6 will be on the track for all the teams in two years," says Caubet. "I think Mercedes, Ferrari and us are all changing our dynos from V8s to V6s so now it's impossible to make a change. For the teams, the strategy is to keep four teams and I don't know if it's possible to do more. I think that if you want to have good reliability and good performance you need to keep four teams, but if there will be a need for more, we don't want to close the door."
During the free engine era - when 'grenade' units blew after a single qualifying lap and engines were expected to last no longer than a grand prix distance before detonating - Renault's Viry-Chatillon facility in the south of Paris built around 400 units per year.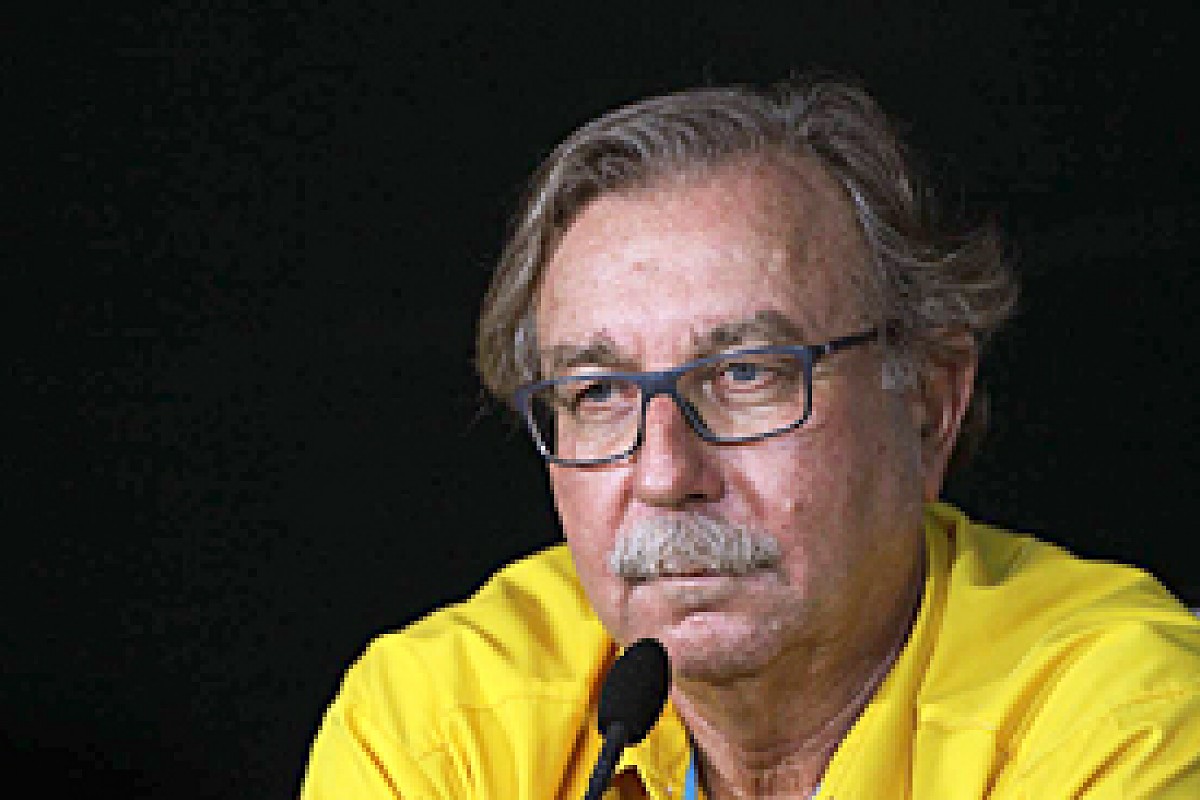 Renault doesn't run a team anymore but it retains close ties with the one it did © XPB
With the 2014 regulations demanding that drivers use no more than five engines per season without penalty, Renault could currently power the entire F1 grid, plus hold sufficient stock for testing and simulations and race at Le Mans under the proposed unified regulations.
So how may teams does Renault plan to supply?
"Two things," says Caubet. "First of all, the best solution for Renault is to provide four, because we are spending time with Lotus and Red Bull on exhaust and plumbing. Even if the engine is the same you have specific development. So, if you have two top teams, big teams, it's quite easy. If you have more, it's more difficult, but one or two more we can accept."
As later transpires, current teams Williams and Caterham are the favoured duo, with no other mid-gridders being obvious candidates for contractual/financial reasons.
Going beyond the four would skew Renault's cost/benefit ratio, for, as Caubet says, "At the back of the grid you have two problems: first of all you must have a small return in terms of image, because the cost of the engine is [the same] and you're setting pricing levels. The difference is a subsidy from Renault for advertising, marketing, image and so on. If you're providing the back of the grid, you have no return."
Caubet says a series of meetings have been held with both the FIA and Ecclestone over engine pricing, with dialogue between the three engine suppliers continuing. But, one of the issues Renault faces since selling its team is that the company no longer has a voice at Concorde level despite spending upwards of €130m (£100m) on its F1 programme - as much as Marussia and HRT combined.
"For the money, we don't have a voice," he says. "And I think that we're spending more than a lot of teams..." adding that he does not believe Cosworth - despite its protestations - nor Craig Pollock's stillborn PURE operation will supply 2014-specification engines, meaning the manufacturer trio will need to service four teams each.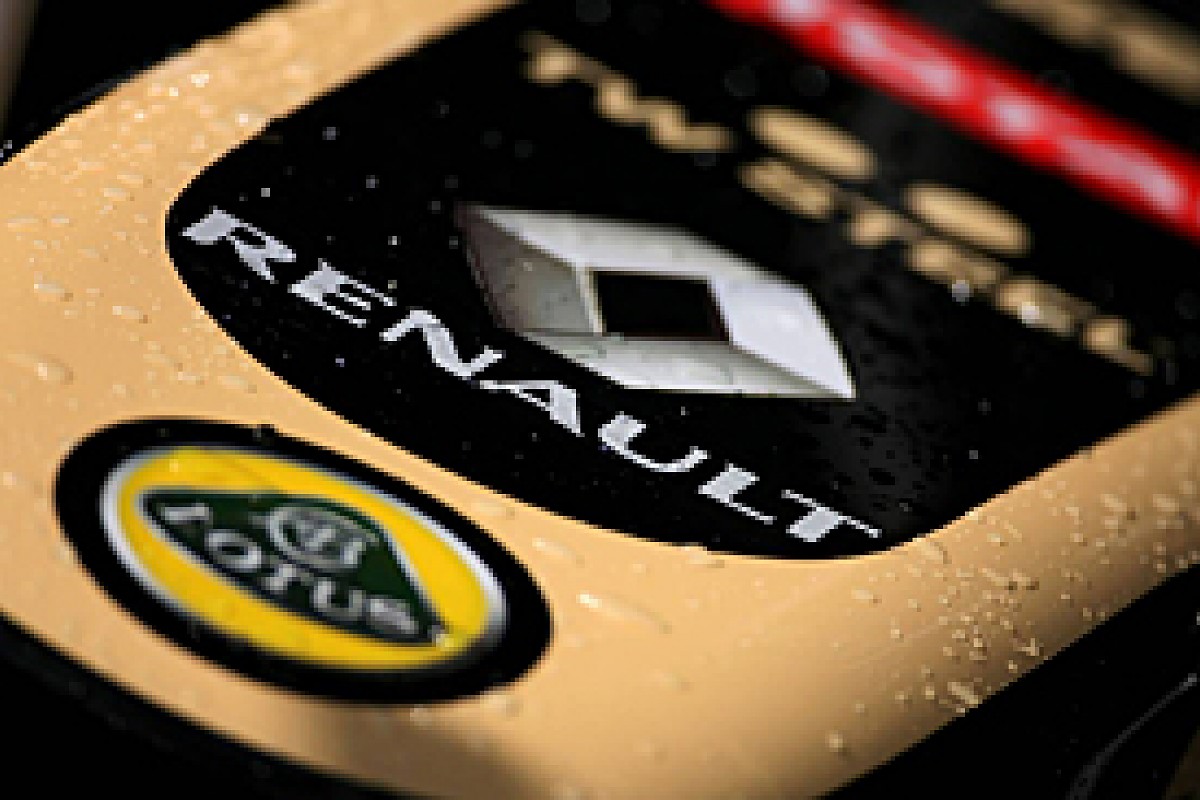 Bernie Ecclestone is not a fan of the new V6 formula © XPB
"I respect Cosworth, they've been in Formula 1 for a long time, but today, to tell the truth, it's only Mercedes, Ferrari [and us], and I know why: because the entry ticket is so high that you must have the finances, and the level of technical expertise is exceptional on electronics, and even if you have the knowhow, you must work with a partner.
"Probably I think Mercedes will try to do four [teams] and Ferrari four. That is the reality."
Caubet does, though, believe two or more newcomers could join the fray once homologation details are sorted, ie a year or two into the formula.
"I don't know if Porsche, Audi, Hyundai, Honda may come in. They need two years to understand what we are doing. But we are a little bit worried, because after two years, with a lot of extra expertise they can arrive and then..."
However, the first indication that a newcomer wishes to enter the sport in whatever capacity is invariably staff movement, and Caubet is adamant that Renault - and, to the best of his knowledge, the other two - have not lost heads to a potential engine supplier.
He does concede, though, that pricing could pose a problem. "I think [if you ask] you will have no answer from Mercedes, Ferrari and Renault on the pricing," he says, adding that stability could reduce costs substantially.
To this end Renault has proposed a six- or even seven-year engine shelf life, enabling manufacturers to amortise development costs, which are likely to exceed $100m (£70m) per supplier by the time units are race-ready, over that period.
"We are clear: to have a good price on the '14 engine you must amortise. It's not a commitment, but on paper I think we are thinking to build a price for '14 to '20. And we ask also for no change in the regulation. We need to be part of the game, [have a] voice in Formula 1, and we are ready to have a seven-year commitment...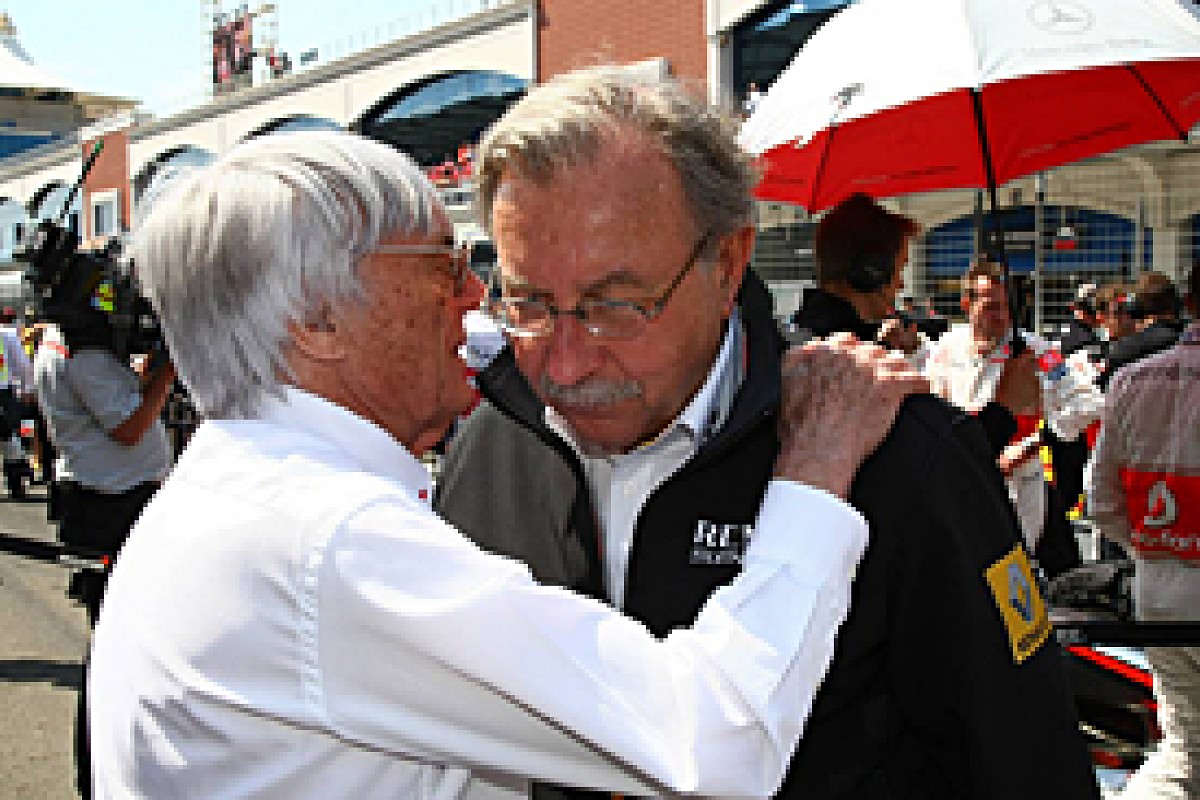 Caterham's tie-up with Renault could lead to Alpine extension in the future © XPB
"Remember the amortisation of the V8 is finished. One day FOTA agreed the price is €8.5 million [for the V8s], but today Ferrari, Mercedes and Renault don't want to lose too much money on the [new, costlier] engine.
"So the philosophy is to have a price that will decline over seven years; the same regulation, or if we change everybody charges. Because to win two horsepower you must spend more, so we need stability."
Accountants don't understand why frozen technology costs more, he says.
Renault's F1 objectives are clear: "The key point for Renault was the new engine [to have] road car relevance, [and a] partnership with a team who win - Red Bull, Lotus, but not the back of the grid - and a stable budget. It was not the case with the team: with a team you finish seventh and you lose budget, so the budget is totally unpredictable. So we are quite comfortable to have a long-term [engine] strategy."
One gets the distinct feeling that no road car relevance equals no Renault F1 programme...
Although Renault is currently at a disadvantage by not being a Concorde signatory, it is able to turn its independence into a positive by cutting side deals with teams in order to indirectly subsidise engine costs.
Thus Red Bull's blue cars are bedecked with Infiniti branding, made possibly via the strategic alliance between Renault and Nissan which owns the luxury marque. Add in Total support, and Red Bull effectively gets power FOC - and is likely to benefit thus under the 2014 regulations.
At Lotus, Renault has an interest in its former team through Romain Grosjean - a Renault-supported deal that sees the Frenchman race with obvious Total support, which in turn flows to the team.
So much for the big guns, but what about Williams and Caterham? Here it gets interesting, for Caubet hints at programmes with Williams and Caterham that illustrate just how both team and engine supplier can benefit through imaginative co-operative ventures.
In the '90s a limited edition Clio Williams was the hot hatch to have, and a replacement has been mooted, with profits likely to be offset against engine costs, while Caterham's road car products such as the Seven could well be Renault-powered in future.
But, there's more: Renault plans to resurrect its Alpine sports car range, and rumours suggest the sleek composite coupe will be built at Caterham's (ex-TWR) Leafield facility.
F1 currently has three engine suppliers with advanced 2014 programmes, two of which have long-term commitments to the sport after Ferrari and Mercedes signed up to eight-year deals, as offered by Ecclestone to take them through to 2020.
The third, namely Renault, seeks very little save for rule stability and road car relevance in return for investing $1bn over the next seven-odd years.
Tamper with the rules, and F1 is likely to be left with just two...