We'll certainly soon find out more about the ultimate potential of Nico Rosberg. If he can match and better Lewis Hamilton in the way he did Michael Schumacher, we'll know he's damned quick.
Few expect to see that, but then few thought he'd put it across Michael.
The intriguing question now, is what happens at Ferrari. The vibe in Singapore was that Felipe Massa was increasingly likely to hold onto his seat, with Fernando Alonso making supportive noises.
Personally, though, I don't see it. Massa's performances relative to Alonso for the past two seasons have meant that Ferrari has not been in contention for the constructors' championship.
And there are those who don't accept that Massa is the same driver he was before his accident at the Hungaroring in 2009, when a spring flew off Rubens Barrichello's Brawn and penetrated his crash helmet.
Head injuries are unpredictable and may impact on performance without it being obvious to the injured party. Medically he's fine, but is he? Is his focus and concentration the same?
On top of that, Massa has now occupied a Ferrari seat for seven consecutive seasons, from 2006 onwards. To keep the line-up the same again would be... well, uninspiring.
The Ferrari situation is complicated because rumours of a Sebastian Vettel option for 2014 refuse to go away. For months, Christian Horner has said he doesn't believe it exists and that he thinks he would probably know if it did.
But then again, McLaren left Singapore saying it was 85-90 per cent sure it would resolve the Hamilton situation. Within a week he was gone.
Is Massa really the same driver he was in 2008? © LAT
It's interesting that in the last couple of days Bernie Ecclestone has again been making noises about binning the switch to V6 turbos in 2014. Bernie has long thought it a mistake, something I concurred with in this column a couple of weeks ago.
If that happened, it is believed that Renault might walk. Supposing it did, and that F1 continued with the existing 2.4-litre V8s, suddenly you'd have four teams (Red Bull, Lotus, Williams and Caterham) without engines.
Whenever manufacturers have pulled out in the past (such as Renault itself), a stock of engines has obviously still been available.
Some entrepreneurial soul like Flavio Briatore then gets hold of them cheap and makes some dough, with the engines known as Mecachromes or Supertecs or whatever.
That would no doubt happen once again and we'd carry on relatively unchanged, but customer supply deals aren't the same as works contracts and not the sort of thing a frontrunning team/driver like Red Bull/Vettel would want.
And so if you were Vettel, and you were shrewd, which he undoubtedly is without even considering his closeness to Bernie, wouldn't it be a good idea to sign a 2014 option with a team you knew for sure would have a decent engine?
A Ferrari option makes a pretty damned fine insurance policy.
The surprising thing is that Alonso didn't scream blue murder. Well, who knows, maybe he did. Imagine those two in the same Ferrari team!
But Fernando is apparently entirely sanguine about whoever is in the second red car - provided he isn't called Lewis Hamilton.
Perhaps the reasoning was explained to Alonso, and when he considered the way the political climate was moving on engines - everyone beavering away with V6 turbos on dynos - he shrugged and thought it all pretty unlikely anyway.
But in the meantime, if you're Ferrari and you're trying to sign a Massa replacement for 2013, you've got a bit of a problem if the only concrete contract you can offer him is a single-year deal.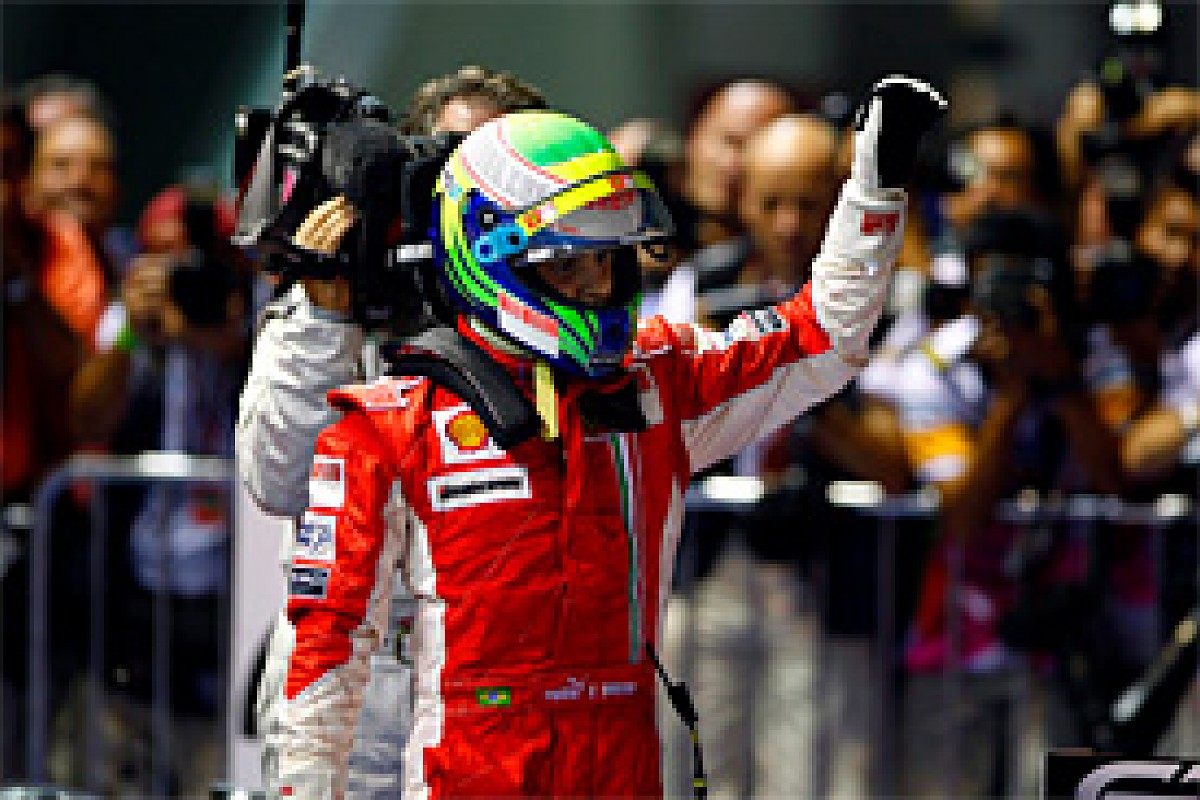 Hulkenberg would be a good fit for Ferrari © LAT
That, I gather, was a stumbling block when Paul di Resta was understood to be talking to Maranello earlier in the year.
It may also have been what dissuaded Mark Webber. Drive a Ferrari for a year and then stand aside for Seb? No thanks, mate.
But Webber, you have to remember, would have been giving away a Red Bull.
Now put yourself in Nico Hulkenberg's shoes. You've an impeccable record: Formula BMW champion, F3 Euro Series champion in 2008, GP2 champion in 2009.
You get your seat in F1 with Williams for 2010, do a solid job alongside Rubens Barrichello and even pinch a fine wet-weather pole at Interlagos - and then you're out.
Along comes Pastor Maldonado, himself a GP2 champ but with squillions of PDVSA dollars, and hey presto, you're a Force India test driver.
That was Hulkenberg's lot for 2011, and while it was better than nothing, it did not reflect his career momentum thus far.
How frustrating it must have been for him to drive the Force India on Friday morning and then spend the rest of the meeting watching Adrian Sutil and di Resta.
Hulkenberg was back in a full race seat again this year, at Sutil's expense, and everyone looked forward to the confrontation with di Resta, both drivers seen as coming-men.
It's been nip and tuck. Going to Singapore, di Resta had 32 points to Hulkenberg's 31. Nico had the team's best result, a fourth at Spa, but Paul's fine drive at Marina Bay equalled that and moved him 13 points clear.
Here's one of those situations where each one of them might be merely good, but they could both be exceptional. It's hard to know.
But whichever way you look at it, Hulkenberg, now 25 and with a second full season of F1 under his belt, will consider that his time is now.
Giving up a Force India by taking a Ferrari deal with no guarantee beyond a year would surely be a gamble that Hulkenberg would take.
You never know, he may be able to secure a 'placement' elsewhere if Vettel does move - at Sauber, perhaps?
I'm sure Hulkenberg would fancy himself to pedal Maranello's second car substantially quicker than Massa is currently managing.
And Ferrari might just secure itself a surprise package and a very potent line-up. If it hasn't happened already, I think it will.