The Singapore Grand Prix had some exciting moments, but in the end we were robbed of a much better race. Had Lewis Hamilton not retired, we might have seen a fascinating contest unfold between the McLaren driver and winner Sebastian Vettel.
The double whammy was the safety car period that cost Jenson Button any chance he had of beating Vettel in a strategic fight, the eventual runner-up having laid the ground-work with his strong first stint.
Perhaps the most surprising statistic of the weekend is that Singapore was only the second victory of the season for Vettel, whereas at this stage last year he had logged nine wins and was a whisker away from securing his second world championship.
However, it's worth noting too that in 2010 he had won only two of the first 14 races, and yet a late surge of three wins in the remaining five events helped him reel in Fernando Alonso and steal the title at the last minute. If anything, the task he was set then was a lot more difficult than the one he faces now.
"Sebastian was 25 points behind with two races to go that year," Christian Horner recalled after the Singapore race. "So it demonstrates that anything's possible for any of the drivers.
"We've had bad luck on occasion here, and we've had some very strong races. We're working hard to still develop the car at each of the remaining races, and we'll just keep pushing.
"We need to keep taking points off Fernando, which ideally means keeping a few more cars between us and him."
Vettel scored his second win of the season, finally © LAT
After a couple of testing weekends at Spa and Monza, Vettel came out fighting in Singapore, topping all three practice sessions. The transition to the street circuit, and more importantly perhaps to the soft and supersoft tyres, clearly suited the RB8.
However, when it really mattered in Q3 he fell a little short, losing out not only to Lewis Hamilton but also, to general amazement, to Pastor Maldonado. The team struggled to work out exactly why.
"I'd love to be able to give you an explanation for that," said Horner. "But I'm not going to try to bullshit you because we have no idea!
"For some reason the grip didn't feel there particularly on that last run, and we need to go away and analyse everything and try to understand that."
Significantly, Vettel had to start the race on that very same set of tyres, so there were some concerns as to how that first stint would pan out.
Meanwhile, after securing pole with his first run, Hamilton had brushed the wall on his second. The car was fully checked out, however, and the team had no concerns that there was any hidden damage to the gearbox or anything else.
"I think if you looked at [Bruno] Senna and a few others, they bounced off quite heavily," said Martin Whitmarsh. "The wheel had probably two or three centimetres of scuff marks on it, and wasn't damaged.
"The engineers performed NDT [non-destructive testing] all over the suspension. Interestingly enough they hadn't even looked at the track and camber, and in fact they did in the end because I asked them too!
"But they were absolutely content that it was a very light brush and not one that was going to create any damage."
McLaren's principal race engineer Phil Prew agreed that the impact wasn't as serious as TV might have suggested: "We inspected the car very carefully. It was interesting the tyre which touched the wall had some paint on it, but on the wheel itself there was only maybe 100mm where it had actually contacted, and considering that the wheel is rotating at 1000rpm or so it was very, very light. There was really no damage."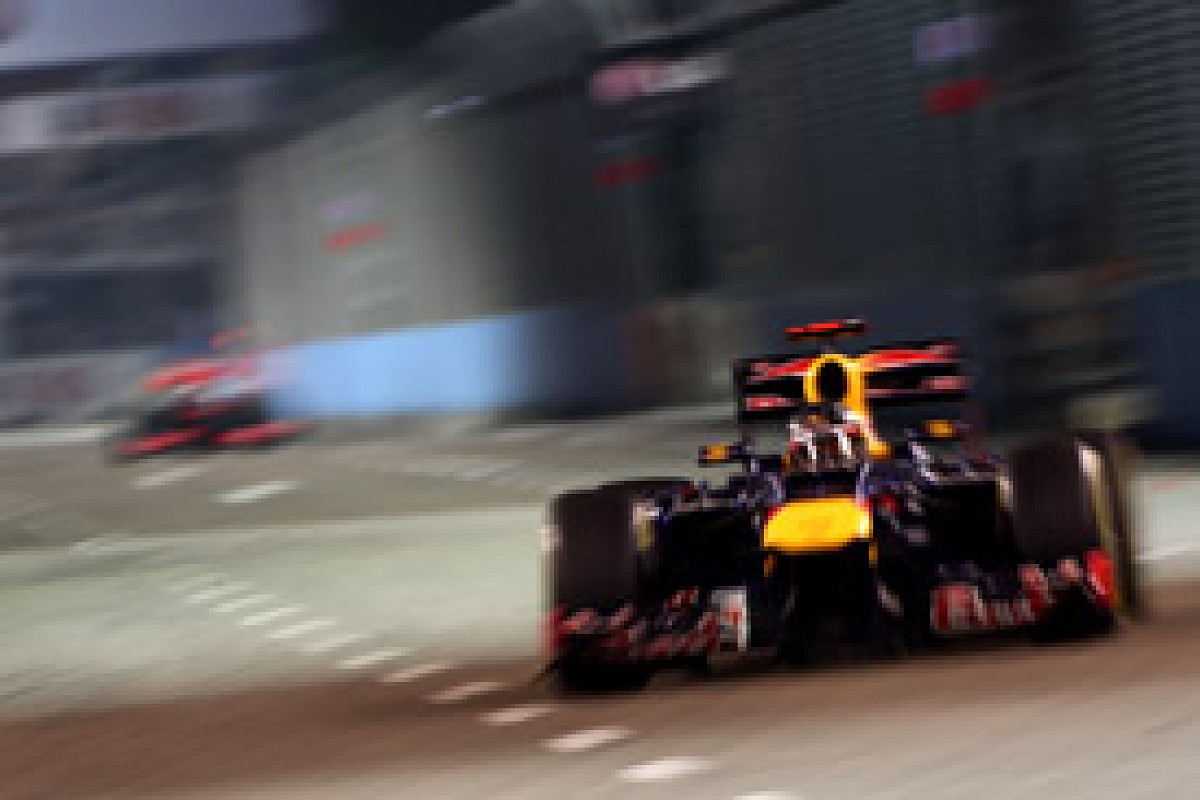 Hamilton was out of reach in qualifying © LAT
The big question mark for everyone heading into the race was how the supersoft tyres would perform, and whether the length of the first stint would translate into a two or three-stop strategy.
McLaren was definitely aiming for two, although Horner says that Red Bull was more open-minded. In fact, RBR was right to be cautious.
Crucially, Vettel got ahead of Maldonado at the start and slotted between Hamilton and Button, who had also passed the Williams. The opening stint was all about tyre management as the three frontrunners ran around a few seconds apart, basically doing their own thing.
"Good pace in the first stint from Lewis," said McLaren's Sam Michael. "He was obviously pushing on pretty hard. JB was conserving his tyres, and then he came back towards the end of the first stint."
For Red Bull the first signs of difficulty came when Mark Webber charged into the pits as early as lap 8, his supersofts having come to the end of their life. He was then committed to a three-stopper.
Meanwhile, Vettel had not been at all happy on his supersofts and came in two laps later. It was good news for McLaren as it put the ball in its court - the team could now react with not just one but both drivers by going as far as possible into the race before making that first change.
In Hamilton's case that proved to be just two more laps, the team pulling him in after he reported a strange feeling at the right-rear.
"We were running to the end of the tyre life," said Prew. "So we didn't know exactly where we'd go to. This track evolves all the way through the weekend, so it wasn't clear even from our running on Friday exactly where we'd get to.
"I think Lewis had in the back of his mind that he'd brushed the wall, and I think that's probably what led to that comment. When we got that set of tyres off they were worn out - it was just a tyre thing."
"It was just tyre deg," Michael confirmed. "We looked at the tyres but there was nothing wrong with them. We thought he maybe had a puncture or something was wrong, but we didn't find anything.
"It definitely influenced the first stop, but it wasn't penalising because he still stayed at the front."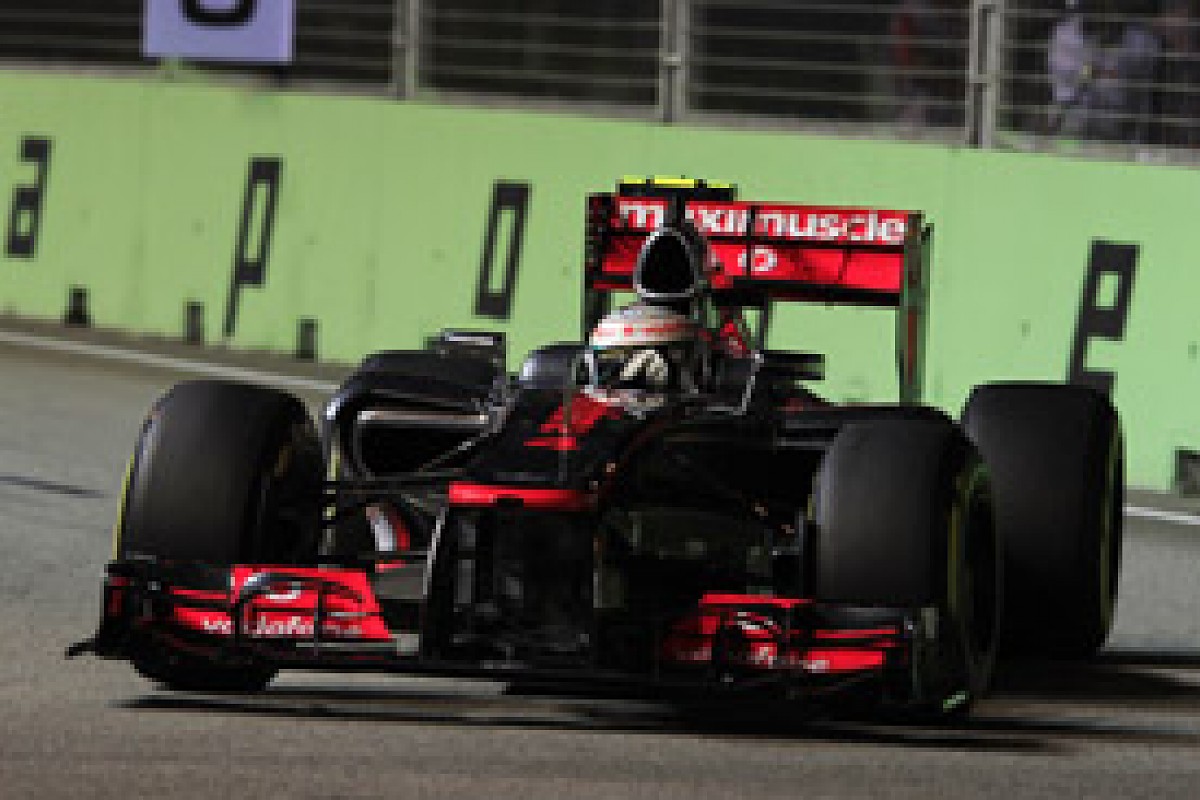 Button pushed Vettel hard © LAT
Button, meanwhile, had picked up his pace and yet still managed to stretch the first stint out to 14 laps, four more than Vettel.
"I know Jenson was concerned about the supersoft after his experiences on Friday," said Prew. "So it was really positive stint. I think he managed his pace carefully and towards the stops his pace was strong, very consistent, and he didn't seem to see the degradation at the end that some of the other drivers saw."
Those four extra laps on Vettel created a not insignificant advantage, one that Button could put in his pocket and hope to use later in the race.
"If there were no safety cars by the end of the race that tyre age would be critical," said Michael. "So to have four laps on Vettel was a lot. At the end of the first stint Vettel's tyres just went bang, it was one lap...
"I thought we were in really good shape, but then we pitted a bit earlier with Lewis, because he complained about the rear, and we thought maybe his tyres were about to go as well."
"We were hoping to do a two-stop race, which we were in line to do with both of our drivers," said Prew. "We had a few more laps on the first stint than some of the others, so I think it would have been more challenging for them.
"That's what we were aiming to do and that's how we were driving, to some extent - to make sure we could complete that two-stop strategy. With Vettel stopping early we thought that was our best chance of winning the race."
The second stints were again a case of cat and mouse, with Hamilton staying safely clear but Vettel feeling a lot happier with the softs than the supersofts.
The focus was entirely on how long the prime would last, which would dictate who would be able to make a two-stopper play out successfully. Both teams remained confident.
"In the second stint we had it under control," said Prew. "I suspect all the drivers were driving to preserve the tyres. With the soft rubber and the high temperatures it was a challenging race for tyre management."
"From our perspective it was shaping up quite nicely," Horner insisted. "On the soft tyre Sebastian looked a lot more comfortable than he'd done on the supersoft.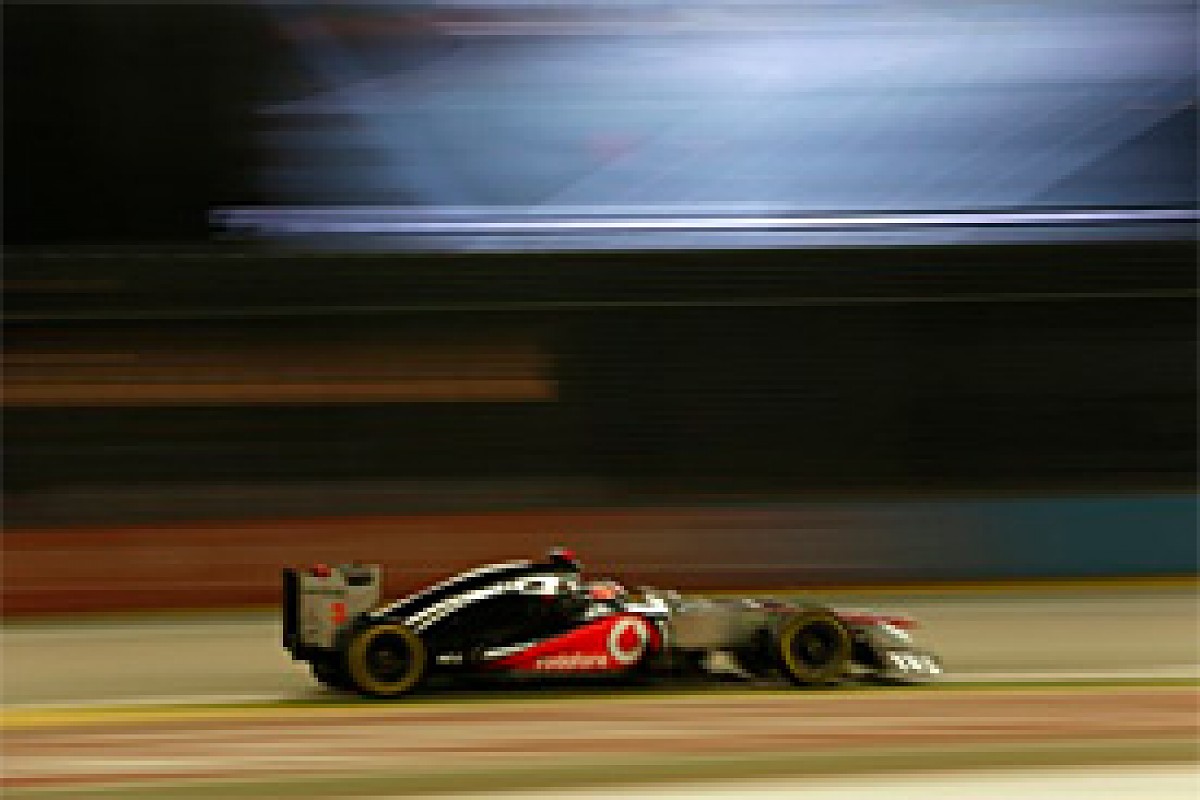 Hamilton controlled the race from the start © LAT
"At that stage of the race it wasn't clear whether it would be a two or a three-stop - we were considering both options."
"We were still planning to do two stops with Lewis," said Michael. "With the way the laps are here you don't have to make that call until lap 27-28. If around then the prime was looking OK, we would have just stayed with it and tried to do a two."
The team didn't have to make that decision, at least with Hamilton. On lap 23 he coasted to a halt, the frustrated victim of a gearbox failure.
"We saw temperatures rise, we saw pressures increase, and a few other phenomena," said Whitmarsh. "Painfully we could see it coming for a few laps."
"Everything was going well," said Prew. "And then we saw some signs on the data to suggest that the gearbox wasn't well - maybe five laps before it finally failed.
"The imminent demise was maybe half a lap. It crossed the line and then it failed in Turn 5, and we saw at that point we were losing gearbox oil. It was only the [gearbox's] second race - it was new at Monza."
"We started seeing some issues a few laps before," said Michael. "We've seen things like that before; sometimes it can last all race and sometimes it doesn't. We had a pretty clear warning."
Inevitably there was speculation that the failure was related to the qualifying incident - encouraged by Hamilton's engineer saying: "We did everything we could yesterday" - but that turned out to be an innocent reference to getting pole rather than to any pre-race worries about gearbox damage.
"We had no concerns about the gearbox. We did all the checks and we were fine," Prew insists. "At this stage there's no indication that it had anything to do with that."
McLaren could at least turn its focus to Button. With Hamilton out, Jenson remained 2.5-3.0s behind Vettel, and while that looked like a useful lead for the Red Bull driver, Jenson had that four-lap tyre advantage with which to play.
Everything now depended on when Vettel would make that crucial second stop.
In the end fate decided for him when Narain Karthikeyan's crash brought out the safety car and Vettel, Button and most of the other frontrunners came charging in.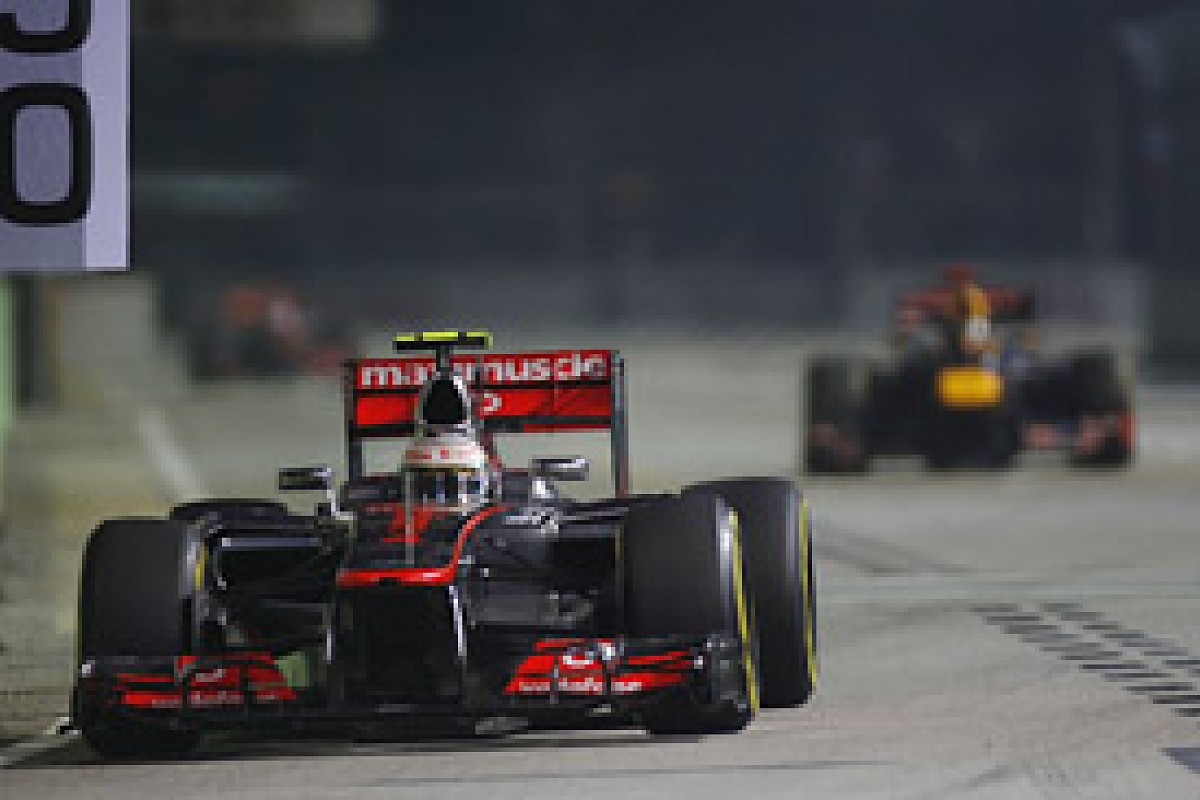 The safety car helped Vettel's cause © LAT
Jenson was now right behind Vettel rather than three seconds back, but that gain was nothing compared with the loss of that tyre advantage and the strategic edge it gave McLaren.
There was still the question of getting safely to the end from a lap-33 pitstop. However, the safety car stayed out for another five laps, and every one of them played into the hands of Vettel, as it made it easier for him to complete the final stint without any concerns about tyre management.
Meanwhile under the safety car we nearly had an incident that could have taken out both of the leaders. Ironically both men have experience of hitting someone in the safety car queue, Button colliding with Michael Schumacher at Monza in 2000 and Vettel thumping into Mark Webber at Fuji in 2007.
The team bosses had contrasting viewpoints.
"I think they were very lucky not to have gifted Alonso a first place," said Whitmarsh. "When you weave around and when you go and brake in a corner... It was very, very close and they were lucky not to have a big accident."
"The leader dictates the pace," said Horner. "And I was concerned that Jenson nearly drove up the back of him. It seemed to be in the middle of the corner and it seemed to be that Jenson misjudged it completely..."
After the restart the Schumacher/Vergne crash generated three more slow laps, further relieving any tyre concerns.
The second and final restart came on lap 42. By then it was a simple 19-lap dash to the flag for everyone, although the two-hour restriction meant that the real distance was to be just 17. For both Vettel and Button it was a straightforward run.
"It's a bit like if you've got a fuel gauge that tells you how far you've got to go in your car," joked Horner. "The fuel gauge tells you you've got 25 miles and you know you've got 30 miles to get to work, so you balance the way you drive accordingly.
"Sebastian was conscious of making sure he'd got [life in his] tyres at the end of the race and was very keen to know what pace Jenson was doing, so we just kept him informed. In the end he was pretty comfortable.
"Our degradation was very good so we had the option to cover both strategies. The safety car dictated that strategy, Sebastian turning into a two-stop."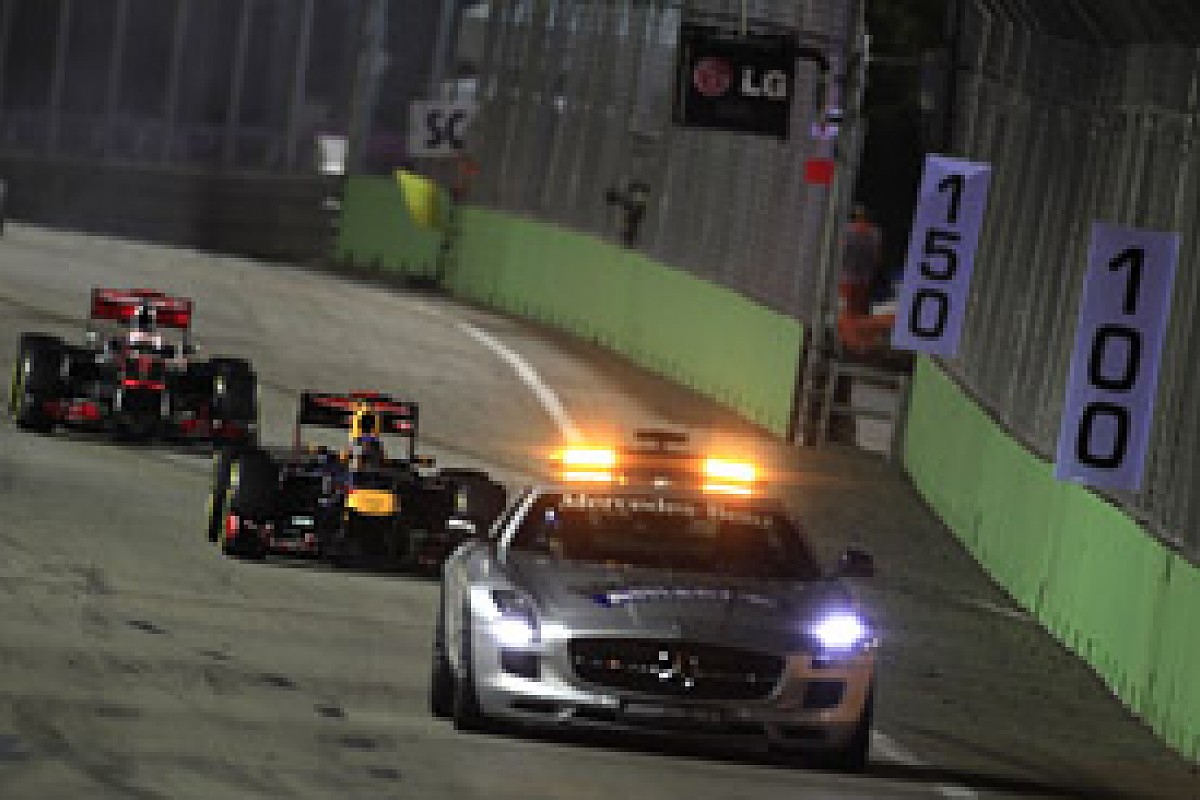 Vettel was a deserved winner in the end XPB
It was a deserved win for Vettel after such a long lean spell and given his Valencia retirement, nobody could begrudge him a little present in the form of Hamilton's smoking gearbox.
Nevertheless, McLaren had plenty to regret, not just regarding Hamilton's retirement but also the safety car that ensured Button's strategy was not allowed to play out.
"Lewis was looking after his tyres and driving well, and obviously a gearbox failure was disappointing for him and for the team," said Whitmarsh. "I think he's done a great job all weekend and it's a shame the race didn't work out for him."
He had no doubt that Hamilton would have finished the job: "Without the gearbox problem, if nothing else had happened, I think yes, it was fairly evident he was driving within himself, looking after his tyres. You could see from how he was driving that he was taking it very easily.
"Jenson was very unlucky because he ran a great first stint, conserving his tyres. He had newer tyres than other people in the second stint and of course the safety car negated that. He was looking after his tyres and was very much under control."
Once the race was converted to a straight fight, with both men using tyres that were new on lap 33 and any previous gains negated, Button was on the back foot and didn't have enough pace to challenge.
"Jenson said he didn't have that same balance and consistency on the prime tyre as he'd had on the supersoft," said Prew. "He is a little upset because he thought that if he could have continued like that he would have had a great chance of closing down that gap, but it wasn't to be.
"He didn't have the balance he was looking for on the prime tyre. We were tyre-saving for a large part of the race, but certainly after the safety car we were flat-out and didn't have the pace to close Vettel down in the final stint."
The good news for McLaren was that, yet again, the car proved capable of winning, as it has done on a succession of different tracks since Hungary.
The bad news for both McLaren and Red Bull was that a smiling Alonso was up there on the podium once again, having collected 15 points on a weekend that at some stages had not looked very encouraging.
It's going to be very hard for anyone to beat him. But then again, Vettel managed it in 2010...