Seldom does serendipity influence this column, but the Italian Grand Prix weekend proved a wonderful exception.
Two interview invitations arrived within hours of each other, covering the same subject but from different perspectives, with different objectives but a common goal: use of Formula 1 as a platform to develop connectivity systems that ultimately have production-car relevance.

No longer science fiction, autonomous cars now exist, with projects such as Google's driverless car and Volkswagen Group's tackling of Pikes Peak with an autonomous Audi TTS at racing speeds being just two examples.
Earlier this year, Nevada's Department of Motor Vehicles issued the first licence for a self-driven car - a Toyota Prius operating with Google's experimental driverless technology. Google's fleet of autonomous cars has to date covered over 250,000 miles, with just a single mishap blighting their safety record: ironically, a manned vehicle piled up the chuff of a driverless Prius...
Once the stuff of sci-fi, such technology has been around for two decades, with AUTOSPORT technical consultant Gary Anderson, then technical director at Jordan, in 1992 suggesting Formula 1 technology had reached a point where drivers had effectively been reduced to input devices: "They convey to the car that it should turn left or right, or brake or accelerate, and the car does the rest based on parameters."
F1's use of gizmos was pegged back after reaching its wildest heights in 1993 © LAT
Fortunately the FIA stepped in, banning driver aids on the basis that F1's sporting challenges override the formula's role as an automotive laboratory, but gizmos don't get unlearned. In fact, the technology has moved on, and only stringent regulations have prevented F1's World Championship being contested by a grid of supersize Scalextric cars manned by human dolls.
Anderson maintains that even after the banning of gizmos, races could be held without human intervention, with networks of sensors doing all the work: "You don't need a starter, nor flag marshals or safety cars. The network could do everything - when there's an incident it restricts the cars until they've passed the point, then they race on."
Taken to logical extremes, even the chequered flag would be defunct: sensors would log when the leader has completed the requisite number of laps (or exceeded the maximum time), then 'flag' the finish and publish the results. Only good sense has prevented that.
That does not, though, imply that current F1 cars (or race control) are low-tech and, as on-screen data and information so vividly proves, cars are connected to the pits through various links that enable drivers to communicate with their pits, receive flag signals in cockpits and activate DRS.
Monza was the first race at which the stewards had access to real-time telemetry from all competing cars. Thus they could take immediate decisions, as opposed to commandeering data from teams retrospectively.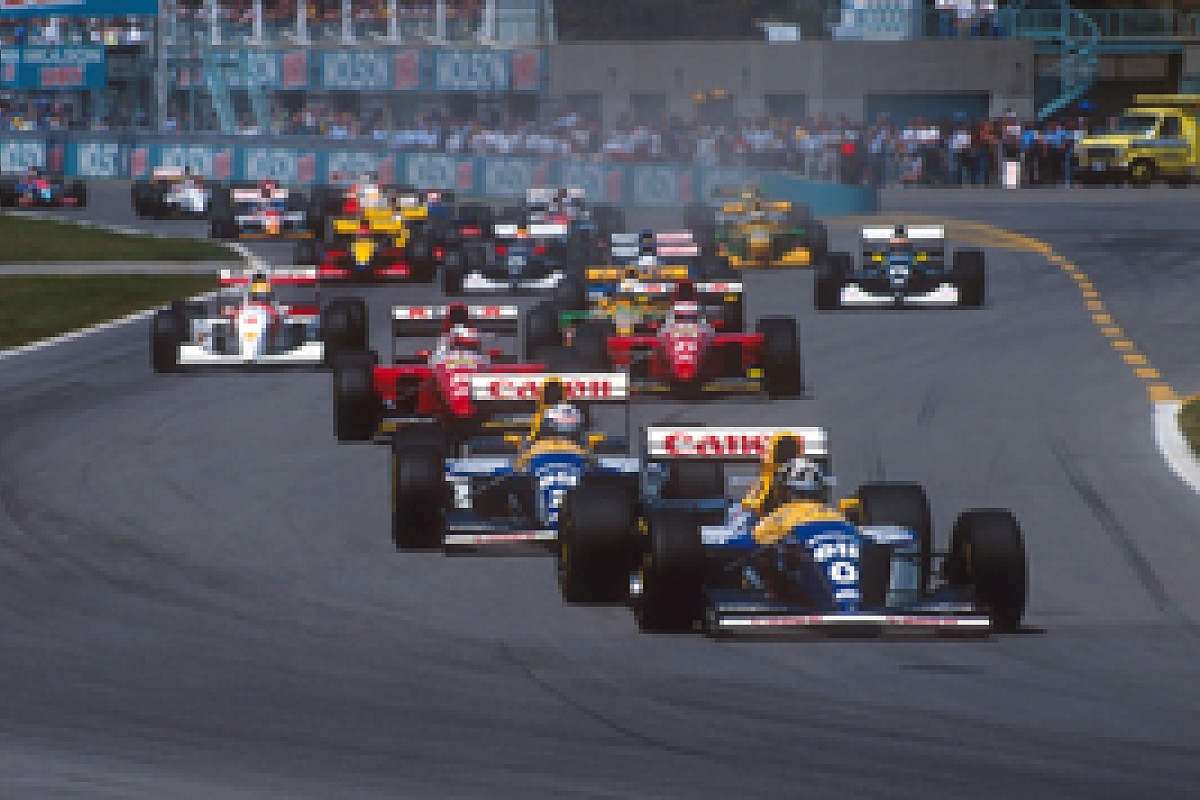 The system works through an optical fibre circuit 'ring' laid by Formula One Management ahead of each race weekend for race broadcasting. The 'ring' also feeds race control with vital data, while teams currently piggyback off the network for their own classified data. Thus there are effectively three networks operating off the 'ring': FOM, FIA and teams'. But a fourth, experimental network has undergone tests since this year's Australian Grand Prix - Magneti Marelli's V2xRacing network.
Monza Friday's invitation was for breakfast with Steve Wainwright, vice-president of Freescale, manufacturer of automotive electronic chipsets and partner to McLaren Electronic Systems (MES), supplier of FIA-specification electronic control units as used by all cars, and MES managing director Peter van Manen, who previously featured in this column. The purpose was to illustrate how MES technology, developed in F1, aids Freescale in engineering autonomous car technology.
"Monza is the perfect place to discuss connected car technology," opens van Manen to the sound of F1 cars hitting the track for free practice. "F1 cars have been connected vehicles for over 20 years, and Monza was historically a particularly difficult circuit for telemetry transmission due to its long straights through the surrounding forests."
F1 cars currently send around 750 million numbers back to the pits during a race, he explains: "Twenty years ago data was sent in bursts as cars passed the pits, then technology progressed to a point where data packets arrived in real time, but with gaps that were filled in afterwards.
"Today what happens," continues van Manen, "is when cars go around circuits they move between a network of antennas [connected to the 'ring'], which transmits data to the pits, a little bit like a modern cellular telephone network - as you move into the field of view of one antenna you start transmitting data, then move on to the next antenna."
Antennas around the circuit are linked to the fibre optics to send data back to the teams: "In this way all teams have their own private networks for telemetry. What that means is that throughout the race you're getting high-fidelity, real-time data. The other connection you have to cars is marshalling systems - green/yellow lights around track. There are also lights within cars on the dashboard display, which reflect those marshalling signals, and then there are radio links coming to the cars from the FIA."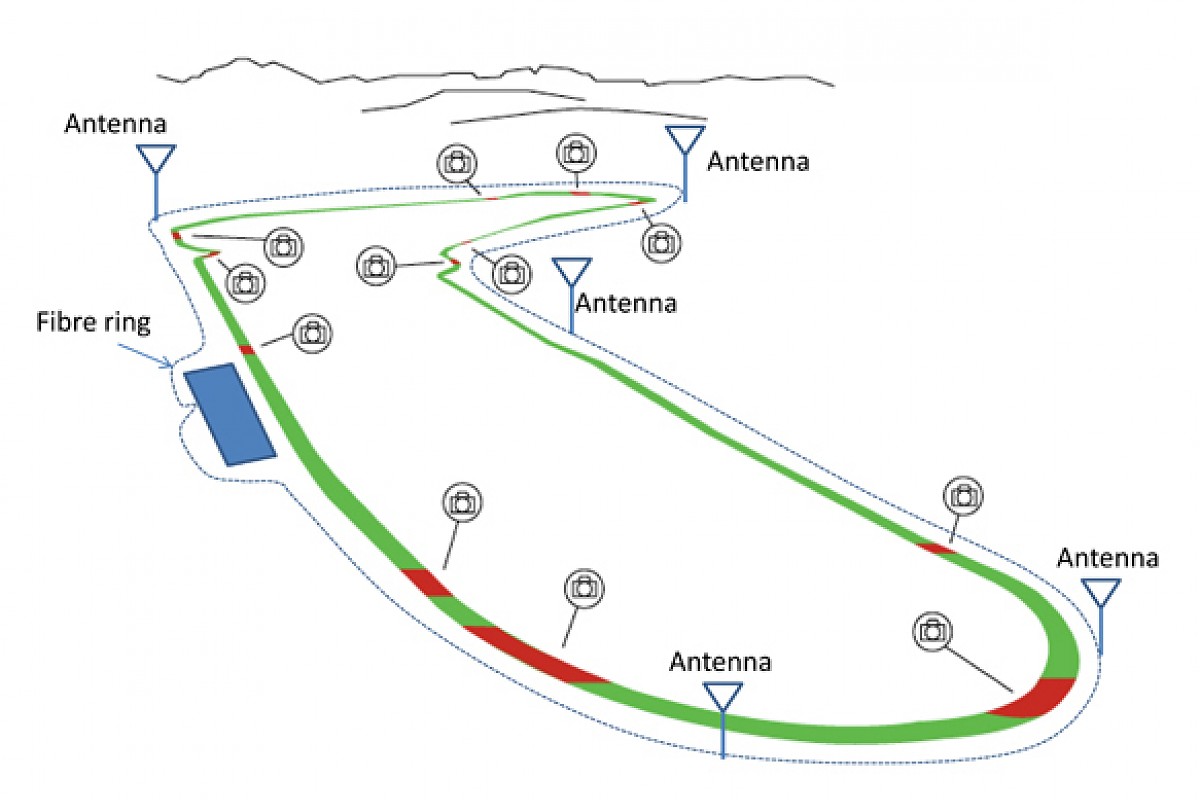 A Magneti Marelli base station/antenna © XPB
The network also informs race control that a car is moving to within a second of that ahead, triggering messages to the car's ECU to enable the driver to activate DRS. Following bans on two-way telemetry in 2002, this is the only permitted external activity that influences the behaviour of a car. Two-way radio communication is also bi-directional, but obviously does not directly influence the car's behaviour.
Given the role of the network, it's crucial that it's robust. "It has to be reliable, continuous all the time while the car is out on the track, and it needs to be able to deal with all of the imperfect situations you get when vehicles are travelling at high speeds under all sorts of conditions," says van Manen.
"Bear in mind that during a 100-minute race about 40 gigabyte of real-time data is transmitted by the cars collectively - to put that into perspective, 40Gb at that sort of data rate is about the same amount of data you would get in a city block if you monitored all the sensors. It's that type of approach that is now feeding across to many other industries, including the motor industry."
Having likened the network to a cellular-phone network, how seamless is it, given that mobile phones regularly drop calls?
"The answer is: it is seamless. Where we have an advantage over mobile networks is that we have a set path; we know where the cars will be except in the case of very slight diversions," he chuckles.
"It's a structured environment; the difficulty we have is that cars are moving very quickly, and they're moving very quickly through a changing environment, so the sort of reflections you get change very quickly. There are also rapid changes in direction, very rapid braking and very rapid acceleration events, so dynamically the environment is much more difficult than on a road car, but you're going around a structured environment."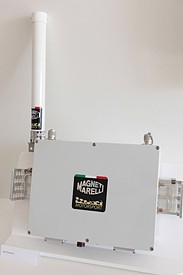 Peter van Manen of MES
Van Manen likens it to trains: "The problems with rail networks have been cracking the high-speed and dynamic environment. With a lot of telephone networks as you go over speeds above 65-70mph, things start breaking down. When you consider we're talking about cars that travel at 200mph, there have been similar problems we've had to crack."
But crack the problems Freescale/MES obviously has, with that technology now being fed back into Freescale's road-car offerings
Magneti Marelli - F1's primary supplier of KERS units and also provider of fuel injectors to the full grid - is also hard at work developing connected-car technology off the back of its F1 activities, and invited this column to its hospitality suite on the Saturday at Monza.
"Connectivity is an interesting item in our life today, is and will be an interesting item in the automotive environment, and is and will be an interesting item in racing," says the company's motorsport director Roberto Dalla. "What is happening today in races? You have a lot of antennas, every team has its own connections to the car, but if the connections drop down the cars cannot run, not [with confidence]."
Magneti Marelli's concept, which has been undergoing trackside testing all season, consists of a structured, plug-in network for the entire F1 community.
"So, we are developing a system in order to let teams enter the circuit and work as we do when we enter an airport. With our computers we enter the airport, we open our computers, we connect our computer - wifi etc - and we are plugged in to work, so why not also in F1? Teams [should be able] to arrive at circuits, switch on their equipment, talk to the car, to the FIA, to everyone."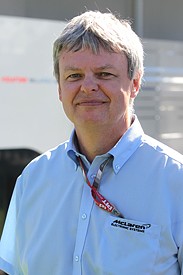 Magneti Marelli voice and camera equipment © XPB
With all cars being connected to networks, Magneti Marelli plans to extend the concept to achieve its targets of generating cost-savings for the teams and the FIA while increasing safety and developing road-relevant technology.
"Today with the tests that we are doing at the circuit we think we can achieve that," says the Italian with conviction. But what do the tests entail?
"We have at the circuits to understand where to place base stations in order to achieve our targets. The bandwidth should be very high, 54 megabits per second at least, and the other important thing is that the latency [time delay between data-packet transmission and receipt] is very short. Starting with known technology, namely wifi, we have the possibility of taking standard wifi, then customising it.
"We are talking with everyone in order to convince them that this system could be the basic one for all teams," says Dalla. "To give you a number, today a team in a weekend is downloading roughly two gigabytes (which ties in with van Manen's numbers), so tomorrow we think that teams can download up to 10Gb for a single team, two cars. So we need increased bandwidth."
To do so, Magneti Marelli is developing what can be best described as a 'Skype' data system for F1- which should please Lotus GP boss Gerard Lopez, who was one of the first investors to recognise the potential of voice-over-internet protocol.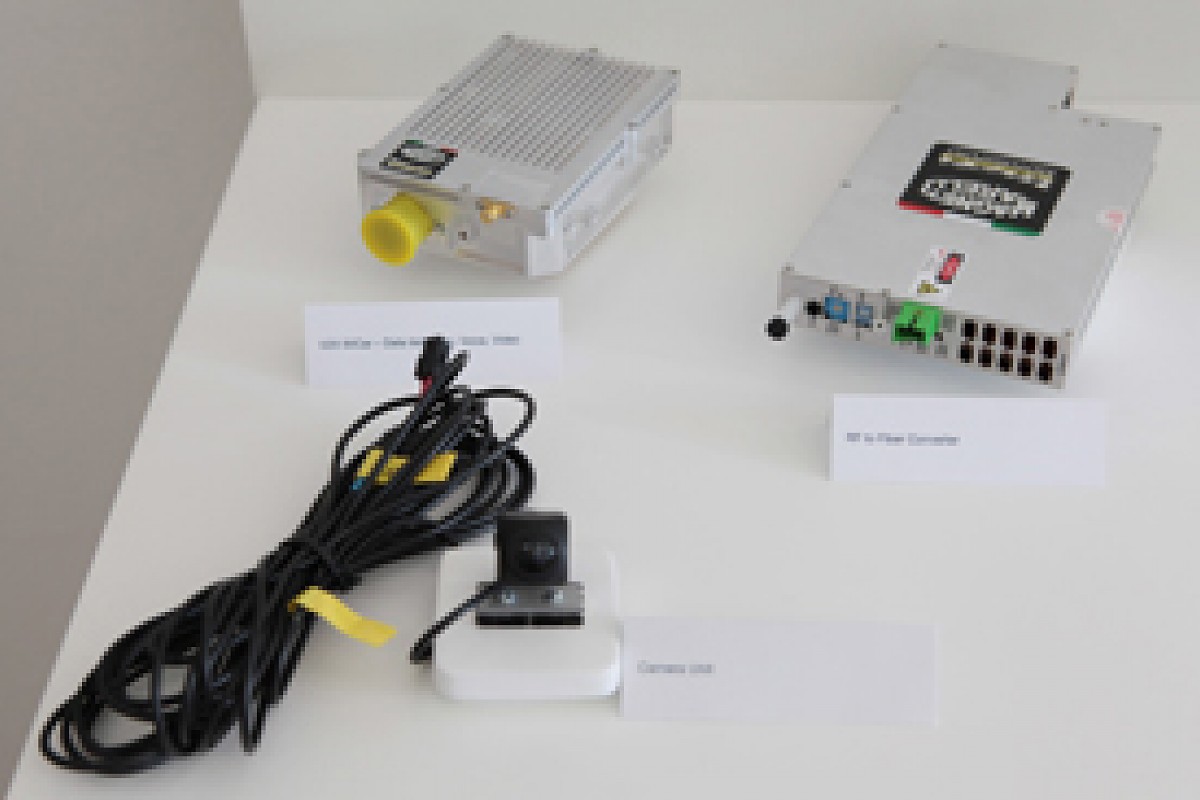 Data transfer at F1 speeds is a tricky proposition © XPB
"Today teams have radios for telemetry and radios for voice. The same technology can be used in racing, the same transmission format can be used to transfer voice, and we can enhance quality of the voice because as soon as you digitalise voice you can reconstruct it in a better way."
Dalla's colleague, Keyvan Sangelaji, the Italian company's chief technical officer, interjects on a point of clarity: "The quality is MP3 quality, not telephone quality. Crystal clear. You can download music from the car; no joke: in tests we played [Chuck Berry's] 'Johnny B Goode'."
"But we did another step," amplifies Dalla. "We did similar things with high-quality video: we sent a video and the car sent the video back. The quality was very good. I want to be very clear that the system is not totally developed, but this test gave us confidence that our targets can be reached very, very soon."
(Tests were carried out in a non-F1 car, lest implications be that F1 concerns itself with frivolity during race weekends - given that in-season testing is banned.)
However, Sangelaji makes clear the wifi system used is not standard household kit: "Wifi is a standard that's very clearly defined. The hardware level, [computer] driver level, the higher software, all this stuff in your computer - you turn it on and off you go.
"What we used is only the chipset, because the software was not compatible with the F1 environment, so we spent a lot of time and effort rewriting all the drivers to application software in order to achieve low latency from data generated to data used, and the access-point switching had to be seamless."
In addition, the bandwidth required was much higher than standard. So it was practically a matter of reinventing wifi - it uses the same chipset and the same principle, but it's not wifi (as we know it).
Another very challenging thing was the Doppler effect (the change in frequency of a wave moving relative to its source), and the bandwidth was narrowing, so 54mbps is at 300km/h, not 60: "This is important - and obviously has wider transport applications at a later stage, for example Metro and TGV. Car wifi..."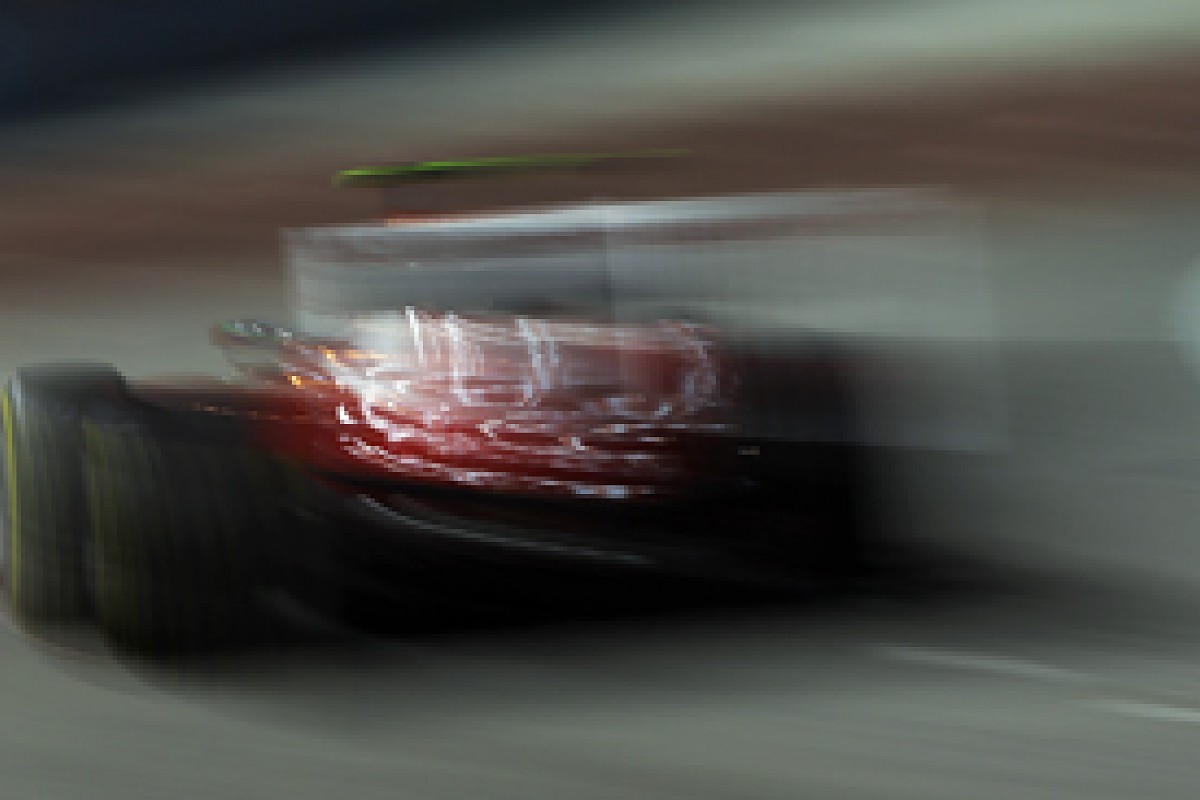 Could modern technology mean incidents like Michael Schumacher running into David Coulthard at Spa in 1998 are automatically prevented? © LAT
Dalla is confident the system will be able to send car-to-car communication as a safety aid. "With this short lapse [latency]," he says, "I'm pretty sure we will be able to send car-to-car. At the moment the rules require all communication to go via race control - if tomorrow we want as a first step to send information from, say, a Ferrari to a McLaren for whatever reason [safety], I can send this information to race control, and control sends it to the McLaren. [Think of the 1998 Spa collision between the stricken, slow-moving McLaren of David Coulthard and Michael Schumacher's speeding Ferrari in zero-visibility conditions.]
"We will have an improvement in safety in situations like heavy rain. When the red light is not immediately visible to the following driver, we can send information to the cockpit via this technology so the driver can have the information faster, similar to anti-collision devices on road cars. Taking the relative speeds of the two cars, if the delta is high, then it signifies a problem and the system can react."
The implication is that the system can conceivably instruct the car to brake to prevent a rear-ender - a seriously contentious and sensitive issue.
Dalla and Sangelaji agree, but stress that Magneti Marelli's stated intention is to develop systems, then offer them to the sport, which in turn can decide upon the most appropriate level of technology. "All I can say," summarises Dalla, "is that we have the full commitment of our board to develop V2xRacing."
Tomorrow's world, indeed, courtesy of Freescale, McLaren Electronic Systems and Magneti Marelli...