The death of Sid Watkins has robbed motorsport not just of a much-loved personality, but a man who did more than any other to improve safety standards - not just in F1, but at all levels of the sport.
He didn't do it on his own, of course. It was Bernie Ecclestone who encouraged Sid to improve medical facilities in the years after he became the F1 doctor in 1978, and Max Mosley who, following the 1994 Imola weekend, gave Sid the responsibility of overseeing safety developments in all areas. He pursued that in close partnership with Charlie Whiting, who continues to lead the drive for safety, aided by a strong team of FIA experts, and by the teams themselves.
But Sid was the man who worked tirelessly to bring everything together. In 2004, on the 10th anniversary of that terrible weekend at Imola, I sat down with him to talk about what had changed over that decade, a period that had passed with no driver fatalities. To put it into perspective: the three previous decades had resulted in 10, eight and three drivers losing their lives in grands prix, non-championship F1 races, or testing.
Just as significantly, serious injuries had also been rare. Mika Hakkinen's head trauma in Adelaide in 1995 was the most alarming, and later Olivier Panis (Montreal, 1997) and Michael Schumacher (Silverstone, 1999) suffered broken legs. However, all three drivers were soon back in the cockpit. Since 2004, F1's safety record has continued to be exemplary, with Felipe Massa's head injury in Hungary in 2009 the most serious incident.
Having said that, it should also not be forgotten that fireman Paolo Ghislimberti was killed at Monza in September 2000, and spectator marshal Graham Beveridge lost his life in Melbourne six months later, both men struck by errant wheels.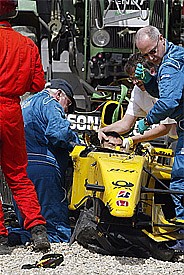 Watkins at work to help Takuma Sato during the 2002 Austrian GP © LAT
Nevertheless, the Imola anniversary seemed like an occasion worth marking, if only to acknowledge the achievements of the FIA. Under Mosley's leadership, and with the support of team technical directors and other specialists, the oft-maligned organisation had made extraordinary progress, and indeed, it continues to do so. However, Sid said that there was no room for complacency.
"Anything can still happen," he admitted. "You can recognise it [the anniversary], but do not relax. Of course we are delighted that we haven't had any really serious injuries, and there has been a lot of good progress made with a strong scientific basis. But in the end, motor racing is what it is, and something unforeseen can occur."
Watkins was in the eye of the storm that rocked motor racing in the spring of 1994. Even before San Marino, Jean Alesi and JJ Lehto had suffered neck injuries in testing. That dark weekend in Imola was followed by the crashes involving Karl Wendlinger in Monaco and Andrea Montermini in Barcelona. Then, even as measures to slow the cars were being tested, Pedro Lamy's Lotus flew into an empty spectator enclosure at Silverstone.
For a while the sport was in turmoil, but cooler heads prevailed, and long-term plans put in motion. One of the first steps was an analysis of the circuits, led by the late Harvey Postlethwaite, which pinpointed 27 "high risk" corners. In essence, it was those taken at high speed, and with high g-loadings. Over time that number was significantly reduced.
That resulted from a combination of circuit modifications and a slowing of the cars. A reduction of engine size from 3.5 to 3.0-litres for 1995 was the most significant step, followed by narrow-track suspension and grooved tyres three years later. Almost every season until 2004 there had been measures to control speeds, usually by trimming downforce, and that process of course continues today.
It would be wrong to assume that everything started with Imola, for a lot of good work had been done in the preceding decades. Chassis crash testing began as long ago as 1985, and even by '94 it had become stricter and more sophisticated. But Imola created a momentum that still exists.
"The Imola weekend was a watershed in safety," said Sid. "It was such a period of turmoil. Max Mosley deserves a lot of praise for setting up the research commission, and giving us such tremendous financial and moral support, with a free hand to co-opt any expert to perform any experiment that we wanted. For the first time one could plug the medical and biophysical aspects of motor racing into the design of the car."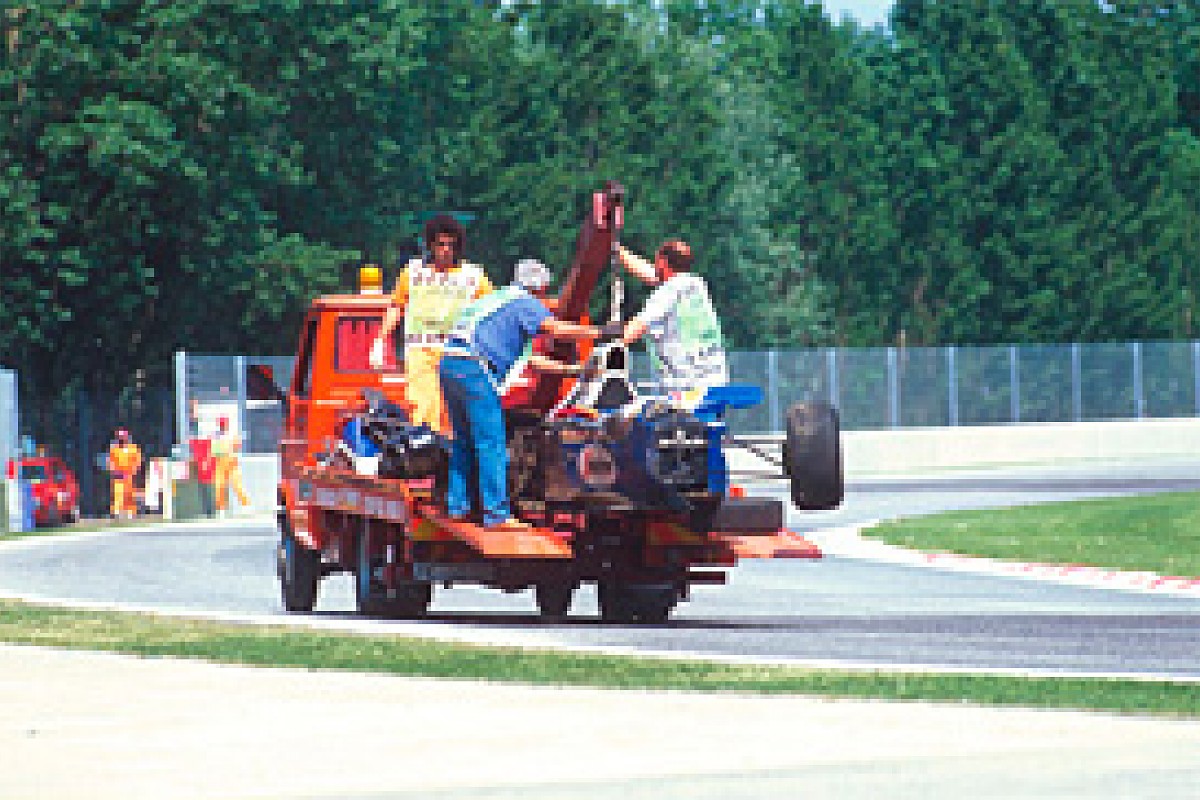 Imola '94 marked the future of safety in F1 © LAT
It seems obvious now, but one of the first lessons was that simply making shoulder straps wider reduced the risk of chest injuries. That was followed by special emphasis on how exposed the drivers were, which led to higher cockpit sides and head rests, with much research assistance provided by McLaren. Sadly, the team's own driver Mika Hakkinen was hurt in the last race of the 1995 season, just prior to the introduction of the higher cockpit sides and enveloping headrests.
Watkins agreed that the head protection had been the single most significant development up to 2004.
"The remarkable thing has been the reduction in the number of concussions," he said. "Prior to the head and neck foam, there were several concussions a year. Since we had it in 1996, and despite having a lot of big accidents, the concussion rate has been very low. There have been a vast number of incidents where it has worked to the point that it's destroyed itself."
Sid cited shunts involving Jos Verstappen, Mika Salo and Jacques Villeneuve at Spa as just three instances where the outcome could have been tragic in the past.
"We have replicated accidents so that we're now in possession of considerable biophysical data concerning head injuries. There's been some fundamental progress made into realising what the threshold limits are for head injury and brain injury. Padding the inside of the cockpit has also helped to reduce the leg problem."
The HANS device was another major step. Gerhard Berger tested a prototype as long ago as 1995, but it took until 2003 for it to be suitable for compulsory use in F1. It proved its worth as early as that year's Brazilian GP, where several drivers had major offs. The extractable seat, designed to minimise risk when back and neck injuries are involved, was another welcome innovation, albeit one tried more in practice than in action.
Just a few weeks after we talked in 2004 the new advanced specification for composite helmets - with which Sid had been closely involved - was made compulsory, and it has subsequently trickled down into other categories.
Sid was less directly involved in car developments, but they happened on his watch. Over the years, crash-test requirements had become ever more stringent. A structure on the gearbox, added in 1997, was a major advance. At the Nurburgring in 1999 Pedro Diniz's Sauber roll hoop failed after taking an unlikely rear impact, and a new test was soon introduced.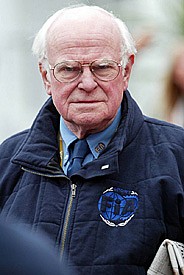 Many F1 drivers owe a lot to Watkins' push for safety © XPB
The shattered remains of Roland Ratzenberger's Simtek at Imola led to increased emphasis on side impacts, and later attention has turned to preventing intrusion into the cockpit, and not just by strengthening the tub. Since 1999 noses have had 'soft' tips, so that they crumple rather than puncture in T-bone accidents.
Takuma Sato's accident in the 2002 Austrian GP had proved that anything can happen. His Jordan was T-boned not by a soft nose, but by the hefty rear crash structure on Nick Heidfeld's Sauber, which punched a large, square hole. It was the most devastating damage inflicted on a chassis for some time, and another lesson was learned. Meanwhile, as of 2004 wheel tethers had already been upgraded several times since their introduction in 1999.
It hasn't all been about improving the cars. Medical services were always under review, and there had already been a lot of advanced work on circuits and barriers. The arrival of accident data recorders in 1997 helped to prove that asphalt run-offs are often more effective than gravel traps. As knowledge increased, barrier technology developed.
Since 2004 the process of learning has continued in all areas. Today the FIA is actively looking at ways of improving cockpit protection, an issue made topical by the first-corner accident at Spa recently. It's fortunate indeed that narrow escapes, rather than anything more serious, have helped to drive development over recent years.
We didn't know it at the time, but 2004 was to be Sid's last season of chasing the F1 grid in the medical car. He took a step back from that role at the start of 2005, and became President of the FIA Institute for Motor Sport Safety. Focussing on the bigger picture rather than the day-to-day stuff of race meetings, he continued to pursue every possible avenue of safety improvements, until time began to catch up with him. At the end of last year he moved into an honorary role.
However, the momentum that he helped to generate over the years will ensure that the research never stops.
"We just have to keep pushing," he said in 2004, "and keep being difficult!"
Sid may be gone, but it's a mantra that is just as valuable today.