Whenever stories such as Lewis Hamilton switching to Mercedes arise from credible sources like, last week, the BBC, there's seldom smoke without fire. The question is: who lit the fire?
It's worth remembering that Eddie Jordan broke the 'Schumacher to return' story three years ago and that some of EJ's steers are believed, within the paddock, to emanate from Bernie Ecclestone.

I understand that the BBC's source was other than Mr E this time but, even if it was the man himself, that doesn't necessarily make the story true. Sometimes there's an agenda. Bernie, for example, might simply wish it to be true.
Now, I'm only speculating, but let's just say you're the Mercedes board. You've bought Ross Brawn, you've snared Michael Schumacher, you've laid out considerable investment but, over three years, you've won just the one race courtesy of Nico Rosberg in China.
It's fair to say that there will be substantial pressure to better justify your F1 involvement.
And if, like Mr E, you're ringmaster of a circus heading towards a 2014 switch to complex new engine/energy recovery technology and you've just the three major manufacturer suppliers, you'll want to hang onto them.
If you thought that the Mercedes head honchos might be deliberating, would the arrival of the man widely regarded as the fastest in F1 be beneficial? It just might.
It may have nothing to do with all that, of course. It could simply be opportunity. People assume that these things are all tremendously considered and complex, but sometimes that's not the case.
When Juan Pablo Montoya fell out with Williams at Magny-Cours in 2004, turning the radio waves blue, McLaren leapt in and signed him the following week.
Some of EJ's steers are believed to come from Bernie Ecclestone © XPB
Similarly, when Martin Whitmarsh detected that, surprisingly, it was not all sweetness and light between Jenson Button and Brawn despite Jenson's '09 title, he moved swiftly and a deal was quickly concluded.
You can imagine that certain people at Mercedes would love to return the favour by pinching Hamilton. And they may well have sniffed an opportunity, rightly or wrongly, in the wake of 'Twittergate' at Spa.
Then consider a Lewis who has demonstrated that he can sometimes be relatively easily influenced. Add to the mix a few stratospheric egos and management teams influential elsewhere but relatively inexperienced in F1 terms, and who knows what might happen...
If you were McLaren and wanted to hang onto Lewis without breaking the bank, you'd certainly be twitchy.
Hamilton's movers and shakers, apparently without options elsewhere, could even have lit their own fire, simply as a negotiating ploy. McLaren will be hoping that's the case, but can't be sure.
Racing drivers hate to have someone earning more than them because they take it as a reflection of perceived worth. How much money they actually need, therefore, becomes irrelevant. And managers on a slice of them obviously have a vested interest in maximizing their 'investment'.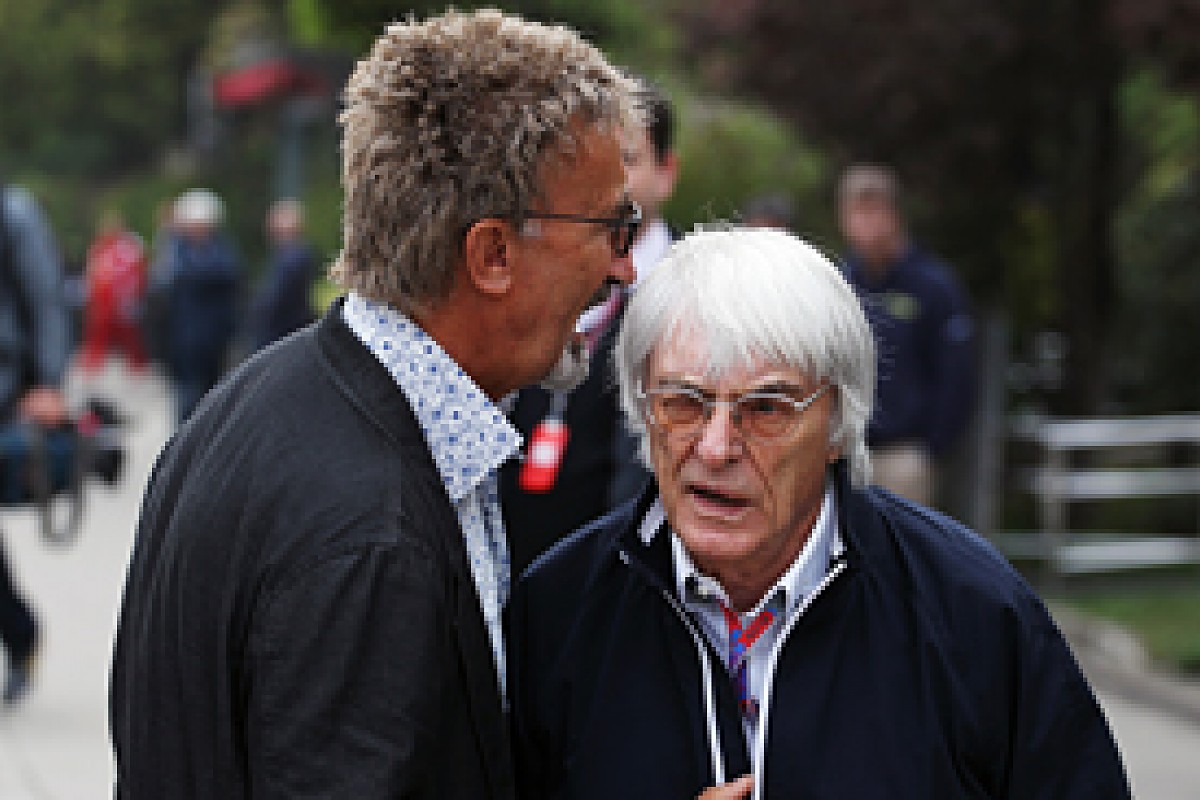 Lewis Hamilton uses his phone for something other than tweeting © LAT
But really ambitious drivers - champions - want winning cars. McLaren, you feel, couldn't have timed it better to take three successive pole positions and a hat-trick of victories.
But have you ever seen a driver look so underwhelmed by winning at Monza for the first time? Lewis said all the right things but looked... well, distracted.
Certainly, you'd say that the past month must have strengthened McLaren's hand in any negotiations, certainly as far as Hamilton's chances of winning championships this year and next - when there are few regulation changes - are concerned.
"My feeling is that this is a great team for Lewis to stay in and he's got to want to stay here," Martin Whitmarsh said on Sunday night.
"We'll figure that one out after we've had some celebrations. I don't think in the next few hours we'll be giving that much consideration."
No, probably not. Simon Fuller, the main man for X1X Entertainment, Hamilton's management company, is otherwise occupied for the next couple of days.
Maybe someone else can handle things, but Fuller himself will, of course, be fulfilling a vital role sitting beside Judy Murray and Ivan Lendl when Andy Murray steps onto court in the Arthur Ashe Stadium at Flushing Meadows in New York later today (Monday) to play his fifth grand slam final and hopefully win his first, against Novak Djokovic.
I'm sure Lendl will need the strategic help, and the cameras another focal point...
Is it important to get things sorted out before Singapore, Whitmarsh was asked on Sunday night?
"No," he said. "I don't think it's that important and predicting the timing when two get to dance is always dangerous. We've proven this weekend... there were reasonable attempts to distract us and I've got to say that they failed, so we'll just carry on trying to win races.
Has he thought about a McLaren scenario that doesn't include Lewis?
"Not really. We're a winning team, he's a winning driver, we're a great team together. But, trying to win races and championships, you've got a finite amount of time and I haven't, I hope, wasted any of that."
Hamilton hasn't enjoyed Sebastian Vettel stealing his thunder these past couple of years but, right now, he seems to be in the best place to prevent either Sebastian or Fernando Alonso winning a third crown and to put himself on a double-champion par with them.
He may well be able to secure a bit more cash elsewhere, a bigger brand association, original trophies even, but you've got to win 'em in the first place.
For the great ones, isn't that what it's all about? Or am I just being naive?