Driving into Spa you couldn't miss the banner draped on one of the houses telling Michael Schumacher to make it 400. At Spa Michael was, of course, celebrating his 300th grand prix weekend.
"This morning I had a beautiful welcome," he said on Thursday, "becoming an honorary citizen of Spa. That is something special to me. And the 300th is special because it's in Spa.
"It's all happened to me here: first race, first win, some beautiful victories, the seventh title, last year the 20th anniversary and now number 300. Spa has always meant a lot to me. I always called it my living room. Now I can officially call it that."
Yes, OK, you can see all that. But what never ceases to amaze is that Michael has not stepped outside his living room to investigate parts of his classical 'house' that are no longer in use.
The old Spa circuit was majestic and frightening in equal measure. If you need confirmation, look at some of the footage from the old John Frankenheimer film Grand Prix.
There's the stoutly built house on the exit of Masta Kink, just waiting to collect anyone who tried to take it flat and messed up. And yet Schumacher has never ventured beyond today's 4.3-miles to have a look. Don't get me wrong. While Michael has never been an F1 historian, he's far from alone. It's probably something to do with the mentality of these guys - achievers all. They don't have time to dwell in the past, so it doesn't interest them.
Bernie Ecclestone hinted at the weekend that this might be Schumacher's last season © XPB
But when it comes to considering Schumacher's achievements, we certainly can't ignore it. Can it really be 21 years since you were watching a fresh-faced young guy dressed in green 7Up overalls doing amazing things with a Jordan 191 at Spa?
Just think about that: a 21-year span at the top of a sport as intense as F1 and he's still able to set the quickest qualifying lap at Monte Carlo at the age of 43 - a truly stratospheric achievement.
I could be wrong but, for the first time, you detected at Spa that Schumacher will call time, finally, at the end of the season.
There was Eddie Jordan's BBC interview with Bernie Ecclestone, for a start. "We will miss Michael," Bernie said, before adding that it's a shame he can't bow out as a winner.
Maybe it was mischief, but Mr E certainly sounded like a man who knew something.
Then there was Michael himself. Asked whether, having claimed most of F1's records, he wanted to go on to surpass Rubens Barrichello's 322 starts, he replied: "How many will it be at the end? We will have to find out. Don't know yet. I'll certainly go to the end of the season..."
That had been taken as a given. He then added that by October he would be able to give an indication.
Will it ultimately be Michael's decision? You would imagine that Mercedes would generate huge negative publicity if it involuntarily retired Germany's biggest sporting icon, a man with 91 grand prix wins and seven world titles.
But I'm led to believe that there is none too much sentiment these days and that the decision will be as much the team's as Schumacher's.
Elsewhere, the rumour is that Jules Bianchi will need to impress Force India in the young driver test if he's to secure a vacancy that has arisen.
Why has a vacancy arisen? Because either Nico Hulkenberg or Paul di Resta has done a deal elsewhere for 2013. If indeed one of them has, it might be wrong to automatically deduce that it's as Schumacher's replacement at Mercedes. While that seems logical, you need to remember that Felipe Massa's Ferrari number-two seat is still fluid...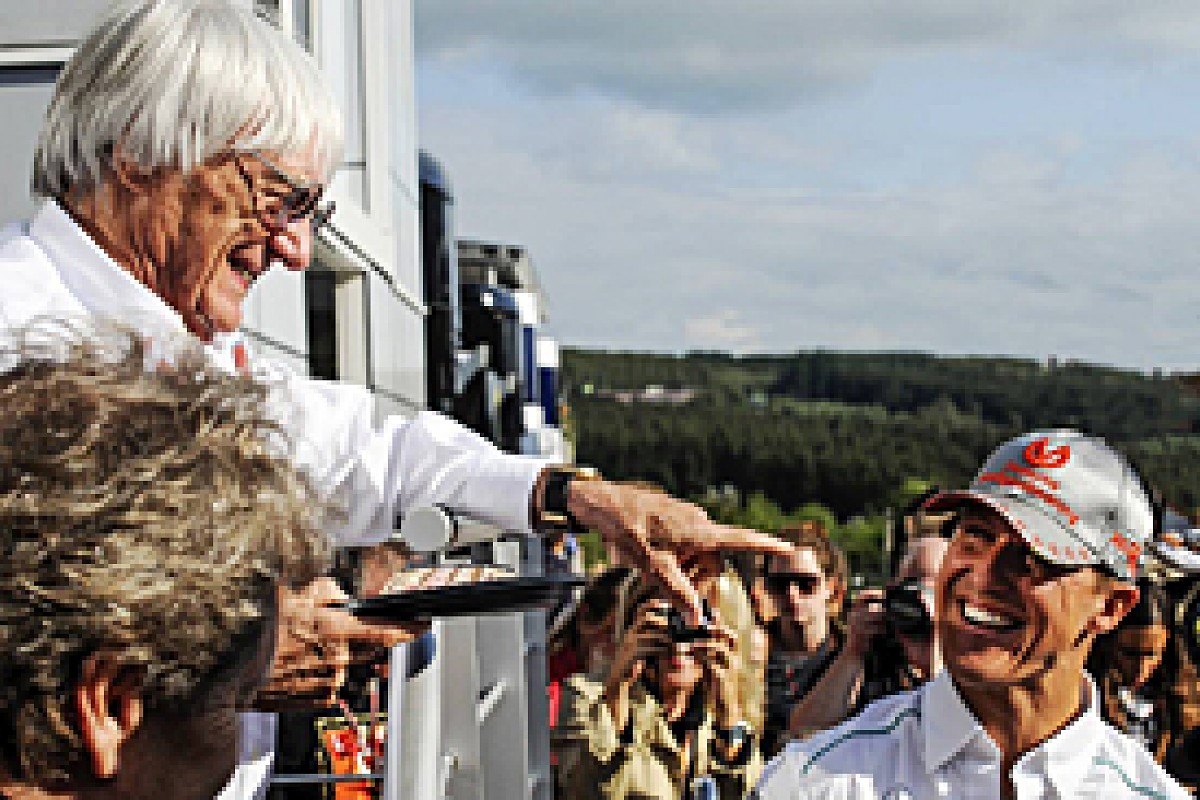 Michael Schumacher enjoyed his 300th GP weekend at Spa © XPB
One scenario I've heard is that if Mercedes wants to change Schumacher and Michael is not quite ready to leave the sport, he could even return to Ferrari.
While perhaps not the force he was, he would likely be quicker and more consistent than Massa, while nobody would expect him to beat Alonso. And, importantly, a return to Maranello would not be viewed as a demotion.
Against that, although driver salaries are outside F1's Resource Restriction Agreement, it would be hard to imagine even Ferrari wanting to meet the financial requirements of Alonso and Schumacher at the same time.
And, says a man who should know, it just isn't going to happen. Mercedes derives a huge amount of PR value from Schumacher and the plan is that he remains an integral part of the three-pointed star's sporting and commercial activity for aeons to come. And the Germans, I'm told, are loyal almost to a fault.
Ross Brawn said at the weekend that Schumacher was still a privilege to work with and was "still surprising us" - Monaco being a case in point.
Which kind of brings us back to where we were before. If Michael is truly stopping, you'd surmise that this time it's because he wants to.
Or, as with the first time, that's how it will be portrayed, and in Belgium you sensed that Schumacher was starting to prepare the ground.
Any other storyline, you suspect, might just boost BMW sales...