Can the king of Spa triumph?
Kimi Raikkonen lines up third on the grid after Pastor Maldonado was hit with a three-place penalty for impeding Nico Hulkenberg.
Lotus suffered a blow on Friday when terrible weather conditions meant that it couldn't properly evaluate its infamous "device", which simulations suggested should be worth around half-a-second a lap at Spa (a half-second which would have left Raikkonen within striking distance of poleman Jenson Button with a less scrappy lap).
But given the tendency for Lotus to be strong on Sundays than on Saturdays and the fact that, unlike at the Hungaroring, overtaking is pretty straightforward at Spa, Raikkonen has to be regarded as a serious challenger.
His last Formula 1 victory came at this very race three years and a day ago, and given his record of four victories in seven starts at the classic track, he will take some beating.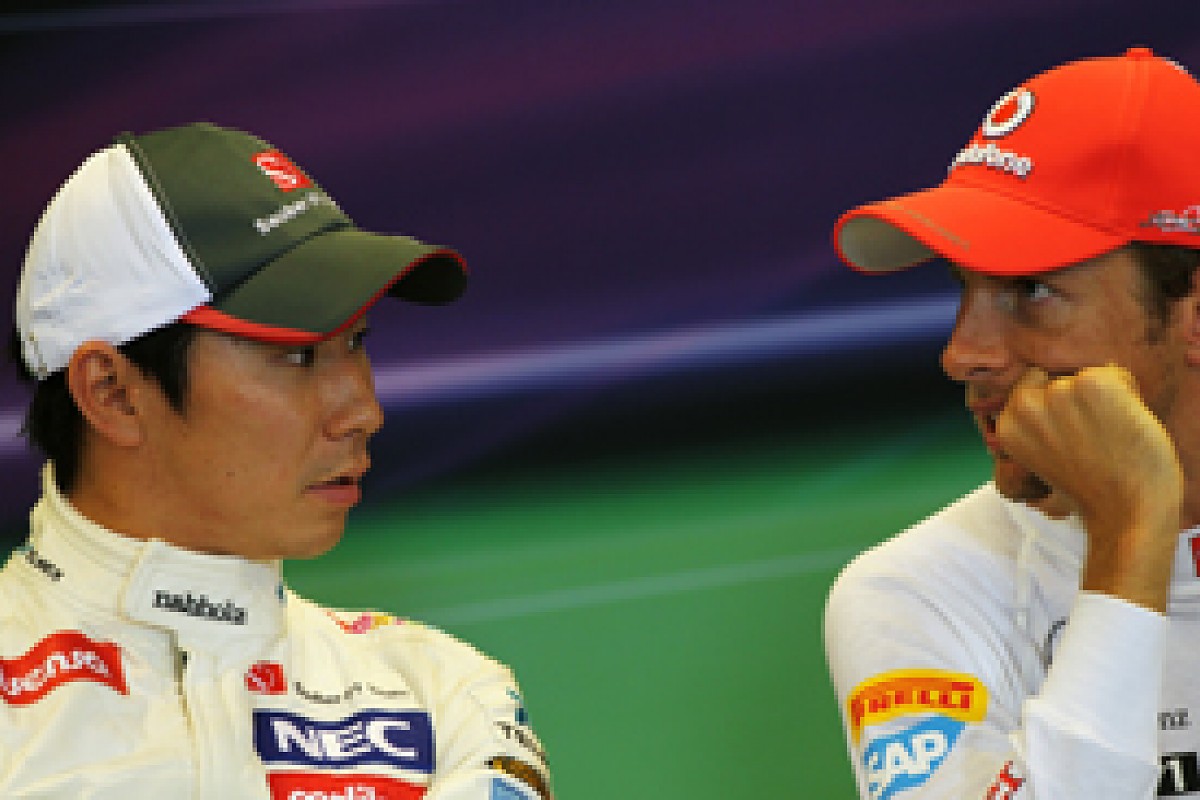 Will it be Kobayashi versus Button for the win? © XPB
Sauber on the march
Sauber had its best-ever all-round qualifying performance as a fully independent team, with Kamui Kobayashi claiming the first front-row starting slot for a non-BMW Sauber entry since Jean Alesi at the 1999 French Grand Prix.
With Sergio Perez lining up fourth after Maldonado's penalty, that means that Sauber has two seriously quick cars that have to be taken very seriously as contenders for a podium finish.
Sunday's race isn't expected to be a tyre-killer, so Sauber's ability to look after its rubber won't be as big an advantage as at has been at some races, but the fact is that the Swiss machines have been very handy on race days for much of the season.
Key to the team's chances of getting on the podium, perhaps even on the top step, will be the first lap. If they are still up there a couple of minutes into the race, the stage will be set.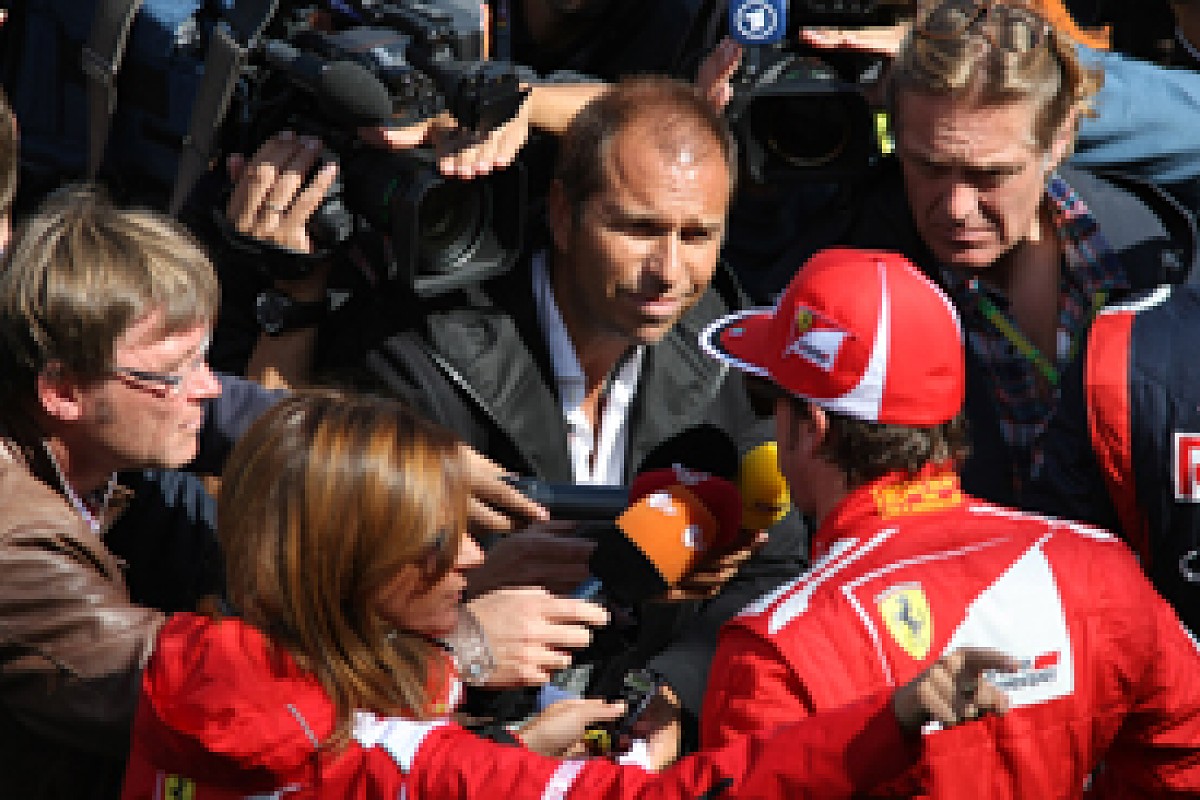 Alonso is - somehow - ahead of all his nearest points rivals on the grid © XPB
Open goal for Alonso
Fernando Alonso has spent all weekend explaining that the Ferrari is not particularly fast when compared to the frontrunners.
Red Bull's tribulations, with a grid penalty for Mark Webber and Sebastian Vettel's failure to extract enough pace from the car to make Q3, mean he's ahead of both of them. Lewis Hamilton is also behind Alonso after his decision to switch back to McLaren's old rear wing.
All of that adds up to a very happy world championship leader in fifth place on the grid, behind only Raikkonen of the title contenders. Needless to say, that could all change in the race, but Alonso reckons that a podium finish is possible and if he can go home with 15 points in his pocket, he will likely be a very happy man.
The question is whether one of his rivals can really take control of reeling in his 40 point lead with a Spa victory?
Maldonado has already been in trouble once this weekend © LAT
Keeping it clean
Maldonado has been punished for clashes in three of the last four grands prix. Hamilton, Perez and Paul di Resta have all been on the receiving end and Maldonado's mishap during his Caracas homecoming street demo, combined with a three-place grid penalty for impeding Hulkenberg in Q1, will have added to the pressure.
He lines up sixth on the grid, only a few places from each of his three previous victims, and by setting the third-fastest time in qualifying he once again showed that he has the pace to be a contender.
The question is whether, when it comes to the wheel-to-wheel stuff, he is able to rein himself in and avoid another controversial moment. If he does, he will surely be rewarded with his first points since that amazing victory in Spain (no amount of subsequent blunders can affect how superb that performance was).
Frankly, he would probably like nothing more than a boring run to a handful of points.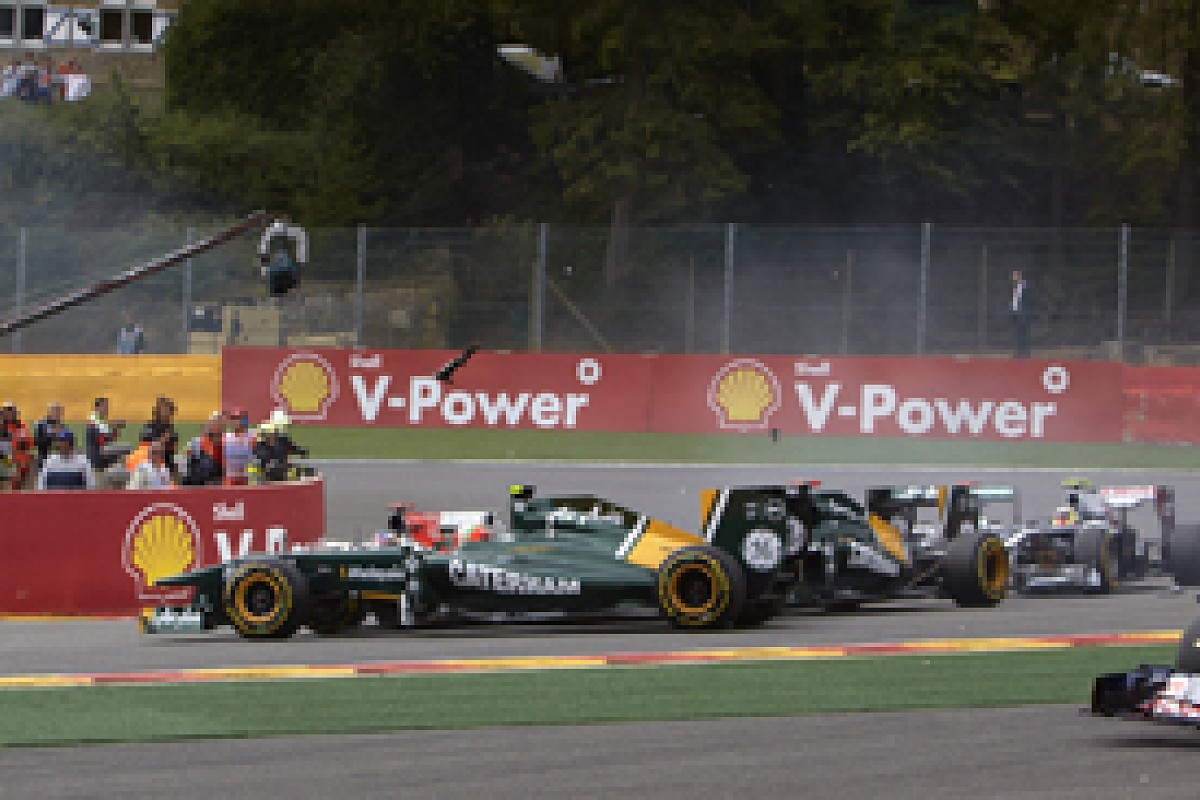 Spa's first lap tends to see carnage © LAT
The first 40 seconds
At any grand prix, the start is critical. But at Spa there is an unusually large amount of potential for mix-ups and make-or-break moments.
The run to La Source is relatively short, so the key to this part of the race is not being wiped out and ensuring that you can get on the power nice and early to make up places on the long run to Les Combes.
Watch out for anyone using the run-off area to gain an advantage though, for a couple of years ago this was clamped down on and anyone running deliberately wide to carry more speed down the hill could be in trouble.
It's rare for there not to be some sort of contact here - last year it was courtesy of Bruno Senna thumping Jaime Alguersuari - and when the cars do get to Les Combes there's potential for more of the same.
Just look back at what happened in 2009, when Button and Romain Grosjean came together (an accident that was unfairly blamed on the Frenchman) for evidence of that.
There will be a lot of teams who will breath a lot easier once the 24-car grid has negotiated the first seven turns.