"You know," said a colleague halfway through the San Marino Grand Prix. "FOCA are going to say this was rigged...All I can say is, if it is rigged, I wish they'd rig them all..."
Fourteen cars only were present at Imola last weekend, for the bulk of the FOCA entries were withdrawn, following the FIA tribunal's decision to disqualify Nelson Piquet and Keke Rosberg from the Brazilian Grand Prix, and to state that, in the future, no topping-up with liquids and coolants would be permitted before the post-race weight check. Ken Tyrrell's cars did take part, however, and Michele Alboreto finished third.
The race was ultimately won by Didier Pironi's Ferrari, with Gilles Villeneuve's sister car second. The circumstances were controversial, however, for the Frenchman ignored a pit signal telling him to keep station behind Villeneuve. Any Maranello entente cordiale between the two is at an end.
For most of the race, the Ferraris were involved in a pitched battle with Rene Arnoux's Renault, which had started from the pole, and led convincingly for a while. But the unlucky Arnoux eventually retired with piston failure, as had Alain Prost in the early stages, and the red cars were left to fight it out. So spectacular was much of the racing that you could almost overlook the long periods of silence.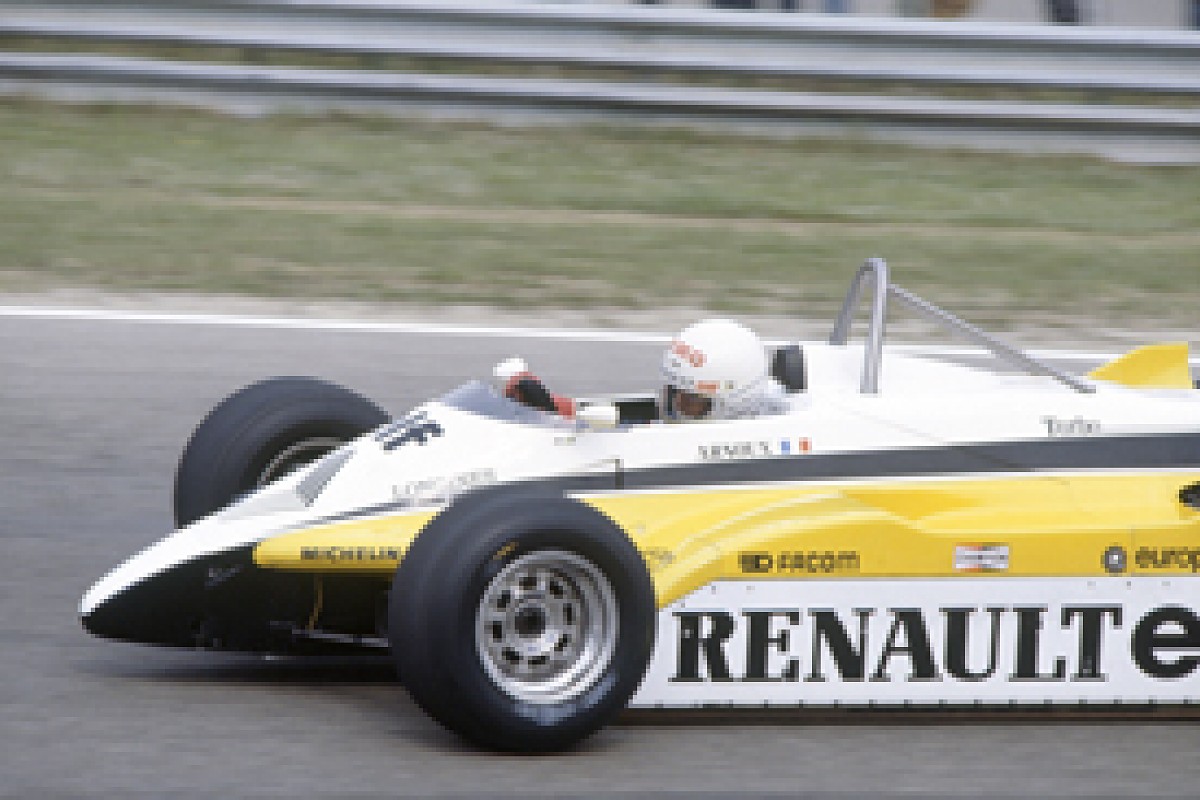 Arnoux took his second pole of the year for Renault © LAT
Imola, of course, is a 'turbo' circuit if ever there was one, and most of the absentees would not have had a look-in, anyway. It was also one place where the FOCA teams' failing to appear had absolutely no effect on the spectator attendance. Italians go to watch Ferraris; always have done, always will. Had FOCA boycotted, say, the Belgian Grand Prix, the crowd story would have been very different.
In 1960, the British teams boycotted Monza on the grounds that the banking was unsafe (although they returned the following year, the banking still being used). On that occasion their absence went unnoticed by the public, and it was that way at Imola last Sunday too.
If you thought they were pussy-footing, making a show of it, on Sunday, you should have seen the faces of Villeneuve and Arnoux afterwards...
Entry and practice
A slim volume this week, the story of the two days of qualifying. Only 14 cars and drivers were present, but it mattered little to the locals: Ferrari were there, after all, and that is where their passion begins and ends. "If Villeneuve and Pironi drove round for a couple of days," said one official, "we would still get a big crowd..." Sure enough, the stands were packed on Saturday, far more so than on the equivalent day last year.
The Imola crowd is, of course, well used to shabby treatment. Twelve months ago, they passed the first morning of practice watching a handful of cars - including Ferrari, Renault and Alfa Romeo - while FOCA closeted itself in a motorhome. The aggravation afflicting this very wonderful "sport" of ours on that occasion was, of course, the loophole of 1981; the hydraulic suspension/skirts package, which was later given the green light by Jean-Marie Balestre.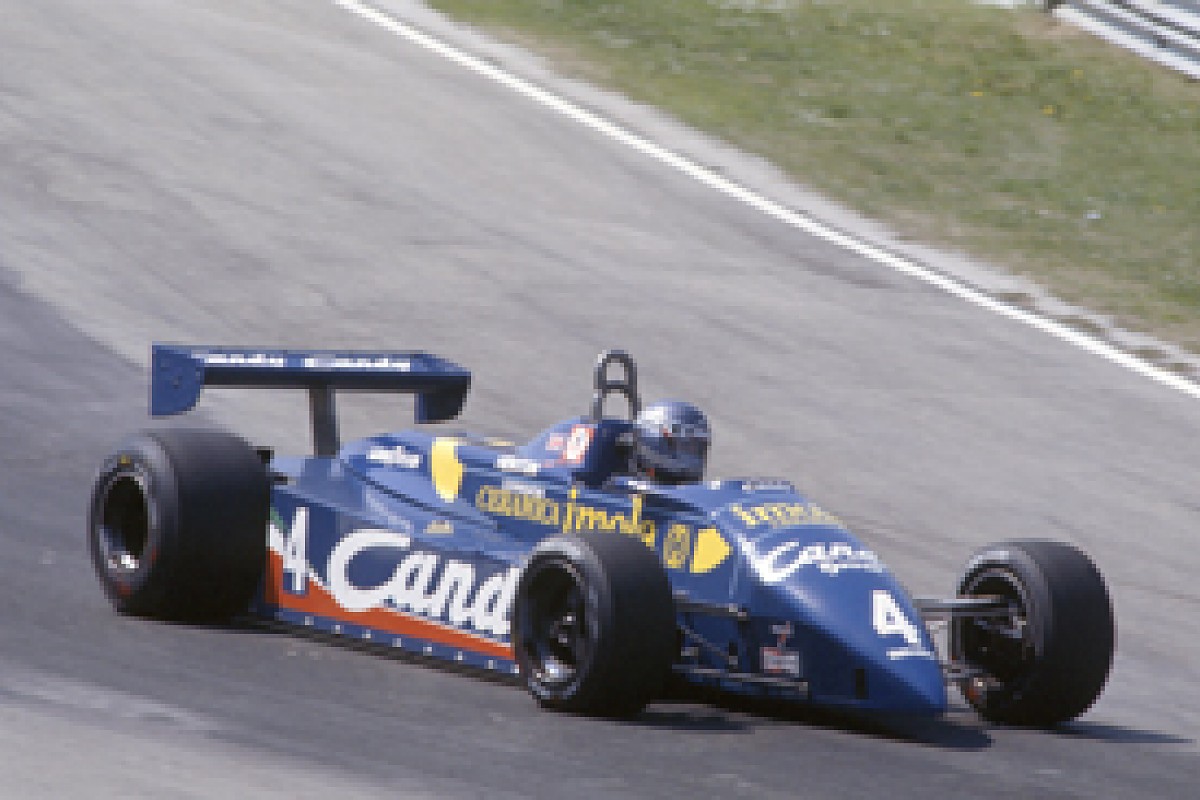 With two 'new' sponsors on board, Tyrrell re-signed Brian Henton © LAT
This time, at least, they knew what they were going to get, or almost. On parade were two Ferraris (Villeneuve and Pironi), two Renaults (Prost and Arnoux), two Alfa Romeos (Bruno Giacomelli and Andrea de Cesaris), two Tolemans (Derek Warwick and Teo Fabi), two Osellas (Jean-Pierre Jarier and Riccardo Paletti) and... two Tyrrells (Alboreto and Brian Henton). Their transporters were all in the paddock on Thursday and on Friday morning they had been joined by the ATS cars of Manfred Winkelhock and Eliseo Salazar.
Ken Tyrrell's position in this latest rat's maze of intrigue and deceit was, to say the least, invidious. After a long spell without substantial sponsorship. He once more had the support of two former backers, Candy and Ceramica Imola, both of which - being Italian - were understandably keen that the Tyrrells should run. What was he to do? Ruyn the risk of losing his sponsors for the future, or anger his FOCA colleagues? Between a rock and a hard place, he opted to race, at the same time kaking clear his total support for FOCA's (industrial) action.
When the drivers went on strike in Kyalami, there was a loud response from their employers, most of whom expressed the sentiment that, whatever the problem, the solution was not to go on strike. Never. It was therefore a surprise that more temporarily unemployed drivers did not venture to Imola to put forward their views, to say 'Hey, where's my car?'Niki Lauda was present, however, and he lost no time in saying what he thought.
For the moment, though, let us put the politics aside and deal with them separately. There was, after all, a motor race at Imola, and some people were intent upon winning it. At the end of practice the first four places were occupied by the Renaults and Ferraris, which was no great surprise. Imola is a circuit where brute power counts for more than brute downforce. Last year, remember, Villeneuve's ill-handling Ferrari 126C started from a comfortable pole, and Pironi's similar car led most of the race.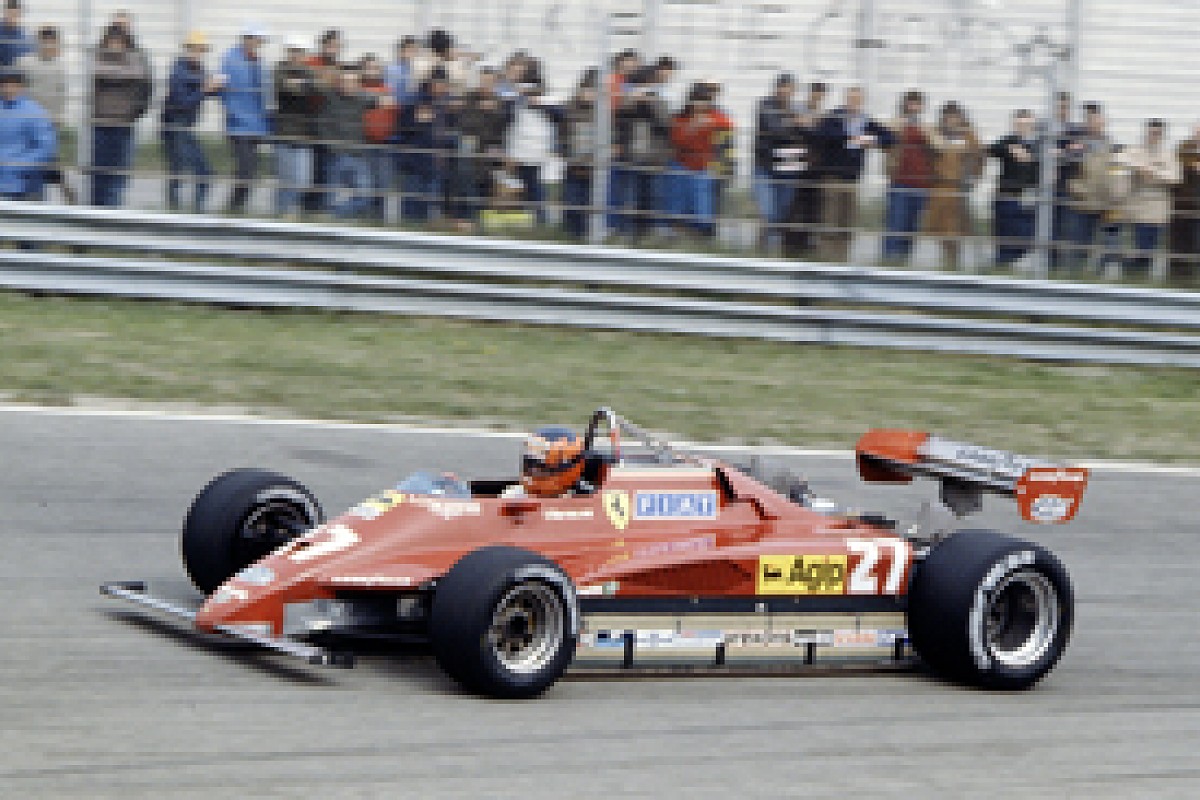 Villeneuve was the closest challenger to the Renaults in qualifying © LAT
"I think the front two rows would have been the same, even if everyone had been here," commented Villeneuve. "And for sure, our biggest worry would have been Rosberg and the new Williams. Keke would have been a factor in the race, and maybe Nelson, too, if he had run a Cosworth, but then he was down to run a BMW, wasn't he? - in practice, anyway..."
On Friday morning there were rumours, unconfirmed by the team, that the T-car might be made available to a temporarily 'rested' star, and several names were mentioned, including that of Lauda. Nobody took the rumours very seriously, however, and the question became academic later in the day when Pironi severely damaged his car when he went off road, hitting a barrier backwards at very high speed. "I have no idea what happened," he remarked later. "But the car suddenly snapped out of control. Maybe it was a suspension failure, maybe a tyre... I'm not sure."
Overnight the Ferrari mechanics went to work, 12 of them building up a new car for the Frenchman. It was finished at four in the morning, but Pironi had to be content with his time from the first day, still good enough for fourth on the grid.
"I think we have a difficult time here against the Renaults," he said on Saturday evening. "On the straights they are 10kph quicker than we are - because they come out of the previous corner better." Villeneuve agreed: "The car is still poor in the slow corners, but for me the biggest problem is following the Alfas. They are throwing out so much oil it is difficult to see through your visor!"
Ferrari's spare car, used by Pironi after his shunt on Friday, had front wings of carbon fibre, but these were never transferred to the race cars. New carbon fibre brake calipers were something of a headache, however; both Ferraris regularly entering the pits with smoke pouring from the front wheels. Neither driver was especially happy with them, and technical chief Mauro Forghieri reckoned the team would revert to steel callipers for the race. At the end of it all, Villeneuve was third on the grid, and Pironi fourth. For the Italians, it was a bitter disappointment not to have at least one of the red cars on the front row, but Renault had that well locked up. On pole - as he so often is - was Arnoux, who lapped in a staggering 1m29.765s, almost five seconds inside Villeneuve's 1981 mark. Imola is one of Arnoux's favourite circuit, and on Saturday he drove it brilliantly, his time 0.5s quicker than Prost's.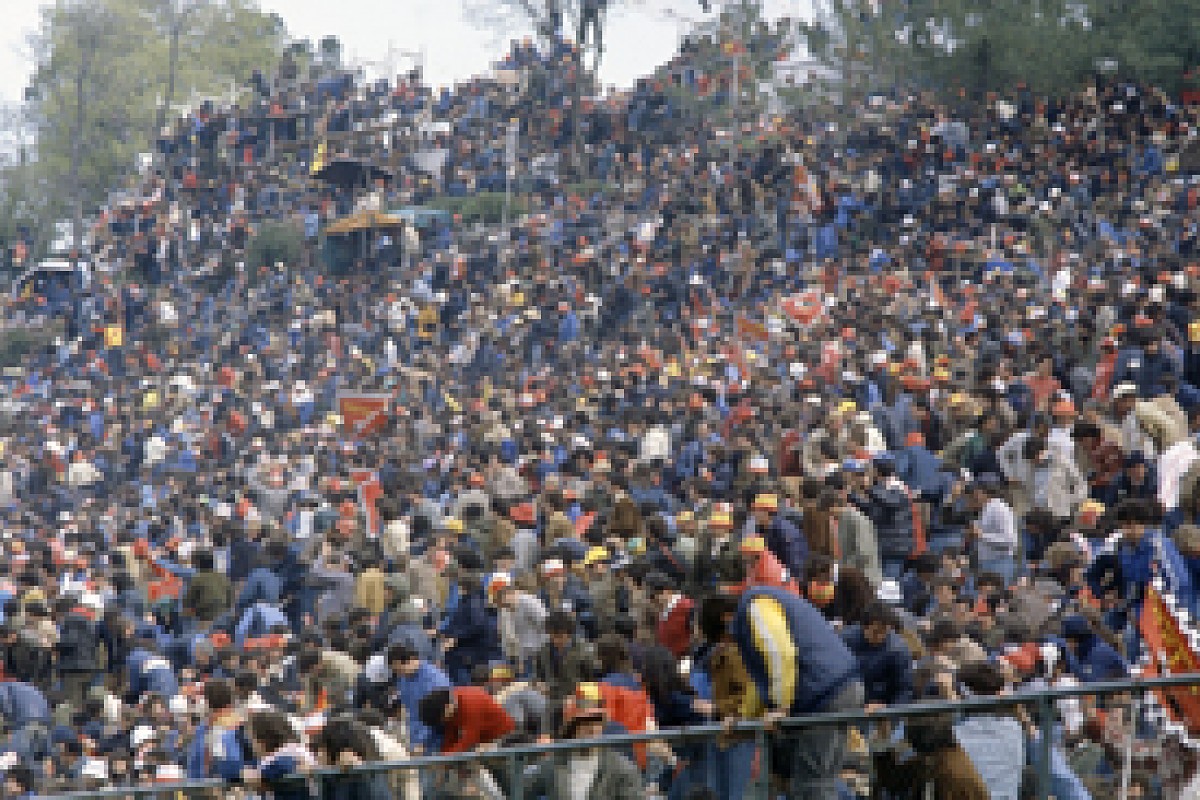 Two of the 14 cars were Ferraris, so a huge crowd still turned up © LAT
If they finished up with the two best times, however, qualifying was hardly without its dramas for the Renault pair. Both had to resort to the team's spare car on Friday afternoon; Prost after blowing a head gasket on his regular car and Arnoux following a dramatic incident at Tosa when he pulled off with quite a blaze behind him, the result of an oil leak.
Saturday, though, was better, and Arnoux was in confident mood after his shattering lap: "I am very sorry that some of the other teams are not here, but I believe that I would have still been in pole position. The car is fantastic now, beautifully balanced, and I had no problems. None at all."
The Renaults, then, were the pace of the field, but doubts lingered over their reliability. Villeneuve and Pironi could be sure to pressure them, and given the fact that all four leading turbos were committed to running hard tyres on this occasion, that pressure was likely to be sustained.
You might have expected to find the two Alfa Romeos next in line. Only three weeks ago they proved amazingly effective at Long Beach, and the V12 should have been the closest thing to a turbo at this, a 'power' circuit. As it was, the cars were disappointing, only sixth and seventh on the 14-car grid.
"We have a problem with, shall we say, weight distribution," said Gerard Ducarouge with a wry smile. Which was another way of saying that, ballasted up to 580kgs, the 182s were neither handling nor accelerating as of yore. "We simply need more testing time with the cars in the revised specification," said Giacomelli, this time a fraction quicker than de Cesaris.
Ahead of both Italian cars was Alboreto in the Tyrrell. "I knew before practice started that I would be a long way from the turbos, and my best hope was to beat the Alfas. For the race, my intention is to run reliably and to be the first non-turbo, maybe they all blow up..."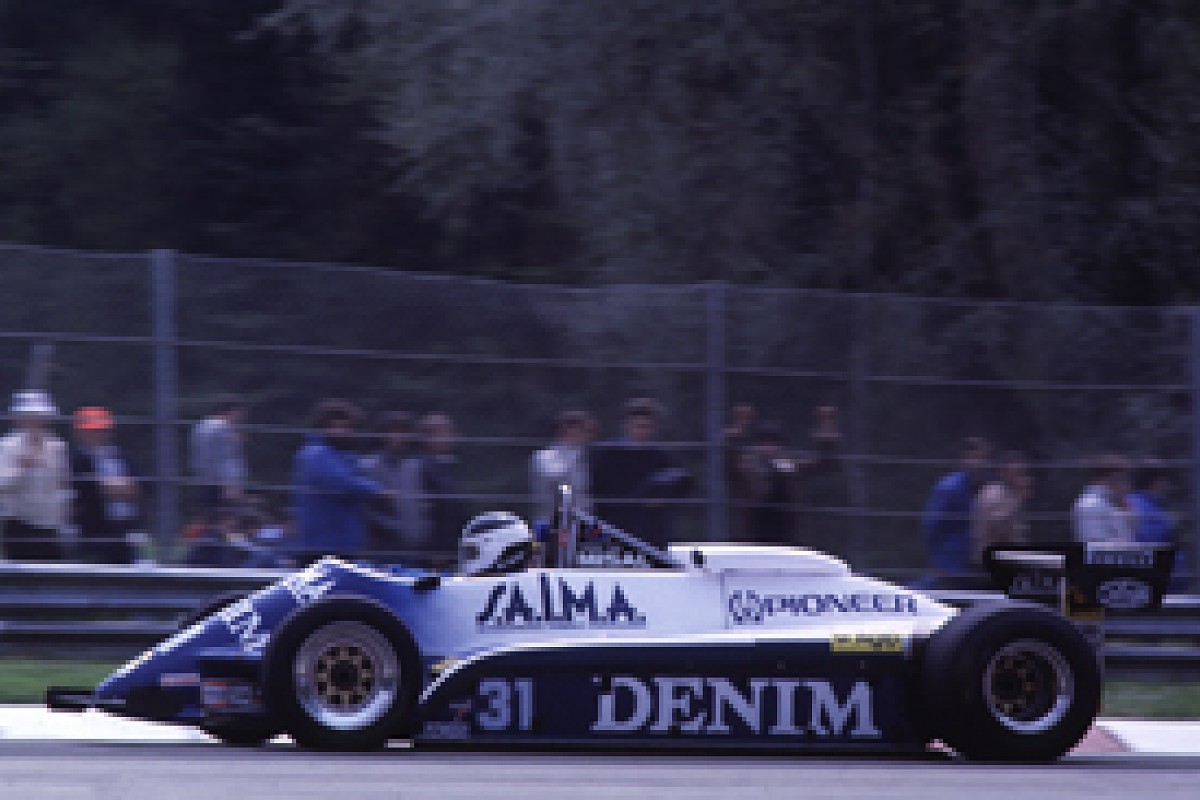 Jarier would finish fourth; his best result for almost three years © LAT
Alboreto had a new team-mate for Imola, this being Henton, whose Arrows drive has now been reclaimed by Marc Surer. "I tell you what, there's a bloody big difference between running on cross-ply tyres and radials!" grinned Henton. "I've got so used to Pirellis that I've had to change my driving style altogether with these Goodyears. They seem to be much more progressive, and give the car a nicer ride. I reckon I'll go better in the race."
Eighth fastest, Warwick was disappointed. For much of practice, his Toleman was as high as fifth, but the last session brought disaster. "I was going through the right kink before Rivazza and pulling ten-four, 400rpm more at that point than ever before - and the left hand front suspension broke," he said. The car shot across the road, but Warwick did not hit anything, and brought it back to the pits, a little ashen-faced.
"I'm really down now," he muttered after practice. "The car really feels good now, turns in well... I reckon this team's trying to get rid of me! I don't want things like that happening too many times."
Fabi blew an engine in his Toleman on Friday morning, and missed virtually the whole of the first timed session while it was changed. Saturday morning was spent balancing the car, and in the afternoon he lapped just about a second slower than his team mate, 10th on the grid, next to Jarier's Osella.
For the first time since this race last year, Enzo Osella had both of his cars in a race, for qualifying last weekend was obviously automatic. That being the case, Paletti could look to his Formula 1 debut. Not surprisingly, the bespectacled Italian was on the back row, next to Salazar's ATS.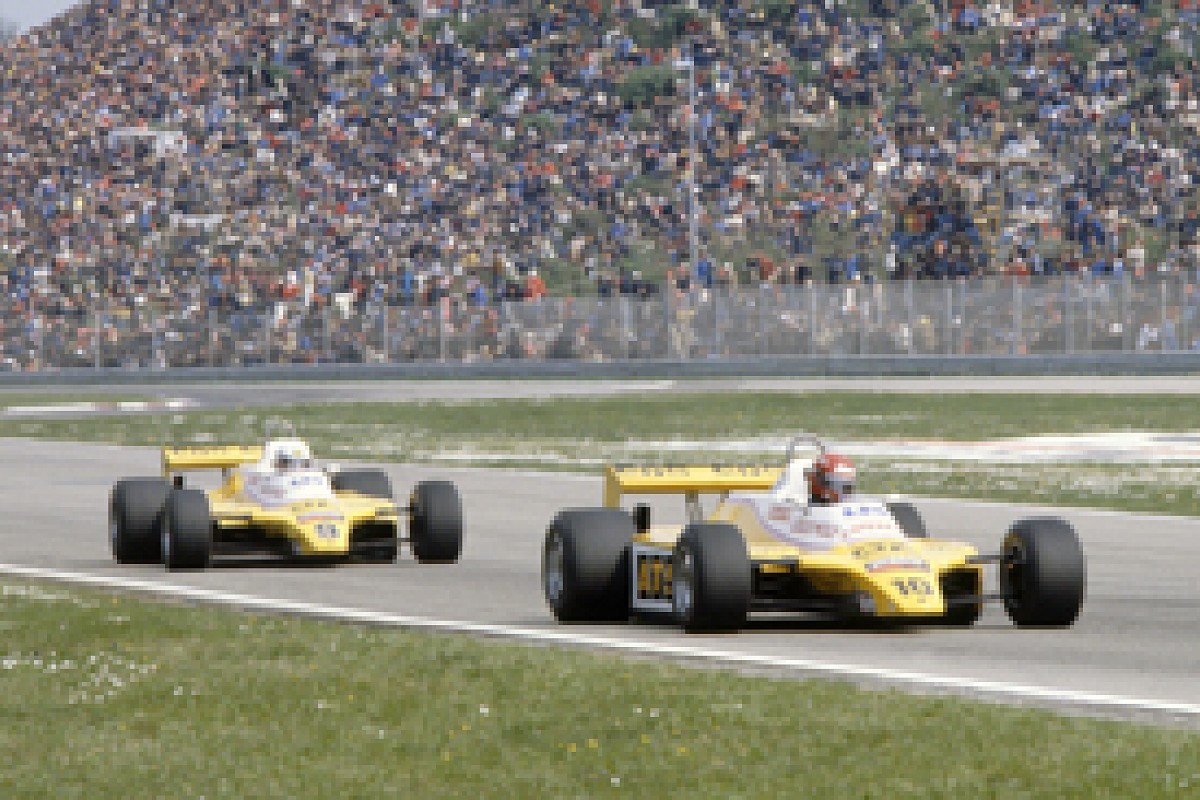 Salazar and Winkelhock qualified on a mixture of Avon and Pirelli tyres © LAT
Practice for Imola 1982 is not something that ATS will easily forget. Gunther Schmidt had been undecided about running his cars in a FOCA-blacked event, but finally made up his mind to do so. On Friday morning, the team realised it had a problem: no tyres. It is under contract to Avon, and on Thursday IRTS ordered the transporter to leave.
For the first day, therefore, Salazar and Winkelhock could use only the Avons mounted on their wheels at Long Beach, and the compound was much too soft for Imola. By Saturday, Schmidt was desperately trying to acquire rubber from one of the other companies, and in the afternoon the two drivers ran Avon (cross-plies) on the front and Pirelli (radials) on the back! Not surprisingly, said Salazar, the handling was a little weird, and both the yellow cars spun more than once.
What to do for the race? At one stage, it was proposed that ATS flew out some of the 15-inch front wheels, so as to be able to run Pirellis all round, but eventually a light aircraft brought out some ex-Kyalami/Rio Avons from the ATS factory. Claiming that the 'Imola' Avons had already been paid for (and were therefore their property), ATS personnel were more than a little peeved with the situation.
Fourteen cars, then, but there was the prospect of the Renault/Ferrari duel, the sun was out, and one heard hardly a raised voice throughout the weekend - apart from those of the fans, who packed into the place on Saturday, oblivious apparently of the latest stage of grand prix racing's gradual suicide.
1982 Imola starting grid on FORIX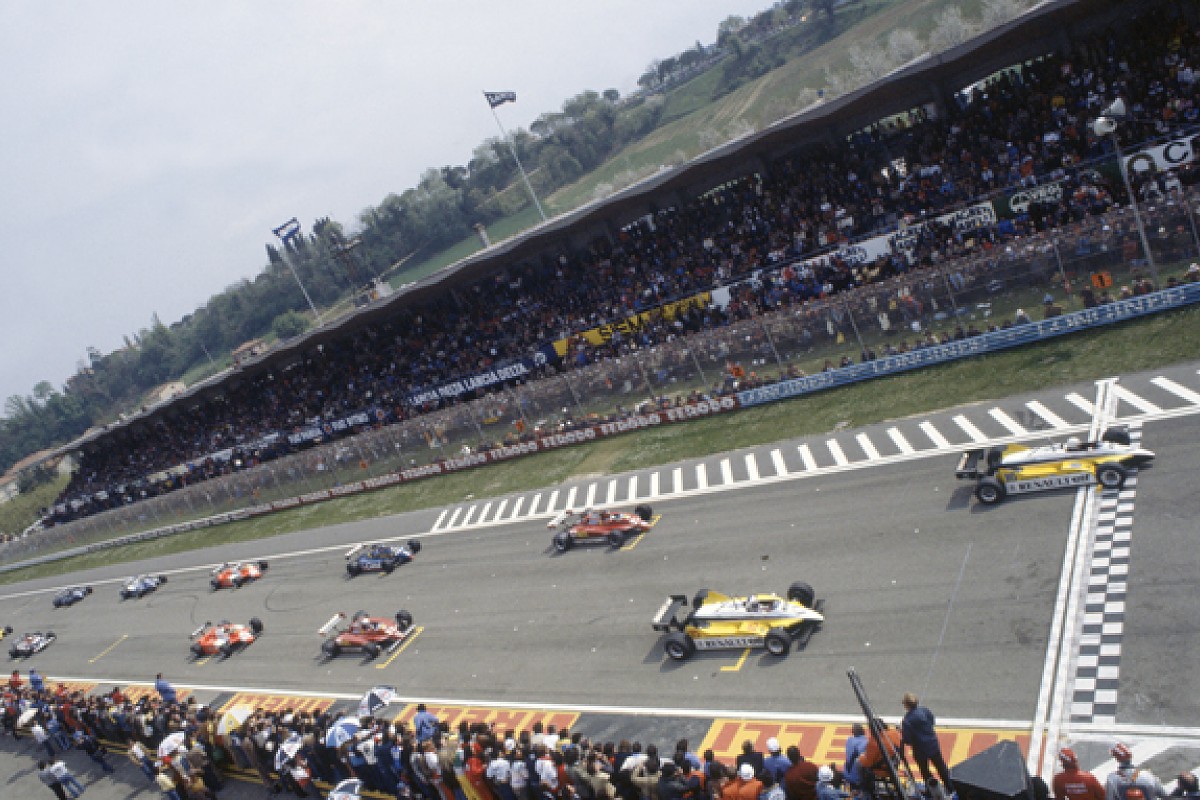 The grand prix
Early on Sunday it was clear that the organisers had been right: 14 cars were quite enough for the Italians. The crowd was certainly the biggest I have ever seen at Imola, and the day was fine and clear. We were hopeful of a decent scrap between Renault and Ferrari. We were to get rather more than that.
In the morning there was a flurry of excitement when it became known that Tyrrell had put in a protest. Nothing new in that, of course, but this time the protest was against six cars - the Ferraris, Renaults and Tolemans, all of which, you guessed it, are turbocharged. The basis of the protest was that they were "fitted with turbines," which, under Article Five of the Sporting Code, are forbidden.
The Stewards decreed that the word 'turbine' in the Sporting Code referred to pure turbine engines, pointing out that the same Article Three also made provision for four-stroke reciprocating piston engines with supercharging, adding that Article One states that supercharging may be done by any means whatsoever. The protest was thrown out.
The frivolity over, we moved on to the midday warm-up, which brought fresh worry for Renault. Arnoux found that his car, after setting the best time, started to overheat drastically. There was no time to start investigations, and the mechanics simply buckled down to the task of installing a new engine for the race.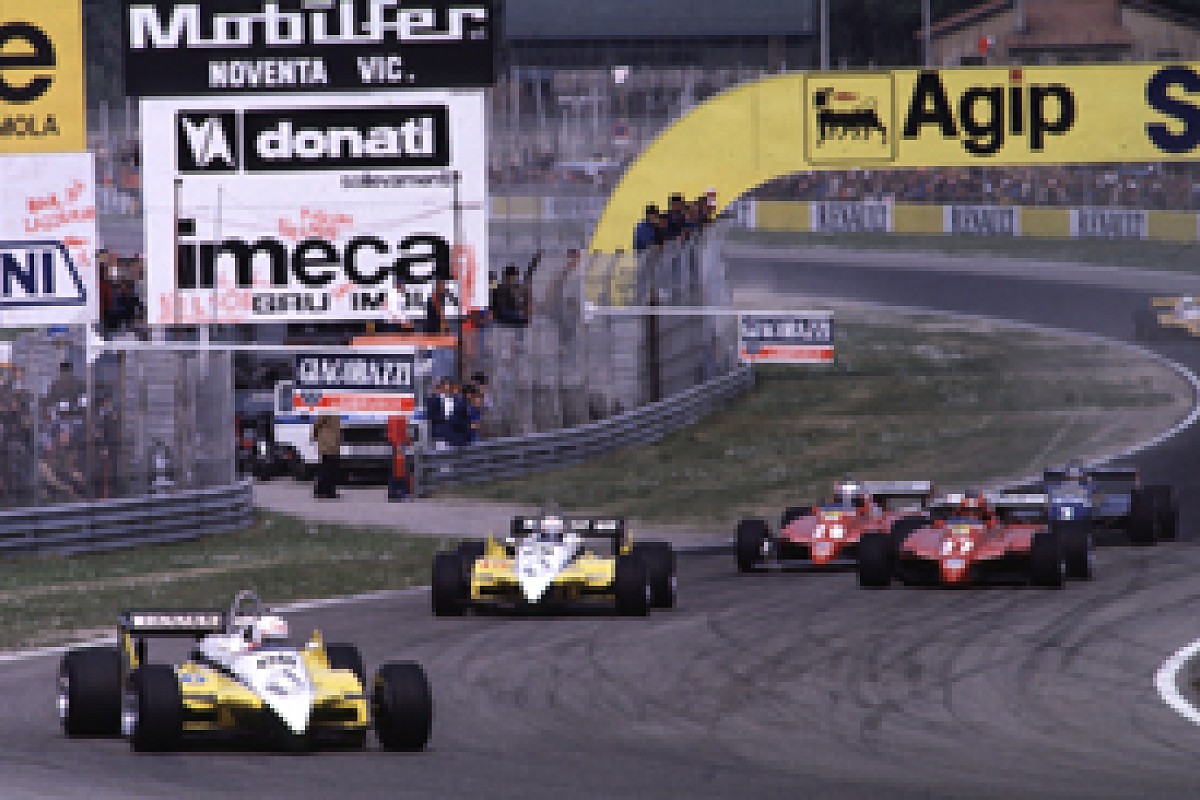 Arnoux led Prost and the Ferraris from the start © LAT
Both Ferrari drivers were anxious anew about their brakes, and de Cesaris' Alfa briefly caught fire when a small fuel pump pipe broke. Poor Warwick ground to a halt out on the circuit. After being towed back to the pits, the car was restarted by the mechanics, who could only hope the trouble was now cured. And the ATS drivers, now back on Avons all round, were both feeling a lot happier with life.
And so to 3pm and the start, with the sun now curtained behind light cloud. At the green light, Arnoux made all the right moves, sprinting away from the line; a technique he has mastered only recently. The little man has been his old aggressive self this year, and he powered round that first lap, intent on dominating from the outset.
For the first mile or so, Prost's sister car sat in second place, but both Ferraris were soon by, and at the end of the lap it was yellow-red-red-yellow, with Alboreto's Tyrrell fifth, ahead of the Alfas of Giacomelli and de Cesaris. Next up was Fabi, holding off Jarier, Salazar and Winkelhock.
Already, the field was down to 11. On the final parade lap, the atrociously unfortunate Warwick's day ended with a recurrence of his warm-up problem.
"You wouldn't believe it," he said later. "It was a tiny thing, inside the battery terminal. The engine started cutting out, so that I had to bump start it a couple of times, but then all the lights and gauges stopped working, so at that point I knew that was that."
Henton's race was over almost immediately, the transmission on the Tyrrell breaking as the car left the line. And Paletti, whose Osella had refused to start at the beginning of the parade lap, started half a lap behind the rest. His race was to end after eight laps, the blue car's suspension a little deranged.
For the first few laps it looked as though Arnoux was going to be running alone. Five laps into the race, 4s clear. But this was Italy, and next in line were the Ferraris. Gradually Villeneuve and Pironi began to claw it back, but Prost was beginning to lose ground. At the end of lap seven, the world championship leader coasted into the pits. Piston. Climb out. From now on it was a three-car race.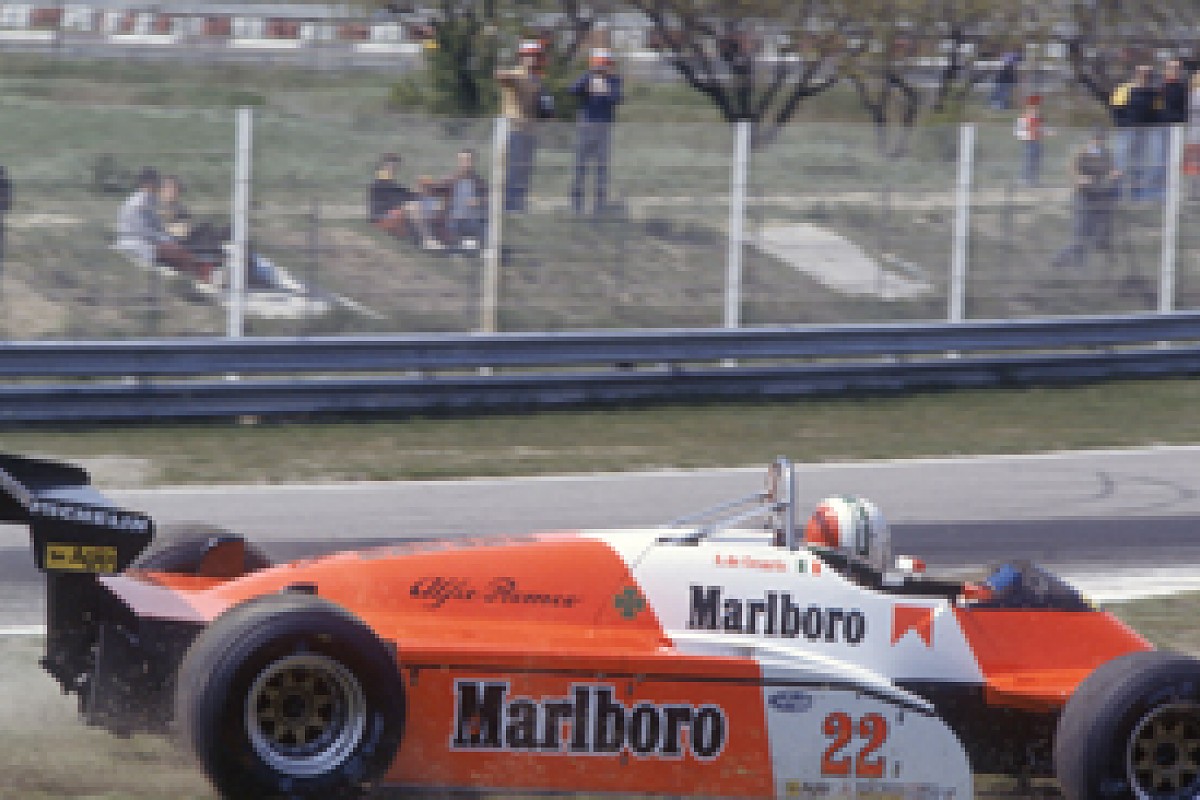 De Cesaris went off, and got a little too close to our photographer... © LAT
De Cesaris had been in as early as the third lap for attention to his fuel pump. Twice he went back out, for a single lap each time, before calling it a day. We looked at the depleted field, and thought about Peter Ustinov's wonderful Grand Prix of Gibraltar, where there were no finishers...
We need not have worried, though, because there were the beginnings of a sensational battle at the front. After 14 laps Villeneuve was only 0.5s behind Arnoux, and the crowd became restive, preparing to be noisy as and when the French-Canadian took the lead - as he surely would, of course. Having the red cars nibbling at his gearbox did not seriously concern Arnoux at this point, however, for the Renault was undoubtedly quicker in a straight line.
Still fourth, but inevitably dropping away, was Alboreto, who had drawn clear of Giacomelli. Bruno's race ended on lap 25 when he pulled off with a blown engine.
The lead dice apart, the main interest in the race had been centred on the excellent showing of Fabi, who had proved from the outset that he has a real racer's mentality. For many laps he was under severe pressure from Jarier and then Winkelhock, but he gave no quarter at all, getting stuck into his first grand prix. Unfortunately, a long stop with an ignition problem on lap 19 but him completely out of contention, but he returned to the race for the sake of it, and drove for his life all afternoon.
On lap 27 the crowd roared. Villeneuve finally succeeded in getting past Arnoux, and there he stayed for four laps, until the Renault repassed at Tosa, Pironi very nearly getting by his team-mate at the same time. Lap 35: Pironi moves in front of Villeneuve and stays there for six laps until the positions are reversed. Arnoux led all the while, but the three of them were usually covered by a second or so.
It was a lot less than that as they completed the 44th lap. More to the point, there was a substantial puff of smoke from the French car as it left the chicane before the pits. Soon the smoke was thick, and as Villeneuve took the lead, a rocket of flame shot from the Renault's tail. For Arnoux it was over, a great drive that would almost certainly have meant victory.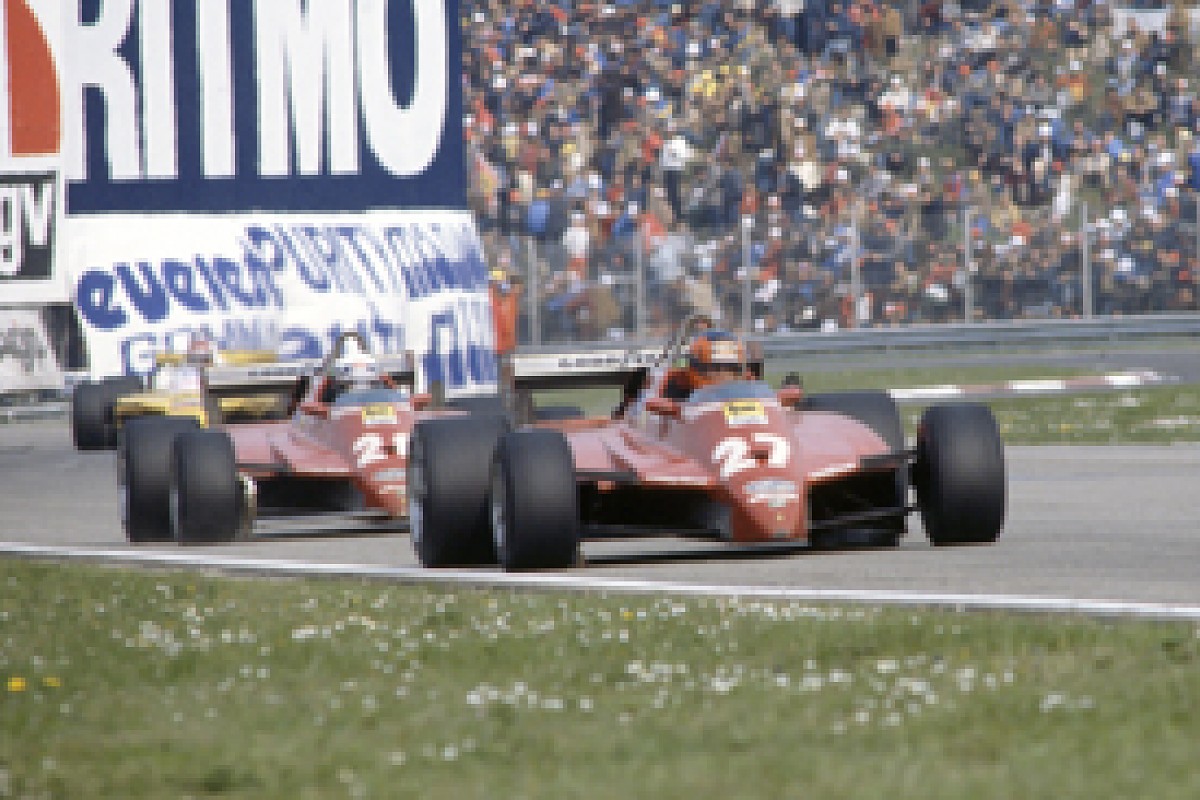 Villeneuve headed Pironi towards the end, but it wouldn't stay that way © LAT
"I feel sure I would have won," he said later, still very glum. "I was enjoying the race, but I always felt I had an advantage over them. I think that this is the 11th time I have been in a good position to win and something has happened to the car..."
And now began the real story of Imola 1982. The Ferraris had it all locked away. Villeneuve, Italy's idol, was leading, and there was delirium on the hillside.
Lap 46: Pironi is in front. Hey it's good the boys are putting on a show for the spectators.
Lap 49: Villeneuve leads again. Yes, it's all organised. Team orders. When Arnoux went out, they got the 'slow' sign from the pits. Villeneuve was leading at the time, so he is to win. That's the arrangement with Ferrari. Italian it may be, but it doesn't race within the team. Remember Jody Scheckter and Villeneuve at Monza in '79? Softly, softly. This is a victory at home. Don't blow it. Yes, they've dropped the pace, from 1m35s to 1m37s.
Lap 53: Pironi ahead! Well, why not? No harm done. But the pace has picked up. He that lap in 1m35.4s, the same sort of time they were doing when Arnoux was in the race. This is just playing about, isn't it?
Lap 59: Yes, no problem. The theatrical stuff - and some of the overtaking manoeuvres have been carried off really well, judged to a spectacular nicety - is done with. Pironi has remembered the pit signal, and Villeneuve is back in first. Lap time: 1m37s. They've dropped off the pace again, remembered that their fuel load is marginal for 190 miles round Imola...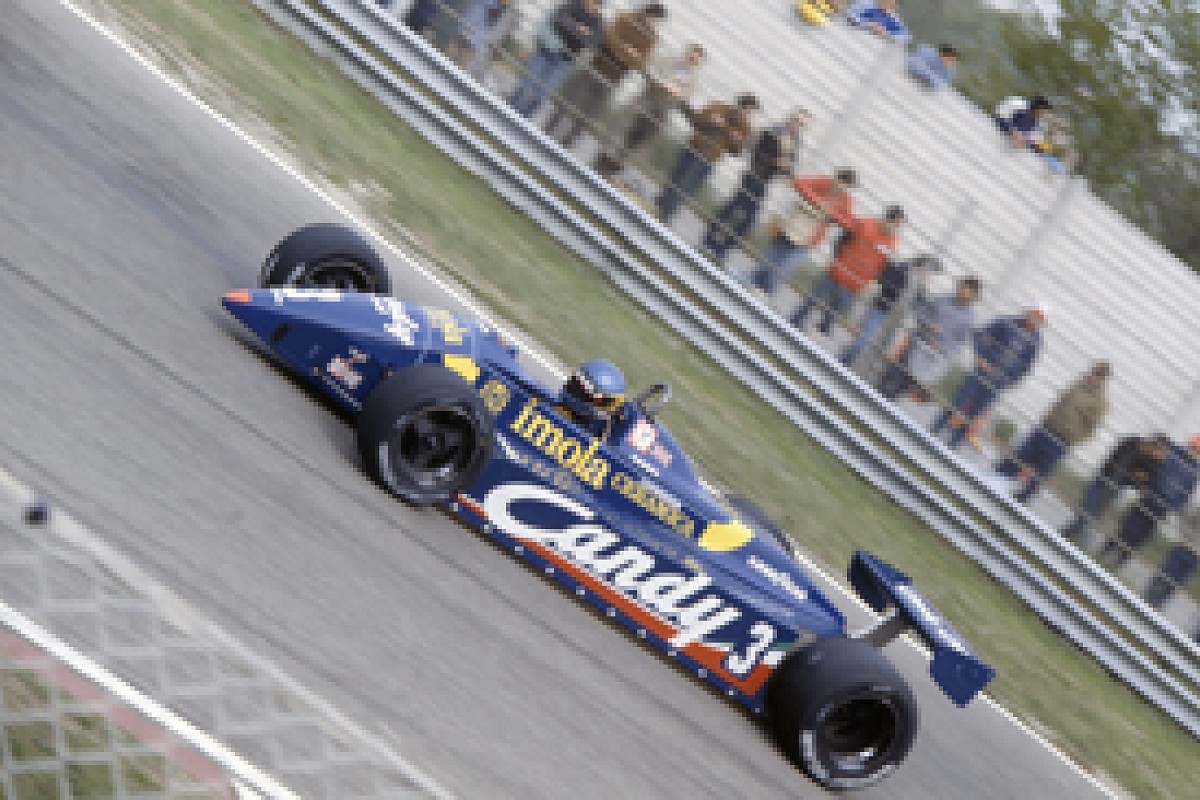 Alboreto took his maiden podium finish in his Tyrrell © LAT
Down towards Tosa, Villeneuve suddenly becomes concerned, for Pironi is making shapes to go by again. Into the right-hander before Tosa, the Frenchman dives through on the inside, slides out wide in front of Villeneuve and holds it. He is serious about it, after all. At the flag it is Pironi-Villeneuve.
On the slowing down lap, Pironi removes his helmet and balaclava and waves jubilantly to the crowds. Villeneuve, both hands firmly on the wheel, follows him in, brakes the car to a halt, steps out and walks away. There is no need to ask questions. He is furious, livid.
Correctly, he joins his team-mate on the rostrum, but the two men avoid looking at each other. The ritual complete, Villeneuve strides quickly to his helicopter, climbs in and flies off to Monaco. Pironi tells the press that there were no team orders, and Marco Piccinini says the same thing. Villeneuve has a different version. Ferrari has won the race and started an internal crisis.
Behind, everything else is forgotten. Alboreto's excellent, but lonely drive has brought third place for Tyrrell, Jarier is fourth for Osella and Salazar fifth for ATS. Winkelhock is sixth, but at the weigh-in his ATS is 578kg - a couple under the weight limit. He is disqualified. Which is about where we came in.