For 64 of the 70 laps at Zolder last Saturday, Keke Rosberg and the new Williams FW08 led the field over the line. At the beginning Keke was bested temporarily by René Arnoux's Renault but the Frenchman was soon in trouble. From then on, until lap 69, the tiny white car held sway on its first public appearance.
But Rosberg was in trouble for much of the race. An early challenge from Niki Lauda's McLaren faded when the Austrian's tyres began to go off, and he briefly lost second to the vastly improved Andrea de Cesaris, whose Alfa Romeo was in contention from the start, but retired at half distance with transmission failure.
Then it was John Watson who began to come into the picture. His McLaren wore harder Michelins than Lauda's car, and as Niki's effective challenge began to wither, so John's started to flourish. With Rosberg also having tyre problems - his left rear Goodyear was through to the canvas by the end - Watson began to catch him, slowly at first, then hand over fist. For the last half of the race, the Williams was also without much in the way of brakes. Just a lap and a half from the flag Keke made a mistake, went wide and John was through for the third grand prix win of his long career.
Behind them, at the end, were Lauda (later disqualified when his McLaren was found minutely under the weight limit), Eddie Cheever, who drove the old Ligier for all it was worth, Elio de Angelis, who survived a troubled race with his Lotus 91, Nelson Piquet, who had gearbox problems with his Brabham-BMW and finished without second and fifth, and Chico Serra, who made it to the end and took his first championship point.
For Renault it was a bad weekend indeed, with Prost and Arnoux again qualifying first and second and again failing to finish. Both Tyrrells retired, and so did both Tolemans, both Alfa Romeos, both ATS.
For grand prix racing as a whole, though, it was more than a bad weekend. Shortly before the end of the final qualifying session, Gilles Villeneuve, going for a time on his last set of qualifying tyres, hit Jochen Mass' very much slower March. The Ferrari flew into the air, then somersaulted with terrible violence for a long way. The unfortunate driver was eventually thrown out of the wreckage, but medical evidence suggests that Gilles was beyond saving even before this happened. He died on Saturday night, seven hours after the accident. Grand prix racing's greatest star is gone. After such a catastrophe, nothing else of the weekend mattered very much.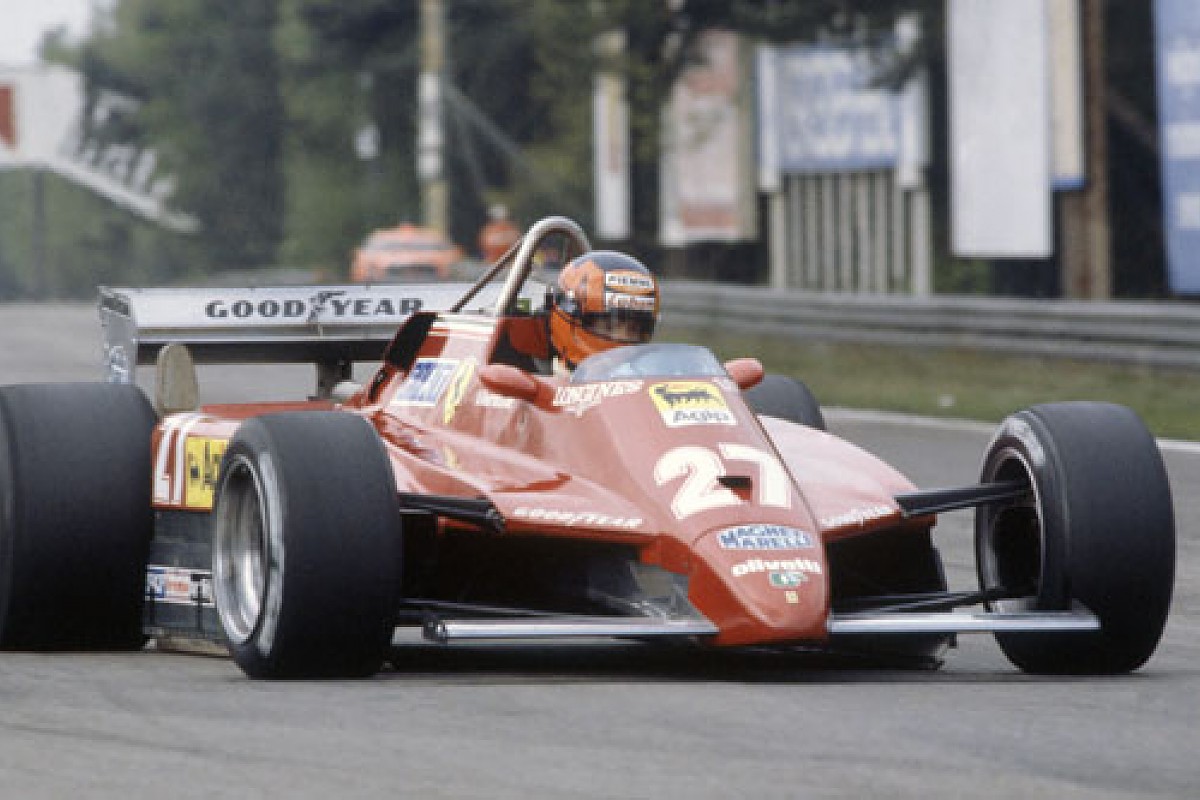 Entry and practice
Until the closing minutes of the final practice session, the Belgian Grand Prix meeting was following an established pattern, the paddock split into hundreds of quiet conversations, voices occasionally raised as cars went past, hurriedly lowered afterwards. Allegations of cheating did the rounds. That kind of thing. A scene played many times across the world, this particular weekend transplanted to Zolder.
When there is a major accident in grand prix racing, word of it usually begins as a subdued whisper, small groups of people with anxious faces. In Belgium there was no such thing however, the local commentator announcing loudly, and in several languages, that practice had been stopped because of a massive accident to one of the Ferraris. The driver, he said, was lying near the car.
At the 150mph left-right beyond the hill after the back chicane, the scene was horrific, reminiscent of a light aircraft accident. Small pieces of red bodywork were everywhere. The car's front bulkhead was already on the back of a lorry. On the track there was no tyre mark evidence of anything, for the Ferrari had been airborne most of the time.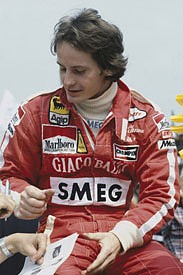 Villeneuve signing autographs for fans at Zolder © LAT
Beyond, on the other side of the track, doctors were already working desperately to keep Gilles Villeneuve alive. As news of the disaster spread, an awful sadness fell over most of the paddock.
Such a disaster was not altogether unexpected, of course. When you blend together the explosive competitiveness of a man like Villeneuve, an over-crowded circuit and just two opportunities to go for a really quick lap, it is easy to rationalise what happened. Gilles, alone among the drivers, had often drawn attention to the folly of current grand prix qualifying: "You have just a couple of chances, really, to set a time, so you can't afford to lift. For that, you need a clear circuit, but you rarely get that these days. So you have to hope the other guy has seen you..."
As we went into the last quarter of an hour of practice on Saturday afternoon, Villeneuve sat in the pits, very still and composed in the cockpit, while crowds milled around his car. He had but one quick lap left in his last set of qualifiers, and was waiting for the right moment. Finally, with about 10 minutes to go, he went out.
Eye witnesses report that Jochen Mass' March came over the brow from the chicane, with Villeneuve's Ferrari, travelling very much faster, coming up behind. Mass was approximately in the middle of the road, and decided at the last moment to move right to allow Gilles the inside line through the left-hand sweeper. Tragically, the Ferrari driver had already made his decision, and was committed to going by on the outside.
Villeneuve's left front wheel glanced Mass' right rear, and that was enough to launch the Ferrari high into the air. After a considerable distance it landed nose-first in the run-off area sand, and began to disintegrate. Bouncing over the guardrail briefly, the wreckage cannoned off the bank and then landed back on the track, at which point the driver was hurled out, landing across the road at the foot of the catch fencing.
Miraculously, Mass escaped without a scratch. After the initial impact, Jochen had braked very hard for the following right-hander, at which point the Ferrari, in its mindless cavorting, bounced onto the road, so nearly crushing the March as it did so. As it was, Mass just managed to swerve on to the grass and out of the way. Jochen stopped immediately, as did René Arnoux and Derek Warwick, who were next on the scene. Eventually all returned to the pits, and many were weeping. Gilles was alive still, somehow, but his injuries were appalling. And that evening, in hospital, he died.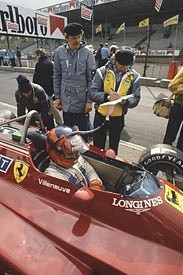 Villeneuve waited until the final 10 minutes of Saturday practice before heading out © LAT
The accident occurred at 1.52, eight minutes before the end of qualifying, and, astonishingly, there were those who wanted to go out again. Later the track was re-opened, and a few of them did that. No one, to my knowledge, improved his time, which was a relief. I think I might have worried about anyone who had.
Given the circumstances of the weekend, it would be absurd to discuss matters of cheating (or not), of 'underweight' cars (or not), of 'illegal turbine' (or not). Suffice it to say that there was plenty of invective flying around - even, if you can believe this, after the disaster.
As at Imola, the Renaults took the front row of the grid, with Alain Prost on the pole this time, just a shade quicker than Arnoux. For the most part, practice was uneventful for the French turbos, although Prost ran the T-car car for most of the first day, after over-heating problems with his regular car. Overnight on Friday, the engine was changed, and he reported no problems on Saturday.
Right with them - heroic, this - was Keke Rosberg in the new Williams FW08, a car very much more attractive, incidentally, that photographs would have you believe. Before the FIA Court of Appeal decision, when the car was running considerably under 580kgs, Keke tested at Zolder, lapping in 1m 15.90s. That time was set on race tyres, however, and he was optimistic that qualifiers would about balance out the extra weight. Result: 1m15.847s.
The new car obviously has immense potential, for Rosberg was not totally happy with either handling or brakes, and he commented that his second set of Q-tyres in the last session were less effective than the first. Otherwise, he might well have pipped the Renaults.
Derek Daly's Williams debut was a troubled one. In the final session he was soon back in the pits with a bad misfire, and took the spare car, as Rosberg had done the previous morning. Daly was unhappy with the brakes, and thought he had a little too much understeer, adding that he was still not totally confident in the car, although "I feel better with every lap." His Friday time - set in his own car - stood as his best, but he felt that then he had used his two sets of qualifiers too soon: "We thought it would rain..."
Fourth on the grid, a couple of tenths behind Rosberg, was Niki Lauda's McLaren MP4. It was a typically efficient Lauda performance, quickly down to a competitive time, with a remarkable economy of effort. In the last session he used only one set of his Michelin qualifiers, feeling that he could go no quicker, and was happy where he was. John Watson's sister car, which had an engine change on Friday night, was just over a second slower, 12th on the grid.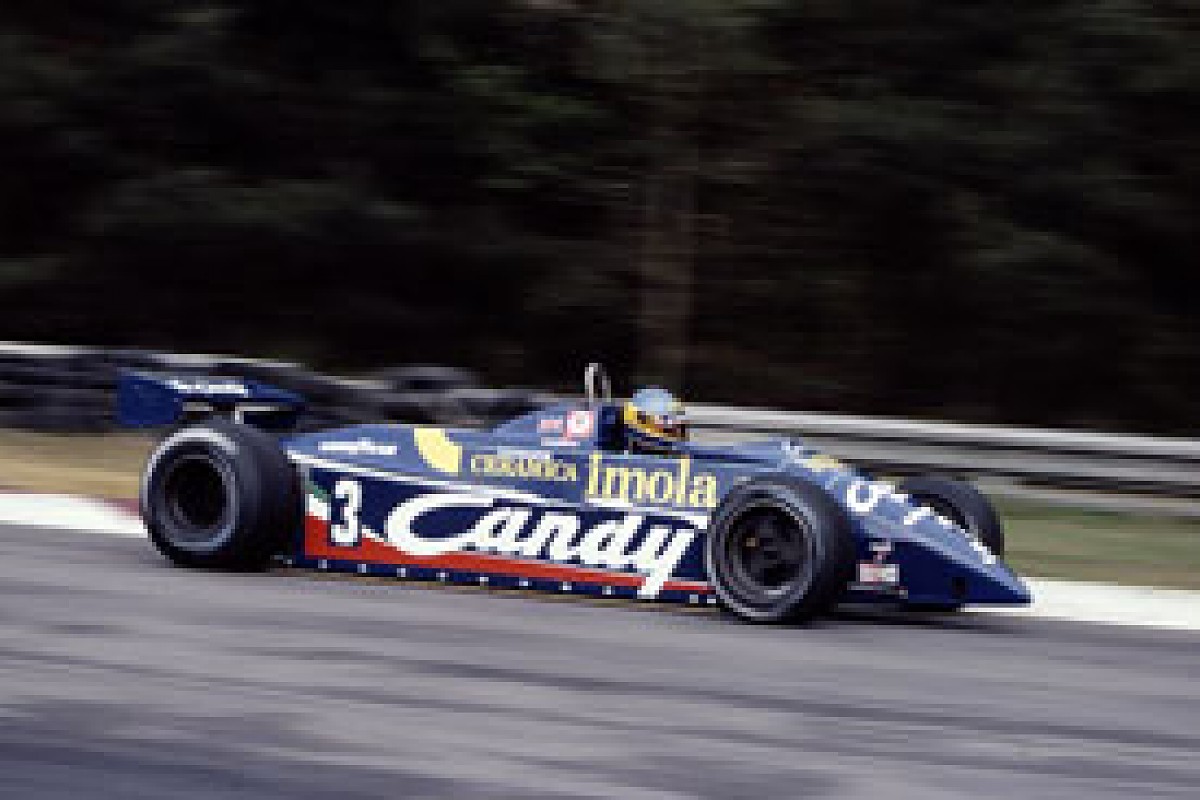 Alboreto was in sensational form during practice at Zolder © LAT
Sensational is not too strong a word to describe Michele Alboreto's practice performance. The Italian is proving to be the season's revelation so far, and his smoothness and confidence into fast corners is something to see. Fourth fastest in the first session, fifth in the second, Michele finally got down to 1m16.308s - and was slightly angry with himself: "I made a big mistake on my quickest lap. Without it, I think I would have broken 1m16..."
Brian Henton, who did not approach his teammate's times, was disqualified from the first timed session, his Tyrrell being found to be three kilos under the limit during a random check. He started 22nd.
Even before the start of qualifying, there was tension in the Ferrari pits, legacy of the controversy at Imola two weeks ago. There was no communication between Villeneuve and Pironi, although each seemed to be progressing well enough. Gilles had the fifth best time on Friday, commenting that the Ferrari was quite undriveable on 'A' compound Goodyears, but much better on the softer 'Bs'. He then mentioned another worry. Through the left-right curves over the hill (where the accident eventually took place), the steering momentarily seemed to lock in the straight-ahead position. Because of that, he said, it was not easy to go through that section flat.
Shortly before Villeneuve's accident, while he sat in the pits, Pironi improved his time considerably, actually lapping 0.1 seconds quicker than Gilles' best. Sadly, one can only assume that this further tightened the great French-Canadian's resolve as he drove out for the last time.
Alfa Romeo had a revised car, the 182B, at Zolder. The width of the car (across the sidepods) was 12cms narrower than the standard 182, and the new one also had a revised swept-up exhaust system, and skirts which extended to the rear wheels. It was tried briefly in the first session on Friday, but remained in the garage thereafter.
After their problems with "weight distribution" at Imola, Alfa were in better shape at Zolder. Andrea de Cesaris complained of a severe engine vibration on the first day, but a new V12 proved just fine, and the Italian was quick and smooth in the final session. Bruno Giacomelli managed to put his back out on Friday, but attention from the Renault team's masseur eased his problem, and after missing most of the first session he was able to run in the afternoon, although a broken plug lead kept him in the pits for most of the session. Bruno improved only slightly the following day, and wound up 17th best, with Andrea seventh.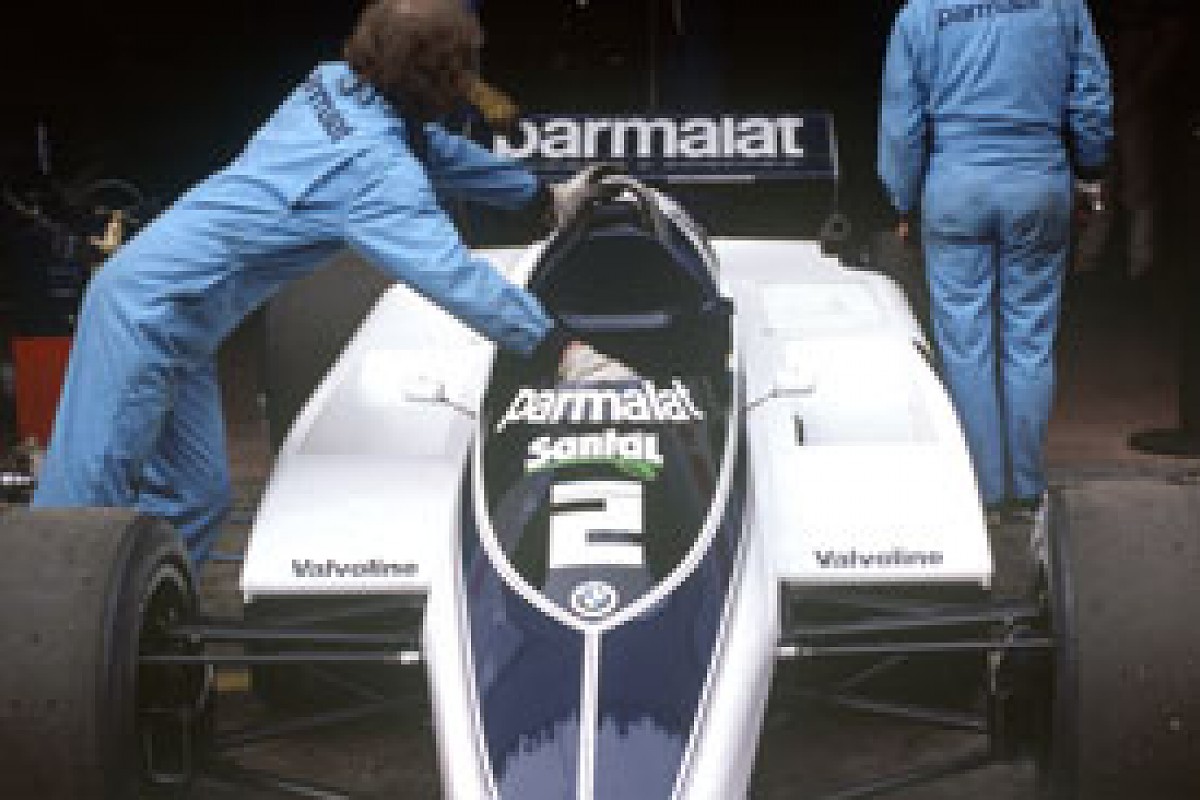 Brabham mechanics roll out the BT50, still bearing BMW badging © LAT
For the Brabham team, qualifying was a saga of disaster. Ten days before Zolder, BMW had gone public with their dissatisfaction with the agreement with Bernie Ecclestone, making it clear that if Brabham failed to race with the German turbos in Belgium, the deal was over. And when the doors of the transporters were opened, BMW-powered BT50 cars were rolled out.
Saturday went like this: in the morning Patrese blew an engine, the probable legacy of a blown turbo the day before, for it was thought that a fragment of debris had probably been ingested. During the lunch break the engine was changed, not quite in time for the start of the last session. Riccardo therefore went out in the spare car, stopping out on the circuit on his first lap.
As Patrese walked back, his mechanics had trouble. They had changed the engine in his race car, but now found that the gearbox wouldn't fit properly. The car was eventually made ready and Patrese went out in it, completing only one lap before practice was halted following Villeneuve's accident. Later, when those who wanted it were granted the lost seven minutes, the Italian found that his rev-limiter was cutting in too early.
Then there were the problems of Nelson Piquet. Early in the last session he got down to 1m17.50s, then experienced a severe loss of boost. The turbo was changed, and he went out once more. Still not enough boost. More work in the pits. No boost.
As well as that, both drivers were less than thrilled with the handling of the BT50s, and thoroughly unhappy with the brakes. There appeared to be a conspicuous lack of enthusiasm for the entire project within the Brabham team, and BMW Motorsports Manager Dieter Stappert made no attempt to pass the buck. It had been, he admitted, a complete disaster. As for the race, it looked certain that the wick would be turned well down in the interests of some kind of reliability. Piquet would start seventh, Patrese eighth.
For most of Friday morning's unofficial session, Nigel Mansell's Lotus 91 topped the time read-out, and he spoke enthusiastically of the car afterwards. "It's much better than it's ever been before. We've shifted the weight distribution around, which has helped a lot. There's still more understeer than I'd like, but it's coming along. If you want my honest opinion, we've moved up the times because of this weight limit thing. Our car has never been very light, you know, and I think a lot of the others are much heavier than ever before."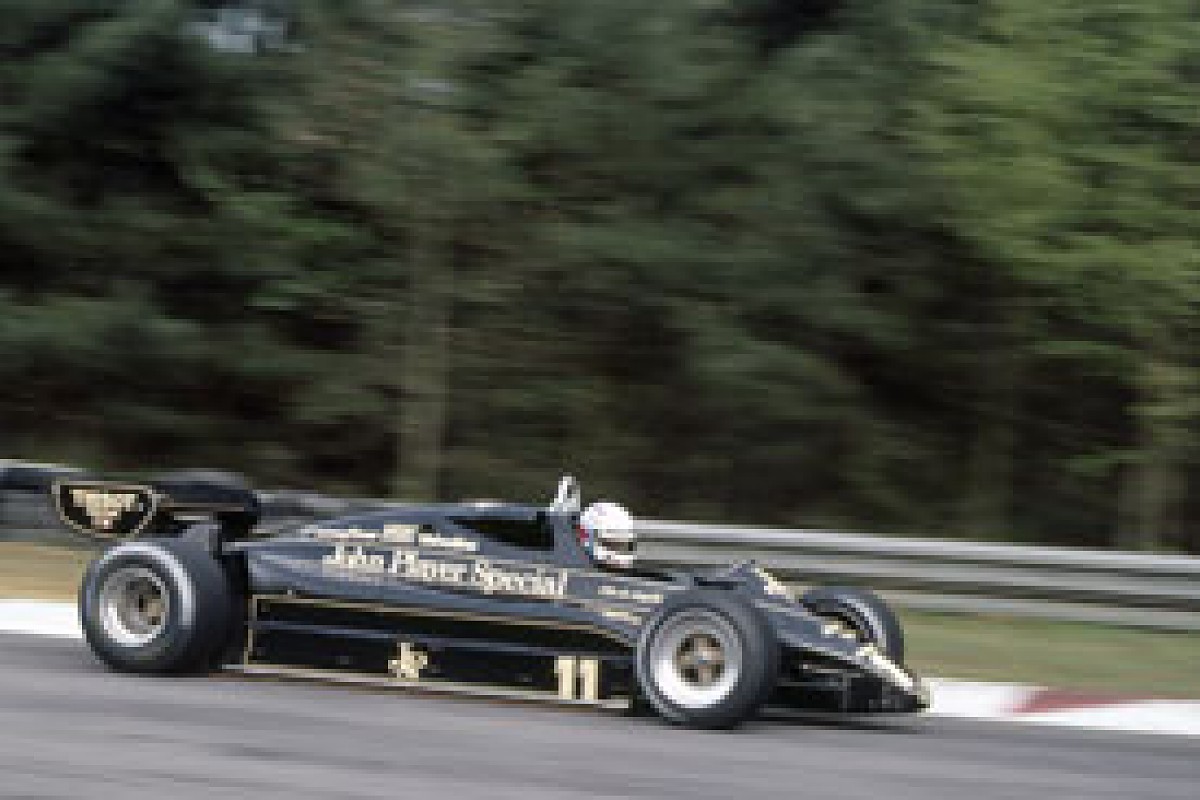 Engine complaints left de Angelis 11th on the grid © LAT
Mansell had a distinct edge over Elio de Angelis (who complained of poor engines) throughout practice, and qualified seventh, four places ahead of his team mate.
There was another good performance from Manfred Winkelhock, who put his ATS into 12th place on the grid, while Eliseo Salazar was also well in the race, 18th. Gunther Schmid's cars appeared on Michelin tyres, following the IRTS removal of Avon from Imola, and will stay with the French company for the rest of the season.
We had expected to see the new Talbot-Ligier LS19 at Zolder, but it did not appear. After practice on Friday, indeed, Jacques Laffite flew off to Clermont Ferrand to test the new car on the Michelin test track. All being well, it will make its debut at Monte Carlo.
Jacques and Eddie Cheever therefore had to make do once more with the heavy old JS17s, and this time the American out-qualified the Frenchman, 14th to 17th. Laffite, however, had a severe problem halfway through the last session, and had no inclination to go out again after the accident.
As usual Jean-Pierre Jarier qualified his Osella respectably, while Riccardo Paletti failed to pre-qualify on Monday morning.
Nothing new there, but we did have two Tolemans on the grid for the first time (excepting Imola, where qualification was virtually automatic for anyone present).
"I've never been so happy with the car," remarked Derek Warwick. "We seem to have a nice balance with it, and the Hart turbo is giving really good power. I can't stay with a BMW but I can certainly pull up on a Cosworth." By the end of practice, Warwick was 19th, with Teo Fabi (who had a rear suspension breakage) 21st. Poor Derek was extremely distressed by Villeneuve's accident, having been one of the first on the scene afterwards.
Marc Surer, still far from completely fit, made a courageous return to Formula 1, and impressed everyone by qualifying his Arrows without difficulty. The withdrawal of the Ferrari team also allowed Mauro Baldi into the race, together with Jochen Mass' Marc. Jochen, as it may be imagined, was distraught on Saturday afternoon, and would probably have been grateful for the opportunity to get away from Zolder there and then. His team mate, Raul Boesel, was already qualified, as was Chico Serra's Fittipaldi.
Roberto Guerrero was impressive on Friday, setting 19th best time with the Ensign, and looking sure to qualify easily, but he lost nearly all the last session while the car's clutch was changed, and did not make it. And Jan Lammer's return to grand prix racing, after an absence of more than a year, was not crowned with success, the Theodore being slowest of all after a myriad of problems.
When it was all over, though, nothing really mattered. Reports of Gilles condition varied, as they always do on these occasions, but it became clear that there was no realistic hope of his survival. Inevitably, a few zombies in the paddock munched on their chips and talked glibly of his replacement in the Ferrari team. It may have been genuine callousness or a bluff macho act but, whatever the explanation, it was abhorrent to most human beings, who felt a deep grief at the loss of a fine, gentle man who was also one of the world's greatest drivers. A man like Niki Lauda had no need to put on an act. "I liked Gilles very much," he said, quiet and subdued. "As a driver, he was the best, no question. The best and the fastest in the world."
1982 Zolder starting grid on FORIX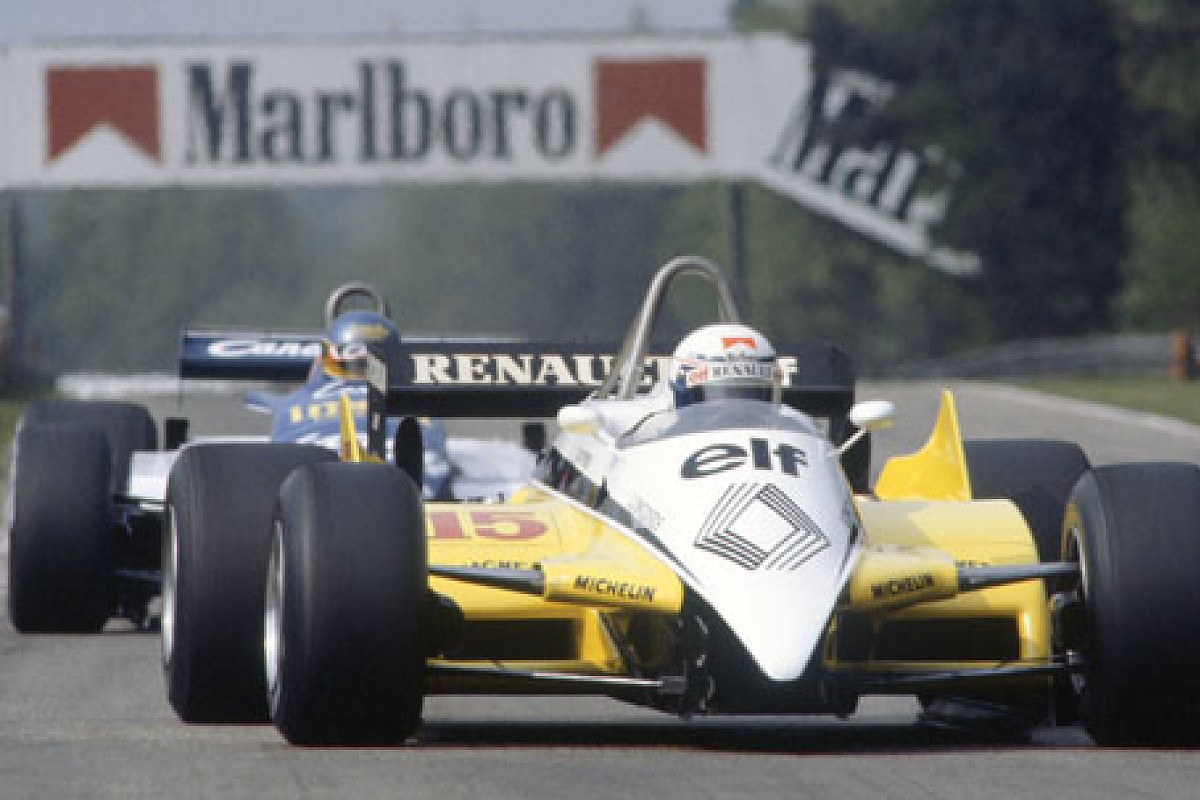 The Grand Prix
After the full and overcast days of qualifying, Sunday morning was beautiful and you could almost start to believe that the previous afternoon had been merely a nightmare. Then you walked through the paddock, and the gap in the row of transporters hit you like a punch in the stomach. Many drivers admitted that they had little inclination to race, wanted it over and done with as soon as possible, to be away from this place.
But the show went on, as it always has, as it always must. At 11.45 they came out for the warm-up session, and a very confident de Cesaris set the fastest time in his Alfa Romeo, with Lauda's McLaren next and, significantly, Watson's similar car third. For others, there were worries. Prost walked in after parking his Renault out on the circuit with turbo failure, and Rosberg had to take out the spare Williams when a bad misfire developed in his race car.
At 3.30 they were on their way - most of them. Mansell's Lotus, though, had an inoperative clutch, Nigel consequently unable to select first gear. The black car did not move and Salazar, Giacomelli and Laffite all tried to squeeze past it at the same time, the ATS being nudged into the pit wall, off which it bounced, collecting the Alfa a little way down the road. Two cars out already and down the back straight Winkelhock's sick ATS was about to become a third. Warwick's Toleman had stalled on the line, so that he also got away late, a few seconds after Mansell.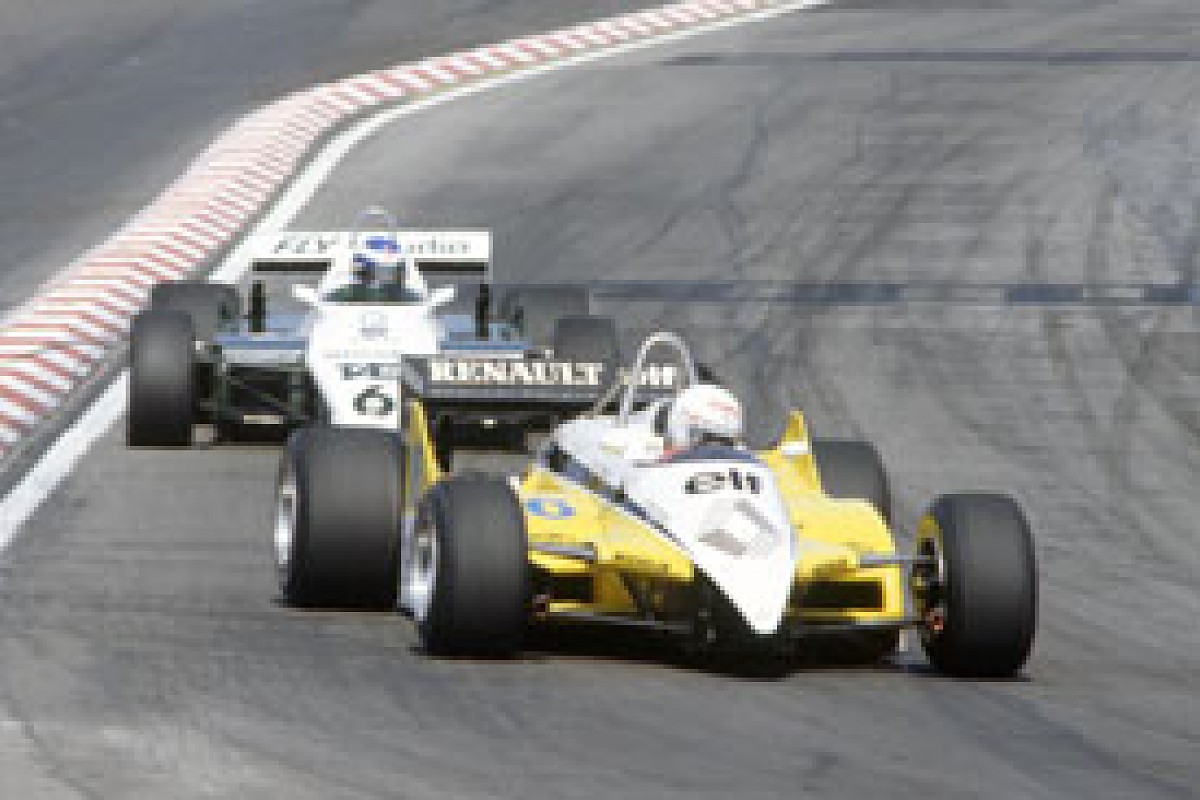 Arnoux led Rosberg in the early stages... © LAT
Arnoux had got the drop on Prost away from the line, and Rosberg also got by the championship leader's Renault into the first corner. At the end of the first lap, René came past with an impressive lead over Rosberg, Prost, Lauda, de Cesaris, Alboreto, Patrese, Piquet, Watson and de Angelis. Keke was looking particularly determined in second place and it was no surprise to see him very much closer to the Renault as the went over the line for the second time. Three laps, four laps, the lap was closing, and halfway round the fifth Arnoux suddenly slowed, Rosberg sneaking by into the lead. Into the pits came the Renault, a spindle in the compressor broken. Unlucky Arnoux rejoined briefly, but was soon out for good.
At the same time it was apparent that all was not well with the other Renault, for Prost was losing ground all the time, being overtaken by Lauda and de Cesaris on lap 4. Now we anticipated an interesting duel between Keke and Niki, and for some laps the McLaren gave the impression of stalking the Williams, gradually clawing it in, losing a little, gaining a little, but looking calm and relentless. And, impressively, de Cesaris was not being left behind. These three were getting away from the rest.
Patrese, going hard in his Brabham-BMW, had left Piquet behind, and passed Prost for fourth place on the eighth lap, and the Frenchman was also overtaken by Watson. As at Long Beach, McLaren hedged their bets on tyres, but this time reversed the procedure, starting Niki on softer Michelins than John. That being the case, Watson's fifth place at this stage of the game was promising indeed. Sunday was, after all, very much than the qualifying days...
On the 10th lap, Mansell's clutch problem brought him into the pits for good, and shortly afterwards Fabi, in dire trouble with his brakes almost from the start, retired the second Toleman.
At the front Rosberg continued to lead Lauda by around three seconds. "When you have Niki behind you, there is no question of easing up," he recounted after the race. "I tell you quite seriously, I was flat all the time. I started on 'B' Goodyears, a more conservative choice than the Michelins he had. I just had to go for it..."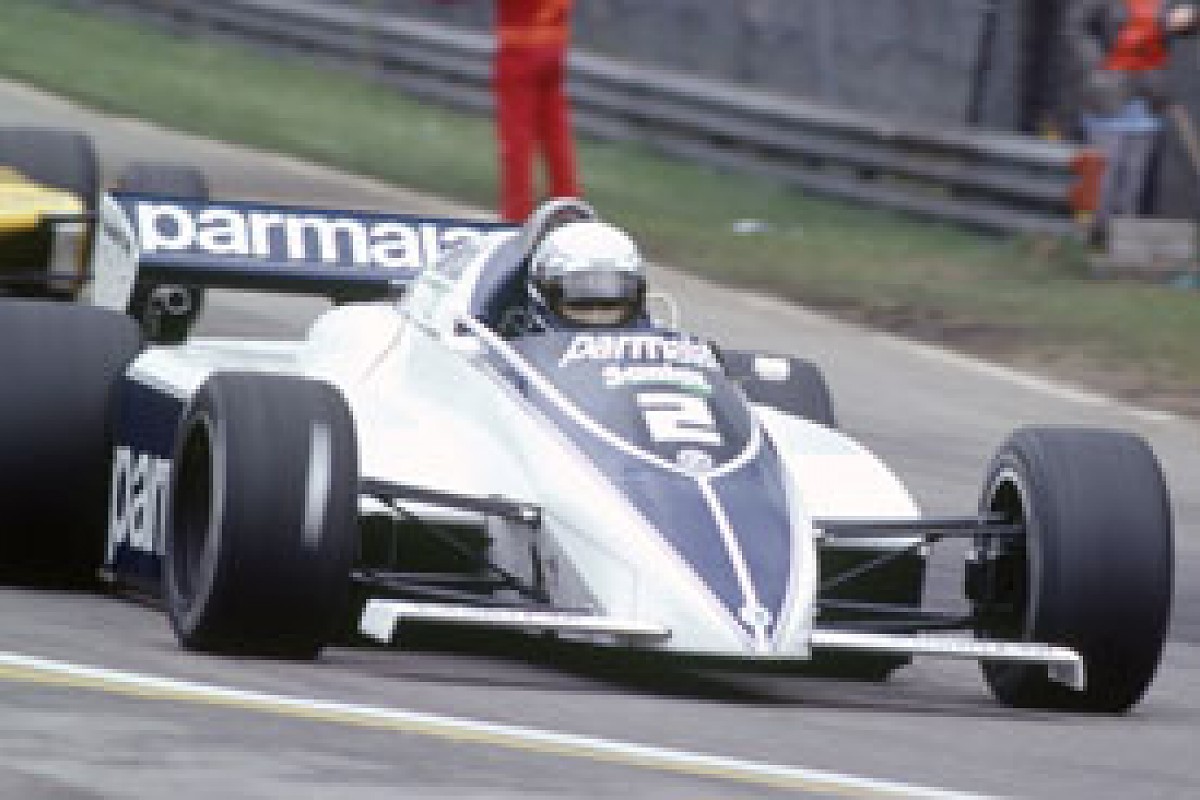 ...while Patrese circulated in fourth, just ahead of Watson © LAT
It seemed obvious at this stage that only the leading trio was in serious contention for victory. Patrese and Watson continued to circulate together, fourth and fifth, but behind them was a big gap to Prost and Alboreto, the Tyrrell eventually passing the Renault for sixth place on lap 15. Next in line were Piquet, Daly, de Angelis, Jarier, Cheever, Laffite, Henton, Mass and Serra. A new retirement, after 19 laps, was the unhappy Warwick. Like Fabi, he had lost his brakes and stopped for investigation. After a routine change of tyres he found the car oversteering absurdly. Finally, a driveshaft broke. Both Tolemans were out. Shortly afterwards, the same fate befell both Tyrrells, Alboreto's fine drive in sixth place ending with a blown engine.
Rosberg, by this time, looked unstoppable. After 20 laps he had lost time while lapping Boesel's March, and the gap was suddenly a lot less than two seconds. Was this the moment when Niki would strike? We expected it, but next time round Keke had pulled out a little, and this pattern he maintained - and increased - over the next few laps. At the same time de Cesaris was closing on the McLaren. Niki's car sounded fine, so it was probably tyres. Long before half-distance Lauda's softer Michelins were beginning to go away, and the Austrian wisely rolled off his pace. Behind him, team mate Watson continued to pressure Patrese.
Lotus' miserable day persisted: de Angelis, after climbing to ninth, came in for tyres, and rejoined a long way back. Later he would suffer a broken exhaust, but would still finish in the points. The rate of attrition at Zolder was something else again.
On lap 29 Serra considerably aided Rosberg's case by spinning at the first corner, right in front of Lauda. Somehow Niki managed to miss the Fittipaldi, but came to a virtual halt, by which time de Cesaris had neatly slotted through to claim second place. The Alfa, however, was now more than 12s behind the Williams, and Keke was putting on a drive which made one think of Alan Jones.
Thirty-five laps: no de Cesaris. The Alfa team's appalling reliability record was being maintained. Andrea was out with broken transmission after the most impressive drive of his Formula 1 career. There had looked not the slightest sign of an accident. He had been consistent - and quick - from the outset and deserved better.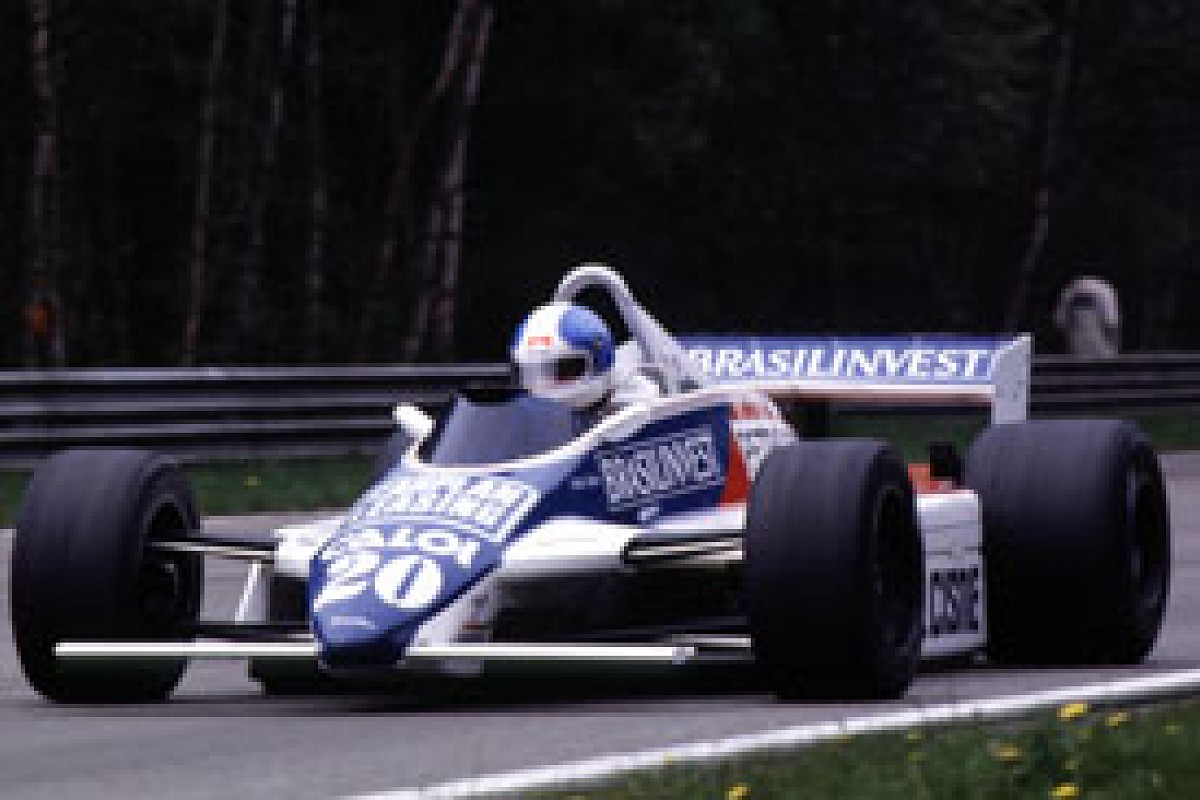 Serra's spin boosted Rosberg's advantage at the head of the field © LAT
And there the matter seemed resolved. Lauda was back in second place, but quite evidently could do nothing about Rosberg. The Williams was going to win its debut race.
If anyone had doubts about that, however, it was Rosberg. At precisely this time - half distance - he lost the remnants of his rear brakes. "From then on it was a real struggle, because the car was weaving badly under braking. I knew I had a pretty good lead, but I also had tyre worries."
John Watson, by contrast, had none of those. His harder Michelins were now starting to come into their own and he was catching his team mate for a second place. Getting by Patrese had been a long struggle, but he had made it finally, and was now well on his way.
The Italian's Brabham-BMW was in a lonely fourth place, ahead of Daly's Williams and the Ligiers of Cheever and Laffite, who were having their own little battle, Eddie showing more fight than we have come to expect. Like Rosberg, Daly was experiencing brake problems with his Williams, and the two French cars were catching him.
On the 46th lap the McLarens changed places, Watson neatly outbraking Lauda into the first corner. Niki made no attempt to hold back his team mate, but it must have been a galling moment. Once past, John quickly moved clear, but there seemed little possibility of his catching Rosberg. After 50 laps, with 20 to go, the Williams was almost 20 seconds ahead, but Watson was really starting to go for it. Every lap seemed to close the gay by about a second.
The Williams team was really under siege at this point, for Cheever had caught right up with Daly, and was hounding him. Derek is a doughty fighter, however, and was not about to surrender his place. Like Rosberg, his Williams was darting alarmingly under braking, but at least it was in a straight fight with Cheever, for Laffite had gone off the road, lost a lot of time and finally gone into the pits for attention to his left skirt. It had been partly torn away, and for some laps rested against the Ligier's rear wing.
Almost unnoticed, Prost and Patrese disappeared from the lap charts. Troubled by poor handling from the start of the race, Alain had been off the road a couple of times, twice stopping for new tyres. Eventually the Renault spun off for good, and Prost walked in, another chance of World Championship points gone.
Patrese, his tyres at the end of their useful life, also spun and was unable to rejoin. Moments later, at the same spot, Piquet spun his Brabham, but was able to continue. Nelson had been in gearbox trouble from the beginning of the race, on one occasion heading down pit lane with the lever jammed in fifth. As he did so, it freed itself, and the world champion motored through the pits with some zest, to the confusion of all present who had been expecting him to stop!
During the last 15 laps the two battles were really on with Watson hauling in Rosberg and Cheever maintaining the pressure on Daly. Far apart, these two scraps had everyone's attention.
At the beginning of his 61st lap Daly lost it under braking for the first corner, sliding sideways off the track and into the catch fencing. The Williams was not badly damaged, but its race was run. Disconsolately, Derek walked back - not knowing that his shunt was helping his team leader's cause.
Suddenly Rosberg was pulling away again! Did he, after all, have the measure of Watson or was John in some kind of trouble himself? Neither, as it turned out, was the case.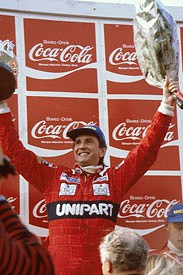 Watson took a popular third grand prix win © LAT
"I'd been getting signals from the pits telling me I was catching Keke," recounted Watson. "And then I noticed a Williams buried in the catch fence, and thought it was him. I backed right off for a couple of laps, thinking it was safe but the pits kept giving me P2 signals. Only then did I realise it was Daly, not Rosberg, and I had to speed up again..."
That being the case, John was soon right with Keke. With two laps left the gap was half a second but Rosberg was still not giving up - "My left rear tyre was completely gone, and so were my rear brakes. Basically, I was overdriving for the last 10 laps. It was my fault. It was inevitable that he was going to take me, I suppose. We came up to the hairpin, just about to lap Surer, and I tried to brake too late - considering the amount of braking I had left! I got a bit sideways, went wide, and John got by. That's life. I was flat from start to finish. The problem was that I had to go hard to keep ahead of Niki in the early part of the race, and then, when his softer tyres started going off there was John to take it up again..."
So, on lap 69 Watson took the lead, and this he only held for the remaining four miles to the flag. It was, of course, an immensely popular victory, reward for a tenacious, fighting drive. Rosberg was naturally bitterly disappointed after leading all that way, but he will win soon, and he knows it. As he said in practice: "We have, I believe, explored only half of the FW08's potential."
Lauda was third on the road, after a highly intelligent drive on the wrong tyres for the day. But at post-race scrutineering, his McLaren was found to be three pounds under the weight limit, and disqualification followed. It seems absurd that there should be no tolerance at all on this, simply to allow for possible discrepancies between different scales, but that was it. Niki was out, and Cheever, after what must be the best drive of his grand prix career, came third. Fourth, some return for plugging on, was de Angelis, and fifth, against all predictions, came the Brabham-BMW of Piquet. Most unlikely of all, the Fittipaldi team came in for a point, thanks to Serra, like his fellow-countryman, three laps behind.
We had an exciting finish to an exciting race, and everyone was happy to see Watson win his third grand prix. But for most people, thoughts of Zolder 1982 will inevitably be wedded to that dreadful moment on Saturday when the commentator bellowed out that practice had been stopped.