For a high percentage of the world's Formula 1 drivers, Monaco is unaccountably home. They drive through its streets very often, and for three days of each year they go raving mad through them. The Armco is down and the bangers are up. Jackpot week for the Principality.
These days the Monaco Grand Prix is actually getting a little scary. A favourite vantage point for journalist and photographer has always been the exit of Casino Square, just down from the little news kiosk.
It has long been spectacular, with the cars getting light over the hump in the road, sliding out to the barrier before plunging away down the hill to Mirabeau.
Anyone who saw it, for instance, will never forget the sight of Jochen Rindt and the Lotus 49 through here, the car's tail ridiculously out of line, yet perfectly under control. It looked incredible, of course, yet Jochen's actual speed was not that high. A 49, as good as it was in its time, had a comparative lack of grip which would be sadly laughable today.
So what constitutes a quick lap now? Last weekend you watched a quick driver go for it, saw him enter Casino Square, dab the brakes, wrench the wheel over, mash the throttle down to the end of its travel. You saw the muscle power necessary to keep the car on line, watched the driver's head being shaken around. And the amazing thing is that, somehow, this blur makes it through the corner, and is back, less than a minute and a half later, for more of the same. Inelegant it may be; effective it undoubtedly is. You feel you are watching a speeded up film. After practice last weekend, the drivers gloomily forecast that this race would probably be the most physically taxing of their lives.
Only a couple of years ago, merely getting into the race at Monaco was a struggle for the Renault team, for the intricacies of the tight streets obviously did not suit a larger than average car with poor throttle response. René Arnoux scraped onto the back row. In 1979, the yellow cars were both at the back.
Last year, however, proved that a turbo could shine in Monte Carlo, when the unforgettable Gilles Villeneuve qualified his Ferrari second and went on to win the race. For Renault the occasion was embarrassing, for they had been at this turbo business considerably longer, yet were completely unable to challenge the Ferrari.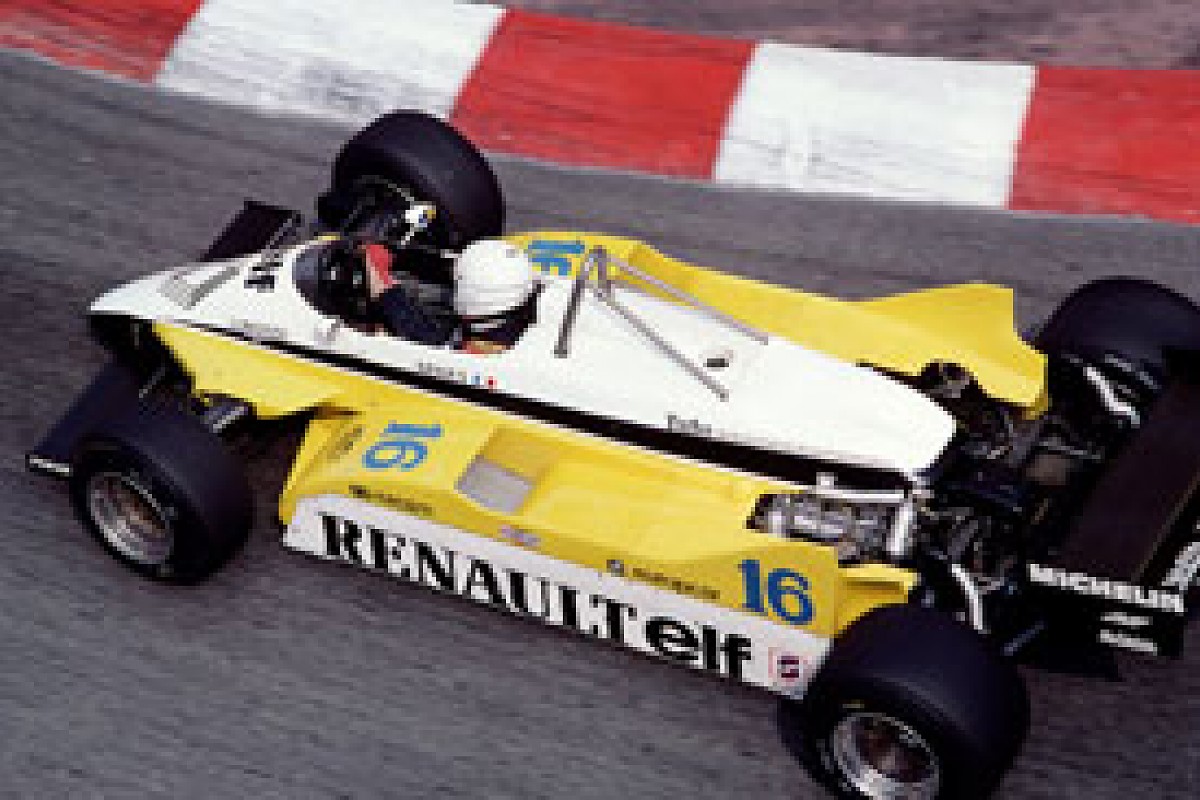 After several lean years for Renault, Arnoux captured pole at Monaco © LAT
This time Arnoux was on the pole. Fastest in Thursday's official session, the little Frenchman was quietly confident of staying there. "Everything," he said, "will depend on a clear lap. If I get one...I believe I can go maybe a second quicker." In the event, he did better than that. Thursday's time had been 1m 24.54s. With just a few minutes of the Saturday session left, René somehow found that clear lap - his only one of the session - and the result was 1m 23.28s, half a second clear of the rest. Riccardo Patrese's confident smile evaporated.
For Monte Carlo, the Renault team were using electronic injection for the first time. Arnoux and Prost have done a good deal of testing with the system, which gives better throttle response, more torque out of slow corners and slightly improved fuel consumption. It also meant that for the first time, a Renault Formula 1 car had a certain amount of engine braking, particularly desirable at a place like Monaco.
Arnoux is driving magnificently this season, better than at any time in his career, and this, astonishingly, was his 12th pole position. Confident and relaxed, he is a different man from the one who unaccountably lost his touch a year ago. On Saturday morning he parked his car at Portiers when the engine cut out, but that was his only problem in practice.
Worrying for the team, though, was the fact that Alain Prost's car had suffered a similar electrical fault on Thursday morning. At the moment, the world championship leader appears to be taking the brunt of Renault's problems. For the timed session on Thursday his car was repaired. Then the engine blew, and he took out the T-car, recording the sixth best time.
For Saturday Alain had a different car again, this one a test car brought over from Paul Ricard, where it had run during the previous week. Prost preferred the car to his original one, and duly qualified it fourth. As at Long Beach, however, he was unable to match Arnoux on a street circuit.
Two members of grand prix racing's increasingly resurgent Italian brigade put themselves between the Renaults. Late in the Saturday untimed session, Riccardo Patrese startled everyone with a lap of 1m23.77s, and said he felt sure of taking the pole with his Brabham BT49D. In the afternoon he all but equalled this time, but was ultimately denied by Arnoux.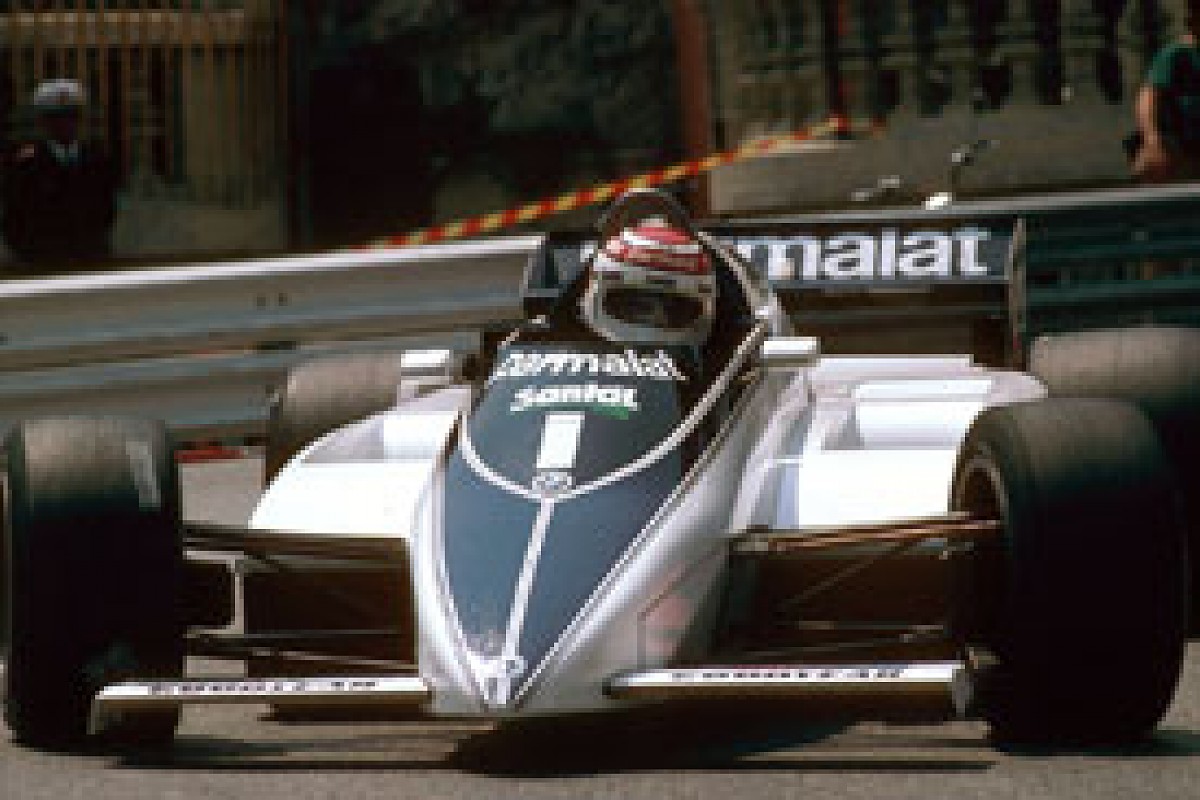 Piquet took charge of Brabham's BMW-turbo BT50 © LAT
You could hardly blame Nelson Piquet if he occasionally gazed longingly at his team mate's car in practice, for this time - after the Zolder fiasco - the Brabham had two baskets, an egg in each. Nelson, who has always had a positive approach to the BMW turbo programme, was assigned a BT50, obviously less desirable at a place like Monaco than a Cosworth car, such as the Brazilian put on pole position 12 months ago.
Turbocharger revisions made the BMW engine more flexible for this tight circuit, but Piquet's car inevitably looked clumsy in comparison with Patrese's. During Thursday the world champion had a blown engine in one car, a blown turbo in the other. In the end, the Cosworth car was more than two seconds quicker, and Nelson faces more of the same at Detroit and Montreal, where he will stick with the BMW, Riccardo with the DFV. He did not look to the race with any great confidence, having lost the opportunity to do the normal 'full tanks' race set-up test on Saturday morning, when he had to abandon his car after a fuel injection drive belt broke.
If Patrese was disappointed at losing pole position, his rivals were delighted. "The Renault will be slow at the beginning, with full tanks," commented a grinning Keke Rosberg, "but at least there's a chance we will all get held up. If a single Cosworth had qualified in front of it, we would have been in trouble because it would have got clear. I just hope Patrese doesn't beat Arnoux into the first corner..."
As at Long Beach, where Andrea de Cesaris took the pole, Alfa Romeo found their cars ideal for a slow, swervy, circuit. The 182 changes direction very nimbly indeed, darting into corners as well as any, and leaving them better than most, thanks to the torque and punch of its 12-cylinder engine. Both de Cesaris and Bruno Giacomelli had their troubles during practice, but the cars were always front runners. Andrea was quickest of all during the first unofficial session, and beaten only by Arnoux on Thursday afternoon. On Saturday morning, though, his race car's fuel pressure was all over the place, and the team decided against changing the engine for the final hour. For that the young Italian had to use the spare car, and for Monaco that was the new 182B, with revised sidepods and skirts. De Cesaris had a real go in the comparatively untested car, but could not improve on his Thursday time. He was disappointed to be only seventh on the grid.
Bruno, by contrast, was delighted to be third. Bothered by a persistent misfire and sticky gear selection on the first day, he then had to leave his car at Portiers during the morning session on Saturday - "Engine quit, no big problem, electrical..." - but really got it together in the afternoon, joining Arnoux and Patrese in the sub-24 bracket.
For Ferrari, the whole business of being at Monaco was grim. "It could not have been a worse place for us now," said one of their number during practice. "Gilles is everywhere. He won here, he lived here..." There were no smiles in the pit. It was a situation which most teams have known at one time or another, simply a matter of working away, concentrating on the job, waiting for time to blunt the hard edge of memories.
Didier Pironi had two cars at Monaco. "The big problem is understeer in the slow corners. Through the fast ones the car feels nice, but it is very bad over bumps," he commented on Thursday. "Still, we have some ideas about that, and I think Saturday will be OK." He was right. The car's ride was much improved, and Pironi was up from 13th to fifth.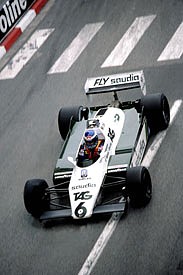 Sunday represented Rosberg's first race at Monaco © LAT
You might not believe this - I didn't when he told me at first - but Sunday's race was Keke Rosberg's first ever at Monaco! "It's true," he said. "I never did an F3 race here. I didn't qualify with Theodore in '78. I didn't have a drive in '79, and didn't qualify for Fittipaldi last year or the year before.
This time, in the Williams FW08, Keke made it easily, sixth on the grid. It was a brave performance, too, for the car looked very darty and nervous. "The balance of the car is still not as good as it should be - or could be," remarked Rosberg, "but the brakes are much, much, better than at Zolder. Put your money on me! I think I'm going to win this one - it's about time, isn't it?"
Keke was one of very few drivers to be unconcerned about the physical problems of 76 laps round Monaco in a bone hard car. Team mate Derek Daly had his worries, however, and had done something about it.
"We went testing at Croix-en-Ternois the other week," he said. "It's very bumpy there, and I tried out this brace thing I had made up by an osteopath. Really it's like a broad belt made from the same material they use for divers' wet suits, and it protects your lower back, which gets a terrific pounding from the seat. I've found it helps a lot."
Who needs further proof of the enormous strides grand prix racing has taken in 70-odd years. We started without suspension proper because we didn't know much about it then. These days we choose not to have it.
The good form of Michele Alboreto and the Tyrrell 011 continued, the young Italian qualifying ninth, and a little disappointed to be there. "No real problems," he commented afterwards. "I had maybe a little too much understeer, but the most difficult thing was to get through the swimming pool area without finding another car going slowly back to the pits..." His team mate Brian Henton qualified the second car 17th, just over a second slower, after clipping the chicane in both Saturday sessions, bending a rocker arm in the morning and breaking a wheel in the afternoon.
After his dominant victory through the streets of Long Beach, and remembering his impressive record here at Monte Carlo, much was expected of Niki Lauda and his McLaren, but the combination was disappointing in practice. The Austrian, who blew an engine on Thursday afternoon, was never to get the MP4's handling to his liking, and qualified only 12th, after failing to improve during the final session. John Watson, by contrast, went a lot quicker on Saturday afternoon, two ahead of Lauda. The Zolder winner had spent most of the first day in the spare MP4, after blowing the engine in his race car during the morning.
Nigel Mansell had been looking forward to Monaco. Last year's race, if you recall, saw the debut of the Lotus 87, and Nigel qualified third. But this time was less satisfactory. "The 91 is not bad round here," he remarked during practice, "but I'm quite sure it's got less grip than the 87 had...at this place, anyway."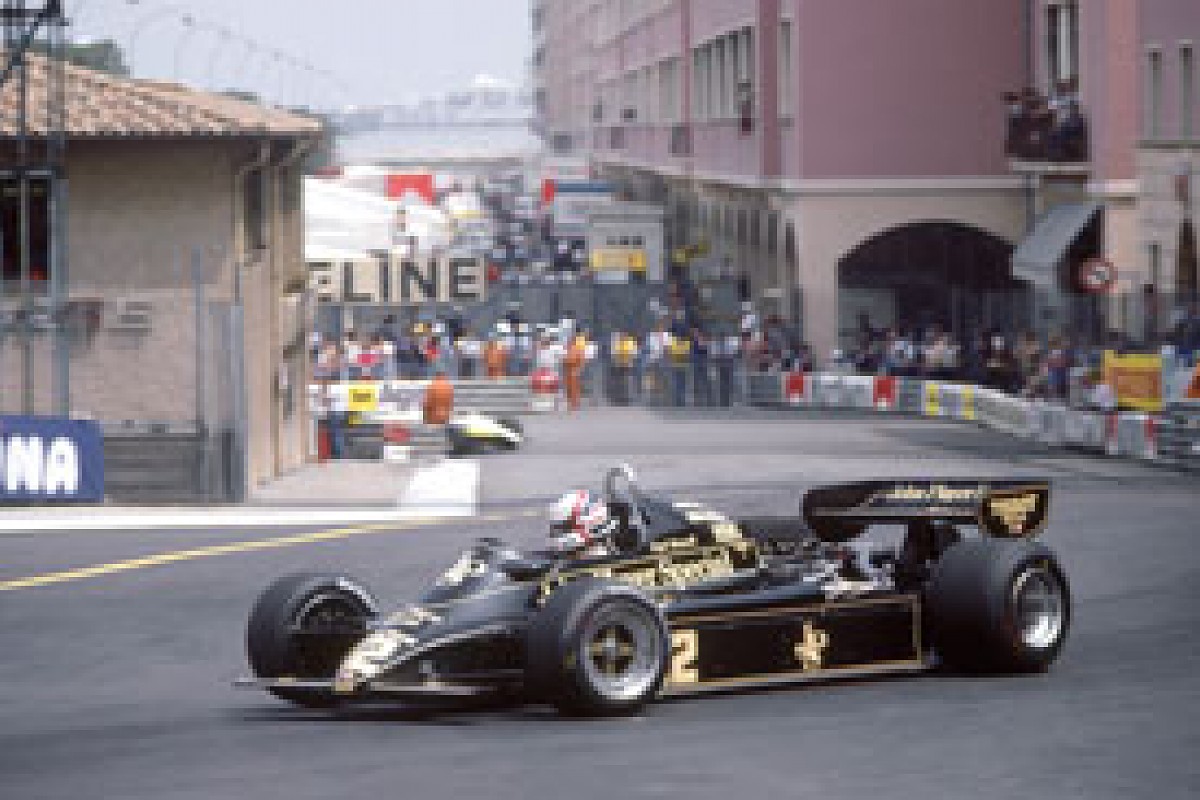 Mansell was hit in the eye by a loose stone while driving on Thursday © LAT
On Thursday morning Mansell, running with his visor slightly ajar for coolness, was unfortunate enough to be hit in the eye by a small stone. It was painful, of course, and the eye closed for a little, but medical treatment eased the problem. "The main trouble here," Nigel added, "is getting held up. I finally found a clear lap on Thursday afternoon, and at that point the car started to run out of fuel..." Eventually, he qualified 11th, nearly a second faster than Elio de Angelis, who never looked at ease and placed 15th.
Both ATS cars made the race with Winkelhock ahead of Salazar. For Monaco the D5s had new, very attractive, bodywork. The large, bulbous airboxes were gone. Neither driver was thrilled with his car's handling, and both complained of a 'soft' brake pedal, but their problems were minimal compared with those of the Talbot-Ligier drivers.
Monte Carlo, of course, is never the ideal place to debut a new car, but as Jacques Laffite pointed out, you have to begin somewhere, and the next two circuits on the schedule, at Detroit and Montreal, are also slow and tight. So, after comparatively little testing, the new JS19s were presented for the race. The first thought which entered everyone's mind was the vulnerability of that long rear bodywork at a circuit like this, but then Laffite and Eddie Cheever found themselves with a more immediate problem.
The JS19, like the unlamented Lotus 80, has extremely long skirts, which extended beyond the rear wheels, right to the end of the wing. In this form did they begin practice. Soon, however, officials were in the Ligier pit. The skirt, they said, extended too far and were illegal. According to their interpretation of the rules, skirts could not extend beyond the rear axle line. Get a hacksaw, they went on, and trim the skirts to that point.
Guy Ligier went into one of his celebrated red mists, declared that the cars would be dangerous in this condition, and that he might well withdraw them.
"No," said a dismal Jacques Laffite, "it's not that the car is dangerous like this. It's just slow. I reckon that cutting the skirts like that has cost us 10-15 per cent of our downforce, but the main problem is that it has destroyed the balance of the car, and now we also have a lot of porpoising. You know," he continued, "you work on something for four months, something new, and then they say 'no.' Just like that. What about the Lotus 80? Why was nothing said about that? This Formula 1...it's shit now, hein?"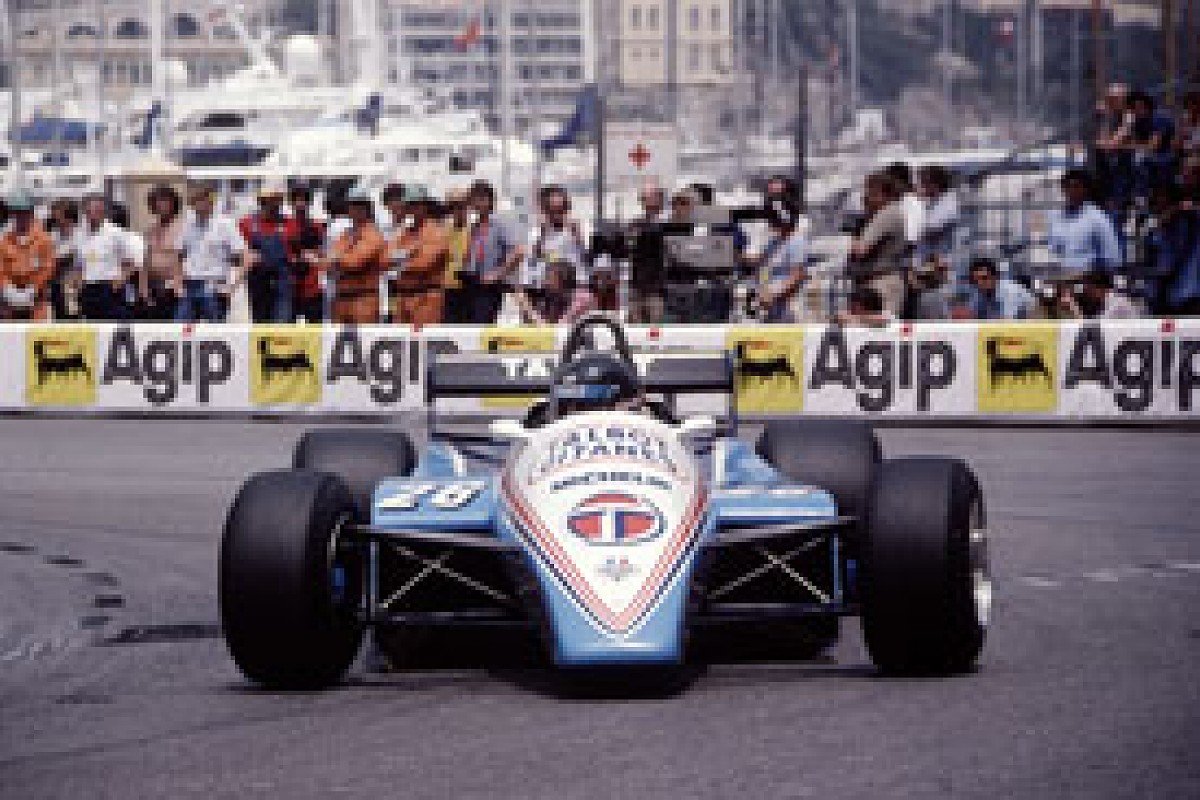 Officials ruled that Jacques Laffite's JS19 had to be modified in order to compete © LAT
Eventually Jacques qualified 18th, with team mate Eddie Cheever, who had a rear suspension breakage on Thursday, 16th. Just a fraction slower than Laffite was Marc Surer, now almost back to full fitness, who took the 19th grid slot with his Arrows A4. Team mate Mauro Baldi, a former F3 winner at Monaco, was the first man to miss the cut.
On Thursday morning the main topic of conversation was the prequalifying session, with three cars to go forward into official practice. Jean-Pierre Jarier's Osella was predictably the quickest here, followed by Jochen Mass' March and Derek Warwick's Toleman. Out for the weekend were Teo Fabi's Toleman, Riccardo Paletti's Osella, Raul Boesel's March, Chico Serra's Fittipaldi and Emilio de Villota's March.
After the session, however, members of the Toleman team, while delighted that Warwick was in, was very upset that Fabi missed out, claiming that the March which was weighed afterwards was not the car in which Mass set his time. No action was taken, however: the German was through.
Now here was a really silly situation: eight cars had gone through pre-qualifying to weed out three. That done, they went into official practice. Among those already there were Ensign and Theodore - who had no tyres...
You will remember that Avon/IRTS announced their withdrawal from grand prix racing after the Belgian Grand Prix, this decision, while perfectly understandable, putting their two remaining teams in something of a spot. Ensign and Theodore nevertheless decided to make the trip to Monaco, and on arrival discovered that is indeed better to travel hopefully than to arrive. Goodyear, the only manufacturer whose tyres fit those teams' rims, refused to supply either of them.
Thus, Ensign had only some old Avons, left over from Long Beach. But Theodore had nothing at all! Throughout Thursday Jan Lammers' car sat in the pits, up on jacks, wheels on - but no tyres.
Adding fuel to the flames was the fact that March, previously Pirelli users, were on Avons! IRTS issued a statement which reaffirmed their and Avon's decision to withdraw from Formula 1, but said that, following a successful test session at Croix-en-Ternois on May 14, the March team had purchased the entire existing stock of Avon Grand Prix tyres from IRTS. This, the statement continued, was on the strict understanding that no trackside service would be given, and that March must service and fit the tyres themselves. The statement concluded by stating that the original Avon/IRTS decision to quit had been taken only after consultations with Ensign and Theodore, "who expressed agreement with the decision and indicated that they had an alternative source of tyre supply available."
Clearly a misunderstanding arose somewhere. Lammers missed a whole day of practice, and Roberto Guerrero was obliged to run very few laps on totally unsuitable rubber. The young Colombian, potentially a superb grand prix driver, must be wondering what all this Formula 1 business is about. For Saturday Lammers had some Goodyears, and it was hoped that Michelin might rescue Ensign. This they decided not to do. Guerrero's car sat in the pits, surrounded by piles of tyres for other teams' use.
Not surprisingly, Lammers and Guerrero failed to qualify, as also did Mass, Warwick and Jarier. The Toleman driver had a difficult time, crashing Teo Fabi's car on Saturday morning when he found himself without brakes. "It's put a little tweak in the tub," he reported, "but I think it will be repairable. It's a shame because the engine in Teo's car was fabulous." During the final session Warwick tried all he knew, but found the engine pick-up on his own car so bad that eventually "we turned the boost down simply to try and make it more driveable!"
The end of qualifying. What would the race bring? "Who knows?" said one cynical team manager. "After all, the cars will all be at the weight limit tomorrow..."
A quick walk through the paddock, a giggle at the sight of two mechanics, veins standing out on their foreheads, struggling to lift a rear wing between them (work that one out for yourselves!), a wry smile as you thought of the Saturday night before Monaco last year, when most of pit lane was up in arms at the thought that Nelson Piquet might have stolen the pole in a 'lightweight' car...
1982 Monaco starting grid on FORIX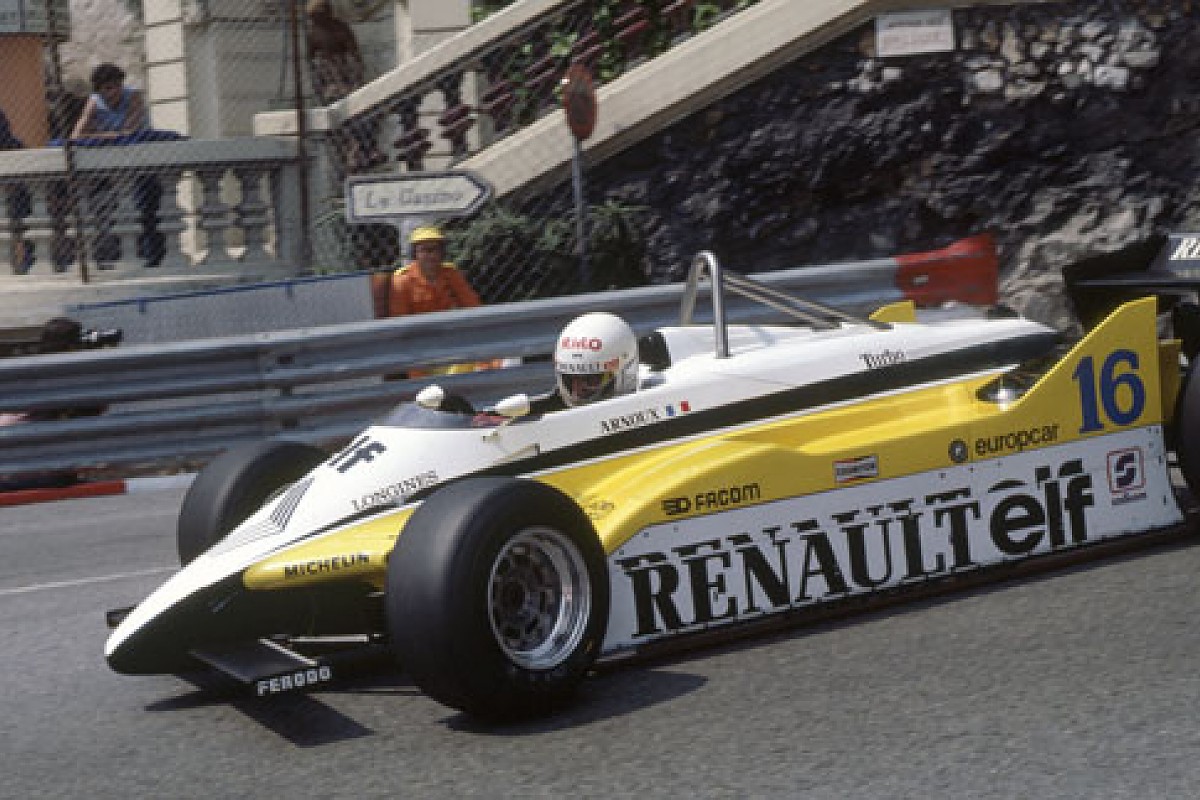 The Grand Prix
No real dramas on Sunday morning, save that the weather looked shaky. After a deep blue start to the day, clouds arrived, leaving the afternoon muggy and overcast. Would it rain?
A queue behind the Renault, Rosberg had suggested, and he was not alone in this opinion. Most people thought it would be a matter of waiting until the yellow cars expired, and then the real race would begin.
Over near the swimming pool area a huge banner had been unfurled: Gilles sei sempre con noi. Gilles, you are still among us. It brought a jolt to those who saw it, including Didier Pironi, who crossed himself. Monaco without Villeneuve. English spectators told me that their reason for coming to Monaco was gone, and clearly the Italians felt the same way. The crowd, traditionally swelled by Ferrari nuts from over the border, was not a large one. Number 27 was missing, and there was nothing more to be said.
"At Zolder," René Arnoux told me during practice, "I really wanted to win that race, and then dedicate it to Gilles..." The Frenchman got away like a jack rabbit in Belgium, and he did the same at Monaco. When the green flashed, the Renault immediately assumed the lead, and halfway round the first lap that lead was simply immense. Over the line it was Arnoux, Giacomelli, Patrese, Prost, Pironi, de Cesaris, Alboreto, Rosberg, Mansell and Daly.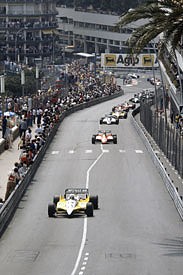 Arnoux stormed off into an early lead... © LAT
Out of Casino droned the Renault, and really this was embarrassing. After René had gone through, there was a distant lull. Three miles into the race, he was 4.5 seconds to the good. Keke, what was that you said...?
The Renaults were looking impossibly strong at this early stage, for Prost overtook Patrese on the second lap, and was also past a slowing Giacomelli a lap later. Poor Bruno trickled through on lap five, heading for the pits with a broken stub axle. He had looked a strong contender, but his miserable luck - and Alfa Romeo's reliability record - were running true to form.
Five laps: Arnoux - 7 seconds - Prost - Patrese - Pironi - de Cesaris - Alboreto - Rosberg - Mansell. All down the field it was follow-my-leader, a typical Monaco traffic jam. All round the circuit the once-a-year cognoscenti began to yawn, removing sunglasses to discover that the day was overcast, anyway.
Perhaps the most remarkable aspect of the early laps, apart from the Renaults' startling superiority, was the position of Niki Lauda, down in 13th behind Winkelhock's ATS, and hardly looking for a way by. In the same way, Piquet was caught behind Cheever's screaming Ligier, but the world champion, perhaps angry about his circumstances (with Patrese near the front), was constantly working to get past. This he managed on lap 11.
At the front Arnoux continued to lead Prost by between 7 and 8 seconds, but on lap 15 it all went wrong for him. Near the swimming pool the number 16 Renault spun and stalled, and René was unable to restart the engine. Yet another apparently comfortable grand prix victory had been lost, and this was the result of driver error. Sadly, he clambered out and walked back to the pits, his team-mate now firmly in command.
Or was he? As soon as Arnoux retired, Patrese began to catch Prost. In a matter of five laps, the gap came down from 6 seconds to 2, and it was clear that the Italian and his Brabham were handling traffic better than the Frenchman and his Renault. On lap 26 the two cars came past as one, and it seemed certain that Riccardo would make a play for the lead.
At that point, however, the traffic disappeared again, lapped and left behind. In clear water once more, Prost opened the gap again...a second, a bit more, 2...but it came down swiftly every time they encountered stragglers.
In this respect, de Angelis' behaviour was lamentable. He had made a dreadful start, been last on the opening lap, and had got bogged down behind Cheever. The American finally retired his new JS19 with a blown engine, whereupon Elio found himself stuck behind Piquet. Quite clearly, he was in no mood to co-operate with anyone, and his awkwardness held up Prost, and allowed Patrese to close up once more.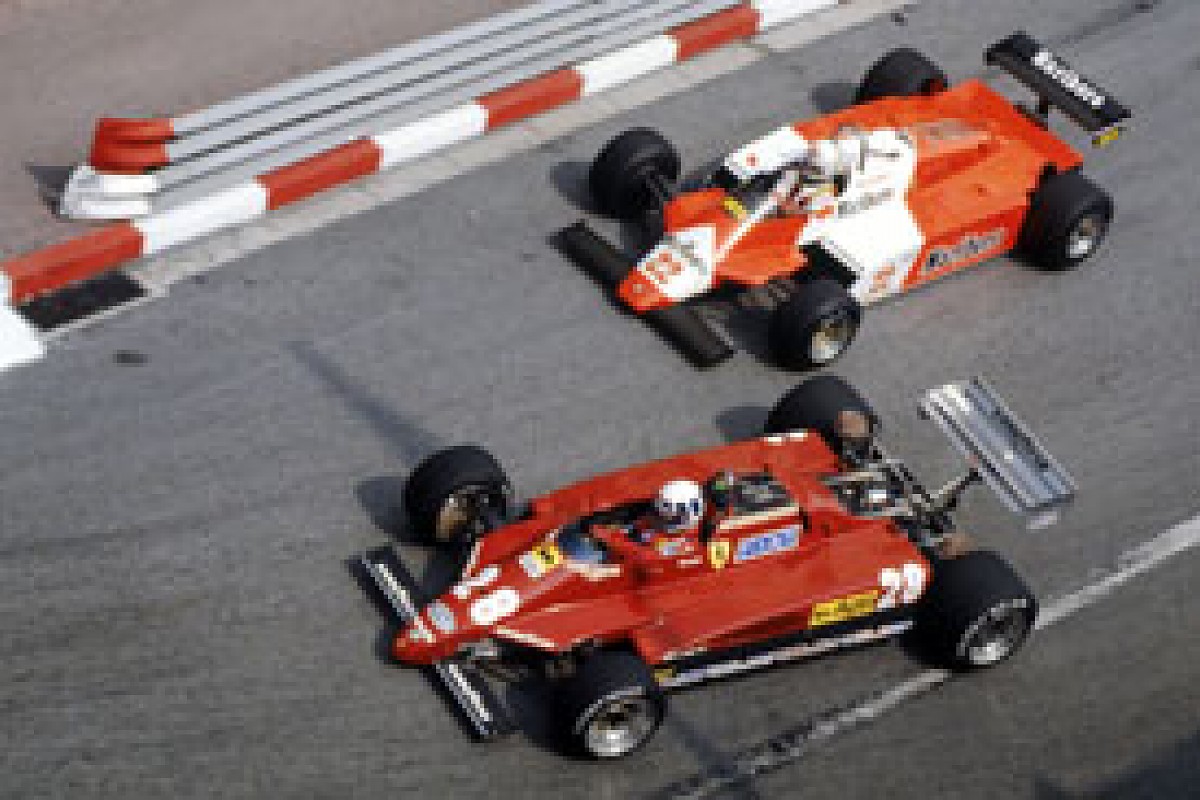 ...while Pironi's charge was halted when he and Patrese made contact © LAT
Most unfortunate of all was Pironi. On lap 32 he put in the fastest lap of the race to that point, and was beginning to menace Patrese. In the course of lapping de Angelis, though, Didier lost his nose cone. This, on the Ferrari C2, is small, but its loss was enough to cause understeer. Pironi did not lose touch with Patrese immediately, but any serious threat to the Italian appeared to have gone.
Right with the Ferrari throughout though was the remarkable de Cesaris, driving beautifully. Was this really the same man who wrote off McLarens all last summer?
Forty laps: Prost, now moving away again with a lead of more than 2 seconds, Patrese, still driving as hard as he knew, Pironi, coping admirably with his newly modified Ferrari, de Cesaris, right there, and Rosberg, who had earlier passed Alboreto and closed right up on the leading bunch. Michele still ran sixth, ahead of Mansell, Daly, Lauda and de Angelis.
Earlier Watson had got his McLaren past Daly's Williams, the Dublin man actually quite relieved! "I'd been following Mansell's Lotus for a long time, and it was chucking oil out. My visor was coated in it, so I wasn't too upset when John passed me. Let him have a turn there, I thought..." However, Watson returned after 36 laps: ignition. It was a bad afternoon for McLaren, for Lauda was thoroughly unhappy with his engine, and eventually called it a day.
Between laps 40 and 50, Prost really put the hammer down, extending his lead from 2 to 6 seconds, and it was obvious that only Patrese remained as a possible threat. Pironi was dropping back little by little, although still well able to deal with de Cesaris, who had his hands full trying to hold off Rosberg. After only 20 laps or so, Andrea had suffered a broken valve spring, and was a little down on revs. With Keke diving down the inside into Mirabeau every lap, bouncing over kerbs, the young Italian was having to work had to keep his place.
"I was hoping to have a go at him into Tabac," said Rosberg after the race, "but he would lift off in the middle of the chicane, making me do the same. Then there was no way I could get a run at him..."
After hitting a guardrail, which bent his right front wheel, Mansell came in at the end of lap 46 for new tyres all round. This dropped him from seventh to 11th, and he began a most impressive comeback drive. Shortly after, Piquet's depressing and lonely race ended in the pits. As at Zolder, the BMW turbo had popped and banged increasingly through the race, and Nelson also had increasing gear selection problems.
So often in the past have we had rain in the late stages of the Monaco Grand Prix. At the 50-lap mark odd spots of it began to appear, and Patrese redoubled his efforts to close on Prost. If the going got really slippery, surely the Brabham would be a better bet.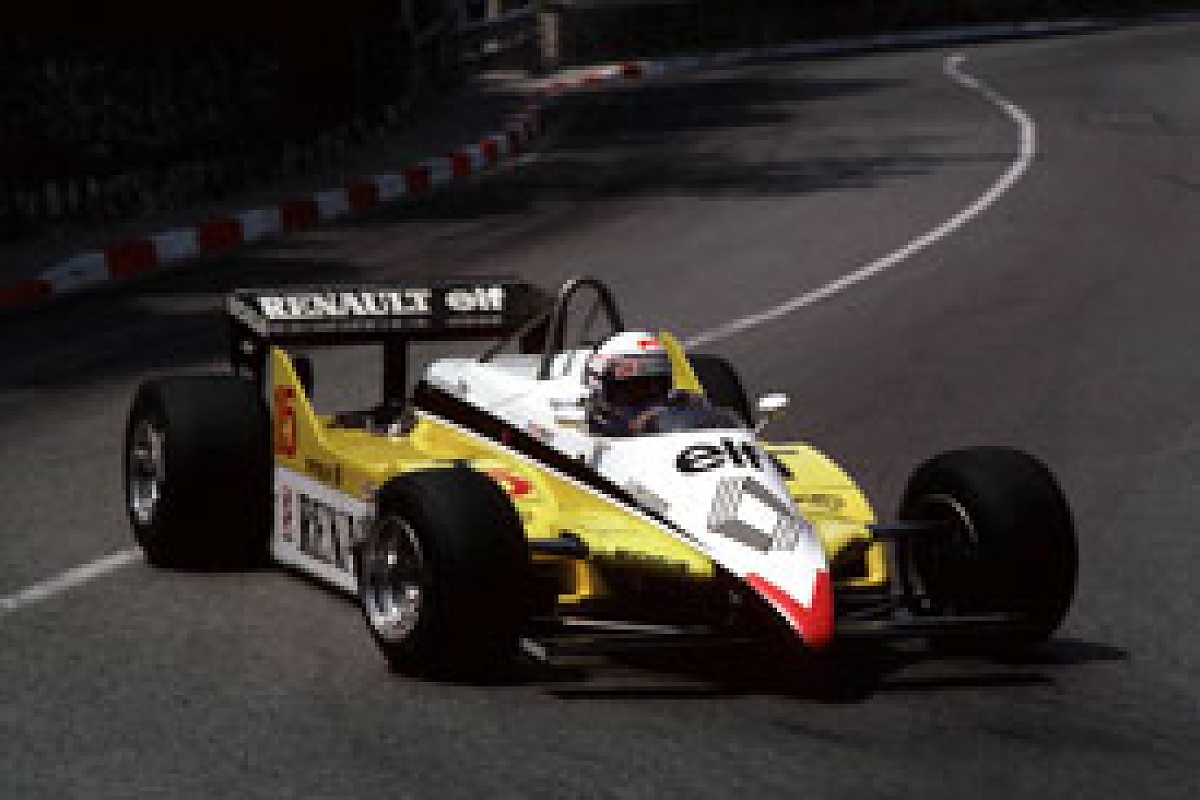 While the rain threatened, Prost extended his lead © LAT
But, for a while, the rain held off. On lap 54 in fact, Prost recorded a new fastest lap, and everything looked secure for him, the Renault running perfectly.
20 laps left: Prost, Patrese, Pironi (now 7 seconds adrift), de Cesaris/Rosberg, Alboreto, Daly and de Angelis. Stalemate.
On lap 61, though, the rain became constant, a steady, light drizzle. By now Patrese had resigned himself to second place, apparently, almost 10secs behind Prost, but Rosberg was still right with de Cesaris.
In the slippery conditions, the man to watch was Mansell. With the benefit of fresh tyres, Nigel was really charging, barp-barping the throttle into Casino Square, where all else trod cautiously. As a consequence he was quickly gaining on his team-mate for seventh place.
De Angelis continued to drive as if oblivious of other cars on the track. Everyone had trouble getting by him. Daly had closed up on Alboreto for fifth place, and when the two of them came up to lap de Angelis, the Lotus driver simply refused to let them past.
Michele very sensibly abandoned his attempts to force through, fearing this might easily leave the door open for Derek. The Tyrrell man was heading for another finish in the points, but all this was evaporated on lap 70 when he stopped in the swimming pool area with broken rear suspension.
Gone also by this time was Rosberg, who clipped the right hand portion of the chicane on lap 65, breaking his front suspension in the process.
The real story of the 1982 Monaco Grand Prix was still to come, however, and the last few laps were among the most chaotic Formula 1 has seen.
First of all, Daly, visor smeared with oil, lost it at Tabac, the Williams clouting the guardrail on the outside of the corner. "I couldn't believe the impact," he commented later. "It was so hard that I was sure the car had to be completely destroyed. But it kept on going, so I pressed on as much as I could. There was obviously something very wrong with the handling..."
There was a good reason for this. Although Derek couldn't see it in his mirrors, one of the casualties of the shunt was the rear wing, which had parted company with the car. As well as that, the gearbox was severely damaged and leaking oil all over the place, and an oil cooler hung loose. The nearside front spoiler was also absent.
On lap 74 Prost looked set. He too had had anxious moments with de Angelis, held up for nearly a lap before barging his way past at Ste Devote. In so doing, the Renault clipped both the Lotus' rear wheel and the guardrail.
Did this have any bearing on what happened a minute or so later? Alain reckons not.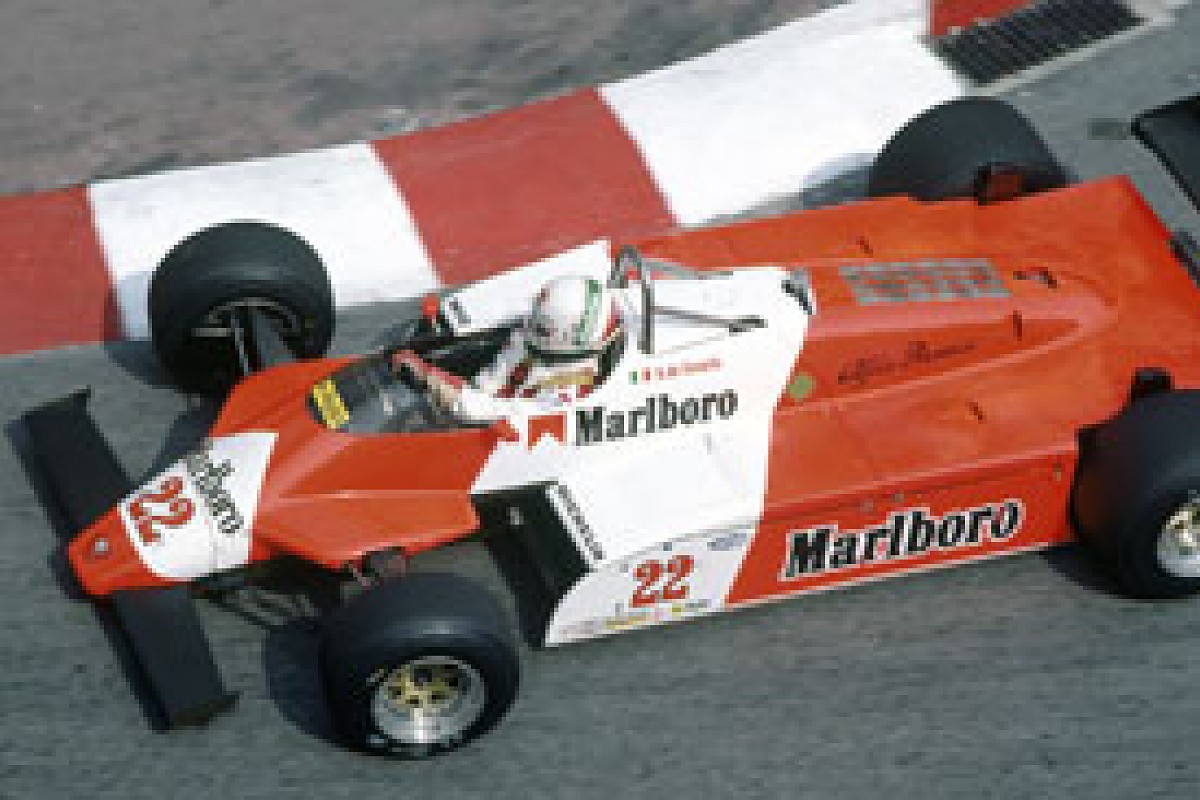 But for a dry tank, de Cesaris could have profited from the late chaos © LAT
Coming out of the chicane, about to lap Surer's stuttering Arrows for the nth time, the Renault suddenly went into violent oversteer, shooting straight across the road, head on into the barrier. From there it pinballed onto the opposite guardrail, coming to rest in the middle of the road, bodywork all over the place, wheels bouncing dangerously close to spectator areas. Prost stepped quickly out and climbed over the Armco. A hospital check later revealed only severe bruising to his legs. He was a lucky man - even if the Monaco Grand Prix was lost, five miles from home.
Patrese, therefore, was safe in first place - but this only lasted as far as Station hairpin on the next lap. The surface was really treacherous now, and the Brabham slid sideways down the road, slowly mounted the kerb, came to rest at the apex. Pironi drove by on the inside to take the lead.
Why was the Ferrari going so slowly? Being cautious is one thing, but this was ridiculous. For an agonising lap and a bit Pironi crept round, being passed by rabbits on all sides, before coming to a halt a lap to the flag! "I thought maybe I had an electrical problem because of the wet," he said later. "For three or four laps the car had been misfiring, but it was more simple than that. No fuel..."
Neither, for that matter, had de Cesaris, the man who should have taken it all up when Pironi's problems began. The Alfa, too, had a dry tank, and was parked at the top of the hill, its driver sitting on the wall, weeping disconsolately.
So who was going to win this thing? Can we have a winner, please? Someone step forward. Monaco is up for grabs.
Patrese decided that he was the man. The marshals, judging the Brabham to be in a dangerous place had pushed it straight again. Moving gently down the hill to the harbour front, Riccardo bump-started the engine and continued. Another lap and a half, and he was home.
"For me, it was a big surprise!" he related afterwards. "When I spin, I think for sure my chance is gone. Then I notice cars stopped all round the track..."
If the Brabham had not been in "a dangerous place," not been allowed the luxury of a push, the Lotuses would have gone on their way. Mansell's great sprint had taken him past de Angelis, and he would have won his first grand prix. The circumstances would have been weird, yes, but then Monaco is not a normal race...