"For me," said Niki, "it was a race without problem. For sure, I could not stay with Piquet, no, but once he was out it was straightforward. Easy? No way. No grand prix is easy but I had no worries..."
Lauda won this one like he won at Long Beach, by being neat, calm, efficient, aggressive only when necessary. On the first lap he was very firm and assertive in beating Didier Pironi into Druids, but thereafter there was no need of such things. Coolly, he drove away from the Ferrari, and waited for something to happen to the Brabham, which broke after nine laps. When that happened, the McLaren was home. It was a typical piece of Lauda superiority.
Behind him, at the end of the 76 laps, was Pironi, whose six points move him into the lead of the world championship. Didier contended well with throttle and handling problems, and finished ahead of his Ferrari team-mate, Patrick Tambay, who came through strongly in the late stages after a cautious start, and passed Elio de Angelis' fuel-starved Lotus on the last lap.
The closing minutes were busy ones, with Tambay closing on de Angelis, Derek Daly closing on Tambay and Prost closing in on Daly. In the end, they went over the line in a great rush: Ferrari, Lotus, Williams, Renault. Without problems, the two British cars would certainly have beaten the two turbos.
Several well-laid plans went awry at the start. Pole position had been won, deservedly, by Keke Rosberg's Williams, but the Finn had an engine blow in the morning warm up, and its replacement stubbornly refused to start at the beginning of the parade lap, thanks to fuel vaporisation. Finally a push start got Keke on his way, but he had to start from the back. After a typically flamboyant and spectacular display, he hurtled up through the field, but had to stop twice for tyres, and finally retired with low fuel pressure.
Now the inheritor of pole position, Riccardo Patrese was unable to get his Brabham-BMW off the line, and was promptly shunted by Rene Arnoux's Renault. Two luminaries of qualifying were out already, but Piquet shot away into an early lead. When the world champion retired, with a broken injection pump belt, we were cheated of a rare sight in modern grand prix racing: the planned pit stop. Brabham's strategy of was to start with a low fuel load, build up a lead, refuel and change tyres, resume. Maybe at Ricard...
For most people, though, the highlight, of the day was a staggering display by Derek Warwick and the turbocharged Toleman-Hart. Quick in the warm-up, Derek moved up the lap charts at an unbelievable rate, passing people like Daly, Prost and de Cesaris with ease. Finally, to frantic acclaim, he overtook de Angelis and then, quite unbelievably, Pironi. The Toleman ran second! And if a CV joint had not broken soon after half-distance, it might have well have finished there. No one was about to catch it. The massive crowd buzzed with the name of a new British hero.
For the other Brits, there was disappointment. John Watson spun out of the race on lap three, avoiding someone else's incident, Nigel Mansell eventually surrendered to the agony of his injured hand, and Brian Henton had to stop for fresh tyres and a new nosecone after an early incident not of his making. Despite that, Brian then came out of the day with the fastest lap, the first in a long time for Ken Tyrrell.
Entry & Practice
Brands Hatch, we thought, might be something of a wildcard on the 1982 championship trial. After nine rounds, the turbos led the Cosworths five to four, and the month of August looks to present like bonanza time for Ferrari, BMW and perhaps Renault. The Cosworth teams expect to be outpaced at Paul Ricard, Hockenheim, the Osterreichring, Dijon and Monza, but at Brands they had hopes. Testing three weeks before had seen Keke Rosberg fastest from Elio de Angelis.
"We ought to be in good shape here" remarked Frank Dernie of Williams. "The FW08 is useless in slow corners, and obviously not on a par with the turbos in a straight line, but it's really good through the quick ones, and there are no straights here that are worth the name. We've got hopes..."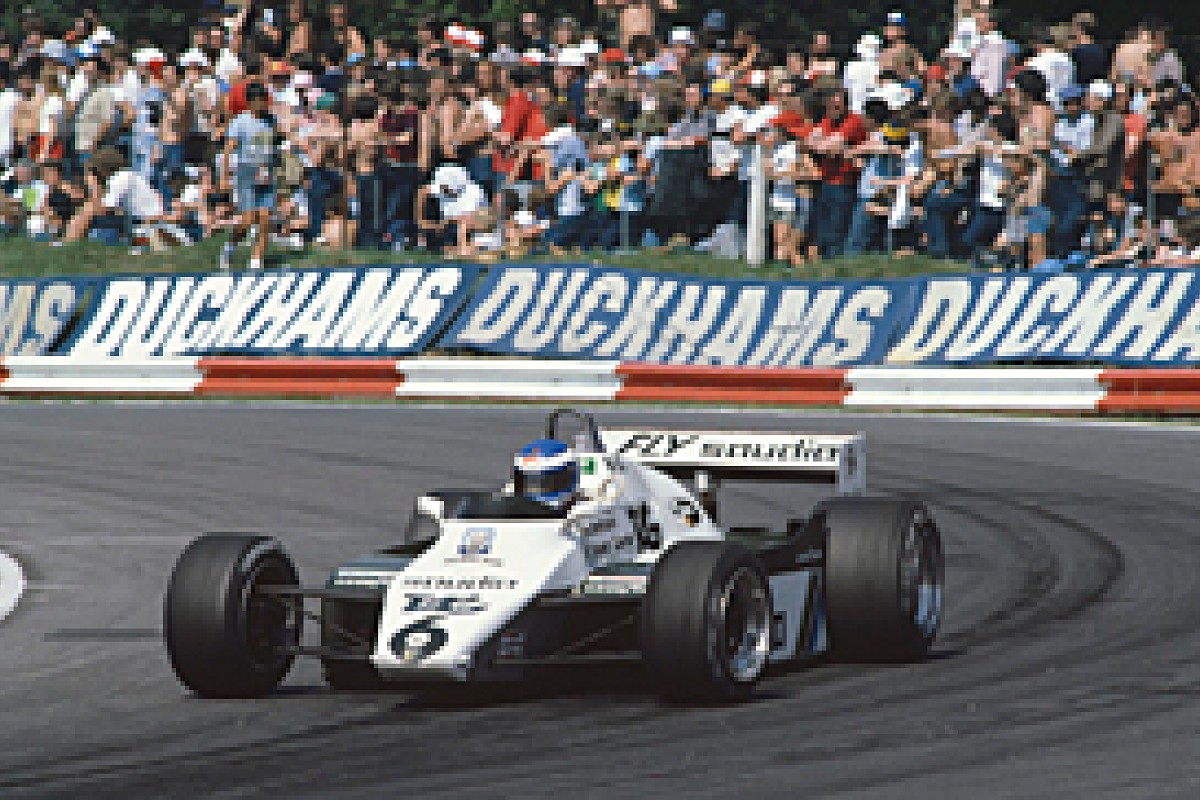 Keke Rosberg secured his first pole position of the season © LAT
So, too, had John Player Special Team Lotus. De Angelis's quick testing time was no trick of the light as the young Italian proved on Friday morning, setting the best time in the first unofficial session. After that, Lotus personnel quietly preened themselves in a way we haven't seen since the days of Mario [Andretti], Ronnie [Peterson] and the 79. Elio's time was quicker than he had managed during the tests, but would he beat it - improve on it - when the watches were ticking? Arrive at a circuit, go quick, go slower, go slow. For some time now that had been the Lotus pattern and it continued at Brands. De Angelis was never to go so quickly again.

For the British Grand Prix, one of the spare 91s had the vogueish pull-rod front suspension. Elio tried it, but set his time in the regular car. He was disappointed, when practice was all done, to be only seventh on the grid, behind four turbos and two other Cosworths.
One of the latter topped the times throughout. Rosberg, more than ever, truly believed that this was the race to bring him that first grand prix victory. In the first timed session he flew round in 1m09.540s, an average of 135.302mph, and was confident that there was no more to come. Before the start of qualifying, indeed, some talked of getting under the 68-second barrier mark, of approaching the 140mph lap. Others, like Pironi, had their doubts: "You know, I had pole here two years ago - one-eleven dead or something like that - and I thought times would be much quicker this time, as they have been everywhere else. But when we came here to test, I was not so sure. Yes, we have more horsepower, and tyres are better, of course. But in 1980 we still had sliding skirts - and more important, we had suspension movement. Even with the resurfacing Brands is still a bumpy circuit, a place where suspension would be useful..."
Rosberg, set his best time on Friday afternoon, in spite of falling foul of Arnoux's errant Renault at Druids, Keke dived inside to the hairpin, but Rene had not looked in his mirrors, and chopped across, bouncing over the front wheel of the Williams into a spin. Rosberg continued and then came the quick lap.
On Saturday morning, the Finn all but equalled his best lap, and all his hopes for "a mid-eight" looked like being realised in the final 60 minutes. But no, "I'm not going to tell you what it was" grinned Keke, "but we made a change to the car before the last session, expecting to pick up a bit more speed. Instead of that, we wasted two sets of qualifiers. But at least we know that it didn't work, and we won't have a problem with it tomorrow." 'It' was apparently a change in the ride height.

During the dying minutes Rosberg waited anxiously in the Williams pit, while others took shots at his time. Towards the end, Patrese got very close indeed, and Keke was relieved when the chequered flag came out. It was his pole position. Two years ago in a Fittipaldi, he missed the cut...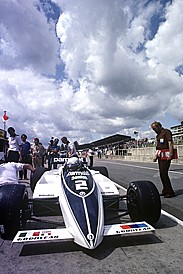 Brabham was convinced that an unconventional mid-race fuel stop was the way forward © LAT
In the final hour, the Brabham-BMWs made a tremendous onslaught on pole. Conditions were hotter - and slower - than those of Friday, but two white cars were awesome to watch. Boost right up, fuel load down, ultra-soft tyres, charge! Out of Bottom Bend and along the curving 'straight' of behind the pits, Patrese and Piquet revived at least some of the spectacle of Danny Ongais and the Parnelli at the same spot. This time the tyres were wider and stickier, and the horsepower somewhat less, but the essentials were the same. Out of Bottom Bend, at considerably greater speed than Daniel's USAC, the drivers floored the throttle, tails kicking out of line, as for once, horsepower got the better of downforce. It was something to see, and reminded you that you should always have a bit more power than the chassis can contain.
In the end, it was Riccardo who most closely threatened Rosberg, lapping in 1m09.627s during a section of sustained bravery. Nelson Piquet was thwarted in his attempts to make the front row. On what should have been a real banzai lap he came upon a car, just out of out of the pits at the exit of Paddock Hill Bend. In his avoiding actions, the world champion had a massive moment, sliding wide and overstepping the kerbing on the exit. He was not amused. Already though, he had done enough to make sure of third spot on the grid. Having set his time in the 'practice' session, he went out again in the last few minutes.
All in all, Brabham collared the pre-race publicity, but couldn't match it to anything achieved on the track. Why, why, we wondered, did the two race cars have built in air-jacks? What was the reason for the huge aircraft-type fuel filters behind the rollover bars? Surely we were back in the era of planned pitstops? Apparently, we were, and suddenly all the stories of secret Brabham tests at Donington became clear.
"Everyone seems to think that we're going to stop because we can't go the distance on a single tank of fuel," said Herbie Blash after practice. "But that's not it. We reckon that this is going to be the quickest way of getting through 76 laps."
And there it was. If all went to plan, the Brabhams would start with half-empty tanks, charge off into the distance, build up a lead ("we think we need 35-40 seconds") come in, take on fuel, change to new tyres, resume. Was all this all for real, we wondered, or an elaborate plan and expensive means on unsettling their rivals? Some were in no doubt it was the latter. "No way," said Rosberg. "It's a Gordon Murray hoax". Dieter Stappert of BMW empasised that it was the team's intention to pit. We waited. If it came off, it would be a marvellous piece of motor racing theatre, apart from anything else, something for the spectators to relish. An alterative means of winning a grand prix, by God!
The Brabhams' last session dash squeezed them into second and third on the grid, thereby pushing back Pironi's Ferrari, which had been second quickest on the first day. Once more, Pironi had two cars at his disposal, one with a transverse gearbox, the other with the new longitudinal. After the first untimed session, in which he tried both. Didier opted for the older car for qualifying but an 'electrical' misfire brought him in, and and took the new one out for the last few minutes, it was in this 126C that he set his best time. "I'm surprised, because the transverse car feels quicker," he commented. "I'll use both again tomorrow, and then make a decision about the race."

In the last, slower session, Pironi did not improve his Friday time, but felt that he would stick with the older car, in which he won at Zandvoort.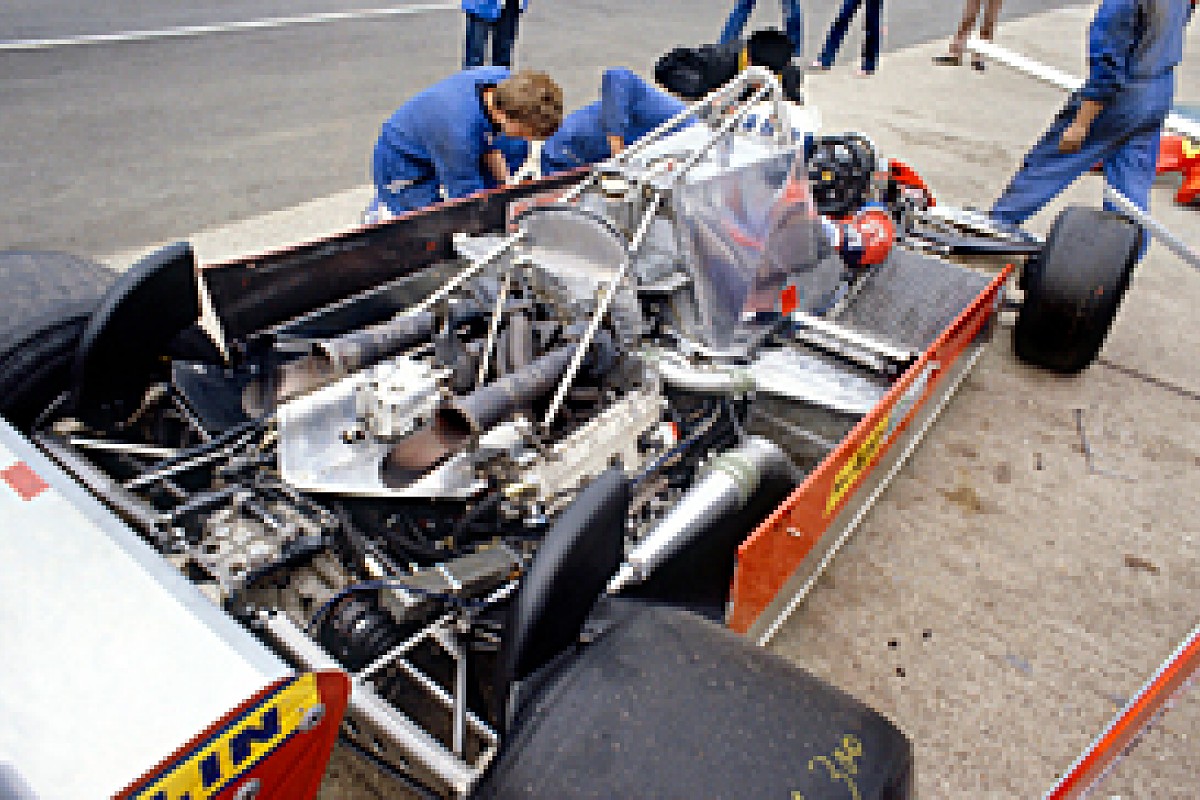 Didier Pironi would qualify fourth, just as he had when he had been victorious in the Dutch GP © LAT
Fifth, second-quickest non-turbo, was Niki Lauda's Marlboro McLaren MP4B, the Austrian at his best on this real driver's circuit driving with fluency and economy of effort and movement. Once more, you watched Lauda, and you wondered why others used so much more road. Niki was one of those to improve his time during the slower final session, and he had few complaints. From elsewhere, however, there was the suggestion that the quality of Michelin Q-tyres is somewhat variable at present, and this may have hampered McLaren somewhat.
Lauda, however, was on excellent form, off track as well as on. "No problems at all. I am happy to be fifth. Tomorrow the big thing will be to start well, not get caught behind one of the turbos while Rosberg gets away. I think it will be okay..." This was Lauda at his most confident and dangerous, and a circuit where he has always shone. Betting men made a note of it.
A mere three-hundredths slower than the Mclaren was the Renault of Rene Arnoux, and this was a major surprise, not because the Frenchman is usually higher up on the grid than that, and invariably on the pole, but because he detests Brands Hatch, and on the first day he looked to start among the rabbits.
Rene's memories of Brands are unhappy ones. In 1978 he and the little Martini team travelled over for the race, and were then turned away, not allowed even an attempt at qualification. Then, two years ago, he had an unpleasant accident in the Renault at Bottom Bend.
On Friday, he did not look his confident self, and it showed. First there was the incident with Rosberg at the entry to Druids, where the Renault clipped the charging Williams and spun.
Then, a couple of minutes later, Arnoux failed to spot Frank's other car, being driven to the limit by Daly. Going into South Bank, Derek went to the inside - and Rene, cruising, moved the same way. It was a very fraught moment indeed, but they avoided contact somehow. "So easy to see what happened at Zolder, isn't it?" muttered a colleague.
Renault was in trouble at Brands, just as they were two years ago. "For us, the circuit is a mystery," sighed Jean Sage on Friday. "We've never been competitive here." During the final session, though, there was a dramatic improvement, with Arnoux making the biggest jump of all - 15th to sixth - by taking almost two seconds off his previous best. Increased boost was part of it, of course, but skirt and ride height changes made a good deal of difference, and Rene was much happier with the feel of his car.

So, too, was Alain Prost, eighth on the grid before the de Angelis Lotus. Mechanical problems were few, although he lost valuable setting up time on Friday when an electrical contact broke, and he had to park out of the circuit. "We are not on the pace here, no." he grimaced, "but often we start from the front, and something goes wrong. Maybe here we get a nice surprise in the race..."
Row five: Michele Alboreto's Tyrell and Daly's Williams. The Zandvoort protagonists were together again, the Italian still simmering with from the last encounter. On Saturday afternoon he improved his time by more than half a second, and was content, but Derek was disappointed.

"For the last session we tried some different skirts, which made the cars turn in too quickly - to the point you needed to correct into quick corners. For the race we'll change back to the original ones. Yes, I am a bit sad - I know I could have gone quicker in the last session..."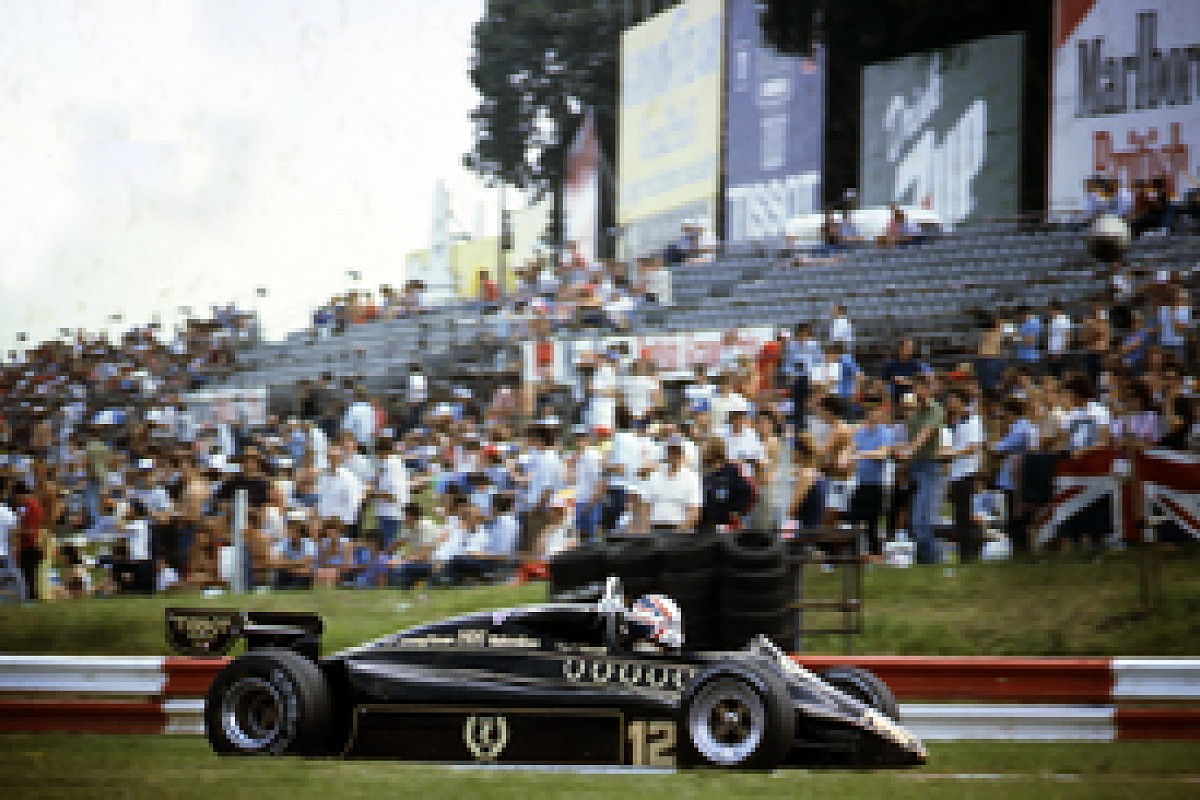 Mansell braved the pain of an injured arm to race in front of his home crowd© LAT
Daly had been fifth fastest on Friday, despite the handicap of a most unusual problem: "The bracket at the bottom of the brake pedal broke, which meant that every time I pressed it, the clutch went in a little too! That reduced the braking effect a bit... Still, never mind, I think I'll have a good race."

Red and white made up the sixth row: Andrea de Cesaris's Alfa Romeo and John Watson's McLaren. On Saturday afternoon the Italian was thwarted by a constant misfire, and was a full second slower than the day before, while John improved slightly, but not enough. He was quite happy with his car throughout the two days, but could have done without the pressure of being a British driver leading the world championship at the British Grand Prix, which race he won last year, of course. He could also have done without quite so much of the traffic in the final session. He seemed to suffer more than most in this respect.
"We have an understeer problem here and my car seems to be worse than Didier's," was Patrick Tambay's comment. "It's odd, too, because the car is normally fantastic in the quick corners, and slow in good in the slow ones. Here I had understeer at places like Clearways and Paddock. The race, I think, will be better because the understeer is far less pronounced on race tyres." Patrick went quicker early in the last session, but then his engine cut out (a distributor fault) before he could get the most from his second set of qualifiers. He ended up 13th.
No one was surprised when Bruno Giacomelli was off the pace on Saturday afternoon. On the first day he had been right up with de Casaris, but on Saturday morning, right at the end of the unofficial session, Bruno's car flew off the road at Stirling's and wrecked itself against the guardrail. It was a very big accident, caused by breakage of the carbon fibre rear wing support. "I think I'm lucky to be alive," murmered the Italian. "I had no control over the steering, nothing,"
And then we had the Tolemans. After Zandvoort there remained the cynics who, while not doubting the horsepower of Brian Hart's engine or the new-found efficacy of Pirelli's race tyres, thought that Derek Warwick and Teo Fabi would have their work cut out as a 'chassis' circuit like Brands Hatch. Never mind that Fabi had set a new mark while testing at Donington, or that Warwick had recorded the fastest race lap in Holland.
Both cars qualified easily with Teo just pipping Derek in the last session. Forgetting Imola, two Tolemans were in a grand prix for the first time, and both drivers were good, hard, racers. We looked to their race performance with considerable interest. Foreign journalists now began speaking of 'Tolly-man' with respect, as did other drivers who followed the red and blue cars.

After problems with his own car, Brian Henton was allowed out in Michele Alboreto's Tyrrell at the end of the first timed session, and was staggered at the difference! On Saturday he just failed to break into the elevens, but was comfortably into the race, sharing row nine with the lone Osella of Jean-Pierre Jarier.
Happily for Roberto Guerrero, the Ensign's kangaroo gait at Zandvoort was lessened considerably for Brands Hatch, although it remained among the less stable cars along the undulating pit straight. The Colombian qualified 19th, faster than Jacques Laffite's quirky Talbot-Ligier JS19.
Laffite tried all he knew during practice but the car fought him all the way, twitching out of Bottom Bend as the power was applied. Eddie Cheever, who failed to qualify at Zandvoort, eventually gave up with his car, reverting to the JS17, in which he has a lot more confidence. Quite clearly, the blue cars were going to contribute little to the weekend apart from the blissful Matra scream.
Marc Surer and Mauro Baldi (just!) got their Arrows A4s into the race, but both were slower than Chico Serra's old Fittipaldi F8. After testing the new F9 at Donington during the week, the team decided to bring it to Brands, and Serra found it already virtually as quick as its predecessor. It looked good, too, complete with pull-rod suspension, but Chico eventually decided to concentrate on the older car.
Near the back, inevitably, we had Nigel Mansell, very grey of face and still in tremendous pain. That he qualified at all is a testimony of his courage. "I just haven't got enough movement in my left hand to do what's necessary for a real balls-out qualifying lap," he said. "I'm having to take my hand off the wheel, move it higher up, just to turn the wheel enough to get through the corner!"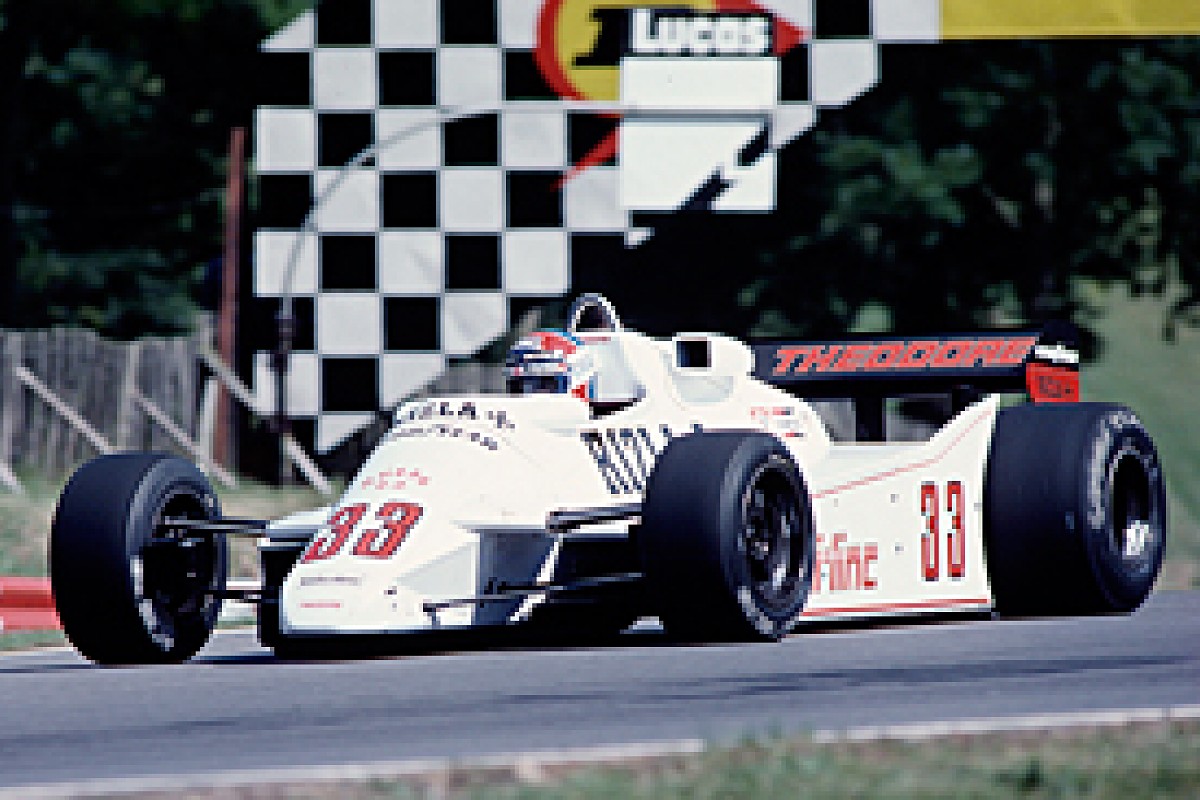 Jan Lammers failed to qualify the Theodore © LAT
Mansell set his best time on hard race tyres - "There's no point in using qualifiers, because I can't get the best out of them" - and reckoned he would be OK for the race. "I know my best was a thirteen-two but I reckon I can run fairly close to that for a long time. The biggest problem, really, is correcting a mistake. I had a huge moment at Paddock during the last session, and it was hard to hold the car. In the end I went over the kerbing and tore off a skirt..."
The only March in the race was that of Jochen Mass, for Emillio de Villota's car was withdrawn, and Raul Boesel did not qualify. Earlier in the week, the Brazilian had been in a huge testing accident at Snetterton.
Others redundant for Sunday were Manfred Windlehock, Jan Lammers and Eliseo Salazar, all of whom were within a fifth of Baldi's car, the last to qualify.

In prospect, then, was a fascinating race, Keke was on pole for the first time. Lap for lap, he was conclusively the fastest man around the place. Would he lead from the start, run away? Or were Brabham serious about this refuelling jape and would Nelson and Riccardo disappear in the early stages? Didier was fourth on the grid, as he had been at Zandvoort. Would he move through in the same effortless fashion? And, of course, there was the calm presence of Lauda, sitting there on the third row, hovering...
1982 Brands Hatch starting grid on FORIX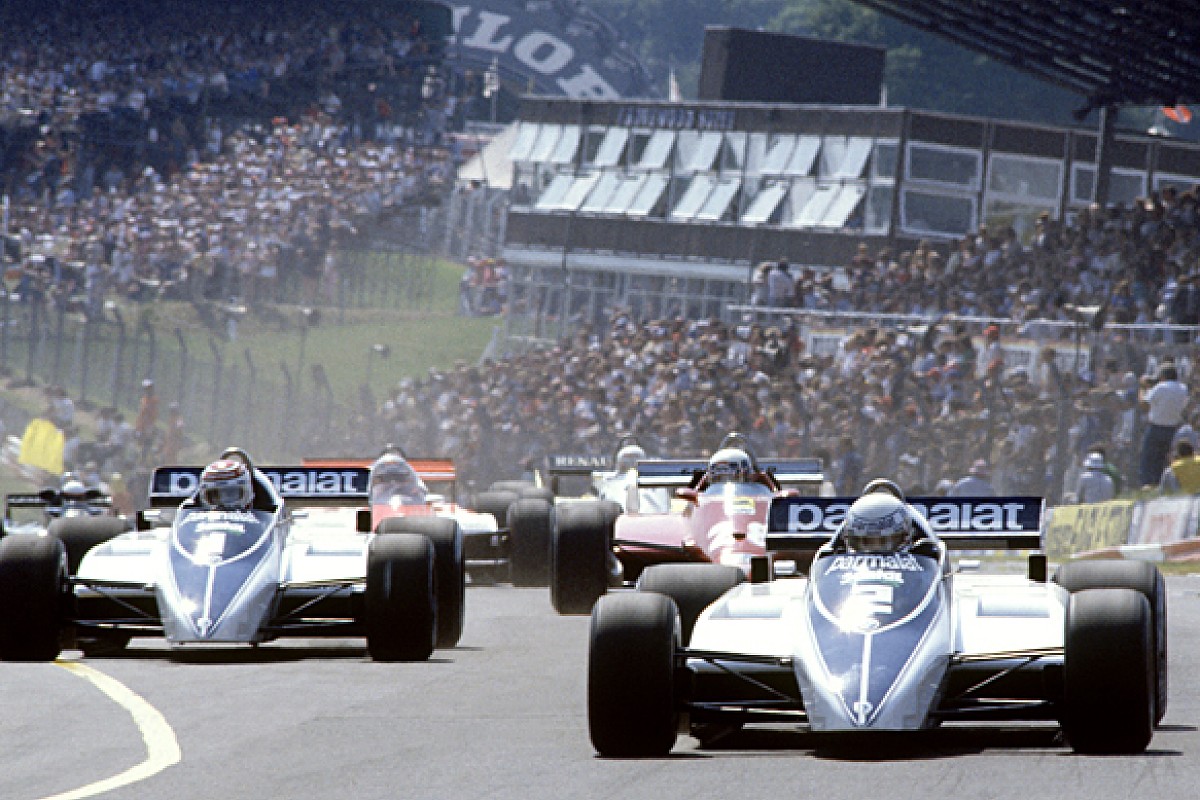 The race
Race morning. The sun was up early, and we seemed set for more of the gorgeous weather of Saturday. By seven o'clock there were long queues up to the circuit, finally allaying any fears the organisers may have had. In normal times, every grandstand for the British Grand Prix had been sold out by early spring, but in these days of financial realism such was not the case this year. People clearly decided to wait and see how they were fixed, come July, before digging so deeply into their pockets.
Perhaps there were other factors, too. Grand prix racing's incessant civil war doubtless accounted for a degree of absenteeism by disillusioned fans. And a number of the British staff recalled the days after the death of Gilles Villeneuve, when many thousands of pounds worth of tickets were returned, and new applications dried to a trickle. In the face of such facts, there nevertheless remain figures in the Formula 1 hierarchy who still proclaim that hero-drivers have no pulling power.
When it came to it, however, enough people had enough spare loot to make the trip, after all, encouraged by whoever decided to put the sun out on a given day. Brands was packed.
Moreover, there was plenty to keep them occupied, apart from the inevitable supporting races. Every aspect of the air show was fabulous, from the Pitts Specials to the Harrier. In the midst of it all the sound and fury, Dizzy Addicott flew gently and quietly over in the 'Ruskin Airlines' Dakota, and then came Concorde - "it really doesn't make any more noise than any other airliner" (it says here) - majestically sweeping by three times, before giving a truly impressive display of acceleration away into the skies. The Red Arrows, with some new routines in their display, were as breathtaking as I have ever seen them, and had perfect conditions in which to work.

But the star, of course, was the Harrier. It was demonstrated at Brands Hatch two years ago, and left everyone open mouthed. It also left a good few without hats, one or two motorhomes without awnings, several concession stands stripped clean. But this time there were no such mishaps, and it all meant rather more, the aircraft having performed so nobly in the Falklands recently. As it hovered over the Brands bowl, in calm and dignified stance, the aircraft several times dipped its nose in salute, and the reception from the spectators was rapturous, many waving wildly, others holding aloft the Union Jack. It was a moving moment, and a very hard act for racing cars to follow. Finally, the Harrier moved away, seconds later swooping low over the paddock in a burst of dramatic speed, leaving everyone stunned by its sheer capability.
In 1980, the aircraft remained on its pad, on the infield at Clearways, throughout the race, where it looked a trifle vulnerable. Late in the day, Eddie Cheever's fractured Osella seemed on course to hit it, but thankfully stopped short. This time, nobody was taking any chances...
Riccardo Patrese and Rene Arnoux were eliminated from the race in a startline shunt © LAT
And so to motor racing. Throughout the air displays the Williams mechanics were hard at work. During the morning warm-up session, Rosberg's car had jumped out of gear, and when he came back in there was eleven three on the rev counter. For Keke, it was the first stop in a frustrating afternoon.
In the pits, most attention was spent focusing on the Brabham area, on the beautifully-liveried fuel churns, on the day-glo stripes on the road leading the drivers to precisely the right point for their stop, on the mechanics, clad in fire-proof overalls (complete with Parmalat identification!). Were they really going to stop? "If this is a hoax" said one of the crew, "I'm going to be bloody mad about all the practice we went through last week."
"We're aiming to come in at about half-distance" said Herbie Blash, "but unfortunately, the Goodyear compounds don't really allow us to take advantage of using softer tyres." The Brabhams, like their rivals, went to the grid, on 'A' compound tyres.
As they set off for the final parade lap, Rosberg's Williams was left behind. The engine change was completed in good time, but now there was a problem with fuel vaporisation, and the Cosworth refused to fire up. For some time even a push start failed to bring it to life, but finally it caught and Keke laid down rubber into Paddock, having quite a busy time there on cold tyres. For him, the parade lap, was at racing speed, but when he completed it the grid was already formed and there was no alternative but to start from the back. First to last. It was an appalling break.
Patrese was now the pole man, of course, but when the green light flashed the Brabham-BMW did not move, and Riccardo waved his arm, engine apparently stalled. Later he said that first gear had jumped out as he let in the clutch.
Whatever, there was now a large white obstacle for everyone to avoid on the left side of the grid. Pironi, directly behind, somehow jinked to the right - without apparently lifting his right foot - but Arnoux, behind the Ferrari, was less fortunate or less alert, and the Renault slammed into the Brabham, both cars out on the spot.
This created a busy situation for others behind. Prost and Daly squeezed through on the grass without too much delay or difficulty, but Watson was less fortunate, being forced right towards the barrier, which he somehow missed. For last year's winner it was already a bad day, but there was worse to follow.
Another sad victim of the Patrese-Arnoux fracas was Fabi, who got away really well, then found the Renault's nearside front wheel in front of him, with no room swerve. The Toleman rode over it, another instant retirement.

If Patrese's day had been a disaster, however, Piquet had got off magnificently, and came by on the end of lap one with a firm lead from Lauda. At Druids on the first lap the Austrian really put the squeeze on Pironi to hold his place, and you remembered his words in practice "I mustn't get stuck behind one of those turbos".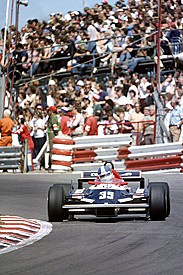 Derek Warwick would prove to be the absolute star of the race, running second for Toleman © LAT
Even Niki though, was hardly stuck behind the Brabham-BMW. In those early laps, he truly worked the McLaren hard, but Piquet continued to recede into the distance. Light fuel load? It certainly looked that way. The world champion was flying.

So, too, was the amazing Rosberg. In the course of an extraordinary opening lap the number 6 Williams passed eight cars, and came by in 15th spot. By lap three it was 12th, by lap 13 up into sixth. You could sense the anger in the man.
Lap three brought disaster for several. Going into Hawthorns, Serra made to go by Jarier, and the two touched, the Fitipaldi bouncing over the Osella's front wheel. In an instant, Serra's car was in the air, coming down heavily on the outside of the track before hurtling backwards into the guardrail. On impact, the car flipped upside down, and a small fire started. Quickly the marshalls righted the Fittipaldi and its fortunate driver was able to climb out, shaken but uninjured.
The shunt had repercussions for others, too, notably, the luckless Watson, who spun to avoid the accident. The McLaren, completely undamaged, came to rest on the grass with a dead engine, which resisted all John's attempts to restart it. Sadly, there was nothing to do but walk home to the crowd's sympathetic cheers. Had it not been for the startline debacle, Watson would have been ahead of Serra and Jarier...
Another to suffer here was Guerreo, who braked hard at the accident scene, and was punted by Henton's Tyrrell. An oil line on the Ensign was holed in the impact. And a lap later Roberto's engine blew up expensively, while Brian was able to continue, the nose of his car was damaged.

Amid all of this, a pattern was developing at the front. Piquet was extending his lead by around a second a lap, with Lauda comfortable in second, Pironi in third, followed by de Angelis, Daly, de Cesaris and... Warwick, who had started 16th and was up to sixth after only seven laps!
Already in trouble was Alboreto, who had made a great start, but pitted at the end of lap five to report excessive porpoising. A skirt was loose.

After nine laps, Piquet had a lead of 10s, which was right on schedule. The team, you recall, had calculated that you needed a 35s advantage to stop at half-distance, and Piquet looked to have every chance of achieving that. But as he pointed the Brabham into Paddock for the 10th time, Nelson was coming down off the pace. Through Druids he was cruising, and along Bottom Straight he pulled off onto the slip road behind the paddock. The fuel injection pump belt had broken. All the refuelling excitement was over... for this particular weekend, anyway. Sadly, the mechanics began to pack away their churns and equipment, and change into cooler clothes.
Lauda was now in a lead, which seemed secure, well clear of Pironi, who was coming under increasing attack from Daly, the Irishman having dealt with Alboreto, de Cesaris and de Angelis. The real sensation though, lay with Warwick and the Toleman. Derek had dealt effortlessly with the likes of de Cesaris and Prost and now closed in on de Angelis's fourth place. Out of Hawthorns, on lap 12, the turbocharged car was a couple of lengths behind the Lotus, but so effective was the Toleman and so confident Warwick that the black car was overtaken into Westfield! It was almost beyond belief and Elio presumably felt that way too...
That done, Derek now closed in on his namesake in the Williams for third, tailing him for three or four laps before going by into Paddock! By now, Warwick well and truly had the crowd rooting for him, and the excitement quickly grew when it became apparent that he was quickly closing on Pironi's Ferrari. What was going on here?
It was a repeat performance. For a few laps, Derek stalked the Ferrari, closed right up, came out of Clearways better, pulled alongside into Paddock and drove by! Second! And thereafter he quickly left the red car behind. "I could do nothing against Derek" Pironi later admitted. "I had my problems, yes, but that car was quicker everywhere. Incredible..."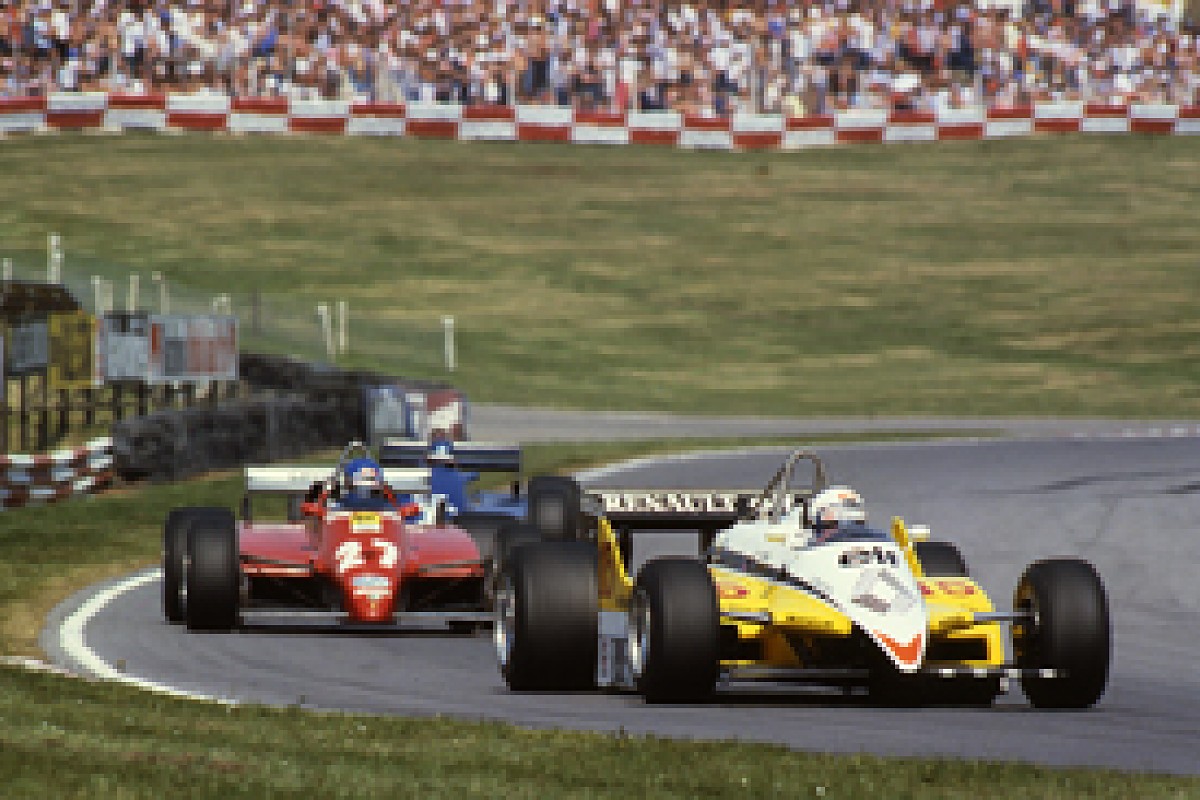 A struggling Alain Prost tries to fend off Patrick Tambay© LAT
"I have to admit" laughed Derek, "that I gave a little cheer out load when I passed the Ferrari. It gave me so much pleasure to race against blokes like that, up at the front of the field. You don't get your nose chopped off at every corner. They raced hard, but fairly. You have to remember that it's been a long time since I've been involved in a real race - not since Formula 2 days, really, and everybody's filthy in there. It was a real pleasure today, especially when I could see all the banners waving as I got past Pironi."
The agreeable surprise of the Toleman tended to distract somewhat from the formidable showing of Rosberg, who was driving with all the verve at his command. Up to sixth by lap 13, Keke pitted at the end of 16, to the groans of the grandstands. His front tyres had blistered after only five laps and now he came in to change. "I was flat out the whole time" he reported later, "after that happened at the start, there was no point in doing anything else". Four new tyres, out again, start all over again. Later he would stop for more.
And the serene Mr Lauda swept on, running 25 seconds ahead of Warwick. That lead grew dramatically on the 40th lap, when suddenly the Toleman slowed. "Coming out of Druids" related Derek, "I planted the power on and heard a ping behind me. It was a CV joint on the inner end, by the driveshaft. That was that..." As the car headed slowly down the pitlane, spectators cheered Warwick to the echo, and merited it certainly was. The most refreshing happening in grand prix racing for a very long time.
Most of the last half of the race was stalemate, with Lauda maintaining an easy lead - 40 seconds at one stage - from Pironi, who was never far ahead of de Angelis. Behind the leading trio ran de Cesaris, Tambay, Laffite (a great drive in a difficult car), Prost and Daly, the Williams man going really hard after a tyre stop on lap 29. By this stage we had lost Mansell, who stopped to have a skirt replaced, and then abandoned after 30 laps, in intense pain and completely exhausted. A very courageous performance was over.

The most interesting aspect of the last 30 laps was that all the leading runners, save Lauda, had some kind of problem. Some dire, some not.
Pironi: "I never had as much grip as I expected, and the car understeered more and more, but the big problem was that I had some sort of block on the throttle pedal. It seemed to stick at one particular point, but only pressing it down. It never jammed open or anything, but it made the car really difficult to drive smoothly."
De Angelis: "For the last 25 laps I had fuel starvation, which made me slow out of slower corners. Otherwise, for sure, I could have passed Pironi."
De Cesaris: "My engine began to misfire at about half-distance, and got worse and worse. Finally it started cutting out altogether and then for good. I think the problem was electrical."
Tambay: "I wasn't very confident of the car on full tanks, but as the race went on, I felt better. Like Didier, the main problem seemed to be understeer."
Prost: "My car was dreadful on full tanks, porpoising really badly, and I slowed a little. But as the car lightened, the car improved and at the end it was going well."
Daly: " Problems? Well, apart from the fact that Alboreto put me off the road twice - once on the straight! - and that I had to stop for tyres, I also lost a skirt about 15 laps from the end, which made it difficult to get the car into corners."
Lauda: "No problem. Car perfect, engine perfect, tyres perfect..."
Niki duly won convincingly, paying out his lead in the closing laps, so his lead was 'only' 15s. Pironi was an equally secure second, but a great charge late into the race brought Tambay right up to de Angelis. Despite the best endeavours of the unwilling-to-be-lapped Giacomelli, Patrick found a way by the Alfa on the last lap, and passed the ailing Lotus into Hawthorns.

Ferraris second and third, then, with de Angelis fourth - just - from Daly, who had Prost right on his gearbox at the line. The last few laps were diverting.

Bruno's Alfa took seventh, just out of the points, with Henton's Tyrrell eighth. The Derby man had stopped for tyres on lap 40, and thereafter drove really hard, setting the fastest lap of the race on lap 63, which was a great effort. Rosberg, after two tyre stops, and one for wing adjustment, finally retired on lap 51 with low fuel pressure, which captivated the crowd.
At the end of it though, we had Lauda and yet another demonstration of the art of grand prix driving. "I wish," he mused afterwards, "that we had the Porsche engine now. Brands was a place where we could win with a Cosworth, but I don't see it happening for the next few races..."
1982 Brands Hatch results on FORIX