The end of term concert went almost according to plan. We expected Keke Rosberg to clinch the world championship, and he did. We counted on a brilliant effort from John Watson, and we got it. We doubted that Ferrari could lose the constructors' cup, and we were right. We guessed it would be hot, and that few would bother to come and watch. Correct again, on both counts.
Perhaps we should also have thought about a race victory for Michele Alboreto and Tyrrell. They have frequently shone this season, after all, the young Italian emerging as a true star of the future, the 011 chassis developing simultaneously into a formidable machine.
Alboreto drove a brilliant race at Las Vegas, pacing himself, his car and tyres to perfection. When the two Renaults of Alain Prost and Rene Arnoux, which had dominated qualifying, rushed away in the early stages only Michele was able to go with them. And when they faltered yet again, he alone was in a position to take advantage, setting fastest lap along the way. No praise is too high.
The first half of Watson's race was, quite simply, breathtaking. After problems with the McLaren in qualifying trim, John was fairly well back on the grid. In the race day warm-up he was sensationally quick, and he repeated the form in the race. A familiar story, retold yet again. 11thon the first lap, Watson fought up to second, but there it finished. Severe tyre vibration ruled out any question of a lunge at the Tyrrell, and John was an honourable runner-up, as he was also in the world championship.
Third, after going the distance with a bent front wheel, was no more than Eddie Cheever deserved, for he and Talbot-Ligier had been front runners from the start of practice. In the closing stages Cheever caught and passed Prost, whose vibrating Renault had dropped off the pace after leading most of the way. Alain was a disappointed fourth, ahead of the Williams pair, an unusually - and understandably - circumspect Rosberg finishing ahead of Derek Daly.
Although Ferrari clinched the constructors' title, it was not accomplished as they would have wished. The cars of Mario Andretti and Patrick Tambay suffered fuel vaporisation problems during the tremendous heat of qualifying, placing seventh and eighth on the grid. But Patrick, suffering a recurrence of his pinched nerve problem, had to withdraw before the race, and Mario had a rear suspension failure while running fifth.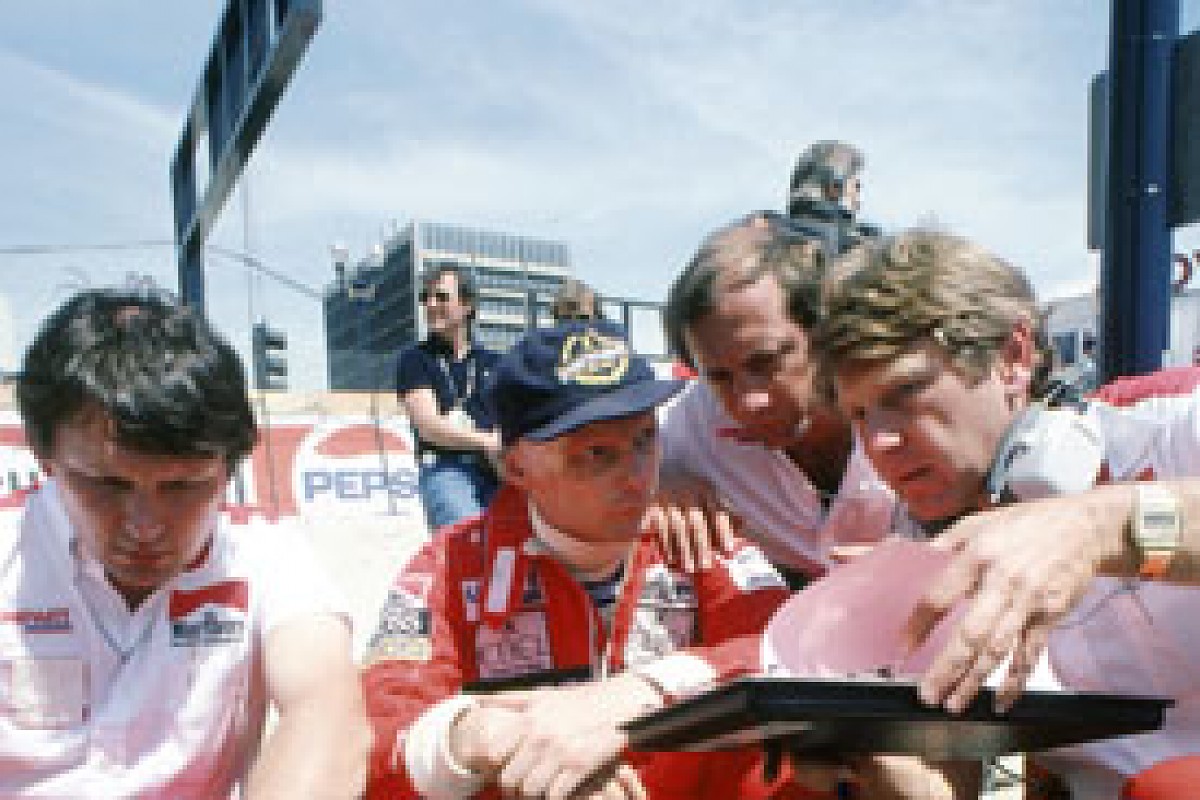 Lauda had a mathematical chance of the title, but was off the pace all weekend © LAT
Vegas was disappointing for Niki Lauda, who could also have taken the title. Engine problems kept him off the pace in both practice and the race. And the Brabham-BMWs, with no Gordon Murray to tend them, never looked like contenders at all, both retiring early.
"I came here to do a job," said Keke when it was all over. "I wanted to be relaxed and calm about it, so I came to California early, did some flying, just to keep myself free from tension. I wanted to win the championship by winning the race, but I soon realised that was impossible. I couldn't keep up with John when he passed me, and I thought he could quite easily win. That being the case, I could risk nothing. I had to make sure of those two points. I've waited a long time for this..."
Entry and practice
"Terrible," said the cab driver when I asked him what kind of a year it had been in Las Vegas. "Just terrible, man. If you ask me, Vegas is finished. There's quite a lot of folks here now for the races and stuff, but most of the summer this place has been like a ghost town..."
"How's that?" I asked. "Oh, that's easy," he replied. "Part of it is that Atlantic City took a lot of the gamblers, and the other part is that goddam Reagan and his economic ideas. There's a recession, you understand?" I replied that, yes, I understood what a recession was. I came from England.
"You got it there, then?" He was warming to his theme now, oblivious of the bright red overheating light on his dashboard and the rattle of a clutch plate coming to the end of its life's work. "Well, in that case you'll know what I mean. There's no money, man. Nobody spendin'..."
We lurched to a standstill. I paid him, waited half a minute or so for the flagging Chevy to settle on its shock absorbers, and alighted, pondering. If Las Vegas was going through hard times, where was safe?
There seemed to be similar thoughts about the grand prix. The men of Caesars Palace were vastly disappointed by the public's lack of interest in their race. As last year, advance ticket sales were disastrous, and it seems clear that Middle America comes to Vegas only to lose dollars and gain pounds. High rollers may fly in from far and wide for an Ali-Holmes fight, but boxing sits comfortably with the image of Las Vegas. Grand prix racing obviously does not. This year there were far fewer movie stars and celebrities posing in the pits, but then there were few appearing on The Strip during grand prix week. Atlantic City again. All told, it was a bit downbeat. As in 1981 it struck me that this was a rum old place in which to settle the world championship.
The grid for Sunday's race was packed, but the stands were less so © LAT
Perhaps there might have been more fans in town if the originally proposed F1/CART double-header had come off, but a bit of crafty footwork by FISA (prompted by I can't imagine whom...) earlier this year put the stoppers on any grand prix "supporting race" for single-seaters of more than 2 litres. Tell me where you find any single-seaters of more than 2 litres outside of Indy Cars... The men of Caesars Palace were disappointed by this instant piece of rule-making from Paris, and you could hardly blame them. Names like Unser and Rutherford and Johncock mean something in America, and might have put a few more people in the stands. Paying for their seats, even.
Vegas is a matter of stamina - and the same goes for its tightly coiled race track through the car park at Caesars Palace. Last year we waited breathlessly to see which of the two South Americans in contention for the world title would go less slowly than the other. Nelson Piquet took the championship by finishing fifth, and at the end of the race the Brazilian was completely at the end of his tether. In addition to being a tight, and therefore physically exhausting, circuit, the Las Vegas Grand Prix track is also anti-clockwise, which places great demands on neck muscles inevitably beefed up to deal with clockwise tracks.
And there was the question of the weather, for this year's race was scheduled three weeks earlier than the inaugural event's mid-October date. It was hot last year, but during practice this times temperatures were over 100, and many drivers doubted their ability to do 75 laps in the conditions. "I reckon most people will pace themselves for the first 40 laps or so", remarked Nigel Mansell the day before the race. "It's going to be a matter of survival, being around at the end and being able to go quickly during the last few laps."
Many others shared Mansell's point of view, and one began to wonder if the 2nd Caesars Palace Grand Prix would turn out like one of those bicycle races where everyone creeps around until the final lap where a break is made, leading to a close sprint finish.
In the circumstances, you might have expected Keke Rosberg to be in a cautious frame of mind. Various court rulings aside, he needed only two points to be absolutely sure of the world championship - and that only if one of the McLaren drivers won the race. But Keke would have none of that. How has he going to drive his race? "Balls out - from the start," came the reply. "All these guys say they're going to go easy - in the first half... you wait until that light flashes green, then watch them! No way people are going to coast along. I don't believe it."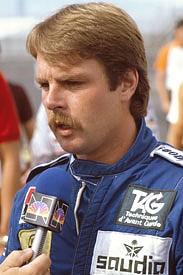 Rosberg pledged to drive "balls out" from the start © LAT
Heat, of course, traditionally spells trouble for the turbos, but in practice the Renaults were superb, Alain Prost and Rene Arnoux comfortably dominating the front row, effectively 1sec quicker than any of their opposition. For the French pair, qualifying was almost eerily free of problems. On Thursday Arnoux was quickest, with Prost a bit miffed that his second qualifying run had been marred by traffic - "Some of these people never use their mirrors."
During the final session, though, Alain had it all together, confidently throbbing round in 1m16.356s, for an average of 106.94mph. Before the start of practice it had been expected that, as at other places this season, times would be three or four seconds quicker than in 1981. But at Vegas this proved not to be the case. On Thursday no one beat Carlos Reutemann's pole time of last year, and only Arnoux was close to it. A good deal of track resurfacing had been done, and everyone found it slippy.
The needle between the two Renault drivers was apparent throughout practice. This was Arnoux's final drive for the team, and it was clear that he and Prost were both keen to end their partnership (for want of a better word) as top dog. With both men out of world championship contention, there was no question of team orders. The RE30Bs ran superbly throughout qualifying, and the management's only worry was that the two cars were starting together at the front of the grid, with each driver very keen to make a point.
Prost was very confident: "Here the biggest problem is traffic. The qualifying tyres are good for two laps maximum, and it's very hard to find a clear lap. On the first day my last set was completely wasted, but today I was lucky. I found a clear lap when my tyres were just at their best."
In the closing minutes Arnoux did his best to unseat Alain from the pole, but missed out by almost 0.5sec. "The race," he murmured, "will be different..."
Row 2 was a surprise: Michele Alboreto and Eddie Cheever. Both these men shine on tight circuits, of course, but still one might have expected to find the likes of Rosberg and Lauda ahead of them.
Both were quick from the very beginning of practice, Michele setting the fastest time in the first unofficial session, with Eddie fourth. In the afternoon only Arnoux beat them. When practice was done there were the usual suggestions in pit lane that the Tyrrell might have been just a shade under the 580kgs weight limit, but in the world of today that was about as profound as suggesting that the residents of a maternity home might be pregnant. Any self-respecting Formula 1 team these days has two types of wing: one to be used when the car is being driven, another for when it is being weighed.
It is a matter of routine for a driver to set his time, come in for a wing change, do one more slow lap, park it. That way, you see, the car can be weighed "as it was when it came in from the track." Here is another reason for cars lapping very slowly while others are going for a time. Another dash of modern folly.
Alboreto and Cheever drove with immense dash at Las Vegas, although the Tyrrell man did get a lucky break in the final session. Midway through it he clipped a wall and damaged a steering arm. When the circuit was reopened, the Italian was ready to go and he pipped Cheever in the closing minutes.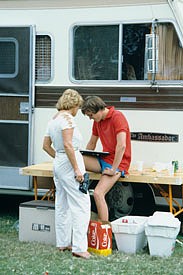 Cheever, in relaxed mood, found his Ligier perfectly balanced in qualifying trim... © LAT
Eddie was quicker than Jacques Lafitte throughout practice, and he was delighted with the hitherto recalcitrant Talbot-Ligier JS19, finding that it had a tremendous amount of grip - so long as you kept the power on. The two blue cars had different sidepods at Vegas, Cheever's machine proving perfect for qualifying conditions, Laffite's at its best on full tanks. Jacques - driving for Guy Ligier for the last time? - qualified 11th only, but felt sure he was in good shape for the race.
Like many racing people, Gordon Murray came to the conclusion, 12 months ago, that Las Vegas encapsulated everything he so detested about the world. So strong, indeed, was his dislike of the place that he swore at the time he would never be back, whatever the circumstances. Last weekend, therefore, Nelson Piquet and Riccardo Patrese had to get by without him, and his presence was clearly missed. It was not a desperately troubling time for the Brabham-BMWs, although Patrese lost an engine on Friday morning, but neither driver could find a good handling balance to suit the concrete jungle. A really fine effort by Riccardo saw him up to fifth place by the end, but Nelson had a harder time. With but 10mins of practice time remaining, the outgoing world champion was down in 19th place, which he improved finally to 12th.
The centre of attention, of course, was Rosberg, who arrived in Vegas with one hand on the world championship. In best Alan Jones tradition, however, Keke made it clear from the outset that he was not about to settle for a coast-and-collect weekend. He wanted the title - but he wanted it the right way. "Hey, did you catch Rosberg's tyres?" said one of those laid back, far out soporific Californians after practice. "Blister City, man, Blister City..."
As has been increasingly their practice this season, the Williams team concentrated their efforts on a good set-up for race day. By Friday evening both Keke and Derek Daly were happy with their prospects, although each admitted to more understeer than they would have liked.
"This is a tough place," said Rosberg, "but it's important to remember that's it's tough on cars as well as drivers. Gearboxes take a pounding, for instance, and for that reason I've chosen ratios which will make it easier for the 'box and the engine rather than easier for me. I don't think we'll have any problem with brakes."
Was he going to take it easy for the first half of the race, like so many of his rivals were intending? "I don't believe you can think that way," Keke answered at once. "You might start out with that intention, and it might even be the sensible thing to do. But I'm going flat from the start, and I reckon they will too..."
Rosberg started fifth, with Daly, nursing a streaming 'air conditioning' cold, in 14th. "I like the feel of the car on full tanks," remarked Derek, "and I don't reckon the softest Goodyear qualifiers helped us here. In fact, I didn't use them to set my time. We'll be OK in the race, but a lot will depend on tyre choice in the conditions. I would think we'll use 'B' on the right and 'double B' (between B and C) on the left. I know some people are talking about using 'C' tyres in the race, but we doubt that they'll go the distance."
Next up were the Ferraris of Mario Andretti and Patrick Tambay. "Pat Patrick gave me permission to do the race finally," said Mario, "so long as I left right afterwards to fly to Michigan for the CART round on Sunday. I'll have to miss qualifying there, and start from the back, but there was no other way round the problem."
For the first time in a long time, Ferrari were in trouble during practice, suffering from fuel vaporisation in the colossal Nevada heat. On Thursday both drivers had their cars stammer to a halt out in the boondocks. "We'll be OK tomorrow, I think," commented Mario. "Overnight they're going to put in more ducting, and that should do it."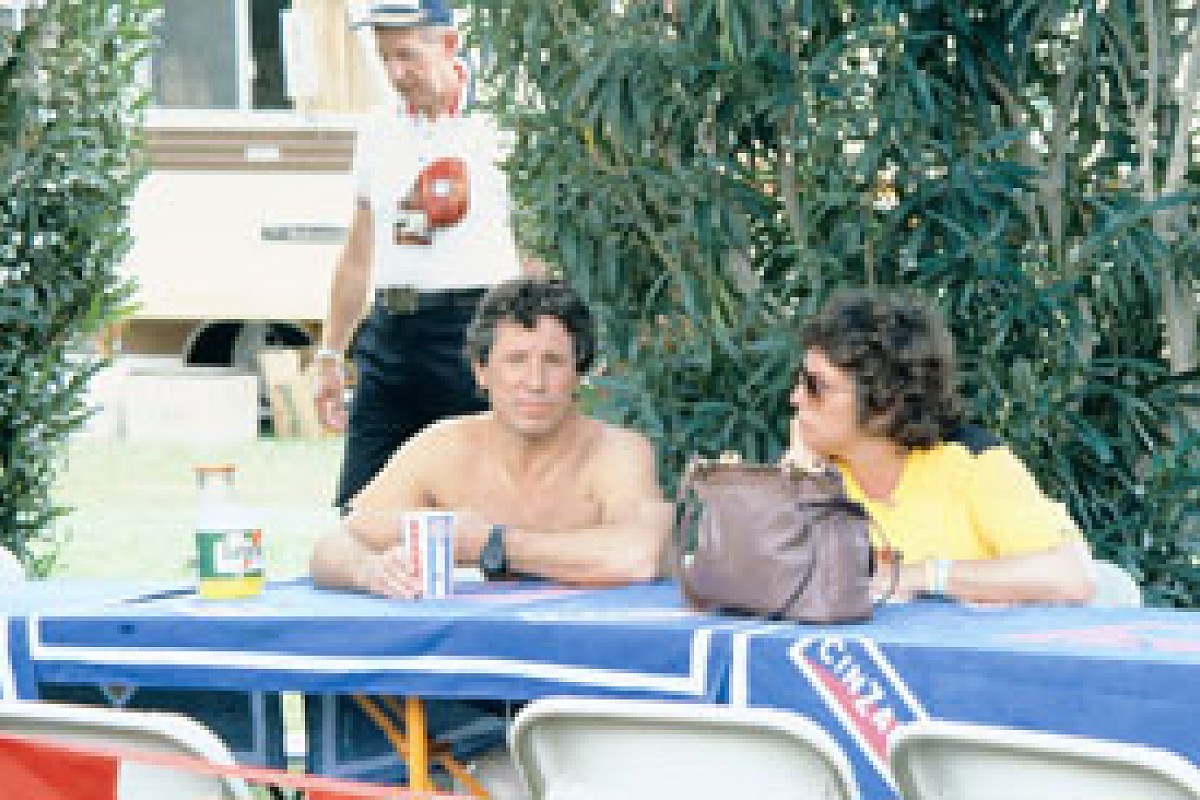 ...while a similarly relaxed Andretti would fly straight from Vegas to race in CART at Michigan © LAT
Right enough, the cars were better on Friday, with Andretti, fastest of all in the untimed session, and hoping he had a shot in the afternoon. He began well, setting second best time early in the session, but then a turbo let go right in front of the pits, and that was that. "I think I probably used my qualifiers too soon, because it clouded over later on, and got quicker."
Eighth, a fraction slower than Mario, was Patrick, and this was a display of real courage. "I didn't say too much at Monza because I thought everyone would say it was an excuse for being slower than Mario in practice. But I still have a lot of pain, yes. At Dijon, you know, the problem was my neck, but now it is mainly my right arm. Here most of the corners are left-handers. And it's very difficult to drive them smoothly."
Tambay pulled out of the Friday morning session after only a few laps and went back to his hotel room. "I was going to quit for the weekend, but they want me to qualify the car, anyway." He did a terrific job to put into eighth spot, but could he run 75 laps in the race? "Well, I doubt it, but let's see how it feels tomorrow..."
John Watson came to Las Vegas after several days of heavy promotional work, which he could probably have done without. This was, after all, the most important race of his long career. "I can't really afford to think of it in those terms, although I know you're right," he remarked. "It's a real long shot, I know that, but at least the position is clear. Whatever happens to Keke, I can't be world champion unless I win, so I've just got to go for it."
On the first day John was not very happy: "The car's not as I like it at the moment, because my style is to pitch it into corners and it won't take that. I had three spins this morning! We're going to change it for tomorrow, and I'm sure it'll be OK then." Right enough, Friday bought a big improvement. Ninth quickest, Watson looked to the race with measured confidence.
Most people reckoned that the Caesars Palace track would be ideally suited to the precision of Niki Lauda, but he could be no better than 13th with his McLaren. "This place is actually quite difficult, I think," reckoned the Austrian, "and very bumpy." Niki would certainly have been higher up the grid had his engine not gone on the blink during the final session. Being Lauda, of course, he stopped before it seized.
Thursday was a torrid day for Derek Warwick. In the promising Toleman-Hart TG183, Derek had a coming-together with Tommy Byrne - "He just didn't see me" - at the last corner. Both cars spun to a halt, but neither sustained much damage. Later in the afternoon, though, Warwick had a mammoth moment through a quick left-hander when he suddenly found himself without power! A battery lead had come off...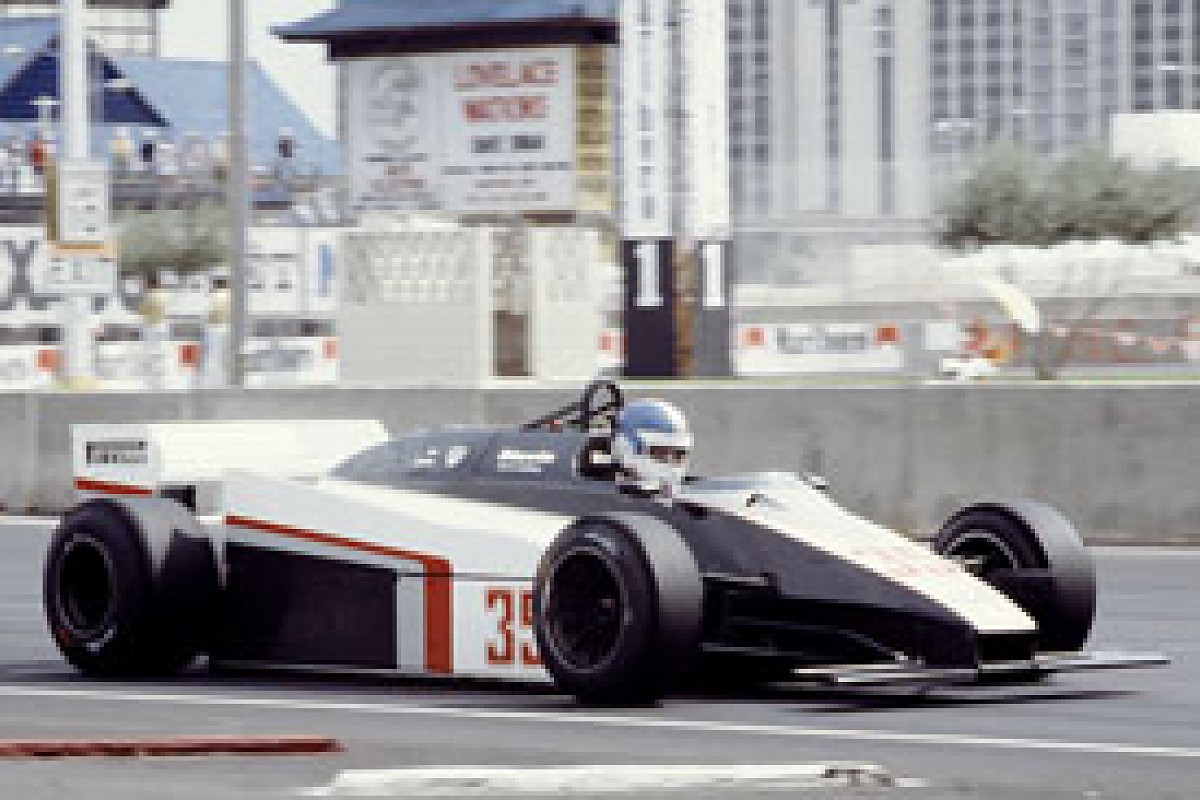 Warwick qualified 10th despite a big moment when his Toleman suddenly lost power © LAT
The car finished up perilously close to a concrete wall, and there was remarkably little hurt to the car. On Friday everything came together rather better, and Derek qualified a solid 10th. It was the only Toleman on the grid, for Teo Fabi's 'Belgrano' didn't want to know about Las Vegas, and never really looked like getting in.
There was another outstanding qualifying performance from Roberto Guerrero, 15th in the Ensign despite many problems. The clutch expired after only a few laps on Thursday morning, and the flywheel was also damaged. And in the afternoon a brake caliper plug blew out, followed immediately by all the fluid. On Friday, though, there was a typically smooth and precise session for the young Colombian, who was actually second fastest at one point! Oh, he said, for a Cosworth like Rosberg's...
The Alfas were a great disappointment, for the 182 chassis had always shone on tight circuits. "No power," said Bruno Giacomelli. "That's the biggest problem. The balance is not bad, but our engines are hopeless in this heat." Bruno finished up 16th, Andrea de Cesaris 18th. It was a far cry from their scintillating form through the streets of Long Beach at the other end of the season.
Sandwiched between the Italian V12s was Marc Surer's Arrows A5, which began the meeting strikingly well with second best time in Thursday's unofficial session. Unfortunately, however, the car improved little thereafter on its Pirelli qualifiers. Mauro Baldi, who seemed to be spinning every time I saw him in practice, took 24th spot with his A4.
Jean-Pierre Jarier was 20th best in the lone Osella, but suffered a terrifying accident during the last session. Coming into the last corner, after the fastest section of the track, the car's front suspension broke and the right front wheel flew away. At very high speed the Osella headed for the wall absolutely head on, and those winced who remembered poor Paletti's accident at Montreal. Into the sand hurtled the car, and at the last instant JPJ succeeded in getting it sideways. It hit the barrier very hard, but Jarier climbed out all right. He was shaken, of course, and his neck had been done. That, he reckoned, would about do for his 1982 Grand Prix season. The car did not reappear.
Lotus were in very poor shape, with Elio de Angelis and Nigel Mansell languishing in 21st and 22nd positions. "I thought we were making progress this morning," said Elio after the last session, "but this afternoon it all went wrong. It must have been changes in the track condition, because we didn't change the car from this morning - and all the grip was gone..."
Mansell started out with the pullrod front suspension 91, but found that it wandered all over the place - "The geometry's just not right, and that's all there is to it." Thereafter Nigel used his teammate's T-car, setting his best time on 'C' compound Goodyears: "Elio used 'E' compounds to set his best lap and was only a tenth quicker. Our car just doesn't seem to be able to get the best out of qualifying tyres."
At Vegas it was Manfred Winkelhock's turn to be the ATS qualifier, for Eliseo Salazar crashed during the last session, and there was no spare for him to use. Brian Henton clipped the wall with his Tyrrell, after setting what was then 12th best time, but no repairs were carried out at the time, and poor Brian found himself sliding down the times, eventually having to settle for 19th best.
Both Marches, driven by Raul Boesel and Rupert Keegan, scraped in, and so also, after Jarier's withdrawal, did Tommy Byrne's Theodore. Firmly out were Fabi, Salazar and Chico Serra with the Fittipaldi F9.
1982 Las Vegas starting grid on FORIX
The Grand Prix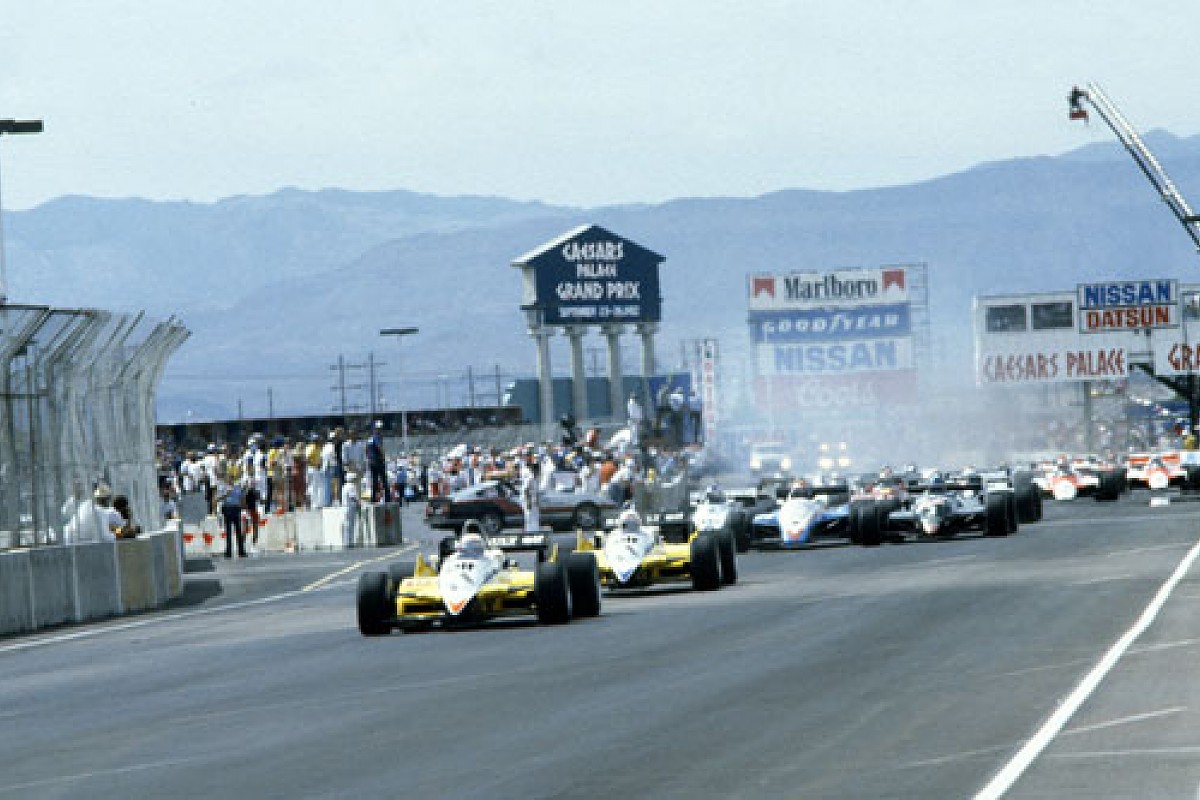 A race of attrition, they said. Few doubted that this would be the most physically stretching race since Rio, and the weather on Saturday morning did nothing to dispel the notion. Gone was the bright sunshine of the practice days, although the heat remained. The skies were overcast, the humidity downright uncomfortable. There was, said the weather man, a 30 percent chance of rain, because a cold front was coming one way, a warm one another. It could just be that they would collide over Las Vegas.
The prospect of rain was a daunting one. Who knew just how slippery the track could get? On the other hand, the cornering forces would be less, giving necks an easier time. A few drops actually fell shortly before the start, but eventually the blackness moved on and the sun emerged.
With a one o' clock start scheduled, the warm-up was correspondingly early, beginning at 10. And that served to remove a couple of cars from the race. After only three laps in the Ferrari, Patrick Tambay climbed out and declared there was no way he could race. That was not unexpected, but the worse break of all affected the unfortunate Guerrero. "I saw the red light come on," he declared glumly, "and it doesn't look as if I'll be able to start..."
Morris Nunn, looking set to have his best race of the year, was similarly disappointed: "The mechanic who put the water hose on didn't put the jubilee clip on properly. Roberto went out, the hose came off and all the water blew out..." A great shame.
Another man in trouble was Jacques Laffite, whose Ligier stopped out on the circuit with an electrical fault, but his problem was at least rectifiable - he hoped.
One o'clock approached, and both spectators took their seats in the stand. Was this how it should be? A handful of people, including a goodly helping of freeloaders, to watch the end of the saga, the finish of a world championship, a 16-race campaign? In a car park?
Prost had again been quickest during the warm-up, but the real story of the session was that Watson set the second best time, a mere hundredth slower. And de Cesaris was another wild card, suddenly third fastest, in the middle of all the speedy guys from qualifying. Had Alfa Romeo made a big overnight discovery? Next up were Arnoux, Lauda, Cheever and Alboreto.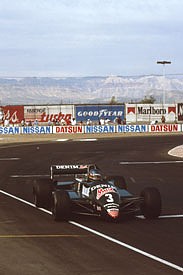 Alboreto collided with Cheever, leaving the latter with a bent front wheel © LAT
11 minutes after one: the green light flashed. Prost made the best of his pole position, leading Arnoux and the rest down to the first turn, where Alboreto and Cheever touched: "That left me with a bent front wheel," said Eddie later, "and for the whole race I had a bad vibration through the steering."
First lap: Prost, Arnoux, Alboreto, Patrese, Cheever, Andretti, Rosberg, Piquet, Warwick, Daly. Already the Renaults were beginning to go clear, and already it looked that the only man able to move with them was Alboreto. It was also clear that the Prost-Arnoux feud was going to go the distance. On lap 2, Rene took his car past Alain's, and began to inch away.
First man into the pits was Laffite, who brought the Ligier in with a recurrence of its warm-up electrical problem. The Matra V12 was misfiring badly. Jacques went out again briefly, but after another lap the engine cut out completely, leaving him to walk in.
It was good for Alboreto that he had managed to stay ahead of Patrese's Brabham-BMW on the first lap, since the Italian was very obviously holding up the bunch behind him. Cheever was having trouble here, being unable to look at the turbo over the very fast section late in the lap, yet climbing all over it through the endless hairpins. His position was distinctly invidious, since Andretti had the Ferrari right up there, looking for a way by, yet you had the impression that if Eddie could only pass Patrese he would go clear of both.
In the meantime Alboreto was definitely looking good, certainly losing time to the Renaults but running alone in third place, under no threat at all. "I knew for sure I could not stay with them," he reported later, "and there was no point in going harder for the sake of it, because I knew tyre wear might be a problem later in the race."
Mansell had no such problem to concern him. On lap 9, the black Lotus came into contact with Baldi's Arrows and Nigel was out for the day. A season, all in all, he will be happy to forget.
At this point of the race all eyes were on the Renaults, on this famous Gallic grudge match. Arnoux had stopped drawing away by now. If anything, indeed, Prost was closing up again. More to the point, Alboreto was catching both of them.
And in the midst of this it was easy to overlook the progress of Watson. "I didn't really start too well, and I lost a bit of ground in the first few laps, but then everything seemed to fall into place. I tell you, the car was just fantastic in the first part of the race. I could drive it anywhere on the track, just like at Detroit..."
Once into his stride, John's progress was inexorable. He systematically worked his way past those ahead, dealing with Daly, Warwick and Piquet. That done, he went by Rosberg, Andretti and Cheever - in successive laps. This was Watson at his best, driving with fluency and aggression, and it made Keke think.
"When John came by me," related the Finn, "I knew there was no way I could stay with him, and it was quite clear to me at that stage that he could win the race. If he did that, of course, my points position became crucial. Now I really needed those points to be sure of the title and for he first time I concentrated my attention on the championship rather than the race."
On lap 15 Prost retook the lead from Arnoux, and Rene obviously had some kind of problem for he made no attempt to fight back, and very soon fell away into the clutches of Alboreto. By the end of the 20th lap the green Tyrrell was in second place - and the yellow Renault came into the pits, by now a V5. Arnoux, his Renault career over, stepped out.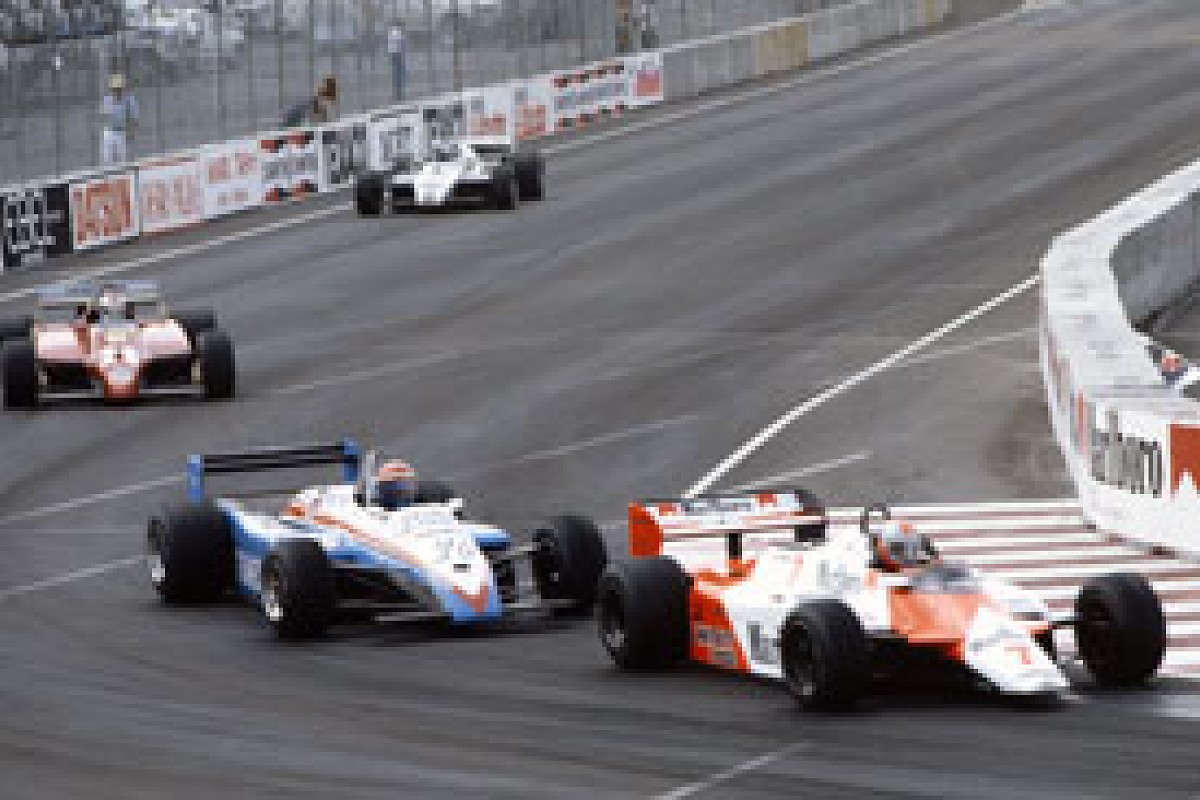 Watson, here leading Cheever, began closing on the front pack... © LAT
A lot of people had doubted the turbo's ability to go the distance in the Vegas heat, and events were proving them right. Three laps before Arnoux's retirement, Patrese had pulled off with engine failure, and now Watson's inspired charge was worth third place, with a clear run at Alboreto. It was, however, asking a lot of the McLaren driver, for Michele was 23 seconds ahead. But John got to it, and the gap began to come down, half a second here, three-tenths there. Perhaps we were going to have a cliff-hanger...
Lap 25: another turbo out. Piquet's somewhat uninspiring Vegas weekend finished with another blown engine, completing another woeful outing for the Brabham-BMWs.
At this point the order was: Prost, Alboreto, Watson, Cheever, Andretti, Rosberg, Daly, de Cesaris, Lauda and Surer. Bearing in mind his - admittedly slender - world championship aspirations, Niki's performance was a little disappointing, particularly against the backdrop of Watson's tremendous showing. For a long time the Austrian had been bogged down behind de Cesaris's Alfa, as had also been the case at Dijon.
On that occasion, of course, Andrea was being lapped and his behaviour was completely inexcusable. In Vegas at least he was defending his place. For all that, though, he pulled a number of highly questionable stunts on Lauda, and was clearly holding up the McLaren. When Niki finally made it past the Italian he opened up a huge gap in no time at all. At the same time, one doubted that Wattie, in the same predicament, would have waited so long to resolve it.
Lap 27 brought a very rare phenomenon. Andretti, still leading Rosberg, had a most curious moment at Turn 8 when the Ferrari suddenly snapped sideways. Mario caught it, then slid straight on into the sand, his left rear wheel apparently doing much of the steering. The suspension had broken, leaving Andretti to hop out, change into civvies and catch his flight to Michigan. Maranello's only representative was gone, and Mario Piccinini and his men now kept an anxious eye on McLaren, who could still take away the Constructors' title.
Another unhappy race for Derek Warwick ended on lap 32. In the early laps he had run as high as ninth in the Toleman, although it was clear that the car was off the pace into corners if quick in a straight line. Before Derek made his first pit stop quite a queue had formed behind him. He came in on lap 14 and again on lap 21, each time to have the plugs changed. When a third set was destroyed and his misfire returned anew, Warwick decided to call it a day. Shortly before that, Lotus said goodbye to the 1982 season when de Angelis's engine came apart in a big way just before the pits.
We now had relative stalemate, with Prost still leading comfortably, still sounding fine, around 13 seconds ahead of Alboreto, with Watson a further quarter of a minute back. By lap 45, though, there were no real developments, with the leading trio closing up: Prost - 10 seconds - Alboreto - 10 seconds - Watson.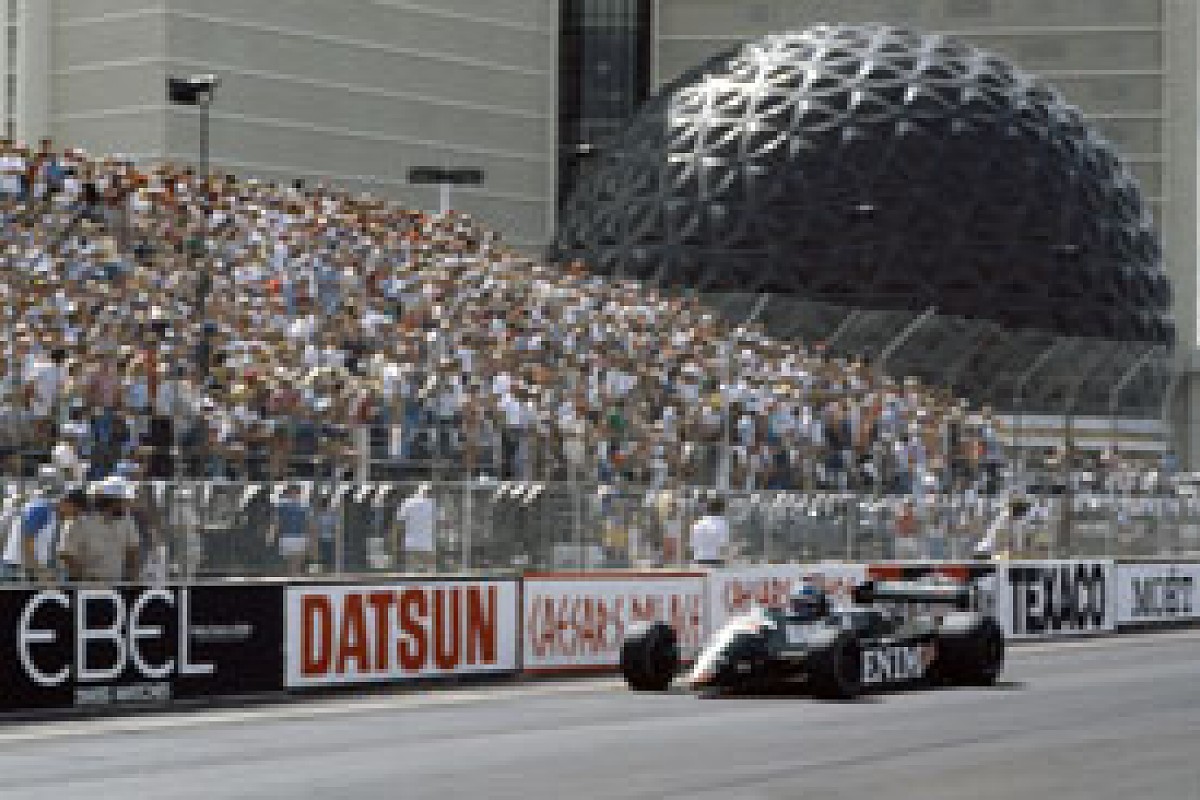 ... but tyre vibration prevented him from closing down Alboreto's lead © LAT
This was as close to Michele was John was to get. "In the last third of the race - 20 or 25 laps, I suppose - I got very bad tyre vibration. The fronts were picking up rubber from the track surface, and going out of balance. I think also they may have turned on the rims a little. When the car is like that there's not much you can do, because suddenly you can't lean on it like you could before. Actually, it was so bad under braking that I was having difficulty in focussing. That was the only problem, and that was the cause of it. I mean, I had no neck troubles at all, because Willi Dungl had done a fantastic job on me. It was this bloody vibration. If only the car could have stayed like it was in the first half of the race..."
If Watson could make no further impression on the man in front, the same was most definitely not true of Alboreto, and Prost was obviously in trouble. In successive laps the gaps were 9.7s, 7.6, 6.3, 4.7, 2.5, 1.1... and then they were nose to tail. Alain had the same problem as John. His Michelins were picking up rubber and going out of balance. "Under braking," he reported, "I felt as though I would be shaken out of the cockpit." On lap 52, Alboreto calmly outbraked the Renault and drove away.
So bad was Prost's problem by this stage that Watson, for all his vibration, closed in at the rate of 2 seconds a lap. By the 57th lap he was into second place, and now the watches were on the gap between Prost and Cheever. Ten laps later the blue Ligier was third, and Eddie had good reward for an excellent and dogged drive after his first corner fracas with Alboreto.
In the Ferrari pit they were already celebrating, for the Constructors' Championship was won the moment Lauda brought his McLaren into the pits. Following his dust-up with de Cesaris, Niki's engine started to overheat, and when this got really serious he came in before it seized. Now only Watson had a theoretical chance of beating Rosberg to the title. And Keke was ambling along in fifth place, cool as you like.
"Perhaps it may have looked cool," he said afterwards, "but I can tell you, those last 20 laps seemed awful long. Awful long... I knew I was fifth, and that was I all I needed, and I shouldn't risk anything, go hard. But sometimes, you know, when you're just cruising you lose concentration. I had no physical problems whatsoever, and I know that I could have raced hard for the last 20 laps if I'd needed to. As it was, I just sat there, hoping that everything would stay together."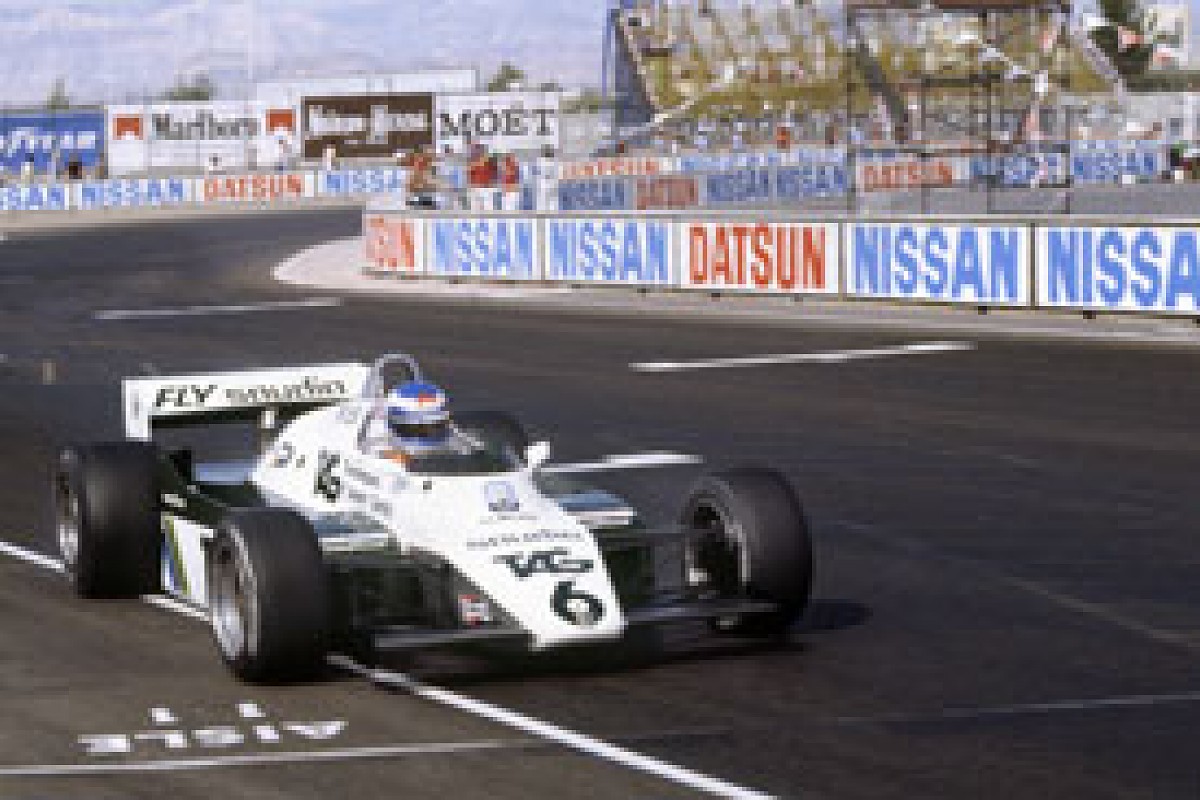 Rosberg knew that fifth was enough to guarantee him the title © LAT
It did. For him, and for Alboreto. After a truly magnificent drive, Michele came in for his first grand prix victory, and the craggy face of Ken Tyrrell never looked happier. Money has been short, this season, yet the 011 chassis has progressively developed into a highly competitive car. From the very start Alboreto had been the only man to go with the Renaults, and he made not the slightest mistake in 75 exhausting laps. Denim, backing the team for only the second time, must have been more than simply pleased, and may well feel inclined to come back for more in 1983.
This was Tyrrell's first triumphant day since Patrick Depailler won at Monte Carlo in 1978, and we, who remembered that Michele was available at 30 to 1 before practice cursed ourselves for putting the money elsewhere. Ken's grin widened further: he had put $100 on his man...
Alboreto was slightly overcome by it all, looking a bit nonplussed as Diana Ross stepped up to kiss him, present garlands and trophies. "I am very happy..." He must have said it a thousand times.
And of course, sharing the moment was Keke. "You know, I said before the start of the season that the two men most likely to win the championship were Prost and myself," he reminded everyone, "and I was right, wasn't I?"
Had there been no problems at all? "Well, just a small one. For the last four races I have had this pain in my foot, which seems to be triggered off by heat. It hurts quite a bit, but not enough to affect my driving."
Off to one side stood Derek Daly, eyes streaming from his West Coast Fever. "Not a bad race, really, although I'm annoyed with Warwick. He just turned straight into me in the last corner on the second lap, and that whipped off my right front wing. I think also I went too conservative on tyres. I had 'B' all round, whereas Keke had 'C' on the left. Still, that's the way of it..."
Watson behaved impeccably in defeat: "Obviously I'm disappointed, yes, because I really did give it a go. When all's said and done, though, I'm second in the championship, and that's the highest I've ever been. It's a bit sad to think of all the races in the middle of the season when I didn't get any points at all. After all, I've finished up with 39 - and I had 30 of them after Montreal."
"I thought John drove a fantastic race today," commented Rosberg. "He came past me, and I knew I couldn't stay with him. But... of course he was a desperate man today. He had to win."
Were you a desperate man today, John? "Well," he smiled, "if Keke says it then it must be true!"
These two apart, it was also a splendid day for Cheever, driving for Ligier for the last time. One of the pacesetters throughout the weekend, Eddie was positive and confident in everything he did, and might well have been very close to Alboreto at the end - had he not been so close to him at the first turn. For Prost the afternoon had a familiar ring. Yet again he had led most of the way, with everything going wrong in the late stages. Still, he was fourth, and he does have next season to look to, and he has got rid of Arnoux.
In Finland they watched the race live on TV in the middle of the night! Rosberg said he was glad to be the first Scandinavian to win the world championship: "It seems incredible to me that I have achieved something that Ronnie Peterson never did."
Last word from the new world champion. Had he noticed, they asked, any change in the Caesars Palace track since last year? "Oh yes," he replied, "it's much better this season than in '81." Really? they said. How was that? "Well," grinned Keke, "since then we've been to Detroit..."
1982 Las Vegas results on FORIX