Thirty minutes after the chequered flag fell at the Hungaroring, the house music was blaring out of the speakers in the Lotus garage, as team principal Eric Boullier made his way through from the pits.
Striding his way to the paddock, he stopped every few steps to shake hands and pat the backs of his lieutenants - uttering the same few words: "Soon... I promise you it will be soon."

But any sense of disappointment that once again his men had missed out on victory did not manifest itself for long. In fact, the mood of everyone at Lotus was not one of 'damn, we could have done better' - it was far more of excitement about what is to come.
For the growing form of Lotus, and the consistent way in which Kimi Raikkonen and Romain Grosjean have been delivering results over recent races, points not to just a decent chance of a win - but a genuine world championship challenge.
Lotus may not be grabbing the front pages because the wins are going to other teams, but it has been chipping away in a manner that has gone almost unnoticed - and that is what is making the team such a dangerous prospect for its opposition over the second half of the campaign.
For while all eyes have been on the Fernando Alonso's sensational driving, Red Bull Racing's brilliant form and technical controversies, and the dramatic ups and downs of Lewis Hamilton and McLaren's season, it's the boys from Enstone who have emerged as the team on form.
One of the best ways of working out who is in genuinely good shape in F1 is to take a snapshot of the last few races. A five race spread is often a strong indicator. It's wide enough to iron out the peaks of a shock result, yet still shows who is bringing home the points consistently.
And in the five races since Monaco - that's Canada, Valencia, Silverstone, Hockenheim and Hungary - it is fascinating to see that Lotus is the top scorer.
The top five teams are: Lotus (106 points), Ferrari (103 points), Red Bull (100 points), McLaren (85 points) and Mercedes (45 points). In the drivers' championship, the leaders are: Fernando Alonso (88 points), Kimi Raikkonen (65 points), Lewis Hamilton (54 points), Mark Webber (51 points) and Sebastian Vettel (49 points).
Eric Boullier; proud of his Lotus troops and certain that victories are just around the corner © XPB
It's proof that Lotus is definitely in the form needed to build a championship campaign - even though in reality it still lies 54 points behind Red Bull in the constructors' championship and Raikkonen is 48 adrift of Alonso in the drivers' fight.
Yet being on form now could just be the start of it. For going forward, there is every reason to believe that things could get better still - and the very real prospect that if Lotus gets the work done this summer that it needs to do then there is the prospect of it throwing a huge spanner in the works.
For as well as the fact that early season hindrances - like getting to know two new drivers, a youngster's early race shunts, and understanding its qualifying weaknesses - should not be a problem going forward, the biggest factor that could turn things on its head has not even been raced yet: its radical double DRS.
Details of the system first tested at the German GP remain scarce - and rivals do not yet have a full grasp of exactly how it works. But, if it starts delivering as the team hopes, then it will be a massive boost to Raikkonen and Grosjean's armoury, and its rivals will be able to do nothing about it in a hurry.
Thanks to some clever channelling of air through the engine cover and then up on to the rear wing, the idea is that when the Lotus DRS is closed it stalls the rear wing at high speed - providing an extra speed boost. It means that rather than the device doing what the Mercedes double DRS system does in providing that extra bit of speed just for qualifying, the Lotus version will work best in the race.
There is talk that it could help provide a 6-7 km/h speed boost on long straights where rivals cannot use their DRS - which would be a huge advantage in allowing Raikkonen and Grosjean to get past their rivals and defend on tracks with decent straights.
To put this in to context, if you look at the top speed figures from last weekend's Hungarian Grand Prix (taken on the run up to Turn 4 where there is no DRS influence) it is incredibly tight. The quickest men were: Hamilton (278.9 km/h), Button (278.6 km/h), Webber (277.6 km/h), Raikkonen (277.4 km/h), Kovalainen (277.3 km/h), and Grosjean (277.2 km/h).
Of course, the straights in Budapest are not that long - but even a three or four km/h boost there could have been enough to totally transform the picture.
Spa, on the other hand, does have long straights. And if Lotus gets its DRS working, and Raikkonen and Grosjean end up with a 7 km/h speed boost in the race, then their opposition are going to find it nigh on impossible to keep those black and gold cars back.
Then just look at what is coming up on the calendar - Monza, Suzuka, Korea, India, Abu Dhabi, Austin and Brazil all have long straights that will be perfect for it. The Lotus DRS system could not be coming at a better time. Even if it misses Spa, there is plenty of opportunity for it to be put to good use.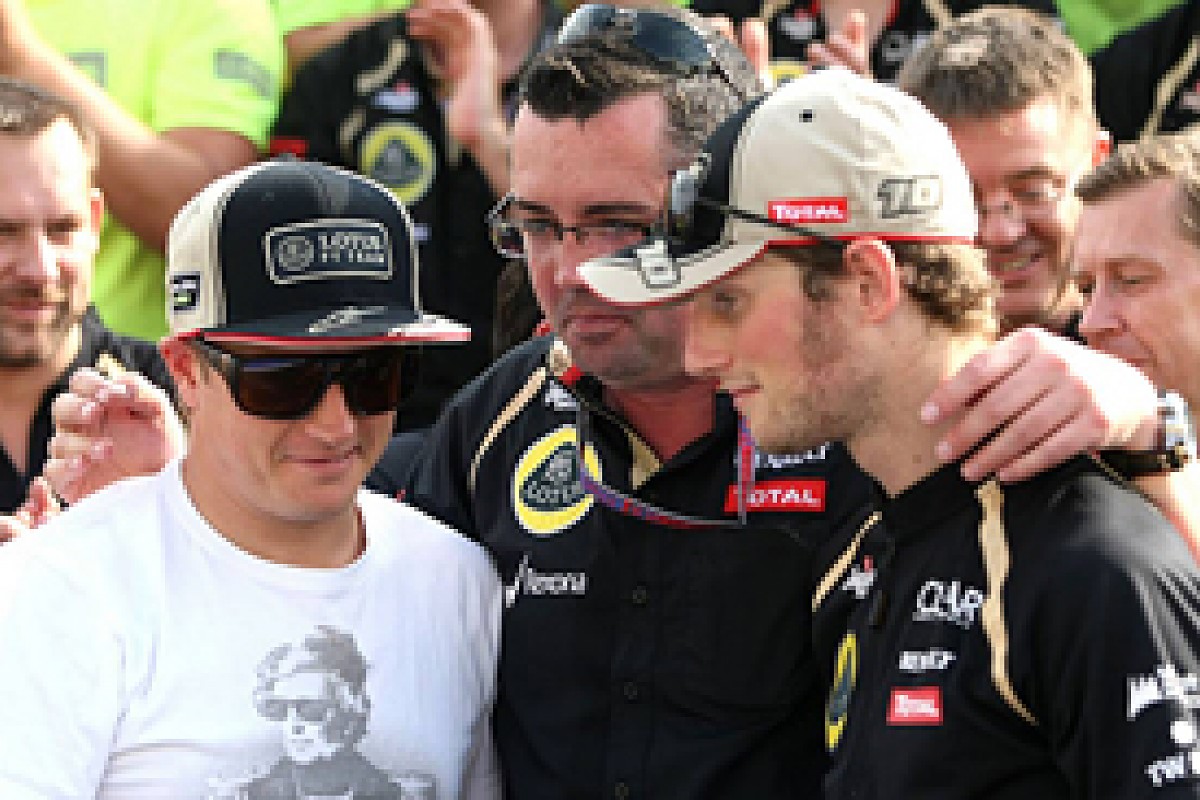 Kimi Raikkonen has finished on the podium five times so far this season © XPB
And if it does work well, there will not be a lot that rival teams will be able to do to react. If it has taken Lotus from the Chinese Grand Prix in April until the German GP in July to get it tested, and another month to get it race-ready - then there is going to be very little chance of the likes of Ferrari, Red Bull Racing and McLaren being able to react in a few weeks. Any advantage Lotus has could be kept for some time to come.
These are exciting days if you happen to work at Enstone. A car that seems quick everywhere (with its only notable weakness appearing to be very wet conditions), two drivers on top form - and a secret technical weapon about to be unleashed that could turn the championship on its head...
F1's title battle in 2012 may have been exciting already - but the best is, as Boullier told his crew, coming soon.