Michael Schumacher finished third at Hockenheim in 1992. It was his first home grand prix and therefore his first podium on German soil, a real moment to savour both for the man himself and the home crowd. And where was Sebastian Vettel at that point? Well, probably at home watching on television, but earlier that weekend he'd been there trackside, cheering on Schumacher.

Now, Schumacher is very well aware of his own senior citizen status on the Formula 1 grid and perfectly comfortable with it as well.
After all, if you're 43 and you can still finish on the podium, that's a lot to be satisfied about. But you would have forgiven him for a double take when he heard about Vettel's memorable Hockenheim moment.

"I remember the first time I came here," said Vettel while seated alongside Schumacher in Thursday's press conference. "It was with my father in I think 1992. I was five years old and we came on a Friday. It was raining like crazy on the old track.

"We waited for the cars to come, for Michael to come. They only did the installation lap but that was already enough because just to hear the cars, the sound and see the spray was unique."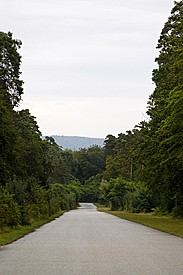 The old disused Hockenheim straights are overgrown now © LAT
It was reminder of the remarkable clash of two generations. Here are two drivers at the top level separated by almost two decades. Schumacher showed no discernible signs of alarm at being slapped in the face by his rival's youth, but the image of a yellow and green Benetton scything through the spray and standing water while a three-foot-something Vettel stands trackside with his dad is an amusing one. What would that photograph be worth today?
Hockenheim is one of those places where the old and the new collide. You can't help but pine for the long straights that characterised the daunting original track in its pre-2001 form. You can still walk around the old circuit, or rather what's left of it.