It won't come as a surprise to anyone that the Pirelli tyres will be a major talking point at Hockenheim this weekend. For the first time this season, the teams and drivers face the challenge of a circuit on which they have never before used the Italian company's rubber. While there has been evidence of some getting a firmer grip on tyre behaviour in recent races, Hockenheim's first grand prix since 2010 could throw a vicious curveball into the mix.
Pirelli has allocated its soft and medium rubber for this weekend. Given the extent of the data it has accumulated on its 2012 rubber and the simulations that it has run through, we can take it as a given that Pirelli has got its selection right even though it has never run its Formula 1 tyres at the track. The teams also have plenty of knowledge of the two compounds, but that fact that theno he last German Grand Prix at Hockenheim was run on Bridgestones means that there will be plenty to learn during Friday practice.
While the circuit configuration is pretty orthodox, certainly in comparison to the mighty drags deep into the forest that comprised Hockenheim in its pre-2001 form but exist now only as overgrown shrines to the past, there are plenty of corners where the rear tyres will take a pounding under acceleration out of slower corners. The amount of energy going into the rear tyres will have to be tightly managed, meaning that there are going to be plenty of questions about tyre strategy even as race day dawns.
Pirelli will bring its soft and medium compounds to Hockenheim © XPB
Key to how it pans out will be how easy it is to overtake.
The fact that the Nurburgring held last year's German Grand Prix doesn't just have a bearing on tyre understanding, it also impacts on the DRS. Over the course of 2012, the FIA has by and large done a decent job in setting the length of the activation zones. While some circuits have been far easier to pass at than others, the experience of last year has made it easier to choose the length of the passing areas.
But with no 2011 data to go on, the FIA doesn't have the same amount of knowledge to base the length of its zone on as it usually does. The experience built up over the past 18 months with the DRS means that it should have a pretty good idea. But a few per cent either way in terms of making it easier or harder to pass could tip the balance between either teams sacrificing a little pace over a stint in favour of track position or going for the fastest possible strategy and rely on making up places.
None of this will come as good news to the teams like McLaren and Mercedes, which among the top teams appear to be struggling most in terms of consistently getting the best out of the tyres.
Add to the mix an unsettled weather forecast and you have all the ingredients for an unpredictable weekend.
Strategy
Pirelli's first visit to Hockenheim brings with it a wave of new challenges for drivers and teams. Those fastest to adapt could find themselves in the proverbial driving seat, adding a potential curveball to a track which already has a happy habit of throwing up surprises.
Strategy wise, expect to be kept guessing until raceday. There are reasons to believe the rear tyres could suffer some punishment, but what we know - and what the teams know - is as yet based more on supposition than hard data - a disparity which heightens the chances of some genuine surprises this weekend. Here, perhaps more than anywhere, Friday could be key, so expect busy programmes and pained faces should anything go awry.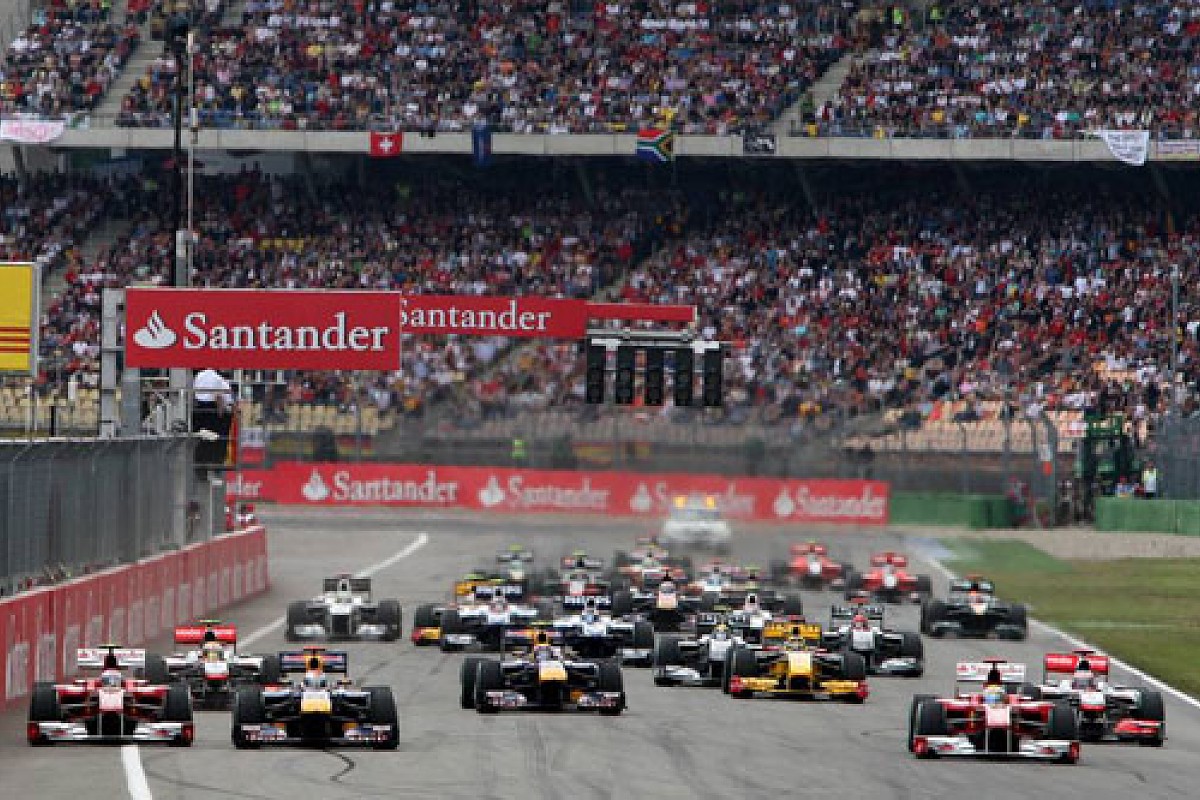 Weather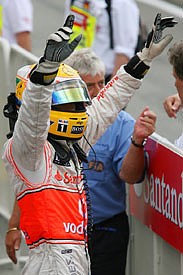 Key Hockenheim Stats
• Sebastian Vettel has never won a grand prix on home soil, and has led only once, during the pitstop shuffle in 2009. Last year's German Grand Prix was one of only two races he didn't lead during the entire season, the other being Abu Dhabi, when he punctured after the start. He started from pole two years ago at Hockenheim, but was only third in the race behind the two Ferraris. He also climbed on the German GP podium in 2009, finishing second behind Mark Webber at the Nurburgring.
• By beating Vettel in 2009, Webber also sealed his maiden grand prix victory at the Nurburgring. At Hockenheim his best result is a sixth, obtained with Jaguar in 2004 (from 12th on the grid) and in 2010 with Red Bull (from fourth). He is 8-1 against team-mates in qualifying at the German Grand Prix, beaten only two years ago by Vettel. This year's race will mark his 100th appearance for Red Bull.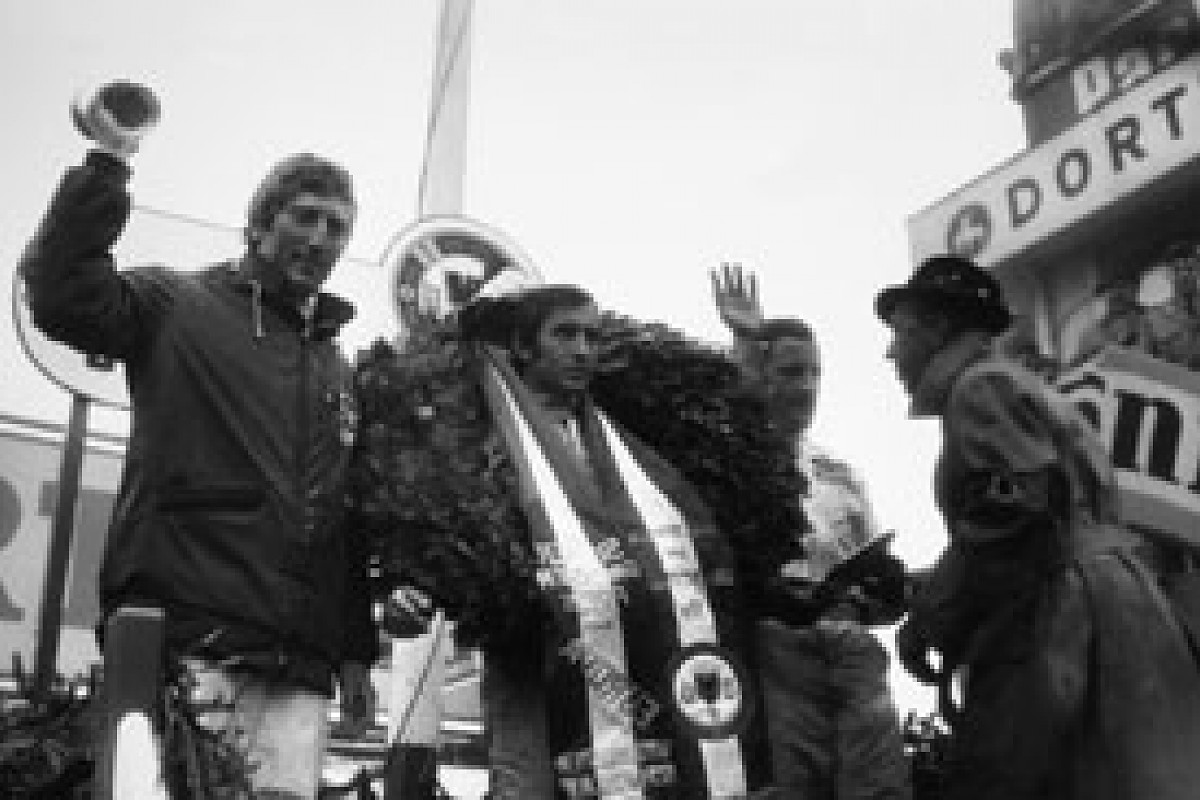 Lewis Hamilton celebrated victory at the German circuit in 2008 © XPB
• Lewis Hamilton is another celebrating a century this weekend, his 100th grand prix race. He won the German Grand Prix both at Hockenheim (2008, from pole) and at the Nurburgring (2011), and has always qualified in the top six for the event.
• Rather remarkably, Felipe Massa has never retired from a race held in Germany (from a total of 13 starts). He also scored six straight podiums between 2006 and 2010.
• This weekend's German Grand Prix will mark the 50th race since Michael Schumacher's last victory, back in China 2006 - his longest grand prix career drought.
• Romain Grosjean was on the podium here in GP2 (2008) and won in the Formula 3 Euro Series in 2007.
• Another man with happy memories of Hockenheim is Paul di Resta - the Briton's last victory coming here in the DTM in October 2010.
• Ferrari has won the German Grand Prix 20 times, an absolute record for a single GP (McLaren follows with 15 in Monaco). Its last two wins at Hockenheim were marred by controversy however: in 2010 it was found guilty of deliberate use of team orders, while in 2006 its task was made easy because its main rival, Renault, was forced to remove its mass damper system. Ferrari's last pole at Hockenheim dates back to 2004.
• Williams is second only to Ferrari for wins in Hockenheim (nine vs 10) and for podiums (20 vs 21), but it hasn't scored points here since 2004.
Famous Five German Grands Prix
1957
One can make a compelling case that Juan Manuel Fangio's 1957 German Grand Prix victory was one of the finest in history.
The facts of the race are well-documented. Fangio, who had returned to Maserati after a year with Ferrari, started the race from the front and planned a stop for fuel and tyres. After taking the lead on lap three and extending his advantage, a slow mid-race stop left him third behind Ferrari pairing Peter Collins and Hawthorn.
Faced with a deficit of over one minute, Fangio hauled in the gap with an incredible display of driving virtuosity at one of the world's most challenging tracks. With one lap to run, he was back in the lead.
"That day, I had everything turned on and firing on all cylinders," he later recalled. "I was ready to do anything. Whichever way you look at it, it was an extraordinary race. When it was all over, I was convinced that I would never be able to drive like that again. Never."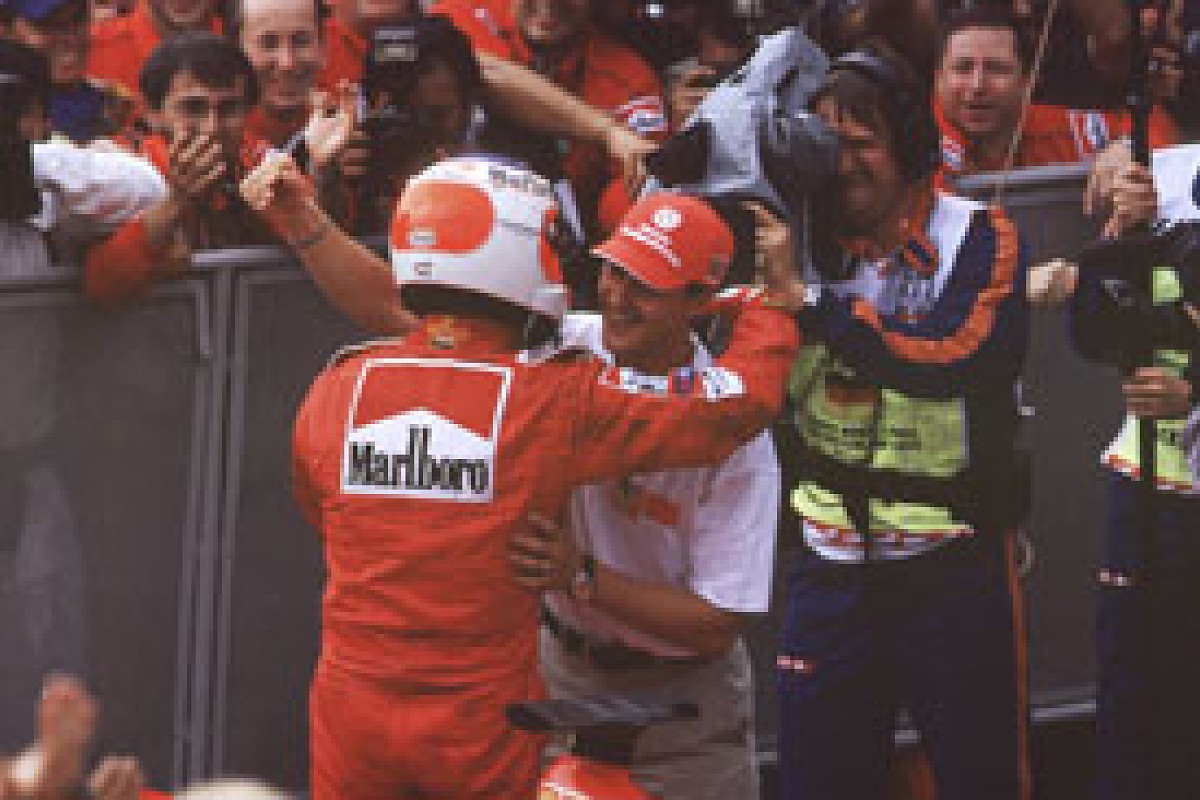 Jackie Stewart, flanked by Jochen Rindt and Graham Hill, celebrates victory
© LAT
1968
Eleven years on, another motorsport legend recorded his biggest grand win at the Nurburgring. In teeming rain, Jackie Stewart simply overwhelmed the field, stretching away lap by lap to eventually complete a dominant victory.
Qualifying had done little to suggest that Stewart would be so emphatic, the Briton ending up sixth on the grid, 50s down on the polesitting Ferrari of Jacky Ickx. The second Prancing Horse of Chris Amon completed the front row, with Jochen Rindt third and Graham Hill fourth - himself 42s down on Ickx - in a rain-hit session.
The weather if anything worsened on Sunday. At the start Amon, Rindt and Stewart all jumped Ickx, but Stewart had soon moved to the front of the field and by the end of the first lap was a full nine seconds ahead. Next time around his advantage was over 30s; by the end of the 14th, when the chequered flag fell, he was more than four minutes clear of the field. Hill finished second despite having to leap from his car and push it following a spin, while Amon was third until his own slip early on, which handed the final spot on the rostrum to Rindt.
1982
For emotion, the 1982 German Grand Prix was a rollercoaster. Just three months after the loss of Gilles Villeneuve, Ferrari suffered another huge shock when Dider Pironi suffered a massive crash on Saturday. In wet conditions, the Frenchman was unsighted by spray and ran into the back of Alain Prost's Renault, sending him skyward and then into a huge somersault down the road. He was at least alive, but he would never race again.
Pironi had been fastest at the time, and pole position for Sunday's race was duly left open. Prost, Rene Arnoux and Nelson Piquet occupied the next three spots, with the latter - as expected - taking the lead from the start.
As the field squabbled behind him, everything looked promising for the Brazilian until lap 19, when he came up to lap Eliseo Salazar's ATS. The two cars collided, and Piquet was out - a chain of events he met by attacking Salazar once both were out of their cars.
In his stead, the second Ferrari of Patrick Tambay - who had earlier overtaken Arnoux for second - was handed a lead he would protect until the finish, collecting his first grand prix win and giving the Italian squad a much-needed boost.
After gambling on the weather, Rubens Barrichello took his first grand prix win at Hockenheim in 2000 © LAT
2000
History will forever mark the 2000 German Grand Prix as the race in which Rubens Barrichello scored his first F1 win. The part played by fortune, or more specifically a disgruntled ex-Mercedes employee, is less famous but no less important.
The race had looked like being a McLaren walkover until the employee's intervention, his transgression onto the circuit leading to a safety car which eradicated the 30 seconds Mika Hakkinen had built over the rest of the field.
When it started to rain, Barrichello and Hakkinen opted for different rolls of the dice - the Finn pitting, the Brazilian staying out. It worked. Barrichello, who had already come through from 18th on the grid, stayed out even as the other trio of drivers who had opted for slicks either spun or finally pitted. 10s ahead of Hakkinen, and with the weather flirting between wet and dry, he held off the Finn and finally claimed his first grand prix win.
2008
Eight years later, McLaren was gambling again, as an impromptu safety car once again shook up the race. This time however it paid off, as Lewis Hamilton took a spectacular victory at Hockenheim.
The Briton had started on pole, with only Ferrari's Felipe Massa and team-mate Heikki Kovalainen able to get within half a second of his time. He maintained his advantage at the start, and was back in the lead once the first stops had cycled through.
The race swung, or at least threatened to, on lap 38 when Timo Glock crashed and the safety car came out. Hamilton, one a clear two stopper, opted not to pit while others around him dived in. Come his second stop, he therefore rejoined in fifth.
That was the platform for a remarkable recovery drive, passing Kovalainen, Massa, Renault Nelson Piquet and the BMW of Nick Heidfeld - which had to stop late on - to clinch his eighth grand prix win.
From the forum
We may be witnessing the dawn of the Alonso/Ferrari machine where very few mess-ups occur. 2010 was an up and down season for all contenders involved. It's the ups and downs of Red Bull that put Alonso in contention despite all the problems and mess-ups earlier in the season.
Ali_M
Schumi, Alonso, Kimi, Hamilton, Button, Vettel...All of them fast enough to win the WDC. All have different strength and weakness that can been seen or unseen. They may have different characters, work ethics, determinations, methods and the way they communicate with their respective race engineers, their relationship with the teams. In the end, they all became what they wanted to be - worthy champions.
Reinmuster
I don't see Ferrari winning this weekend: they have a good all around car which can get podiums on all circuits but it does not excel in anything in particular.
I think for sure Fernando will be fighting for the win but I don't think we will see a Ferrari winning - a competitive Ferrari yes but winning no. Until a race where we can see a dominant Ferrari, I still think Red Bull is the fastest package
Claudiu
*Key stats supplied by FORIX collaborator Michele Merlino.