When Ma Qing Hua finished speaking to the Chinese media he had to go back into the HRT pit garage at Silverstone to wipe away his tears. The 24 year-old was crying; not because the morning had gone badly, but because he had just become the first Chinese-born driver to test a grand prix car in an official Formula 1 session.
National pride is very significant for Qing Hua. "I am very proud for my country, very lucky to be the first one," he says. "It is a good start for Chinese motorsport and I hope I can stay here."
Before he became involved with HRT, few people had heard of Qing Hua - and for good reason. His career in single-seaters had been inauspicious, with spells in A1GP, Superleague Formula and Formula 3 yielding little in the way of results.
Certainly nothing he's done suggests he warranted a space at F1's young driver test.
Indeed, Qing Hua admits that the HRT dwarfed the capabilities of anything he had driven previously.
"It is amazing, the limit is so high you can push things more and the car is still very stable," he says. "You can spend more time working on the brakes and you can carry more speed in the corner and feel that everything is really good."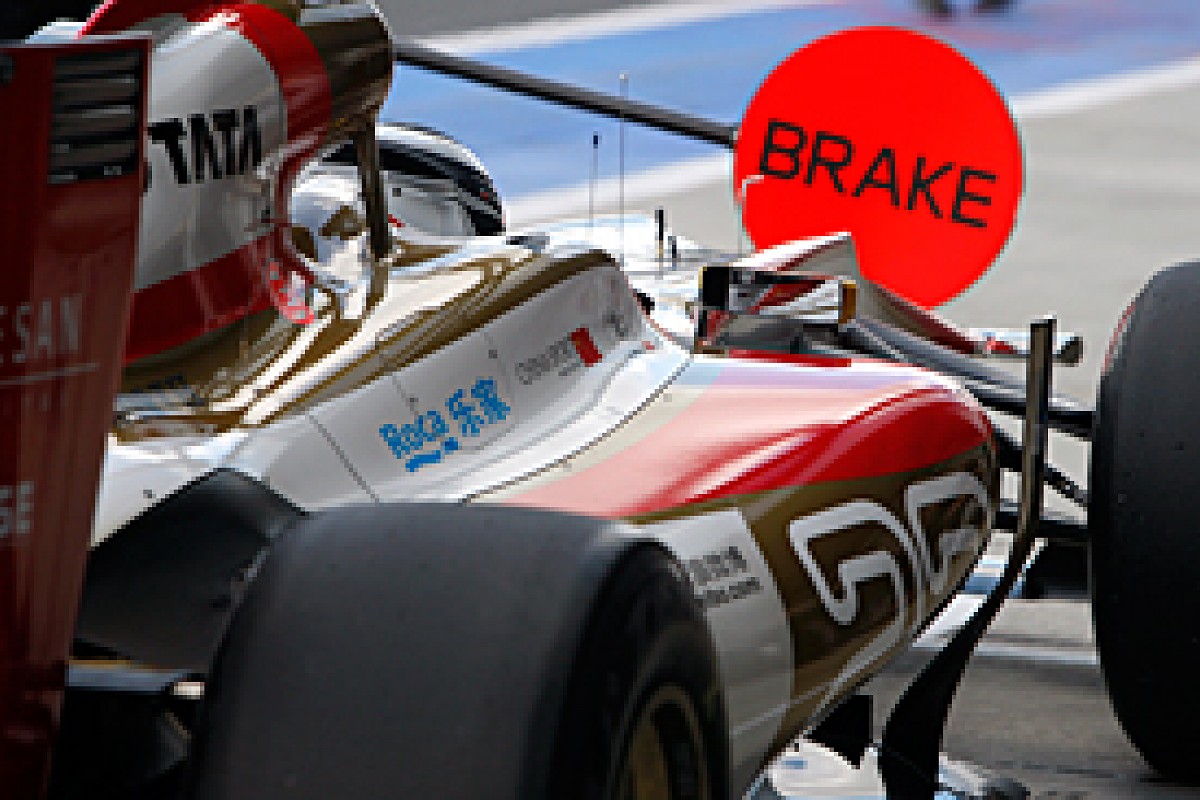 Qing Hua makes a pitstop during his 82-lap test on Thursday © LAT
Valtteri Bottas was testing for Williams at Silverstone, while Max Chilton drove for Marussia. Both have spent seasons racing alongside the Formula 1 circus in GP3 and GP2 and have mixed with the personnel that surround it, but Qing Hua has less experience in single-seaters and the culture of the F1 paddock to fall back on.
"I tried to think it was just GP2 or World Series testing and not be too excited and drink some tea to help my sleep," he admits.
Qing Hua started the day slowly, lacking speed compared to Bottas, who was quickly on the pace that would be expected of a more seasoned campaigner.
By the end of the morning session Qing Hua had posted a 1m39.462s on the Silverstone Arena circuit which, while not on the pace of Pedro de la Rosa, who did a 1m37.429s lap in Free Practice 3 for the previous weekend's British Grand Prix, was a considerable improvement on his initial exploratory laps.
"I drove [here] before at the old circuit, so I have never driven at the new Silverstone," he explains. "With the high-speed corners it was a new challenge for me."
Qing Hua went faster in the afternoon, before jetting back to China, posting a 1m37.829s on soft-compound tyres, although in better conditions than those which de la Rosa posted his time on Saturday morning.
The team even claimed that he would have gone quicker had he not suffered a lock-up on his best lap.
The Shanghai-based driver has HRT team principal Luis Perez-Sala to thank for this opportunity, as his 2011 Chinese Touring Car Championship victory in the 1600cc class would hardly merit an F1 test on its own.
The pair met in 2008 and have kept in touch since, and part of Perez-Sala's focus may be on the marketing potential that Qing Hua brings with him - the presence of four Chinese media outlets at Silverstone is enough to prove that.
At the Monaco GP in May, Qing Hua spoke about the commercial relevance of his presence: "I think China definitely wants to support its own drivers and they are looking forward to having drivers in F1 in the future.
"Since HRT announced that I would be the young development driver in Shanghai in April, CCTV [Chinese state TV] has been following it all the time.
"We have had some companies invest in Formula 1 before and I hope more in the future."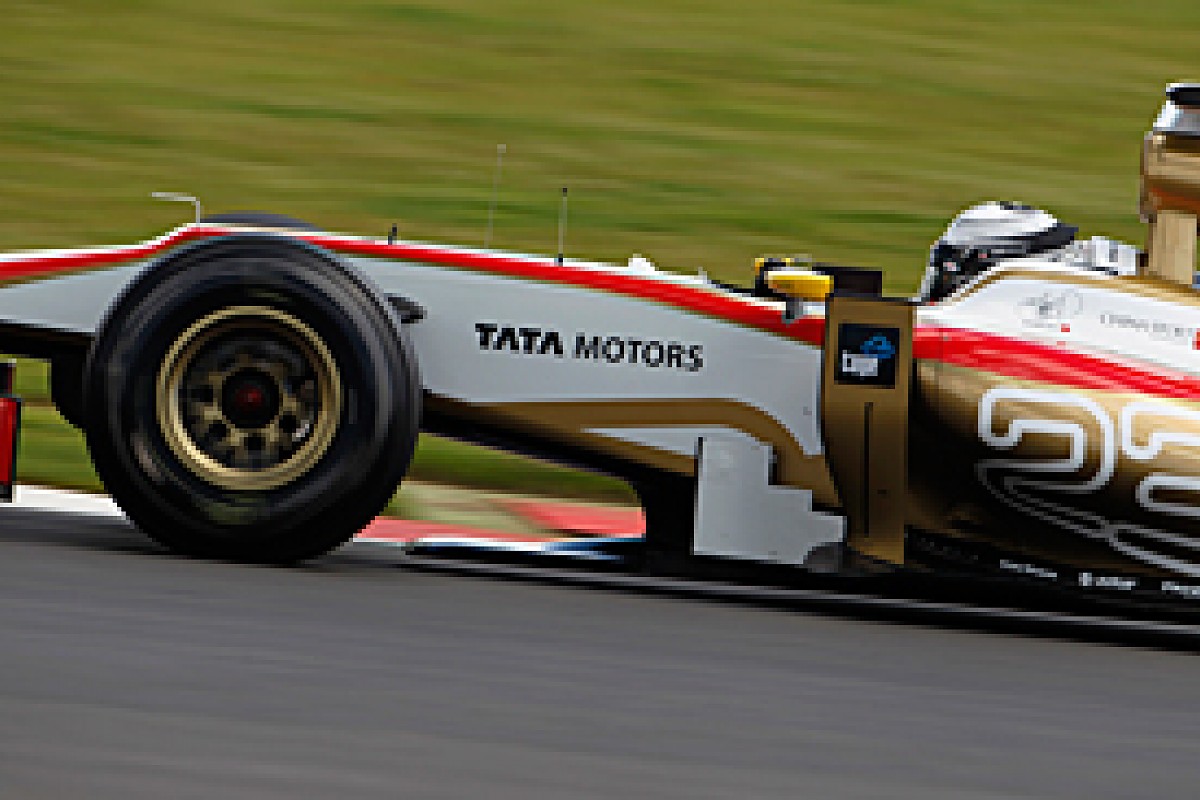 Qing Hua's initial progress was steady but he improved through the day at Silverstone © LAT
His role as HRT test driver means that he has travelled to races with the team this year, including the British GP. And it is evident that while he might not be at a level where he can step into a race seat, he is keen to glean as much information as he can from the experience.
"I stayed all weekend and last week to see the test team and our two drivers in practice, qualifying and the race," he says. "I have learned all the data and I have learned a lot of information from them and working with the team and drivers."
Qing Hua's initial laps promised little, but his final time showed a big improvement. Despite a smoky high-speed spin as he opened the DRS on the exit of Village early in the afternoon, he made few errors over his 82 laps.
He comes across as likeable, too, answering each question before being ushered away for a debrief by the team's engineers.
Perez-Sala appeared like a father-figure to the young Chinese driver during the day, clearly making time to run through details of the test with him and even putting a paternal arm around him during lunch.
"The test was more for him to get up to pace," says Perez-Sala, who confessed that HRT did not use the runs to evaluate new parts like Williams and Marussia were clearly doing in the adjacent garages.
Despite his confident showing, it's unlikely that Qing Hua will one day become the first Chinese driver to take part in an F1 race. He required head-rests fitted in the cockpit due to his lack of neck strength, and the fact that he has not enjoyed success in other series is a serious stumbling block compared to the likes of 2011 GP3 champion Bottas.
But it's a sign of things to come as China takes an increasingly important role in international motorsport. Maybe Perez-Sala has done the right thing by putting Qing Hua in the car...