Mark Webber's victory at Silverstone was the ninth of his career - that's more than John Surtees (6), Jochen Rindt (6) or Gilles Villeneuve. It means that the Australian is now 33rd in the all-time winners list, three victories away from Alan Jones and five from his nation's most successful driver, Jack Brabham.

The British Grand Prix also marks Webber's 32nd podium, which means he has now stood on the rostrum more times than any other Australian, including triple world champion Brabham (31 times).

Webber is now 26th in the all-time podium standings along with Jim Clark, Jacques Laffite and Jean Alesi.

By denying Fernando Alonso his first back-to-back wins of the year, with a pass in the closing stages, Webber also enjoyed his 50th straight race without a mechanical failure. That's the third best in the sport's history. If he finishes at Hockenheim he can make that the second best, by surpassing Lewis Hamilton (from his Formula 1 debut to the 2009 Brazilian GP).

Race notes
• Webber's win (his second at Silverstone) from second on the grid continued a bizarre trend at the Northamptonshire track. Since 1995 the winner has always started from a different position on the grid to the previous year. From 1991-94 the win came from pole every time, then it began rotating among the first five grid spots. In this time-span the second grid spot has been the most successful, with six victories. Only four times has the winner come from pole.
• Webber's victory had shades of 1987 - both times the winners led only a few laps and went for a winning pass in the closing stages. In '87 Nigel Mansell stopped for fresh tyres halfway through the race and came back to best his Williams team-mate Nelson Piquet (who hadn't stopped), passing him at Stowe three laps from the end. This year Webber had chosen the more competitive tyre strategy than Alonso and shot past him at Brooklands with five to go.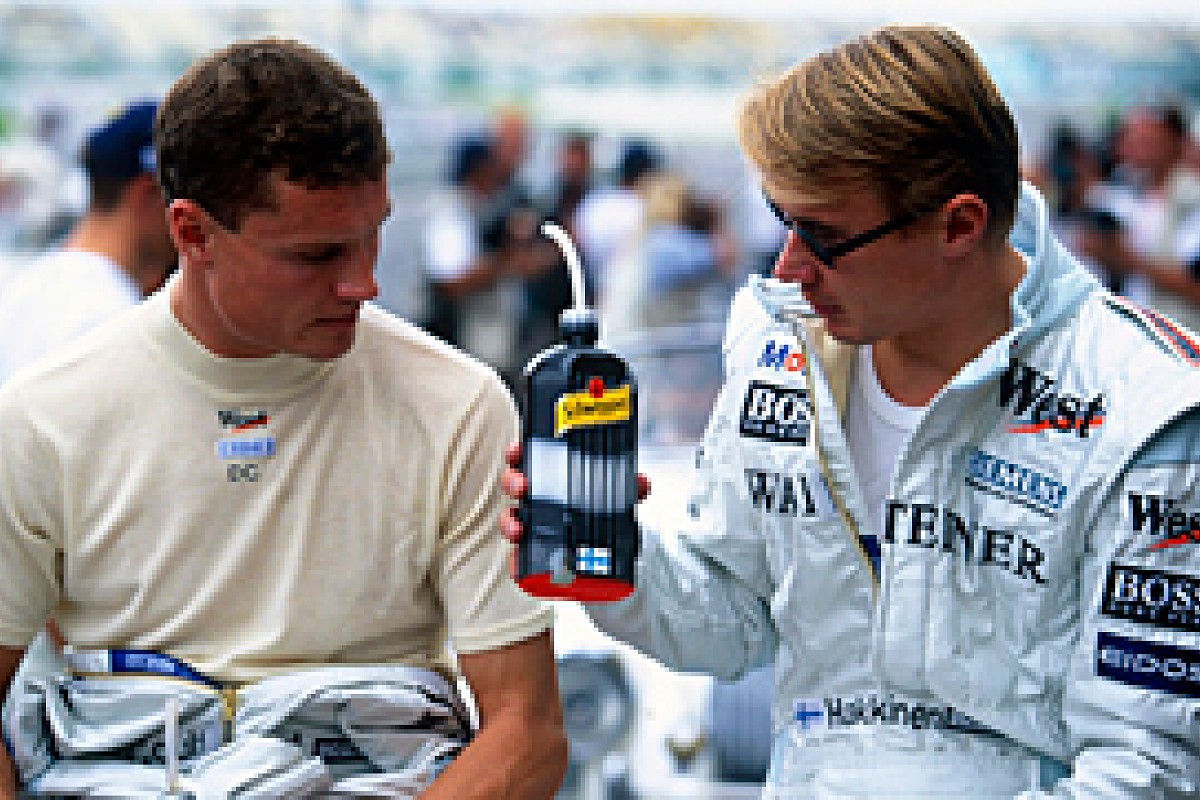 David Coulthard and Mika Hakkinen took 30 wins together at McLaren © LAT
• The Webber/Sebastian Vettel pairing has accounted for all of the 30 Red Bull wins so far. That ties with another famous duo - Mika Hakkinen and David Coulthard won the same amount of races when running as team-mates for McLaren. It's the second highest all-time value for this particular statistical algorithm; the best remains 58 wins collected by Michael Schumacher and Rubens Barrichello for Ferrari.
• It's the first time this year that the two Red Bull drivers have stood on the podium together. That's in stark contrast to last year when they managed nine double podiums. But if it was going to happen, it was going to be at Silverstone... Red Bull has taken seven podiums out of eight starts there since 2009.
• Felipe Massa's fourth-place finish is his best result for the last two seasons. In the entire 2011 championship he never managed higher than fifth and his previous best was a third in the 2010 Korean Grand Prix, 30 races ago! Incidentally that was the last race with both Ferrari drivers finishing in the top-four (Alonso won) before this weekend's race.
• After falling to 22nd on lap three, Romain Grosjean recovered brilliantly to finish sixth. In doing so he maintained a small personal record - he has been classified between second and sixth this year whenever he has finished. He's had four retirements so far and has completed the least amount of racing miles in the field this year.
• For the first time this year Michael Schumacher finished two races in a row. He's also scored 21 points in the last two.
• Ferrari has now gone a full year without posting a fastest lap, as Alonso recorded the team's last one at Silverstone in 2011.
• Despite a double points finish - McLaren's first since the Spanish Grand Prix - the numbers show a significant slump in performance for the team. It recorded five podiums in the first three races, then only one (Hamilton's win in Canada) in the following six.
• Force India scored 16 points in Valencia last time out, its biggest single-race haul, but was out of the points at Silverstone.
• If there was a prize for aggression, it should be given to Pastor Maldonado. Since his maiden win in Spain, he's crashed in every event. He barged Perez in free practice in Monaco and then rammed de la Rosa at the start of the race; he crashed into the wall in qualifying in Canada and took out Hamilton in Valencia. At Silverstone he collided with Perez.
• Silverstone marked the 50th straight race without points for Heikki Kovalainen. The Finn hasn't scored since the 2009 Singapore GP, when he was still a McLaren driver. In three races' time it's Timo Glock's turn.
• Paul di Resta's first-lap puncture caused his early retirement from his home grand prix, but also meant that it was the first time in his F1 career that he failed to reach half-distance in a race.
Qualifying notes
• Fernando Alonso ended his pole drought at Silverstone. It lasted 31 races and was the longest of his career. Twice he's had to go through that as well: from the 2007 Belgian GP to the 2009 German GP and from the 2010 Japanese GP to the 2012 European GP. The Spaniard's 21st pole meant he matched his former team-mate Lewis Hamilton at 11th in the all-time list. Fernando also ended two other runs: the first one related to Red Bull, which was gunning for its fourth straight pole at Silverstone; the other related to engines - this year only Mercedes- and Renault-powered cars had set pole (Mercedes in the first three races, Renault in the following five).
• It was only the second time that Alonso and Webber were together on the front row, the first instance being the 2006 Monaco GP, when Michael Schumacher infamously 'parked' at la Rascasse in qualifying.
• Sebastian Vettel missed out on a front-row start at Silverstone for the first time since he joined Red Bull back in 2009.
• Felipe Massa recorded his best qualifying position of the season with fifth.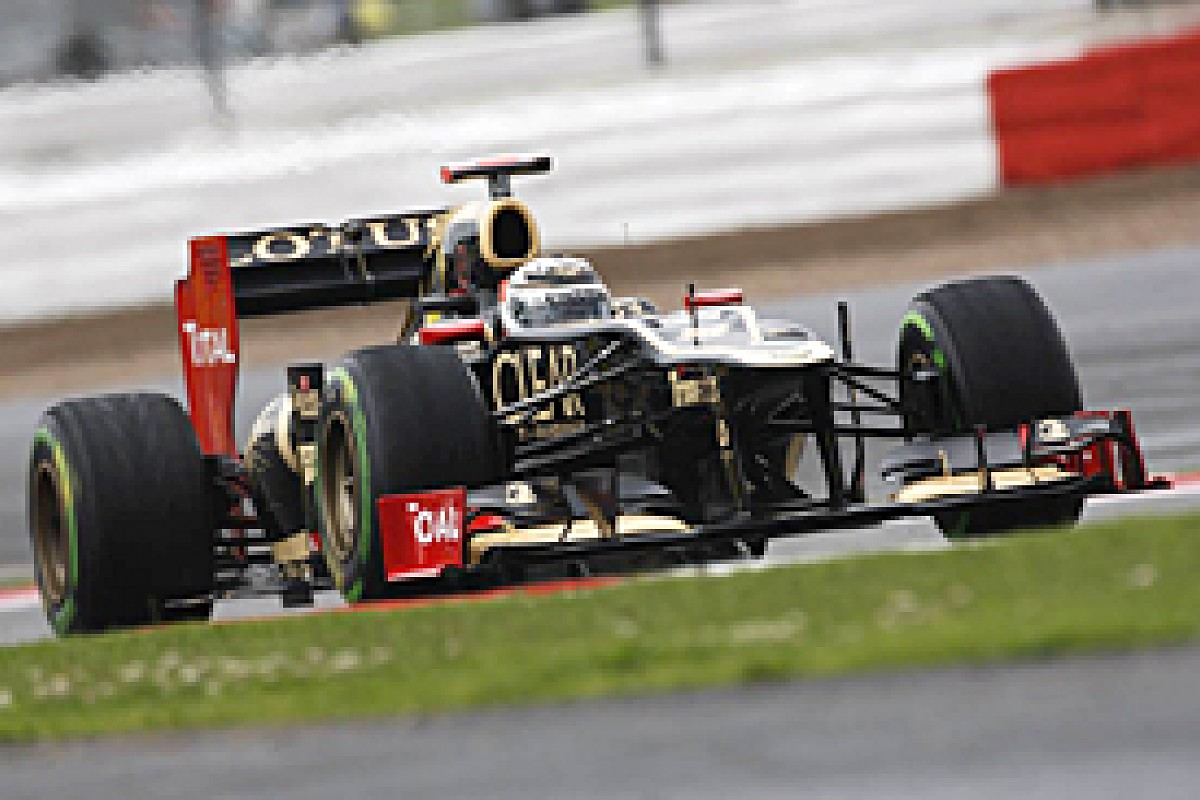 Kimi Raikkonen outqualified Romain Grosjean at Silverstone © LAT
• Kimi Raikkonen has only been able to outqualify his Lotus team-mate Romain Grosjean when the Frenchman hasn't run in Q3. At Silverstone Grosjean spun in Q2 and in China he had no new tyres left.
• Excluding grid penalties (+5 positions in China, sent to the back of the grid in Spain), this was the worst qualifying session of the year for Lewis Hamilton. He started eighth in the race, but until Silverstone had always qualified in the top three.
• Nico Rosberg, who qualified 11th, failed to make it into Q3 for the first time this season.
• Jenson Button was knocked out in Q1 for the first time since his last race with Honda, the 2008 Brazilian GP. Perhaps he should take encouragement from the fact that after that he scored two straight poles and wins as he began his 2009 championship-winning campaign.