The battle, if so it may be called, began only after the race. Jacques Villeneuve took the chequered flag at the end of the British Grand Prix, but it was not until three and a half hours later that he was confirmed as winner of the race, a Benetton protest having failed.

If Villeneuve drove a flawless race to victory, Damon Hill, of course, was the man the crowd wished to see win at home. Hill narrowly beat his Williams-Renault team-mate to the pole, but made a poor start, and was engulfed by several cars in the opening seconds, never getting higher than fourth before spinning into retirement, this precipitated by a loose front wheel.

No points for Damon at Silverstone, then, but joining Villeneuve on the podium were Gerhard Berger and Mika Hakkinen, two stars for whom success has been thin in 1996. In the meantime, Michael Schumacher, who found it hard to lose last year, is having a nightmare of a mid-season, his Ferrari again retiring early, this time with a hydraulic leak.

Both the Jordan-Peugeots scored points, which made a refreshing change, and David Coulthard made it two McLaren-Mercedes in the top six. Ferrari, though, have taken not a thing from the last three races. On the face of it, any challenge to Hill's world championship is coming from Villeneuve alone.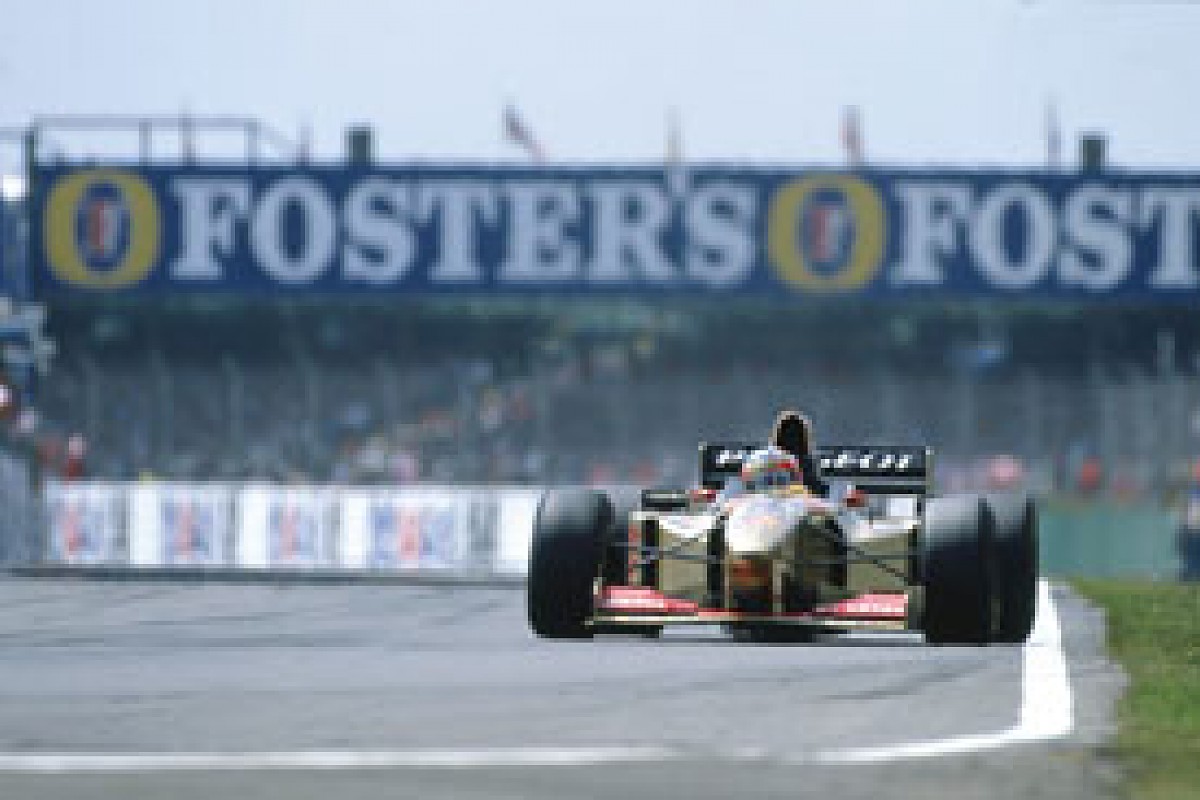 Both Jordan-Peugeots scored points, with Rubens Barrichello fourth © LAT
A hot and balmy day had been promised by the forecasters for Sunday, but it hardly looked that at nine o'clock. Already it was muggy in the extreme, but of the sun there was no sign, and shortly before the warm-up a fine mist of rain descended on Silverstone. It soon abated, however, and by the end of the half-hour times were getting down to those set in qualifying.

Hakkinen emerged fastest, and if that was a surprise, it was not a shock, for he has been markedly happier with the McLaren-Mercedes since its recent aerodynamic configuration, and was in especially fine spirits after Saturday qualifying. But you're supposed to hate the 'modern' Silverstone, Mika. "That was yesterday - today I love it!" David Coulthard by contrast, has been less confident in the McLaren following the changes, and was down in 16th, still dissatisfied with the balance of his car.

Both Williams-Renault drivers - Villeneuve second, Hill third - were quite satisfied with their cars, although Damon pointed out that the changing conditions had made for a pretty inconclusive session. Schumacher, immediately behind them on qualifying times, was fourth, content with his Ferrari, and ready for a good race, to wash away memories of the debacle at Magny-Cours. He was in for disappointment.

The crowd, of course, was rabidly behind Hill, but in the paddock there was a feeling - based on nothing more than a widespread hunch - that this might not be Damon's day, that Villeneuve would run him closer than usual, and might indeed have the beating of him. Jacques, at least, was on a circuit he knows intimately, and had been uncharacteristically upset after narrowly missing pole position. "I thought I was going to get it," he said "and I feel I should have got it."

The Williams drivers went for similar strategies at Silverstone, opting for two stops, although Hill went to the grid with a little more Elf than Villeneuve. Starting with a heavier fuel load, it was therefore crucial that Hill start well, and keep ahead of Villeneuve through the early laps, robbing him of the opportunity of running faster in a slightly lighter car.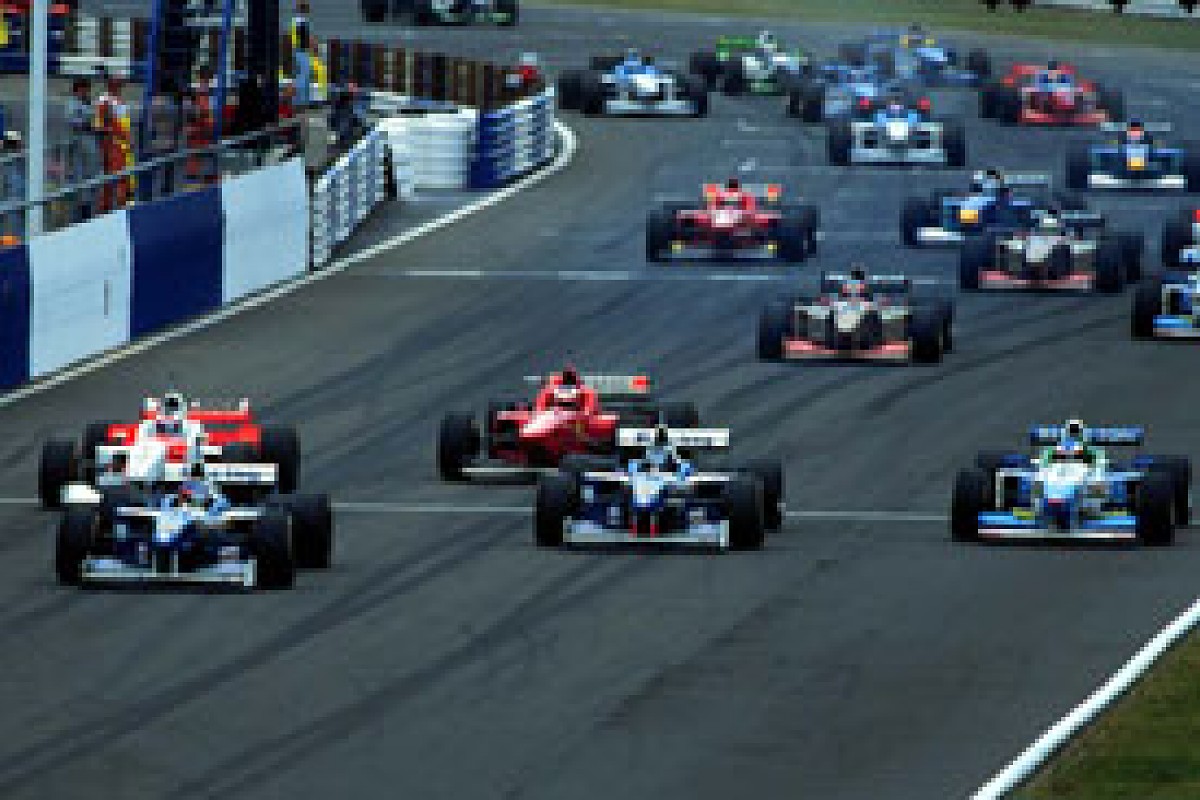 A poor start by Hill (middle) dropped him from pole to fifth © LAT
He did not, though, get away well, to the point that not only Villeneuve got the drop on him before the first corner, but so also did Jean Alesi, Hakkinen and Schumacher. The game was not necessarily lost - Jacques would, after all, be making two stops, where Damon could still opt for one - but it was not a good beginning. "I don't know why he made a bad start," Villeneuve grinned. "I'm just glad he did!

"Thing was, I had the same weapon as Damon - same car, same engine, and basically the same fuel strategy, so I knew it was important to get him at the start."

Given that overtaking in contemporary Formula 1 is difficult anywhere, at Silverstone, many drivers report, it is especially nightmarish. Twelve months ago, Schumacher and his patently quicker Benetton had to sit behind Alesi's Ferrari for 20 laps, Michael having resigned himself to 'waiting for the stops' to move up a place. Now Hill faced the same frustration.

This time, however, the Ferrari in front was more obliging. As early as lap two, there was more smoke from Schumacher's car, and halfway round he backed off, cruised back to the pit, and drove straight into the garage. Down came the door immediately, and behind it Michael presumably expressed his disappointment in words of one syllable. A leak in the hydraulics system - reportedly the consequence of an under-tightened O-ring - had left him stuck in sixth gear. "This," he commented, "is absurd. Since Magny-Cours, we have tested at Monza and Imola, then run here through two days of practice, and all without any failures. Now we come to the race, and we get this. Still, in racing things like this can happen..."

They can indeed, and the Ferrari disasters were not through yet. Irvine, after qualifying poorly, made a superb start, and was up in sixth by lap three; by lap five, though, there was smoke from the back of his car, too, and it was the same story as before: straight into the garage. This time the fault lay with a broken differential bearing.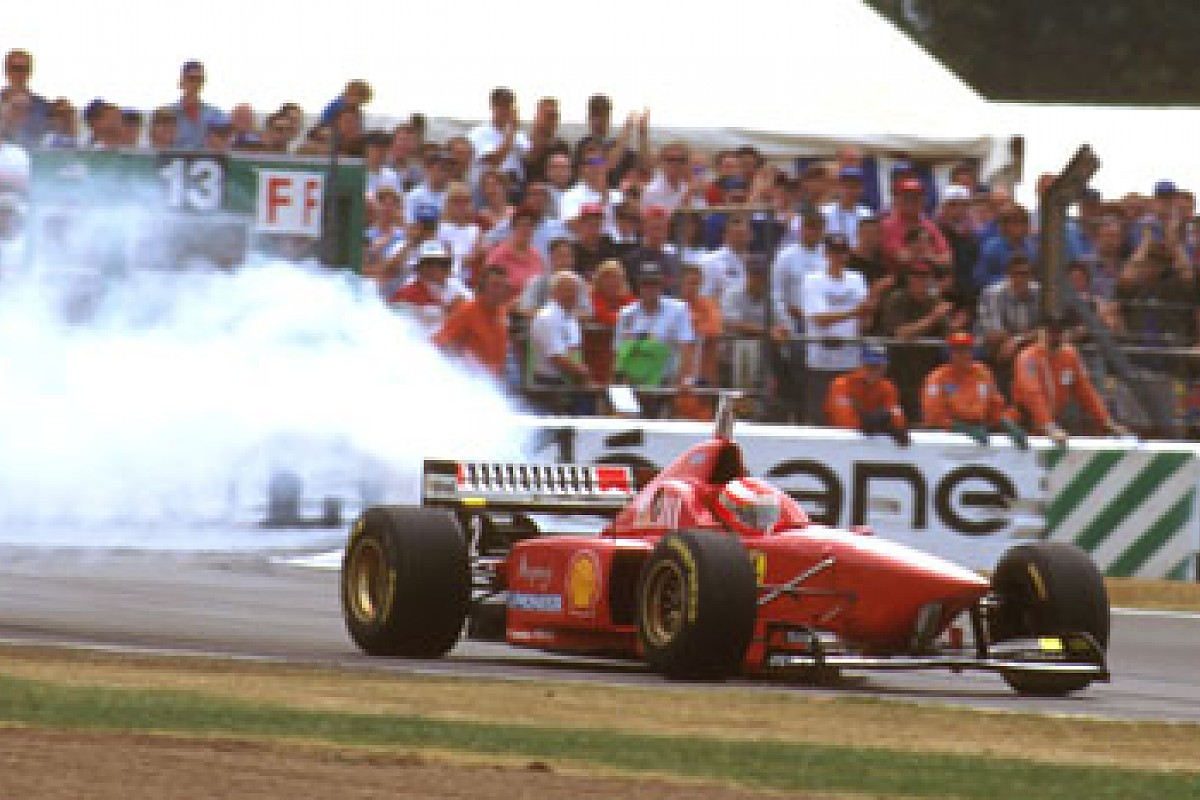 While the Ferrari mechanics began packing up early once more, Villeneuve was at the front, and making hay. A second and a half up on Alesi at the end of the opening lap, he was 2.8 seconds clear on the second, then 3.9, 5.2, 6.4 and like that. As early as lap three, he set a time which stood as fastest for much of the race.

Hill must have been cursing himself for his poor start, but there was little he could do about his predicament now. Villeneuve continued to put distance between himself and Alesi, who was himself a couple of seconds ahead of Hakkinen, and then came Damon.

"The McLaren was at its best in the early part of the race," Mika said, because my first set of tyres was the best. I found I could hold Damon off, because, although his car was incredibly fast in the first part of the lap, it was not so quick further round - which is where the overtaking opportunities are. A couple of times he got really close, but not enough to get by me."

For lap after endless lap, there was stalemate virtually throughout the field. By lap 15 Villeneuve was 17 seconds ahead of Alesi, not absolutely beyond reach, perhaps, but driving with a precision and authority which suggested no one would beat him this day. Hill, though, maintained he still had his hopes: "I didn't consider all was lost, because I could have changed my strategy, and made just one stop. I was still within 20 seconds of Jacques, and, that being so, I felt there was still a very good chance."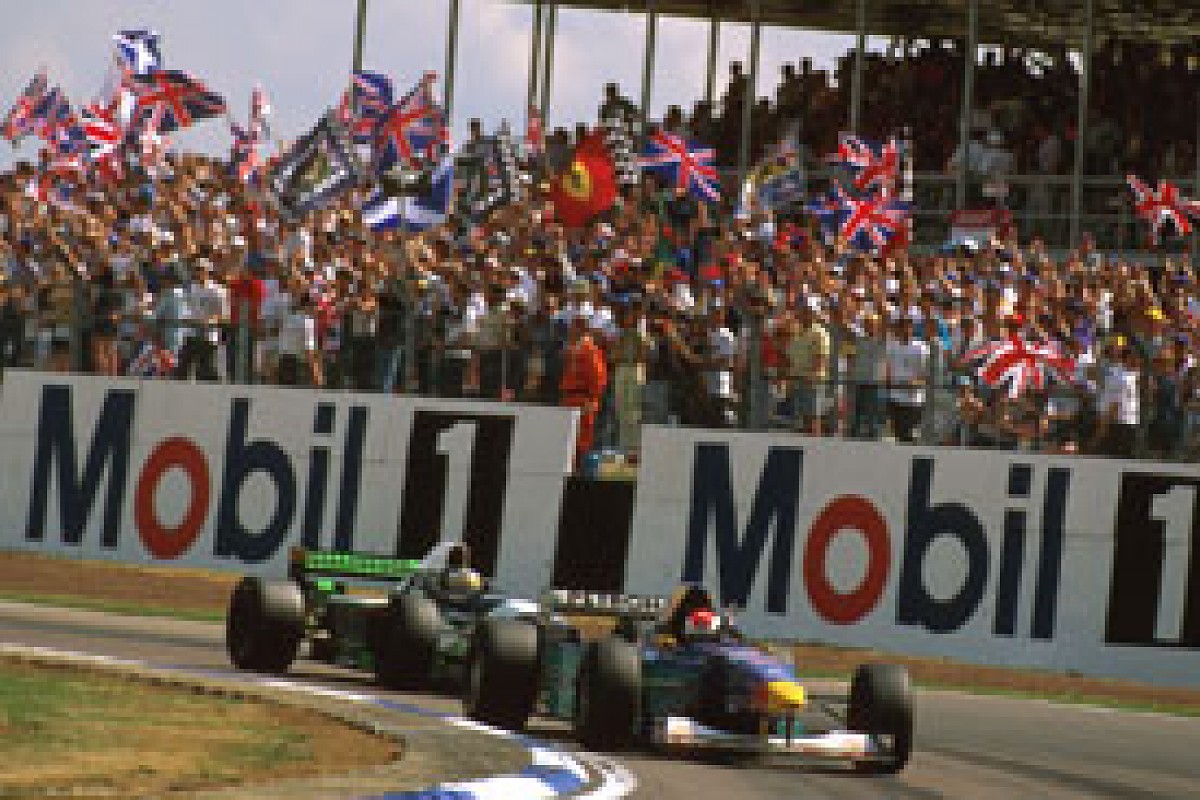 Herbert, winner of the British GP in 1995, found himself on the lower fringes of the top 10 in 1996 © LAT
Behind Hill, Rubens Barrichello ran fifth, then Berger, Martin Brundle, Coulthard and the Sauber-Fords, which circulated in close order, Johnny Herbert behind Heinz-Harald Frentzen, but clearly wishing to be ahead. On lap 17, Johnny made the move, and quickly pulled clear, going well at the circuit where he won last year, but with no such illusions this time.
Brundle began the planned stops, on lap 17, followed by team-mate Barrichello, but the stop everyone was waiting for, of course, was that of Villeneuve. On lap 21 Jacques set what was to be the fastest lap of the race, and at the end of the 23rd he was in, taking on fuel and tyres, getting on his way in 9.5 seconds, and dropping - temporarily - to fourth place in the process.
Alesi now took the lead, with Hakkinen a couple of seconds behind him, and Hill still hounding the McLaren. Damon, though, was now becoming worried, for Villeneuve - having made the first of his stops - was right behind him, and there was also a rather more immediate concern. "There was this curious sensation at the front of the car for three or four laps, and eventually I got on the radio, and told them there was a problem. Then, just as I was going into Copse, something seemed to seize at the front..."
On lap 27 the Williams swapped ends, and spun into the gravel trap. It had gone too suddenly to suggest a driving error, and as he waved to the crowds, Hill's body language, too, suggested that there had been nothing he could do about it. Disappointed beyond measure, Damon made his way back to the pits, and not a few spectators began heading early for home.
The 'sensation at the front of the car' had been caused by a loosening left wheel nut - a problem which has periodically plagued Williams down the years. A locking device prevented the wheel from coming off, fortunately, but when Damon pressed the middle pedal before Copse, only the right-side brakes worked. Hence the spin.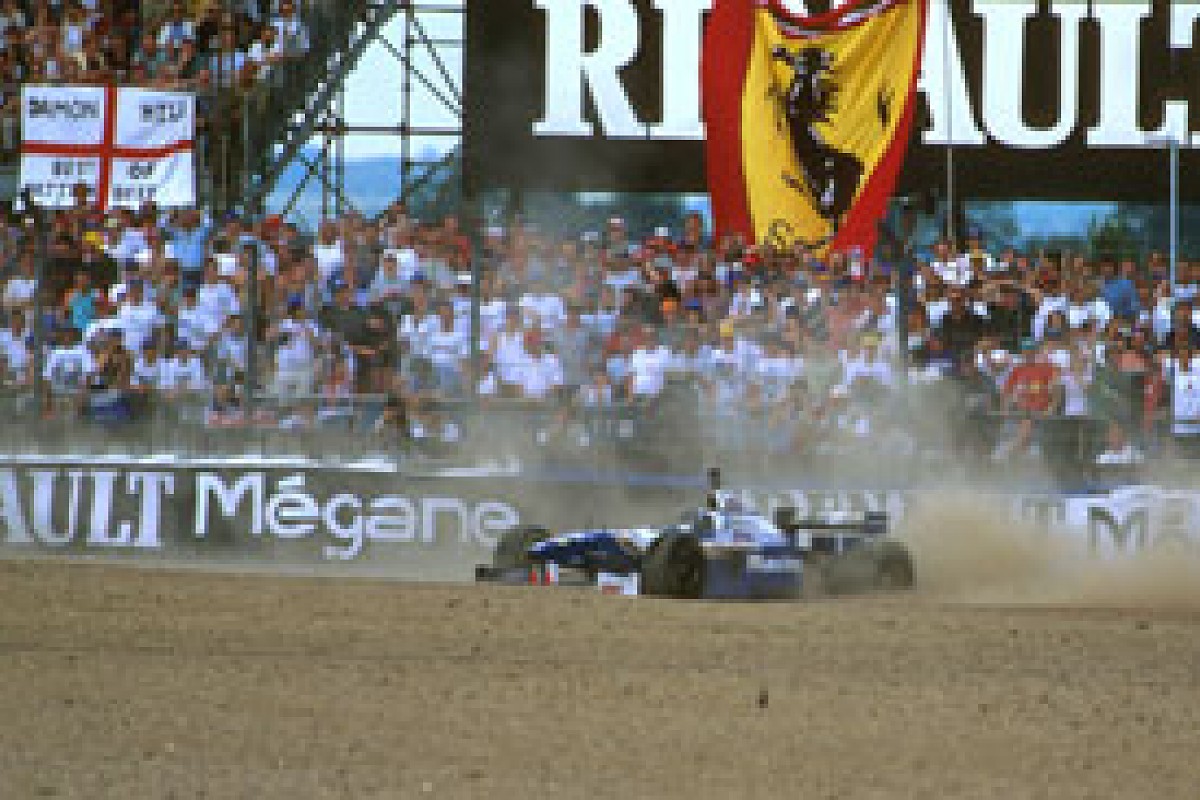 Hill's bid came to an end due to a loosening left wheel nut © LAT
As Hill retired, so Hakkinen made his stop, which relegated him to fourth, behind Alesi, Villeneuve and Berger, with both the Benetton drivers still to make their single stops. Running in the lead, Alesi looked very composed, but so also did Villeneuve, who knew he would shortly be back in front. On lap 31 Jean came in (10.4s), then Gerhard (also 10.4s) two laps later, which left Jacques with half a minute's lead over Hakkinen.
What we had at Silverstone, sad to say, was a largely dreary grand prix, truly marked only by Villeneuve's consummate domination. Hakkinen's McLaren was working less to the driver's taste on its second set of tyres, and anyway Mika, like Jacques, had another stop to make. Alesi and Berger were now going through to the end, but if Villeneuve's second went according to script, he faced no threat from them.
As in Magny-Cours, such entertainment as there was in the second half of the race looked likely to be provided by the rivalry of the Benetton drivers, for Berger, just as in France, was now coming on strongly, and catching his team-mate.
"Jean," said Gerhard, "was pushing very hard - I could see the dust from his rear brakes, so I played with the brake balance on my car, at first putting too much on the front, but eventually getting it just about perfect." Unlike Hakkinen, Berger found his second set of tyres much better than his first.
Soon the two were circulating as one, and by lap 43 Alesi's car was smoking. It was not slowing, however. Somewhat churlishly, despite surely realising that the end was nigh, Jean at first declined to let Gerhard through, but ultimately had no option. "Suddenly," he said, "there was a problem with my brakes." In fact, a rear wheel bearing had failed, and the Benetton coasted back to the pits. Alesi was mortified: "I am hugely disappointed, because I was on course for a podium finish. The car was really handling well today."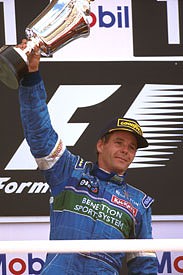 Berger scored his best result of the year in second © LAT
That left Berger in a secure second place, but no more was in prospect, for Villeneuve had made his second stop on lap 42, and it had gone without a hitch, Jacques stationary for only 7.4 seconds. Now, with a clear run to the finish, the Williams was 20 seconds clear of Berger, who held a similar advantage over Hakkinen.
The laps ran out. Villeneuve took the flag for his second successive grand prix victory, after a copybook drive, first to last. Little wonder that Frank Williams had scoffed, the evening before, at fatuous rumours that the team was contemplating exchanging him for Frentzen in 1997.
"I've tested a lot at Silverstone," Jacques said, "so I know the place really well, but it got hot this afternoon, and you hardly ever get that here. It makes a big difference, especially with the tyres, which react very differently in these conditions. But it was great, for once, not to have to spend Friday learning a circuit, and finding where the limit was."
Berger and Hakkinen were plainly relieved to have finished well, and it was a pleasure to see the Jordans in the points, Brundle finishing sixth, despite having had to make three stops, the unscheduled one brought about by a puncture. "I'm back on form again," Martin said, "and driving well. Normal service is resumed!"
It was only after the celebrations that the controversy began, with Benetton protesting that the front wing endplates of the victorious Williams were illegal. Ultimately, a Stewards' report, issued some hours after the race, rejected the protest, pointing out that the endplates had been unchanged since the very beginning of the season, and that, in the opinion of Charlie Whiting, the FIA Technical Delegate, they had been legal from the beginning. Everyone loves Gerhard Berger, but no one would have wished to see him win this way. Silverstone belonged only to Villeneuve.