Damon Hill said he felt destined to win this race, and win it he did. The British Grand Prix was a messy race in some ways, but nothing detracted from a magnificent victory which began from pole position.
Michael Schumacher did get ahead of Hill, following the first pitstops, but the only time he actually overtook the Williams-Renault was on the parade lap, and that was not a smart move. It led to a penalty, which in turn led to controversy. Schumacher still finished second, though many thought him fortunate not to be disqualified. A very distant third was Jean Alesi's Ferrari.
If more comfortable than in Magny-Cours, the weather at Silverstone was still clammy, but there was no hint of the rain that dismal long-range forecasts had suggested. With Hill on the pole it would have been a fine thing to see a huge crowd at the British Grand Prix, but for that these days you seem to need Mansell. The attendance was put at a little over 60,000, perhaps rather more than last year, but nothing like the mob of 1992. Pity.
The figure 2 on the second of the Williams-Renaults was white again this weekend. David Coulthard was back at the wheel, following Mansell's guest appearance in France. And Coulthard, while disappointed to have qualified only seventh, was much happier with his car's race set-up, which he demonstrated graphically in the warm-up by setting the fastest time.
Hill was third fastest, with the inevitable Schumacher in the Williams sandwich and then the impressive Tyrrell-Yamahas of Mark Blundell and Ukyo Katayama.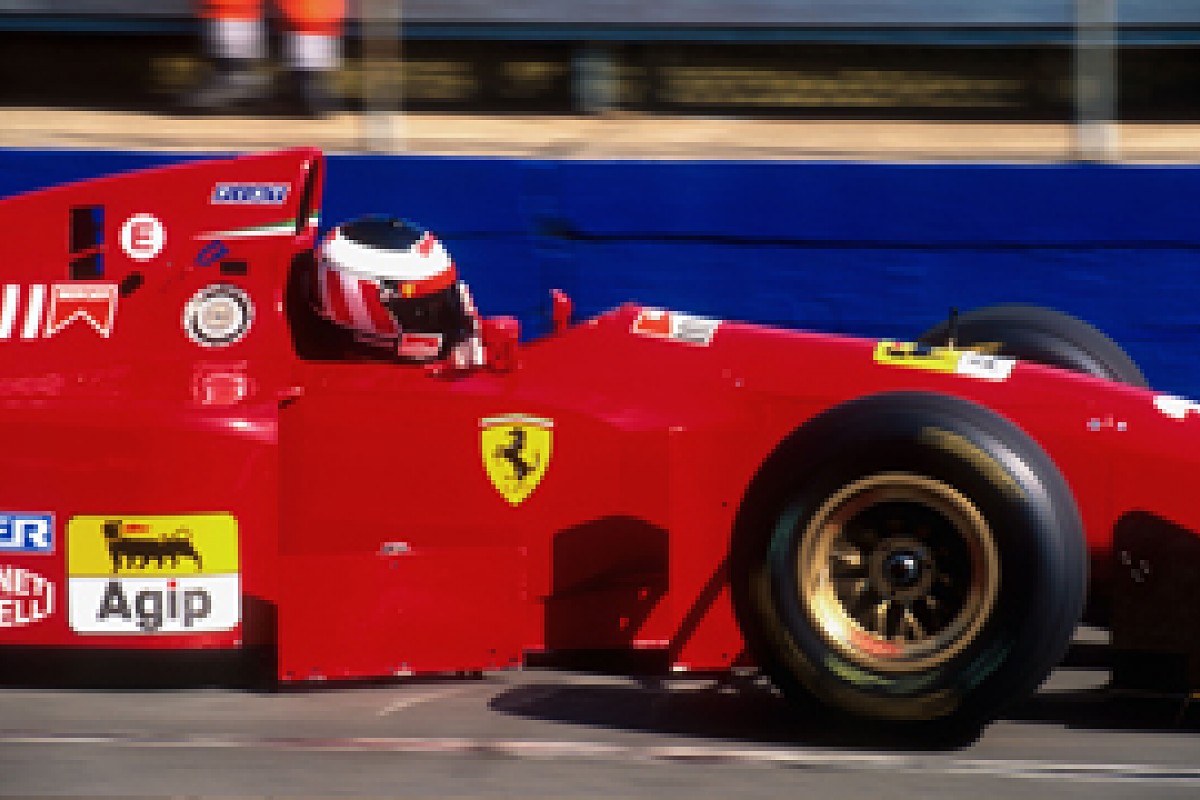 Berger shrugged off his pitlane misdemeanour © LAT
The faster of the Ferraris, as expected was Gerhard Berger's, but he was down in seventh, behind Mika Hakkinen's McLaren-Peugeot and concerned about a severe vibration through the car. Like the Williams-Renaults, the Ferraris were now back on standard race engines, rather than the qualifying units used the day before.
To compound Berger's woes, it was announced after the warm-up that he had been fined $10,000 (£6,800) for exceeding the 50mph speed limit (75 during the race) in the pitlane. He seemed unconcerned, though.
"Ferrari had a new speed-limiter they wanted me to test, so I tested it - and it didn't work. The fine is their problem, I would say."
If all had gone well for Coulthard in the warm-up, on the grid it turned sour. As they formed up on after the parade lap, his engine stalled. "I found neutral," he said, "and then it just died on me." That meant an aborted start, a race distance shortened by a lap and, for Coulthard, a start from the back.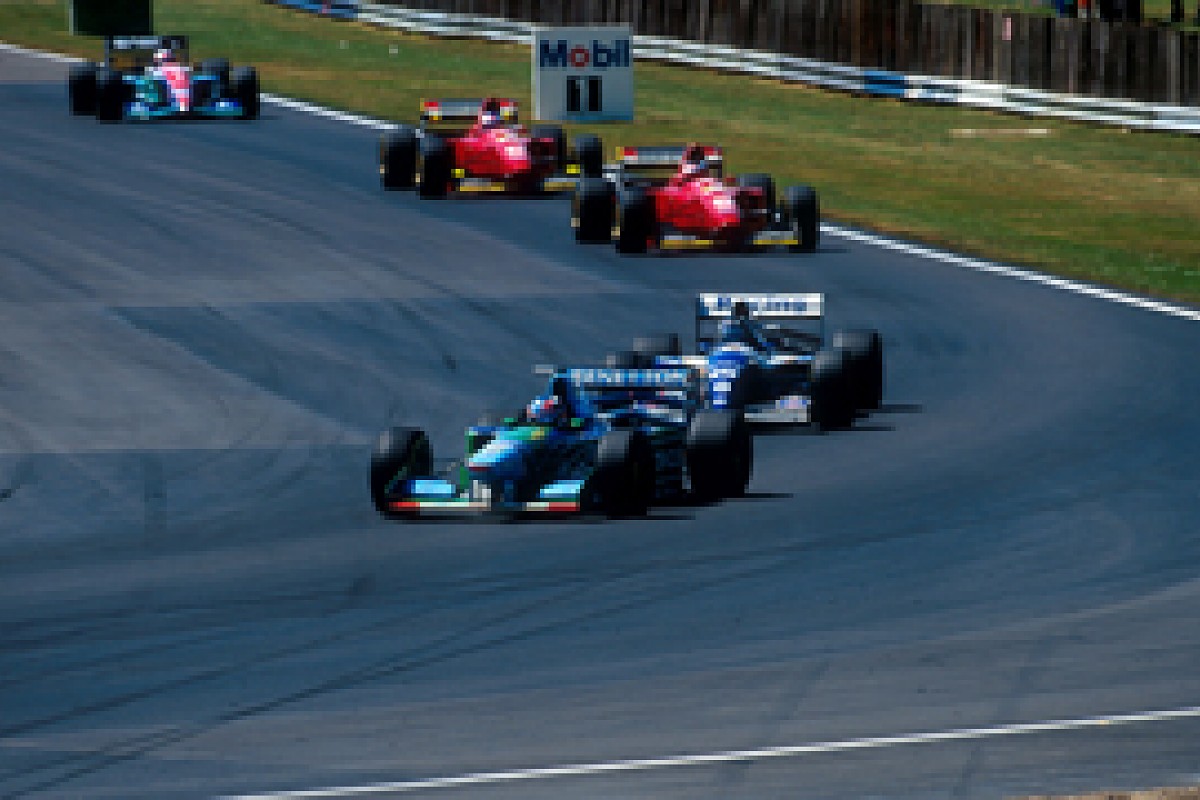 Hill was surprised to see Schumacher slipping ahead on the parade lap © LAT
On the first parade lap, strangely, Schumacher had got ahead of poleman Hill, and when they were waved away for the second, he did it again, taking off in a welter of tyre smoke. On each occasion, he eventually fell back behind Hill, of course, but he had broken a rule. There would be repercussions.
Others had more immediate problems. Alessandro Zanardi had to start from the pitlane, following the investigation into a misfire, but at least he got on his way, if only briefly. Martin Brundle and Eddie Irvine were not so fortunate, the Peugeot V10 in Brundle's McLaren appearing to explode as it left the grid, the Hart V10 in Irvine's Jordan seizing before it had even reached it.
There had been, however, no such problems for those at the front of the grid, but whereas at Magny-Cours, Schumacher had instantly taken the lead at the start, this time Hill got away first - and stayed there.
"I looked in my mirrors - in fact, I craned my neck - to see where Michael was before the first corner," said Hill, "but he must have been in my blind spot. I couldn't see him, but I turned in, anyway - and he wasn't there. After last week, I was surprised to be ahead of him..."
Schumacher, though, was not very far adrift. At the end of the opening lap, Hill's lead was less than a second, and already the two were showing signs of disappearing into a race of their own. Berger, in third, was nearly three seconds back, with Rubens Barrichello fourth, then Jean Alesi, Jos Verstappen, Hakkinen, Katayama, Heinz-Harald Frentzen, and Gianni Morbidelli.
This was a two-horse race. While the gap between the Williams and the Benetton remained at about a second, that between Schumacher and Berger increased by as much as two seconds a lap, yet the Ferrari driver was under no heavy threat from Barrichello. Simply, the rest could not keep up.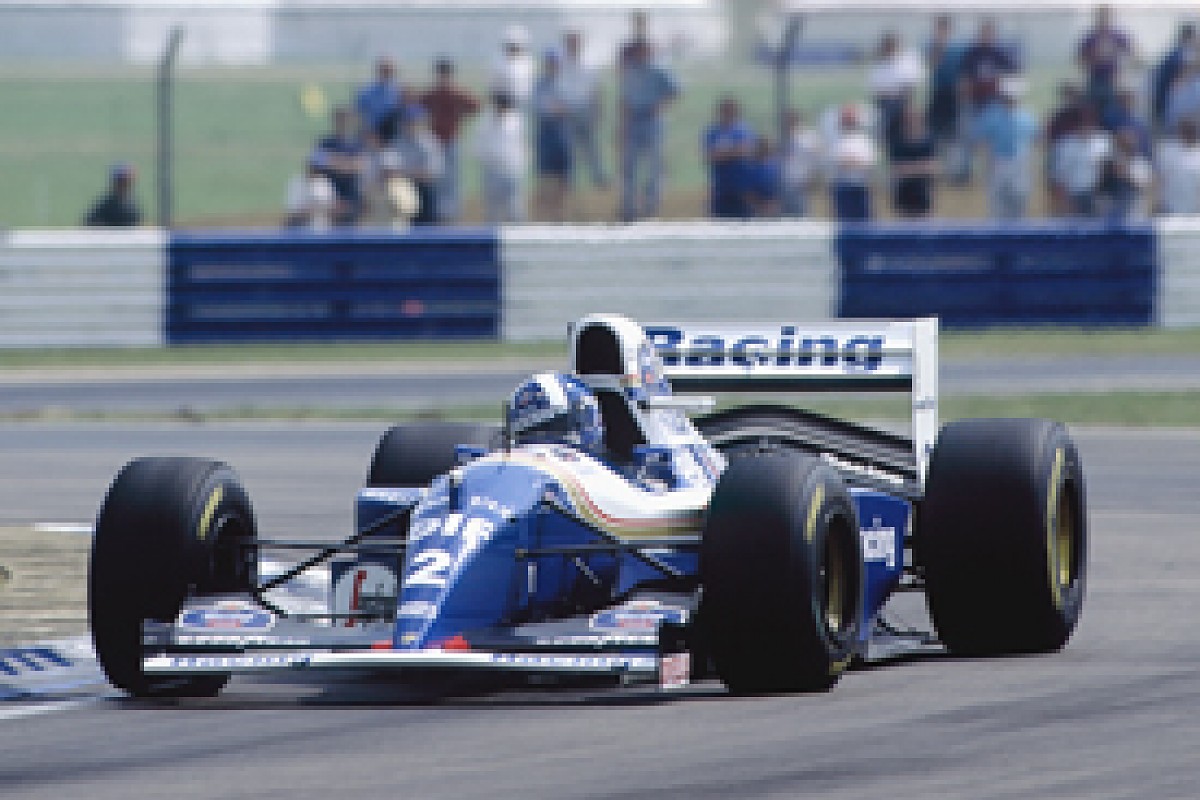 Coulthard had to fight through the field © LAT
Initially, there was a Williams at either end of the pack. Starting from the back, Coulthard overtook four cars before the first corner and then promptly spun, making even harder a daunting afternoon's work. He quickly set to, though, and by lap five was up to 12th.
Hill pushed very hard in the early laps in the hope of making a break, but Schumacher continued to track him. On lap 13, though, it was announced that the Benetton driver was to be penalised five seconds for going by Hill on the parade lap. There was no suggestion at this stage that it would take the form of a stop-go penalty, and the assumption was that five seconds would merely be added to his time at the end of the race.
In the Benetton pit the feeling was the same. "We were told of the penalty," said a livid Flavio Briatore, "but the stop-go wasn't mentioned. Therefore, we didn't ask Michael to come into the pits, and they showed him the black flag."
This lay a little way into the future, however. Schumacher was notified of his penalty before his first pitstop, and thought of it only in terms of possibly needing to pull out an extra five seconds by the end of the race.
"The problem was, I couldn't see how I was going to get ahead of Damon," said Schumacher. "My car was quicker than his on some parts of the circuit, but not by enough. On the straights, he was much quicker - even in the slipstream, I couldn't do anything against him."
Except in the pitstops, that is. Hill made his first one lap 15, which was early but fitted in well, for at that point he was beginning to get into heavy lapped traffic.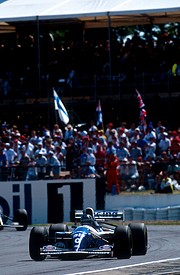 Hill would temporarily lose the lead in the pits © LAT
"Yes, it was a good tactic," Hill remarked, "except that we lost the lead." Two laps later, Schumacher was in for fuel and tyres, and his stop was quicker. The pair of them were now behind Berger's Ferrari, which had yet to come in, but the point was that Hill was now behind Schumacher.
"I can't understand why we keep losing out like that," Hill said, "but, anyway, I knew that now I had my work cut out, and I tried to stick on Michael's tail, and see if he got caught out in the traffic." He did, too, behind Berger's Ferrari, now in the lead, and keen to stay there.
Getting by Berger is never the work of a moment, and the Ferrari was blindingly quick in a straight line. As a frustrated Schumacher tried to find a way past, so Hill was able to catch right up, and by lap 21 the three were tied together.
Berger's brief spell at the front ended on lap 22, when he made his first stop. Now Schumacher had a clear road before him, but it wasn't quite as simple as that. At the end of lap 21 he had been shown the black flag, and again the next lap, and the lap after that. Each time he ignored it.
The stewards were taking this action because the Benetton team had failed to bring their driver for his stop-go penalty - of which they claimed they had no notification.
In the pits, very heated debates took place, involving Briatore and Tom Walkinshaw from Benetton, the FIA's Roland Bruynseraede and others. At the end of lap 24, the black flag had been withdrawn; at the end of the 25th, Benetton hung out an 'in' board to Schumacher, but it was not until the end of the 27th lap that he finally deigned to stop.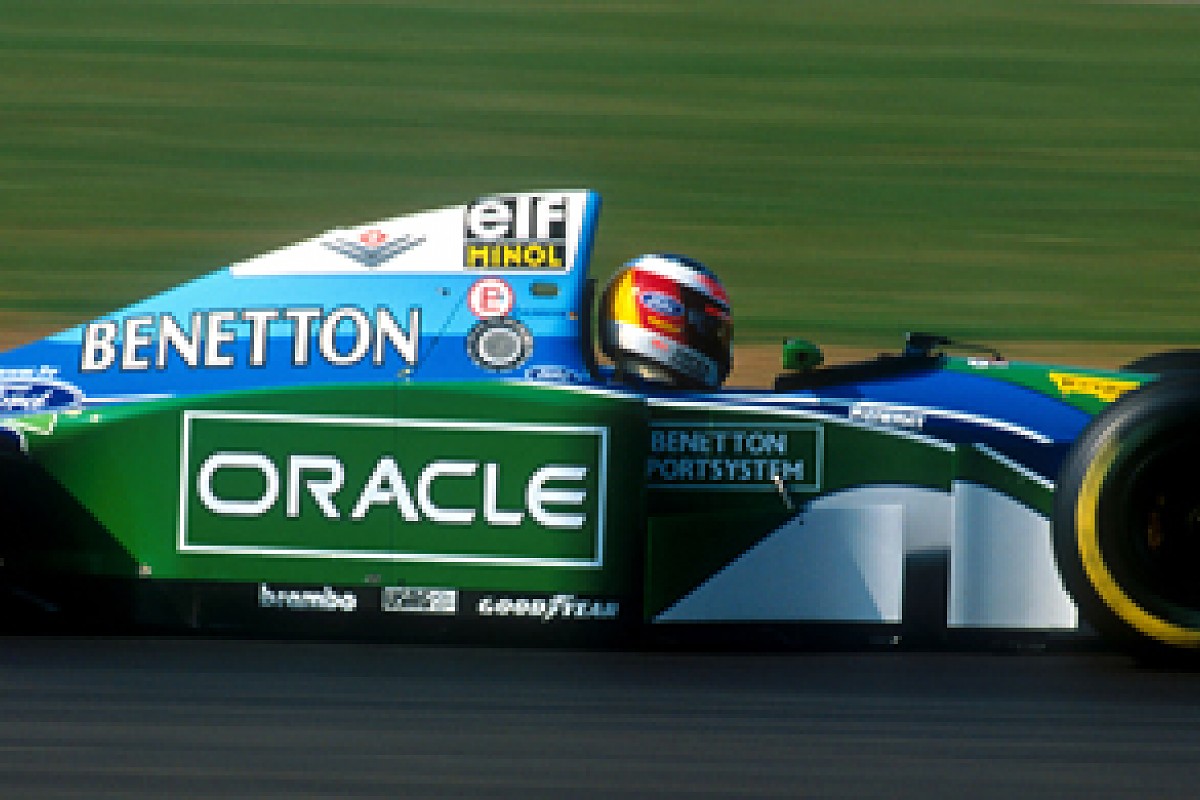 In the course of these laps, Schumacher gained quite a little on Hill, and had a lead of more than three seconds by the time he came in. By the time he rejoined, though, Schumacher was 20s adrift of the Williams, and now the pattern of the race was set.
At half-distance Hill was comfortably placed, and never afterwards did Schumacher make much inroad into his lead. From now on, it was a matter of keeping up a good pace, staying out of trouble in the traffic, hoping for no repetition of last year's race which Hill led before his engine blew.
If the drama was concentrated at the front, there were other points of interest in the race, too. Only 10 cars were on the lead lap by now, Hill and Schumacher followed by Berger, Barrichello, Alesi (opting for a single-stop policy on this occasion), Hakkinen (ditto), Coulthard, Katayama, Verstappen and Frentzen. By lap 32, though, these 10 became nine, the luckless Berger came tooling round to his pit, smoke issuing from his engine.
A fine sight in this period of the race was the spirited efforts of Coulthard to get by Alesi. No one needs telling that Alesi is a doughty fighter, but his rookie adversary was by no means intimidated, and must have impressed his team with the display. Coulthard lost contact with the Ferrari when he made his second stop on lap 39. The pity of his race was that it had begun so disastrously, that it could have produced so much more. There will be better days.
Hill and Schumacher both made their final stops on lap 38, and this time the taking on of fuel and tyres made no difference to their positions. Schumacher was 15.7s behind Hill when he came in, 15.6s behind afterwards. Twenty two laps remained.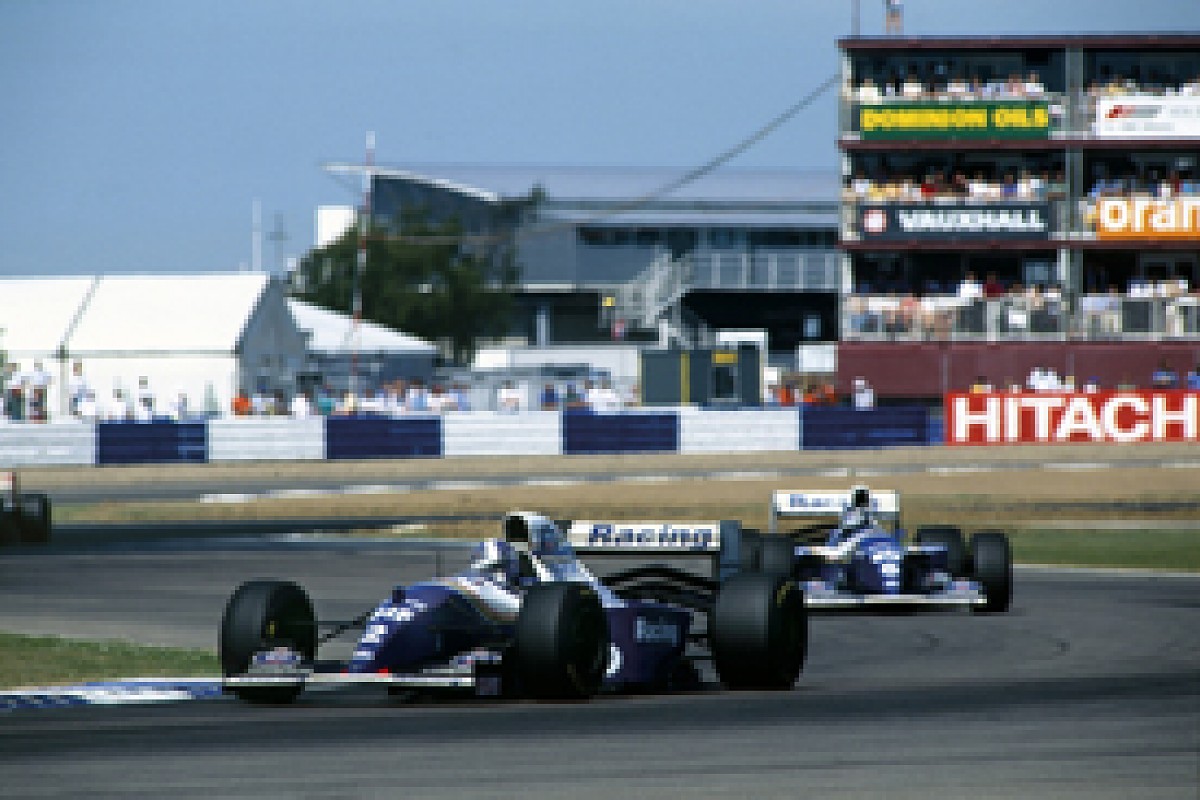 One Williams prepares to lap the other © LAT
"Obviously, his penalty was a Godsend to us," Hill said, "but, even without it, I think it would have been a close race - a real titanic battle, in fact, right to the end. Our lap times were more or less identical, even if we weren't running together."
Over the last 20 laps, Schumacher said, his car's behaviour began to deteriorate. "I had some problems with downshifting. The gears weren't going in as smoothly as usual, and sometimes that was locking up the back of the car into the corners.
"At this stage I wanted to finish. I changed the brake balance, putting more on the front. Then I started locking up the fronts. That flat-spotted them, causing a vibration."
Hill, however, sailed on serenely. In the closing laps he lapped Coulthard, and for a while the two Williams-Renaults ran in tandem - perhaps a little too closely, on occasion. It later transpired that Coulthard was by now stuck in sixth gear, and given that Hill had cut back his pace, there were points on the circuit which were not easy for him.
On lap 57 he actually unlapped himself, then running more comfortably. Just before the end, though, he feel back behind Hill.
The chief excitement of the closing laps was a trenchant battle for fourth place between Hakkinen and Barrichello. The former was ahead only because he had made one stop to the Brazilian's two. The McLaren-Peugeot was not only down on power to the Jordan-Hart, but also suffering poor handling.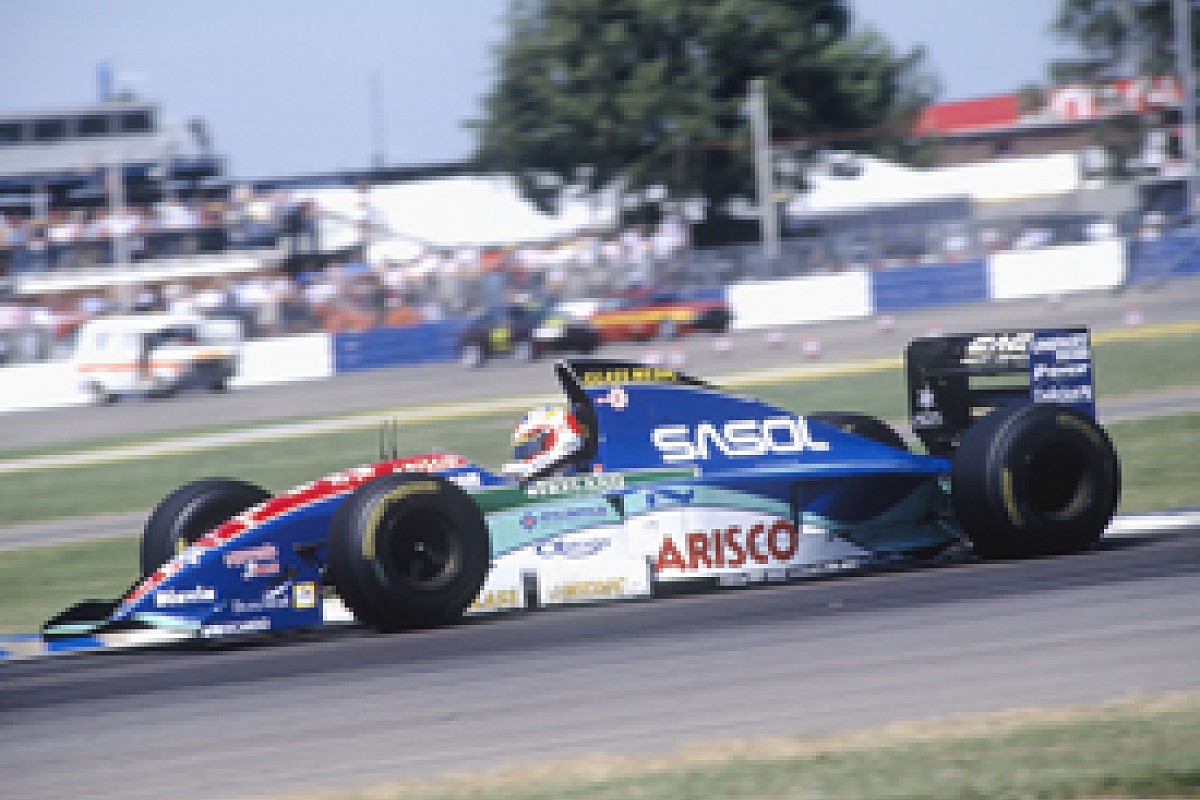 Barrichello's race went awry at the very last corner © LAT
Barrichello, too, was not a happy boy: "I was in fourth place at the first corner of the race, and we should have been looking at a place on the podium. But we lost places because we made two stops." Perhaps Barrichello had been expecting that Hakkinen, too, would be making a second stop. Whatever, when it became clear that he would not, the Jordan driver went to work.
By the last lap, the two cars were tied together, Hakkinen blocking Barrichello's every move. It all came down to the last corner, and perhaps the outcome was inevitable: Barrichello had to go for it, and Hakkinen had to stop him. Broadly, this is what happened - although Barrichello got much the worst of the deal. He thought he had won in the corner, but Hakkinen disagreed.
"I was holding the inside line, and Rubens braked late and hit me," he said. Barrichello countered. "I'm upset with Hakkinen. He threw his car at me so hard that he broke the wishbones."
After the inevitable contact had occurred, the McLaren came to rest in a gravel trap, engine still running, and the Jordan's left front wheel was drunkenly leaning left.
Barrichello - unaccountably, it seemed - pointed his stricken car into the pitlane. He had not realised that this was the last lap.
Hakkinen's McLaren, meantime, had been helped from the mire by marshals, whereupon he set off for the finish line, which he crossed a second before Barrichello cut the timing beam in the pitlane. Fourth place to McLaren, fifth to Jordan.
The bookends of the top six, though, were made up by the Williams of Hill and Coulthard. Damon was quite literally estatic afterwards, and for very good reason. Very well, the penalty to Schumacher had by no means harmed his cause in this, the most important race of his year, but he had taken pole position, and had taken the fight to his rival from the beginning of the race. In every way it was a wonderful drive.
Last week some suggested that the spur for his performance in France came from the presence of Mansell. On Sunday, while Damon was at Silverstone, Nigel was in Cleveland. Next...
Full Silverstone 1994 results on FORIX