After the race, Alain Prost as good as apologised for winning. Time was when a winner at Silverstone, whatever his nationality, was cheered to the rafters, but in the post-Mansell era, it seems, you have to be British.
To some degree, it was hardly surprising that the crowd's reaction to Prost's victory was muted, for the likely winner most of the afternoon was Damon Hill who seized the lead at the start and made the most of a clear track in the early stages, while Prost struggled to get by Ayrton Senna.
By the time he was past the wide McLaren, his teammate was eight seconds up the road. Prost trimmed the lead a little, but made real inroads into Damon's advantage at the time of the tyre stops. With 20 laps to go, the two were running together.
Then the safety car came out, obliging the field to bunch up behind it, while Luca Badoer's abandoned Lola was retrieved. It had seemed in a safe enough position, and inevitably there were murmurings about the motive for the interruption.
At the front, the race had needed no assistance, but certainly the battle for places was enlivened by the bunching up. On the restart there was a particularly torrid duel between Martin Brundle, Riccardo Patrese and Johnny Herbert, and Michael Schumacher found himself within range of the Williams pair again.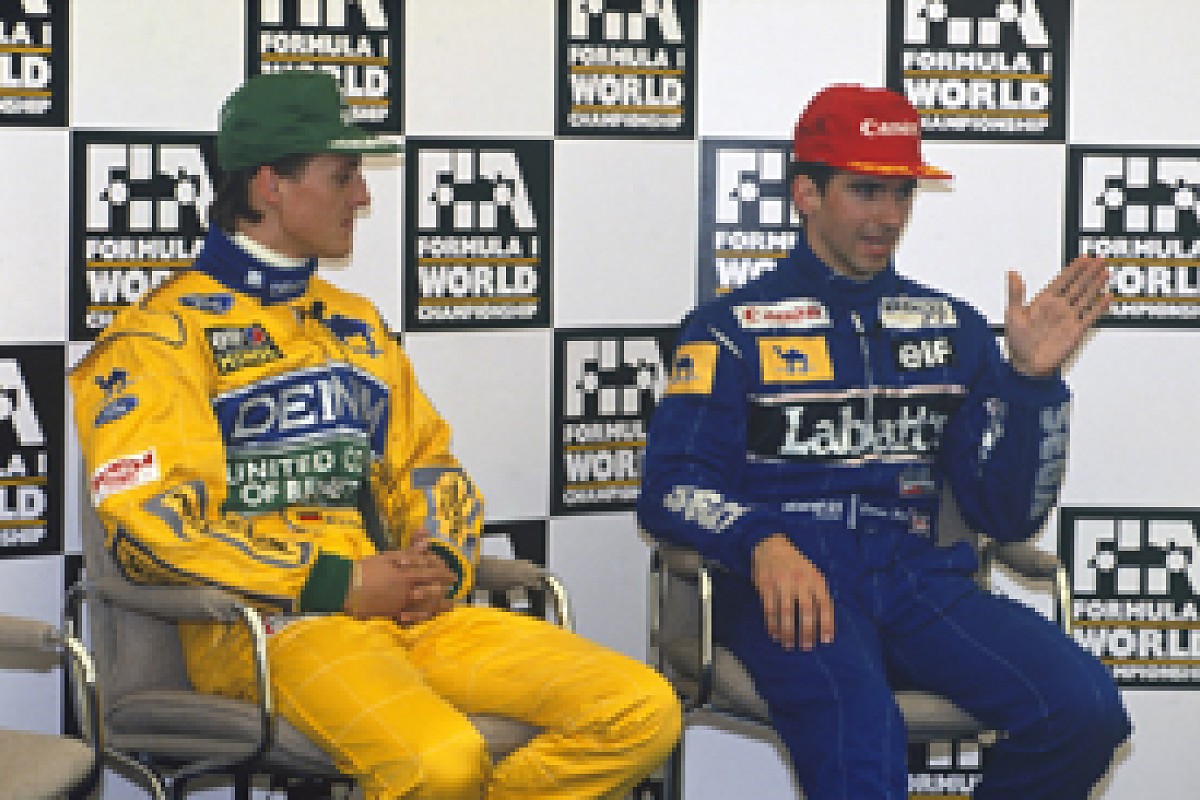 Future arch-rivals Schumacher and Hill © LAT
Hill really went for it at this point, but immediately after setting the fastest lap his car began to smoke. Renault V10s blow up rarely, but Damon's had, as in Barcelona, and Prost was now left with a clear run to the flag. Schumacher closed on him briefly, but he responded, and another 10 points were secure.
"I am sorry for Damon, and sorry for the crowd," Alain said. "He deserved to win today, but what can I do about it? That's the way racing is."
Qualifying
There is something oddly comforting about Silverstone at British Grand Prix time. This is the home race for a large percentage of the Grand Prix circus, and the miles of chain-link fence, the soporific hum of generators behind the pits and the throbbing of helicopters overhead, conspire to produce a vague, sense of warmth and security. It is as though the Grand Prix belongs on this old windy airfield, dominated as always by the vast sky, changing its mood from minute to minute as the weather patterns rush overhead.
Warmth and security are welcome sensations for, even in July, the weather in this part of the world can be cold and miserable.
Gone now is the warmth of the crowds for Nigel Mansell. Like it or not, he has deserted his fans and is racing in a land where everyone is nice to him.
This is a shame. Nigel may have sometimes been a theatrical pain-in-the-neck, but you could never deny his driving ability. Sobbing into their typewriters at the loss of 'Our Nige', the Fleet Street journalists have done their best to create a new hero from the clean-cut and intelligent Damon Hill.
"I'm having an operation after this race," muttered one hack. "I'm going to have myself removed from Damon's fundamental orifice."
After Williams-Renualt's blitzkrieg victory in France, the street of shame served up bucket-loads of crap about F1, culminating in the Daily Mirror publishing a photograph of an F1 car with arrows indicating the important bits. The engine was in the front...
The general tone was that F1 was in crisis and if the old theory of bums on seats still holds good, F1 is suffering. This year's buttock count was well down on the glory days, which is not really surprising when general admission is £57 and the price of a grandstand started at £107.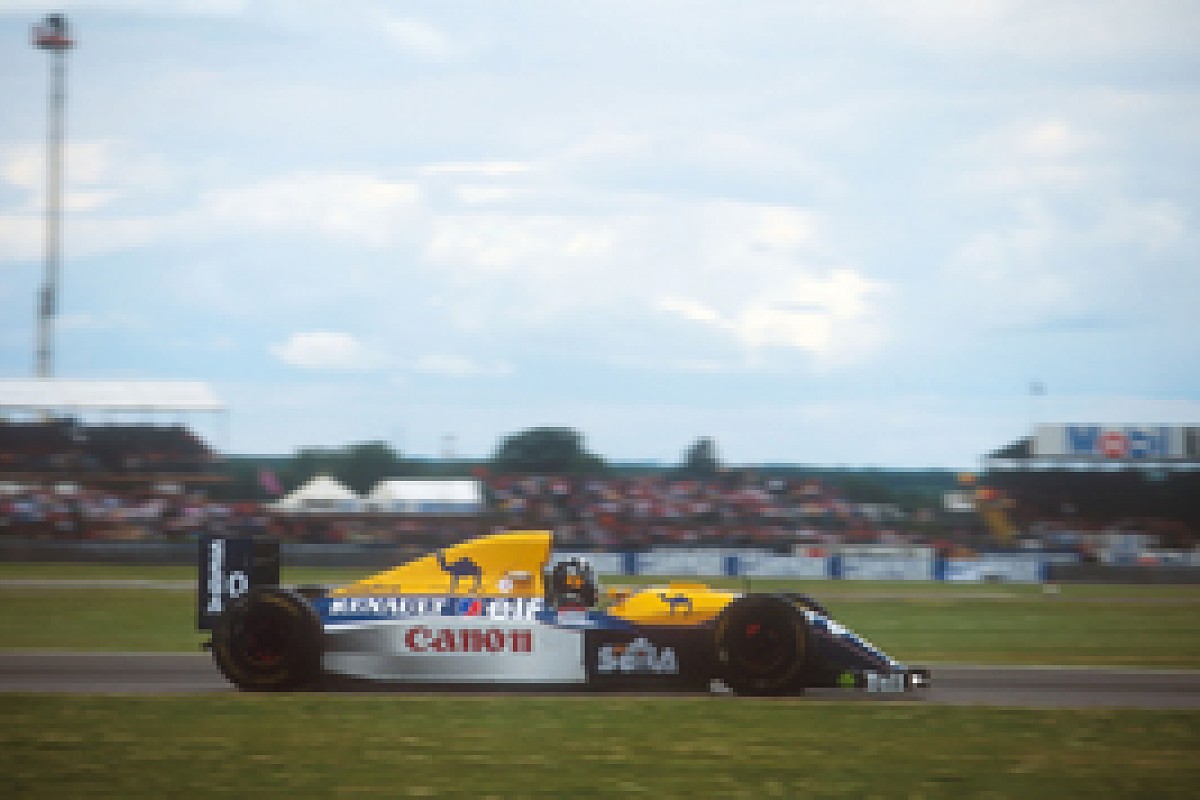 All eyes were on Hill © LAT
Yes, F1 is a world class show - we who are too close to the sport forget the impact an F1 car has when you first see it - but it seems that the atmosphere among F1's millionaire jetset is now rarified that they do not realise the value of money. Silly people.
On Friday morning it was so wet that people had puddles in their pockets. In the snug warmth of the media centre, this was blamed on Senna.
"He's gone too far this time," said the wag. "He should have only sacrificed the one chicken when he did his rain dance. He didn't have to slaughter the whole flock."
The only consolation in all this was that you knew if you were feeling miserable the visiting French would be unhappier. They don't like England, even when it is sunny...
"J'aime le breakfast et la biere, mais c'est tout!" countered one with Gallic distaste writ large on his face.
But if the French were grumbling, their compatriot Jean Alesi was out providing amusement and value for money for the poor souls in the grandstands. And a fine show it was. For a long while Jean was nine seconds faster than everyone else.
Otherwise it was insanely quiet. Most people did one reconnaissance lap, although the Benettons did not go out at all. The drivers averaged four laps each in the session.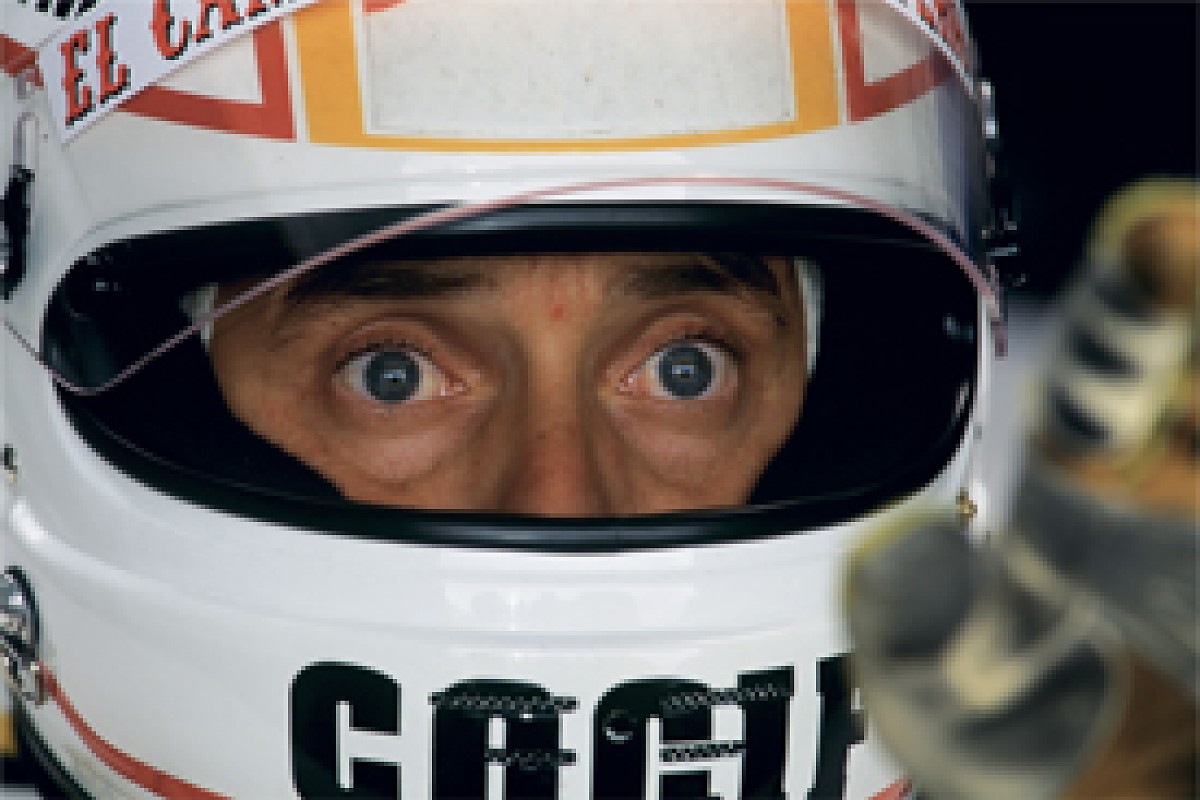 Martini had a heavy accident © LAT
There were dramas, not least when Dermot Damon ploughed into a sandtrap at Stowe. Later Minardi returnee Pierluigi Martini had a big shunt at Woodcote, bashing his M193 against the old railway sleepers.
But we knew that the session was not to be taken seriously as the Lolas were both in the ballgame. At the end Senna went out trying to beat Hill's best, set before his incident. It was as if Ayrton wanted a psychological advantage for the afternoon. Ayrton could not beat Hill's time.
Alesi was third, Badoer fourth, Michele Alboreto fifth and so on.
Senna's rain dance must be powerful indeed, for just as the afternoon session began, the rains came again. The was to be the undoing of Mark Blundell, who was out going for a time in his Ligier. "The car took off over a bump and went sideways," he said. "I was doing about 150mph when I hit the wall sideways. It was the biggest impact I've ever had. The wishbone punched through the side of monocoque and sliced one of the pedals in half. It was a close shave."
But Mark's nightmare wasn't over yet.
"I was standing up in the cockpit, trying to get out. I had stopped just over brow of the hill and when I looked up one McLaren went either side of me at 150mph. That was hairy."
The red flags were quickly out for the car was undoubtedly in a dangerous position and for 18 minutes we waited for a restart. When it came no one noticed because another 13 miserable minutes would pass before a car left the pitlane.
Finally, perhaps feeling guilty about the spectators, the British drivers began to come out, led by Herbert and Derek Warwick. They started the process of drying the track and suddenly cars exploded from garages up and down the pitlane. Minutes later there were 24 of them circulating. This was crazy because now everyone was getting in one another's way and as the track was drying with every lap it was a question of lapping non-stop, until your laps ran out.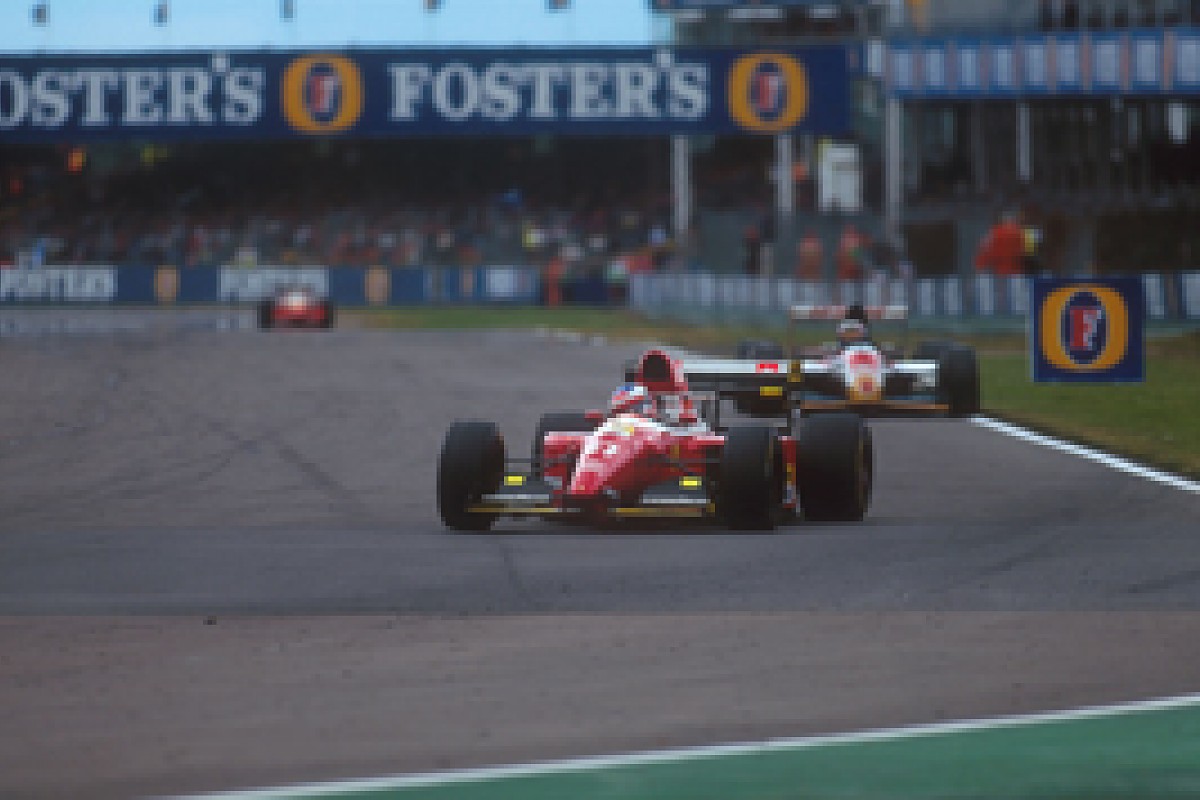 Alesi couldn't repeat his heroics in the dry © LAT
With eight minutes to go Prost broke into the 1m37s but was beaten by Senna. Next time round Alain broke the 1m36s then the 1m35s and, in the final moments he did two laps in the 1m43s.
By the end Alain was on top of the pile with Hill, Senna, Schumacher, Alesi, and Gerhard Berger following on. A remarkably normal line-up for a lottery...
Everybody knew that in all probability the Friday running would mean almost nothing if the weather was good on Saturday. The weather forecast in these circumstances isn't much use and most of the F1 folk rushed to their windows when they awoke on Saturday.
Those who got up early and rushed to the track on that chirpy morning, hoping to avoid the crowds, wasted their time. There was no real traffic, most of the spectators on Saturday being three-day eventers who had tipped up for the entire weekend.
The morning session saw Benetton toping the timesheets for much of the time, but towards the end of the 90 minutes the Williams-Renaults came to the top once more, Prost edging out Hill. Then came the two Benettons and Herbert's Lotus, the team having pinned down its problems and looking competitive once again. The Lotus gang would have been delighted but for Alessandro Zanardi, who was ninth fastest, shunting his 107B in a big way. It would not be taking part in the afternoon - and thus Herbert would also be handicapped in qualifying by having to share his car.
When the morning session ended it rained quickly and then the clouds swirled around looking evil. This, of course, meant that there would be no time for long lunches. The action was going to be fast and furious. Everyone needed to have a 'dry' time just to make sure they made the grid.
And thus the first 10 minutes were all go, with the unqualified Blundell and time-sensitive Herbert leading the first wave. Eight minutes into the session and heavy-hitters came out en masse: Hill, Prost, Senna, Schumacher, Patrese, and Martin, the second of the Brundell Brothers at Ligier. There was no messing about now and soon serious times were being hammered in by Prost. His best was a solid 1m19.942s. Schumacher was second quickest, until he spun into a sandtrap at Copse.
It would be a quiet home weekend for Jordan © LAT
"I had too much oversteer," he explained. "I could handle it this morning but the win direction changed this afternoon and the car just got away from me."
This was a blow for the Benetton boys for now Riccardo would have to hurry through his programme to give Michael another run.
But this was a detail, for now Hill was going for pole. He was in England, he was under pressure, he was motivated. The world waited. "If I was to say that Silverstone is the most important race of my life and I would be completely fulfilled in every way if I won the British GP, that should give you some idea of what it means to me," he said.
Damon battered in times in the 1m20s and was briefly under Prost's split times. But he didn't beat the Frenchman on that first set. It would be all or bust on the second.
The action now began to slow. Everyone - except Zanardi - had a lap in the bank and now it was time to sit and wait and see how the track developed.
This was not an option for Lotus and Herbert was soon out again, getting his laps out of the way to give Zanardi have a chance of qualifying. It was fingernail-biting stuff.
Mark of Brundell Brothers fame decided to risk it and do his laps early with the minimum traffic. Johnny set the fourth fastest time. Mark the seventh. A few moments later Patrese (who was now also in a hurry) bumped Herbert back from fourth.
The action didn't really begin to hot up until after the half-hour when Martin Brundell and Alesi set off for their moments of glory. Martin nabbed fifth on the grid, Jean was off the pace. The Ferrari looked dreadful in the dry.
Into the final quarter and suddenly the track was buzzing again as the midfield used up their valuable laps as Zanardi rushed out to qualify.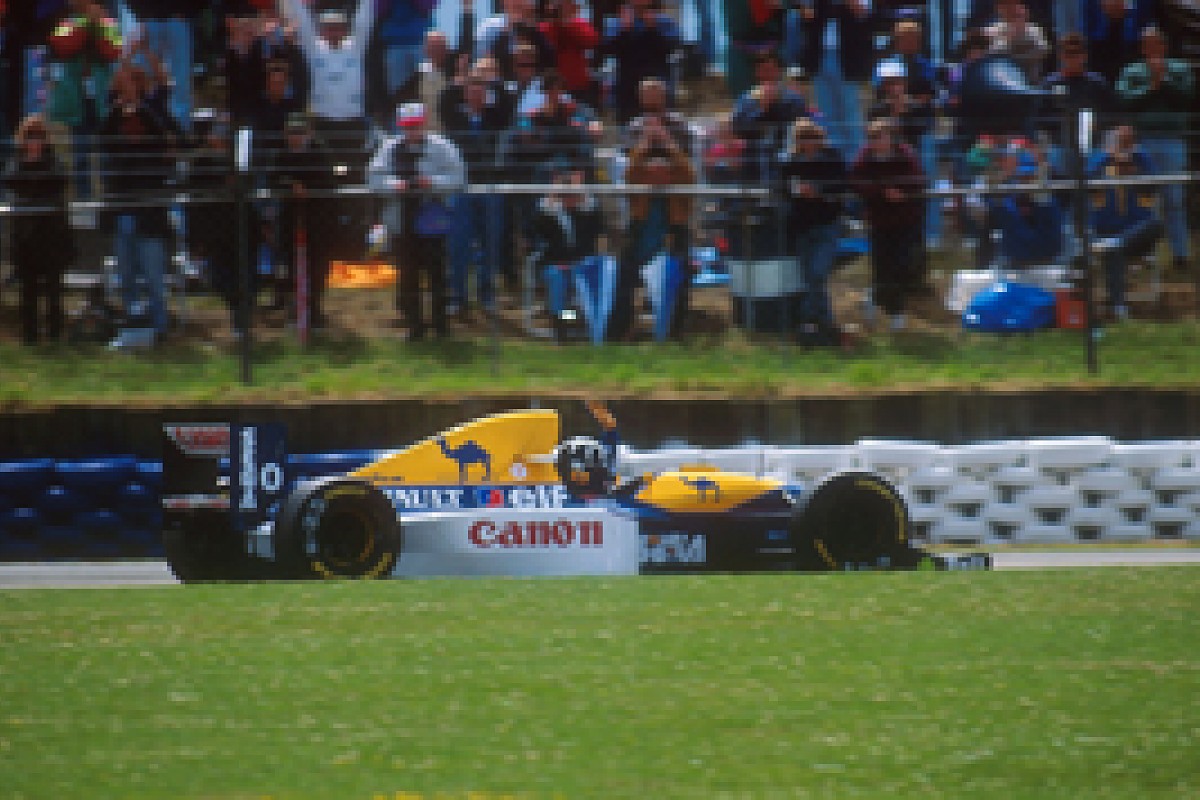 Hill gave it everything in qualifying © LAT
With all this out of the way, the stage was set and vacated for a showdown between Hill and Prost. This was the only real contest.
Damon opened fire with a lap of 1m19.637s, cutting under Prost's pole time. Alain was still warming up as Damon's second effort came in at 1m20.079s. Hill kept the hammer down but now Prost was on his first quick lap. It was a 1m19.534s. Pole went back to Alain. All eyes were now on Damon again as Alain did a slow lap. This time Damon did a 1m19.816s but next time around it was better. He tipped Alain from pole with a 1m19.134. It was Damon's last shot and as he toured around, Murray Walker of the BBC linked into him by radio. The BBC, excited by the technology, and by a British hero performing well, took its eye off the ball. Damon had pole, so they said.
Down in the Williams pit they were hopping up and down because they knew that Alain was on his final flyer, out at the back on the circuit like a kid with a pin a balloon factory.
When Alain swept across the line Damon's dreams were crushed like a cruise missile hitting a biplane. Prost had pole in 1m19.006s.
It was great stuff. A real showdown, and if the great British hero had been shot down, at least he had gone down fighting.
The main event was over. But we had an interesting sideshow as Schumacher set off in Patrese's B193. It was nice of Riccardo to lend him his car, Michael said later.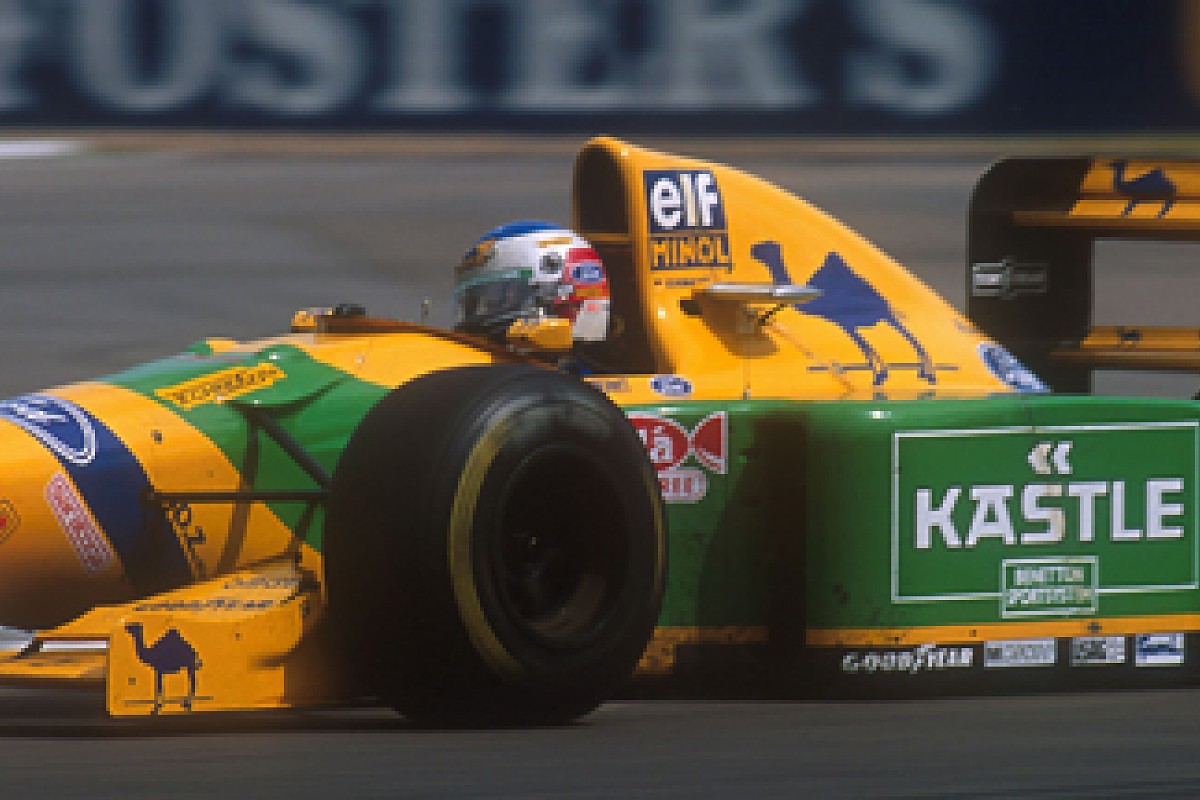 F1 is not a sentimental business and Mickey the Shoe was soon busy hammering nails in the coffin of Riccardo's F1 career. Using the same car as the Italian he was 1.8s faster. Perhaps the track was a bit quicker than it had been when Riccardo had done his laps, but 1.8s was a massive margin.
Schumacher's laps were perhaps the most impressive of the session, despite the great showdown, which had taken the pole time down to within a tenth of Mansell's 1992 pole.
It was Prost, Hill, Schumacher and Senna. Business as usual. "The new engine is better than the other one," said Ayrton, "but it was not as good as I was told it would be!
"The main difficulty is the aerodynamic stability of our car. We have too carry too much wing to get good stability and if we do that we are slow at full throttle. And at Silverstone you need full throttle."
Patrese was fifth with Brundle, Herbert, Warwick and Blundell all doing their bit to boost ticket sales by muscling into the top ten. Aguri Suzuki rounded off the top five rows of the grid, edging out Michael Andretti, the two Ferraris and Zanardi.
As the hacks scurried away to praise or damn Damon, Alain and Frank Williams, depending on their tastes at that moment, everyone else wondered what the hell they were going to do on Sunday - except follow Williams at a distance once again.
Silverstone 1993 practice and qualifying results on FORIX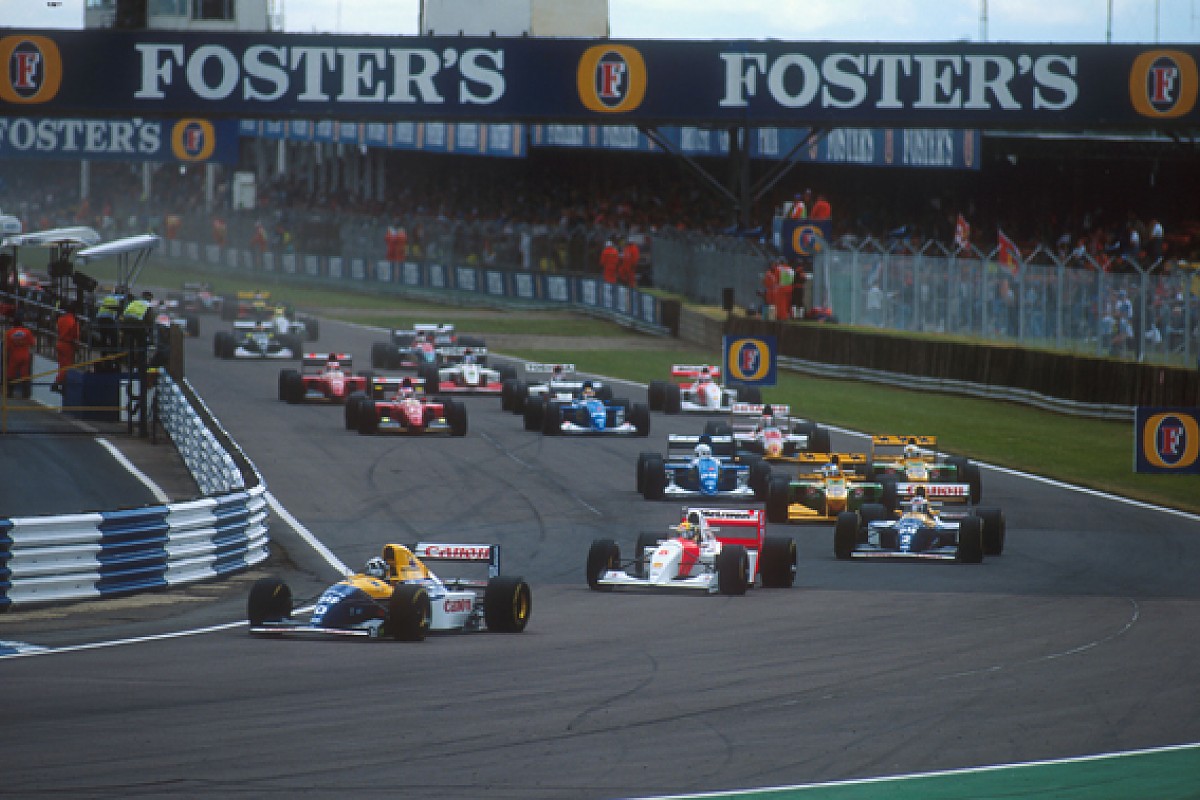 Race
Sunday dawned beautifully, giving rise to worries that it was 'too bright, too early', and the forecasters maintained we were in for rain at some point during the day. Showers, probably, but nothing more, but enough possibly to disrupt the British Grand Prix.
The warm-up, though, was run in the dry, and - surprise! - Prost and Hill topped the times, more than a second and a half clear of Schumacher, with Comas's Larrousse fourth (emphatically not on full tanks), Warwick a most encouraging fifth, and Patrese sixth. Senna concentrated on trying to improve the balance of his McLaren, rather than worry about times, and was only 17th on the list.
It did not bode well for his afternoon, but show Ayrton a green light, and the horns unfailingly grow. Fifth on the grid, he as second into the first corner, elbowing Prost aside in the process.
As usual, Alain said, he had not made a good start. "I missed it again - too much wheelspin. Then Ayrton pushed me a bit towards the grass, which didn't help. The first part of my race was... quite difficult behind him."
Hill had no such problems. Probably unable to believe his luck, he pounded away in the lead, while Prost worked out a way by Senna. At the end of the opening lap Hill's lap lead was 1.4s, and this grew with every time by. Behind Senna and Prost were Schumacher, Brundle, Paterese, Herbert, Alesi, Blundell and Berger. Out already were Comas, whose Larrousse had failed to leave the grid, and Andretti, whose McLaren had failed to make the first corner.
"I got a good start this time," Michael said, "and was overtaking cars down the left of the track, when two of them - a Ferrari and Ligier, I think - drifted wide, and I got on the marbles..."
Hill was serene in the lead, but behind him the battle for second place was, to say the least, lurid. With its light fuel load - too light on this occasion, as it turned out - Senna's Ford powered McLaren is always like a bullet in the early laps of a race, and although Ayrton must have known he could not hold off the Williams-Renault for very long, he was quite clearly hell-bent on delaying it as long as possible. Whichever piece of track Prost went for was immediately full of red and white. Once at Copse he seemed to have won the corner, but the McLaren swept across his bows, and once at Abbey Alain had a huge moment after backing off in a hurry.
"It was very difficult - and sometimes very dangerous," he commented, "but I don't want to say any more than that. There's no point.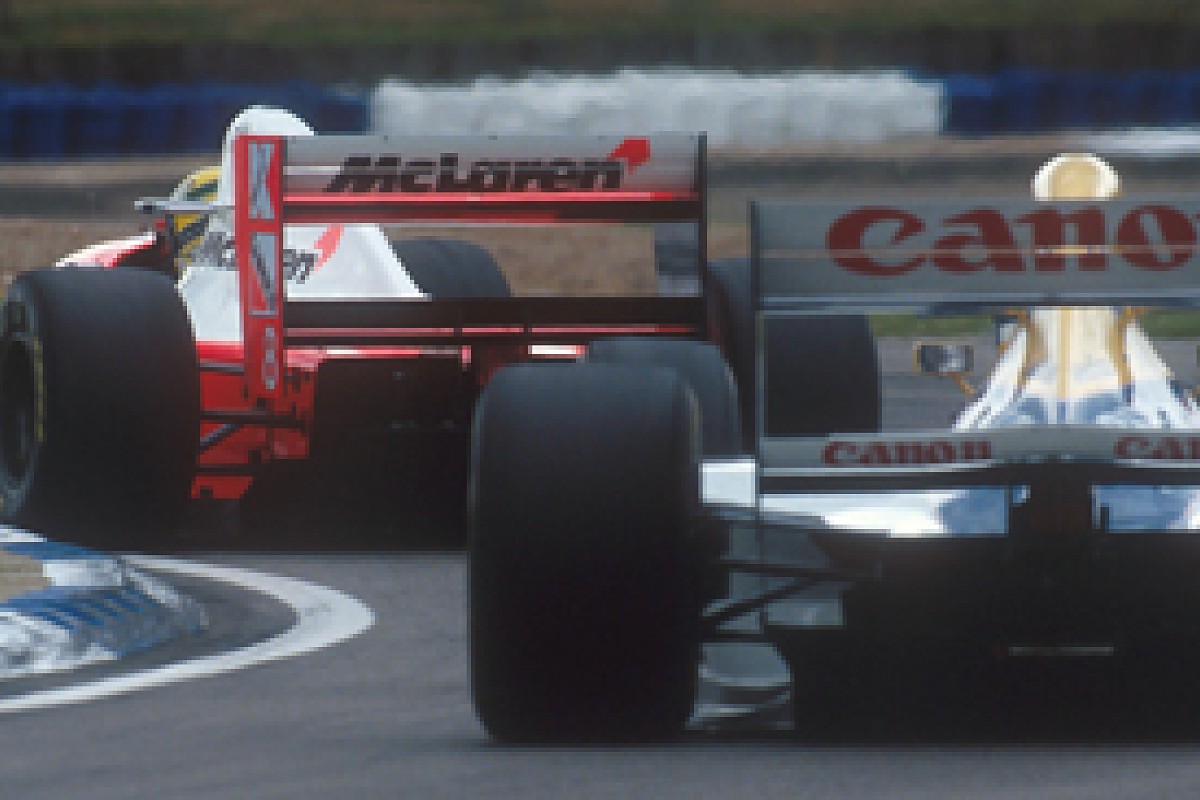 "I lost a lot of time behind Ayrton, of course. In some places he was quicker than me, and in some it was the other way round, but I just wanted to be careful in getting by him. I had a lot of understeer when I was behind him, but the car was much better after I got past."
This Prost finally achieved on lap seven, at the entry to Stowe, and now Schumacher moved on to Senna's tail. "I'd watched the fight he had with Alain," Michael said, "and sometimes it was very close. I began to think maybe there would be no need to fight for second place... Then Alain got by, and I think after that Ayrton seemed to lose a bit of motivation. I was running a low downforce set-up, to be quick in a straight line." On lap 11 the Benetton displaced the McLaren, also into Stowe.
At this point Hill led Prost by eight seconds, with Schumacher 7.7 adrift in third, then Senna, with Brundle closing a little on him, Patrese and Herbert. After that, Warwick and Blundell were squabbling over eighth place, and Alesi and Barrichello disputed 10th.
The Ferraris were hopeless at Silverstone, a great disappointment after something of a recent resurgence. Berger, who had started in the T-car, had been into the pits after nine laps, thoroughly unhappy with his car's active system. "The car wouldn't go round left-handers," he said, "and eventually I gave up - it was simply too dangerous to carry on."
When Gerhard Berger says a car is too dangerous to drive, he is to be believed. "It's depressing," he admitted. "I can't ever remember working harder on a car than I have recently, and there is so little to show for it. Nine races, five points..."
Alesi drove as hard as ever, and for once his car would make it to the finish. Ninth. "The engine was poor, and the car wouldn't change direction," he shrugged.
A succession of new fastest laps brought Prost a little closer to Hill as the tyre stops approached, but Damon's times were not far away, and the gap repeatedly opened and closed as leaders hit traffic.
Brundle was the first of the front-runners to come in, on lap 24, and next time round Senna stopped. It was a typically excellent McLaren tyre change, and Ayrton was stationary for only 5.1s. He had, however, been somewhat held up on the entry to the pits, ironically behind his pal Boutsen, who was coming in to retire with a rear wheel bearing failure.
At around the same time Wendlinger crashed at Stowe. "The rear of the car seemed loose as I braked into the corner," he said. "As fourth gear engaged, I lost control and hit the barriers. Quite a big shunt." Lehto's Sauber would finish, however, albeit out of the points.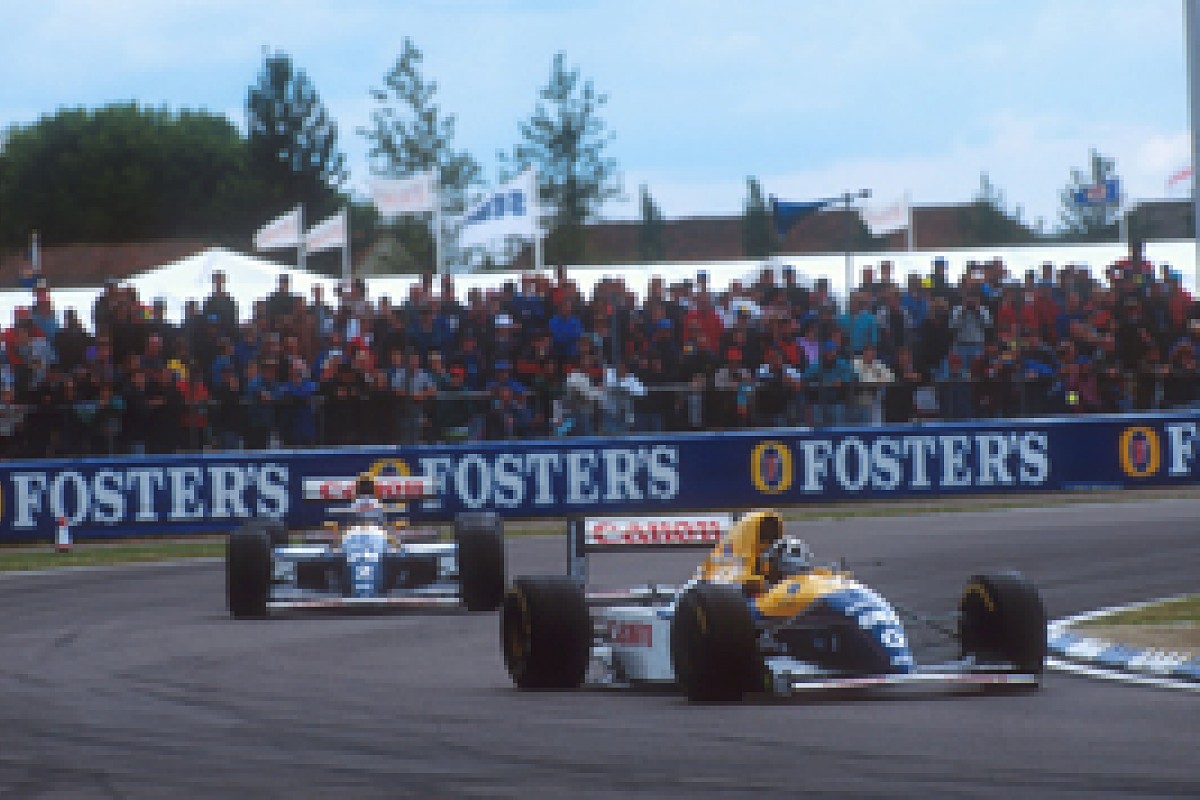 The Williams lead battle closes up © LAT
On lap 26 Hell set the fastest lap, but it stood for only the length of time it took Prost to cross the line. The two of them were going hard.
Alain was the first to stop this time, at the end of lap 29. At a fraction over eight seconds, the tyre change was less than wonderful, and Hill's, a lap later, was only half a second quicker.
Alain, however, did his usual thing. On lap 31, as Damon brought his tyres up to temperature, his team-mate put in a new fastest lap. Now the gap was down to a little over three seconds. On lap 34 Prost set another new mark, half a second quicker than before.
"At this point," Alain said, "I wasn't sure how to handle the race. My tyre wear was good all the way, and I could have run through without a stop. But I decided to stop, anyway, because I thought it might be crucial in the last part of the race. I got behind Damon, but of course then I lost downforce, so I think that actually overtaking him would have been very difficult. And, to be honest, I'd still have been happy, with second place, behind him."
By lap 38, in the traffic, the Williams-Renaults were nose to tail, and at this point Prost looked more threatening to Hill than at any other point of the race. Then they brought out the pace... sorry, safety car.
"When that happened, I asked why it was out," said Schumacher, "because I couldn't see any reason for it." There were other of similar mind.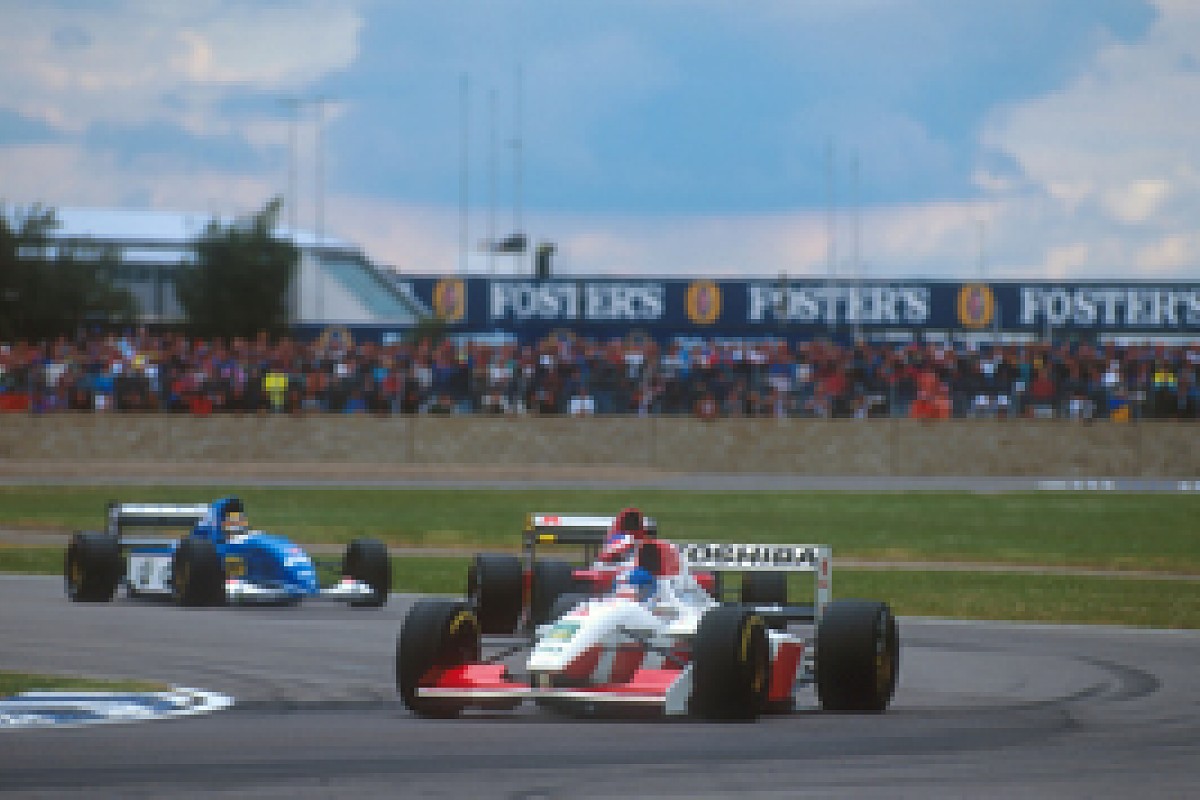 Warwick would grab a point © LAT
"At the drivers' briefing," Michael went on, "we'd talked about the safety car, and said we though it should be brought out if we had really heavy rain, like on Friday morning. Mr. Bruynseraede eventually accepted this, but it wasn't easy to convince him. I suppose you can argue it's always going to be safer if you don't risk anything, but... they don't usually do this, do they?"
They don't. And, believe it or not, there were unworthy souls who suggested it was a ploy to spice up the show. Was this a possibility? Messrs Prost and Schumacher declined to comment. "I don't know," chuckled Patrese, "but from my point of view it was great. Before I was in a boring race. Afterwards it was wild!"
The object of this exercise was to retrieve Badoer's Lola-Ferrari, which had parked at Woodcote - in what seemed a safe enough spot - after its engine had cut out.
They ran two slow laps behind the safety car, and at the beginning of lap 40 the racing began once more, with the Williams pair less than a second apart, and Schumacher now considerably closer then before. Then came Senna, and the beginning of a pitched battle between Brundle, Paterese, and Herbert, with Blundell and Warwick just out of the points.
Hill really went for it now, trying to make a break. On lap 40 he pulled out half a second on Prost, and on lap 41 put in what would stand as the fastest lap of the race, extending his lead to 1.35s. A sideways moment at Becketts on the next lap told you how hard he was trying.
Damon held it without problem, though, and pressed on. But at Club, suddenly, he heard an unwelcome sound from the engine, and knew he had a problem. Soon there was smoke pluming from the car, and Prost was by into the lead.
Hill pulled off, the back of the car temporarily ablaze. Then he climbed out, took off his helmet, and sadly walked away. There were no histronics. His old man could not have handled the situation with more dignity. On the way back to the pits, dropped into the BRDC Clubhouse for a beer.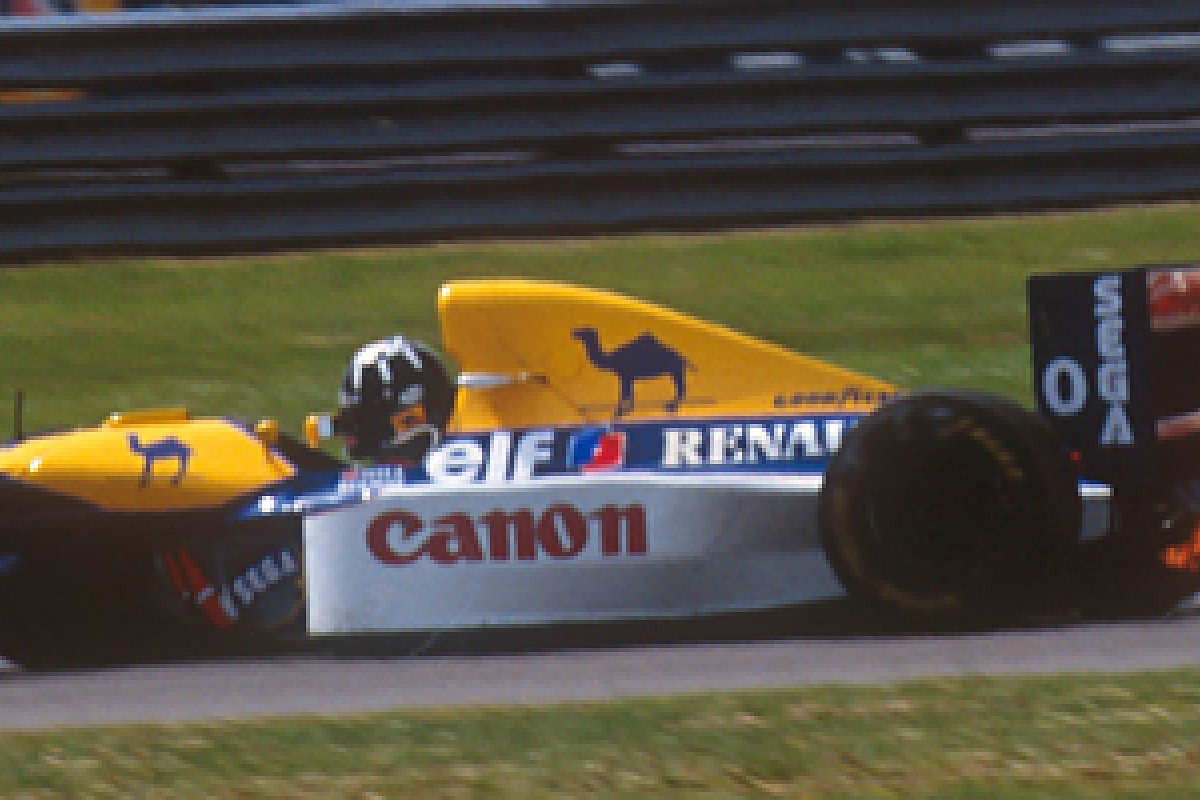 "There was no warning at all," he said later. "In fact, when I think of all the countless miles of testing I've done around here, with no problems at all, I can hardly believe what happened today. It's only the second time I've had an engine fail, and both times - here and Barcelona - it cost me a race. Everything was going absolutely to plan..."
Prost, not surprisingly, backed off now - and almost at once Schumacher began to charge. Down the gap began to come, but still there was the impression that Prost had everything handled.
Alain said it was not quite as simple as that, however, "Michael was pushing very hard, and it was actually quite difficult to pick up the pace again - probably because my tyre pressure went down when I slowed down. It's always a risk to do that, of course."
On lap 51 the gap was down to 4.5s, but Schumacher was never so close again. Next time round Prost set his own fastest lap of the race, and the matter was settled. "I hoped," Michael smiled, "that Alain might have a problem, but he had everything under control."
Behind them, there was plenty of racing going on, primarily between Brundle, Patrese and Herbert. "It was pretty wild stuff," Riccardo said. "We were in among lapped cars, and Martin and Johnny semmed to have pretty wide cars..." They said the same about him.
Sadly, what would have been another good points finish for Brundle was lost on lap 45, when he pulled off, gearless. Thus, Warwick moved into a well-deserved sixth place, with Blundell not far behind him.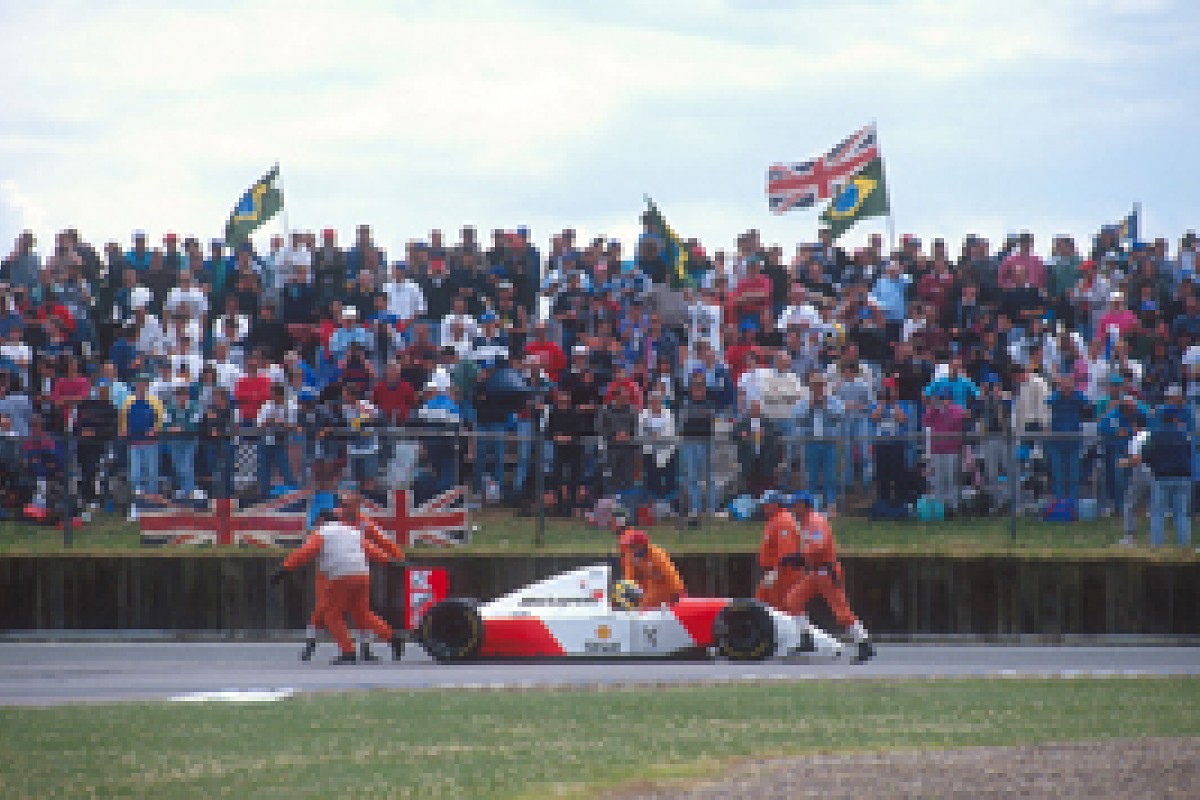 Senna's McLaren runs dry © LAT
Through all of this, Senna's afternoon - once his bouts with Prost and Schumacher were over - had been a quiet one. Unable to keep Michael's Benetton in sight, he had nevertheless remained clear of the rest. But he was not a happy camper, his car slow in a straight line, thanks to running a lot of wing, in an attempt to improve the McLaren's stability.
On the last lap, he became unhappier still, for the car crawled to a halt, dry. "The computer," he said, "told us we had fuel," but clearly it was telling less than the truth. Considering that his team at last had the 7-series Ford HB - parity with Benetton - the discrepancy between the performances of the two cars at Silverstone will have got Ayrton's attention. It had, Ron Dennis flatly stated, been a weekend of mistakes.
"I must say it was a pleasant surprise when Senna stopped on the last lap," said Patrese, elevated to the podium for the first time this season.
Prost took the flag to near silence from the grandstands, and was clearly sad about it. "This was my 50th victory, and of course I would like to have won in a different ambience. But I understand the people are very disappointed, because of Damon, and I'm very sorry for them. And for him, too. The whole weekend he drove well, and I think he really deserved to win. But..."
Silverstone 1993 full results on FORIX