In November 2009 a little bit of history was made when Sir Frank Williams and Patrick Head sold a chunk of their company to Austrian entrepreneur Toto Wolff.
It was a key moment because the pair had refused all previous opportunities to take partners on board, but the timing was right. With his background as a GT racer and in the DTM as a shareholder of HWA the gregarious Wolff seemed to be the right man to bring not only investment but also ideas that could give the team a boost.
Flash forward a couple of years and Wolff could be forgiven for wondering what he'd got himself into after watching the team's form take a gradual downward spiral. Things reached an all-time low in Abu Dhabi last year when Rubens Barrichello and Pastor Maldonado started from the back row. Penalties helped to put them there, but it was somehow symbolic of how far the once mighty team had fallen. It was a stressful time.
"I have a 10-year-old son who's not at all interested in motorsport," says Wolff. "I had to explain to him what I was doing in F1, that it was not a pure investment, and I was there for the long run, and I love the sport.
"One weekend I was watching a race on TV with him and he heard me in a very loud argument with Adam Parr on the phone afterwards. He said to me, 'You told me that you like the sport. I don't think you like it if you in such a bad mood!'"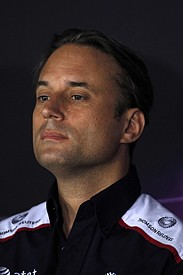 Adam Parr was a key man at Williams when Wolff first arrived © LAT
Much has changed since Torger Christian Wolff - 'Toto' is a contraction of the unusual Norwegian first name he was given by his Romanian/Polish parents - first hooked up with Williams. Erstwhile CEO Parr and former technical director Sam Michael have left, and both founders Head and Williams have taken a step back.
Meanwhile Mike Coughlan, Mark Gillan and Jason Somerville joined to help spearhead a revival of the team's fortunes on track, in conjunction with a renewal of the iconic partnership with Renault. And then of course there was the IPO, which turned Williams into a publicly listed company.
In one of the most spectacular turnarounds the sport has seen in recent years, Williams went from struggling to hold off Caterham to winning the fifth race of 2012 in Barcelona after an assured performance from Maldonado.
Working away in the background, Wolff has played his part in that process.
"When I came on board it was a lot on Adam's initiative," he explains. "Patrick was on the board, Frank was having an active role, and Adam was chairman and CEO of the company at that time, and taking lots of decisions.
"I had quite some experience in, let's say, the commercial environment of motorsport, because of HWA. But I didn't understand anything about F1. Even today in a meeting I sometimes think, 'Am I dumb, or do I just not understand the concept behind this?'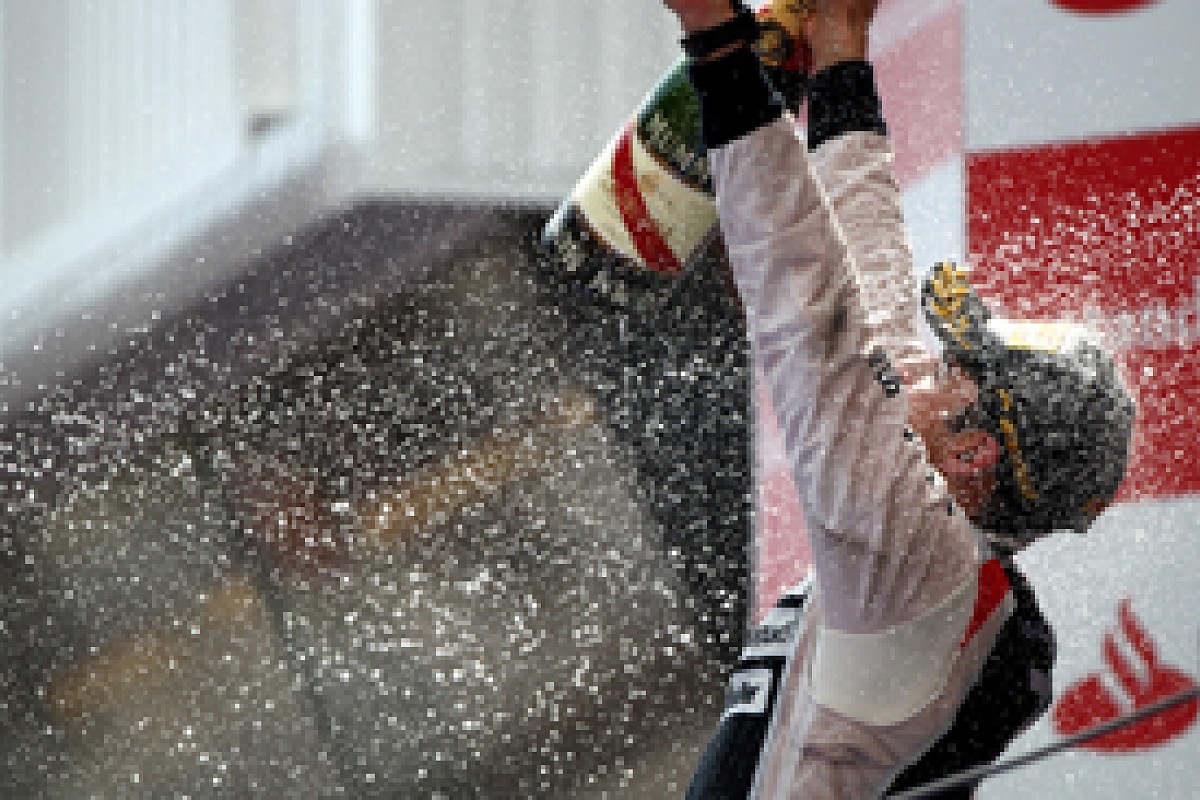 Maldonado became Williams's first winner in over seven years © LAT
"But I listened, and after a year I took a more pro-active role because I thought that in some cases the decisions were a bit too commercial.
"And you know, it's a vicious circle in F1. The company was very well led commercially and delivered profits and all that, but on track it didn't function. Once you come into that downwards spiral it's very difficult to get out of it, because you need sponsors to be successful, to develop.
"We realised that the technical department was the thing to start with, and we exchanged all the major leading roles in there, commencing with Sam's departure and bringing Mike in, and then Jason from Renault in aerodynamics, and Mark, who had a lot of background in F1. Below these leading guys there were a lot of people coming in from various teams and various environments. And this is where I had a more pro-active role already."
His increased involvement wasn't entirely planned, but came about more in response to events as they unfolded.
"We re-shaped the board in having Patrick leaving after the IPO. Frank stepped down, and Claire [Williams] came on the board. It was important for Frank to show that his daughter can play an important role in the future, and having continuity for the family in the company is very important for me as well. This is still the Williams team, the Williams brand, and it's the Williams family behind it. That's how it should stay in the decades to come.
"And obviously Adam left. It wasn't expected in let's say, the brusque manner that it happened. It was shaking for quite a while, but the way it happened, even for us on the board it was very sudden.
"And this is the moment where I was kind of pushed into a more active role. I stepped into some things Adam did, and this was basically helping Frank in sporting decisions, having a close relationship to the FIA and the commercial rights holder, supporting Claire with our key sponsors, key partners. So it's more than a non-executive director would normally do, but it's not a fully executive role."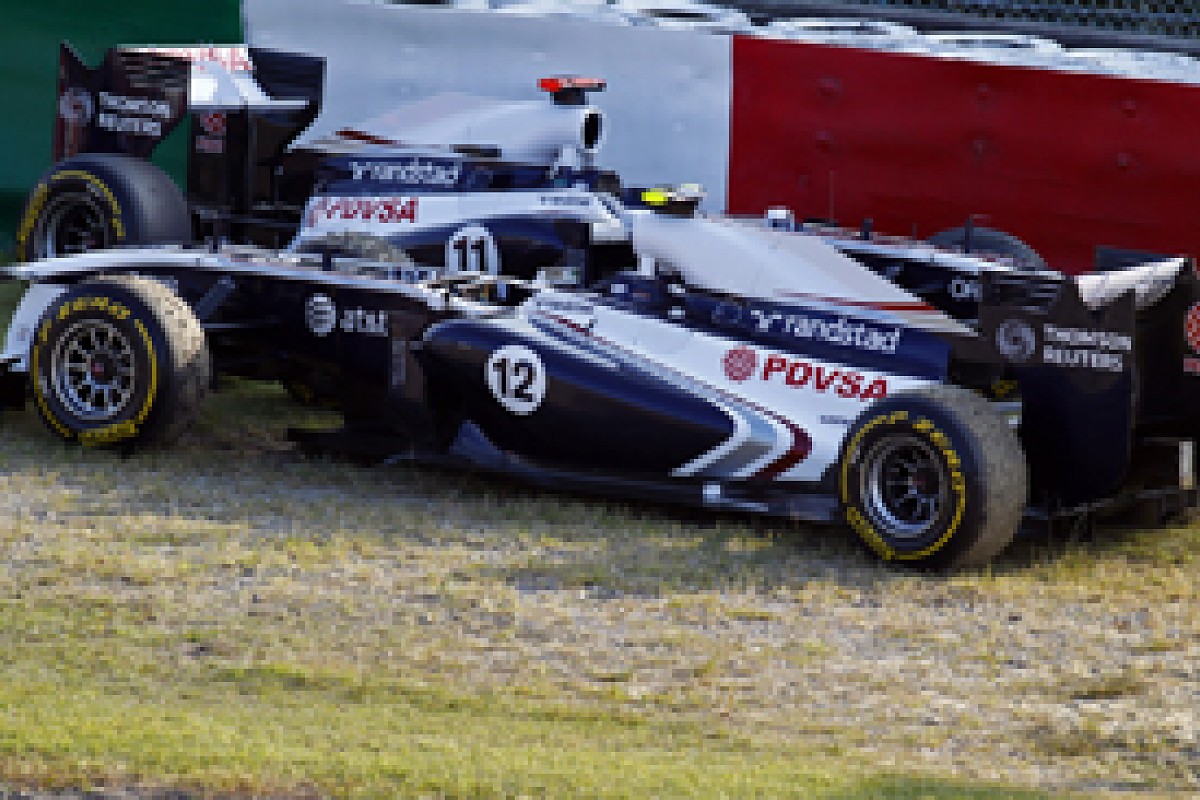 2011 was a painful year for Williams © LAT
Last year it was clear to all that the foundations were being put in place for a brighter future, but it didn't make the torrid 2011 season any easier to bear.
"It was very hard, because on the one side the company was doing OK commercially, but on the other side you had these awful weekends," adds Wolff.
"From a commercial sense and a business view the company is doing very well. It makes a lot of sense to be there from the pure perspective of an investor.
"From the sporting point of view we are now on the way up. It was dreadful watching those races last year, but I knew that it was not going to be a thing of turning the team round from one year to the other. I always said from the beginning I have a five-year vision, and this was listening in the first year, understanding in the second year, and interfering on the third year. And this is where we are now, kind of."
From the outside it looks pretty straightforward - bring in three new technical leaders, switch from Cosworth to Renault power, and hey presto. It wasn't quite as easy as that.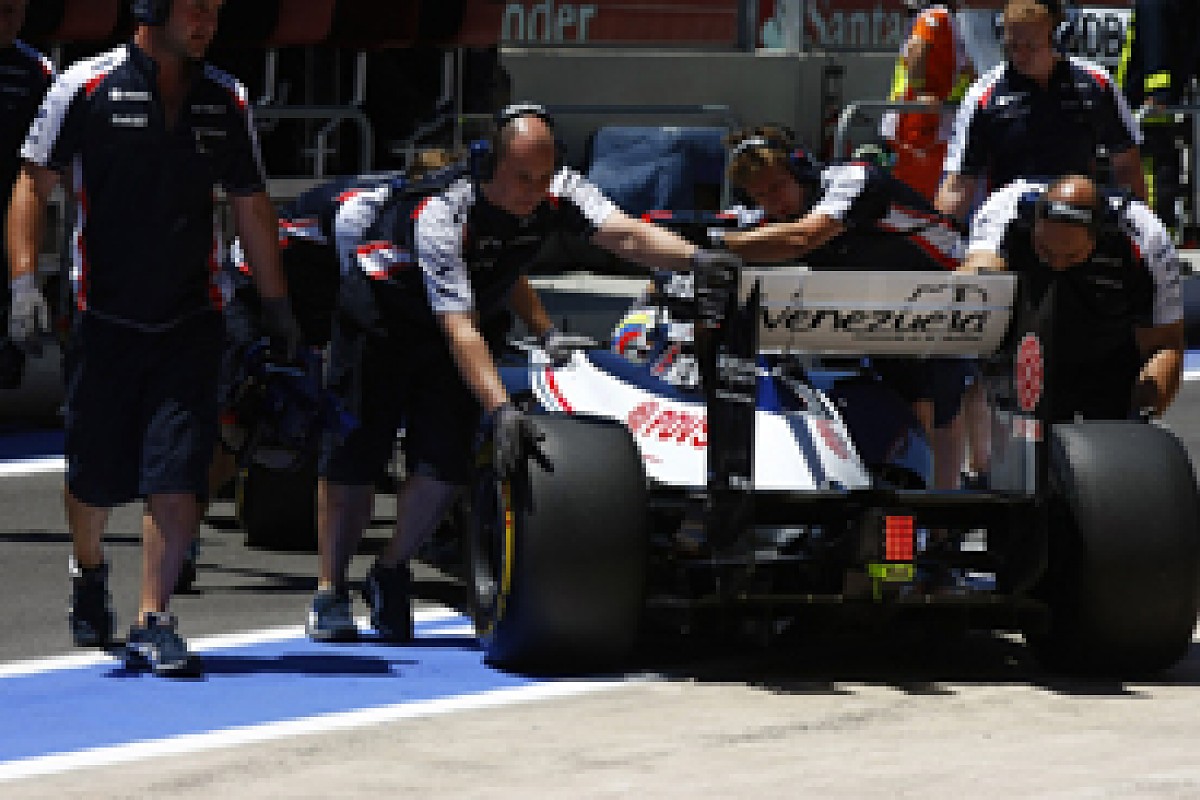 Williams is now running more smoothly © LAT
"It was a lot harder! Selecting the top three guys was one thing, giving them the roles and the leadership they need to actually execute the work was something else. And then all those long-term decisions about drivers. You mentioned the engine - absolutely, that was very difficult last year.
"It's such an amount of work which is almost unbelievable, if you just look at the races on the weekends. And it doesn't go quickly. You have to put the right ingredients in place. You put the drivers there, you get the technical leadership, and then you get sponsors on board, all of that kind of needs to be together.
"Looking in the past you see that it's a cyclical business, teams going up, and teams going down. Some teams are going more down, like we did, and some teams are going more up. The more down was part of the generation change also in the management, which didn't go as smoothly as maybe it should have gone.
"But we're hiring the right people, we're hiring the right drivers, we've got the right partners in terms of the engine, and we're on the way up. And I hope one day people are not going to remember how it was when we were so bad..."
Wolff knew that the cycle was going to turn in the team's favour, but even he didn't think that a grand prix victory was on the cards for 2012.
"I almost can't believe it today, it's almost surreal," he says. "But it's what the sport is all about, especially in this year with lots of teams being able to fight for wins. It's fantastic, and I enjoy it a lot. All my life, in what I do with my investment business, you have to be rather on the pessimistic side, because if you are optimistic you are a fool. So I kind of enjoy being surprised in a positive way!"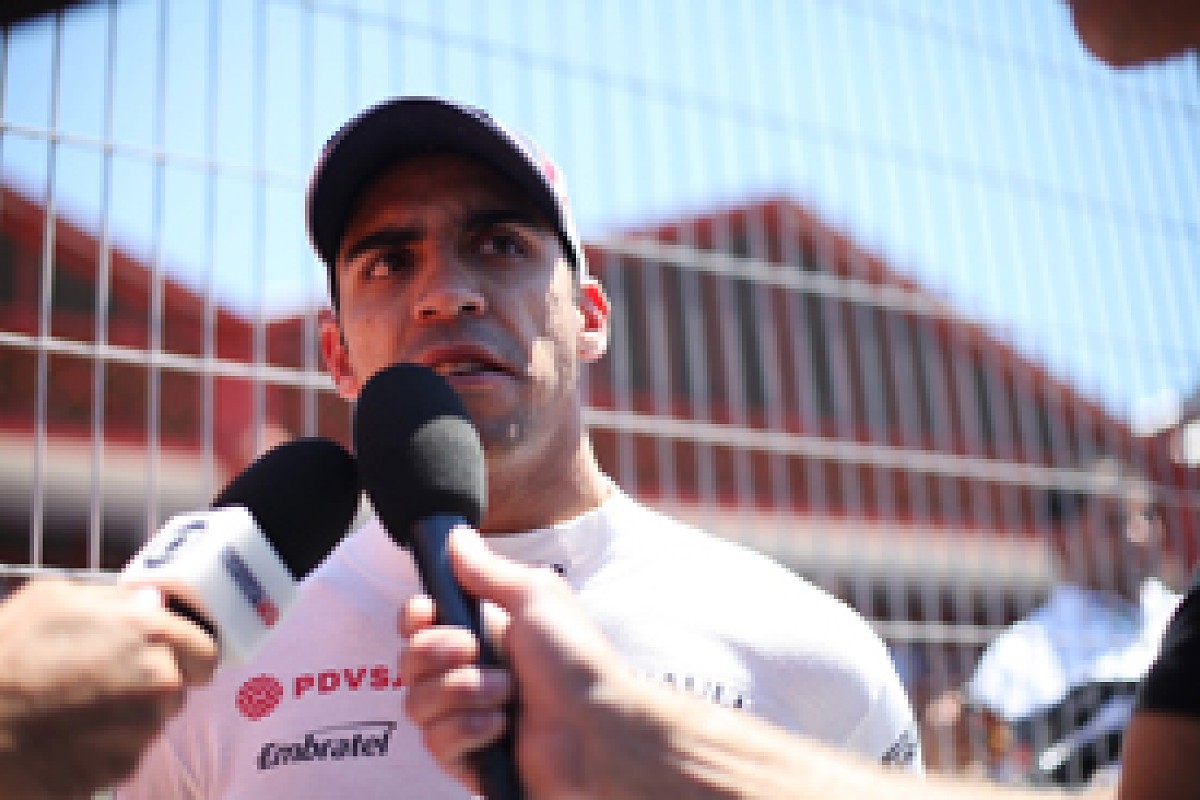 Maldonado has proved to be a good choice © LAT
Maldonado appears to be the perfect driver for Williams. Not only does he bring a huge sponsorship package from Venezuela, he's turned out to be better than anyone really suspected, even to those who had followed his long path to the top via Renault 3.5 and GP2.
"As you say, having both sides is very nice. First of all from a human point of view he's a nice guy, his environment is nice, his family is nice. And this helps the team and helps the spirit in the team. He works very closely with the engineers, he comes to the factory before the races, after the races. This is obviously different to what we've seen in the past.
"I think he's very, very talented, he has lots of raw speed. He delivers, like we've seen in Barcelona. Sometimes he has that South American hard ambition that comes through, and which has made him what he is, but that emotion also sometimes drives you off the track, in a metaphoric way. And he knows that.
"I enjoy a lot having him in the team. We have a long-term relationship with him and I'm very much looking forward to having a couple of good years and maybe even going for a world championship with him one day."
Wolff concedes that Maldonado has exceeded the team's expectations: "Drivers develop differently from how you expect. When Pastor came in we were criticised for taking a crashing driver, and somebody who ran over a marshal in Monaco. That was part of his learning process. We probably wouldn't have won in Barcelona if he hadn't crashed on the last lap in Melbourne, because it's all part of that process.
"I've seen young drivers who I tried to help who were the greatest talents, but who didn't develop any more. Guys like Eric Salignon or Alex Premat. Hugely talented, but at a certain stage, maybe no development anymore. With Pastor it is constantly going further up. He probably drove his front wing off at Turn One 10 times in GP2, so he doesn't do it as often as he would if he had been pushed into F1 quickly."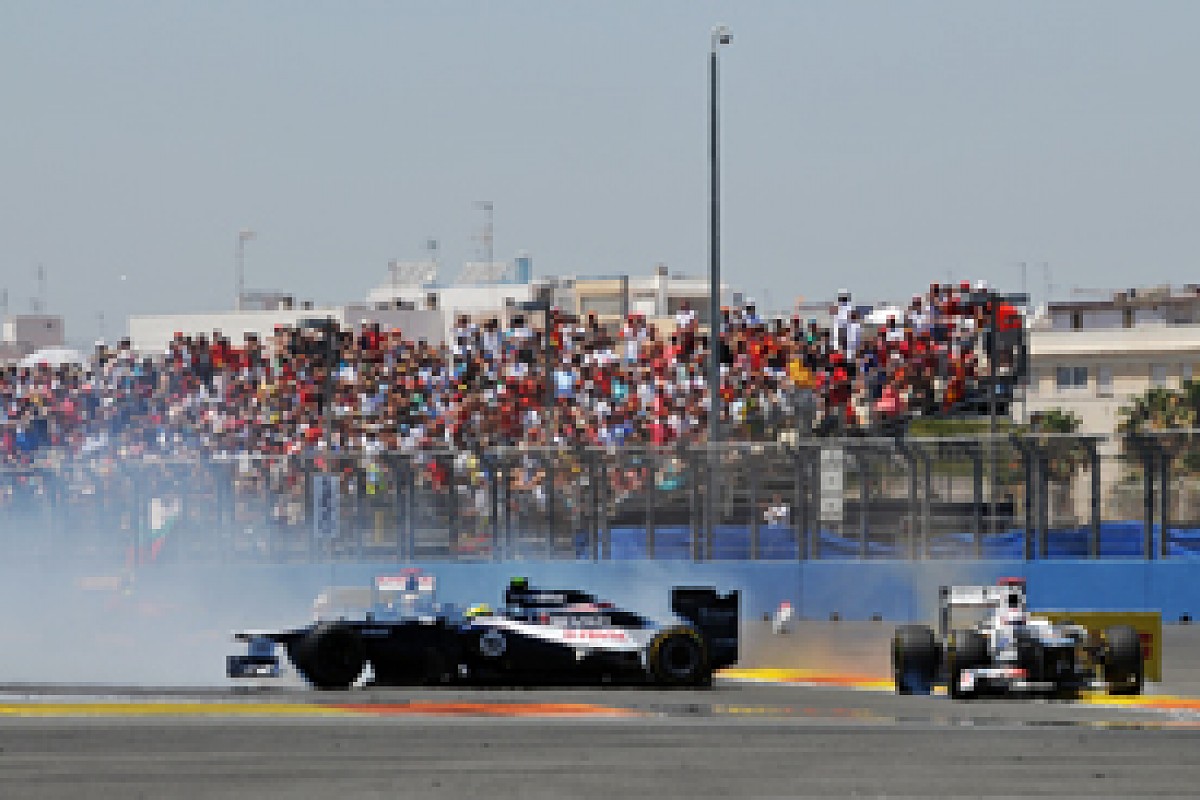 Senna has had a tough year so far © XPB
Bruno Senna was a late addition to the Williams line-up, and he's in the strange position of handing his car to test driver Valtteri Bottas - managed by Wolff - at every race, with the exception of Monaco and Montreal.
That loss of track time hasn't helped him in his private contest with Maldonado, but he has quietly picked up some good results.
"Bruno is a very intelligent boy, and a very nice boy," says Wolff. "Sometimes in racing one of the most important character traits that you have to have is to cope with defeat and push it away and believe in yourself, and believe that you're the best out there. I think his intelligence is making him think a lot, why didn't it work out, why was I unlucky?
"If he gets his game together, he's going to be very successful. It's not intelligence actually, it's sensitivity, and that's going to help him to be a good one. I think he has a strong team-mate, and he can look at the overlays and he can see what Pastor did with the car. We are pushing Bruno a lot and we are helping Bruno a lot, and we believe in him."
After all the turbulence over the past year, things have now settled down at Grove, and the future looks promising.
"It was quite a change, and there was quite some wrestling around!" says Wolff. "I think the sport is as stable as it can be in the current economic environment. The team is stable, and is on its way up. So I guess we have to still take the right decisions. It's the everyday decisions that are going to shape our future, so we have to spot-on with everything we do.
"I'm very satisfied with the board we have today, and I believe that in our way we are probably doing quite well, and we should not be expecting that we are going to be on the podium in every race. And I guess if you told me that this year's results are going to be next year's, I would have taken them as well."
Meanwhile the 40-year-old appears to enjoying every moment of the challenge, however tough it might be: "I was a racer. I am a failed racer basically, and maybe that is something that is still in the back of your mind. Probably going to a shrink would be cheaper and less work than investing in an F1 team..."