Thrills of the chase
In terms of raw statistics, Sunday's British Grand Prix will stand as a carbon copy of the 1986 race. The tracks were different, granted, but the essential cast was unchanged: Nigel Mansell, Nelson Piquet, Williams chassis, Honda horsepower. They made the afternoon a private affair, onlookers welcome. As at Brands, the third man was lapped. As at Brands, Piquet stole the pole. As at Brands, it didn't look as though Mansell would win. As at Brands, he did. But this time he left it late. For 62 and a half of the 65 laps, it was Piquet who stomped by in the lead. The rest - the important part - belonged to Mansell.
Emotionally he thanked the crowd afterwards for their support, their part in his victory. It was their victory, too, he said. Not a dry eye in the house.
QUALIFYING
"Nelson? Well, you never know with Nelson," Alain Prost said recently. "You can have two or three races, and he doesn't figure. Then suddenly he wakes up, and he's right there, on the pace with anyone."
At Brands Hatch 12 months ago we saw the Brazilian from just such a slumber. Not to put too fine a point on it, he had been soundly humiliated in a succession of races by Nigel Mansell, and it began to severely bother him. What he most wanted at Brands was to reassert his wobbly number one status - above all, to beat Mansell in front of Mansell's own people.
He got the pole, and the plan was on schedule. He led the race, too, and quite comfortably while Nigel came to terms with the spare Williams. Once settled, though, Mansell reeled him in. Overtaking would have been a different matter, but Nelson obliged by missing a gear.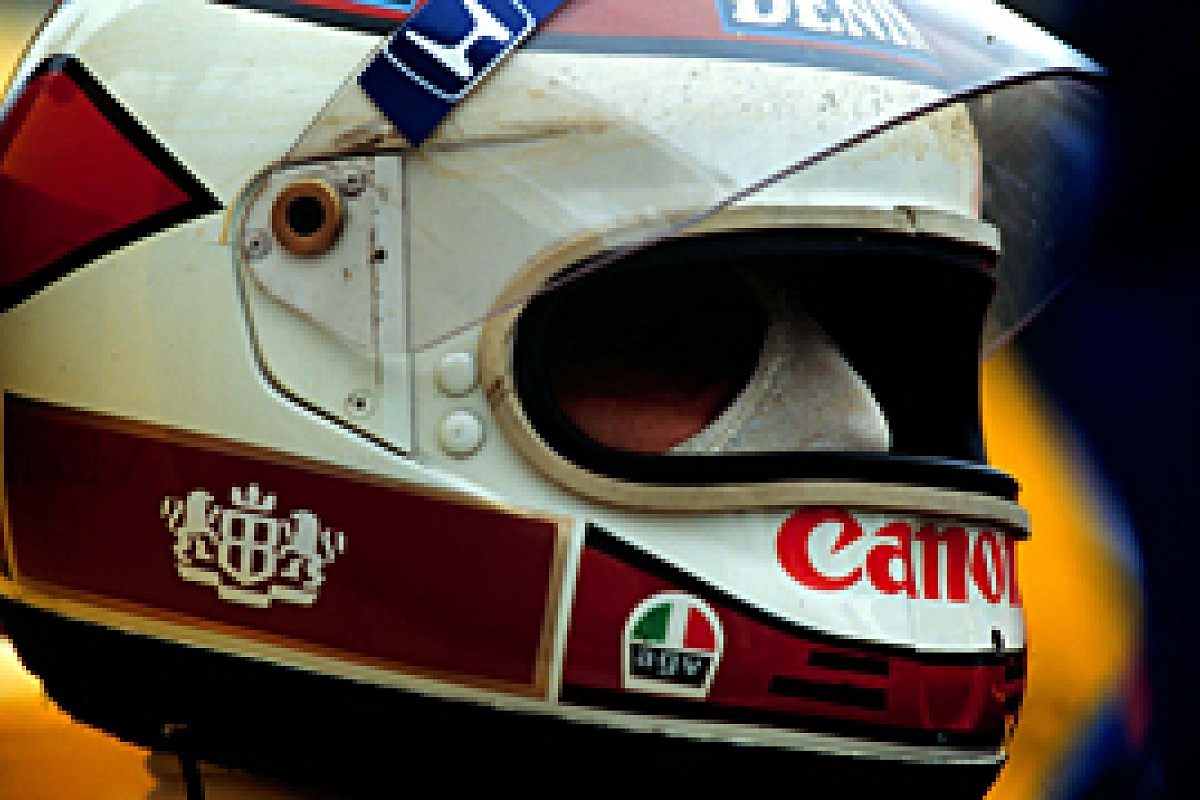 Piquet was determined to undermine Mansell on home ground © LAT
Then came the tyre stops, Piquet coming in first. Nigel, if you recall, just made it out of the pits before his team-mate could take back the lead. Not fully up to speed, of course, and on new tyres, Mansell precariously hung on ahead, but Nelson thought he saw a gap at South Bank, and went for it. Nigel - as any racing driver of consequence would have done - grimly held his line, and there the race was settled.
Piquet has neither forgotten nor forgiven that incident, describing it as underhand, somehow not quite nice. When he passed Mansell at Lesmo during the Italian Grand Prix, he quite deliberately flicked the wheel left, riding his Williams rival out towards the fence. That, Nelson commented at the time, made it quits.
Water under the bridge, all this? Well, not quite. Somehow neither Williams driver contrived to win the world championship last year, and the new slate of 1987 looks much like the old. We have been through seven grands prix this year, and again the upper hand has indubitably been Mansell's. At Ricard, just a week ago, Piquet for once ran him close - but made no fewer than three crucial mistakes: he had a half-spin, which lost time and a place; he got off the line under pressure, letting Mansell by into the lead; and during his final tyre stop he let the engine die.
Such, you might reasonably argue, is not to be expected from a twice world champion, a man touted by so many for so long as the best in the business. And after the race at Ricard he again belittled himself and his reputation by fatuously claiming that Mansell had overtaken dangerously.
At Silverstone - as during qualifying at Brands last year - he responded in the best way, as one would expect of a race driver of real stamp. He desperately wished to have the pole for the British Grand Prix, to keep Mansell from it. And, as at Brands, he succeeded.
Predictably, nothing was remotely in range of the Williams-Hondas at Silverstone. The fight for pole position was exclusively between Piquet and Mansell. While neither expressed much more enthusiasm for the new chicane at Woodcote, it worked undeniably to their advantage, for now the next stretch - down to Copse - became a sheer blitz of acceleration, right up through the gearbox. And what you needed here was a Honda V6.
Over the finish line Mansell was beamed at 189.418mph, and the number 5 Williams was still accelerating. Next up were Senna and Piquet, Honda men both, at 186+, and then you found the McLarens at 181, and on down.
"I don't mind the new corner," Prost commented. "It provides a place to pass, and I think it's been quite well done. But certainly it hasn't helped anyone but the Hondas. On handling and grip we're good. Top speed, too. But on acceleration we can't get near them."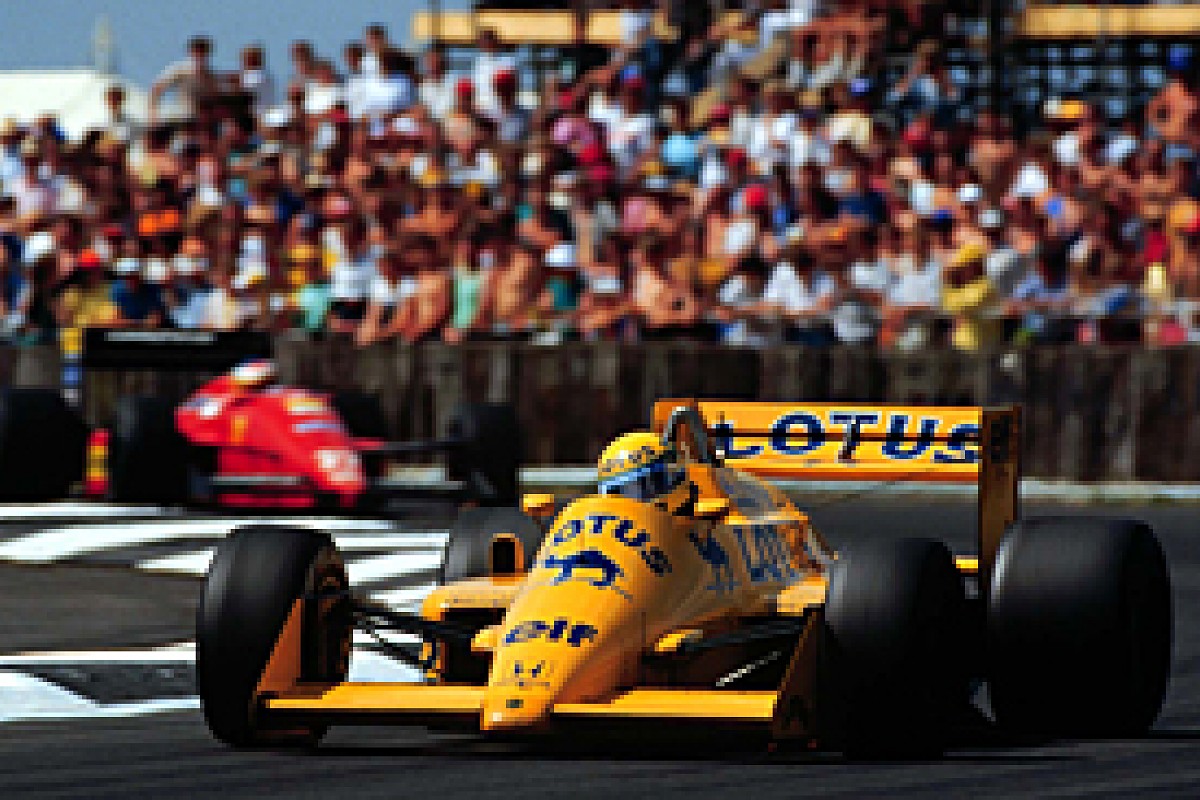 Ayrton Senna could do nothing about the Williams and qualified third © LAT
The world champion, like Senna, hovered behind the Williams pair throughout the two days of practice, without remotely offering serious threat. No, there were only two at this party.
Piquet was fastest, as it turned out, in each of the time sessions. After the first day, though, most expected Mansell to vault ahead, for his had been a trying session - first set of tyres out of balance, sudden puncture at Becketts, damaged undertray, into T-car for the last minutes - and he was only a tenth away.
For much of the final session Nigel sat in the pits, waiting for someone to beat his new fastest time. Nelson did it, and thereafter Mansell was unable quite to come back, although he was but seven-hundredths away. Finally, at 1.55, a supreme final effort from Nigel ended with a wild spin into the Woodcote chicane: "We took off the front cooling ducts, and I lost the brakes a little bit." Performing one of his dramatic full-throttle spin turns, Mansell proceeded down the escape road, and thence to the pits. Before the chequered flag fluttered, he was leaving the circuit for 18 holes with buddy Greg Norman.
For once, therefore, it was the other Williams driver at the pole position press conference, and the signs were that he rather enjoyed it. Certainly he stayed longer than is his custom.
He had been unable to match Mansell during the first half of the session, he said, because the handling had been off. "This morning we ran with full tanks, of course, and when the car is like that - heavy - you put packers in the dampers, to keep the car from bottoming. Well, we forgot to take out the packers for the qualifying session, and for the first 35 minutes I had to fight the car - it was very slow.
"Finally we realised, took out the packers, lowered the car, and it was much better. But by this stage I'd already used up one set of tyres, and a spin at Becketts... Fortunately I put the act together right at the end, and did the same time as Nigel." A hair quicker, in fact.
"This year," Nelson went on, "I've been very slow. You know, we've had a choice of car: long wheelbase or short. At Imola I tried the 'short' one, and I liked it very much . It was quick there - also much easier to drive. And I stayed with it all the time until Ricard last week. There I decided to try the long wheelbase car again - and found that one better for the circuit.
"It was still much more difficult to drive, but it was quicker. Here I did a back-to-back test very carefully, and again the 'long' car was quicker. And I think one of the reasons I've been slow was that I stayed too long in the wrong car."
Piquet concluded his remarks in the press room by firmly denying rumours of his impending retirement. "If you're happy to be second, to stay in just because the money is good, better you should stop racing. But that's not my case: I want to race. I want to be at the front, and maybe I still have the thing inside me to be able to do that."
There seemed to be a lot of resolve in the man. Not always apparent in the recent past, but firmly there last Saturday.
Ayrton Senna was third, but a clear second distant. On a fast circuit, once again, the 'active' Lotus-Honda was quick, but not quick enough. On Friday Ayrton was distinctly unhappy with the car's balance. The team tried different settings, but any hope of a quick lap at the end were lost when a sizeable chunk of metal (probably from Danner's Zakspeed, which shed a portion of sidepod...) was flicked up by Mansell. It hit Senna's left front wing. It was good it did not hit Senna.
Peter Wright and his men came up with a better answer on Saturday, enabling Ayrton to find more than a second, and to move a place ahead of Prost. But the Brazilian had his doubts about being on the pace for the grand prix.
Alain Prost, by contrast, looked to Sunday with more optimism, despite a final session disastrous by his own standards, in which he placed only ninth. In both race and spare McLarens, he said, the engines were well down on power, and grip and balance could have been better. But he liked it on full tanks, and expressed reasonable confidence in the fuel consumption achieved in the untimed sessions.
This was not a factor at Ricard, but very much one at Silverstone. "Tyres are the only consideration here," Piquet insisted. "You cannot control them - if you get a blister, it's finished, you have to come in. The fuel you can control." Others were less convinced. Clearly, what Prost had to do was push the Honda men into lapping faster than they wished. As Alain pointed out, though, that meant using the TAG hard, and on recent evidence that could be dangerous.
Friday for the Benetton team was unusually trouble-free. Not a single Ford V6 blew up, and both Thierry Boutsen and Teo Fabi were in the first eight. By Saturday each was in the top six, and looking worth it. The cars' balance and grip delighted the drivers, and the engines - so long as boost is in relative check - gave acceptable reliability and power. After a slow start to the season, the team is establishing itself where we expected.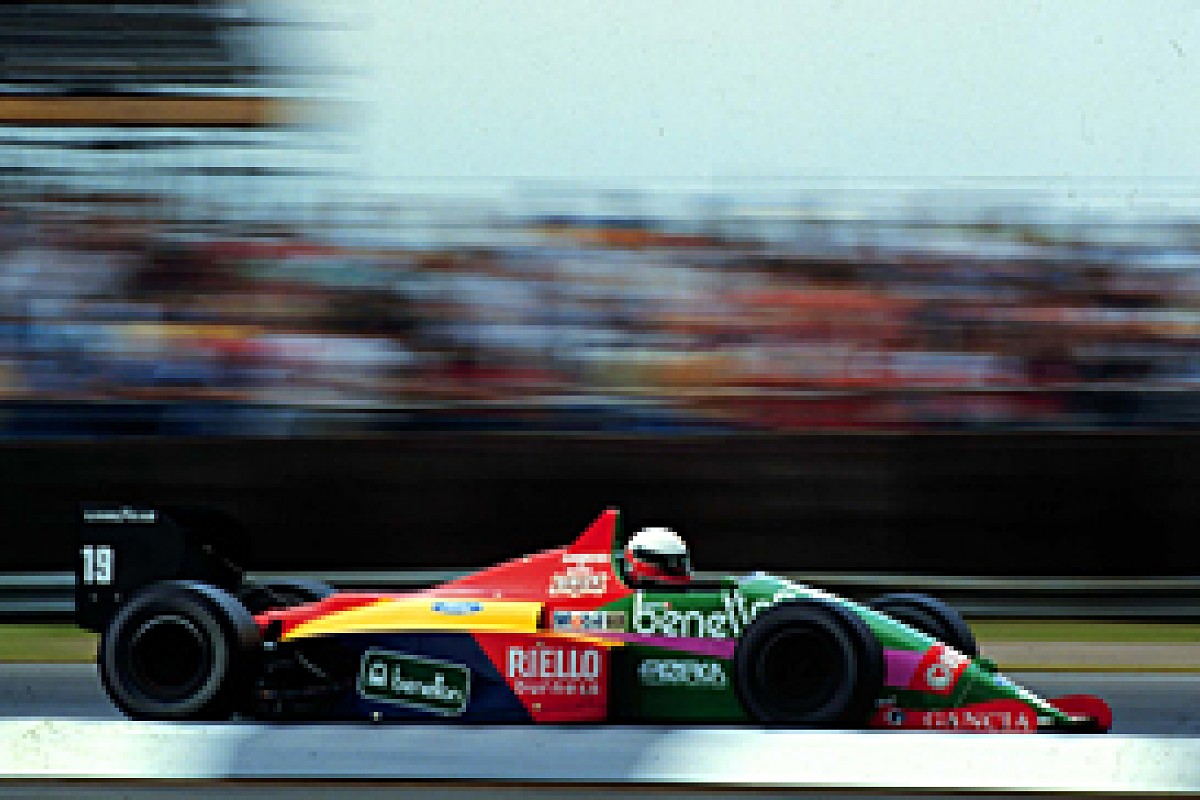 Teo Fabi qualified sixth in the Ford turbo-powered Benetton © LAT
Ferrari, too, were in better shape than for some while, Michele Alboreto seventh, Gerhard Berger eighth. There has never been a lot wrong with F187's handling in fast corners, nor with the horsepower from the latest 90deg V6, and at Silverstone each could be seen to relative advantage. Only at the Woodcote chicane did the car's chronic problems - too little front end bite into the corner, too little traction out - manifest themselves. More than two seconds off the Williams pace, the red cars were at least in the picture.
Thereafter it was mainly gloom, in varying degrees, although Andrea de Cesaris pleased himself - and amazed everyone else - by keeping his Brabham on the road long and fast enough to lap faster than team-mate Riccardo Patrese. Neither Arrows man was high-spirited, though, Derek Warwick unable to get the set-up right, Eddie Cheever bedevilled with engine problems. And Martin Brundle had two thoroughly dispiriting days, which included an alarming trip down the Woodcote escape road after the failure of a rear suspension rose-joint, and a turbo fire of some magnitude.
Phillipe Alliot topped the Cosworth runners, but this was not a race for any of them to relish. Jonathan Palmer, his Tyrrell very slow in a straight line, spoke of his frustrations of qualifying at Silverstone: "It might sound ridiculous, with only 500-odd horsepower, but what I need is a clear lap! Seriously, you have to spend all your time looking in your mirrors, moving over for the turbos - and when they come by, with 900bhp, they all but blow you off the road..."
Click here for Forix's full practice and qualifying results of the 1987 British Grand Prix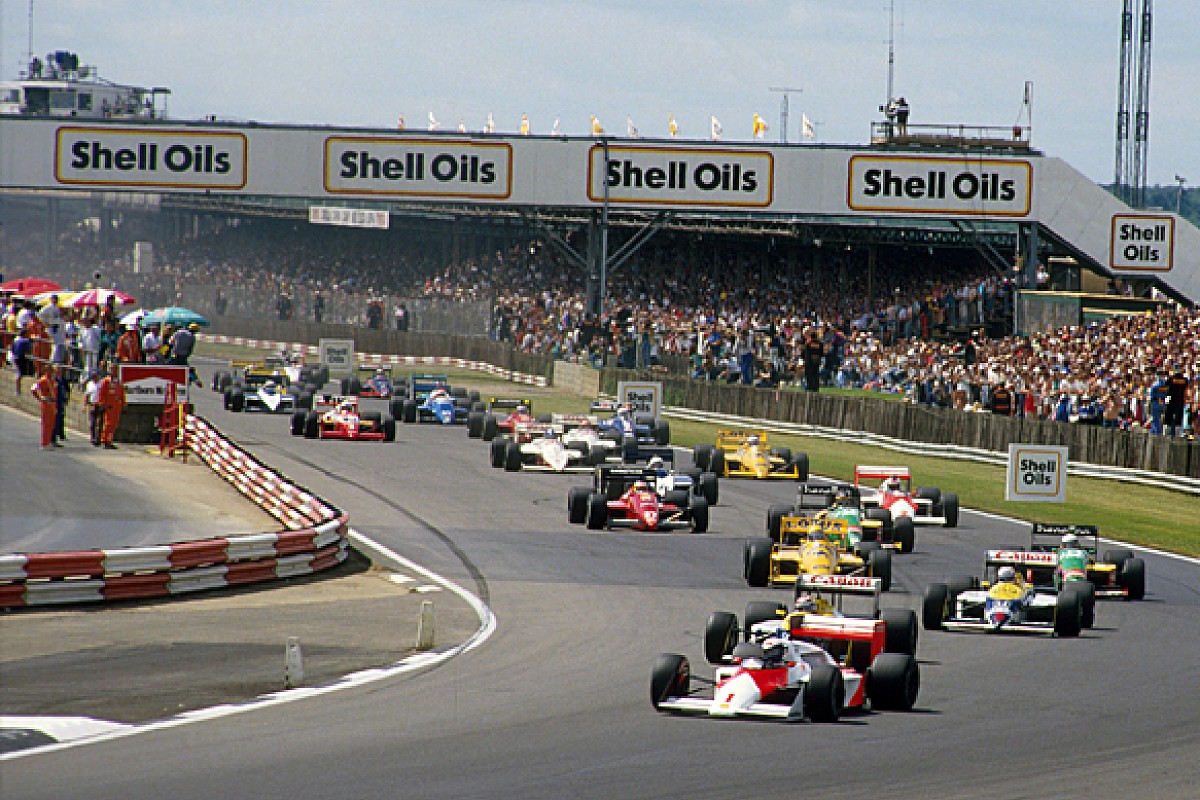 RACE
Although logic told you on race morning that probably no one would fluster the Williams-Hondas, there were possibilities to be borne in mind. After a bright start to the day, clouds drifted over, and there were a few drops of rain. One wild card right there. And in the morning warm-up Prost was second fastest, between Piquet and Mansell, with Stefan Johansson fourth. The McLarens looked like being quick.
The opening seconds promised more of the same. While the Williams drivers worried about each other, taking off with a little too much wheel-spin, Prost got the revs absolutely right, saw a gap on the left about as wide as the McLaren, and went for it. To the surprise of all - including Piquet and Mansell - it was the red and white car which led into Copse.
By the next turn, however, Piquet was past the Frenchman, and it was all done with the right foot. Down to Stowe a few seconds later, and it was Mansell's turn to shoot past. Nothing was to head a Williams for the rest of the afternoon. If both cars ran reliably, perhaps we were in for a great race, and if both hit trouble, the same could be true. But if one FW11B were left to run alone, we would need the noise to keep us awake.
Piquet was very quickly into his stride, showing all the resolution seen in qualifying. Within three laps he was a couple of seconds up on Mansell, and this he gradually stretched. But it was a matter of a tenth here and there, and obviously Nigel was far from out of it.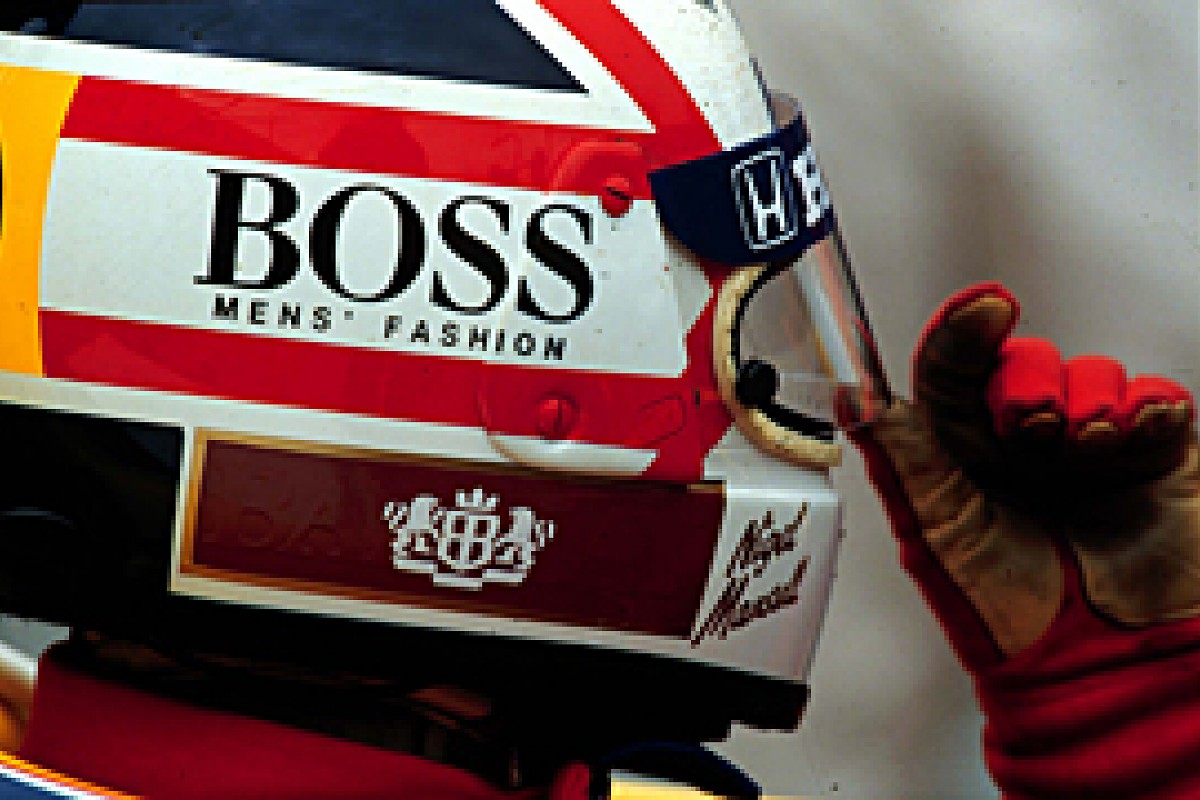 Nigel Mansell, was by this time, the crowd darling © LAT
Equally obviously, he was using more road than Nelson, drifting right out on the kerbing, and sometimes beyond. It was a gamble: mindful of the importance of fuel efficiency here, he had opted to run less wing than his team-mate, knowing that this would put him at a particular disadvantage during the first fuel-heavy half of the race. But if he could keep in touch in these conditions, he might be better fixed on fuel in the closing laps. That was the hope.
The Williams drivers, like virtually everyone else, had gone into the race in the expectation of going the distance on one set of Goodyears. But within 10 laps Mansell knew that was out for him. There was a worsening vibration through the steering, and he was finding it difficult to stay with Piquet. A front wheel balance weight was gone, as it turned out, but Nigel thought he might simply have blistered the tyres.
"The vibration got so bad," he relayed to the team. "I told them I was going to have to come in at some stage. We settled on lap 35, and until then I just tried to keep as close to Nelson as possible."
That he did to some effect. Despite the problem, he was going well enough to set new fastest laps on 17 and 18. By lap 20 the two cars were separated by only a second and a half. And already there were but 10 cars on the lead lap.
Prost could do nothing. He had fought off Senna successfully, but by now was 12 seconds adrift. "As early as lap five I knew from the read-out that we were using way too much fuel, for some reason. Nothing to do. I could not, in any case, fight with the Williams, so I turned the boost down."
Thus it was that we witnessed Prost driving, in his terms, almost raggedly, using the kerbs, brushing the grass. To compensate for the reduced power, he and the car were putting in the hard work. But that, inevitably, took its toll on the tyres. Wear was not a problem, but Alain knew that the grip would go away. On lap 29 he came in, the first to change, and in so doing dropped to fifth, behind Senna and Alboreto.
Stefan Johansson's engine blew © LAT
Yes, there were other cars in this race, although they went largely unnoticed by the spectators, who had eyes only for the lead battle. Alboreto impressed in the Ferrari, keeping within striking distance of Senna, and giving the team something about which to enthuse: for Berger it had been another poor day, the Austrian making a poor start, then spinning spectacularly into retirement after only seven laps.
And Senna, of course, never gave up. As Lotus had feared, their Honda fuel consumption was no match for the Williams' figures, and for Ayrton it was Ricard all over again: a matter of keeping going as hard as possible, hoping for points to keep the world championship lead intact. But this is not how Senna likes to go racing.
Others had faded rather more. Johansson, after running strongly in sixth during the early laps, had blown up massively - which did not bode well for Prost. The Benetton-Fords, impressive qualifiers, were running fuel conscious races with low boost, and were only just in the top dozen, although both would be around at the end. The Arrows of Warwick and Cheever circulated in tandem for a long while, but Eddie had to quit with a blown engine. Gone, too, were both Brabhams.
Focus on the front. Mansell's aim of keeping in touch with Piquet was still on target. As the race neared the halfway point, indeed, the two Williams were right together, and on lap 35 came the pivotal point of the race: Nigel came in for that new set of tyres, stationary for a fraction over nine seconds.
He had driven down the sinuous pit entry road perhaps as quickly as ever it has been done, but even so faced a huge task. With 30 laps to go, he was almost half a minute behind Piquet. Nelson looked to have it locked away, and he thought so himself.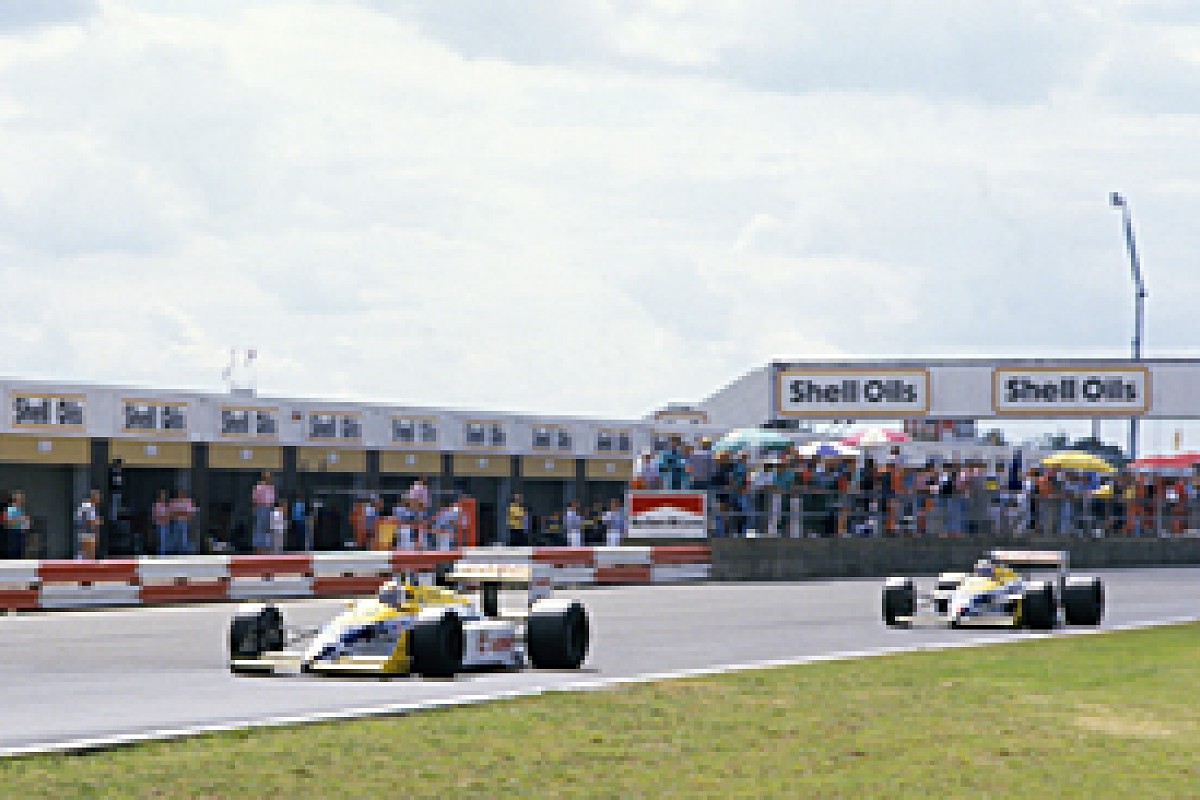 The battle between Piquet and Mansell was stellar © LAT
"Everything was fine. The car was working well, and the tyres were in good shape. We took the decision not to stop." On lap 37 Mansell set a new fastest lap on his fresh Goodyears; on lap 40 Piquet beat it on his old ones. Yes, everything seemed on course for Nelson.
With 20 laps to go, though, Mansell really began to cut loose. Nearly every time around, it seemed, they were announcing a new fastest lap for him. One second, sometimes two, were chopped from Piquet's lead, and now the calculations got serious. At their present rate, they would be running together in the last two or three laps.
And how the crowd worked for Nigel in those closing minutes! All round the circuit people waved their banners, yelled their support in great gusts of sound clearly audible above the engine noise.
"It was an extraordinary feeling," he later said. "I drove maybe the last 20 laps at ten-tenths, right on the limit, and I don't really like to do that on such a quick circuit. But I knew that was what it was going to take to beat Nelson, and support like that really inspires you."
The pace was something quite incredible. For the record, Mansell put in no fewer than 12 laps, which were beneath his team-mate's fastest - and no one else was within a second of Piquet's best. By lap 49 Nelson had lapped fourth-placed Prost, and soon - for the second time in a week - the same indignity befell Senna.
Still, Ayrton did make it to the finish, which was not true of Alain. The McLaren pulled silently off onto the grass with 12 laps to go: "After I knew we had the consumption problem. I just hoped to finish as well as possible. Then, after my tyre stop, I lost the clutch. And then, finally, the engine just cut out. Electrics somewhere, I suppose." That record 18th grand prix win is taking longer to arrive than expected.
In sight, though, was win number 10 for Mansell. "If Nelson had stopped for tyres earlier, when I first started catching him," he said afterwards, "I think he would have won, quite honestly. But he stayed out..."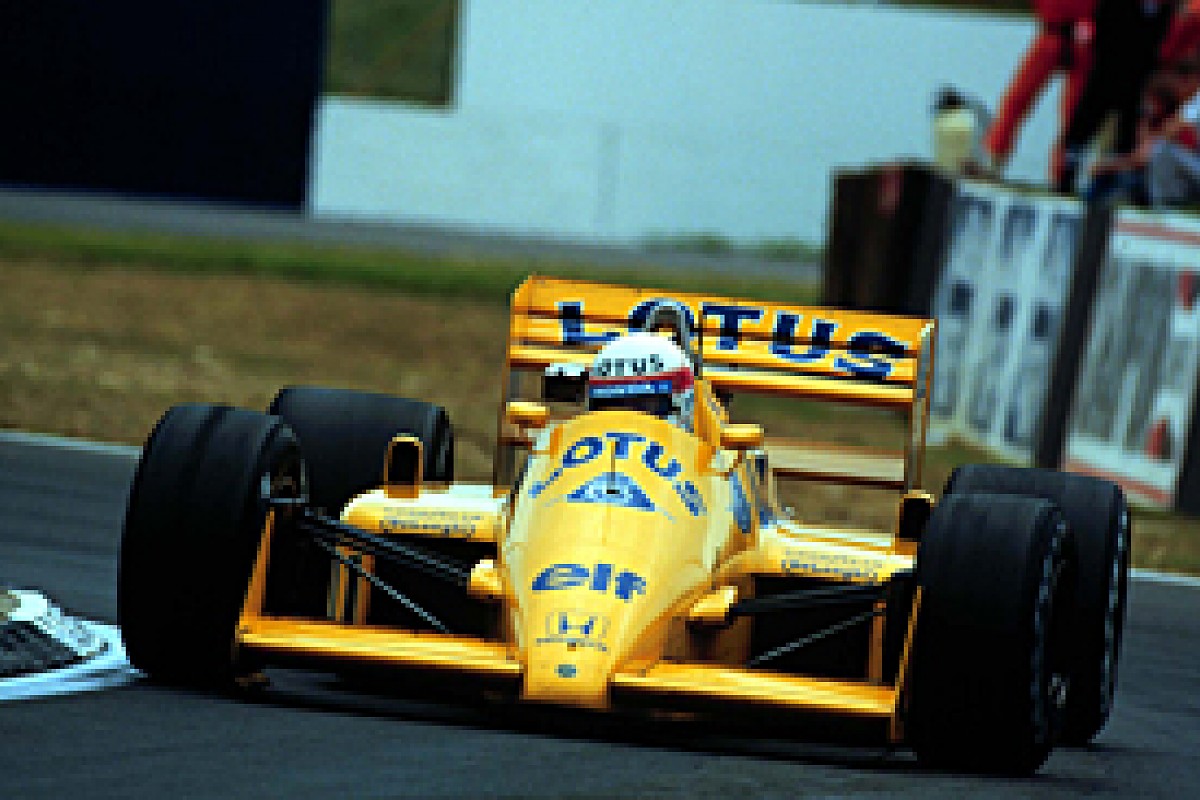 Satoru Nakajima took a career-best fourth place for Lotus © LAT
"The tyres were still good, with 15 laps to go," Piquet commented, "but during the last 10 laps they really began to go off in a big way, and I didn't expect that."
Now there was no way Mansell could be resisted. With 10 laps left, the gap was 7.6s, after which it came down like this: 6.5s, 3.9s, 2.0s, 1.4s, 0.8s, nothing. As they set off on lap 63 Nelson was clearly on the ropes, and Nigel was keen to dispatch him as quickly as possible, not allowing him the luxury of working out a plan to keep him back.
He did the thing supremely on the thrash down to Stowe he jinked left - and Piquet instantly countered. By now, though, Mansell had gone right. Nelson had been sold the dummy, and Nigel, always deeper into Stowe than his rival, had the inside line.
The situation was hopeless for Piquet, but for old times' sake he gave Mansell a fairly unsubtle chop at the entry to the corner. It was wasted. This was a man pumped up after 20 flat-out laps, this was Silverstone, with less than eight miles to go. Nigel never flinched, and it was Nelson who had hastily to get out of the way again.
Two more laps, and Mansell was home, winner of the British Grand Prix for the second year running - and in a style more remarkable even than his victory at Brands. He faced only one true rival in this race, and he beat him. The closing laps were unforgettable.
So, too, was the winner's slowing-down lap, for during the course of it he ran out of fuel, coasting to a halt and being immediately engulfed by the crowds. Mr Piquet did not offer him sanctuary, a ride back on the sidepod of number 6, but afterwards was rather more cordial to Nigel than has sometimes been the case. In the press room they shook hands, for example, and spoke well of each other. Good to see.
Good to see, too, were the faces of Satoru Nakajima and Warwick, fourth and fifth. This was far and away Satoru's most competitive Formula 1 drive to date, and Derek was delighted with a finish at last: "I'm so happy I feel as if I won the race!"
Behind all the emotion of the day, however, a stark fact confronts 22 of the 26 runners: there were four Honda engines in the British Grand Prix, and they finished 1-2-3-4. The thought is much on the mind of Alain Prost...
Click here for Forix's full results of the 1987 British Grand Prix