It's no coincidence that Fernando Alonso now leads the world championship as the only man to have scored points in all eight races. Making the most of every opportunity and bringing the car safely home is what will win the 2012 title, and while he may have lost a few points in the closing laps in Montreal, Fernando has usually extracted the maximum from a given weekend.
In Valencia we saw the very best of Alonso, ably backed up by his team with good strategy and efficient pitstops on a day when it was very easy to get it wrong. This was a truly great performance from a man who has produced so many in the past - quick laps, decisive overtaking moves, no mistakes, and all the while protecting the tyres, not really knowing how long they would last and who might be in better shape behind him.

Such a result didn't look likely after qualifying, when Alonso was stuck in 11th and team-mate Felipe Massa in 13th. A visiting Luca di Montezemolo's glum expression said everything.
That performance didn't reflect the car's true potential, and in fact in Q2 he was only 0.218s off Romain Grosjean's top time - and just 0.004s away from 10th place. It was that close.
Alonso has been known for his great starts and first laps this year, and given that he's rarely been on the front row, he's often had a lot of work to do. From 11th he had a free choice of tyres for the start, and he clearly had a chance to go for primes and try for a long first stint and potentially even do a one-stopper. That's what Michael Schumacher immediately behind him did, along with Sergio Perez in 15th and Mark Webber in 19th.
But the team chose to use that free choice in another way, taking advantage of the fact that his failure to get into Q3 had left him with two brand new sets of soft tyres. Rather than run long, the plan was for him to use pace to try and gain positions.
"We were very disappointed by the qualifying yesterday and so was he, that didn't really reflect the performance of the car," said team principal Stefano Domenicali.
"Knowing the fact that here at this track it's very difficult to overtake at the beginning of the race we were saying let's maximise the points. That's why we thought that it was the right thing to start with the soft, because we had new softs, to do some overtaking at the beginning and to try to attack."
Alonso was knocked out in Q2 © XPB
Nobody in front of him had new softs, and Fernando made the most of them. By the end of the first lap he was up to eighth, having passed Paul di Resta, Nico Rosberg and Jenson Button.
Fernando admitted it was a bit risky: "I think there were four or five moments in the race that changed our result. Probably the start and the first lap were very aggressive, I nearly touched [someone] in the first corner, and at turn four I think I overtook two cars braking on the outside.
"That, for sure, maybe changed because we had Button... we were fighting in turn one, and then Button was like P14 or something like that. If you finish [the first lap] in his position, maybe the race is more difficult, so we were lucky at that moment."
Alonso then found himself behind Nico Hulkenberg, but with passing so difficult, his priority was to use those new tyres to stretch out a longer first stint than those ahead, and keep the tyres in good shape.
However the Force India suffered a KERS failure, which made Hulkenberg more vulnerable than he might have been, and on lap 12 Fernando took his seventh place.
At this stage he was 22s behind leader Sebastian Vettel, but only 10s off second-placed Romain Grosjean, with four other cars in between himself and the Lotus driver. On lap 13 the pitstop sequence began when Lewis Hamilton pitted, and then on the next lap the three cars immediately in front of the Ferrari - Kamui Kobayashi, Kimi Raikkonen and Pastor Maldonado - all came in.
Sauber had a bad stop with a stuck wheel, and the others were also somewhat tardy. Meanwhile, with a clear track for two laps after passing Hulkenberg, Fernando banged in some fast times. He came in on lap 14, only one lap after his immediate rivals - and yet he was able to jump all three of them.
The pitlane times told the story - Kobayashi 23.0s, Raikkonen 21.8s, Maldonado 21.3s, Alonso 19.7s, but Fernando also did his part on the track. With another set of new tyres he was again in better shape than others, and soon after the stop he passed both Webber and Bruno Senna, both of whom had yet to pit and were on well-used rubber. And getting past those guys without being held up too much was crucial.
After the stops shook out he was in fifth place, behind only Vettel, Grosjean, Hamilton and di Resta, who was on a one-stop. Obviously Alonso had better tyres, and he dispensed with the Force India just before the Scot made his only stop.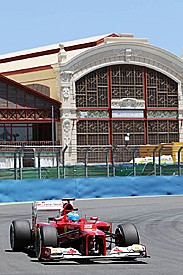 Alonso attacked right from the start © XPB
So 22 laps down, 35 to go, and Fernando was in a solid fourth place. This was already a spectacular performance, but Hamilton in third was 6.3s up the road, and unless there was some misfortune ahead it seemed likely to be as far as he would get.
However, helped once more by his superior tyre situation, Alonso began to make inroads into that margin, bringing the gap down from 6.3s to 3.7s in just five laps. And then the safety car came out.
Fernando followed Hamilton and Grosjean into the pits, where McLaren had another disaster as the front jack failed. Lewis's elapsed pitlane time stretched to 31.8s - Fernando was in and out in a superb 20.7s, given that this was a last-second call. He made it out ahead of Lewis with plenty of room to spare.
So now he was lined up for the restart with Vettel and Grosjean right in front of him. What's more he had new set of medium tyres, while the Lotus driver had a used set. A vital edge for the restart...
Indeed when it went green Alonso was 0.1s behind as they crossed the timing line, making it past with a brilliant move on the Frenchman. Unusually for him, Alonso got involved in a little contact.
"We touched in the first two corners," he said. "After we touched each other I felt that the car was not very good. When you have a little contact with someone, for whatever reason, you feel that the car is wrong for the next two corners, because you are so worried that something happened and that maybe you convince yourself that something has happened. But then one lap later the times were OK, and the car was good."
"We saw he had a contact," said Domenicali. "And immediately we checked to see if we had all the data in stable conditions, and he also asked if everything was alright, and he was also really calm. But honestly, that was a great move, and it makes a difference for a lot of things on the strategy."
While Ferrari and Alonso were assessing the potential damage the stakes were raised even further when Vettel pulled off the track, so by the end of the first racing lap, the red car was in the lead. Seb also had new medium tyres, and no one in the Ferrari camp believes there would have been any real chance of beating the German in a fair fight.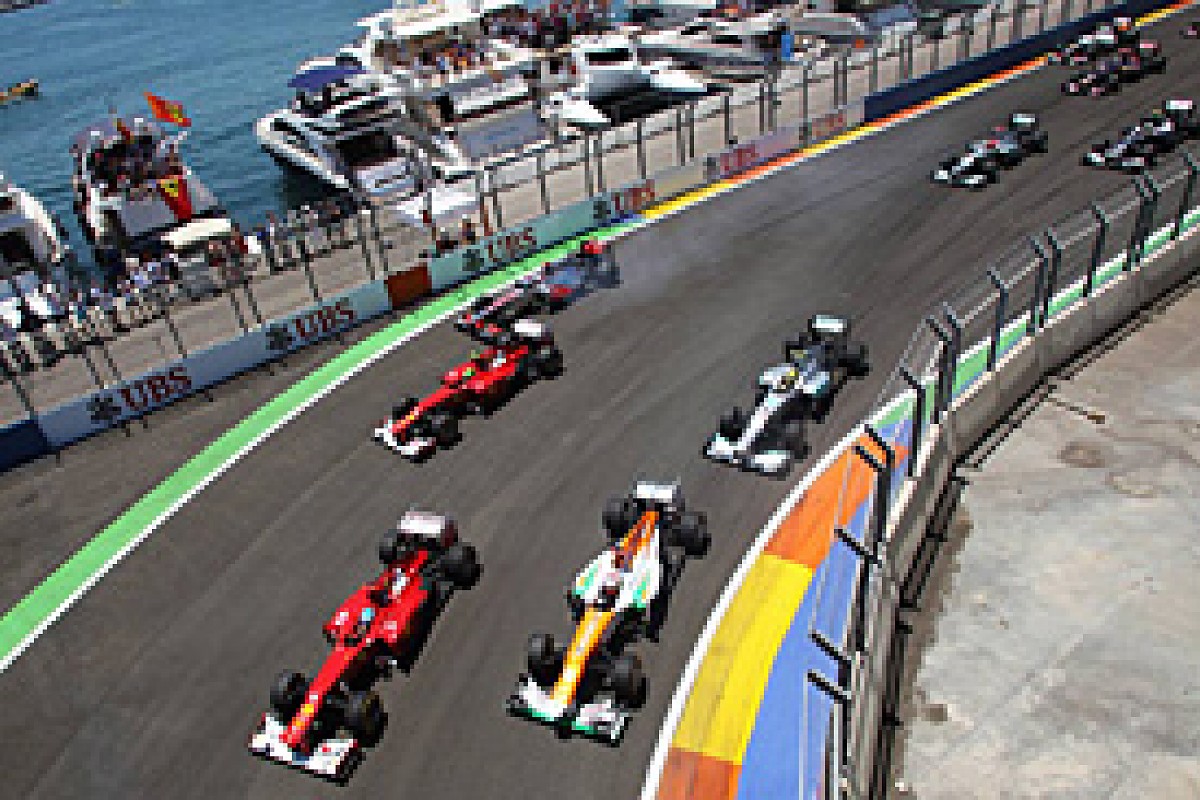 The safety car erased Vettel's gap © LAT
Even with the Red Bull gone, it was far from over. Alonso now had 23 laps to go on this set of tyres, and he had Grosjean on his tail, and Hamilton behind him. But the Lotus challenge ended within a few laps when Romain also stopped, so now it was a question of what Hamilton could do.
"Lap by lap we were checking the evolution of the [tyre] degradation," said Domenicali. "And of course, when the safety car basically neutralised the conditions for everyone we were then marking our competitors. When Vettel and Grosjean stopped then we were just marking Hamilton, because that was really our main objective."
Fernando kept a safe gap, but there was always the danger that his tyres would drop off dramatically, and he would be vulnerable. And then there was a distant threat from Webber and Schumacher, going very quickly and making their way well into the top 10 on much fresher tyres than those ahead after their later final stops.
"We were just checking sector time by sector time in order to monitor the situation," added Domenicali. "Of course we were thinking of a possibility of having a drop-off of tyres, and we were just monitoring behind, how was Webber and Michael, because they stopped. But after a certain moment when you go for a certain decision then you have to stick with that. I think that really Fernando managed the tyres in a fantastic way."
So was Fernando worried about the tyres dropping off?
"I was not worried," he countered. "They did. They did, about eight laps from the end. I said to the team, 'the tyres are finished, we need to do something'. They said 'wait one more sector because they are not quicker than you at this moment'. The next sector they were the same as me.

"So they said 'wait one more lap to see how much quicker they are,' and the next lap they were the same time as us. Wait another lap and wait another, and then it was three laps from the end and they were doing the same lap times and we went until the end. But the tyres were as finished as in Canada, but it was the same for everybody this time."
"It was a different kind of degradation in Canada compared to here," Domenicali explained. "Here it was not really the wear that was going down, it was really the heat of the track that was maybe cooking the tyres. It could have been a different slope of the degradation.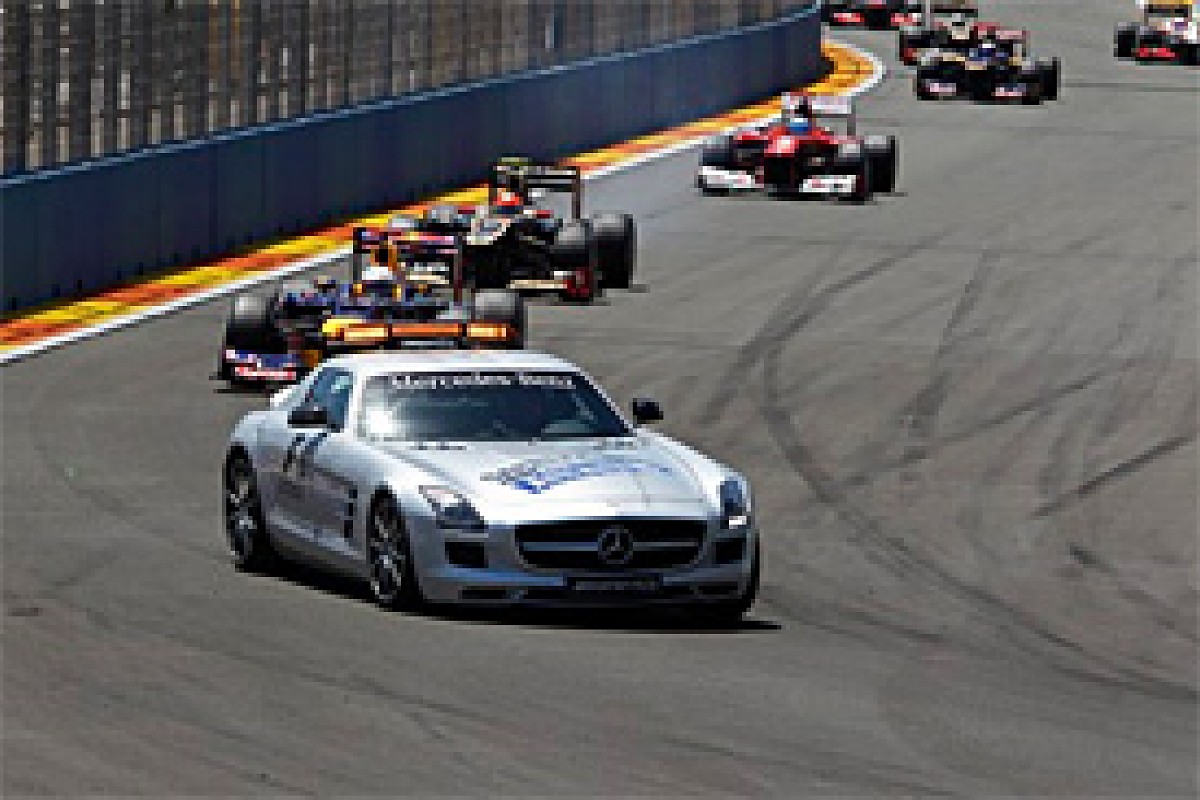 Raikkonen was second, but could not attack Alonso © XPB
"So for sure that experience put some doubt on us when we were thinking about the different strategies. Basically at the end we were really marking what the others were doing. There was no improvement from anyone else, so I think that really it was good to create the gap with Hamilton and to mark him, because for us he was the target at the end of the race."
Indeed Hamilton was in big trouble, and when Raikkonen finally got past the McLaren with a couple of laps to go, his tyres were also past their best and he was no threat to Fernando. But life was far from easy until that point.
"We were of course controlling the pace of Kimi, because Kimi was really good," said Domenicali. "But I believe he had used the tyres a lot in the fight with Hamilton, so then he was not able to attack."
It was a stellar performance, and while the Vettel retirement was a gift - and the disappearance of Grosjean also helped - Alonso had to work hard for this one.
"Today, we had an amazing race, amazing start, some good fights," he said. "I think I remember six or seven overtakes where it was very close, we touched each other. I touched Grosjean in the restart. All of those little moments can go on the wrong side and you finish the race in the wall, or you can be the winner at the end. And today, we had all the good factors with us and the luck and we have to enjoy this.
"Especially yesterday after the qualifying, you never think that you can do a good result or that you can fight for the podium or something like that. When you find yourself third in the race after the safety car, I said: 'hopefully there is the chequered flag now and I enjoy this podium celebration'.
"Two laps later I overtook Grosjean on the restart and you think again 'hopefully the race finishes now'. Then Vettel stopped and it was a very long race until the end and, yeah, I enjoyed so much this moment."
Will he enjoy a few more highs this year? Don't bet against it...