Various rich lists and earnings lists appear periodically and, although they're never completely right, they inevitably get people gossiping.
The latest sporting one from Forbes was notable for the fact that it did not have a grand prix driver in its top 10, which is unusual.
For the first time in 11 years Tiger Woods did not top it either. His now well-known affliction had already cost him lucrative endorsement deals with Gillette and Tag Heuer.

Woods languished third this time, scraping by on 2011 earnings of just £37.92m, a relative pauper next to boxer Floyd 'Money' Mayweather (£54.25m). Pugilists, in fact, occupied the top two spots, with Manny Pacquiao on £39.57m. And that's before the two of them finally get it together! Think what they'll be worth then...
Mayweather will have to get out of the clink first. Having dispatched Victor Ortiz, he earned himself a 90-day incarceration.
That was allowed to wait, however, while he earned $45m taking care of Miguel Cotto. Why? Because the fight brought $15m income to Las Vegas by way of justification. Only in America?
Miami Heat basketball star LeBron James is fourth (£33.84m), just ahead of 'The Fed' - Roger still netting £33.64m despite the best efforts of Novak Djokovic/Rafa Nadal and passing the big Three Zero.
David Beckham makes the top 10 in eighth place on £29.36m, pipping Cristiano Ronaldo to the honour of world's top-earning footballer, while you have to go all the way down to 19th before you find Fernando Alonso and his £18.7m, just ahead of Valentino Rossi and Michael Schumacher, tied at 20th on £18m.
Alonso's drive in Valencia alone was probably worth the money - the true greats, those who make a difference, will always earn the big bucks. Increasingly though, F1 grids are not filled by talent alone but by those who can bring a wedge of cash.
I'm sure Ron Dennis was simply drawing the battle lines for a negotiation when he sent a thinly-veiled message to Lewis Hamilton, post-Canada, that the economy isn't what it was. But he'll know that if he wants Lewis's signature in another contract, he's going to have to pay.
Further down though, there's less and less in the pot and week-in, week-out, cost-cutting talk predominates all over the paddock.
In Valencia the case of German banker Gerhard Gribkowsky was much discussed. The former chief risk officer for the Bayern Landesbank (which then owned a major stake in F1 after the Kirch media empire folded) admitted in a Munich court that the state prosecutor's charges against him relating to breach of trust, corruption and tax evasion, were "essentially true".
It seems that Gribkowsky, who is looking at a rather longer sentence than Mayweather, feathered his own nest when handling the sale of F1's commercial rights to CVC back in 2006 for what it is alleged was too cheap a price.
But one team principal said to me quietly last weekend that Gribkowsky hadn't done half as rotten a job for the bank as Max Mosley did for the FIA when, first, he leased the commercial rights to Bernie Ecclestone for forever and a day, then allowed him to sell them to commercial entities outside of the sport's control.
CVC has recently been busy unloading some of its stake to other commercial investment groups that will inevitably want their pound of flesh too. The big teams seem to be being looked after - most of them, anyway - but below that it does seem mildly bizarre that with billions disappearing out of the window, half of the grid is worrying about how they're going to pay for an engine.
The mechanics of signing away those rights for longer than anyone will live - even Bernie - still confounds most of the paddock. At a time when a fuss was being made about any deal longer than five years without tender constituting a breach of EU competition law, how could a deal be cut for more than 20 times as long?
It's to do with it being a lease rather than a sale, I'm told, but even last weekend there was an F1 team principal asking me, "Is it legal?" One can only presume that it must be, otherwise companies like CVC would run a mile.
Mosley, of course, will argue that there were no other bidders, that the car manufacturers had their opportunity and that F1 continues to generate more and more revenues. Which is true. It's just that not enough of them stay in the sport.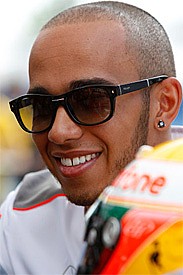 Bernie Ecclestone © LAT
If the FIA decides it needs to be on message by using 'green' engines, there should be enough in the pot to go that route without bankrupting half the teams. And there should be enough spare money that a driver's money bank is not more significant than his talent bank.
In the past, every time Concorde negotiations reached the stage we're at now, I never ceased to wonder why the teams and the governing body couldn't get it together themselves. Who needs a commercial rights holder?
It's too late now of course. That deal was done. And so long as the big boys are looked after, why will they stray?
"There was a chance when the manufacturers were strong," another TP told me in Spain, "but not now. Never. It's too complicated and there's no leader."
I pointed out that there appeared to be some intelligent chaps among their number.
"I don't know whether you'd think so if you attended the same meetings I do..." he said with a smile.
So nothing looks like changing. Your Alonsos and Hamiltons will always be there or thereabouts on the Forbes list, but a middle-ranking F1 driver doesn't look like troubling a middle-ranking NBA star anytime soon.