The clue was in the name. When the Valencia Street Circuit joined the Formula 1 calendar in 2008, there were hopes that it would become a kind of 'Diet Monaco'. It had the ingredients - the America's Cup harbour, a place on the edge of a wonderful city to visit and a track configuration that was unusually quick for its type. But the mundane moniker should have warned us that this would be a circuit seriously lacking in charisma.
That first year, with a paltry number of boats in the harbour and a processional race that was won by Felipe Massa, pretty much set the tone. In 2008, the environs of the track were unimpressive with derelict buildings, the odd random pile of rubble and the feel of a decayed shipyard pervading. That first year, most gave it the benefit of the doubt, but since then little has changed.
Di Resta doesn't underestimate Valencia © LAT
One thing, however, should not be overlooked. While the track might superficially be dull, it is, in fact, surprisingly testing for the drivers. That, above all, is what the emphasis should be on this weekend; just how tricky this circuit is. Being a street track, there are inevitably plenty of slow corners and, contrary to popular belief, it's in the slower stuff that the top drivers really earn their crust. After all, you spend far more time in them than the quick ones.
Last year, Force India driver Paul di Resta had a difficult time on his debut there because of then-reserve driver Nico Hulkenberg shunting his car on Friday morning, effectively ruining the first day of running. On Friday afternoon it was put to him that the track is a relatively easy one, which elicited a strong response.
"You're not driving it though are you," fired back di Resta. "I wouldn't say it's an easy track. I would say it's probably one of the more difficult tracks I've driven this year to get the car right."
The reason is the way that the track evolves. It starts the weekend at the very green end of the spectrum, which means that grip levels improve dramatically as time goes on. Chase the set-up on Friday without taking that into account, and you can engineer in all sorts of problems. The trick is to try to factor in the extent to which the grip levels will have changed come qualifying and the race. That's no easy task either for drivers or engineers.
As for the configuration, there are some tricky corners. The fast kink into the final hairpin means that drivers must brake while still turning and there have been a few big offs there in previous years. With exit speed from the last corner key, it's an area where lots of time can be lost. And while there are areas with unusual amounts of run-off for a street circuit, there are also plenty of unforgiving walls to trap the unwary.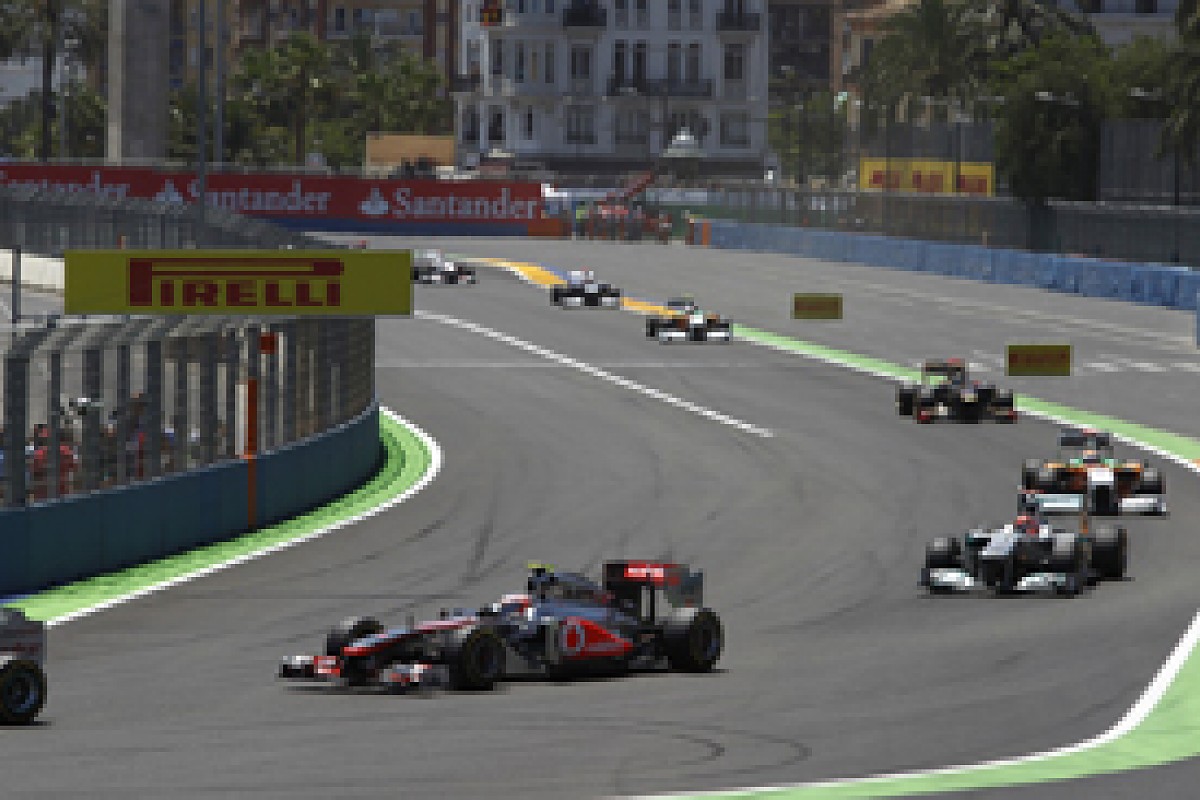 Valencia races can be processional © LAT
There's also the added pressure of knowing that qualifying will be crucial in Valencia. Last year, there were just 22 DRS-assisted passing moves. While that number should increase this year - despite the double activation zone being dropped, the deployment area between Turn 10 and 12 is some 120 metres longer than it was in 2011 - it could still be a struggle to climb the order significantly without pulling off a clever strategy.
Sometimes it's all too easy to forget just how difficult it is to drive an F1 car on the edge, even at a track like Valencia that, superficially, seems straightforward. Keep that in mind this weekend and you might find yourself enjoying the European Grand Prix weekend a lot more.
Strategy
Pirelli has allocated its medium and soft compound rubber for Valencia. It is anticipated that this will lead to a two or three stop race.
Unlike in Canada, where track position on tyres well past their best didn't turn out to be the right option for the likes of Fernando Alonso and Sebastian Vettel, Valencia is a very different proposition. With passing tough, it's likely that teams will lean towards making fewer pit-stops.
However, should the DRS activation zone, which is 20 per cent longer than last year (looking only at what was the first of two zones in 2011), make passing easier, that might make the extra pit-stop worth considering.
Weather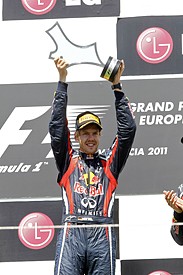 Key Valencia Stats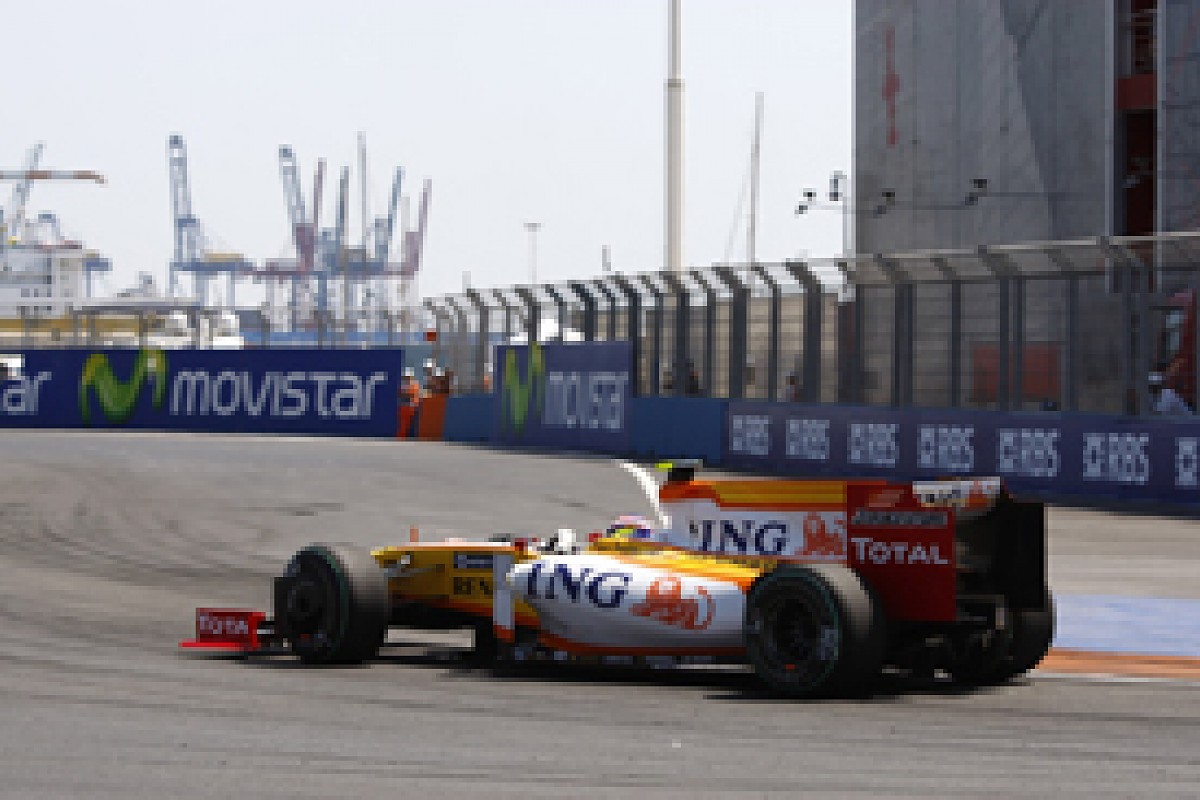 Vettel is chasing a third straight Valencia win © LAT
• Sebastian Vettel simply dominated the last two editions of the European Grand Prix, winning from pole in both, with pole and fastest lap too last year. He led all the laps but one last year during the pitstops. He is 4-0 against his team-mates in qualifying in Valencia. He impressed here in 2008 with Toro Rosso: he set the track record during free practice, a time which remained unbeaten for two years, until he improved it in 2010 and then again last year. Three of the four fastest laps ever set here in any session belong to him.
• Mark Webber has climbed on the podium only once in Valencia, last year, despite two front-row starts in the last two years. That is also his only points finish at this track. He is most commonly associated with Valencia for his dramatic crash with Heikki Kovalainen in 2010.
• Fernando Alonso posted his best Valencia result last year with second. The home hero overtook Webber twice: on track and later on in the pits. Like Vettel and Lewis Hamilton, he is 4-0 against his team-mates in qualifying.
• Michael Schumacher has never scored points in his two Valencia appearances. In 2010 his race was disrupted by the safety car and he ended up 15th, last year he was 17th after ramming Vitaly Petrov.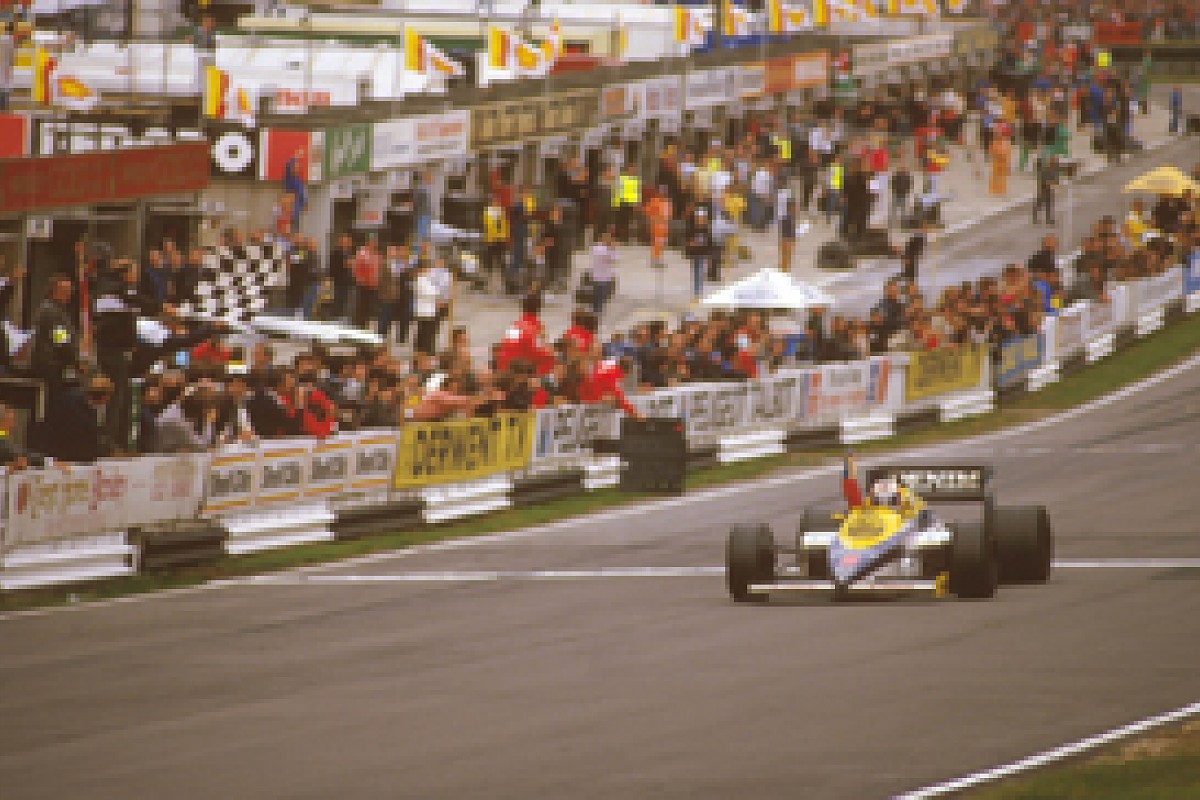 Grosjean's troubled first F1 stint began in Valencia © LAT
• Romain Grosjean won in Valencia last year in the feature GP2 race, but in 2009 he had a dreadful experience in his maiden grand prix: 14th on the grid, he broke his front wing on the opening lap and later spun, finishing 15th.
• Kamui Kobayashi had his moment of glory here two years ago, when he waited for the last laps to make his mandatory tyre change and then charged on, passing several cars, turning his 18th grid spot into seventh at the flag.
• McLaren has never won in Valencia. Its best results come from Hamilton, second three times from 2008 to 2010.
• Mercedes won in Valencia in 2009 as Brawn, but from then on they have never fared better than seventh (last year with Nico Rosberg).
• Toro Rosso has scored points here three times out of four, missing out only in 2009.
Famous Five European Grands Prix
Mansell's breakthrough came in the 1985 European GP © LAT
1985 (Brands Hatch)

Nigel Mansell headed to his second home grand prix of 1985 with 71 starts and no victories to his name. But many thought that the first win was just around the corner, and so it proved as the Williams-Honda driver bagged the first of 31 triumphs with a near-faultless performance.
Other than the first lap, with Mansell making a slow initial getaway from third on the grid before the prodigious power of the engine catapulted him forward and then running onto the grass at Druids while trying to pass team-mate Keke Rosberg, things couldn't have gone better for him. While Ayrton Senna, Rosberg and Nelson Piquet ran together at the front, Mansell bided his time. On lap seven, Rosberg attempted to pass Senna at Surtees. The Lotus driver slammed the door and Rosberg spun and was collected by Piquet. This put Mansell up to second, as well as ending Piquet's race.
Mansell quickly caught Senna and capitalised on the Lotus driver being held up by the irate Rosberg, who had lost a lap, to take the lead on the run to Surtees. From there, Mansell controlled the race to lead home Senna and the inspired Rosberg, who came back from a lap down.
Further back, Alain Prost turned in a measured drive to sixth to seal his first world championship after Michele Alboreto retired his flaming Ferrari.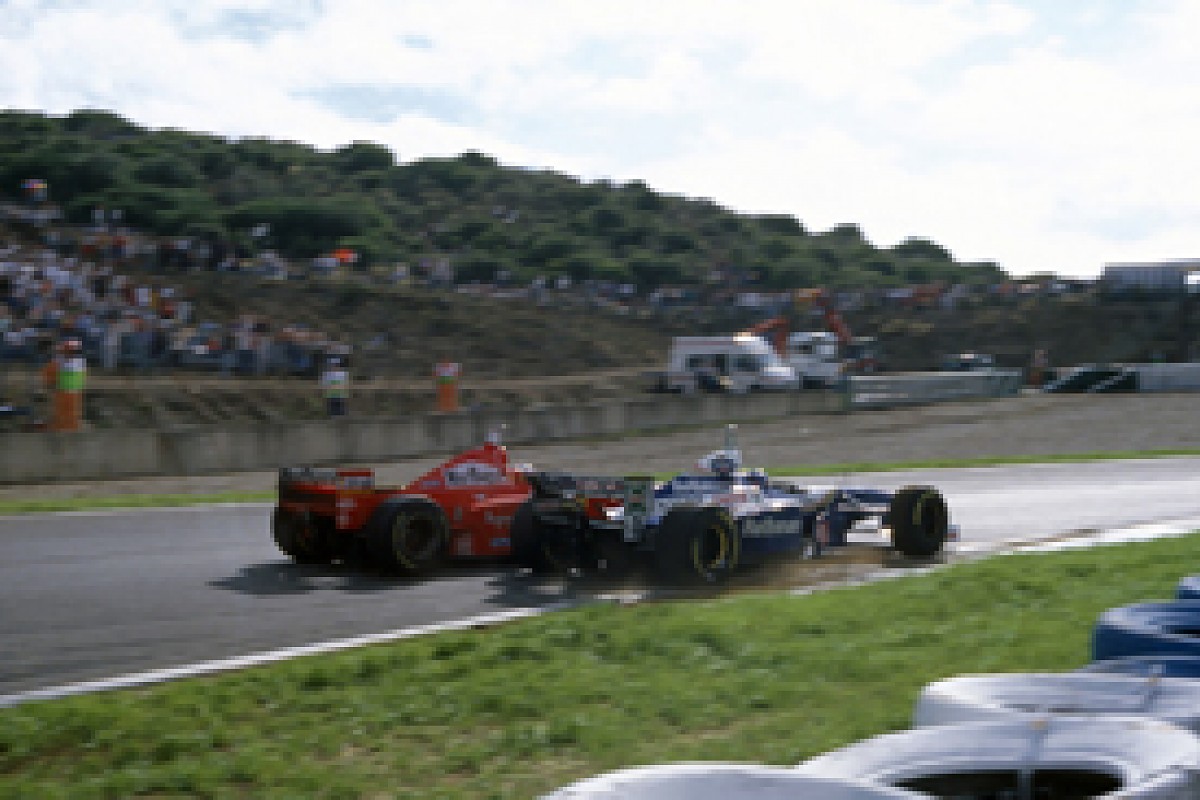 Schumacher looms in Alesi's mirrors in the Nurburgring's first race back on the F1 scene in 1995 © LAT
1995 (Nurburgring)

There are several races that Jean Alesi can justifiably argue should have contributed to a win tally of more than the one he did take, but few heartbreaks came as late as this one. The Ferrari driver stretched out a big lead by the mid-point of the rain-hit race, only for Benetton driver Michael Schumacher to reel him in over the final laps.
It was a dramatic race throughout. Schumacher's title rival Damon Hill had several fraught confrontations before the Williams driver's race came unstuck when he clattered Alesi and lost his front wing while trying to pass the Ferrari. Later, he crashed out after dropping a wheel onto a damp kerb, effectively ending his title chances.
But the star of the race was Schumacher. With two laps two go, he was on Alesi's tail. The Frenchman had tried every trick in the book to keep Schumacher behind, but at the chicane the Benetton driver attacked around the outside, pulling off a great passing move to take victory and almost guarantee himself a second world championship.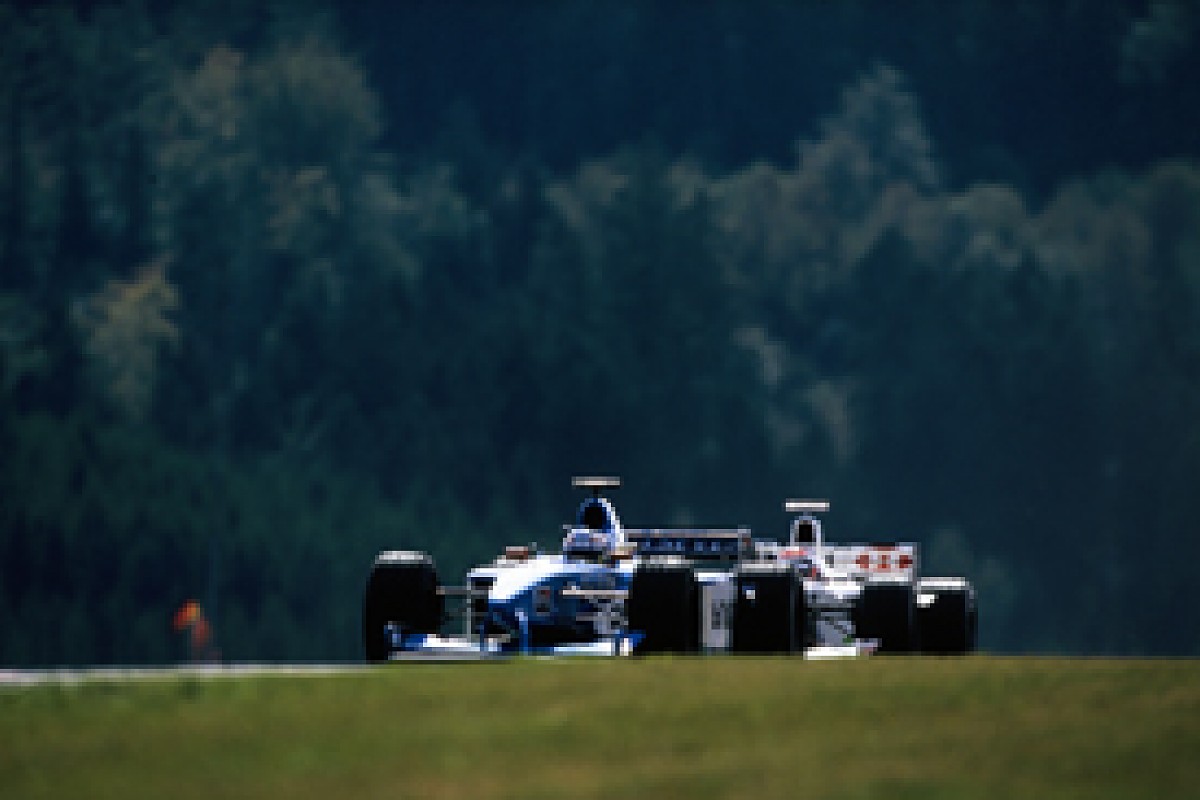 The infamous crunch moment in the 1997 title battle © LAT
1997 (Jerez)

The 1997 season finale was all about the title shoot-out between Michael Schumacher and Jacques Villeneuve. When the pair set identical times in qualifying, along with the other Williams of Heinz-Harald Frentzen, it was clear that this was going to be no ordinary race.
Schumacher led early on from Frentzen, the latter soon letting Villeneuve past to take up the chase. After the second round of pitstops, Schumacher's lead over Villeneuve had narrowed and, on lap 48, the Canadian was within one second of the Ferrari. He attacked into Dry Sac, only for Schumacher to turn in on him and bounce into the gravel. Fortunately for Villeneuve, while Schumacher was out, the Williams survived the impact.
Late on, Villeneuve backed off to allow McLaren pair Mika Hakkinen and David Coulthard past to take a one-two, the legacy of their agreement not to interfere in the title fight (although rumour has it that Williams hoped that its generosity might help to secure a Mercedes engine deal, which never came to pass).
It was Hakkinen's first grand prix win and Villeneuve's only title.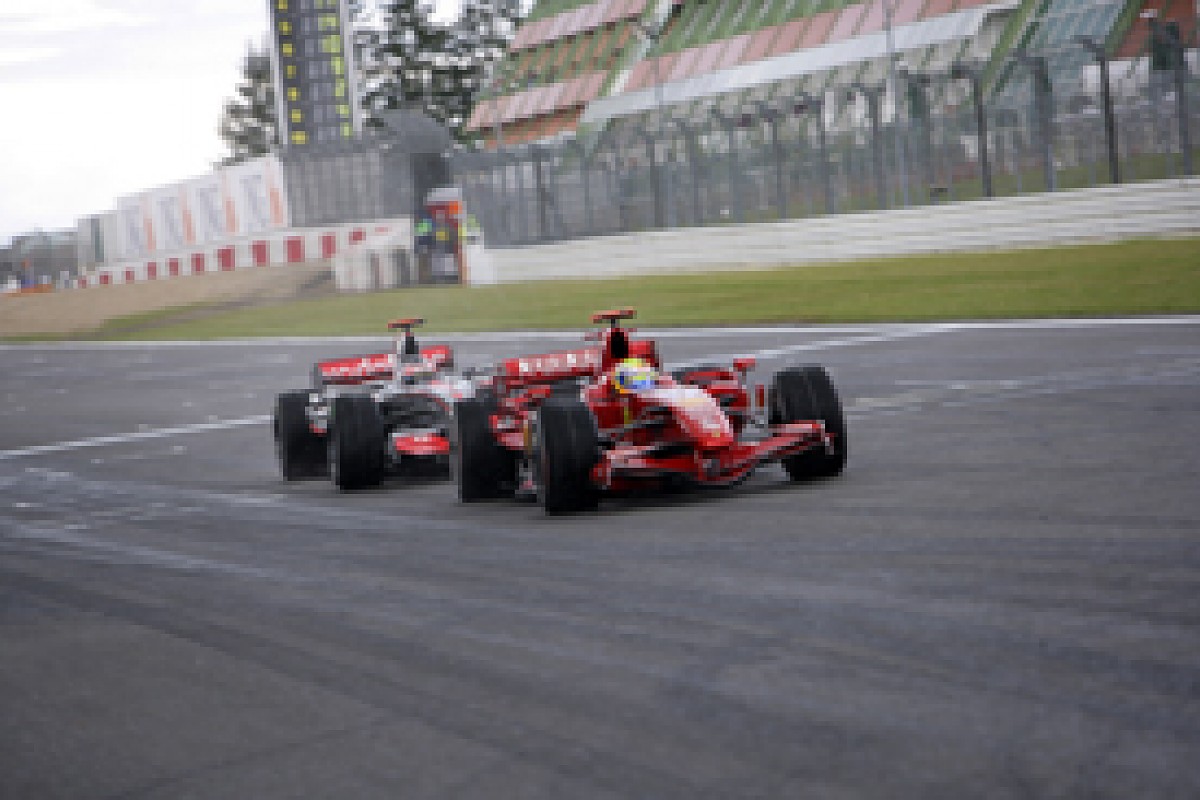 In one of F1's most bizarre races, Fisichella was one of many leaders but crashed, and Herbert won © LAT
1999 (Nurburgring)
The 1999 European Grand Prix was always going to be a dramatic race after rain in qualifying mixed up the grid and left Heinz-Harald Frentzen, an unlikely world championship contender for Jordan, on pole position. Astonishingly, the race was to make the eventful qualifying session look positively dull.
After one fluffed attempt at starting the race, Frentzen held the lead at the restart ahead of Mika Hakkinen, who passed McLaren team-mate David Coulthard at the first corner. A few seconds later, Sauber driver Pedro Diniz rolled after being clipped by Benetton's Alex Wurz, leading to the safety car being deployed.
Frentzen controlled the race initially, but when he retired with an electrical problem McLaren driver David Coulthard took the initiative. The Scot then crashed out in wet conditions, briefly handing the lead to Ralf Schumacher before Benetton's Giancarlo Fisichella got ahead through the pitstops.
Fisichella looked odds-on to take his first win, but spun out, which handed the initiative back to Schumacher. A right-rear puncture did for him, all of which gave a third and final grand prix win to Johnny Herbert. It was the only victory for the Stewart team, with Prost's Jarno Trulli and Herbert's team-mate Rubens Barrichello completing an unlikely podium.
Massa could not fend off the very determined Alonso in the 2007 European GP © LAT
2007 (Nurburgring)
Has ever a downpour been more ill-timed than the one that struck at the start of the 2007 European Grand Prix? A deluge led to much of the field piling off at the first corner early on and the astonishing sight of Spyker driver Markus Winkelhock, in his first and only grand prix, leading the race. Unsurprisingly, the race was red flagged.
After the restart, it settled down into a battle between Ferrari driver Felipe Massa and McLaren's Fernando Alonso. It looked like the Brazilian had the race in the bag, but in the final stint Alonso slashed the gap and with four laps to go pulled off a spectacular overtaking move around the outside of Turn 5.
From the forum
For some reason I just can't bring myself to be excited by this track (actually, I barely remember the place every time they come back). No clue why but none of the corners have any personality, it seems like someone dumped a bucket of corners on a map and just went with what stuck. That said, they tend to stick cameras in some good places so we'll see what they manage.
As for the racing, I can see Alonso doing well, as well as any of the other drivers that have won already this season (and for the Pirelli-Illuminati conspiracy theorists we have Dark Lord Hembrey saying Michael is on for the win). I feel pretty safe saying there will be a repeat winner for this one.
wacktifosi
One stoppers by the likes of Sauber and Lotus are grinding their palms. Given that overtaking is practically impossible at Valencia unless you force your way through or slam dunk the barriers, qualifying and pit strategies will be absolute key.
I'm cheering on Grojean for his third podium which is probable given how kind the Lotus is on its tyres in hot temperatures. As for the frontrunners I doubt anyone will attempt a one-stopper given Ferrari and Red Bull's hard learned lesson in Canada. Quick pitstops and the undercut is where positions will be won. Alternatively using one driver to back up the field.
F1ultimate
I expect no one will be particularly excited by the race unless their driver/team is leading. Sometimes the races we expect to be boring end up throwing the most suprises. Still anything could happen..
RedOne
*Key stats supplied by FORIX collaborator Michele Merlino.