PRACTICE
Practice one - Friday AM
Hamilton started the weekend on top © LAT
Amid a looming threat of rain that prompted many teams to accelerate their Friday programmes and do more morning work than usual, it was Lewis Hamilton who monopolised the top of the times during the opening Montreal session.
The McLaren driver hit the front for the first time after 27 minutes, and was only fleetingly deposed by a quick lap from Nico Rosberg's Mercedes 20 minutes from the end before responding with a 1m15.564s to earn the morning top spot.
Rosberg would be pushed back to third as Red Bull's Sebastian Vettel became the most successful of the drivers who chose to go for super softs in practice one in case of rain later.
Vettel was also involved in a splash of controversy - earning a reprimand for making light contact with Bruno Senna as he skipped the final chicane to dodge around the Williams and give himself a clear lap.
It didn't take long for Montreal to live up to its tough reputation, as Heikki Kovalainen put his Caterham into the wall heavily on the exit of the Turn 8/9 chicane just over halfway through the morning, causing the weekend's first red flag.
Practice two - Friday PM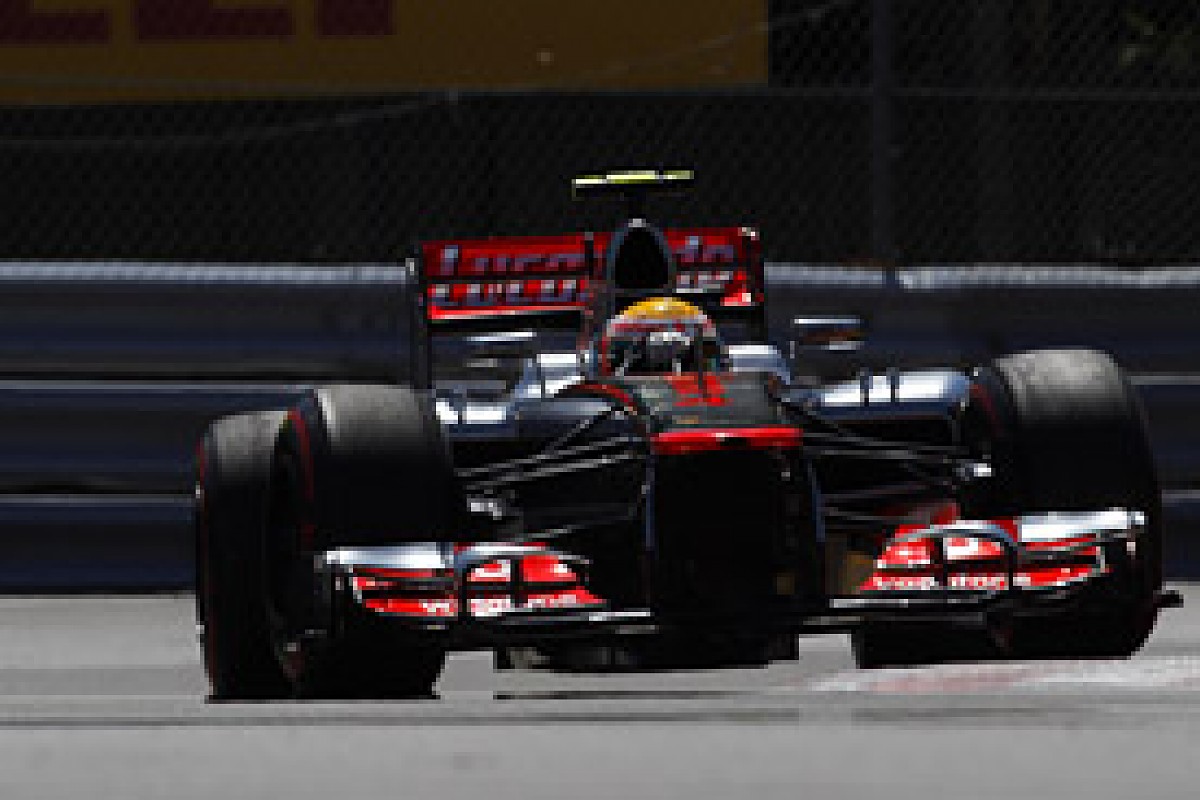 Hamilton was again on top in second practice © LAT
Ultimately the rain didn't get beyond occasional light drizzle, so most got a full afternoon's work in as well, with a few exceptions. Kovalainen sat out the opening half hour while repairs were completed, Jenson Button was confined to 18 minutes of running by an oil leak and subsequent gearbox issue, and Senna brought out the red flags when he backed his Williams into the 'champions' wall' at the final chicane.
Up front, it was Hamilton in charge again, hitting the front after 14 minutes then steadily improving his time.
The Ferraris were next up as they successfully evaluated a new exhaust layout, followed by Vettel and promising runs from Force India's Paul di Resta and Sauber's Kamui Kobayashi.
Practice three - Saturday AM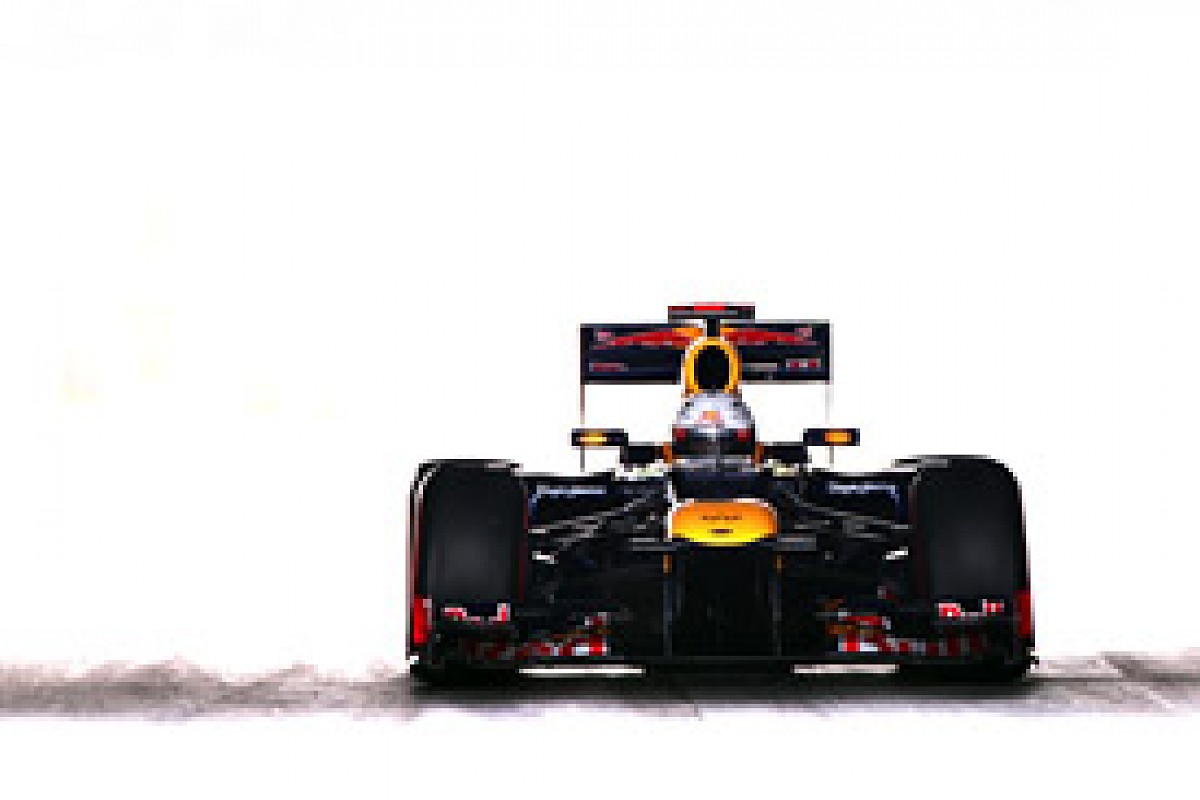 Vettel showed his intentions in final practice © LAT
The final practice session was very hard-fought, with plenty of early position changes at the front before Vettel pipped Hamilton to the fastest time of the soft tyre segment by just 0.001s.
Fernando Alonso led the way for a few minutes when everyone tried super softs in the final minutes, before Vettel reclaimed the top spot by another very close margin, this time 0.006s.
Hamilton, Mark Webber and Pastor Maldonado rounded out the top five, with the leading 16 cars all within a second.
There would be no times for Rosberg - who was halted on his out-lap by a fuel connector problem - or Jean-Eric Vergne, who crashed his Toro Rosso at Turn 2 on his first proper run.
QUALIFYING
Fernando Alonso, Sebastian Vettel and Lewis Hamilton © LAT
1 Sebastian Vettel
"It looked very tight in the beginning, to be honest. I knew it would be within a tenth, but in the end it seemed that we could make a bit more of a difference, which obviously is good.
"But still the advantage we have over Lewis is eight metres on the grid. Looking forward to the race, I think we have a great car. This time we got it right in qualifying."
2 Lewis Hamilton
"It was definitely a bit harder for us today. We definitely struggled with working with the tyres in FP3 and in qualifying, having to push extremely hard to try to get the temperature, to get the tyres to switch on, but very, very fortunately we had still a new set in Q3 and just managed to get through. I'm very, very happy with the performance. I'm very surprised to see us on the front row but nonetheless we'll definitely take it and work as hard as we can tomorrow."
3 Fernando Alonso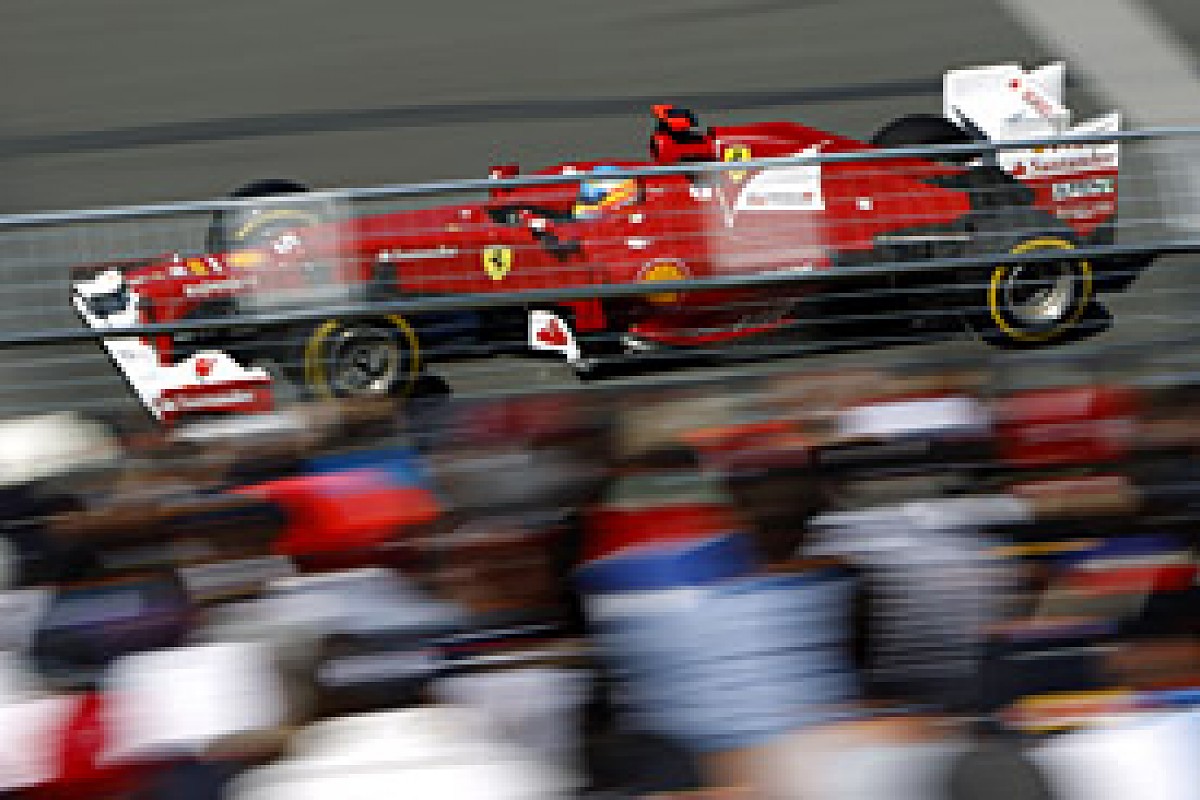 Alonso equalled a season-best third on the grid © LAT
"It was definitely a bit harder for us today. We definitely struggled with working with the tyres in FP3 and in qualifying, having to push extremely hard to try to get the temperature, to get the tyres to switch on, but very, very fortunately we had still a new set in Q3 and just managed to get through. I'm very, very happy with the performance. I'm very surprised to see us on the front row but nonetheless we'll definitely take it and work as hard as we can tomorrow."
4 Mark Webber
"I'm not happy in the last chicane. Normally I am, but I can't get into it and then I have poor change of direction. Q2 wasn't too bad, but that's not the grid. This was probably one of our weakest Q3s of the year. The first lap wasn't very good, and we probably should have made some different adjustments to the car. Then on the last run we had a small issue with a rear tyre blanket that didn't do its job."
5 Nico Rosberg
"It definitely makes it difficult to miss out on the whole [final practice] session when everyone else is doing qualifying simulations. In the end I'm quite pleased with fifth place. That's what our car was giving today."
6 Felipe Massa
"The race tomorrow will not be easy, it will be very competitive, so we need to get everything right We did a very good long run yesterday, so I think that can be positive for tomorrow. The only thing is that the race maybe will be different compared to yesterday because yesterday was very cool."
7 Romain Grosjean
"For sure we wanted a bit more but it was tough conditions - yesterday was very cold and today was more normal. That didn't help us really, and it didn't help that I didn't know the track, so I still had to learn quite a lot. We maybe didn't have our best E20 today, but tomorrow the race is a different story."
8 Paul di Resta
"I think we can be very happy with eighth today, which puts us in a strong position for the race. There was probably a little bit more speed in the car because I was a little bit over-committed in the chicanes on my final lap in Q3, but I don't think it would have made a big difference to my starting position."
9 Michael Schumacher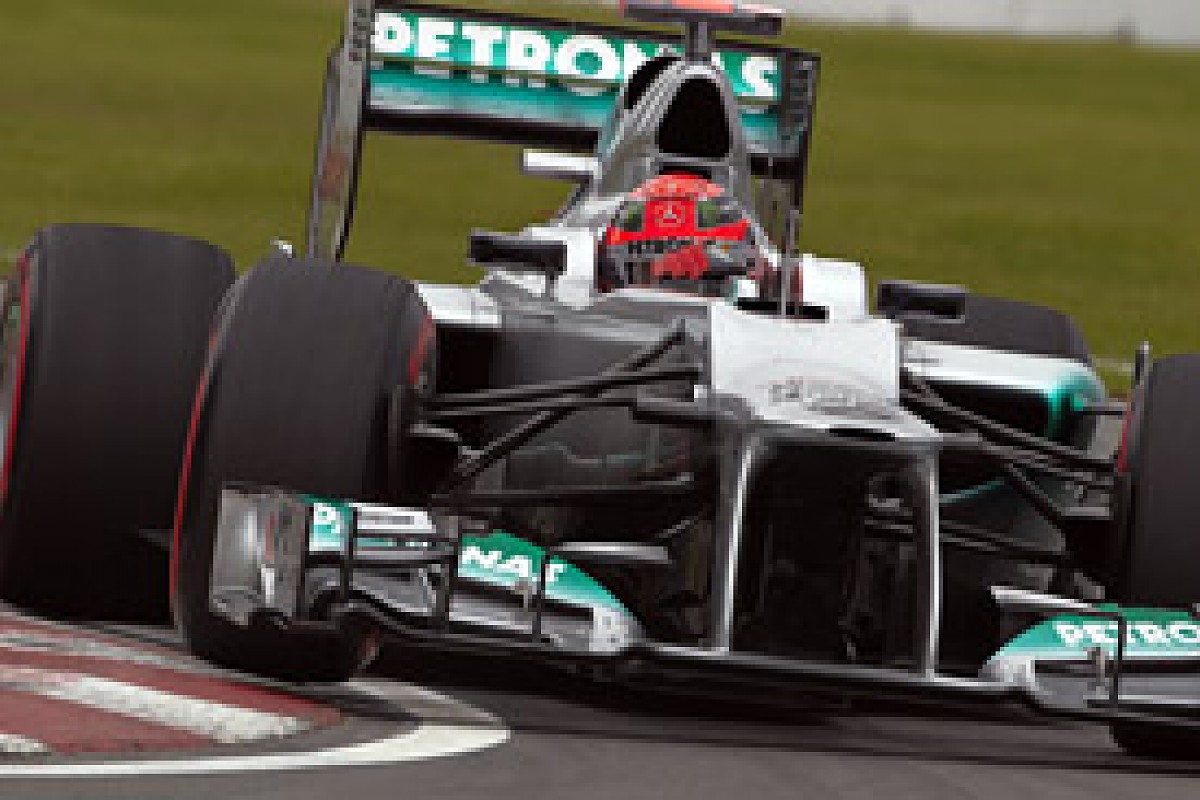 Schumacher was left frustrated in qualifying © LAT
"Apparently we crossed the line with the red lights. I physically saw the green lights. We planned to do two laps - to warm up the tyres, and then to go for it. So that was the plan. And then the team told me to come in."
10 Jenson Button
"We had no option tyres left. We were going to be P10 on the option tyre and thought we'd give it a go on the prime and start the race on a prime, but maybe we shouldn't have put five laps on it. But you get in the car and you want to go out and see what you can do with the tyres, and that's exactly what we did."
11 Kamui Kobayashi
"On Friday in free practice, when it was cooler, we looked more competitive than today. The car's balance was good yesterday and we didn't change it. Also my fastest lap was fine, and there were no mistakes. I think this was pretty much what I could achieve today. Apparently the others improved in comparison to us."
12 Kimi Raikkonen
"We've got some issues with the diff. I think it's a hydraulic problem. We had some problems yesterday and it seems to have come back so the diff doesn't work exactly like it should and, when it's tight like this, when the car is not handling exactly like you want, it's difficult. But, we tried."
13 Nico Hulkenberg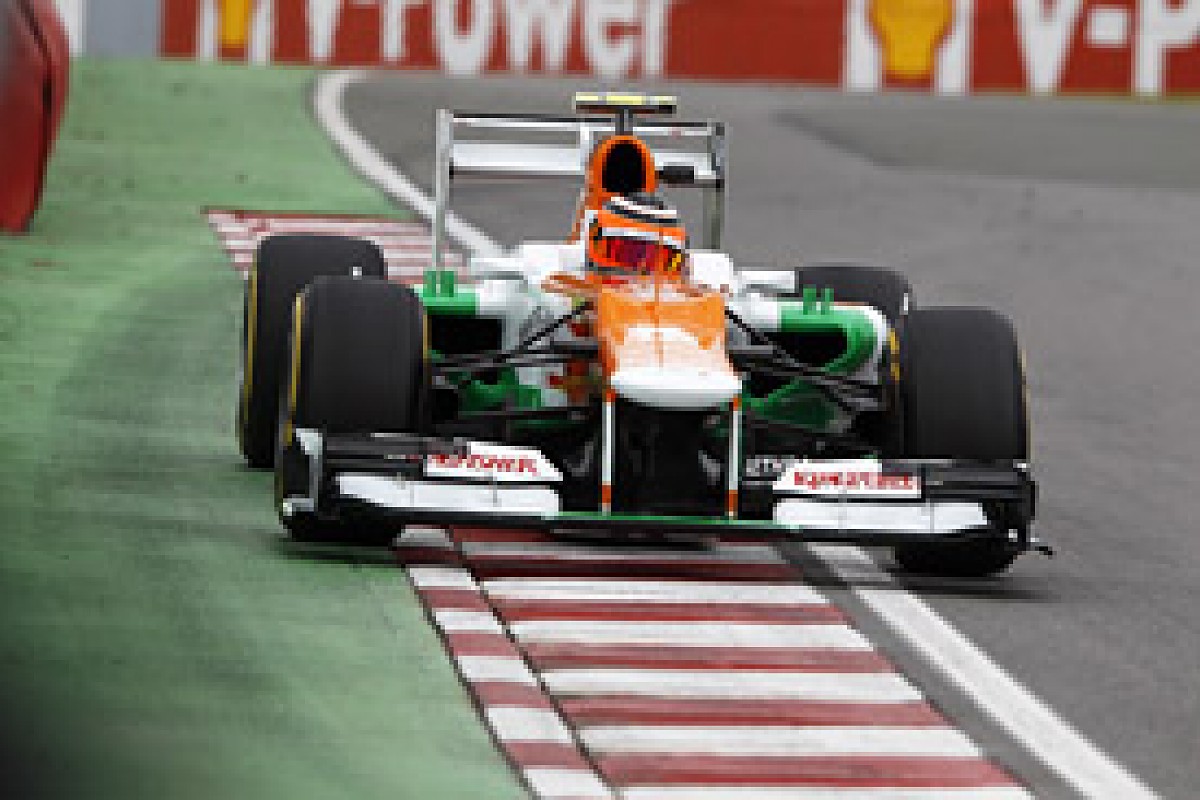 Hulkenberg will start from 13th position © LAT
"I don't think that P13 reflects the pace we had in the car today. We looked very strong in Q1 and I felt really happy with the car, especially after the changes we made between FP3 and qualifying. But I had some bad luck in Q2 when I got caught out by a yellow flag on my quickest lap because a Sauber went off ahead of me in Turn 8 and I had to abort the lap. If I had managed a clean lap, I think I could probably have made Q3."
14 Daniel Ricciardo
"This result is not too bad, considering the pace we showed so far this weekend. Fourteenth was probably about the best we could have done as there is a three tenths gap to 13th place."
15 Sergio Perez
"Having qualified only 15th is a big disappointment for me, as certainly a place in the top 10 would have been possible. Unfortunately on the first lap of my last run with new super soft tyres I flat spotted them when braking into Turn 8. The car was then vibrating a lot, which meant I could hardly see the braking points."
16 Bruno Senna
"It was looking promising in Q1 and I managed to put a few good laps together, but the track evolution caught us out a little bit and there just wasn't the grip in Q2."
17 Pastor Maldonado
* Crashed at final chicane at end of Q2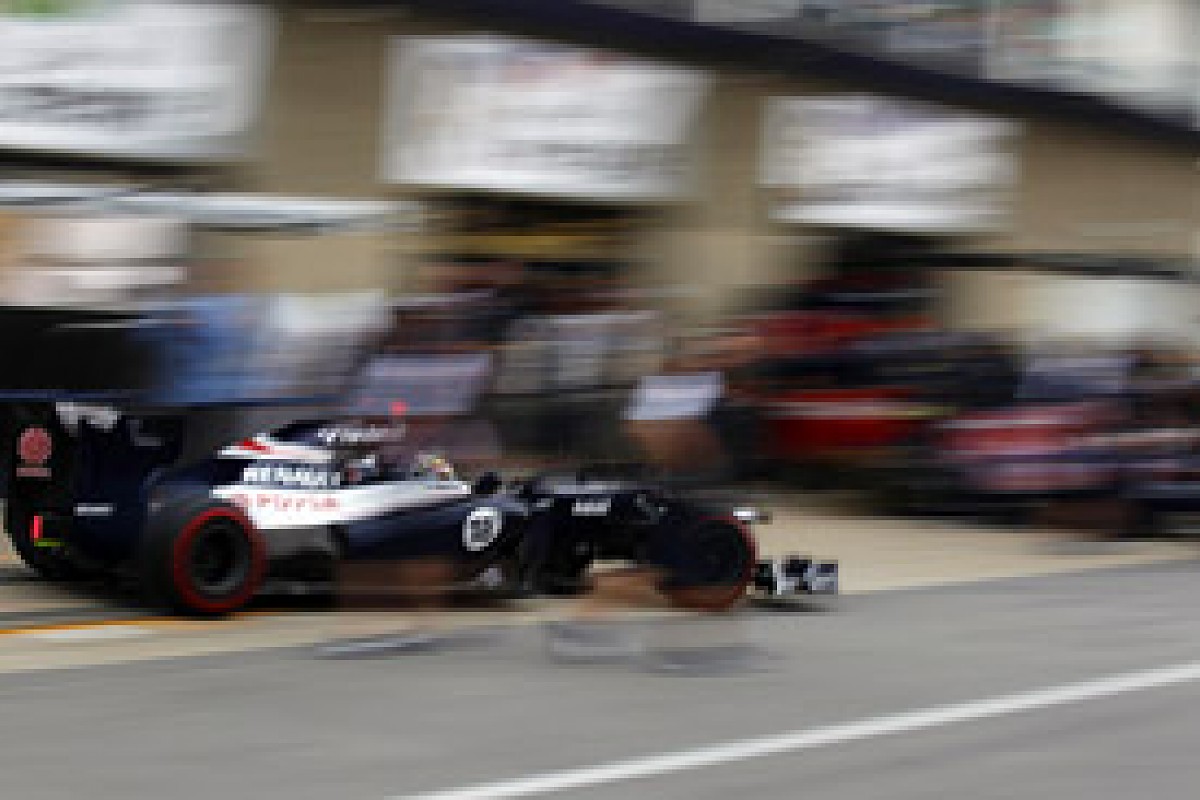 Maldonado's session ended after contact with the wall © LAT
"I think it was a complicated qualifying from Q1 because I was always in the middle of the traffic. I had only one lap at the end of Q2 and I just tried to push - maybe too much at the last corner. But it was the only opportunity we had to get into Q3. I was trying my best."
18 Heikki Kovalainen
"My last lap was quite a long way up but I made a small mistake in the final chicane which maybe cost me a couple of tenths, but it didn't affect my position and, really, I probably got as much as I could out of the car today. Yesterday's accident could have set us back a bit but the guys did a fantastic job to fix the car so we haven't lost any performance at all and I was 100 per cent confident I could push today."
19 Vitaly Petrov
"I'm not all that happy with where we ended up today. In FP3 the car felt really good and I was pretty confident I could have beaten my team-mate today but the temperatures rose between the end of FP3 and the start of Q1 and maybe we could have found something that would have helped manage the change in conditions better."
20 Jean-Eric Vergne
"My little mistake in FP3 cost me a lot. I didn't get any running this morning and then this afternoon, I never really got a clean lap, encountering a lot of traffic which is therefore very disappointing. On top of that, my car was quite different today to yesterday, so it was not the easiest thing to adapt to it in just a couple of laps in Q1. Even if the traffic would not have made a huge difference to my position on the grid, some cleaner laps would have allowed me to improve my performance and get a better feel for the car with this different set-up."
21 Pedro de la Rosa
"In Monaco we completed a good qualifying and here it was even better. The objective was to achieve our fastest lap and we did it. A 1m17.4s is good, but we could have done better on the last set of tyres but I wasn't able to improve on my previous lap. We've been quick the whole weekend, it wasn't a coincidence and we should do well tomorrow."
22 Timo Glock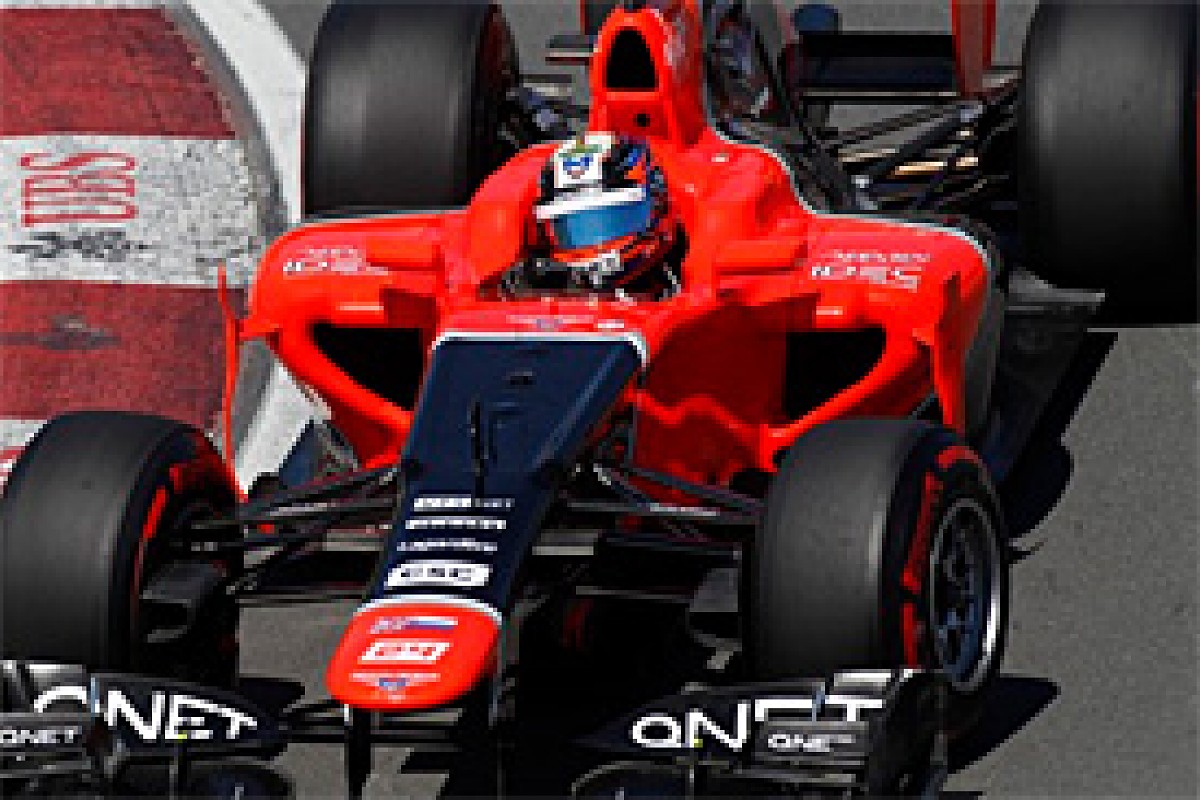 The Marussias lost out to the HRT of de la Rosa © LAT
"Not a great qualifying for us in the end. We have to understand why we didn't gain any time with the second set of tyres, which felt a little strange straight out of the box. They did not have the same grip as the first set and I wasn't able to push in the same way for the first flying lap. The second flying lap was only quicker because on the first, in the last chicane, I made a little mistake when I had to slow down at the chicane because of the car in front of me."
23 Charles Pic
"It is always harder at a track that you haven't raced at before and where you've spent your time so far mainly getting to know it and learning its characteristics rather than spending more time improving the car. Certainly there is room for improvement in sector one and a little bit in sector two. Sector three was not too bad."
24 Narain Karthikeyan
"It was a messy qualifying for me. On the first set of tyres I encountered a lot of traffic and on my quickest lap I got all the sectors right and I made a mistake coming into the last corner which cost me six tenths. My qualifying has been weak this year and I need to improve this."
Canadian Grand Prix grid:
Pos  Driver                Team


 1.  Sebastian Vettel      Red Bull-Renault
 2.  Lewis Hamilton        McLaren-Mercedes
 3.  Fernando Alonso       Ferrari
 4.  Mark Webber           Red Bull-Renault
 5.  Nico Rosberg          Mercedes
 6.  Felipe Massa          Ferrari
 7.  Romain Grosjean       Lotus-Renault
 8.  Paul di Resta         Force India-Mercedes
 9.  Michael Schumacher    Mercedes
10.  Jenson Button         McLaren-Mercedes
11.  Kamui Kobayashi       Sauber-Ferrari
12.  Kimi Raikkonen        Lotus-Renault
13.  Nico Hulkenberg       Force India-Mercedes
14.  Daniel Ricciardo      Toro Rosso-Ferrari
15.  Sergio Perez          Sauber-Ferrari
16.  Bruno Senna           Williams-Renault
17.  Heikki Kovalainen     Caterham-Renault
18.  Vitaly Petrov         Caterham-Renault
19.  Jean-Eric Vergne      Toro Rosso-Ferrari
20.  Pedro de la Rosa      HRT-Cosworth
21.  Timo Glock            Marussia-Cosworth
22.  Pastor Maldonado      Williams-Renault *
23.  Charles Pic           Marussia-Cosworth
24.  Narain Karthikeyan    HRT-Cosworth

* Five-place penalty for a gearbox change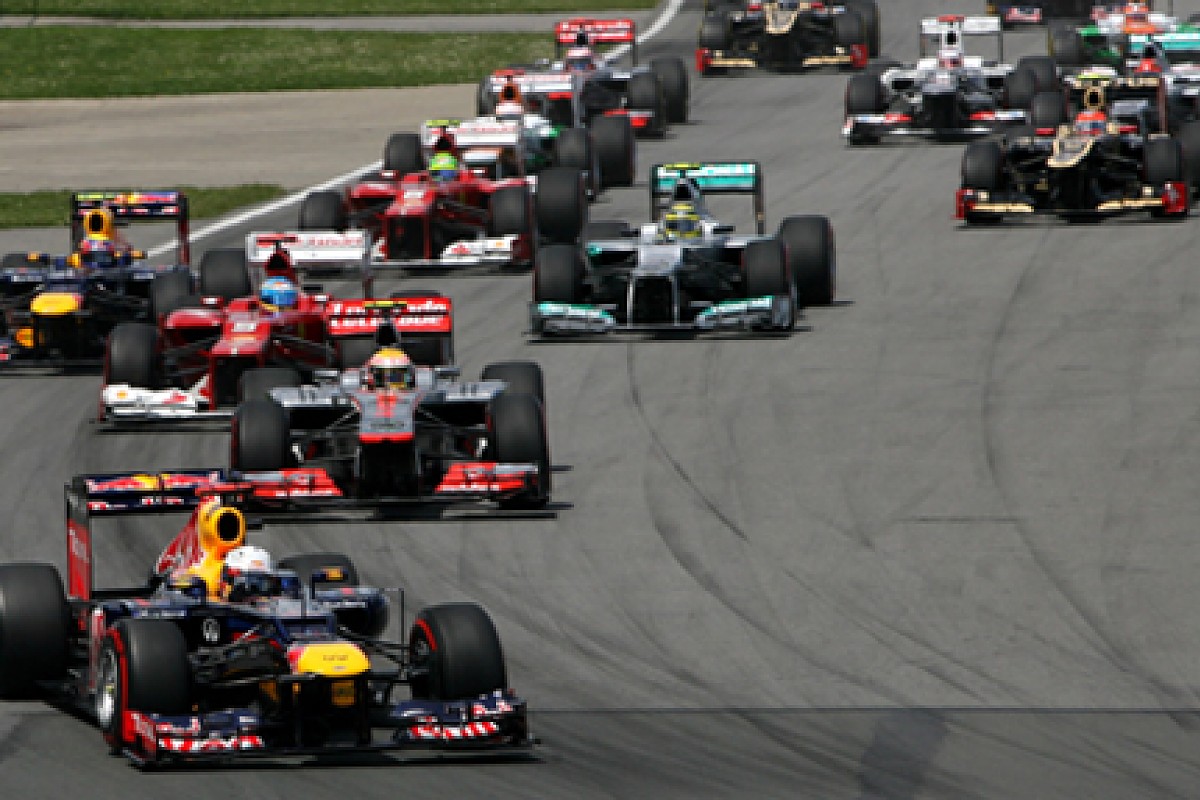 RACE
Despite the rampant unpredictability of the opening third of the 2012 Formula 1 season, Sebastian Vettel's crushing dominance of 2011 is still so fresh in the memory that when the world champion put his Red Bull on pole by three tenths in Montreal, there were fears that the Canadian Grand Prix would see a straightforward Vettel win of the type that occurred so relentlessly last year (though not, of course, in Canada).
The suspicion that there would be little divergence in tyre strategy through the field also hinted at an underwhelming race...
But once again, F1 2012 delivered in style, with a seventh different winner and yet another new championship leader, as Lewis Hamilton put McLaren back on top and notched up his third Montreal win. And again, tyres were at the heart of it, with a winner who decided charging on fresh Pirellis was the best bet, two tyre-kindly underdogs appearing on the podium, and two erstwhile race leaders dropping back when their rubber gambles went awry.
At first all was very orderly, as poleman Vettel kept his Red Bull ahead of Hamilton's McLaren and Fernando Alonso's Ferrari at the start.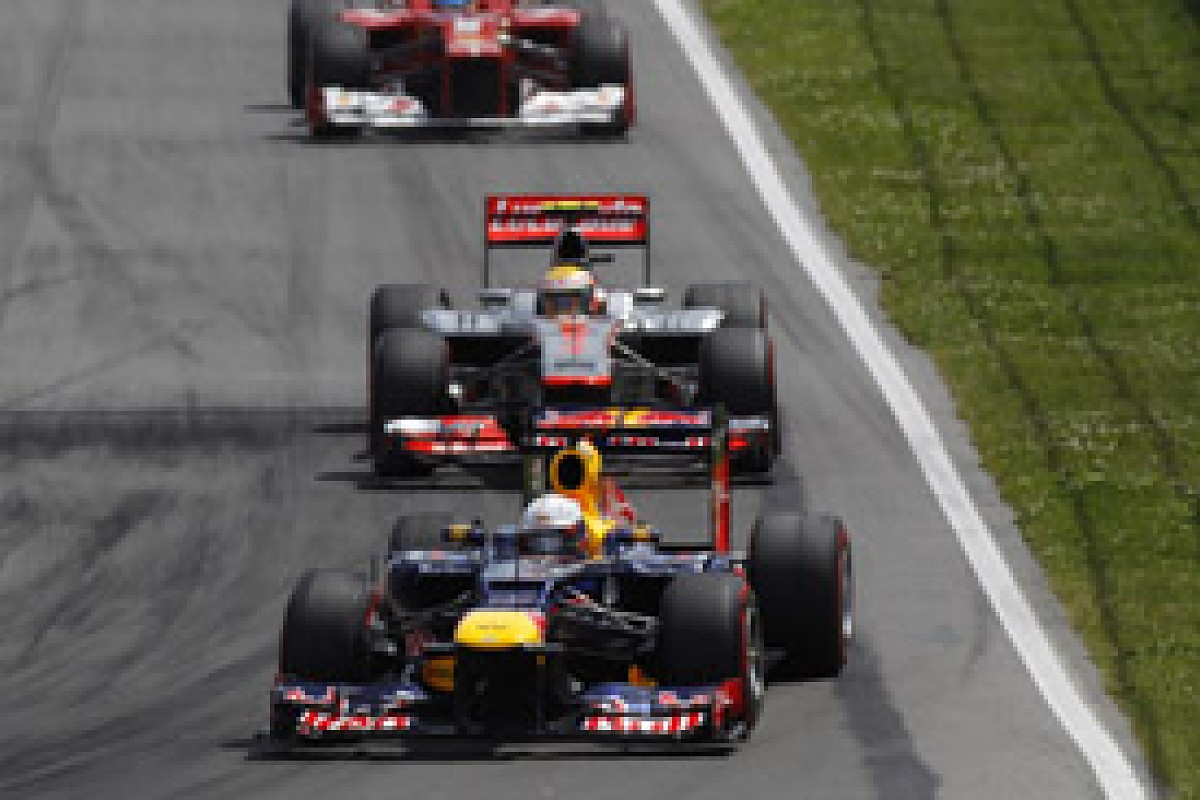 Vettel led Hamilton and Alonso early on in the race © LAT
Generally covered by about three seconds, the trio pulled clear from the rest of the pack and seemed to already have the podium spots locked up by the time Vettel began the leaders' pitstops on lap 16. The first surprise of the afternoon was that the usual undercut tactic wasn't working in Montreal - Hamilton went one lap further and leapfrogged the Red Bull, while Alonso stayed out two more laps and jumped them both. Although his lead was only fleeting as Hamilton executed a DRS pass on the long straight despite Alonso's best efforts to both slow the McLaren's exit from the hairpin and defend the inside line.
Hamilton was able to pull away a little from his pursuers, and the McLaren's pace convinced Ferrari and Red Bull that their only hope of beating it was to do something different with strategy.
So while Hamilton stuck with the widely anticipated two-stop plan and came in for a third set of tyres on lap 50, Alonso and Vettel kept plugging on with the softs they had fitted on laps 19 and 17 respectively.
It didn't take long for it to become clear that they had made the wrong choice. Hamilton rejoined 14 seconds behind Alonso and 11s down on Vettel, and was soon lapping one second quicker - and with nearly 20 laps still to go, the maths were in McLaren's favour, especially with overtaking fairly straightforward even with Montreal's DRS opportunities reduced.
Eight laps from the end, Hamilton caught Vettel on the way out of the hairpin and the world champion didn't even try to defend his second place through the DRS zone, acquiescing to the inevitable and then pitting for tyres next time around, dropping him to fifth.
It took just two more laps for Hamilton to catch Alonso, and rather than waiting until DRS time, he attacked his sometime nemesis into the Turn 8/9 chicane and Turn 10 hairpin, getting very close to the Ferrari before making the pass on the long straight after all.
That move secured Hamilton's first victory of the season, and would also put him back into the points lead. That wouldn't have been the case had Alonso hung on to second, but the Spaniard was about to go into freefall, his long run of 1m18s laps becoming 1m19s and 1m20s.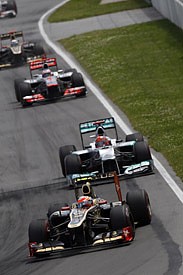 Romain Grosjean drove a strong race to finish second © LAT
And that was a lot slower than the gaggle of cars hunting him down, led by Romain Grosjean's Lotus, which had started the race in a quiet eighth, made its single stop on lap 21, then gradually moved forward as others pitted. That put him fourth, and while Alonso's pace faded, Grosjean continued churning out 1m17s, passing the Ferrari for second on lap 66.
Given Lotus's habit of having better Sundays than Saturdays, Grosjean's progress from seventh on the grid was not much of a surprise - but to see 15th-place qualifier Sergio Perez's Sauber appearing in Alonso's mirrors was a real shock, as the Mexican's tyre conservation prowess again paid off. A quiet 13th at first, Perez stayed out until lap 41 before his sole pitstop, following Kimi Raikkonen's Lotus - which was on the same strategy - in the top five.
Perez jumped the 2007 champion in the pits, and then ran eighth, chasing Felipe Massa and Nico Rosberg. When the Ferrari and Mercedes tripped over each other as they diced into the final chicane, Perez was able to pick them both off within the space of a lap, and he then gained another spot when Mark Webber made a second pitstop.
Vettel's tyre change also dropped him behind Perez, who was now setting new fastest race laps and closing very rapidly on Alonso.
Unlike Malaysia, this time there was nothing the Ferrari could do to resist the Sauber, and three laps from the end Perez cruised past and secured his second podium of the year. Alonso would lose another place to the recovering Vettel before the race was over. The Spaniard remained bullish afterwards, though, praising his Ferrari team for rolling the dice to try and win rather than just copying main rival Hamilton, while also acknowledging that his car's tyre wear rates were too high - pointing out that Grosjean pulled off second place on Pirellis only two laps younger than the set Alonso carried as he slumped to fifth.
Two-stopper Rosberg came within four tenths of snatching another place from Alonso, as the Mercedes driver recovered from a slightly off-the-pace opening stint.
Webber spent much of the race in a solid fourth, hampered slightly by an early engine issue, but his second tyre stop dropped him to seventh, ahead of Raikkonen - who followed the same tyre tactics as Perez but didn't drive as rapidly. If the race had lasted one more lap, Rosberg, Webber and Raikkonen would probably all have overtaken Alonso as well.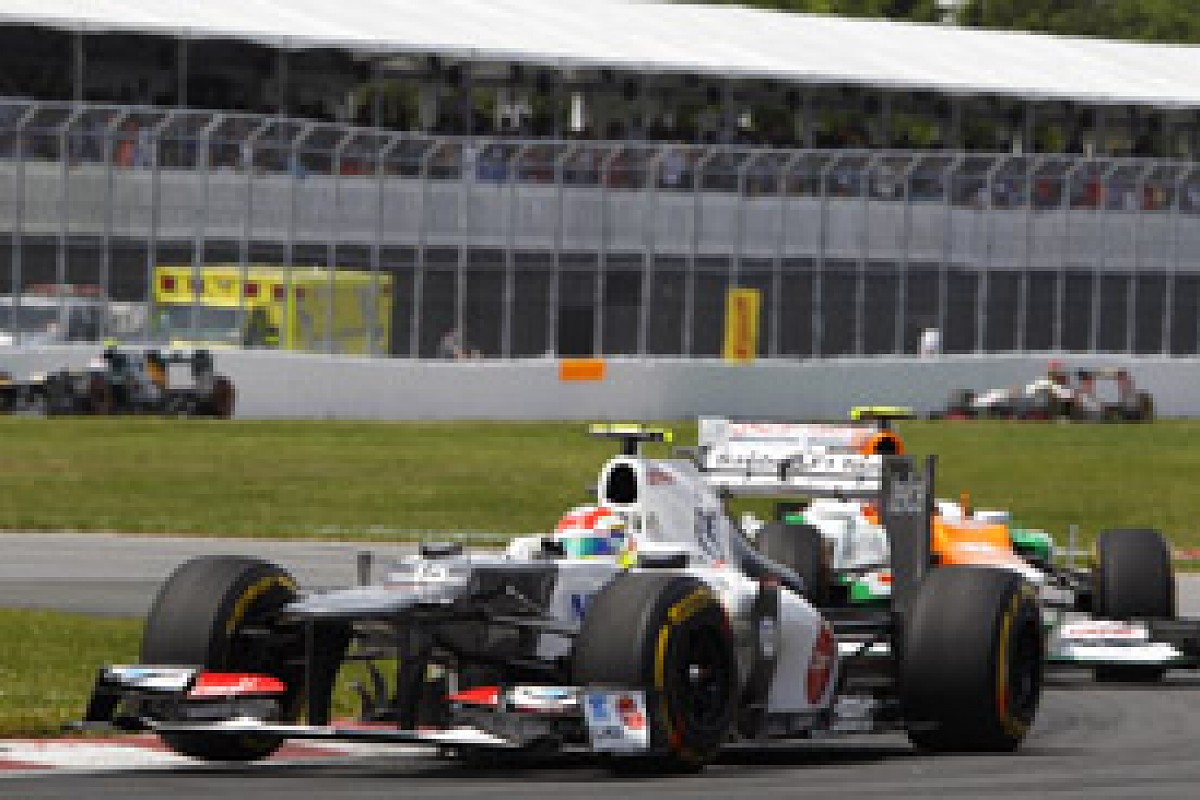 Perez produced another brilliant drive for Sauber. © LAT
Kamui Kobayashi found that a single early stop didn't work out as well as his Sauber team-mate Perez's single late stop, but did give the Swiss squad a double points finish in ninth, just ahead of Massa. The Brazilian had got up to fifth in the opening laps, spun back to 12th, recovered well to fifth again, then lost a load of places with a second pitstop.
With the exception of Caterham - which did some early-lap giant-killing and then finished 18th and 19th after a relatively close battle between Heikki Kovalainen and Vitaly Petrov - everyone below 10th had a fairly miserable afternoon.
Paul di Resta had a very promising start, getting as high as fifth for Force India, before high tyre degradation led to early pitstops and left him 11th, ahead of team-mate Nico Hulkenberg, who made little impression.
Williams made even less, as Pastor Maldonado and Bruno Senna struggled to 13th and 17th places, while a spin for Daniel Ricciardo and a pitlane speeding penalty for Jean-Eric Vergne contributed to underwhelming 14th and 15th positions for Toro Rosso.
HRT couldn't make its brakes last as far as lap 25, leading to early retirements for Pedro de la Rosa and Narain Karthikeyan on a day when the Spaniard had been ahead of the Marussias and Karthikeyan right on their tail. Brake trouble halted Timo Glock too, though his Marussia team-mate Charles Pic made it home in 20th and last.
But the saddest tales came from two drivers on particularly gloomy runs of form at present: Michael Schumacher and Jenson Button. It was another bizarre retirement for Schumacher, whose DRS wing flap jammed open, though he was only running 12th at the time.
Button struggled for both speed and tyre life, meaning three pitstops and a desperately disappointing lapped 16th place for the winner's "lost and confused" team-mate.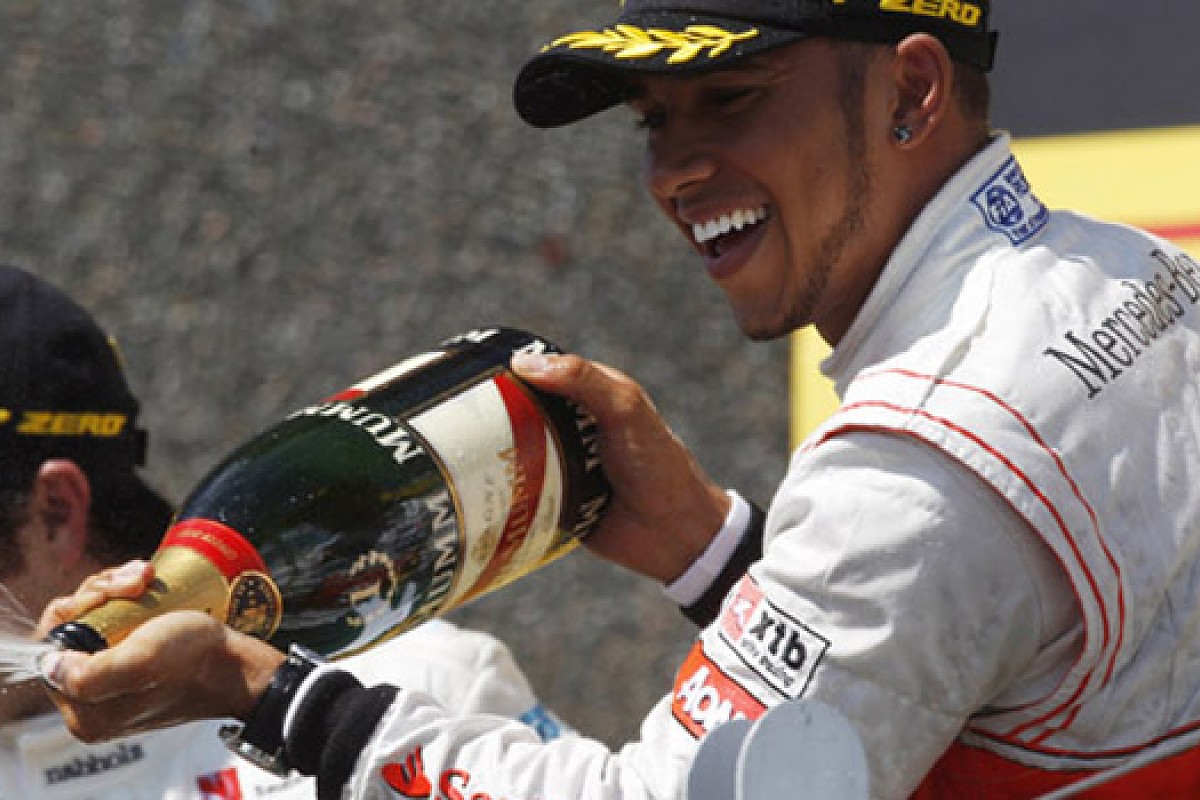 Lap-by-lap as it happened on AUTOSPORT Live
 RACE RESULTS

The Canadian Grand Prix
Montreal, Canada;
70 laps; 305.270km;
Weather: Sunny.

Classified:

Pos  Driver        Team                       Time
 1.  Hamilton      McLaren-Mercedes           1h32:29.586
 2.  Grosjean      Lotus-Renault              +     2.513
 3.  Perez         Sauber-Ferrari             +     5.260
 4.  Vettel        Red Bull-Renault           +     7.295
 5.  Alonso        Ferrari                    +    13.411
 6.  Rosberg       Mercedes                   +    13.842
 7.  Webber        Red Bull-Renault           +    15.085
 8.  Raikkonen     Lotus-Renault              +    15.567
 9.  Kobayashi     Sauber-Ferrari             +    24.432
10.  Massa         Ferrari                    +    25.272
11.  Di Resta      Force India-Mercedes       +    37.693
12.  Hulkenberg    Force India-Mercedes       +    46.236
13.  Maldonado     Williams-Renault           +    47.052
14.  Ricciardo     Toro Rosso-Ferrari         +  1:04.475
15.  Vergne        Toro Rosso-Ferrari         +     1 lap
16.  Button        McLaren-Mercedes           +     1 lap
17.  Senna         Williams-Renault           +     1 lap
18.  Kovalainen    Caterham-Renault           +     1 lap
19.  Petrov        Caterham-Renault           +     1 lap
20.  Pic           Marussia-Cosworth          +    2 laps

Fastest lap: Vettel, 1:15.752

Not classified/retirements:

Driver        Team                         On lap
Glock         Marussia-Cosworth            57
Schumacher    Mercedes                     34
De la Rosa    HRT-Cosworth                 25
Karthikeyan   HRT-Cosworth                 23


World Championship standings, round 7:                

Drivers:                    Constructors:             
 1.  Hamilton      88        1.  Red Bull-Renault          164
 2.  Alonso        86        2.  McLaren-Mercedes          133
 3.  Vettel        85        3.  Lotus-Renault             108
 4.  Webber        79        4.  Ferrari                    97
 5.  Rosberg       67        5.  Mercedes                   69
 6.  Raikkonen     55        6.  Sauber-Ferrari             58
 7.  Grosjean      53        7.  Williams-Renault           44
 8.  Button        45        8.  Force India-Mercedes       28
 9.  Perez         37        9.  Toro Rosso-Ferrari          6
10.  Maldonado     29       
11.  Kobayashi     21       
12.  Di Resta      21       
13.  Senna         15       
14.  Massa         11       
15.  Hulkenberg     7       
16.  Vergne         4       
17.  Schumacher     2       
18.  Ricciardo      2       
       
All timing unofficial

TEAM BY TEAM
Red Bull
Red Bull was asked to make more changes to its cars by the FIA on Saturday morning, but Vettel looked like his old self in qualifying as the world champion took his 32nd pole position by 0.3s from Hamilton. Webber on the other hand was less comfortable with his car and was surprised to be competitive enough to place fourth.
Vettel lost the lead to Hamilton in the first pitstops where he also dropped to third behind Alonso. He moved up to second when the McLaren driver stopped and, along with Alonso attempted a one-stopper on the soft primes, but they fell off a cliff and Hamilton repassed them
both. Vettel finally pitted on lap 64 with six to go, dropping him to fifth. He then put in a barn-storming final stint and repassed Alonso's tyre-shot Ferrari with one lap to go, before setting the fastest lap of the race on the last tour.
Webber was never a factor after pitting early and complaining of a flat spot in the rev band. He climbed back to fourth through the strategies mid-race but his own second stop dropped him to eighth, which became seventh when Massa pitted.
McLaren
It always looked good for Hamilton this weekend. Fastest throughout Friday, it was something of a surprise when Vettel beat him to pole comfortably on Saturday - which the McLaren driver blamed on the warmer temperatures.
Those temperatures didn't hamper him in the race though as he scorched to a brilliant 18th grand prix victory. He trailed Vettel initially but passed the Red Bull driver in the first stops, though both lost out to the wily Alonso. Hamilton made short work of the Ferrari in the DRS zone however before setting about establishing a cushion before the second stops. Concerned that his rivals might be one-stopping as he pitted for a second time, his last stint produced fastest lap after fastest lap and boxed Vettel and Alonso into a situation where they had to try and make their tyres last. He passed them both to take one of the best wins of his career five years to the day after his first one - at the same circuit.
Jenson Button's weekend was an unmitigated disaster. He started 10th and finished 16th having been forced to stop three times. Afterwards he was at a complete loss to explain where all the grip had gone, but it certainly wasn't there.
Ferrari
Fernando Alonso was a factor for victory right up until the last 10 laps of the race. The Spanish ace put himself in the hunt by qualifying third as Ferrari opted to run its newest exhaust solution, which appeared to prove competitive for both drivers with Massa qualifying fifth.
Alonso trailed Vettel and Hamilton until the first stops, but ran longer into the race than his rivals on the super softs, which then allowed him to turn the tables and lead briefly. He couldn't hold back Hamilton's McLaren in the middle part of the race but came back into play when his old nemesis pitted. The Spaniard then elected to go for a one-stop which looked a good call until his tyres fell the cliff with five laps to go and he faded to fifth.
Massa ruined all his good work through the weekend with an early spin out of fifth position. From then on he was mired in the pack and despite setting some ultra-competitive lap times, ended the day 10th.
Mercedes
Mercedes came into the weekend as one of the teams to beat but it never really worked out for the Silver Arrows. Rosberg qualified fifth having missed P3 through a technical issue, while Schumacher oddly failed to cross the line in time to do his second flying lap in Q3 rendering him ninth on the grid.
Rosberg opted for a two-stop race after getting caught behind di Resta and Massa - both of whom passed him on track. Once off the super softs Rosberg flew and for a while looked like he might bring himself into contention. But stopping earlier than his rivals to make use of track
position cost him when he found himself on older primes than those around him at the end of the race. Schumacher's awful luck continued when he retired with his DRS wing flap jammed open.
Lotus
Raikkonen blamed a failure to make Q3 on a differential issue that had also plagued him on Friday. Grosjean qualified a more promising seventh, but even the Frenchman had expected to be higher than that and admitted he didn't get the best out of the car.
Both drivers opted for one-stop strategies and Grosjean in particular excelled as the Lotus found a happy operating window in the higher temperatures. Having led briefly through the pitstop sequence he dropped to eighth when he pitted for prime tyres a third of the way into the race, then bided his time as others stopped ahead of him. In the end he took advantage of Vettel pitting and Alonso's tyres having faded to move up to a strong second. Grosjean finished just 2.5s
behind winner Hamilton. Raikkonen ran for longer on his first set of primes, but couldn't make his way out of the traffic to capitalise on the super softs and finished eighth.
Force India
Force India's drivers went into the race on Sunday hopeful of points finishes after Paul di Resta qualified an encouraging eighth and Nico Hulkenberg showed good pace before missing out on Q3 when a Sauber went off and he had to abort his quick lap.
They came away ultimately disappointed though after finishing 11th and 12th. Di Resta made a strong start and passed both Massa and Rosberg, but faded after his first pitstop - admitting he did not have enough pace in the car through high degradation and not enough grip. Ditto Hulkenberg.
Sauber
Even before turning a wheel in Montreal, Perez said he was hopeful of a podium in Canada, something than some may have found optimistic. Things went smoothly in practice, with both the Mexican and Kobayashi finding the car strong over longer runs, although not so much in qualifying trim.
That proved to be a fair reflection of Sauber's form, with Perez qualifying down in 15th, four places behind Kobayashi. Both drivers believed a better result was possible had things gone to plan, however.
In the race, both drivers ended up using a one-stop strategy, although Kobayashi struggled during the final laps and also with traffic all through the event, having to settle for ninth. Perez was again in fine form and made his tyres last perfectly. This gave him the chance to put on a great charge over the final part of the race - achieving his second podium of the season in the process.
Toro Rosso
It was clear from the start of the weekend that it would be a hard grand prix for Toro Rosso, which lacked top speed over the straights of the Gilles Villeneuve circuit. Ricciardo had a trouble-free run in practice, unlike team-mate Vergne, who made a costly mistake at the start of FP3, crashing against the wall and not running again prior to qualifying.
The Frenchman paid the price for that, and went out in Q1 while Ricciardo did a good job to finish in 14th. In the race, both men went pretty much unnoticed, with the Australian finishing where he had started despite a late spin. Vergne recovered well to finish behind his team-mate, but the team had nothing to write home about.
Williams
Williams made it seem as if the Spanish Grand Prix had taken place years, rather than weeks ago with an even more disappointing weekend than in Monaco. Senna crashed into the wall of champions on Friday, while Maldonado did the same in qualifying, where they ended up 16th and 17th respectively. A gearbox-change penalty dropped the Venezuelan to the back of the grid again for Sunday.
Maldonado had a decent race, with consistent pace and no big problems. He opted for a one-stop strategy and made it work well, but having started from the back meant all he could do was finish in 13th position. Senna, also using a one-stop strategy, said he lost too much time in the first stint with the super softs, winding up 17th and a lap down despite having started six places ahead of his team-mate.
Caterham
Kovalainen's weekend did not start off on the right foot after the Finn caused heavy damage to his car when going too wide at Turn 9 during first practice. He still managed to run in FP2 and then had a solid qualifying, even managing to outperform the Toro Rosso of Vergne. Petrov was upbeat about his prospects after a good final practice, but did not feel comfortable with the car when the temperature rose in qualifying, finishing behind Kovalainen.
Kovalainen's race was uneventful, the Caterham driver admitting his pace was not what the team had been expecting, going on to finish 18th. Petrov too finished where he had started
from, the Russian happier on Sunday having stayed close to his team-mate until the end.
HRT
By far its most promising outing so far this season, the Canadian Grand Prix was bitter-sweet for HRT. De la Rosa was in fine form all weekend and managed to outqualify both the Marussias by
quite some margin. Karthikeyan was not quite in the same league, finishing nearly a second behind in last place.
Their hopes for the race however were short-lived, as both started to suffer brake problems by around lap 20. Karthikeyan had a scare in the form of a spin before parking his car, while de la Rosa drove into the pits with similar problems just a moment later.
Marussia
The weekend was difficult from the start for Marussia, with both Glock and Pic feeling less than comfortable from Friday practice onwards. Qualifying was tough again, with Glock not managing a good lap, first making a mistake in his opening run and then having tyre problems in
the second, with his super softs lacking grip. Pic was reasonably satisfied with his performance but finished behind his team-mate.
Glock's race was one to forget: he lost power during his first stint and then decided to retire for safety reasons when his brake was getting too long some 13 laps from the end. Pic was pleased to have made it to the chequered flag, even though he was the only driver who finished two laps down, and in 20th position.
RACE DATA