The role of stand-in is a very specific one and demands a precise set of skills. The understudy to a great actor must be capable of playing the part, but also deal with the fact that, come the next day's performance, he'll be back to his unheralded position off-stage.
If you're producing a play, your choice of understudy must be made with that in mind. You're not looking for a leading player, but a capable stop-gap. Try to cast a great as an understudy and you're asking for trouble.

Let's take it as a given that Ferrari is considering flicking Felipe Massa. The point here is not to discuss the merits, or lack thereof, of retaining Massa but to consider the potential replacements. Assuming that Ferrari does want a replacement, and also assuming that it is not yet ready to commit to a long-term deal for whoever it brings in, there is one obvious stop-gap. Of the many names linked to saddling up on the prancing horse this year, the obvious choice seems to have been ignored. And he's the right selection precisely because he is not a proven topliner or a future world champion.
Step forward Kamui Kobayashi. He is the F1 driver best-suited to a short-term deal at Ferrari. Not convinced? Then read on.
Perez is already part of Ferrari's driver development programme
Were Ferrari to take the long-term option, the obvious candidates would be Paul di Resta, Sergio Perez and Nico Hulkenberg. Di Resta would be well-advised not to take such a short-term appointment at Ferrari given the interest in him from the likes of McLaren and Mercedes. If it were a multi-year deal it would be a different story and he should be snapped up as soon as possible. Perez will benefit from using the rest of the year at Sauber to hone his skills while Hulkenberg would also do well to be wary of risking a short appointment at Ferrari. All three are ultimately better grand prix drivers than Kobayashi, but that's not what Ferrari should base its decision on. All three also have a lot to lose from a sudden, and short-lived, promotion.
Kobayashi is an established F1 driver. He's quick enough, if by general consensus lacking the last few tenths needed to be a superstar. He's got a decent level of experience and he drives for a team that would do a deal with Ferrari and then take the Japanese back for 2013. While not up to Alonso's standard, as the Spaniard racks up the top-fives, Kobayashi can be expected to pick up consistent points and the odd eyebrow-raising result. Certainly, he would do enough to haul Ferrari higher up the constructors' championship and score at a vastly better rate than Massa's current 0.4 per race. He's also race sharp, familiar with the Ferrari engine, KERS and gearbox, and wouldn't be too pricey. You could throw him in for, say, the Canadian Grand Prix onwards and he would slot in seamlessly.
This is where his other qualities come in. Kobayashi appears almost immune to pressure. Save for a flaky spell last year during which team-mate Perez's pace and Sauber's decline in performance seemed to rattle him a little, he has been mentally extremely strong. He even escaped from that trough in time to rescue seventh in the championship for Sauber.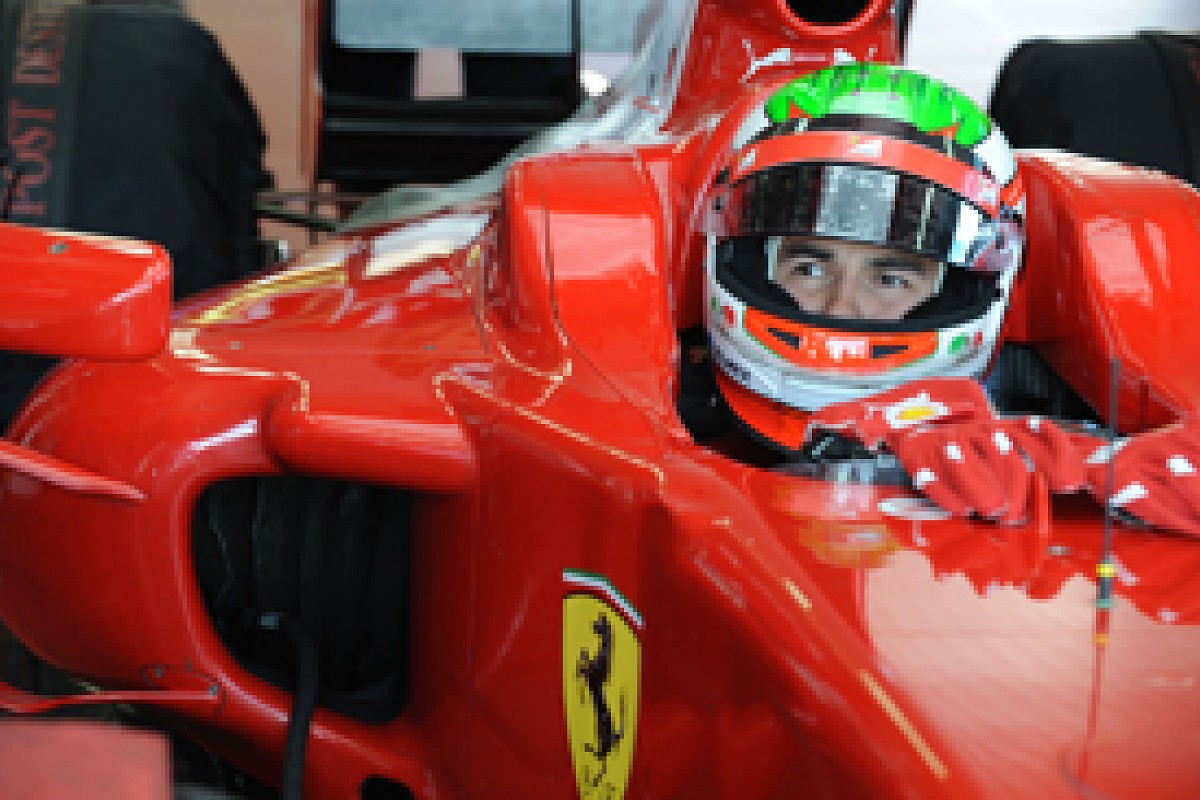 Kobayashi wasn't overawed by his Toyota chance at the end of 2009 © LAT
This quality is was what allowed Kobayashi to vastly outperform expectations when thrown in at the deep end with Toyota in the last two races of 2009. By his own admission, his career was effectively over and he was set to return to Japan. Instead, he turned in two amazing drives, finished sixth in Abu Dhabi and would have had a full-time Toyota ride for 2010 had the manufacturer not pulled out. On his debut, in Brazil, he also showed steel by forcing fellow Toyota junior Kazuki Nakajima off track and out of the race. The message was simple: my turn now. Very harsh, but calculating, ruthless and emphatic. On a weekend when it was now or never for Kobayashi, he in one fell swoop rebuilt a career that was over. The odds before that two-race outing were overwhelmingly in favour of failure.
Kobayashi doesn't over-complicate things. His mind was crystal clear for those two Toyota outings and he has continued to approach his F1 career in the same way. If he catches someone in a race, he passes quickly while others might take lap after lap to size up their foe. The shorthand for Kobayashi is that he's a kamikaze, but that's a fatuous view born of casual racism. How often do you see him lock up, career into the side of someone under braking and lose a front wing? He's forceful, maybe a couple of per cent too forceful sometimes, but when he bangs wheels it's in a far more calculated way than people make out. He's a thinking driver disguised as a lunatic. Just look at the characteristics of the drivers that he's willing to wheelbang with if you doubt that.
Kobayashi also never lets his head drop. Take the 2010 Hungarian Grand Prix. From near the back of the grid at a track where overtaking is tough, no-one gave him a hope of points. But a flying start and a consistent race drive allowed him to finish in the top 10. His F1 career to date is full of such drives. His outright pace may be questionable, but his consistency has been proven time and time again. We saw that in the Spanish GP, in which his good pace and decisive overtaking allowed him to finish fifth at the front of an ultra-tight pack of cars.
Kobayashi won't be over-awed by Alonso or the Ferrari mythos. He will get on with his job in an effective and unflustered way, likely lagging behind Alonso in qualifying but consistently bringing home the points in races. That's exactly what the Scuderia needs now. Sure, he'll think that he has a chance of landing a full-time ride and see it as a big opportunity, but it probably won't happen and he will not allow thoughts of it to distract him or cause him to overdrive.
Chances are, after a job solidly done, he would return to Sauber for the following year and continue what will likely be a long grand prix career. While not a superstar, Kobayashi has a skill set that will always be in demand in the F1 midfield. And that is what makes him the perfect man for a short-term Ferrari appointment and leave the way clear for the likes of di Resta, Perez, Hulkenberg or even a recovering Robert Kubica to come in for the long-haul in 2013.