"Hyvaa aitienpäivää. Ei muuta."
If something is worth doing, then it's worth doing well. For Kimi Raikkonen after the Spanish Grand Prix, that meant making sure that if he was going to be disappointed at not winning, then he may as well do it in the best possible way.
Not for him the corporate boring PR response - that it was good to take some points and 'I am happy with all the efforts my team and my sponsors have made'. Instead, in front of millions of fans on live television, when asked for some words in his own language about the race, he muttered simply with a cheeky grin: "Happy Mother's Day. That's all."
Those words said a lot about the mindset of Raikkonen at the moment: the deep disappointment that courses through his veins when he does not win, and why he has found himself in a situation where he is the happiest he has been in his F1 career - liberated almost - because he can let his personality run free.
Kimi being Kimi in the Spanish GP press conference © LAT
When word first got out that Kimi Raikkonen was making the push for a Formula 1 return in 2012, it would not be wrong to suggest that a lot of the paddock reacted with apathy.
Here was a former world champion: dropped by Ferrari in favour of Fernando Alonso at the end of 2009 because he failed to deliver the leadership Maranello felt it so needed, who had spent the following two years enjoying himself blasting through forests but not achieving anywhere near the levels of success that either he or his fans expected.
Furthermore, his first port of call was down at Grove when he and Williams chiefs sounded each other out. On the back of the team's worst ever season in F1, and questions above Raikkonen's ultimate motivation and whether or not he would ever be bothered to dig deep enough to help haul a team up from near the back of the grid, it was not looking likely that this was a partnership that was going to be producing wins.
In the end, the Williams talks collapsed and instead Raikkonen concluded a deal with the then Renault team. But even that looked like it was going be a partnership that was not going to produce much. Renault's 2011 campaign, which had started off on the back foot following the loss of Robert Kubica, went into free-fall as a decision to develop a forward-facing exhaust proved to be a development dead-end.
Yet, ultimately, neither has had to worry about the other piece of the jigsaw. The rebranded Lotus team has produced a neat little machine in the E20 while Raikkonen, although perhaps a little rusty at the start of the season, appears already to be back to his best.
In fact, if we were to scratch the Australian GP on the grounds that it was Raikkonen's first race for more than two years, then the Finn would be second in the championship at the moment - just five points behind leader Fernando Alonso. That's not a bad feat considering the amount of time it normally takes for new team/driver combinations to hit the good times.
At each race, Raikkonen and Lotus appear to be getting better: which in a season when most outfits are struggling to find consistent form, says a lot about what we can expect from the future.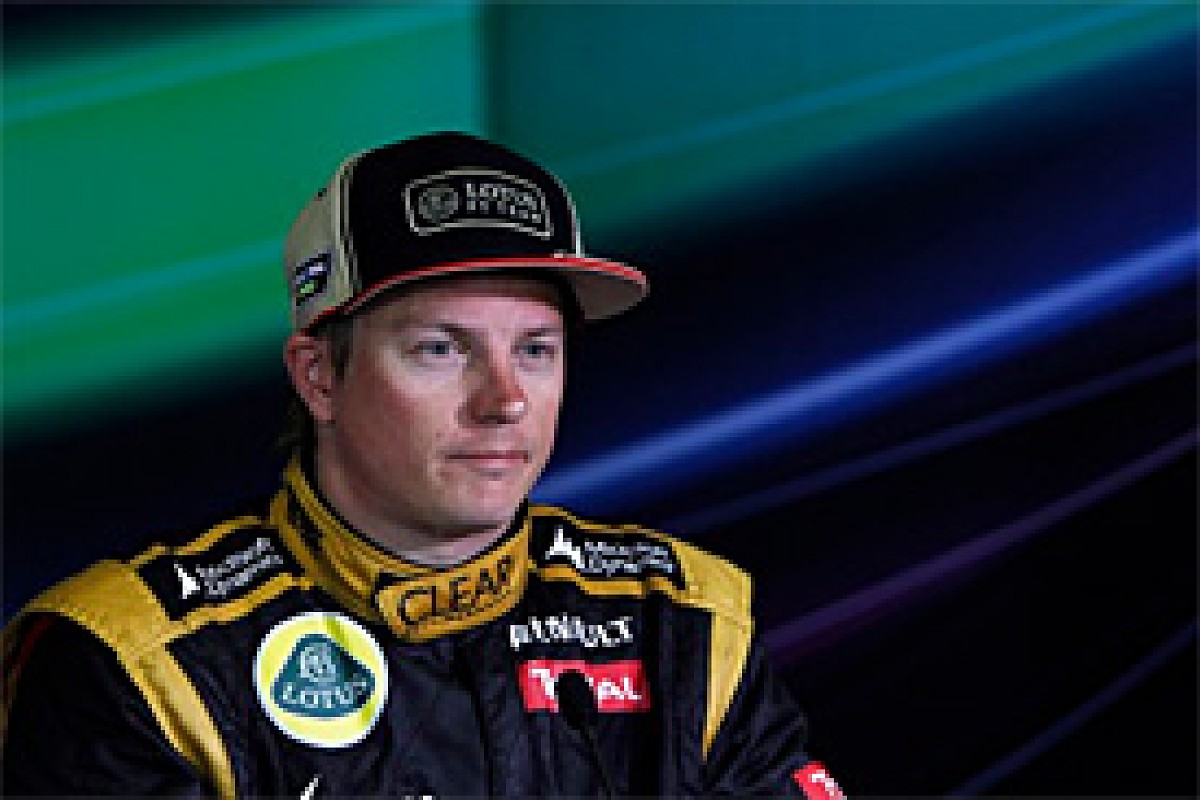 Raikkonen finished a close third in Spain © LAT
There is another interesting factor to consider about him too, that could well point to the potential for some big gains in a season when rivals are scrambling around searching for answers as to why they are or are not quick on a certain weekend.
Raikkonen told my media colleague Heikki Kulta in Spain last weekend that he did not concur with the widely accepted view that it is Pirelli's aggressive tyres that are having the impact on racing at the moment. Instead, he suggested it was the legacy of the banning of refuelling.
"I don't think the nature [of F1] is different because of that," he told Kulta in an interview with his Turun Sanomat newspaper about Pirelli's tyres. "It's because of the amount of the fuel on board. I don't think there would be that much problem with these tyres, if we would race with 50 or 60 kilos, when we start.
"Previously the pitstops were made usually after every 20 laps, while we had less fuel. I think it would have been the same situation with Michelins and Bridgestones if we would have this much fuel as we have now. These tyres are good in qualifying: they have a good grip and all in all they are good tyres."
Interestingly, in the first chapter of Raikkonen's career, he only ever knew an F1 of refuelling - where there were flat out blasts between pitstops, which put a premium on aggressive and relentless driving at the limit. His departure at the end of 2009 coincided with the banning of refuelling that winter.
So while he may be two years behind his rivals in understanding how to deal with a changing grand prix car from full fuel load to empty, it also means his databank is not full of contradicting previous knowledge of how to do it best with Bridgestone tyres in 2010, and blown diffusers in 2011. He is living here and now: taking on the challenge of what it takes to be good with these regulations.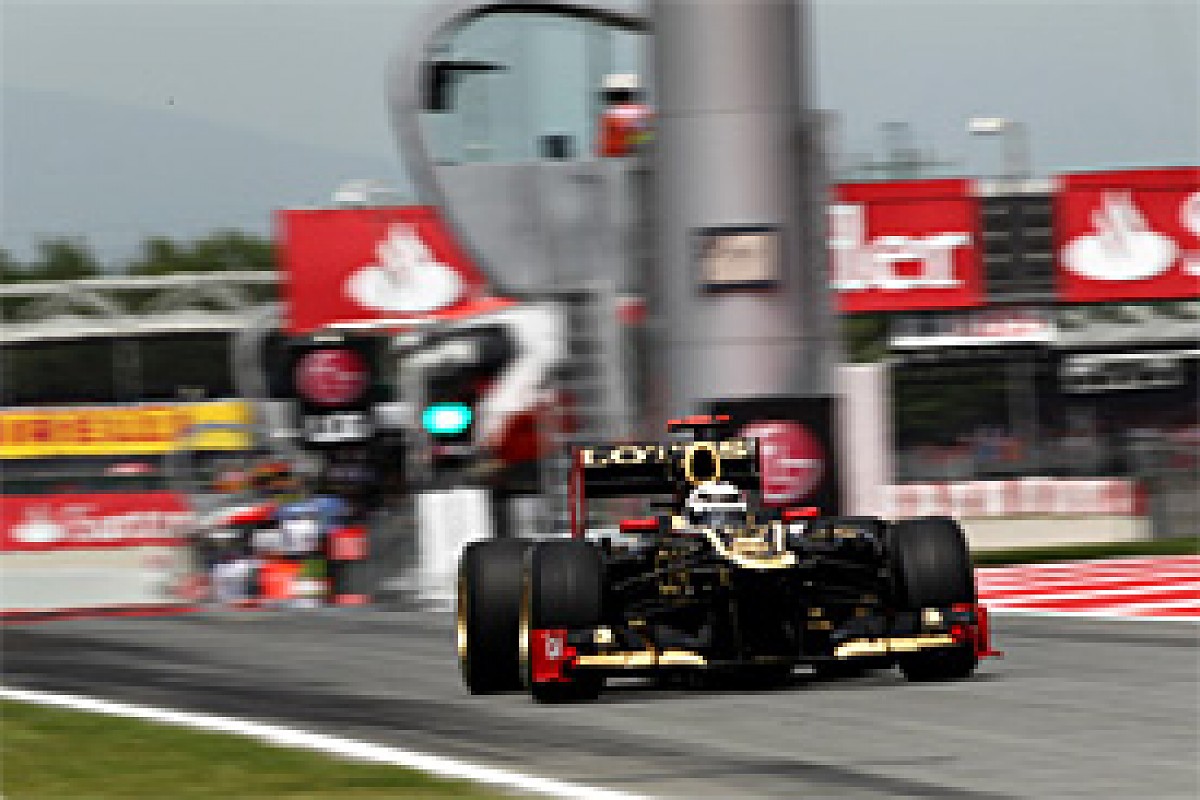 Will Raikkonen win this year? © LAT
Raikkonen and his team nailed it in Bahrain, when it had the car capable to win: and it nearly did the same in Spain where perhaps a few degrees more temperature on Sunday could have given the Lotus the speed boost that would have got it on to the tail of Alonso and Maldonado much earlier.
That is why the disappointment of not finishing first in Spain was so strong for Raikkonen. He knows things are coming together so well right now; and that that tantalising first victory since Spa 2009 is oh so close. So when he does not do it, it hurts. And he isn't going to sit there and let the world pore over his feelings.
But if the only Raikkonen fan smiling on Sunday was his mum, you can be sure that it will not be long before all of them can join here and cheer him on as he finally takes that top step of the podium.