Certain things in your life have a defining influence, and for me it was the summer of '79 and Gilles Villeneuve.
My father had once said, only half-jokingly, "You argue quite a lot, so why not do it professionally?" I enjoyed court-room dramas in any case, and so the thinking for my career was the law.
The problem was that my every waking hour was spent thinking about motor racing. It was my final year at school and, worryingly for my folks, I was still banging on about being a racing driver. We weren't wealthy and I hadn't as much as raced a kart, but no matter.
As far as they were concerned, it was like wanting to be an astronaut or play football for England - something you should have grown out of. Nevertheless, Dad had indulged me with a grandstand ticket for Silverstone in 1977, went with me and thoroughly enjoyed himself. After that, he started to rebook each year.
The summer of '79 was shaping up very well. The A levels were over, and the very day that school was out, we headed for Silverstone. I'd also always loved the look of the Osterreichring, and for my birthday my parents had arranged a Page & Moy trip for me to the Austrian GP, which was scheduled for the following month.
Then a schoolmate rang. He said his dad was taking him to the Dutch Grand Prix at the end of August, and did I want to come! So that was three GPs in seven weeks. For an 18 year old, it was heaven!
No doubt thinking ahead a bit, my parents had encouraged me to enter the Sir Williams Lyons Award for aspiring young motoring journalists, which had been promoted in AUTOSPORT. To that end, I'd managed to fix up interviews with Colin Chapman, Ken Tyrrell and Frank Williams at the '79 Silverstone GP. Having done those, I was even more hooked.

Villeneuve led the 1979 Austrian Grand Prix after a stunning start © LAT
The Austrian trip was fabulous. A highlight was looking through binoculars from the Bosch Curve and witnessing Villeneuve's bullet start from the third row that had him in front by the time he got to us!
Zandvoort, though, by necessity, was a low-budget production. My mate and his father had grandstand seats for the pit straight, and were off to meet some friends on Saturday night, while I was keen to stay late and soak up the atmosphere. I had a backpack and a piece of roll-up foam.
I'd been a Niki Lauda fan for five years, but by '79 the Ferrari days and the BT46B fan car win were all in the past, and Niki was trapped in Brabham's BT48, which, with a start load of fuel, was truck-like and unreliable to boot.
Villeneuve's F1 debut in a third McLaren had been a highlight of that first trip to a Silverstone GP, but I hadn't quite understood when McLaren opted for Patrick Tambay instead and Gilles went to Ferrari. There had been the cartwheeling shunt at Fuji, then Gilles led Long Beach '78 so impressively in the Ferrari 312T3 until he tripped over Clay Regazzoni's Shadow.
Newly teamed with Jody Scheckter at Ferrari in '79, Gilles had started mightily, winning back to back in the first two races at Kyalami and Long Beach in Ferrari's new T4. He then took the non-championship Brands Hatch Race of Champions (remember those?) in the old T3.
Scheckter hit back with wins in Belgium and Monaco, but by this stage, the Williams FW07 had arrived and redefined the standard. With a wide Ferrari flat-12 hampering any ground effect that the T4 generated, Villeneuve had no business getting Maranello's machine anywhere near an FW07, but obviously nobody had informed Gilles.
We had a strange, game-of-two-halves scoring system that year, and with the FW07 arriving late, Jody and Gilles were still one-two in the championship heading to Holland. Not that Gilles seemed to concern himself with such matters. Races were there to be won. If championships came along as well, so be it.
As in Austria, the Dutch GP grid had the two turbo Renaults and an FW07 on each of the first two rows, with the Ferraris occupying row three. If Niki wasn't going to be in it, Gilles was now the man I was firmly behind, but he'd qualified half a second slower than Jody, which was unusual.
By mid-season, the Williams was the class of the 1979 field © LAT
It was a gorgeous day, and I walked around the track perimeter while some of the supporting action was going on, took some pictures and looked for a likely vantage point for Sunday.
I had the Scheivlak right-hander in mind. When I got there, though, I found a group of Dutch fans had whacked some posts into the sand and roped off their own enclosure with electrical tape. The windbreaks were up, burgers were already on the barbie, the chilled beers were out and the ghetto blaster was doing its stuff.
Spotting my piece of rolled-up foam, they asked if I was planning to sleep under the stars, offered me a strip of sand right next to the fence and thrust a beer and a burger in my hands. I couldn't believe my luck!
A couple of hours later, I left my backpack with them, got the camera and headed back to the pits, managing to walk in unchallenged, avoiding uniformed figures with large dogs.
I spent a fabulous couple of hours wandering from garage to garage, watching the cars being prepped. I had a picture taken with Ermanno Cuoghi, Lauda's faithful ex-Ferrari mechanic. Then, as the light started to fail, I figured it was about time I started the traipse back out to Scheivlak.
I stopped at the entrance to the Ferrari garage for a last five minutes, and nobody seemed to care. Just then, my right leg was nudged by the snout of an Alsatian. It seemed that the moment had arrived when I'd be forcibly ejected.
Holding its lead, however, was not a six-foot-five-inch uniformed Dutchman, but a five-foot-six-inch French-Canadian in a Ferrari jacket. I nearly died.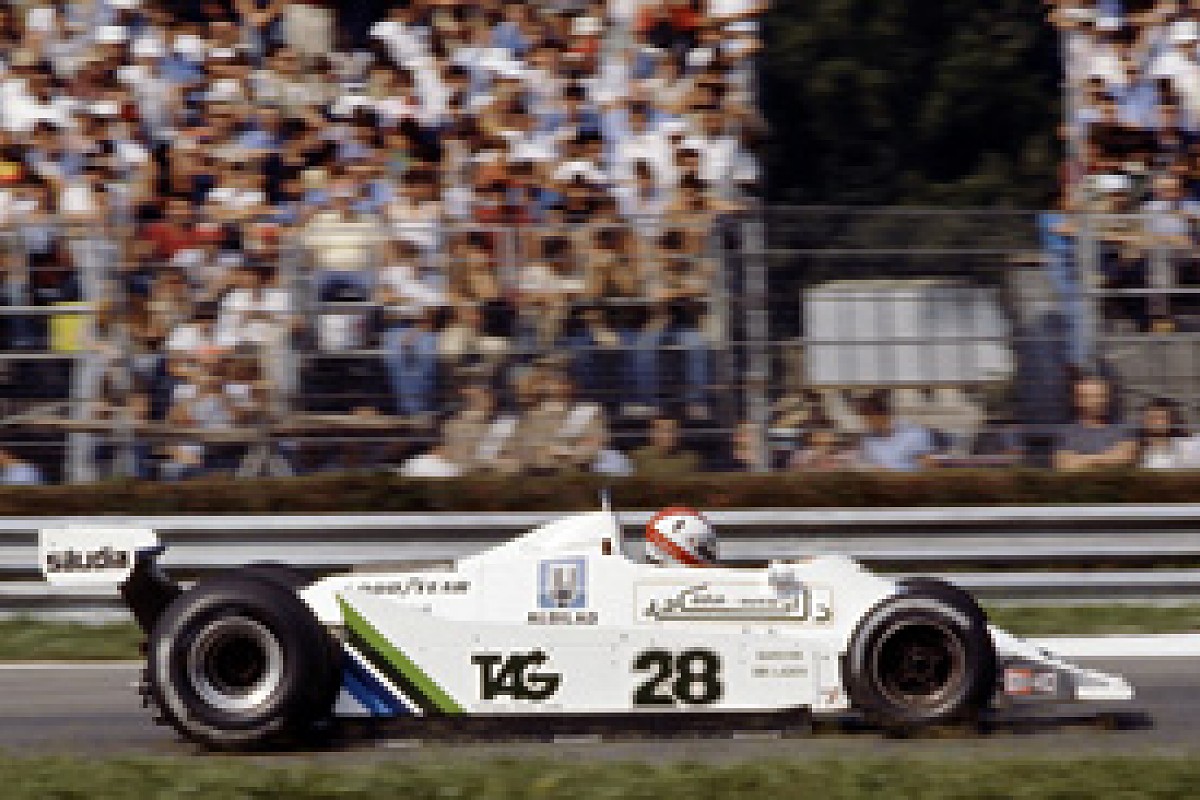 Villeneuve and Jones battle at Zandvoort © LAT
Gilles plonked himself down on a deckchair, the dog at his feet, and the world's most exciting driver sat there, elbows on knees, chin in hands, just watching as the Ferrari mechanics readied his T4 for the morrow.
Once I'd recovered my composure, I wanted to know, without upsetting him, why he'd been slower than Scheckter. I politely asked if qualifying had been okay.
"Got held up on my best lap, but it'll be better tomorrow," he said with a wink, which was met with knowing smiles from the guys working on his car, who clearly revered him.
He didn't mention, as I later discovered from AUTOSPORT's report, that Michelin had some trick qualifying tyres worth about a second, and that Gilles had just the one set of them, while Jody had more.
Villeneuve used to stay at the circuit in a motorhome, with family and dog, and I felt I was at the very centre of the universe. I've no idea what time it was when I set off to stumble back through the dunes to Scheivlak in the now pitch black.
My fantastically hospitable impromptu hosts were still ploughing their way through the beer when I got back. Water was not on their radar, however, and by the time the 3pm Sunday start time ticked around, I had the biggest headache of my short life.
That was anaesthetised when Gilles made another of his fantastic starts and came through on lap one in second place, right up the chuff of Alan Jones' Williams.
I reckoned it would be just like the Osterreichring a fortnight earlier - a spirited token gesture for a couple of laps before Jones effortlessly motored into the distance. But Villeneuve simply wouldn't go away, and after 10 laps or so unbelievably outbraked the FW07 around the outside of Tarzan.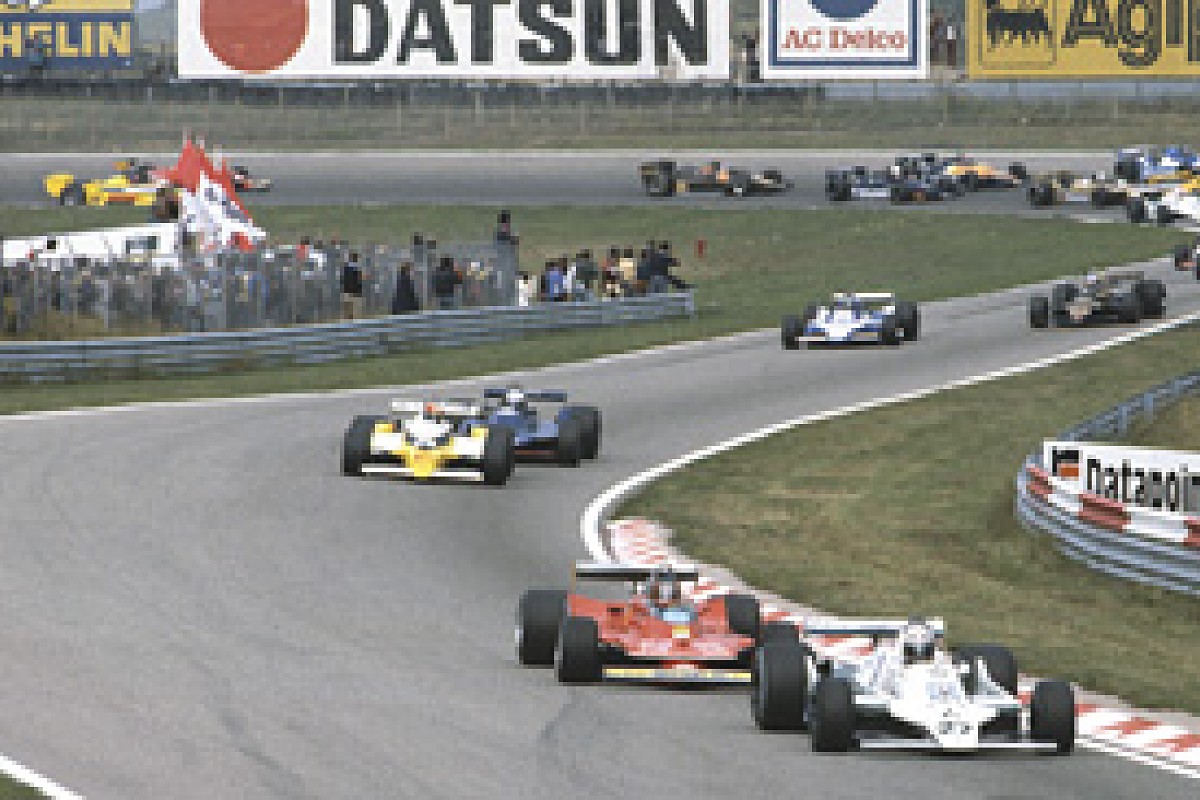 Villeneuve would not give up even on three wheels © LAT
Out at Scheivlak, we hadn't seen any of this, of course, but when Ferrari No12 arrived in front, the whole place went mad. My new Dutch friends were all Villeneuve fans as, it seemed, was everyone in the place.
When Gilles started to inch away from the Williams - one second, two seconds, three seconds - we all started to wonder whether he could do the impossible and beat the FW07.
Running further back, Nelson Piquet's Brabham had been a bit smoky from early on, but unusually, was actually destined to get to the end and allow Nelson to score his first world championship points. It was a race of attrition, however, and only seven cars actually went the distance.
Among those that didn't was Keke Rosberg's Wolf. The engine let go just as the car approached, and a healthy dose of lubricant went down on the line. The marshals did not react, and Villeneuve and Jones were due at any moment.
Everyone yelled 'oil!' as the Ferrari hove into view, with the more passionate even hurling apple cores and empty beer cans in the direction of the hapless marshals. They got the message, but not in time to alert Gilles, who had the mother and father of a twitch on the Texaco, ran off on the exit of Scheivlak. Somehow, though, he collected it all together.
By the time Jones arrived, about three seconds later, they were flagging merrily, and Alan had also seen what had happened to Gilles. It went down in history as a man pushing unfeasibly hard in a car that couldn't win, but until that point Gilles had been maintaining his three seconds and had looked comfortable. To us, at any rate!
With his lead wiped out, Villeneuve was now under pressure and, worse, doubtless his excursion at Scheivlak is what gave him the slow puncture that caused him to spin a few laps later and then indulge in his three-wheeled antics.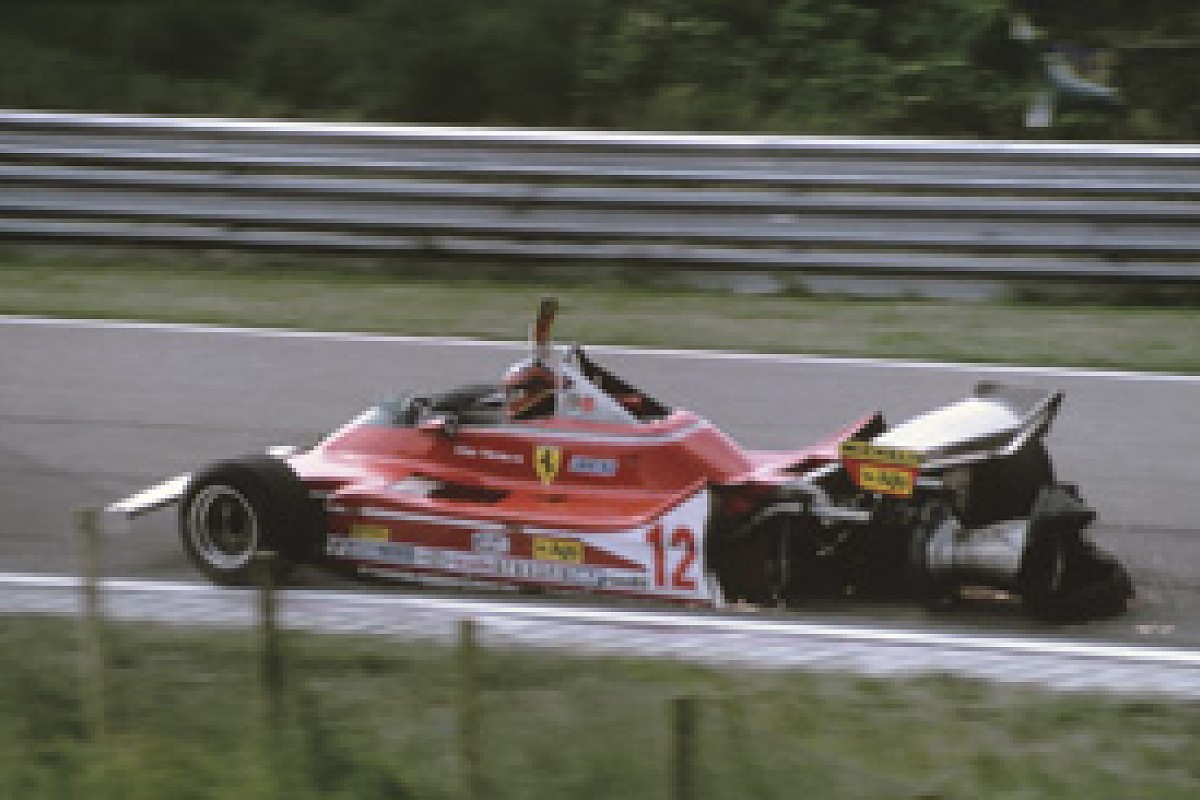 Already a legend among the fans © LAT
That was either heroic or foolhardy depending on your point of view. When I arrived home, my Dad's take was predictable. Parents appreciate responsible role models for easily influenced teenagers, and if there was such a thing as a responsible racing driver, Gilles was evidently not it.
"No, Dad," I argued, as usual, "you've got that wrong. I saw what happened. The TV cameras didn't, and he was obviously frustrated. He could have won. Okay, he might have gone a bit far, but you can't knock a guy who won't give up. That guy is in a different league."
The Saturday night, the Sunday afternoon... I'd come back from the centre of the universe, and it was something I had to be part of. Somehow. And 30 years on, I know I was right about Gilles.