In 1979, at the peak of South Africa's political, technological, sporting and economic isolation, Jody Scheckter, born within three years of the 'apartheid' government assuming power, captured the world title in the world's most expensive and technological sport.
Significantly, Scheckter, who was teamed with French-Canadian Gilles Villeneuve and sponsored by the Brooklyn chewing-gum company, drove an Italian Ferrari running on French Michelin tyres and suspended on Dutch Koni dampers to the title. It was a remarkable achievement, particularly given that his home country was then ostracised by other world sports over its social-engineering policies.
International motorsport, though, treated South Africa as a special case - even if, two years earlier, Jody's brother Ian was confined to a cell for the duration of the Japanese Grand Prix due to his passport colour, even as the younger set fastest lap in his Wolf while holding the same nationality. South Africa hosted grands prix even as cricket and rugby tours were boycotted left, right and centre, and rebel tours interrupted by vicious protest. Olympics? FIFA World Cup? South Africa had long been expelled by both bodies. Yet F1 kept returning...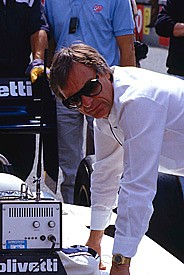 Bernie Ecclestone © LAT
Within the country, motorsport enjoyed special status, being deemed 'non-contact' by a sports ministry that believed there was no chance of 'contamination' across race groups as competitors were firmly strapped into cars. Motorsport back then was SA's only multi-racial sport.
When the government realised Formula 1 was bound not by political convention or run by national sporting bodies, but ruled by dollars, politicians threw wads of the stuff at F1 via an Income Tax Act that provided for double tax breaks for international marketers. Thus for every dollar spent on sponsorship of international events, companies received an effective deduction of $0.86 - to the discernible delight of a Bernie Ecclestone/Max Mosley-led Formula One Constructors Association, then starting to flex its muscles.
It is a matter of record that Ecclestone owned Kyalami in the 1980s, having bought it for a pittance (plus liabilities of one million rand, then $500,000) on the day of the 1979 Grand Prix. It was sold on public auction at the height of the FOCA/FISA war a year later; rumour had it Ecclestone appointed a frontman to appease FISA, which accused him of conflict of interest as FOCA boss, Brabham team owner and circuit proprietor.
In his book 'Kyalami - A reflection on the history of the original circuit 1961-1987', author Andre Loubser describes the transactions thus: "The token price was R1 plus acceptance of the liability of existing indebtedness, amounting to some R460,000, plus the cost of staging the [1979] grand prix at some R600,000. At noon on raceday the contract was finally signed in the control tower, and SAMRAC effectively ceased to exist."
Then: "However, on 24 September 1980, Kyalami was put up for auction but, amazingly, no serious purchasers emerged other than Bobby Hartslief, who acquired Kyalami for R1.4m, backed by an undisclosed company or person."
South African investigative magazine Noseweek (Issue 18, 1997) maintains Ecclestone issued the guarantees: "Rand Merchant Bank lent Hartslief the money to buy Kyalami, but, said Dave MacCay [then-CEO of RMB], it would not have done so had Ecclestone himself not provided RMB with guarantees issued by his own bankers, the Union Bank of Switzerland, for the same amount. In effect, Ecclestone retained his interest in Kyalami. MacCay also told of 'large payments to [Ecclestone], okayed by [then] Minister of Sport, FW de Klerk [later Prime Minster]. They [government] authorised the tax deals and authorised the payments abroad'."
Asked to comment, Ecclestone said: "I don't discuss private business affairs with anyone, certainly not the media..." Kyalami was sold to a local company in 1986 and totally remodelled, losing its iconic long straight and clockwise direction in the process - but that was post-1985 SAGP, aka Apartheid Grand Prix, an event Ecclestone therefore had more than sporting interest in.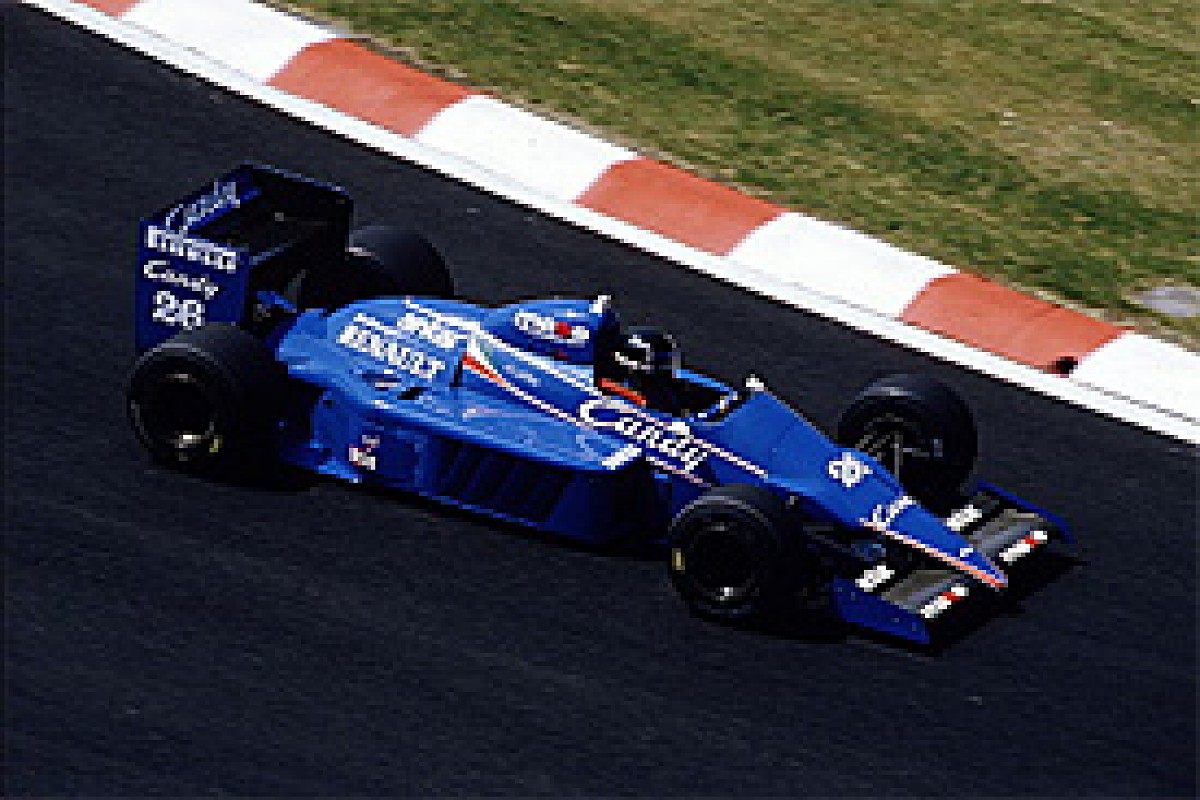 Laffitte wanted to race, but couldn't © LAT
The international community gradually turned against the SAGP, and by the mid-1980s the event was firmly on the radar of human-rights' organisations and anti-apartheid activists. Still, the race was inscribed on the 1985 FISA calendar, there being not a murmur of protest from the (then) 64 National Sporting Authorities delegates on the Plenary Committee - many representing African states - which met 10 days before the October 19 race.
Elsewhere it was a different matter. Letters to AUTOSPORT reflected polarised attitudes, with one reading: "Holding a prestigious international sporting event such as a Grand Prix in South Africa will only serve to present the country's Nationalist government with manna from heaven, a propaganda coup on a plate. In this instance, politics and sport are inseparable, for better or worse. For the FIA to pretend otherwise is not only absurd, but also displays a stupidity and indifference to world events of which we as motorsport enthusiasts are deeply ashamed."
Another, though, stated: "Sport is above politics and always has been... If it has to be Kyalami, the Outer Hebrides or Inner Mongolia, so what?" (Prescient words?)
For his part Ayrton Senna, in his second season, spoke out: "It's necessary to weigh the pros and cons. Things seem to be complicated over there, and I don't believe it safe to race under such adverse conditions. I am personally against the regime. I would not like to go there, but I have a commitment to my team."
Lotus appeared, as did the Brazilian who, together with Brabham's Nelson Piquet, came under pressure from Brasilia to boycott the race. Finland and Sweden pleaded with Keke Rosberg and Ferrari's Stefan Johansson respectively not to race. Finland sent its 1982 champion a telex on raceday Saturday morning - it was to be the last grand prix staged on other than a Sunday - with Sweden declaring its driver would not participate. In the event Johansson did, as did Rosberg.
But four teams did not - Renault, Ligier, RAM and Zakspeed. It is doubtful whether RAM and Zakspeed took political stands - they also failed to race in the Australian finale due to lack of budget - so in real terms only the French boycotted the weekend.
No surprise: Renault was state-owned, having been nationalised post-war as Regie Nationale des Usines Renault, and what [socialist] President Francois Mitterrand demanded, the cash-strapped RNUR (which would exit F1 within a year, but continued to sell cars in South Africa) delivered. Thus, no Derek Warwick, no Patrick Tambay.
Similarly, Guy Ligier had long relied on the largesse of Mitterrand, who hailed from the same Vichy region as the rugby international-turned-construction magnate-turned racer, and instructed Renault, Elf and SEITA (France's national tobacco company) to support his friend's efforts.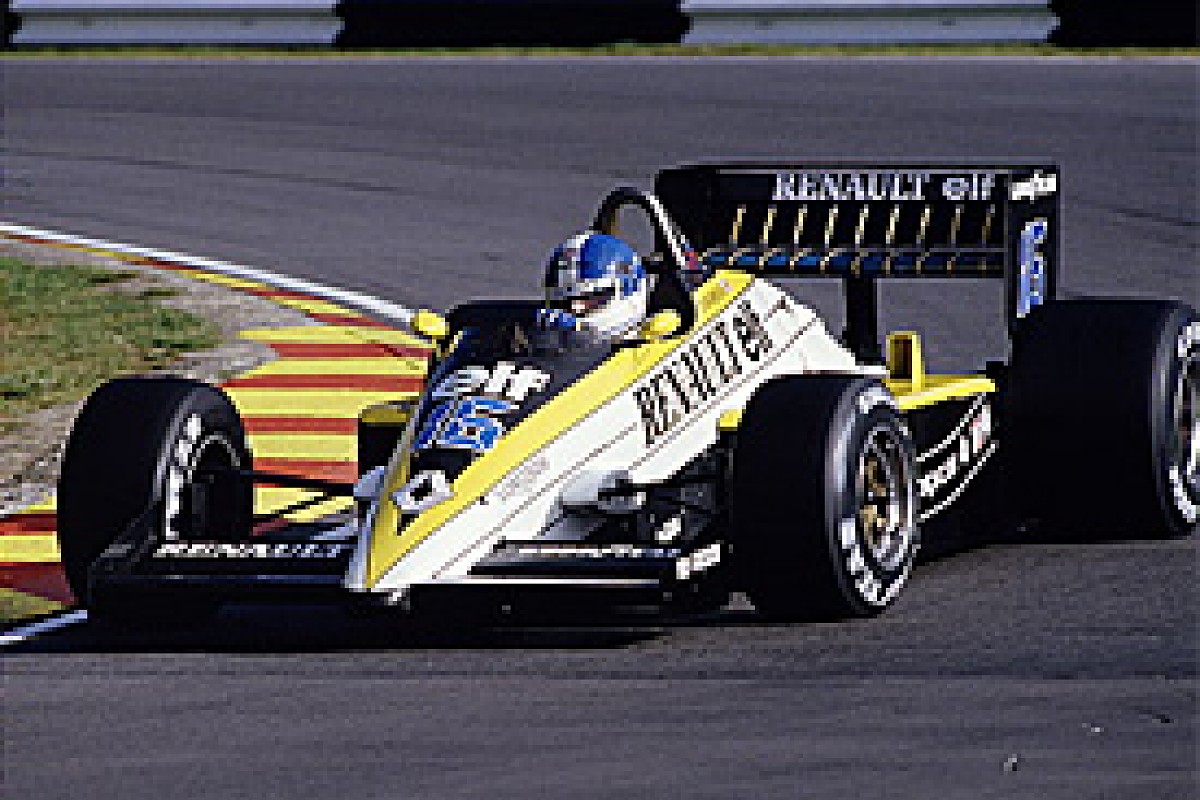 Renault boycotted the weekend © LAT
Thus Ligier was in no position to argue with a president facing an election - within six months France was governed by coalition - so the blue cars stayed put, but Jacques Laffite (who, together with team- mate Philippe Streiff, read of their non-appearances via the French press) was against the boycott.
"I wanted to race, there was apartheid, but it was always better to go and make it better for the black people," said Laffite. "I was against the boycott, and Amnesty International was against me because my declaration was not what they wanted. I think the Ministry of Sport wrote letters to all [French] sportsmen to not [compete] in South Africa - tennis, rugby - but I was not OK with that."
John Hogan, who gave the go-ahead for Marlboro's two teams to compete, recalls pressure on McLaren driver Alain Prost, who had won his first title during the European Grand Prix at Brands Hatch 13 days earlier, and thus able to withdraw without risk.
"We took our lead from Prost, vis-a-vis France," the Australian recalls. "He said, 'Listen I'm in this business for the sport; as such I'm prepared to drive in South Africa.' We ran everything out of Lausanne [Switzerland]; America was not involved.
"We said, 'This has nothing to do with sport.' This was when the argument was politics and sport don't mix - of course today we know they do, and everybody has changed their minds since. So we said to McLaren [and Ferrari, which bore red/white pyramids as driver-name surrounds], 'Take the branding off your cars. If you want to go to South Africa to race, off you go, but remove your branding.'"
Pre-Brands Hatch, Enzo Ferrari had said he would take his lead from title rival McLaren, as he 'did not wish to take advantage of their non-participation'. As it turned out, the Constructors' Championship, the only title Il Commendatore cared for, was still undecided, so when McLaren pitched, so too did the Scuderia.
Arrows sponsor Barclay covered its branding; Beatrice pulled its colours off the singleton Haas entry of Australian Alan Jones, who then withdrew on race day morning, ostensibly with a virus. Twenty years, on the 1980 champion confided his government had intervened. Of the frontrunners, only Williams approached the race as normal - and scored a one-two via Nigel Mansell and Rosberg - with seven drivers being classified from a field of 20 starters.
"It is the hypocrisy of it that I can't stomach," wrote AUTOSPORT's Nigel Roebuck. "It is the selective morality, the careful removal at Kyalami of certain sponsors' names from the cars - despite the fact that their products are readily available down the road, widely advertised beyond the TV cameras' reach."
Niki Lauda, driving the other McLaren, professes to have no recollections whatsoever about the 'Apartheid Grand Prix'. "Did I race?" Yes. "Grunt. Did I finish?" Retired - turbo. "My last race?" No - that was Australia, two weeks later. What about the boycotts? "Don't remember anything."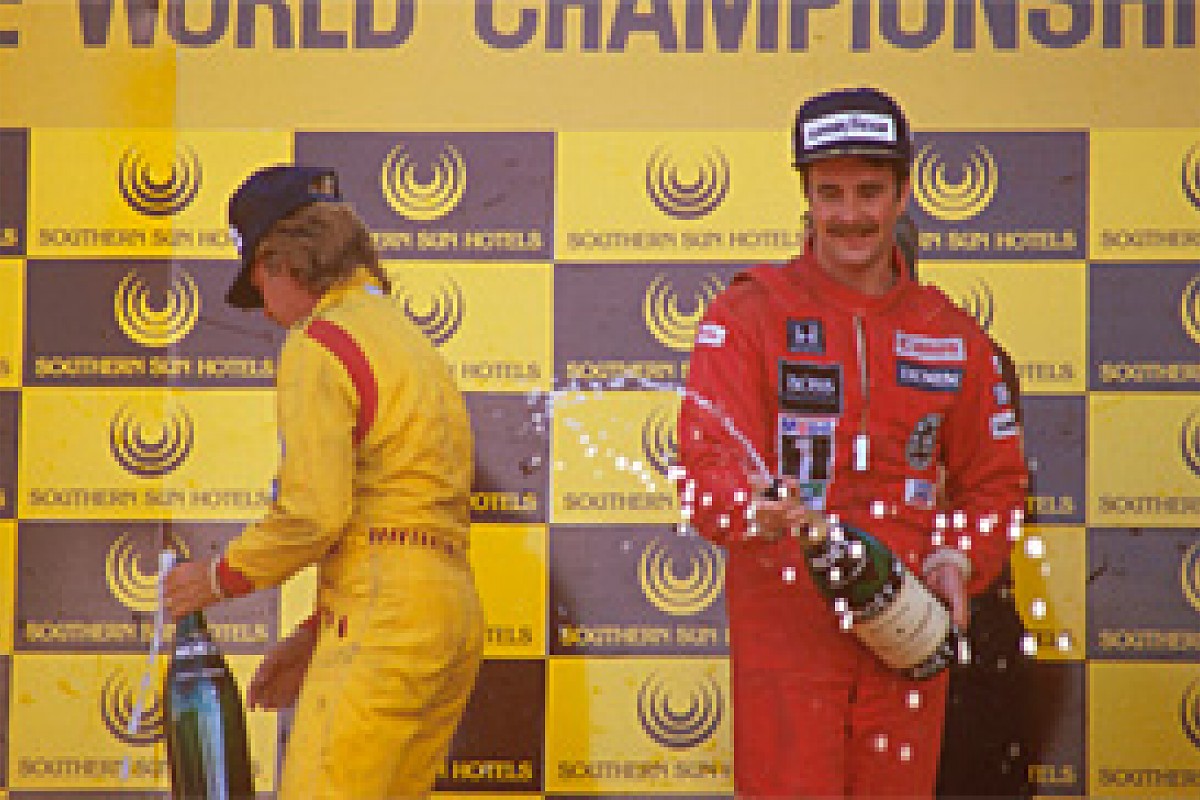 Mansell won a subdued race © LAT
The Austrian is not unique, with then-Tyrrell driver Martin Brundle having little recollection about Kyalami 1985, adding: "When you're young you just want to race and don't let distractions get in the way; you have one focus - straight ahead." Marc Surer remembers the prodigious power of the BMW turbo fitted in the back of his Brabham, but a boycott?
The writing was on the wall when cargo handlers in Adelaide refused to offload 'tainted' cars and TV unions threatened to boycott future race transmissions - causing F1 to seek elsewhere. Mexico and Hungary, neither of them then paragons of human rights, got onto the 1986 calendar, although Hogan recalls seeing tanks surrounding the circuit during the inaugural Hungaroring race.
In 1992/93 - midway between Nelson Mandela's release and his election as South Africa's first democratic president - the revised Kyalami hosted the last grands prix run on African soil, while no South African has started a championship round since Scheckter's retirement in 1980...
* AUTOSPORT expresses its gratitude to Ms Beaulah Schoeman, who was Assistant General Manager: Motorsport for AA of South Africa at the time of the 1985 South African Grand Prix and headed up Motorsport SA after the country's democratic elections, for providing a wealth of background information to South African motorsport and Kyalami in the 1980s.