"I guess if we're going to write a story about this race it's all about the number 40," said one of our number. "More than 40 dead here in the past 12 months, 40 million bucks for Bernie and F1, and about 40 votes from the Middle East region for Mr Todt..."
It has to be said that as we sat in China delaying travel arrangements until the last minute in case of an eleventh-hour change of mind, not too many people thought the Bahrain GP was a very good idea. Nobody really knew what we were heading into.

Without forgetting that there were very real human-rights matters at issue, there is always black humour in these situations.
"Is a Kia Picanto at 120 quid for four days from SIXT okay?" asked one freelance journo taking on the role of travel co-ordinator for his mates.
"We should happily stump up double if they've got any Chieftains or Hummers left..." said his mates.
People kept an eye on foreign-office travel directives to make sure their travel insurance would remain in force.
One of us had a mate at home who sent him what purported to be the various stages of alert and advice from the Geordie Foreign Office. Level 1: Nee problem, son; Level 2: Ga'an on man, ye greet nonce!; Level 3: Keep ya heed doon, son!; Level 4: Nee effin' way!

The Fleet St chaps, predictably enough, went earlier. Their paymasters would want more than blokes driving round in circles this weekend.
The aspiring Kate Adies had already been off to find some protests and do their stuff by the time we landed, some of which had been readable on the flight across. It wasn't reassuring, let's say.
Two of the guys were already being dubbed 'Butch and Sundance' although some of our number thought 'Walker and Private Pike' - a Dad's Army reference if you're not of a certain age - was more apposite.
It should be said that there was some excellent journalism too. One of the opinions bandied around was that with the race being heavily politicised, tensions would heighten if anything happened to hunger-striking activist Abdulhadi al-Khawaja - sentenced to life - while the race was in town.
Alan Baldwin from Reuters went to a Manama apartment to interview his wife, from which it emerged, as she paused to wipe away tears and gather composure, that she supported Bahrain having the race and that her daughter was a regular attendee of previous events. This very much flew in the face of popular perception.
But what she added encapsulated the problems faced by the race.
"I'm not angry with the government... it's their future at stake," she went on, "but what makes me angry is people like Bernie Ecclestone, who decides to come to Bahrain because he thinks everyone is happy. I can assure you that I am not happy. My family is not happy."
Considering we've been coming since 2004, blame could hardly be laid at Mr E's door for that, but the single most cynical aspect of this year's Bahrain GP was the use of F1's logo amid 'UniF1ed' banners projected on banners, posters, caps and tee shirts all over a country that is clearly anything but.
Force India's mechanics head back to the hotel early after skipping FP2 © LAT
If there was one thing certain to turn those with grievances against the race, and thereby increase the safety concerns for those involved, this was it. Quite apart, that is, from making it nonsensical to sit there mouthing platitudes about the non-mixing of sport and politics...
When Force India mechanics were involved in an incident on Wednesday, you did wonder whether the whole thing was about to turn pear-shaped.
The Bahrain International Circuit is a fair way outside central Manama and while there was none of the tanks or armoured vehicles that some news reports would have you believe, there was obviously a fairly heavy police presence.
It was impossible to patrol the whole area, though, and a group of protesters did manage to lob some Molotov cocktails onto the main highway on Wednesday evening and bring it to a standstill.
People were doing the sensible things: removing F1 passes from vehicle windows and travelling in unmarked cars and civvies rather than team gear until they assessed the situation, but it was this that Force India came across.
They stopped, looked out of the rear window and saw people running towards them. A figure then appeared by their side window with what appeared to be a very large gun. It was in fact a policeman trying to disperse protestors and using them as cover while he fired tear gas, some of which started seeping into their vehicle as a couple of Molotov cocktails landed nearby.
They hadn't been targeted, it was nothing to do with the race and they had just been unfortunate. Understandably though, it was a nasty experience and one outside-contracted radio engineer and a team data engineer decided they'd had enough and returned home.
Predictably, it was the catalyst for 'team escapes death in fire bomb attack' pieces across assorted media outlets. In the paddock, drivers doing Thursday media sessions did not want to be drawn into the politics, understandably enough. They were there to drive racing cars as employees of sports teams fulfilling a contract - end of story.
It's at this juncture that I'd like to speak up for Sebastian Vettel. Many will disagree, believing he was naive at best, but I don't think he deserves to be portrayed in the manner he was by a British tabloid with a circulation of more than a million.
Under the headline 'Head in the sand,' the paper accused the double champion of being out of touch as he wanted to "talk tyres with the country ablaze". This was stretching things more than a tad.
If anyone wanted to cause mischief, Sebastian admittedly gave them a bit of an open goal with a couple of his remarks. Asked about his concerns after the Force India incident, he said: "Sure, outside of the paddock maybe there's a risk, but there is a risk everywhere we go. You can imagine when we go to Brazil it's not really the place we want to be as well, depending on the area, so it's not a big problem.
"I'm happy once we start testing tomorrow and start worrying about the things that really matter - tyre temperature, cars..."
In the circumstances this last line would have been better left unsaid, but it was uttered with an ironic smile that does not come across in translation.
Vettel well knew there were more important matters but he wasn't about to be drawn into discussing them. As paddock figures far more experienced than he said over the weekend: there is no mileage to be had in publicly disagreeing with the powers that be.
It also generated some heat from Brazil for Vettel, when outlets kindly left out the "depending on the area" part of his quote. What he said about Brazil was bang on, and the exact same sentiment had been expressed by McLaren's Martin Whitmarsh in China.
Small wonder that drivers often regard journalists as a bunch of tossers. Vettel, in his short time in the sport, with his sunny disposition, has been a great ambassador, in other than his mother tongue. He relied on us having some maturity and a sense of humour but he got hung. He was the wrong target.
The Force India story gathered momentum when the team started bolting on soft tyres on Friday morning with the track still sandier than South Shields beach. What was it doing?
The team was getting through its programme, which included tyre comparison, as quickly as possible so that the cars didn't need to run in the second session of free practice and the crew could return to the hotel in daylight hours, as had been the advice of security advisers. This, of course, was not popular with Mr Ecclestone or, one imagines, the Bahrainis.
Obviously, Force India couldn't do that on Saturday and Sunday, when qualifying and the race were at the same time or later than Friday's FP2. They would be necessities though, while risk could be minimised.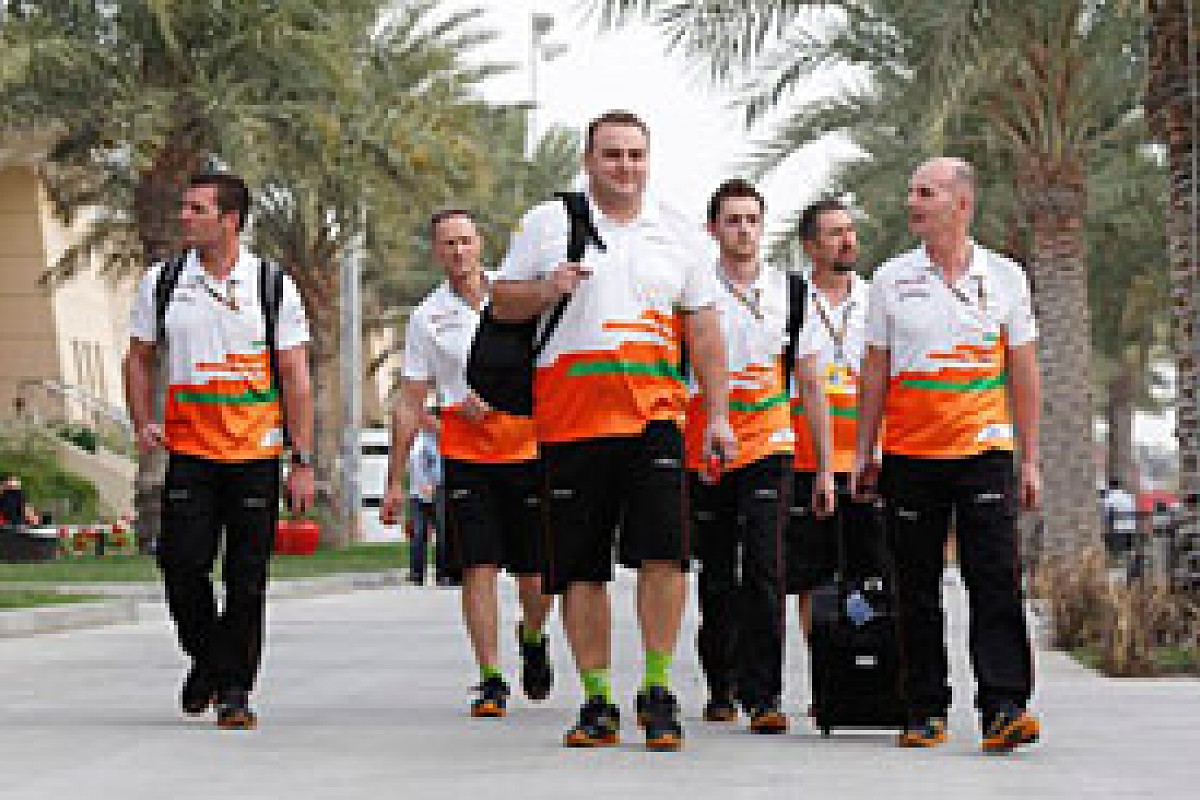 Vettel unfairly came under fire from certain sections of the press © LAT
Many in the paddock believed that Force India over-reacted, and Mr E, predictably, said things like, "What's the matter, are they frightened of the dark?" and offered to travel back holding their hands.
Personally, I admired deputy team principal Bob Fernley for having the courage of his convictions and putting his staff first when doing so was clearly going to land a bucket of muck on his head.
"For me, the most important thing is that I've got a unified team," he said. "If we hadn't taken the steps we did we were close to unravelling and it was just very important.
"Emotion and logic don't necessarily go hand-in-hand but that's why we had to deal with it in the way we did. From the outside looking in, you can't get the feelings that we have, or I have, here. It might be very uncomfortable and it might not be palatable to everybody, but I have to stand by what I believe is right." Good on him.
I liked that Paul di Resta, despite Force India's truncated Friday programme, was able to qualify in the top 10 and eke out a two-stop race into sixth place, equalling his best F1 finish.
If you listened to Labour leader Ed Miliband and his shadow home secretary Yvette Cooper, who helpfully got around to opening their mouths on Friday, Di Resta, as a British driver, shouldn't even have been there. Yawn.
As Mercedes team chief Ross Brawn said: "We're here now and after this event we need to sit down and discuss it. We were committed to this race and after it we will make a proper judgment on what happened and come to a conclusion.
"I find it very frustrating that politicians in the UK were saying that we should withdraw once we got here. Why didn't they say anything beforehand? For somebody to try to make Jenson Button or Lewis Hamilton determine the foreign policy of the country is wrong."
Absolutely. Miliband, obviously, was tediously trying to prompt a response from the government at the same time as implying a lack of leadership, which is what these people do.
He got one too, David Cameron saying that while he was obviously concerned about human rights, the Bahrain GP was a matter for F1 and that Bahrain was "not Syria".
Indeed it is not, despite the best efforts of sundry 'news' reporters in Bahrain who, frankly, would be better suited to 'entertainment'.
We did wonder what was actually being sent back by the number of emails arriving from concerned family and friends asking if we were all OK.
I must admit I wasn't thrilled when my travelling companion, Motorsport News's Simon Arron, delightedly informed me that he'd just filled the car's fuel tank for three Dirhams (about a fiver).
He looked momentarily thoughtful when I queried whether a full tank of gas was the best way forward when we might encounter burning roads and Molotov cocktails.
In all seriousness though, the scariest thing I saw across the five days was a hungry pussycat outside a supermarket, apparently intent on investigating the contents of my bag.
You headed for the flight home with a few thoughts, apart from, whisper it, having enjoyed another great race.
Will the Bahrainis think the race served its purpose or did it backfire on them? Business and tourism have obviously declined, the place is hardly the Maldives in any case, but how will it fare from having been portrayed more like Syria by the fiction writers?
And, while we just about got away with this one, will there be potentially damaging consequences for F1's image?
Finally, although I probably shouldn't have been surprised, I'll take 'news' coverage from just about anywhere with a huge sack of salt...