Seldom, if ever, in Formula 1's 61-year history has the 'sport' spewed so much verbiage out of both sides of its collective mouth at quite the same rate and volume as over the Bahrain matter.
On the one hand, motorsport's controlling body, charged with safety and security of sanctioned events, declares itself satisfied with assurances given by the desert island's authorities, stating: "Based on the current information the FIA has at this stage [last Friday], it is satisfied that all the proper security measures are in place for the running of a Formula One World Championship event in Bahrain [this weekend]."

Such assurances would first have been cleared with John Yates, the former [London] Metropolitan Police Authority Assistant Commissioner who recently resigned after allegations of judgment errors in the phone-hacking scandal before being appointed to oversee police reforms in the desert kingdom after last year's tragedy-blighted political protests. However, FIA policy would also have been influenced by a fact-finding mission led by president Jean Todt in November last year.
They say a week is a long time in [British] politics, so imagine four months of Middle East turmoil, particularly post-Arab Spring - then re-read the FIA statement.
In the wake of the statement, the Bahrain International Circuit immediately issued a release welcoming the FIA's declaration, ending with: "We hugely look forward both to an exciting sporting occasion and to extending the traditional warm Bahraini welcome to Formula 1 teams, administrators and fans visiting our country next week."
By implication the media has expressly been made to feel unwelcome. 'How to make friends and influence people' springs to mind, although in this instance perhaps TV chat show (and American Le Mans Series team co-owner) David Letterman's paraphrasing of Dale Carnegie's book title may be more apt: 'How to Shoot Friends and Influence People'.
Former UK head of counter terrorism © XPB
Damon Hill, the 1996 world champion, was a member of Todt's mission, and spoke exclusively to this column in February, but a fortnight ago made an abrupt U-turn, before making a full 180° handbrake turn last week. Many expect him to do so again ahead of this weekend, although given his status as expert analyst for Sky TV it is not inconceivable that his paymasters have instructed him to stay schtum on political matters. Thus, Bahrain is safe for now, according to Hill, but tomorrow?
In the meantime there have been uprisings in villages across Bahrain, complete with anti-F1 banners and slogans. These were (and are) witnessed by many of the FIA-accredited journalists already in the country - who also witnessed at first hand the police crackdowns, complete with tear gas, that invariably follow. Safe? By whose standards?
On the other hand, if Bahrain is so safe, why has security been beefed up out of all proportion in comparison with really safe races? Consider what Yates told Associated Press: "It is very much hoped that the policing will be low key and discreet," Yates said. "But if there are problems, they ... must be able to escalate their response if need be. People can be assured that if problems arise, then there will be a plan to deal with that as there would be with any public event in the world."
"Hoped" is the key word here, followed by "escalate" and "if" - and, yes, Yates qualifies his statement with "any public event in the world" - but at issue is that public safety and policing have never been a topic at other grands prix, so why in Bahrain at this particular point in time?
No other grand prix feels the need to establish an emergency helpline for the grand prix weekend, yet Bahrain does (the toll-free number is 8000 8777), and, again the question must be asked: If the island is as safe as the FIA's assurances suggest, why this unique need for such a fully manned emergency number?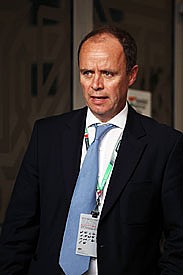 GP promoters have incorporated F1 in their slogan © XPB
During the Chinese Grand Prix weekend, F1 tsar Bernie Ecclestone stated that sport and politics don't mix, that F1 is apolitical. Yet, as custodian of the fiercely-guarded F1 trademark, he must surely by now be aware that the grand prix promoters have incorporated the term in their 'Unif1ed' slogan, complete with the likeness of Formula 1 cars; that protesters have incorporated an upturned rifle as the 'F' in F1.
When an accredited publication three years ago incorporated the F1 moniker in its title without express permission the journalist concerned was refused paddock access unless the publication's title was changed; why, then, no action in this instance, particularly if, as he maintains, F1 is apolitical - for surely the UniF1ied slogan is damaging commercially, particularly under present circumstances, and surely more damaging than the use of the term on a magazine masthead? Surely the "Rifle1" is equally damaging, particularly where sponsors are concerned?
On Friday, human rights' organisation Amnesty International claimed that the situation in Bahrain had not improved since last year's (non) event, adding that Formula 1 risked being exploited as a political tool by permitting the race to go ahead. Yet, when this was put to Ecclestone by this column, he criticised AI, stating, "the rights human rights they do all over the world, they get paid for it, it's a business for them...non-profit making because they take all the money out", before admitting that he had not read the report, nor wished to receive a copy.
On Saturday in Shanghai McLaren's Martin Whitmarsh suggested Bahrain was no more dangerous than Brazil, a country regularly visited by F1 since 1973 and scene of an unacceptable number of criminal attacks on F1 personnel, including (two years ago) reigning champion Jenson Button, then as now dressed in silver. The implication was: if it's OK to go to Brazil, it's OK to race in Bahrain.
Given that 50 per cent of the McLaren team principal's appreciable stipend is paid by Bahrain through Mumtalakat, the Bahraini sovereign wealth fund that holds 50 per cent of McLaren International (and a similar share in McLaren Automotive, the road car division), it is surprising that he believes that an event that could be termed (as much as Silverstone, if not more) his team's home race to be as (un)safe as Brazil...
That said, apart from the fact that there exists a massive difference between criminal violence and political unrest, any dangers posed to F1 personnel - regardless of station, on- or off-track - are totally unacceptable, and his comments came across as trivialising the clear and present dangers in Bahrain, which many found rather surprising, for Martin is above all a thoughtful individual not given to underestimation.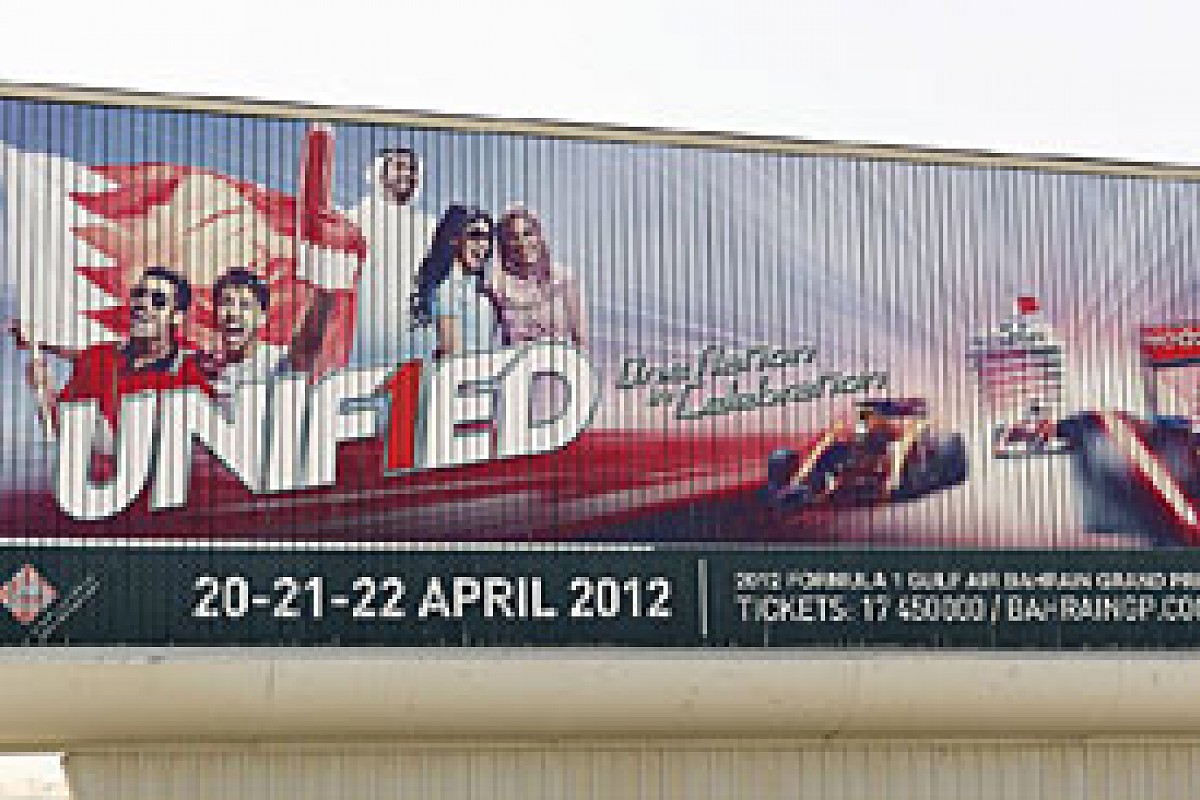 All calm inside the paddock confines © XPB
For his part, Todt avoided questions on Bahrain during his Shanghai visit, being happy to talk to Hungarian TV about the scintillating race that was China, but exiting stage left when the interviewer changed topic: "Now for a question on Bahrain..."
Interestingly, according to sources (and personal observation) Todt met with all team bosses during the race weekend, and where these are usually willing to spill the beans, there was total lock-down afterwards, with not one team principal prepared to utter a single word about their discussions, save to state: "It was a private conversation, and I gave my word it would stay that way".
Admirable, indeed, but totally out of character for these gentlemen, who generally rush to the media at the earliest opportunity, particularly when the subject is as polarising as this topic and when the other party is not the most popular man in the paddock.
Equally impressive was the way team principals clammed up after Friday's meeting with Ecclestone, save to suggest that all agreed unanimously to race in Bahrain, said as their eyes darted every which way and fingers fidgeted nervously.
There is, of course, the other side of the story. Having placed the race on the calendar, the FIA cannot afford to bow to pressure from the February 14 movement, for caving in would ultimately place every race across the globe at risk.
Thus F1 has needed to stand its ground after granting the circuit a date - but the big question is how and why the FIA and Ecclestone got Formula 1 into this situation in the first place. Previous columns have provided comprehensive answers to that question. So, what happens next: race or no race?
Following last week's disclosure in these pages that global race-hosting contracts could be annulled in the event of riot or civil strife, suggestions - made by a source in the know - have it that Bahrain's contract contains bespoke clauses that permit the race to be cancelled, with timeline penalties.
"My understanding is that they will hold off cancelling until the death (no pun intended), then pull it [if need be]," said our source. "There is a clause in the promoter contract that states that if they pull it [before Thursday] then FOM is liable for 50 per cent of the fee. If it is pulled on safety grounds on/after Thursday, then the promoter is liable for the full 100 per cent of the fee.
"Of course," he added, "all this has to be put in the context of on-going safety assessments that are changing hourly. It might be that they decide on Thursday [or later] that everything is OK to proceed."
So, despite the FIA statement, despite an adamant Bernie Ecclestone, despite John Yates's assurances, despite Damon's vacillation, despite team boss 'unity', despite every statement made by the Crown Prince and circuit chairman, the 'Race of Rage' may still be cancelled before the weekend even gets underway, and F1 collectively $US40m better off for it.