It's often said that the true test of a racing driver's character is not how they handle themselves when they're winning, but how they deal with troubles when they're not. It's one thing keeping those smiles coming and enjoying the adulation as the victories rack up, quite another staying true to yourself when things suddenly get a bit harder.
For Sebastian Vettel, life had been pretty sweet right up until the start of this season. The ascent from BMW Sauber test driver, to race winner with Toro Rosso and double world champion with Red Bull Racing, had been damn hard work at the time, but it had all been played out in a nice upwards trajectory.
Every year was better than the previous, and the disappointments of coming so close to the championship in 2009 were tempered by delivering that title in '10 and then being one step ahead of everybody a year later.
Now, though, that career path has stalled, and for Vettel this represents not just a challenge in digging deep to help get Red Bull back to the front in Formula 1, but the huge psychological hurdle that every young racing driver goes through at some stage in their career.
It's what one paddock figure referred to in China as the 'I'm-mega-me' factor. We've seen it so often in recent F1 history, for every other world champion on the grid - Michael Schumacher, Kimi Raikkonen, Fernando Alonso, Jenson Button and Lewis Hamilton - has been through it.
Vettel, yet to win this year © LAT
It comes from the self-belief and confidence that is instilled as a young driver flies his way to the front of the field. He arrives in F1 as a new sensation, lifting mid-grid machinery higher than it should be, securing himself a place with the big boys, and when the chance comes to win he duly delivers.
As he sits there in the garage before a qualifying session, or in the build-up to the race - with a team all looking to him to deliver - he has every reason to believe that he is winning simply because he is so 'mega'.
Drivers have to believe that they are the best; that it's their input and talent that's helping make the difference when it comes to achieving success. You would never expect any frontrunning driver to come out and say, "My dominant victory today was nothing to do with me; it's simply because the car is so much better than the opposition. Any monkey could have won in this car."
The more they believe they're mega, and the more circumstance lets them achieve success, then the more confident they get. The more that confidence grows, the more they believe in themselves that they're mega. It's a self-fulfilling prophesy of brilliance.
But F1 is a cyclical business and at some point the music stops - which for Vettel is now. And as he contemplates a season where it may well be a real struggle for him to rediscover the kind of form he had last year, then those first inklings of doubts will start creeping into his head.
As he lays there at night, wondering just why he's driving his heart out to get knocked out in Q2 rather than put his car on pole position by eight tenths of a second, he'll start to wonder: "What if it wasn't me in the past? What if that success wasn't because of me, but just because I happened to be in the right car at the right time?"
That uncertainty can suddenly lead to questions about what you're doing - and a push to seek answers to explain why you're not winning. Is the uncertainty about the development direction for Vettel at Red Bull Racing now - after he reverted to and liked the older specification of exhaust layout (even though the data shows it's slower) - the first hint that he's questioning things?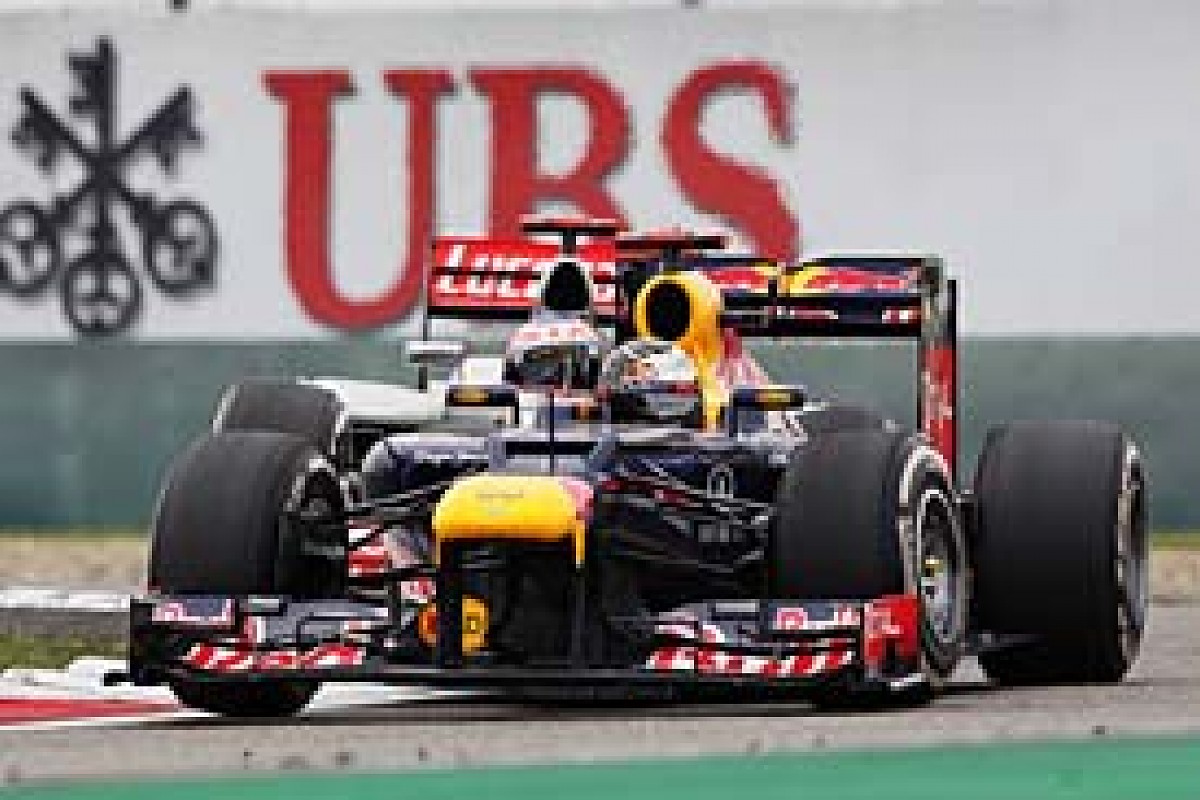 Vettel is facing his biggest challenge yet © LAT
We've seen plenty of times how Vettel can sometimes struggle to deal with trouble. Look at his reaction after the collision with Mark Webber in Turkey in 2010, the twirling of his hands to his head as he took his helmet off, and the way he screeched off in a marshal's car as he returned to the paddock. Check too what some believe was an overreaction against Narain Karthikeyan over their Malaysia collision, compared to how Button dealt with a clash.
Dealing with what is going on right now will be a massive challenge for Vettel, and perhaps the biggest of his career. And life is not made easy by the fact that he's going up against a team-mate who has experienced both the good and the bad in F1, who knows exactly where he stands and what he needs to do to get the best out of himself.
Can Vettel cope? Of course he can. But to do that he'll have to be as honest with himself as he is with the team about where they're at. So too the team must not simply surround him in cotton wool. Vettel has a job to do, and that's to help push Red Bull back to the top.
Ultimately Vettel will come out of what's going on now much stronger. For while difficulties are sometimes hard to deal with at the time, they do help drivers add maturity and gain a better understanding of who they are. Would Button be who he is now if it wasn't for those dark seasons with Benetton/Renault? How much was Schumacher's devotion to Ferrari helped by those difficult early years at Maranello? How much did Alonso grow up during that tumultuous 2007 with McLaren?
This is F1's equivalent of the famous mirror tests on babies. But forget red dots on noses and a realisation of your own existence. This is about Vettel looking at his reflection and working out whether or not he sees the best F1 driver in the world.