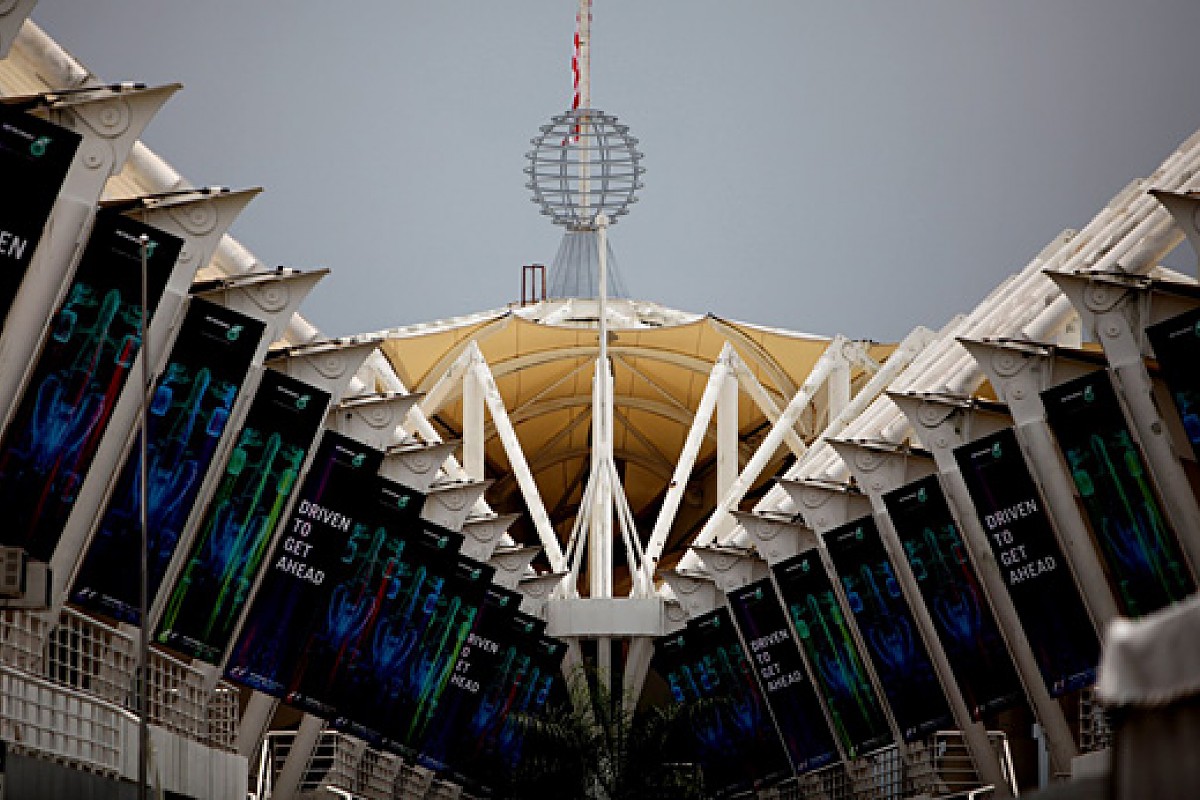 Formula 1 arrived in Malaysia with a spring in its step after a thrilling Australian Grand Prix that left everyone in no doubt that we're embarking on an extremely close and thrilling season.
There was a nice surprise for teams too when they discovered that the first stage of an upgrade programme at Sepang had been completed. They now had use of shiny new two-storey offices, with tables and chairs outside that lifted the atmosphere of the whole place.
And while a Tilke-drome in the rainforests south of Kuala Lumpur might not rival the glitz and glamour of Monaco, it didn't stop a few celebrities making the trek. Hollywood star Owen Wilson looked like he was enjoying himself on the grid, while former WBA heavyweight champion David Haye was cheering on the McLaren boys.
However, no story from Sepang would be complete without a mention of Kimi Raikkonen and ice cream, after his famous moment in front of the cameras during the red-flagged 2009 grand prix.
As hot and sweaty journalists returned to their desks after a day in the paddock, on their desks they found a little note from Kimi himself - and a special gift.
"Dear media friends," said the note. "Please enjoy this ice cream. I hope this leaves you refreshed and ready to enjoy the Malaysian Grand Prix."
Next year, he needs an official Lotus ice cream van...

The worlds of Formula 1 and MotoGP may not cross that often, but as the grand prix paddock rolled in to Sepang on Thursday the thoughts of everyone moved to two wheels.
Last October, the paddock was left shell-shocked by the death of Marco Simoncelli in a crash in Malaysia, just a week after Dan Wheldon was killed in Las Vegas.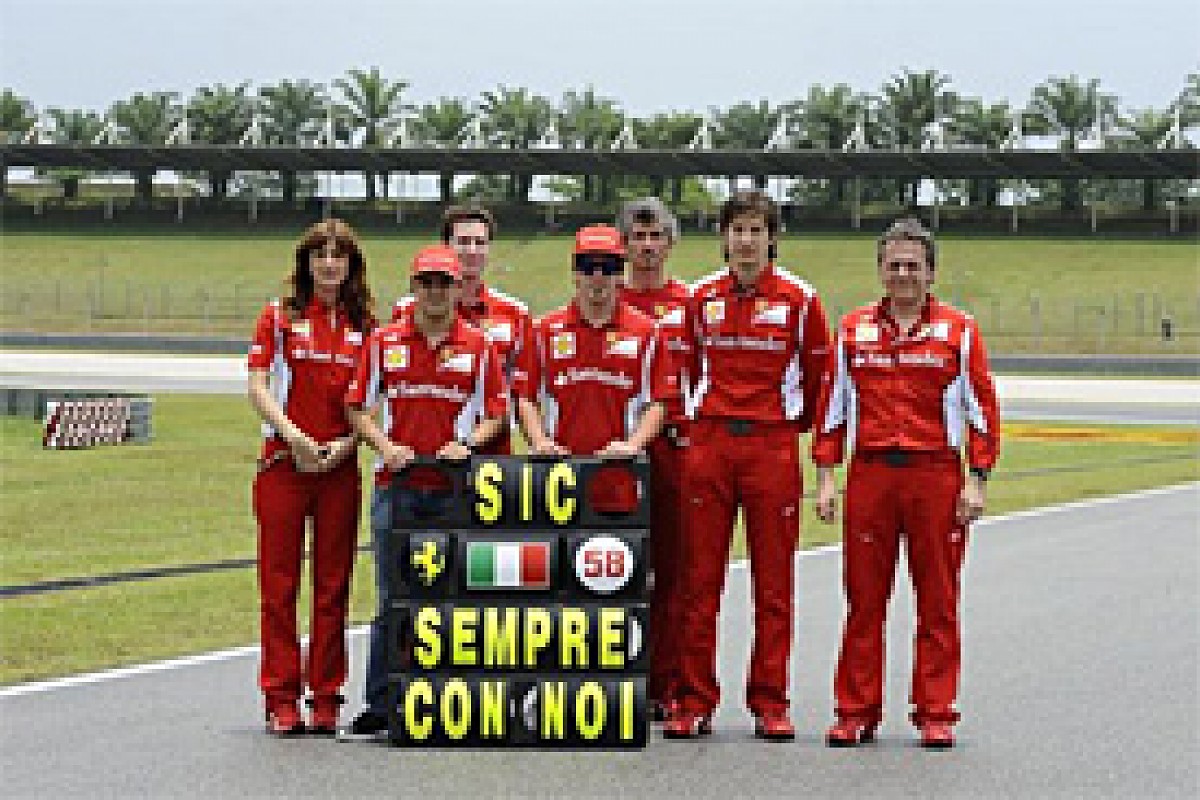 Ferrari's tribute to Simoncelli
With F1 returning to the scene of Simoncelli's accident for the first time since those horrible events, a lot of people made the trek up to Turn 11 to pay their respects to MotoGP's fallen star.
Flowers were laid behind the barriers, and Mark Webber left a Red Bull Racing cap, while Ferrari duo Fernando Alonso and Felipe Massa paid tribute with a special pit-board that read: "Sic, always with us."
Speaking about his feelings, Alonso said: "After Marco's accident last year, racing here will always be a little bit sad, knowing that one of our colleagues died here. It will always be difficult to race."
It was fitting therefore that one of Alonso's finest victories should be played out a few days later. Sic would have been proud.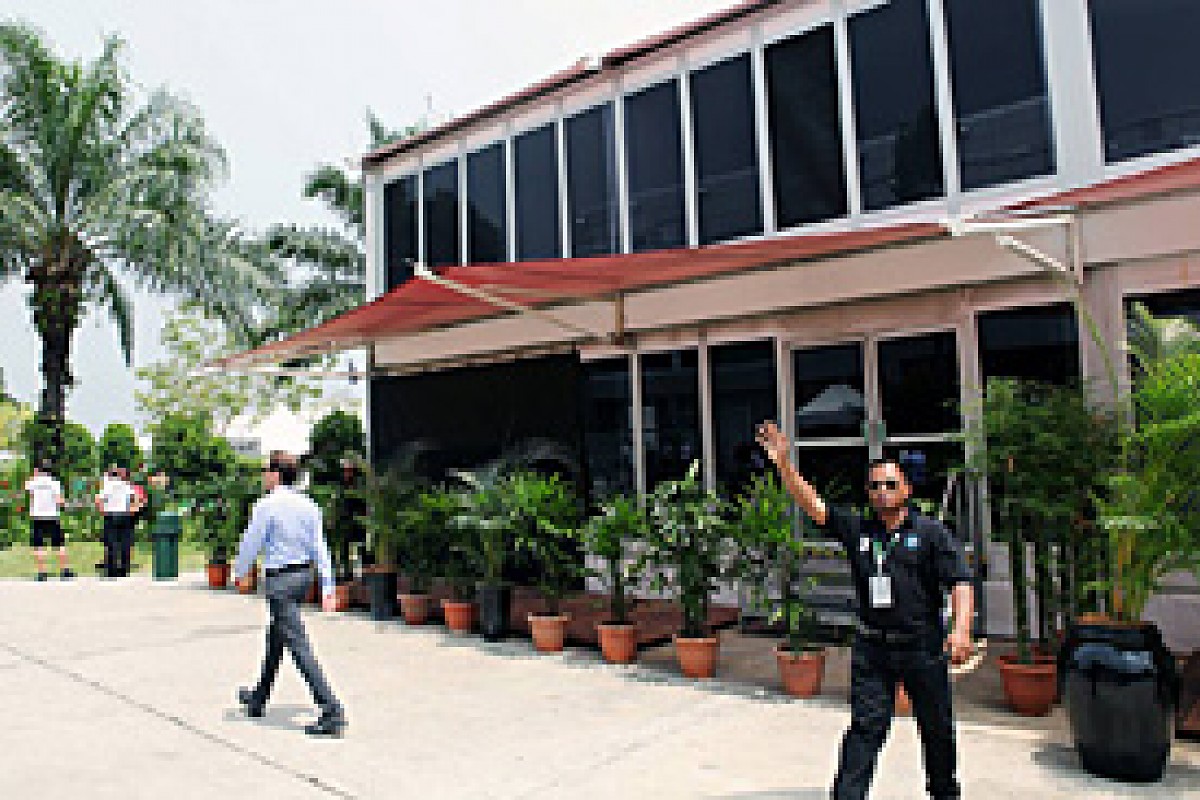 The very second that Lotus headlined its preview press release to the Malaysian Grand Prix as 'Fire and Water', you knew the team was tempting fate.
On the one hand, the water element could be pretty much guaranteed thanks to the ever-present threat of tropical showers, which of course blighted the opening stages of the race and then delivered us a thriller.
The fire bit? Well, that came on Friday night.
In its new team offices, there had been some issues with a fridge blowing its fuse over the course of the day. Each time, an electrician would turn up with a bigger fuse to try to sort the problem, so by the end of the day it had a much larger fuse than it had had in the morning.
In the early hours of Saturday, shortly before F1's curfew began, the electrical fault reared its head again and started a fire, which quickly spread through the hospitality unit and offices.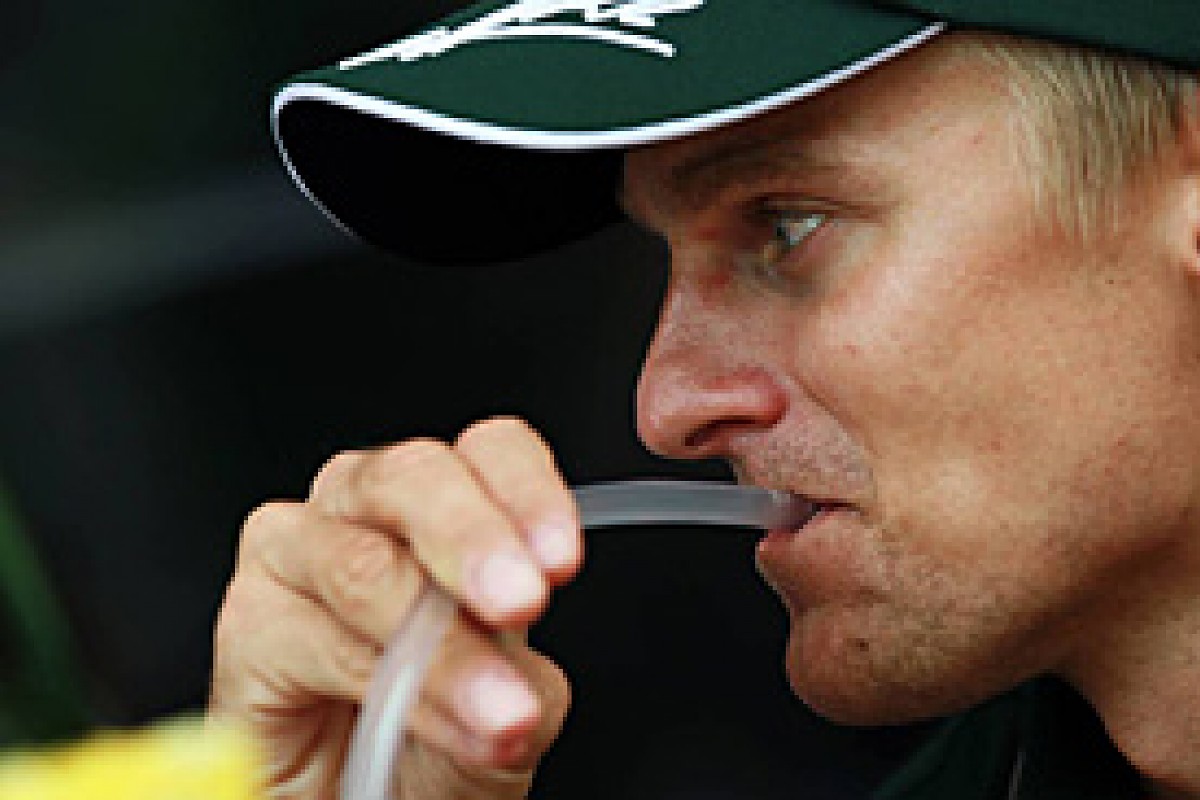 Lotus's hospitality unit © XPB
Quick-thinking security staff at the track grabbed what they could from the drivers' private rooms, including overalls, fireproof underwear and boots. But not everything made it out okay: one of Kimi Raikkonen's spare helmets perished in the flames, while Romain Grosjean lost all of his engineering notes from Friday.
"The security guy did a fantastic job to jump into the room and save our helmets, which was the priority," said the Frenchman. "But we are only left with one balaclava, two overalls and two pairs of underwear. The rest smell so bad that you can't use them anymore..."
Lotus had to spend Saturday morning moving what it had left into a spare team hut at the bottom end of the paddock, with rival squads helping to stock it with spare equipment and food.
And no one did find out if they turned the fridges off each night after that...
The Malaysian GP is one of the busiest of the year for Heikki Kovalainen, thanks to the local interest in his Caterham team.
With boss Tony Fernandes only flying in to Kuala Lumpur once the race weekend had kicked off, that meant it was the drivers who had to do a lot of the promotional stuff in the build-up to their 'home' race.
Normally, a round of press interviews and photo opportunities can be a bit of a pain for a driver who'd prefer to be sitting by the pool, or out for a round of golf.
But driving for a team owned by an airline boss does have some perks, and Kovalainen was revelling in a special experience he had taking the controls of an AirAsia flight... well, sort of.
"I got to fly one of the simulators to try out an Airbus A330," said the Finn, who visited the AirAsia facility with his team-mate Vitaly Petrov.
"I did a full circuit around the [Kuala Lumpur] airfield and landed on my own! Vitaly was the co-pilot but he didn't dare touch the controls - he was pulling his belts tighter as we came into land..."