The Malaysian Grand Prix was an extraordinary race. Any event where the guys who started eighth and ninth finish first and second has to be something exceptional - especially when there is only one retirement among the cars that started ahead.
It was a shame that we didn't see a fully dry race on a more-typical F1 track than Melbourne, as the grid had an interesting look to it, especially with Sebastian Vettel starting on the harder tyre. But the race more than made up for that.
Title chasers McLaren and Red Bull had complicated afternoons and a few snags to overcome, but Sepang was really all about two men: Fernando Alonso and Sergio Perez not only took their chances, but they completely humbled opposition that should in theory have been much faster.
It came down in large part to tyres. Not just the timing of switches from one type to another, but the indefinable black art of keeping them alive and in their operating window in a race where it was very easy to get it wrong. A driver can be a hero or a zero very easily if his tyres do or don't work for him. It's something of a downward spiral if they don't, because if you lose temperature you can't push and you lose confidence, and the tyres never get back into that window.
The amazing thing about Alonso and Perez on Sunday is that, having got themselves into the game on wet tyres, they maintained their station at the head of the field on both intermediates and slicks. Nobody else was able to make any impression on them.
Perez's first stint was key to his result © LAT
For Perez the key to it was the first stint. It was raining on the grid before the start, and everyone went for intermediates - bar both HRT drivers, who took what turned out to be a brilliant decision to go for wets. It didn't pay off for Pedro de la Rosa as he failed to get away from the grid but, as the rain began to come down on the formation lap, Narain Karthikeyan must have had a big smile on his face.
Anyone else in the field could have made the same call, and equally anyone else in the field could have come in at the end of the formation lap, made the change, and got down to the pit exit before the rest of the cars departed. That no one did was extraordinary.
At the end of the first lap just one driver made the decision to drop out of the pack come in, and that was Perez (although Bruno Senna made a forced stop after damaging his nose).
"It was a good call," says Sauber chief designer Matt Morris. "Give credit to the driver - he was confident that the track was ready for wets. It was a brave call on the pit wall as well, and it certainly put us in a good position at the restart. He's the best person to know that; we can only do what he tells us. So it was a good call from him."
It was a case of better late than never and, as others grappled with the increasingly wet track, he shot up the order. By the time the safety car came out he was third, behind only the McLarens, having survived an off-track excursion.
Meanwhile, by the red flag Alonso had moved up from eighth to fifth, gaining from the Romain Grosjean/Michael Schumacher incident and getting ahead of both Sebastian Vettel and Nico Rosberg, while losing a spot to Perez.
Those who lost out through the timing of the change from inters to wets had a chance to make amends when the opportunity to do the reverse arose. During the safety-car laps after the red flag we heard Rosberg confirming that he would come straight in, and he wasn't the only one, as Jenson Button dropped out of second and led the charge down the pitlane at the end of lap 13 as the race resumed.
Lewis Hamilton, Alonso and Mark Webber were among those to come in next time around after one lap of green, and that left Perez in the lead. The Mexican came in a lap after that, followed by Vettel. Perez's advantage was such that he registered as leader for a second lap as he went down the pitlane.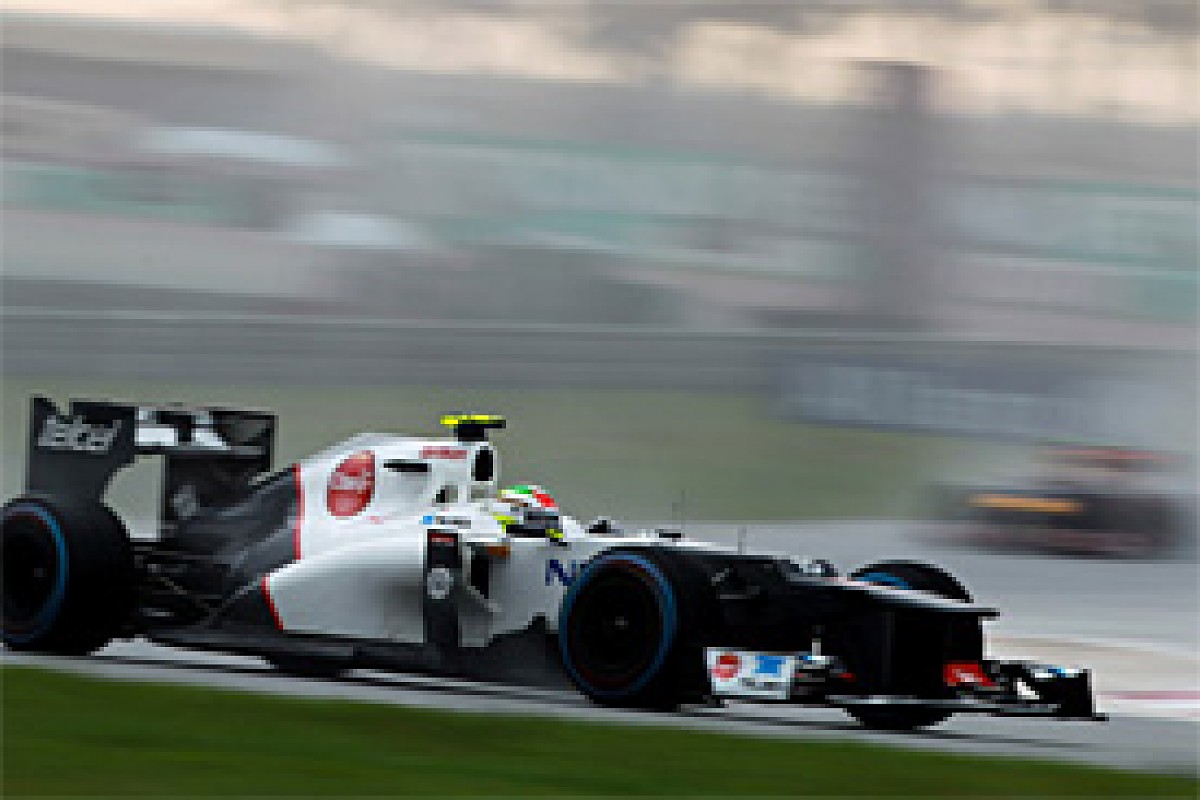 The race was stopped after only eight laps © LAT
As with the first stop, you could argue that it was a conservative choice by Sauber, in that Perez was the first on to the 'safer' wet tyre and among the last to abandon it. Staying out too long actually cost him time, and that philosophy of risk-reduction was to prove expensive later in the race.
While this was going on, Button had his crash with Karthikeyan and Hamilton lost time with a tardy stop that saw him forced to wait while Felipe Massa pitted across his bows. The outcome was that from lap 16 Alonso and Perez were running first and second.
Hamilton looked menacing in third, and it seemed that it would be a matter of time before he gobbled them both up. But he never did, and after a few laps we came to realise that this race really was all about the two guys who were already in front.
Morris says Sauber knew it had a good package for the conditions: "We know the car is good in the wet, and we were discussing it before the race. This was the perfect scenario for us really. With the characteristics of our car, wet weather was definitely the best for us. We knew we had a really good chance of staying where we were, or getting even higher.
"When we ran the car with the full wets and the inters in Melbourne we knew we were very competitive. The downforce and drag level that we were running in Malaysia suits the wet conditions."
On intermediate tyres any shortcomings of the Ferrari F2012 were disguised, but it was more a case of the supremely-talented Alonso doing what he always does when he has a sniff of victory - finding another level. An initial gap of 2.4s on lap 16 edged out to as high as 7.7s by lap 30 while, against expectations, Perez stretched his margin over Hamilton from 6.3s to 15.5s. The car may have been dialled in, but so too was the driver.
"I think a lot of it was Sergio just in the zone, really," says Morris. "Compared to Kamui [Kobayashi] he was a lot more confident in the car. It's always the same: when you're up there you get another half a second out of the car when you see you're in second place, and you're following a Ferrari."
With the track drying by the lap and everyone's inters beginning to suffer - to the extent that Rosberg, Button and Massa were compelled to make an extra stop - Perez then began to reel in Alonso. It was an extraordinary sight as he set fastest lap after fastest lap as the transition to slicks approached.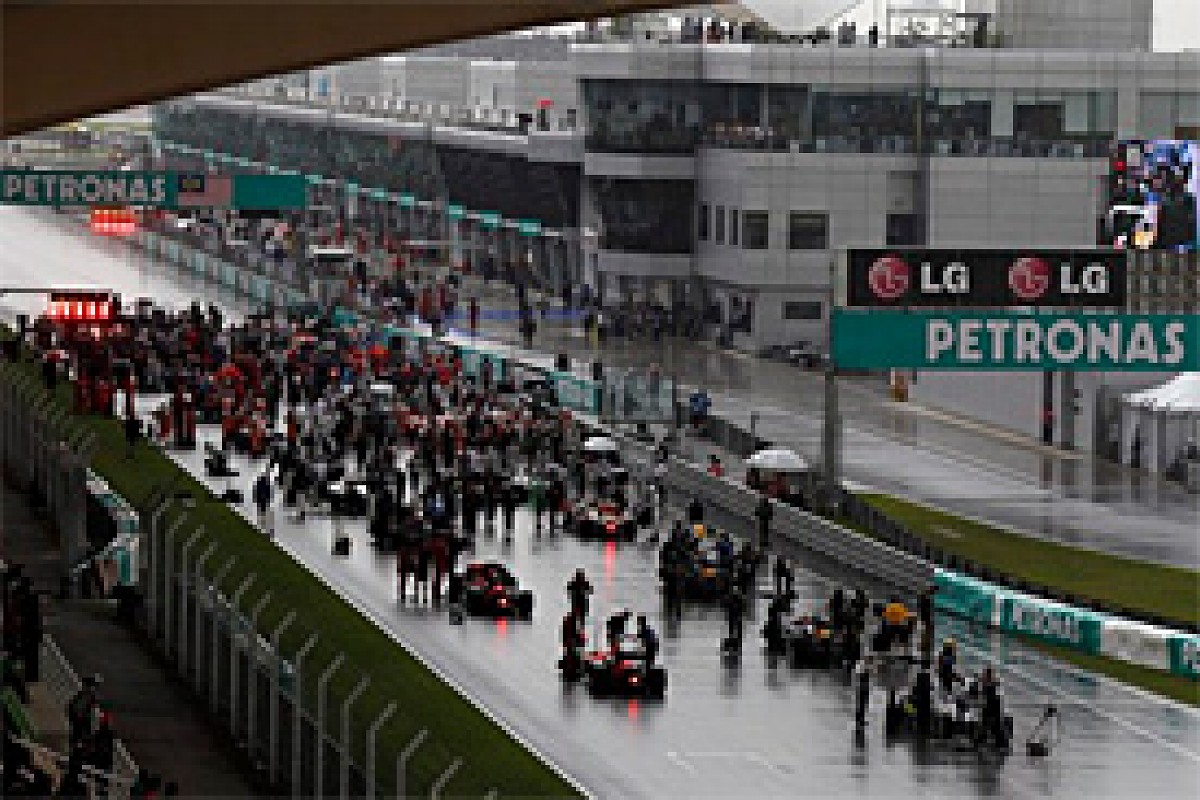 Alonso pitted for slicks on lap 40 © LAT
It was Daniel Ricciardo who made the move first, and his sector times alerted the pitlane to the necessity to make the move sooner rather than later. The call is much harder when you're leading and have a lot more to lose, and Ferrari and Sauber both hesitated. Alonso came in on lap 40, and then, to general astonishment, Perez stayed out for one more lap (although, to be fair, so did Hamilton).
Again, the team erred on the side of caution, as if there was a collective fear in taking a risk that might win the race but might equally end in disaster if their man came out on slicks and maybe hit a wet patch. There was also the threat of rain on the FIA radar, something that had caught everyone's attention.
The bottom line is that the extra lap almost certainly cost Perez victory. He was 1.3s behind the lap before Alonso pitted and closing fast, and immediately after his own stop he was 7.1s behind again, having lost a little more time as the car hesitated when leaving its pit box.
"We were just watching Alonso and Hamilton to see what they did," says Morris. "We were also worried because the radar said there was some rain coming as well, so we were a little bit nervous to go onto slicks before anyone else did.
"I think we were happy for second really, and we didn't really want to throw it away. You could argue that we were cautious, but we also had a problem in the pitstop as well - the clutch was slipping, maybe there was a bit of oil on it or something, so we probably lost a second or two there as well."
Just to add to the fun, Perez had gone for the harder tyre while Alonso was on the medium, with which the Saubers had not been comfortable in qualifying. After his stop, Perez now had 14 laps in which to close that 7.1s gap and deal with Alonso.
And as we all saw, he so nearly did it, despite receiving a 'be-careful' message - which some interpreted as an order not to challenge the Ferrari. Given the frustration that Williams suffered in Australia, where Pastor Maldonado threw away sixth place while chasing Alonso, Sauber's caution was perhaps justified, as Morris suggests: "You're looking at the times going purple, and locking up under braking - and it was quite a big gap for him to pull back..."
In the end Perez got to within 0.5s with six laps to go, before he got too high on a kerb and slid a little wide. After that it was all over, and the chastened Mexican followed Alonso across the line.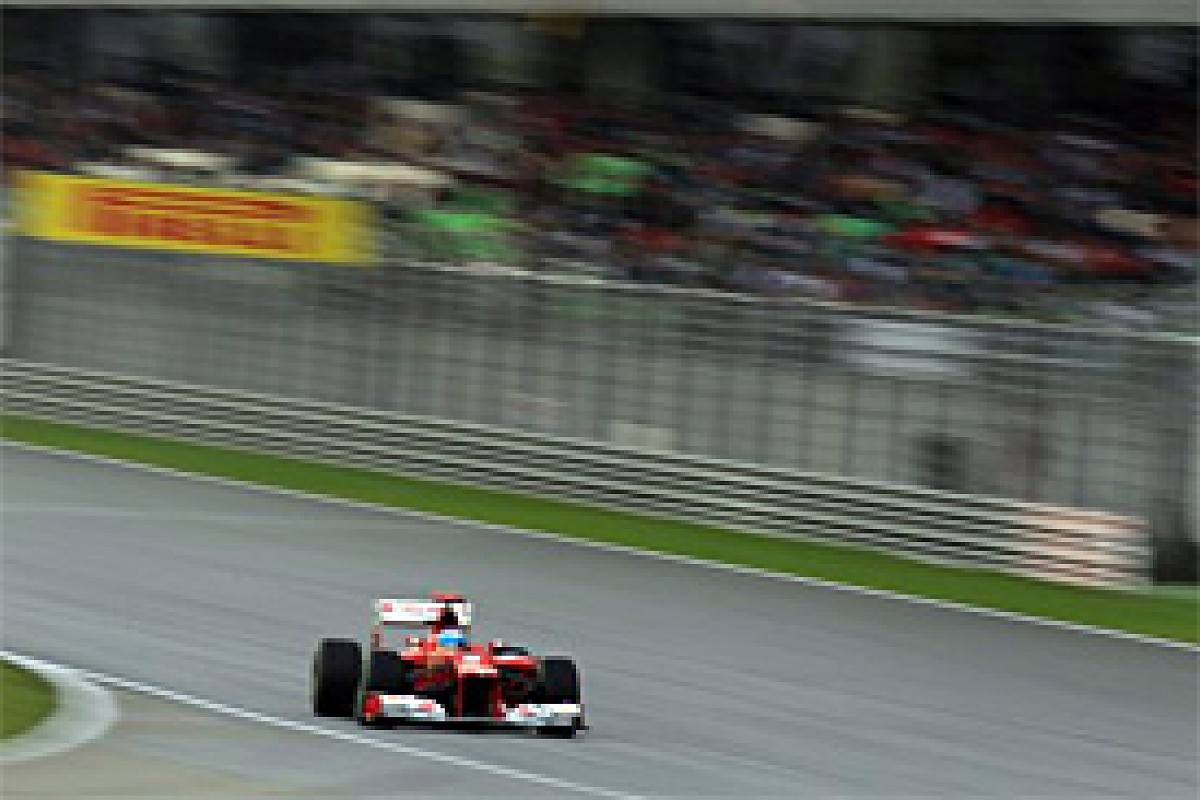 Perez looked set to pass Alonso until his mistake © LAT
"I think it was a really good drive from Sergio," says Morris. "OK, you can be a little bit critical of him - he had five laps to get past him, and there was probably an easier place to push than where he did. He'll learn from that and I don't think he'll worry too much about it. We're certainly not worried."
In all the excitement it was easy to forget that Alonso did a great job with a less-than-perfect car. While Perez doesn't have his experience, the Spaniard withstood huge pressure. His team boss Stefano Domenicali admitted that until the very end he couldn't be sure that Alonso had it in the bag.
"To be honest with you, [it was] at the last corner," said Domenicali afterwards. "When Perez made a mistake there was a little bit of relief. With a lap to go rain was still possible."
The result gave Ferrari some breathing space, and if Alonso continues to pick up points - and if the team starts the European season with a much-improved car - he could still be a factor this year.
So what of Sauber? There's no reason to assume that Malaysia was a total fluke. The car looked good in testing, and in Melbourne its true potential was disguised in qualifying - although we had a hint of what it could do when Perez's single-stop strategy propelled him up the order.
"I think we've got a very competitive car," says Morris. "In Melbourne we underperformed - in qualifying Sergio had a gearbox problem and Kamui made a mistake. Then in the race both cars hit each other in Turn 1, one lost a load of front downforce and one lost a load of rear downforce, and then they trawled around in the race, and nobody really spotted us!
"In Malaysia we had a few problems with the car in qualifying; we had a few mechanical issues, particularly with Kamui, that we didn't find until we looked into the data later. I think that masked some of it. If we can sort ourselves out a little bit more for the next race then there's no reason why we can't be scoring points again."
Last year we saw that the Sauber had really got on top of tyre management, which is why the team was able to attempt extreme strategies, and that has continued into this season. The difficulty is getting the right balance between race and qualifying performance, as Mercedes has discovered.
"We've all been spending a lot of time on that," adds Morris. "Clearly our performance in the race is still good, our qualifying performance has got better, but we're still not qualifying where we think the pace of the car is.
"Here we had a few problems in qualifying. If you look at the sort of guys in front of us, other than Alonso they were a long way in front of us, so it's clearly an area where we need to do some more work.
"These tyres are very difficult to manage. They take a different type of management than last year and we need to work more on that for qualifying.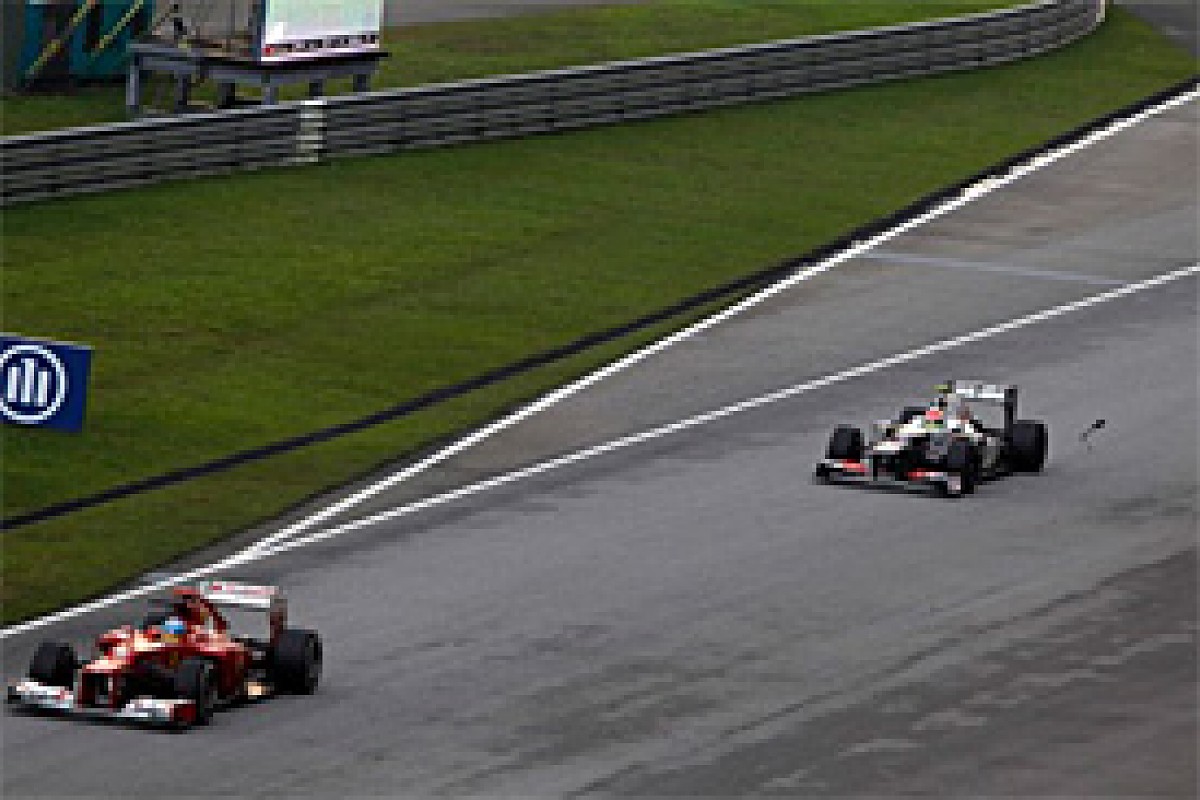 "We saw in winter testing that the car is good on its tyres, as Barcelona is always a hard circuit on tyres. OK, the super-soft wasn't really suited to Barcelona, and I think everybody's struggled a bit with that, but all the compounds we ran at Barcelona we got a pretty good handle on, so I think we'll be fine."
So, if the white-and-grey cars can edge well into the top 10 in qualifying, maybe they could be more of nuisance to the top teams on race day.
"We need to keep this momentum up," says Morris. "All the guys at the factory will be massively fired up this week, which is great for them, and it will push the development on further and faster.
"I think we've got a good car. We've got a lot more development in the pipeline - our next big upgrade will be Barcelona. We're still working on that, but already it's a good step forward."