As always, with every fresh season comes the inevitable regulation changes, different team line-ups and new, bizarre looking, cars. But one thing I don't see changing is the destination of the drivers' title in 2012.
I think Sebastian Vettel could be only the third guy to do the championship hat-trick. I don't know how good the Red Bull is - and we'll only know after the first series of fly-away races - but you have to say that even if the car is not good from the outset, the team can easily build another one. Red Bull's resources are that good.
Adrian Newey is the best designer out there and Vettel is the best driver now because Lewis Hamilton has gone off the boil and Jenson Button has got on top of him and is doing a bloody solid job.
Hamilton is just not doing what's expected of him while Vettel is totally focused on his game. I don't see anyone else who has that complete package. I don't want to jump on the Vettel bandwagon for the sake of it, but I just don't see where there's a weakness. He has the best team around him and his confidence is going to be sky high because he's won the past two championships.
Threats to Vettel
The biggest threat is probably going to come from Jenson but I don't see him being able to beat Seb.
Mark Webber is going to be no threat and Lewis, who made a complete mess of last year, will make a complete mess of his career if he keeps it up. He seems to have completely lost his judgement. Lewis used to pull off unbelievable overtaking manoeuvres and now he just does unbelievably bad overtaking manoeuvres! I really don't know what it stems from but it's bizarre.
Some of the things he has done are not even half logical. I was a big fan of Lewis but now I sometimes wonder what on earth he is thinking with some of his moves.
But let's hope he gets it back together because Lewis on top form is the only man capable of taking this championship from Vettel, in my opinion.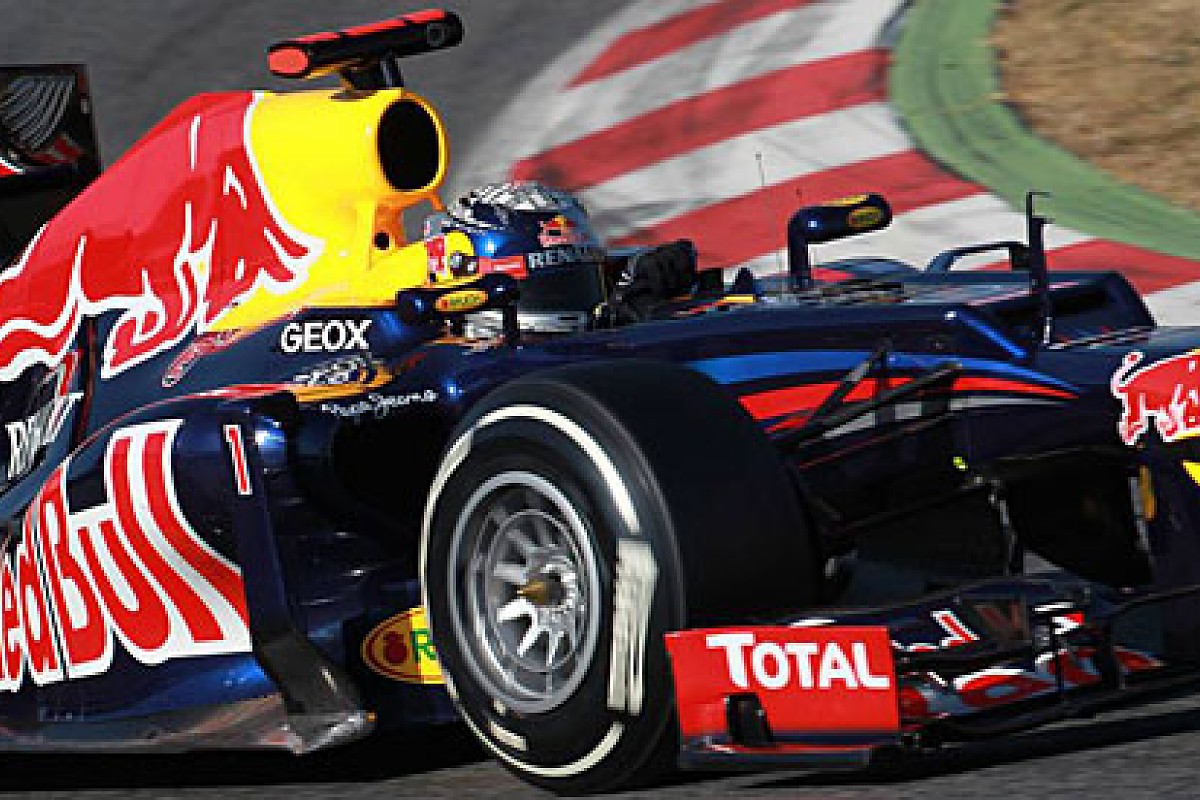 Vettel's Red Bull team-mate Mark Webber was much closer on pace to Vettel in 2010 than in 2011 and grabbed a few pole positions, which reflected badly on the German.
Everyone was saying how amazing Vettel was in 2010, but I have to say I was really disappointed that Webber was so close because you would never have said Webber was a really top-notch driver. I was more disappointed by Vettel than I was impressed by Webber in 2010, but that all changed in 2011 and Webber didn't challenge at all.
Focus on Ferrari
Ferrari has looked in a little bit of disarray in pre-season testing and the noises coming out of Maranello haven't been great. It must be remembered that the team has gone through big changes over the past few years.
It had the 'A-Team' of Ross Brawn, Rory Byrne, Michael Schumacher and Jean Todt and that was already on its way down when Fernando Alonso won back-to-back titles in 2005 and 2006 with Renault. Then Kimi Raikkonen came in and really kind of lucked in to the championship.
It's been tough ever since and Ferrari has been through a period of rebuilding and getting the right people together. But how do you beat Adrian Newey when he's at a team where he's given free reign? Red Bull has really given him the perfect platform to be at his best and it's showing.
I don't expect Ferrari to push either Red Bull or McLaren but it won't be for lack of trying by Fernando Alonso. The guy is so driven, and the fact that Felipe Massa is not up there pushing him makes him perform better. Look at Alonso whenever Hamilton was quicker than him at McLaren in 2007. All the toys came out of the pram. Now it's a perfect set-up for him. Massa is a good driver but Alonso is the team leader and the man to bring home the bacon.
The comeback kings
I expect Mercedes to push Ferrari hard this season and be more of a threat than it has ever been. The team has had time to gel, Ross Brawn has been there a few years and Nico Rosberg is a top, top driver. I would say Mercedes is going to be in the top three this year or at least join the big four, put it that way. I don't mean the cars will be consistently on the podium but I don't think the team will be below the top three. If it is, Ross has really failed to deliver. He's had enough time there now to sort out any issues.
But Michael Schumacher shouldn't be there in my opnion. End of. What's he doing there? I'm embarrassed for him. After the first year when he hadn't got up to speed it was obvious he had lost it. He's one of the greatest drivers there's ever been and he can't beat Rosberg!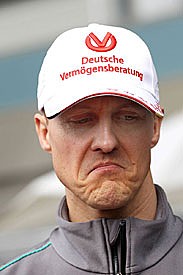 Michael Schumacher - past his best? © XPB
Don't get me wrong, Rosberg is a bloody good driver, but you can't say he's as good as Schumacher in his prime. Michael has to say he is selling an inferior product.
The best analogy I can give is that it's like flat Coca-Cola. Who wants it? People can say it was team orders, or that Rosberg destroyed him because he prefers a different set-up, or Michael can't get used to the tyres, but the fact is the guy's 43 and wasn't at his peak even before he retired if you look at how hard a time Massa gave him.
People are also fascinated by the return of Raikkonen but I am mystified by why Lotus has taken him on. I think Kimi has made a complete mess of his career.
I like Kimi a lot and I think he's great for F1, but how do you go from being Ferrari's world champion to being unemployed and end up coming back on your knees to Lotus? I don't think that partnership is going to go anywhere.
There's a new breed of drivers coming through that's on another level. They're younger, in better cars and hungrier. I don't know much about Kimi's new team-mate Romain Grosjean, to be honest, but it doesn't seem like a great line-up to me as both drivers are unproven: one is returning to a totally different sport and the other is totally new to the sport.
I think Lotus should have gone for a proven top driver as well as Kimi. That aside, Kimi's image is great for F1. He's one of the only guys who will get in the newspapers as much for what he does off the track.
The best of the rest
As for the other teams, you'd think that Force India will be heading the midfield battle, possibly with Sauber and Lotus. Paul di Resta looked very good at the start of last season and tailed off a bit. But he was very impressive in a lot of races and I think he's a good little pedaller.
Nico Hulkenberg is still a bit of an unknown quantity despite a couple of impressive showings for Williams in 2010 but he could prove to be very good.
Then we have the mobile chicanes at the back, the likes of Caterham, Marussia and HRT. They're there to make the sport look rich! Without them, the sport looks like it's going bankrupt. Of that bunch, you'd say Caterham is the most serious about moving forward.
Tony Fernandes has made some bizarre decisions in my opinion. Why he wanted to race under the Lotus name when he didn't own it was weird. He also has his hands full with [football team] QPR and I'm not sure about this scattergun approach. Why do two difficult jobs? But he is serious about what he's doing now that he's bought Caterham so good luck to him.
F1 2012
There's been a lot of outcry about the look of the new cars with the stepped-nose effect but I've never thought the cars looked particularly beautiful ever since they went to the skinny, narrow tyres. They haven't been beautiful cars for a long, long time, but everyone will get used to it.
It's a pretty safe sport now anyway. The cars and tracks have improved immensely safety-wise but I think they've done so without increasing the visual aspect of the sport. These Tilke-designed circuits they are building today are pretty awful and it seems the spectators aren't bothered to go to watch, to be honest. If you make a mistake on-track, you're not punished anymore, and that's why they've had to resort to giving a point to everybody who turns up! It's almost impossible to have a problem so all the cars are finishing.
They're designing great corners, but there's no punishment for screwing up. If you remember Estoril in Portugal, there was a really fast right hander onto the straight and if you made a mistake there, you were having a big shunt and that's the way it should be. You were coming out of there at 150-160mph with barriers 10 feet away. I think you have to make the cars as safe as possible but you cannot have these massive long run-off areas. It's killed the sport to me, as there's no punishment for driver errors.
DRS is just stupid too. Now it's not overtaking, it's drive-by! It's missing the point. It used to be that if you mucked up qualifying on a Friday, you could not rescue your weekend so the pressure was on the entire weekend from the get-go. Now, if you screw up and you're 20th on the grid, you press your button 18 times and you're back up there. It's taking every form of discipline and stress out of the whole game and then the safety car brings everyone back together as well.
The penalising challenges of the sport have just been watered down massively. There used to be so many ways of screwing your weekend up but now there isn't.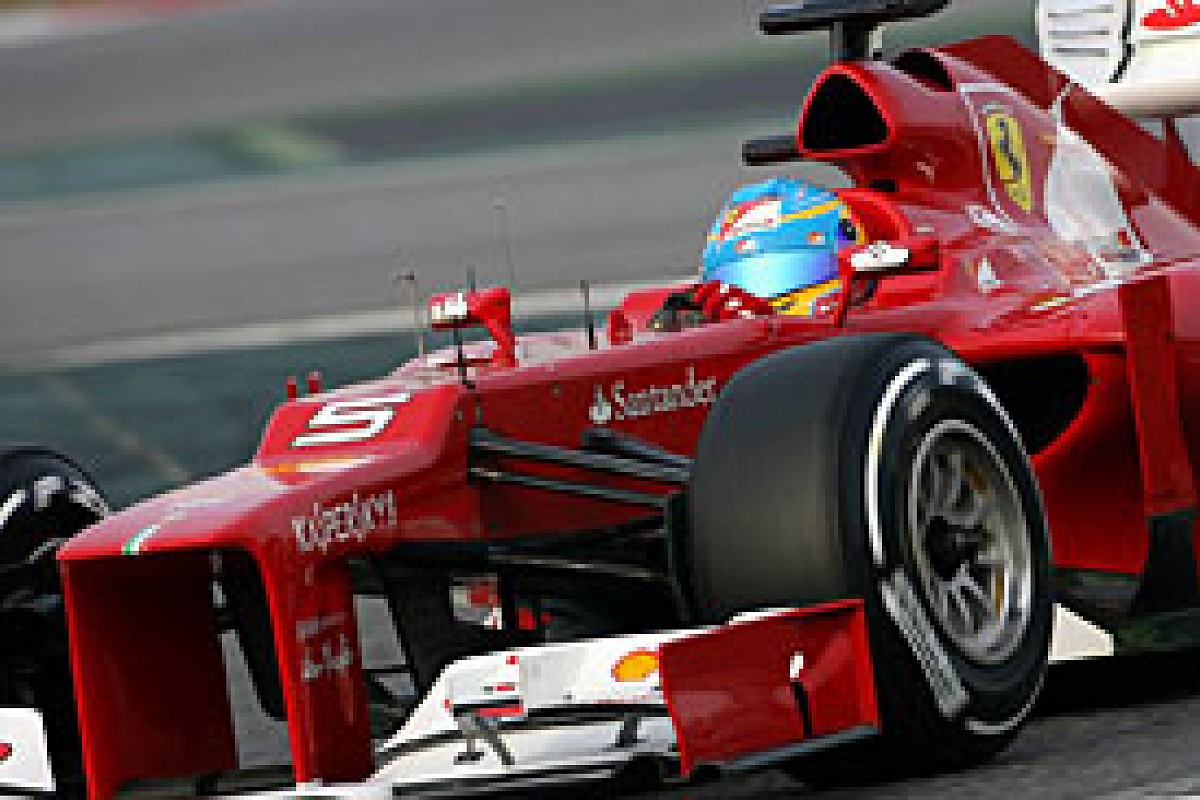 Irvine reckons we'll get used to the look of the 2012 cars © XPB
It's also the first season that Sky Sports is showing every single race on its new HD channel, with BBC having only half of the races. I think you'll see a big drop in the viewing figures as a result. Sky will no doubt produce a quality product but Formula 1 is not football.
Sky has done its research and will know a lot better than I will, but I think it will have an effect down the road on youngsters liking F1. What will happen is you will have some fathers who don't watch it, so their kids won't watch it. It's like the heavyweight boxing champion of the world. Who is he? But if it was on terrestrial TV, the world would sit down and watch it.
For a lot of people, football is their life and every Saturday and Sunday they just have to watch. It is set in stone. Formula 1 is a luxury I think a lot of people can do without. It will have an initial impact, but the long-term affect is much more significant. I have no idea why the BBC should be spending tax payers' money to provide F1 coverage. I don't think it's educational or in the interests of the country to show it. I think the ITV solution was the right one because it didn't cost the tax payers. I never thought it belonged on the BBC, unless the it was free to show. I just don't think it's fair.
But I'll be keeping an eye on proceedings and expect Vettel to take the title from Button and Hamilton. No, actually, I'll change that: Vettel from Button and Alonso.