When Marussia's key men John Booth and Graeme Lowdon entered Formula 1 back in 2010 under the Virgin banner, they were under no illusions about just how difficult life was going to be in motor racing's premier category.
F1 is tough for every team on the grid; and this winter Marussia found out just how much the sport can bite when a failed crash test on a single component, plus a late rule clarification by the FIA, wrecked its chances of doing any pre-season testing.
Marussia's absence from the final Barcelona test, allied to a few redundancies at the team, got F1's rumour mill in overdrive: as whispers spread the paddock that it may not even make the start of the season.
In the end, the reality proved less dramatic: with Marussia duly passing its crash test and its cars and equipment all getting shipped on time to Australia after a two-day filming run at Silverstone.
AUTOSPORT hooked up with team principal Booth and sporting director Lowdon in Melbourne on Tuesday to find out more about what happened over the winter - and discovered high levels of optimism about what can be achieved this year, plus why Marussia is happier to keep building its own chassis rather than hope F1 opens the way for customer cars.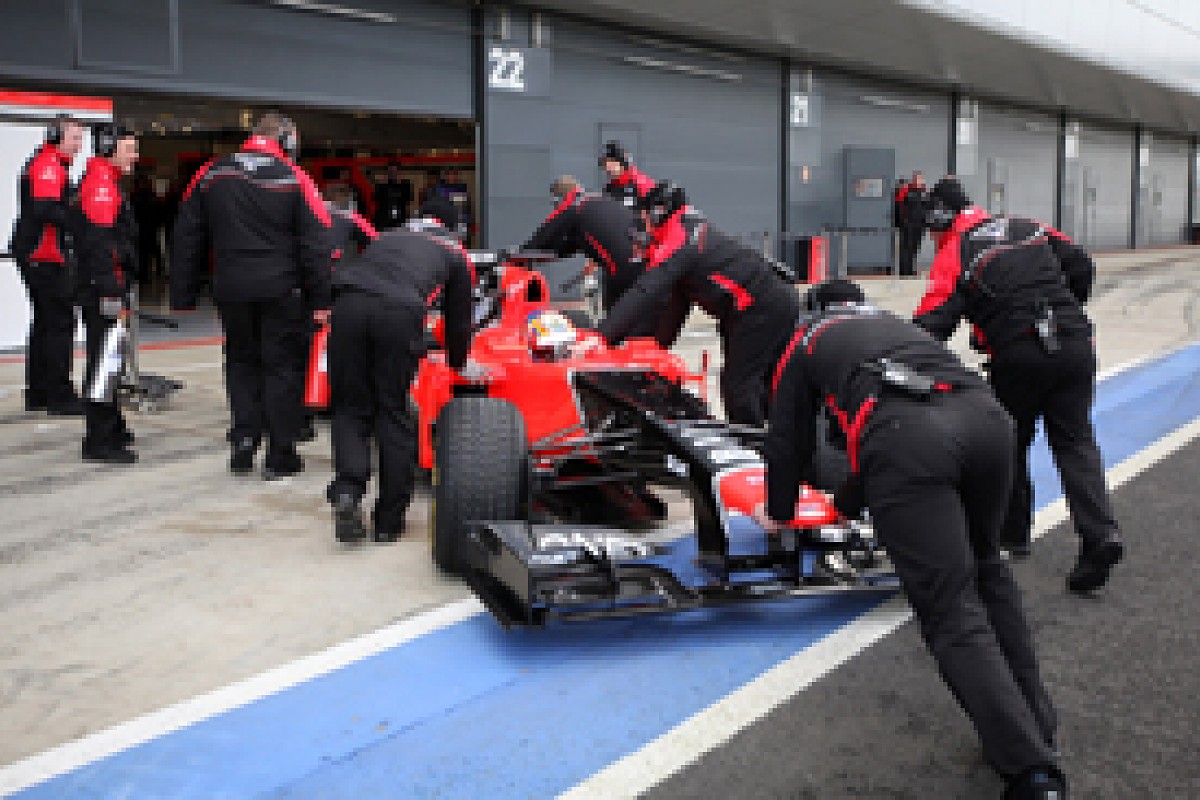 A filming day was the new Marussia's sole winter running © LAT
Q. Tell us about your winter - because you ended the 2011 season with things looking pretty rosy on the back of the Marussia deal, the appointment of Pat Symonds and the technical tie-up with McLaren. Then your testing plans slipped back, and the next we hear is you failed the final crash test...
Graeme Lowdon: It didn't actually slip that much. The thing with Formula 1 is that you don't have to slip that much to miss deadlines that are very prominent. A classic example was missing the two Barcelona tests, which we were aiming to be at.
But if you think of the volume of work that was done: we had to build yet another Formula 1 factory in the second half of last year; and then when everyone returned from Brazil, the race team moved in. Everyone was there by January 1. During that time we also had to build a new design department and build a car.
It was also ironic that the one crash test we had the problem with was the one that some other teams don't have to do at all, because they buy that component in. It was a surprise that we didn't pass it, because when we did it unsupervised we did pass it - so we did not think it was going to be a problem.
John Booth: It felt like a whole month had slipped away, but it was actually more like two-and-a-half weeks. But it was critical. We always intended taking the old car to Jerez, but then we realised we were not going to make Barcelona [test] one with the new car and that meant there was no point in having gone to Jerez at all. So the two-and-a-half week slippage cost us dearly.
GL: Also, the FIA clarification of the definition of the week 'preceding' the first race was unhelpful. I still can't quite understand how you could apply that clarification to the rest of the regulations in a consistent way, because it leaves a lot of question marks about what is legal and what is not legal.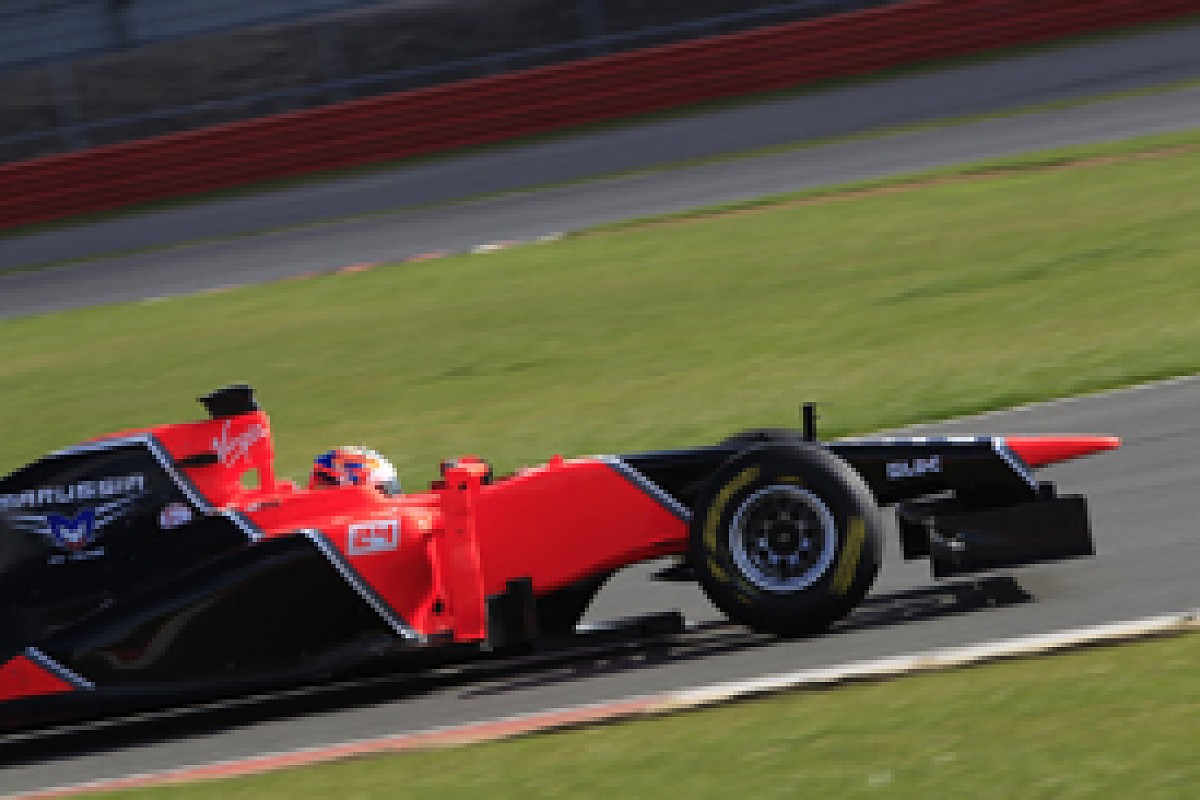 Glock gets a feel for his 2012 car © LAT
So not being able to test during that week was really unhelpful. In the end we had some contracted filming to do with partners - so at least the car turned a wheel during those filming days. But certainly in the planning we anticipated we would be able to test during that week and a lot of people were a bit surprised at that clarification.
JB: Red Bull Racing and Ferrari felt the same, didn't they?
GL: So you don't have to be late by much for it to make a dramatic difference. And it does mean we are going into this race with very little mileage on the car.
JB: With building the design office up from scratch, Pat probably started two or three months later than most - if not more than that. So that was a factor as well. We were almost a new team starting from July.
GL: And we have this substantial contract with McLaren Applied Technologies, so there was a lot of work involved in getting that whole contract up to speed and running - and having access to the facilities there. So there were a lot of new things to get done in a short space of time.
Q. So you had passed the crash test unobserved, but the issue only came to light when you went for the official one?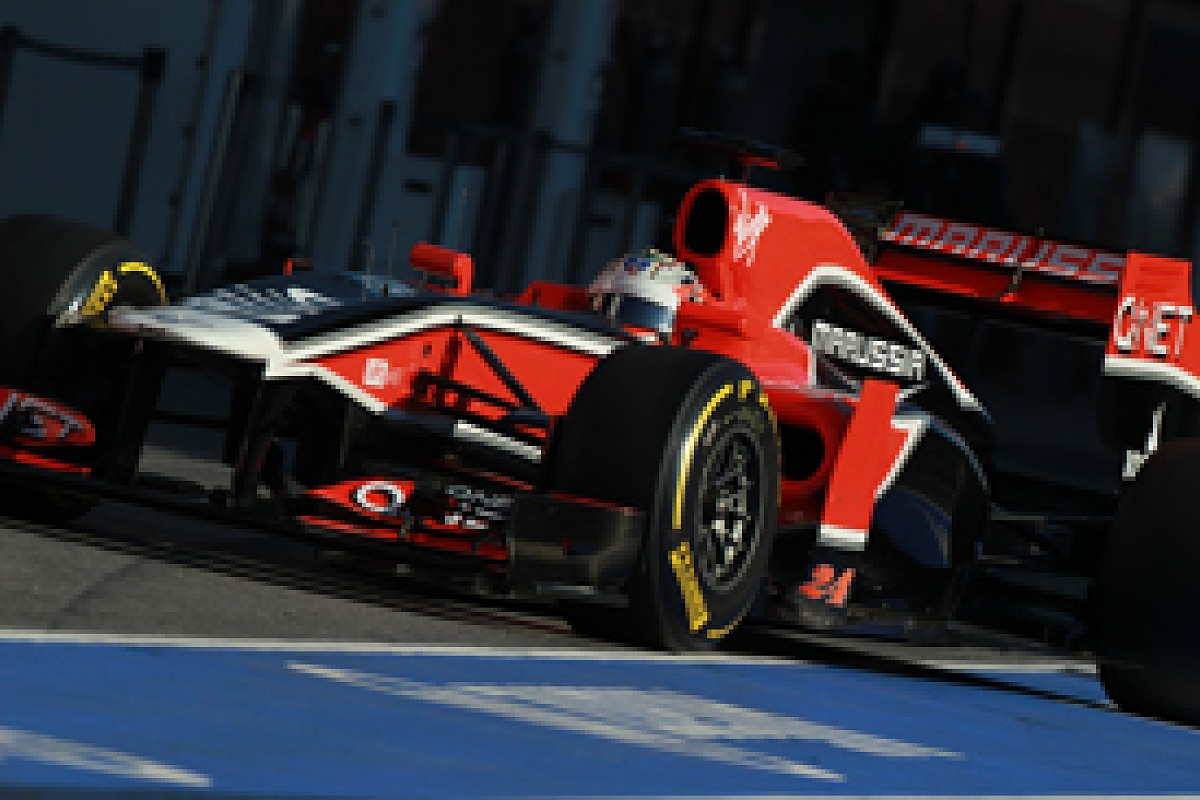 Marussia took its 2011 car to Jerez for some running © XPB
GL: Yes. We passed an unobserved test, so partly in your mind you think to yourself: that is done, that one will not be too much of a problem. But when it was observed, it failed. And because we had already passed an unobserved one, when it failed we decided to repeat the test with some rear impact structures that we already had.
So there were a couple of repeated failures, if you like, but it was not a case of redesigning it and it failing again. It was a matter of knowing that one of them had passed already, so if we had some more rear impact structures then we should test them. During that time, a second string of work was put together to redesign that component, and that is the one that passed first time when it was tested in the early part of last week.
From the outside, it probably looked a lot more intense than it actually was. But it caused more of a logistical problem than anything fundamental engineering wise.
JB: Also, for a team like ours that has limited resource - particularly with people - it is harder to react. If you have 500 staff back at base then it is easy to relax and go through the processes to get problems fixed. For us, every resource is fully occupied. So, to do something like that, you have to take away resources from something else or reschedule. It makes it more difficult, and we are more cumbersome in our ability to react.
Q. So what shape do you think the team is in now? There are some positives of the winter - with the Marussia rebranding and the factory relocation - but it's not been an easy few weeks. So is this year one, or year two-and-a-half?
JB: For the race team, it will be year two-and-a-half, but for the car itself it is year one. We are really excited about the car. Every time you pick up a component you smile because you think, 'this is an F1 component.' So we are really excited about the car, but we have left ourselves an awful lot to do.
GL: That was one of the big frustrations of last year where, from a standing start in 2010, we have built a pretty good race team really. And, everyone was really, really keen to show it - but it is quite well known we had a difficult car last year. So it was frustrating, because we had built a team in quite a short space of time that was capable of running a much faster car and we were being held back from that side. The strategy was good, the pitstops were good - all the things that we could affect we developed really well. We were quite pleased with how we progressed as a new team, but it was frustrating because you could not translate that into results on the track.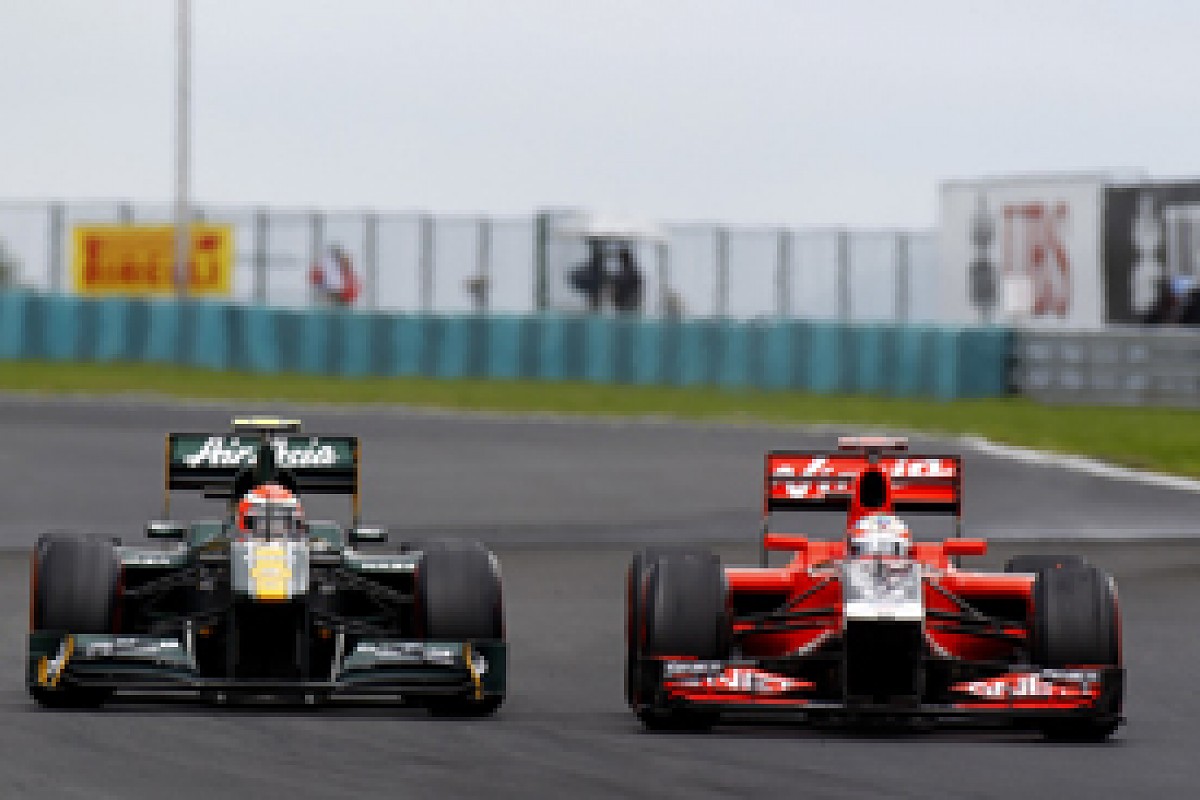 The team felt it got all it could from the 2011 car © LAT
We would look at what was possible on a race weekend with the car we had and usually, apart from one exception, we were always at the top end of the envelope in terms of what we could do with that car. So we were quite happy that we have developed a good team, and it now needed a good car - so hopefully that is what we have got.
JB: The position we are in now coming to Melbourne with, development wise, is not different to where we were last year. We did test three [of 2011] with the new car, and did a lot of mileage, but we made very little progress with a bad car. I don't think we improved the car until the final day of Barcelona, where we could make small steps with it. So performance wise we are coming here with a development package that is the same - roughly zero. But what we did have last year was reliability - we ironed out all the little issues and the car went around and around last year. So in one way we are starting at the same spot development wise, but in reliability terms we are a long way behind.
Q. With Pat's involvement, and the McLaren partnership, do you feel that you have in your hands a good step forward though?
JB: Yes, absolutely. But we don't even have base set-up for the car. We haven't done a ride height sweep yet, for example. So we are a long way from unlocking any potential from the car, but we definitely feel that it is a step forward.
GL: There is very little running on a filming day, but a driver can at least get a feel for if the car has any obvious vices. Last year's car had some attributes that made it really difficult to drive, and even in the filming days the feedback from the drivers is that all of that has gone. That alone points to a step forward. So performance wise we are in the same position - starting from absolute zero in terms of what we can do. But this year is very much a feel that we can develop this car.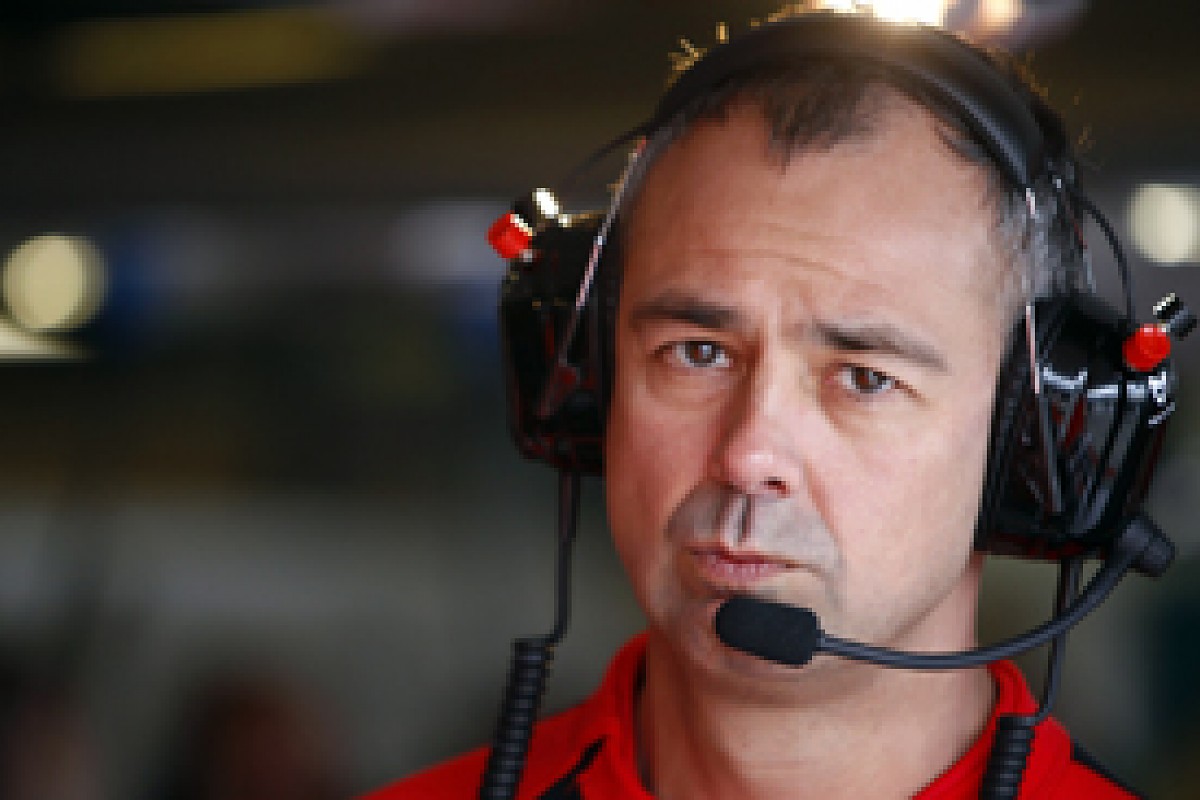 Marussia is no longer working with Nick Wirth and Wirth Research © LAT
JB: And the most important thing is that it is in our hands to develop it. We are not waiting for a third party to react: we can react ourselves. That makes a big difference.
GL: This is a really crucial weekend for us. We came here last year knowing our car did not have peak performance but we knew it was going to be reliable, and if we had a steady race then we could pick up a good result. And we were on track for that last year, until we had a pitstop problem. This year, I think it will be a real challenge to finish these early races because it is a step into the unknown in terms of reliability. But if we see some idea of performance in the sessions at the back end of this week, that will be a massive boost. It is a long season after that!
JB: It is also odd that originally we were not keen on the in-season testing idea at Mugello. But now, it is actually a godsend!
Q. It has been hard to read winter testing, but Caterham does not appear to have made a dramatic leap forward into the midfield. Do you feel then that you can get onto its tailcoats, and perhaps the other teams too?
JB: I think if you take into account that our car wasn't particularly great last year, and you take away the numbers for the blown exhaust and the strategy Renault had, then we were not that far away from them.
GL: I thought Caterham would be a lot further ahead now, but then again it is pretty difficult to work out where everybody is at. We are looking at the longer game now. There was a lot of complicated surgery taking place at the back end of last year with building up the technical structure, so I think as far as these first flyaways are concerned it is more a case of us understanding the car and seeing where things are at. Without any questions last year, when we knew we were going to be in for a difficult year, it was so important that we tried to pick up any opportunity from the early races we could.
But there is a different mindset now. We are looking at the bigger picture. We are looking much more at making sure we have the platform to build performance wise. As John said, we have got control in-house technical wise and we have got the tools available to us through the facility at MAT - so in theory we should be able to develop quite quickly, and that is the target. Although we are very, very keen to see how the car performs, I feel that we have the right ingredients now to develop on the right path.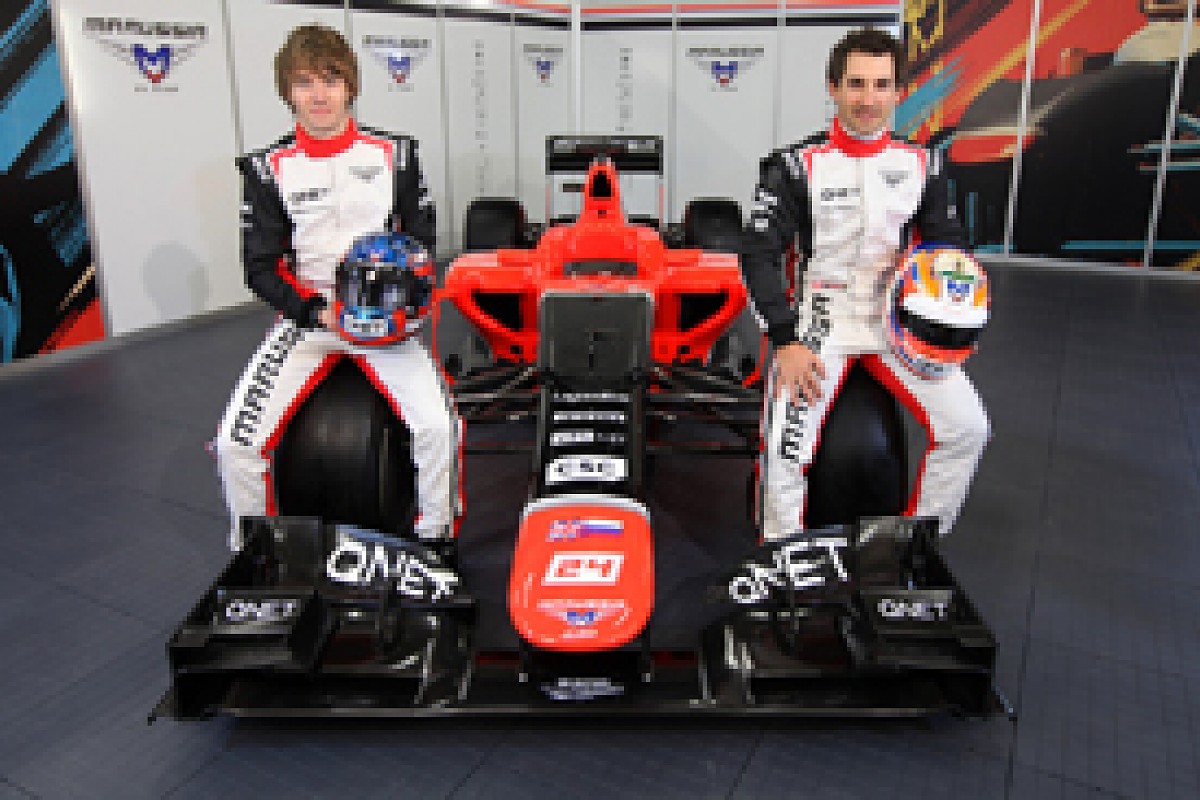 Marussia's 2012 unveiling © LAT
JB: We have even been late getting to the windtunnel. We set off on that path in July, but we didn't have a model designer, we didn't have a model shop - and we had none of the equipment to build a model. So we managed to get the old car in there before Christmas, and the new one has been in for a few runs now. But we will not see any performance gains from that until Barcelona at the earliest.
GL: That is an interesting point. The car that we take to the grid this weekend is a full CFD car, so there is no windtunnel work on the car as it stands because there is such a long lead time. We are doing catch-up against teams who have a much better idea of how to use them, so they have a much better idea of correlation. So it is still an all-CFD car, it will be an all-CFD car that is developed using a windtunnel and the 2013 car will be the first one we do that actually has a windtunnel involved in developing it.
Q. So how quickly do you expect the windtunnel to make a difference? Will it not be until the upgrades at Barcelona?
GL: Yes, with the new car we have only started doing runs with that over the last week or so. So yes, when we get back to Europe, that will be the first chance for us to get some upgrades.
JB: When I went into the model shop on Friday before I came out here to Australia, the first batch of front wing parts were arriving, as well as some rear floor parts - which we have never had before.
Q. There have been some redundancies at the team over the past few weeks. Finances are tough for a lot of people on the grid, but what's the situation like at your team?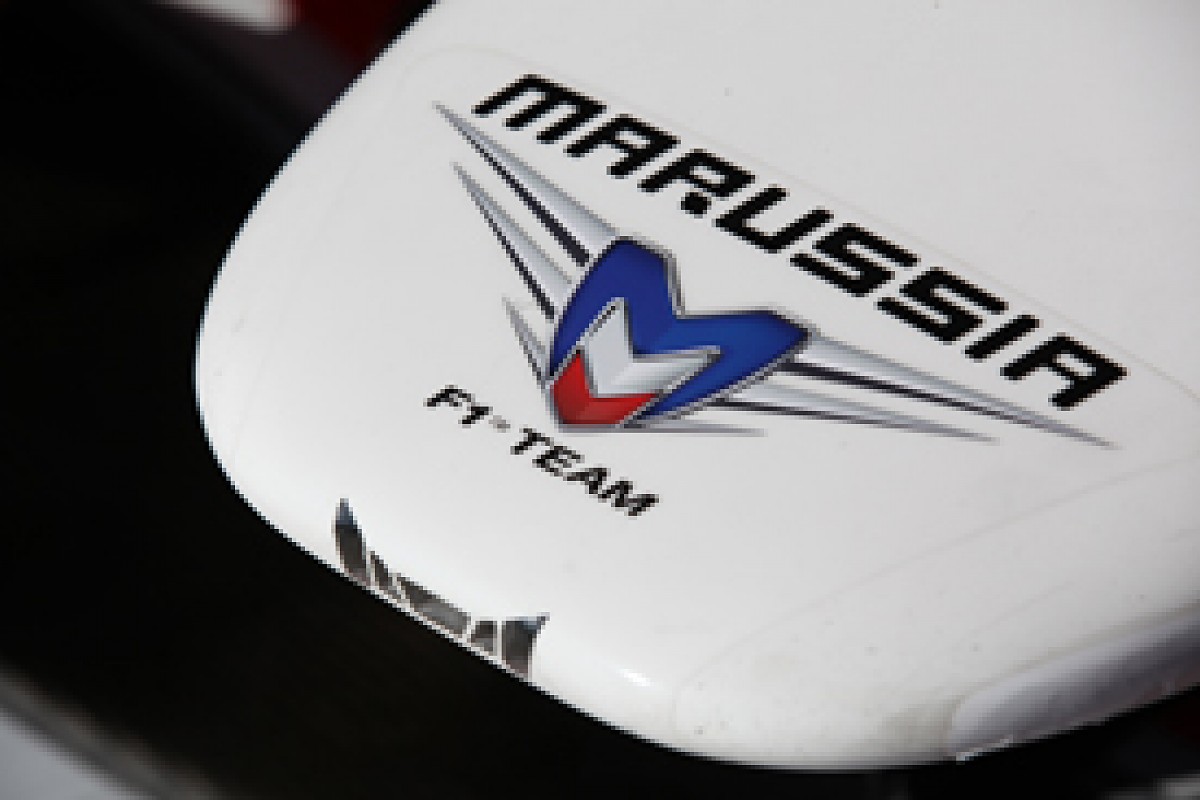 Marussia's involvement opens up Russian opportunities © XPB
GL: We are reshaping the team across the board. The primary area in the last six-to-nine months was the technical side. But, like any business, you analyse things right across the board and most of the proposed changes are in the area of marketing - and that area had not really changed from 2010 when we first started in F1. Yet, the challenge we have got in that area is very different now - and also the advantages and opportunities we have got are very different. So we needed a different shape to that - and it was just the same as we needed a different shape to the technical side.
JB: I think the commercial model in F1 has changed. There are not the big sponsors out there, so we needed a fresh approach to maximise what is available.
GL: And a lot of the commercial partners we have signed are based around business opportunities and that kind of thing - rather than TV exposure. That is true for any team that does not get a lot of TV exposure: your business model is slightly different, and so we are reshaping that to reflect that. Plus, of course, you have an eye on cost.
The biggest mistake any of the new teams could make, because we all entered under good faith to a set of rules that are different to the ones now, would be to change their business model to be the same as everybody else's. Because I think it would be a bit presumptuous to say we are going to emulate the model of the other teams but hope we can do it better than businesses that have been run for a long time. That doesn't stack up. You have to take a different approach otherwise the opportunity to be different and beat them is much more limited. We really do try and control our costs.
Q. Is the Marussia tie-up opening up any commercial opportunities for you?
GL: The bulk of the commercial connection through Marussia is in Russia, and it is not unusual that, for the last three or four months, because they had just had a big election, there has been a lot of treading water of people making big commercial decisions - because they wanted to see how the business landscape looked after the election. Now that the election is over, and there is a degree of stability there, it is much easier to try and close some of those deals. And through Marussia, it gives us a really good opening into the Russian market.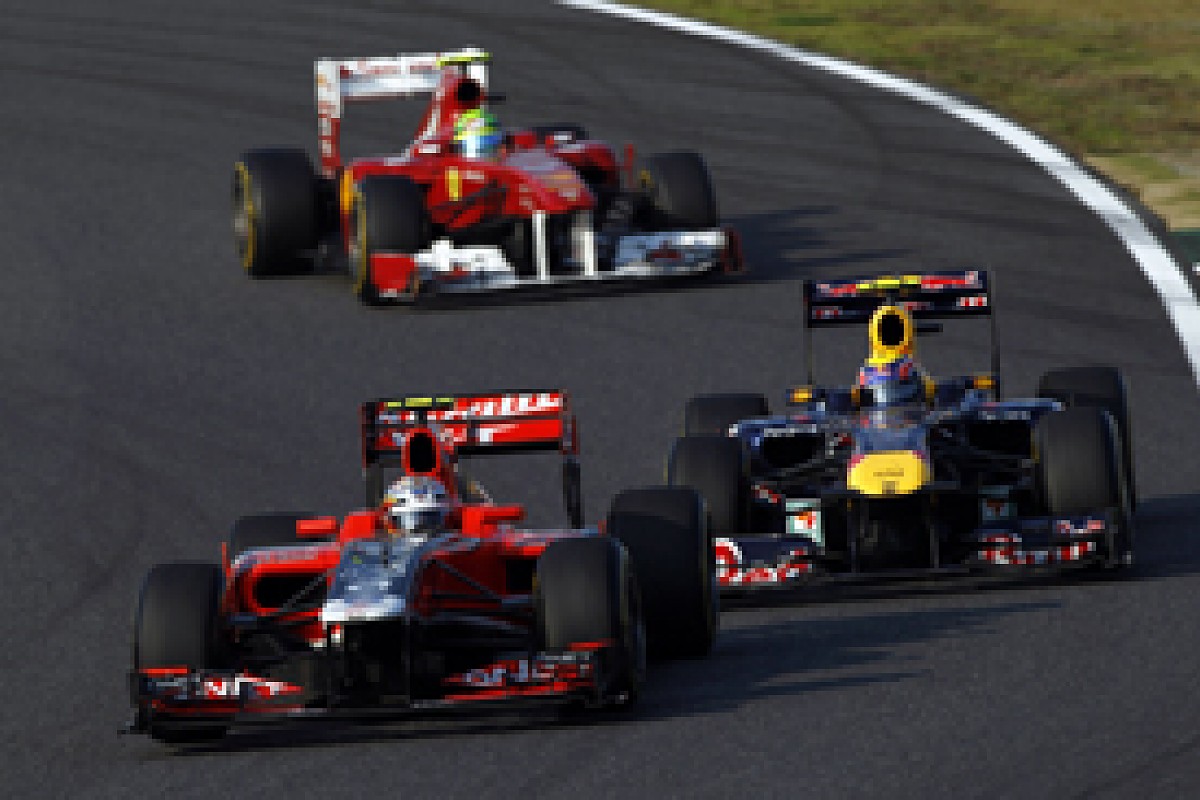 Marussia cannot match the top teams' resources © LAT
Q. Discussions about a new Concorde Agreement are set to get going later this year, and there is a likelihood that money will go down to the 12th placed team. Is 2012 going to be the last of the difficult years for the new teams, and that your situation will get easier from 2013?
GL: I hope so. Bernie Ecclestone made some comments this week about the importance of cost control, and the point he was making was that if you keep giving people more money then they will have the ability to spend it. And, the attraction for us as a team coming into F1, was that if the rules had not changed and the resources you can employ are limited, then there should be some reward for ingenuity and being clever. But if this is the international championship of spending, then most teams are not equipped to excel in that field, and it is not clever - nor very relevant to the business world our sponsors live in. So anything that promotes cost control is a good thing.
Plus as well, what you learn from other sports is that all the sports that enjoy the biggest commercial revenues are the ones that have a high degree of resource control built into them somewhere. So then you have to think of the loop about why it is those sports can command such high rates for their media right?
Well, it is usually because the outcome of the competitions are unpredictable, and the competition is really close - so the fans enjoy it more, it is more exciting. That generates more interest and that justifies buyers of commercial rights to paying more for them, so there is a self-fulfilling loop: that if you control the costs, you make it sustainable but you also improve the show massively and that is really what the attraction is.
It is good for the teams because they can plan better and be more sustainable; it is good for the sport because it is more exciting; and it is good for the fans because it generates a much more attractive sport. So if F1 can move more towards that, it has got to be a better thing. And a new Concorde could play its part in that - but more than anything, regulations to make sure that this is not the international festival of spending, are the single-most important thing if the sport and I would hope every fan should recognise that as well. If F1 is the pinnacle of motor racing, it has to have a high technical content - but clever engineering is where your resources are limited and you come up with clever solutions.
JB: Cost control and a fairer distribution of the wealth will be a much better way of closing the field up and making the race exciting than the other idea that has been put forward of buying one-year old [customer] cars. It sounds like a great idea but it has not been thought well through very well.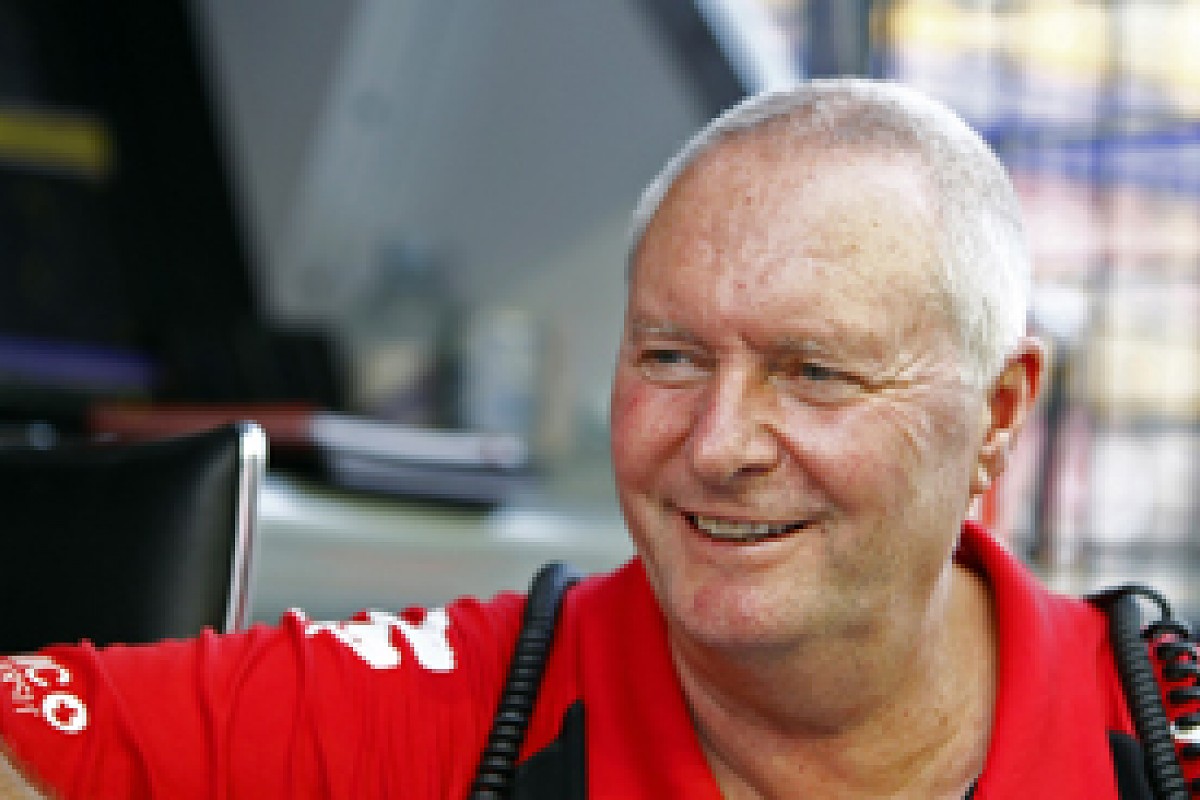 Booth is against customer cars © LAT
If we went out and bought a Red Bull from last year - then that will be quicker than eight or 10 cars on the grid. Your Toro Rossos or Force Indias - who have done a great job with their cars - will suddenly find themselves shuffled down the grid. So unless there are 24 Red Bulls, it will not work.
GL: The logic of it [customer cars] doesn't work at all. If you follow the argument through, then you would actually have 26 Marussia cars on the grid if we can build cars cheaper than Red Bull, McLaren or Ferrari. You would still have very quick cars, visually the same and with close racing - but the idea has not been properly thought through. We would rather see a degree of freedom to allow engineers to come up with clever ideas, and for everyone to create their own cars.
Q. When you entered F1, you did so under the budget cap regulations. Now, Bernie Ecclestone has again talked about that concept being put into action. What did you make of his comments - was he stirring things up, or is he serious?
JB: Who would like to second guess him!
GL: I guess reading between the lines, the point that Bernie is trying to make is that if he sees some of the teams are banging on his door demanding more money, he will in our view quite rightly point out that if he gives them more, it will just get spent - and then they will come back banging on the door asking for even more. I think he has got a point.
Q. But isn't the Resource Restriction Agreement a budget cap in all but name?
GL: It is, but one of the problems is that it is not tight enough as a mechanism to really control the cost of resources that are employed. And I think it doesn't go far enough, even if it was tight enough to administer. And I mean that for the good of the sport. The teams have to see the big picture - and just trying to stretch the sport so that only one or two teams can win, is not clever and it is not that attractive - so people will not watch it.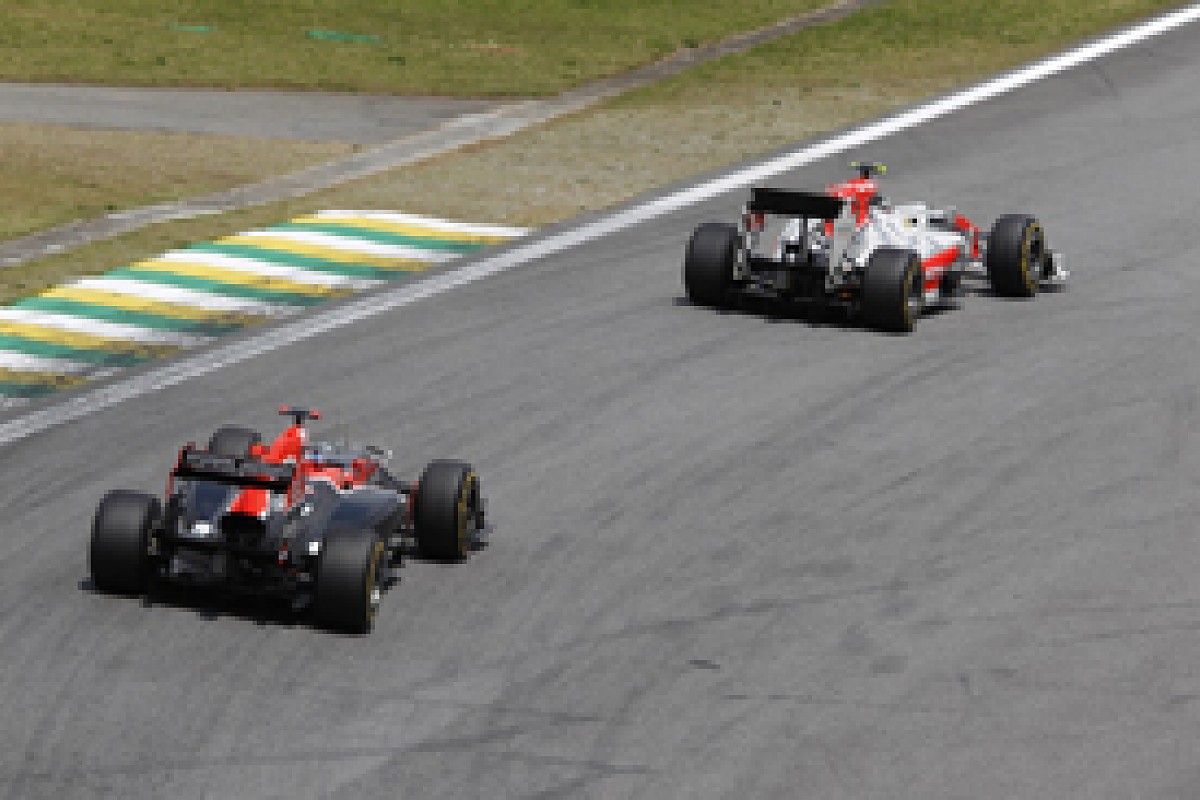 Marussia is determined to improve on 2011 © LAT
Q. So what is realistic for your team then this season, once you have got over the tough start?
GL: It is difficult to put it into a quantifiable target. For the areas that I am responsible for, we just want to see a step forward. We had a big step forward in the operation of the team last year, but you could also argue a backward step with the car. So what we want to see now is a big step forward from the team but also with the car. It is difficult to say what that will be in terms of where we want to finish - as we just want to be moving forward. Not standing still, or going backwards.
JB: I will still maintain that Q2 has to be goal. It is tough, and we are not underestimating how tough it is. That is the first step, and the first recognisable step for any of the three [newest] teams.
Q. Is it important the team moves off the bottom of the rankings?
GL: The way the scoring system works is that any teams that have the same number of points in the championship, then the order is based on the highest single finish. And that holds true if each of the teams score no points.
None of the teams that entered in 2010 have scored any points. Last year we finished ahead of HRT 18 times, and they finished ahead of us once. But it just so happened that more cars fell off in front of them on that day, and therefore they finished one place higher in the championship. Everyone recognises that when you get down to 10th, 11th and 12th, and all teams have scored zero points, then the scoring system is a bit arbitrary. That said, it is our job to move the team forward so there is not much point complaining about the scoring system. We have just got to get out there and do a better job.