Considering it's a sport chock-a-block with technical geniuses, who live in a world defined by differentials of millimetres and milliseconds, Formula 1 can get a bit melodramatic when it comes to predictions.
Rewind the clock 12 months ago, when we were heading to the season-opening Australian Grand Prix braced for what many in the paddock thought was going to be tyre chaos.
Throughout winter testing, drivers and team members had being painting worst-case scenarios about the new Pirelli rubber: there was talk of five-stop races, drivers running out of tyres, excessive marbles causing safety issues, and a sport that would be turned into a mockery.
The reality turned out to be quite different, as Pirelli more or less delivered just what the doctor ordered for F1: tyres that added to the spectacle and gave us another fascinating element in the intense battle.
Far from resting on its laurels, Pirelli has pushed to be more aggressive with its tyres this year, to ensure that the softer and high-wearing tyres throw up more strategy options to improve the racing. Pirelli does not want F1 to become predictable.
For the company's director of motorsport Paul Hembery, the last 12 months have certainly been an eye-opener - and he admits now that there were nerves about Pirelli's return to F1 as he boarded his flight to Melbourne last year.
"Obviously when you go into a sport as visible as Formula 1, and you make such a big change, then there's a level of apprehension," he says. "You do wonder - we have been asked to do this, but then actually delivering it... will people understand it? Will people appreciate it?
"We always had back-ups if we felt it had not been accepted, or it was the wrong way to go. But we were confident in our data and we felt that it was such a big change that we were bound to get those sorts of reactions.
"We didn't get any comments from team principals because they knew we were doing what they'd asked us to. But for the drivers, it was a huge change and it was normal that they were going to make comments.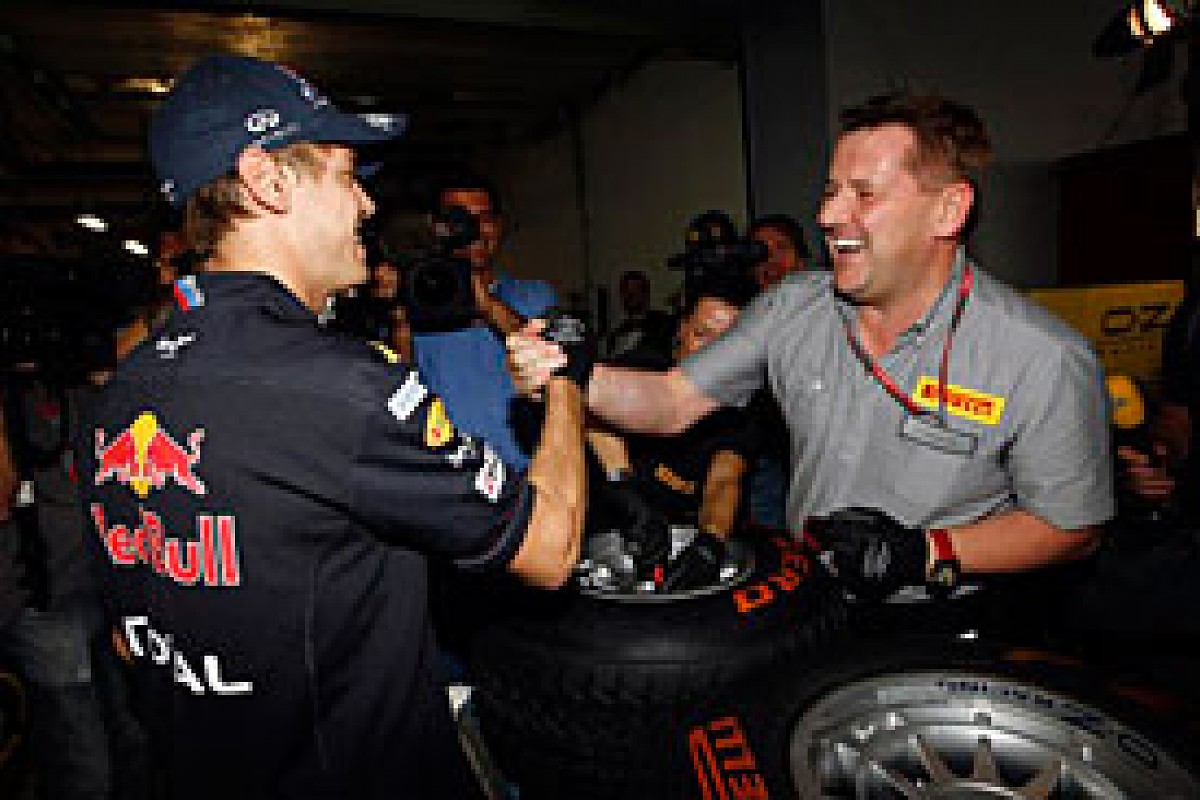 Pirelli's director of motorsport Paul Hembrey with 2011 world champion Sebastian Vettel © LAT
"But we also knew that the main priority was to create a safe product, something that was robust enough to withstand a season of F1 without failure.
"So, going back into a sport after 20 years away, you had to be slightly apprehensive, but you also have to believe in your own data, and that you're more or less going in the right direction."
Hembery says it wasn't just the drivers who were sceptical about the aggressive nature of his tyres - it required a leap of faith from his bosses too.
"We had a lot of discussions with the top management, myself and [Maurizio] Boiocchi [R&D director], to say that we genuinely believed that this was the right way to go.
"From our experience in other forms of motorsport, when you have a control tyre you generally only talk about tyres when they go wrong. And when you're in open competition, you normally only get talked about when you're on the car that hasn't won. So normally it's a lose/lose situation for a tyre maker.
"The concept really was that this [aggressive approach] could at least make us visible and talked about - at the right level. You don't want to be the dominant factor of an F1 season; you just want to be a factor. F1 should be about cars and drivers, but we wanted the space to bring the tyres a little bit more into the forefront."
But despite convincing the Pirelli bosses, F1's team principals and eventually the drivers, there was still some conflict during the campaign.
During the midpoint of last season, there were rising tensions between Pirelli and the teams. Some were getting upset at Pirelli's constant pushing for rule changes, and there was criticism of the tactics some squads were adopting by not running in Q3. From the other direction, Pirelli was getting frustrated that rule changes it wanted were getting blocked by an inability of the teams to agree on matters.
It all reached a head at the Indian Grand Prix, where Hembery sat down with sporting directors to clear the air - and both sides got a much better understanding on where each other was coming from.
"There is very intense rivalry," says Hembery. "F1 is technical - no other form of motorsport has such rivalry. Clearly they are very guarded, and with respect we're trying to provide equitable equipment, we're trying to provide data at the same time. So on one level that's great.
"On the other hand, because it is so technical, you see things that you'd love to get involved in as a tyre maker, knowing you could do some amazing things with - but you know you can't because that would be so focused on one or two teams."
So was there irritation throughout last year at not being able to get rule changes put through?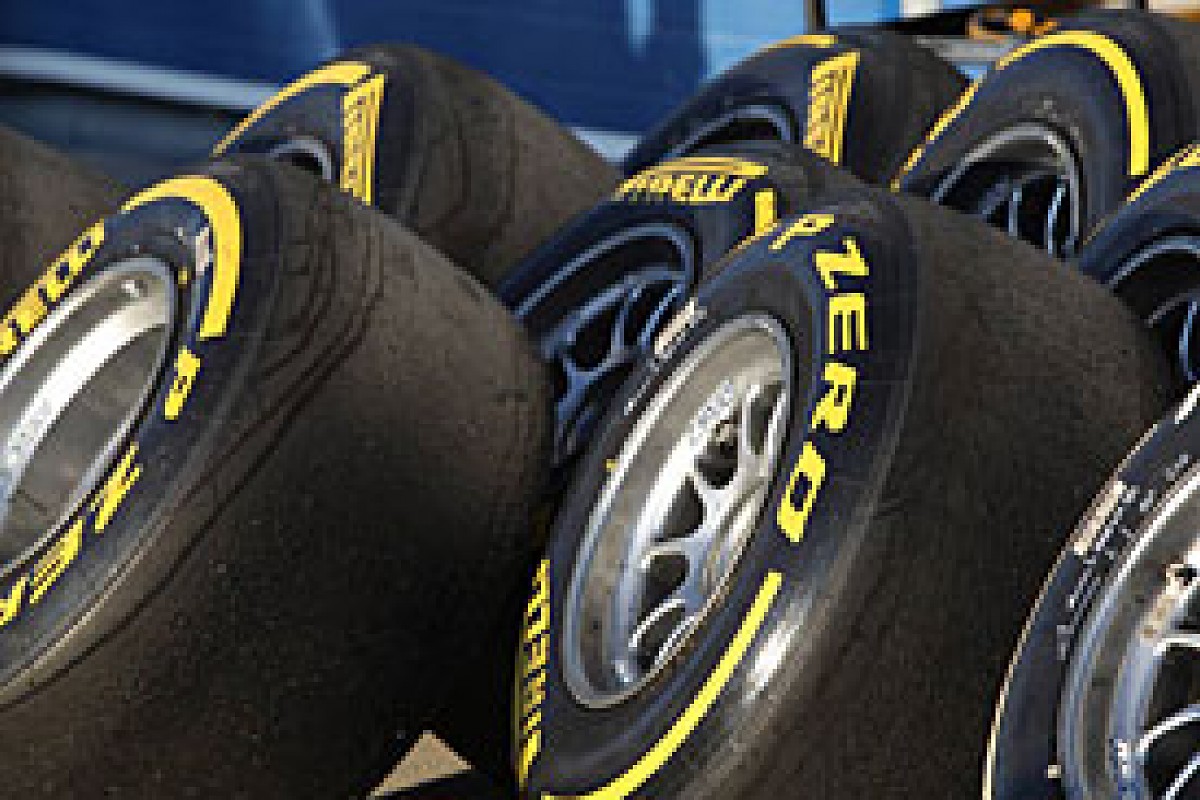 Pirelli's 2012 tyres have thrown up interesting challenges for the teams in testing © XPB
"A little bit. Again I think that comes into the competitive element, because with every change you make, one team may think it's being done to advantage another.
"And because we're quite a proactive company, full of ideas, that leads sometimes to, I wouldn't say frustration, but... that feeling that you could do a lot more here.
"There's also a big contrast in terms of who you deal with at the teams. They're split between drivers, team principals, sporting directors and technical directors. And within that group are some quite different points of view.
"There are different agendas going on, and if I had the same meeting with the team directors, there would be a different approach. Let's take an extreme example - the team principals have said they want Pirelli to make their lives difficult.
"Well, you won't get a technical director saying that. They'll say, 'Pirelli, please don't change a thing' because they want to keep the variables down. So it's a balance.
"We hope there is a lot of potential to make changes, to make the racing not more exciting - because we had quite an exciting season last year - but to add some more variety to the sport.
"At the end of the day, we can only do what they want us to do. We're an open book: if there are good ideas and they come up with them, then we're open to them."
Then of course there was the issue of the Belgian Grand Prix, where Pirelli found itself on Saturday night/Sunday morning dealing with major tyre headaches caused by Red Bull Racing's decision to go aggressive with cambers.
"I've been around long enough to have seen that sort of thing before," says Hembery of the experience. "There were certain aspects of that weekend that I thought were a little bit strange. But we wouldn't really change what we did or how we managed it really.
"What you do realise is that if you don't constrain the teams, then they'll move to every limit possible.
"In reality, the situation was probably only created because of the weather. If we'd had a dry Friday it probably wouldn't even have come up for discussion.
"It makes you aware that F1 can bite you and you have to continue to work pragmatically and not let emotion into it.
"There were other events that were exciting - Turkey was definitely a fun race. But then there are weekends like Korea, where I was sat around with everyone telling me we would have five or six pitstops on the super-soft/soft, and we ended up with two. We all got that wrong, because we thought three, they [the teams] thought five or six. So despite all our simulation data, we probably didn't understand something there."
Ultimately, it was the teams' brilliance in getting on top of the tyres that resulted in Pirelli going more aggressive this year. The end result is a range of tyres that are much softer - the super-soft stays the same, but the differences between the remaining three are much narrower. There is also increased degradation towards the softer end of the range.
"We didn't really want to make lots of changes last year, as we felt teams should get used to us," he says.
Early testing shows that Pirelli's choices do seem to have hit their target - although it's open to making the softer even more aggressive amid fears over its longevity.
The new rubber also appears quite sensitive in the way it's treated - if it's pushed to the limit early in its life, it wears out much sooner.
"There certainly seems to be an effect like that," says Hembery, "and we've read some of the comments from drivers about that. It was true last year, and we've gone very aggressive with the compound choices. The hard is softer than last year's medium - and it's a very big step in that direction. We'll see in Melbourne if we've been too aggressive."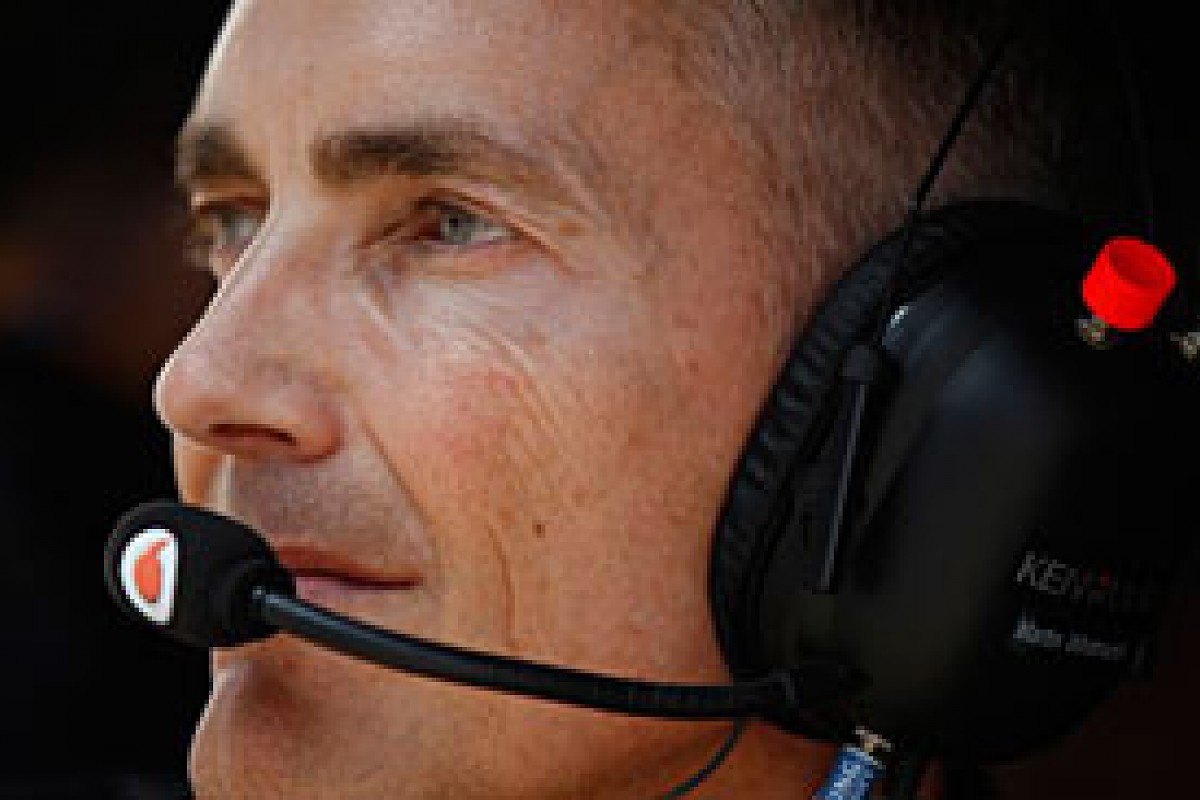 McLaren team principal Martin Whitmarsh has heaped pressure on Pirelli to keep 'testing' the teams © LAT
Allied to a closing-up of the competitiveness of the cars, everything seems set for more exciting racing in 2012.
"Martin Whitmarsh [McLaren boss] said we needed to give the teams a challenge, and if that happens then at least we'll get some excitement," says Hembery.
"But we have to remember the engineers in these teams are the best in the world. While there may be challenges at the start of the year, they'll work out the best way to manage the situation and it will equalise a little bit.
"But hopefully it will create some issues to make good races. Testing at Barcelona in 20-25 degrees [track temperature] is hugely different to Malaysia, where last year we were fortunate to see only 55 degrees on Friday, whereas ordinarily that's what you expect all weekend and even up to 60 degrees. With these tyres being a very aggressive choice at a very abrasive track, Malaysia could turn out to be a tough race for everybody."
F1 is set for a fascinating start to the campaign, and Pirelli's desire to ensure the racing delivers thrills is total. The doom-mongers are silent this time around...