Sunday - Test day 4 by Jonathan Noble
"There are known knowns; there are things we know we know. We also know there are known unknowns; that is to say we know there are some things we do not know. But there are also unknown unknowns - there are things we do not know we don't know."
After 12 days of pre-season Formula 1 testing, and a day of wandering around the Circuit de Catalunya paddock speaking to team bosses, engineers and drivers to find out their opinions, it was hard not to keep thinking of those infamous words of former United States Secretary of Defence Donald Rumsfeld.
Somewhere in the 1,044,000 lines of data that testing timekeeper TSL has provided to each team over the pre-season testing period is the true answer as to what the pecking order is as we head to Melbourne, but I have never known some many unknowns at this stage of the season build-up.
Normally we get to see enough from certain cars to get that feeling that somebody has the edge. Whether it was the Brawn GP car in 2009 or Red Bull Racing last year, you can see either some headline times, comments from drivers or team members, or some mighty impressive long run form that leaves you in no doubt about who is ahead.
Red Bull is probably quickest, but no one is truly sure © XPB
But this year, we have not had that yet. There is a suggestion that the pecking order is something along the lines of Red Bull Racing, McLaren, Mercedes, Lotus, and Ferrari, but there is no hard evidence to back it up.
The top two teams on that list have certainly not shown their true hand - and Red Bull Racing, which has to go into the campaign as favourite simply because it is coming off the back of back-to-back championships, certainly does not appear to be totally relaxed about its situation, with some niggles on the final two days as it unveiled its definitive Melbourne-spec package.
If the consensus is that it looks like Red Bull Racing and McLaren fighting it out for victory at the start of the campaign - what there appears to be is no agreement on just how close or how far behind the trio of teams behind them are.
This is how confusing the day got for me:
One senior figure today showed me spreadsheets and graphs, to support his view that Mercedes is the real dark horse - and that its long run form, allied to a bit of sandbagging from Ross Brawn's crew (conservative engine maps, ballast, heavy fuel) - could well make it an outsider for a surprise victory in Melbourne.
Another reckoned that the Brackley-based boys have a bit of a work to do to get anywhere near the leading two teams - as evidenced by some high degradation on soft tyre runs - which means they could be anywhere up to one second per lap slower than the frontrunners.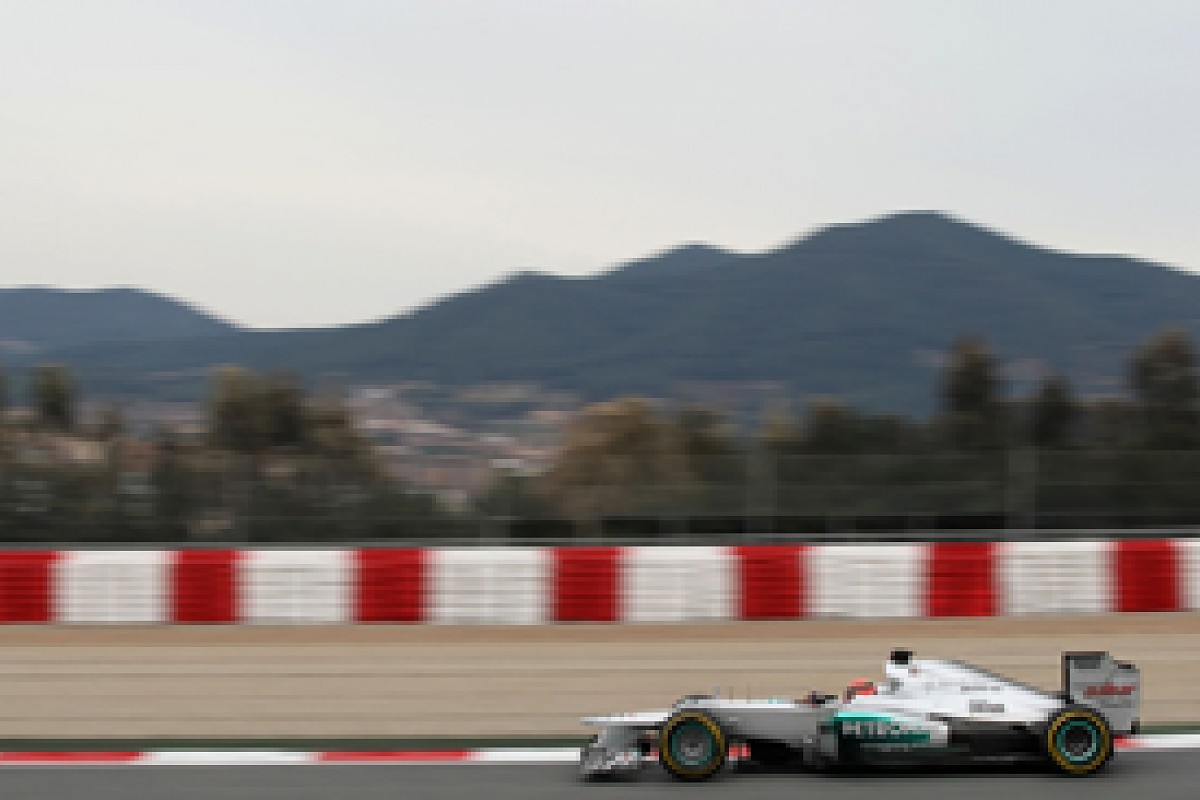 Mercedes' form is impossible to read © XPB
Then another said the situation is even more complicated than that - because while the long run form of the Mercedes at times had looked good, it did not appear to have the single lap pace to be able to make the most of it on a grand prix weekend - so the team was set for a frustrating campaign.
What we can be pretty sure about now is that Ferrari is not where it wanted to be. After a final week of testing where perhaps the reality of its situation has hit home, the team found itself on the defensive when its decision to ban its drivers from speaking to the media - so it claimed they could focus fully on their jobs - ended up bigging up the extent of its problems far more than if Fernando Alonso and Felipe Massa has confessed themselves.
Instead, it was left to technical director Pat Fry to face the media on Sunday night as he gave an honest assessment of the situation the team was in right now. For the first time since pre-season testing began, Ferrari confessed that its hard work wasn't going to pay off before we headed to Melbourne
"I am disappointed by our performance level at the moment," said Fry, who certainly was not shying away from the situation the team is in. "I think we've got a lot of work to do. The change we made last week to the exhaust position has put us a little bit on the back foot and we're trying to optimise to that. We've obviously still got a lot of work going on at the factory and we'll have new bits to test in Melbourne.
"Testing is always hard to see exactly where you are. We knew historically what fuel levels people have run, so we've got an idea where they are, but if they've changed what they've done for the last two or three years, I could either be depressed, more disappointed or less disappointed, I don't know. I think we've still got a reasonable amount of work to do."
Although Fry later admitted that his view that the team could not fight for the podium finish was because he was always 'slightly pessimistic', it said much that Ferrari press man Luca Colajanni responded to those comments, smiled and said, 'no, realistic...'
But while it appears Ferrari does not have the car at the moment to challenge from the front, things can move along quickly in F1 - and if the team can get to the root of its problems swiftly, then why not a resurgence later on in the campaign?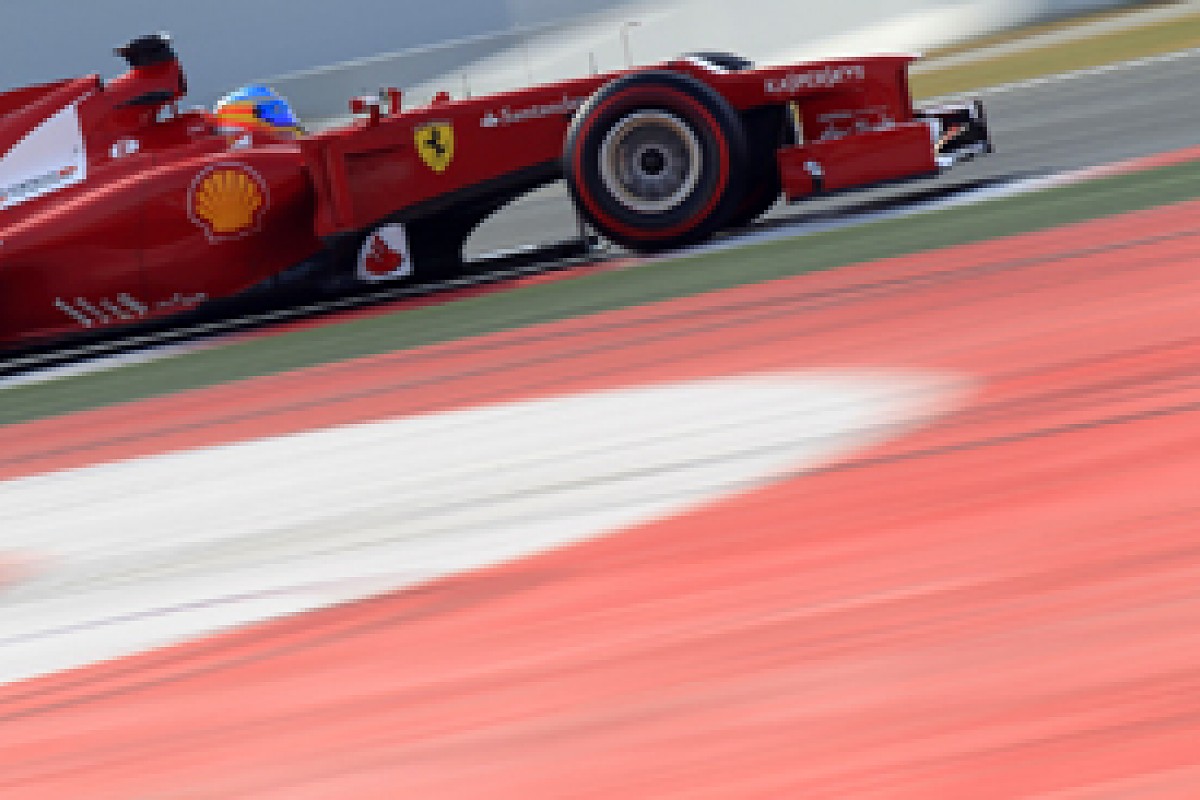 Ferrari admits it is in trouble © LAT
We simply do not have the answers at the moment. The unknowns of fuel loads, tyre performance (new, old or scrubbed sets for runs, plus the unbranded Pirelli extra sets for this test) and engine maps, ballast etc., means no-one has a real grasp of what has been unfolding before us.
And ultimately, isn't that what we all really want anyway? All of us have spent the last month trying to work out in our heads just where the formbook is right now - who is hot and who is not - but wouldn't it be really boring if we came out of this Barcelona test with the answers and were able to plot accurately exactly what the grid and race result was going to be like in Australia?
We want to go into Melbourne still guessing; we want to not know who is going to take pole position until the dying seconds of qualifying; we don't want to know who has won the race until the final corner of the final lap of the Australian Grand Prix. That is what sport is all about; it's the reason millions of fans around the world will be getting out of bed in the early hours of the morning to tune in.
As Sebastian Vettel concurred on Sunday: "You never know where you are until you get to Melbourne and everyone pulls their pants down - and you can see what they have got and you show what you have got in qualifying. Until then, we still will not know."
The only known known we have right now is that there are lots of known unknowns. Roll on Melbourne.
• Barcelona testing: Image gallery.
Saturday - Test day 3 by Jonathan Noble
With the digital clock on the tall timing tower at the end of the Barcelona pitlane counting down to 9am this morning, there was clearly only one garage that everyone was interested in.
As rival team members, journalists, photographers and camera crews gathered outside, hidden behind screens and strategically placed mechanics, Mark Webber was getting himself strapped into the car that the world had been waiting to see.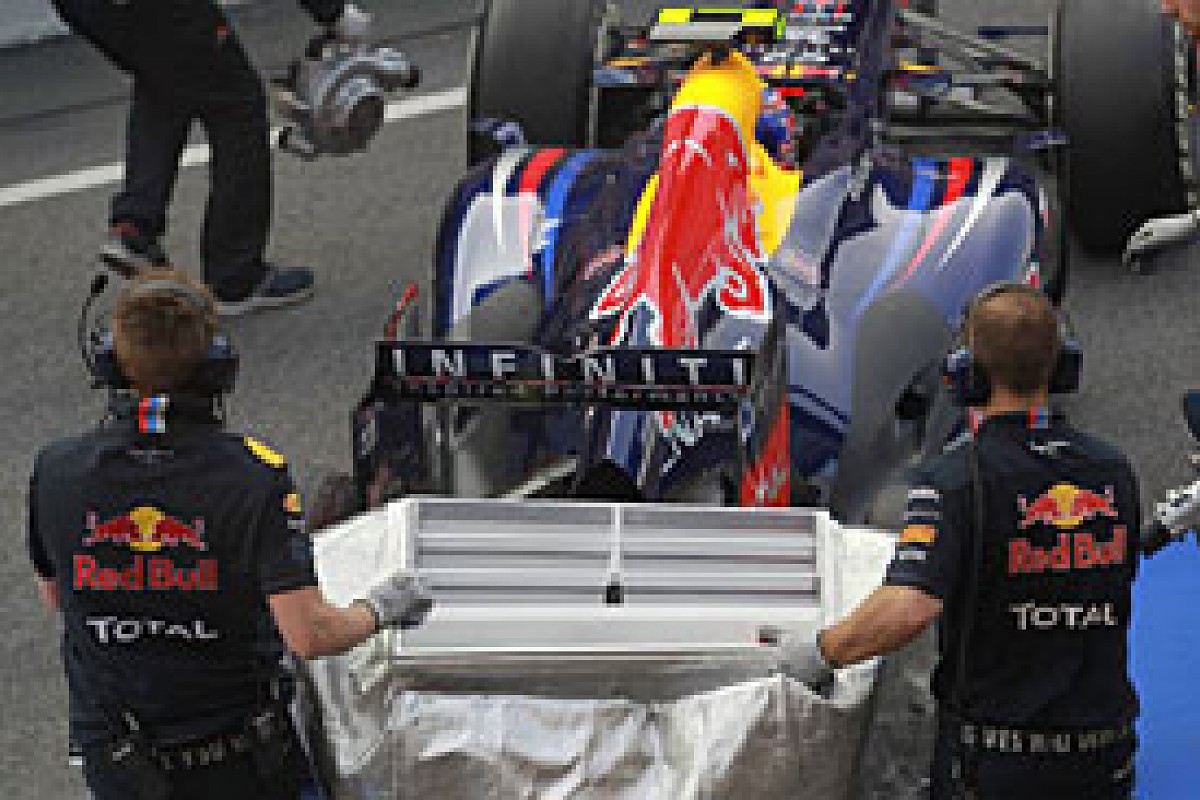 Interest, and mechanics, surrounded Red Bull's updated RB8 © XPB
Red Bull Racing's heavily revised RB8 broke cover shortly after the green light came on to signal the start of the day's activity - and immediately the games of cat-and-mouse between the world champion squad, its rivals and the media began.
As some of Red Bull's crew kept a close eye on who was taking pictures, mechanics swarmed around the car in a defiantly defensive manoeuvre aimed at keeping its secrets away from prying eyes as much as possible.
Although such a pincer movement is ultimately futile - because detailed pictures of the RB8 were quickly circulating around the world - the unprecedented level of protection was enough to whip the world up into another frenzy of excitement about what technical innovations Adrian Newey may have come up with - and whether he was again pushing the limits of the regulations.
For, in the modern world of the Internet and social media, where out-of-control Chinese whispers spread around the world before the truth has even found the on-switch for its computer, you simply cannot beat a good conspiracy theory...
While some of the gossip that flies around is nothing other than total tripe - take the crazy Felipe Massa 'sacked' rumours that circulated on Twitter on Friday night - at other times the runaway conspiracy theories need a bit more digging to be debunked.
Perhaps the most intriguing of the winter myths has revolved around exhausts; and whether some of the big teams - be it Red Bull, Ferrari, McLaren or Mercedes - were finding ways around the blown-diffuser ban.
The theory went that the teams were exploiting the limits of the engine mapping restrictions laid down by the FIA to continue blowing exhausts even when the drivers were off-throttle. This would help keep those useful hot gases blowing through the right bits of cars on the entry to corners - providing a useful downforce boost and lap-time improvement.
And there seemed some pretty compelling evidence that some teams were up to some funny business...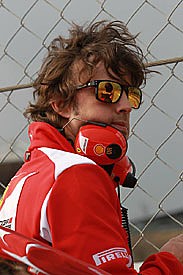 Fernando Alonso keeping a close eye on the opposition © XPB
Observers trackside at the tests had noted that the engines of all cars did not sound the same when off throttle: and mobile video footage that had popped up on YouTube of Sebastian Vettel going through slow corners, again pointed to the kind of grumbling noise we had got so used to in the blown-diffuser era.
Then it emerged at the last test that the FIA had been forced to act to close off a loophole in the engine mapping regulations: after Mercedes-Benz engine experts had found that there was a way to exploit throttle blowing by inducing a misfire on the over-run. Were their rivals up to something?
The mystery deepened even further when Ferrari team members were spotted out on track at Barcelona this week with recording equipment taking careful note of the sounds that Sebastian Vettel's car was making - and even Fernando Alonso was spotted capturing some cars on his mobile phone...
It was all stirring up into a nice story - that perhaps Newey, Red Bull and Renault had found something for those corner entry off-throttle moments.
The only problem is, there really wasn't a story there at all...
Renault's engine technical director Rob White smiles at talk of the wild conspiracy theories that have floated around over the past few weeks - and says that manufacturers trying to pull the wool over the eyes of the FIA in such a way would simply not happen.
"I guess a combination of the intellectual firepower of all of the teams and the same intellectual firepower devoted to designing bits of car, and also devoted to worrying about what the other guys were up to, created a bit of paranoia," he told AUTOSPORT, having been fully aware of the ongoing developments relating to engine maps.
"Nothing has significantly changed in the last week or 10 days - and we continue to operate the engines in a way we had agreed with the FIA. There was a clarification last week that we thought was helpful, which confirmed some things that we had already understood would be the case. It was just a good example of housekeeping in F1 ahead of time, before some big nasty cat-out-of-a-bag moment and something bad happening."
But what about those noises? What about the video evidence that shows Vettel's Renault engine sounding a bit weird under braking?
"Yes you can hear things on track, but even in the pitlane you can hear engines popping and farting. We know the cars can wait at the end of the pitlane without boiling over like they used to do, and that is with the same mapping restrictions that we are still allowed to use within limits. And those limits exist for other reasons - it is not just about blowing gas into the exhaust.
"It is fundamentally about other stuff than blowing. These are still hugely sophisticated, very high speed engines, they drive incredibly well. In over-run conditions, in the low speed conditions, in the conditions when we are changing from shut throttle to open throttle, there is a lot going on to keep these engines alive and to make the engines do what the drivers require us to do.
"Doing that means you have to do some stuff that is sometimes counter intuitive, and the side effects of that are maybe some popping and farting, because there are still reasons to want to cut cylinders.
"There are fuel cut-off modes, with four cylinder modes and eight cylinder modes, and if you are operating on four cylinders on an eight cylinder engine, then it is going to make a funny noise.
"I think the long and the short of it is that there are some pretty draconian restrictions on what we are allowed to do, there are good engine and chassis reasons for using them, but overall the big change to the regulations has massively desensitised the subject of exhaust blowing and there is other stuff going on that is more important right now."
Of course, the conspiracy theorist could argue that White would say what he is saying: and would never confess to having had to change something in light of the latest directive even if he had had to.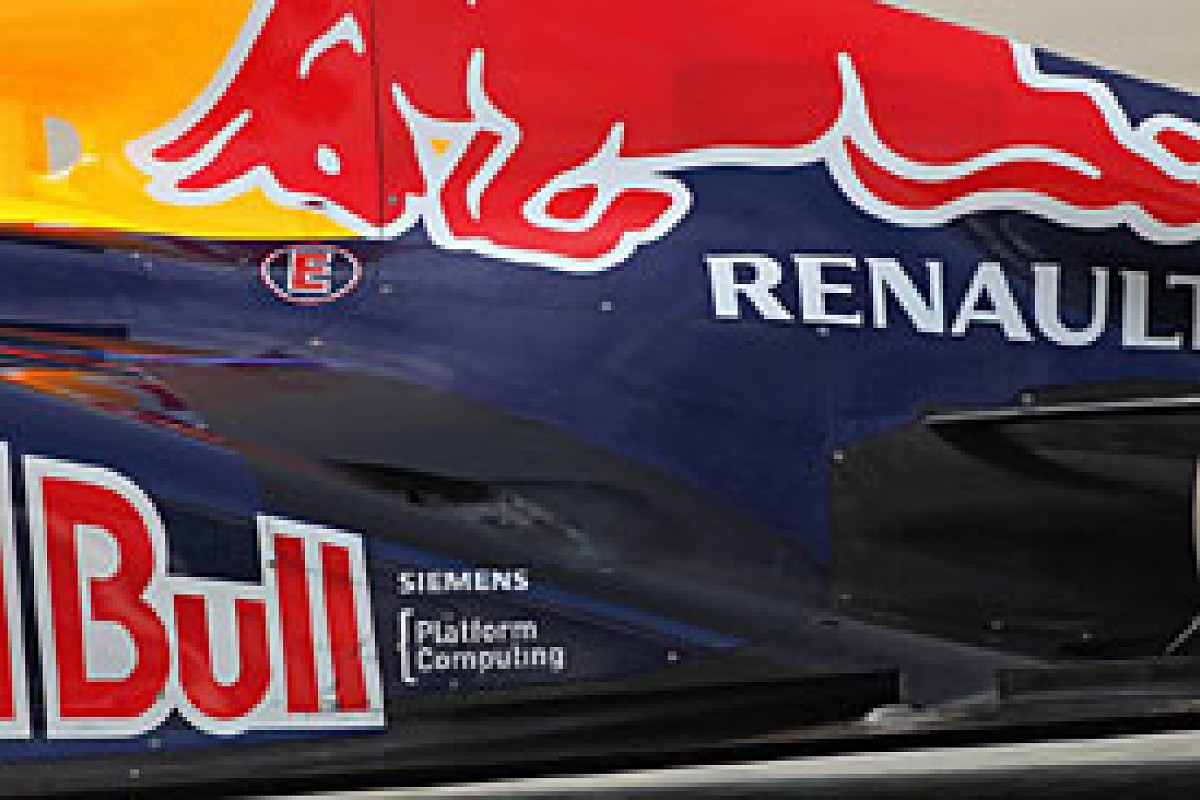 The source of all the interest, Red Bull's exhaust © XPB
Yet, the reality is, if Renault had been forced to do so, it would now be facing a whole heap of trouble in trying to reconfigure its engines.
"It would be massively disruptive to try and press the reset button and start working with a whole new set of constraints.
"At least for us, that is not the case, and I would struggle to imagine that it was the case for many of our competitors. The tightening or plugging of a loophole if you will, it was absolutely genuinely a clarification of a specific restriction that prevents something that would have been black and white unacceptable. It wasn't a grey zone - it was absolutely a case of 'if you do this then what you will be doing is wrong'. It is just fine - so it is not a subject."
It was Mark Twain who famously said: "Never let the truth stand in the way of a good story, unless you can't think of anything better."
And ultimately the truth in F1 is a simple one. No one in the pitlane can beat the laws of physics and it is the team that does the best design job with its car in all areas that is going to come out on top. These days, there isn't a mythical golden ticket that opens up world title glory.
That was the real reason behind that protective swarm of Red Bull mechanics we saw throughout Saturday. The truth is right in front of us: and however disappointing it is for some, it simply got in the way of a much better tale.
• Barcelona testing: Image gallery.
Friday - Test day 2 by Andrew van Leeuwen
"I don't know if there are going to be any surprises in Melbourne, I think... what is a surprise?"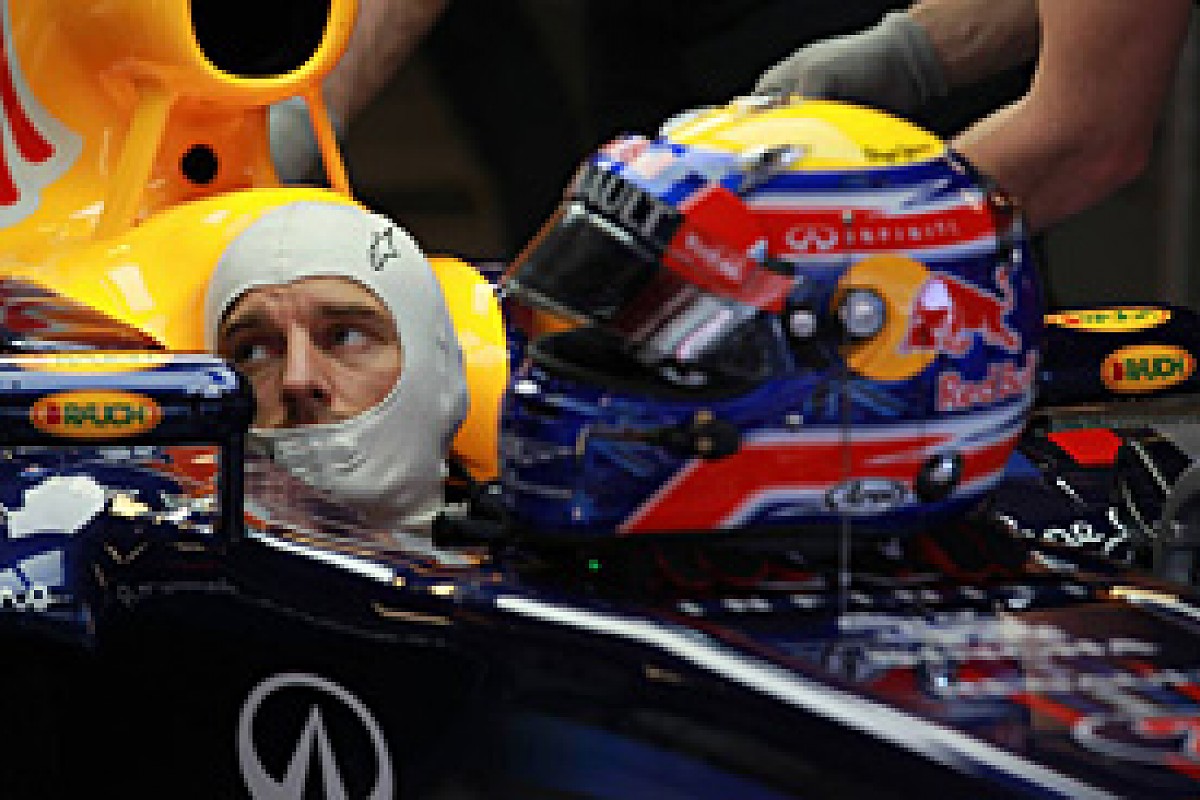 Webber is not expecting many surprises in Australia © XPB
That's Mark Webber's view on testing so far, and how the season-opener is going to go down. The quote is somehow straightforward and cryptic at the same time, but the message is quite clear: Webber expects the big players from last year to be the big players this year.
He's probably right about that, despite Romain Grosjean's time-topping efforts from the past two days. But, as pre-season testing continues in Barcelona, there are still signs that some sort of surprise could be sprung. Maybe not a major surprise, like anyone other than Red Bull or McLaren winning in Melbourne. But there still could be a surprise. Or surprises.
One surprise that many seem to be expecting to happen is Scuderia Toro Rosso. There is a lot of buzz around the baby bulls at the moment, and maybe, just maybe, the team is in a position to live up to the hype.
Now, this isn't some wild suggestion that STR is about to show up in Melbourne and blow the field away. During Thursday's testing, Webber completed 15 laps on a set of hard Pirellis and lost a second from start to finish, while Jean-Eric Vergne completed 13 laps on the same compound, in basically identical weather and track conditions, and lost closer to two seconds along the way. It's not much - and, for the 1000th time, this is only testing - but it does suggest that the Red Bull is going to be aerodynamically superior. No surprises there.
But in that frantic mid-field battle, Toro Rosso is showing signs of being there or thereabouts. It may be fielding two green drivers, but Daniel Ricciardo does have some race experience, and Jean-Eric Vergne has arrived in Barcelona looking like a genuine Formula 1 driver.
There is something likeably methodical about how Toro Rosso has gone about this test. There were laughs in the media centre when Vergne completed what seemed like hundreds of full-practice pitstops during his two-day stint in Barcelona, but in reality it suggests that the team is intent on crossing the Ts and dotting the Is.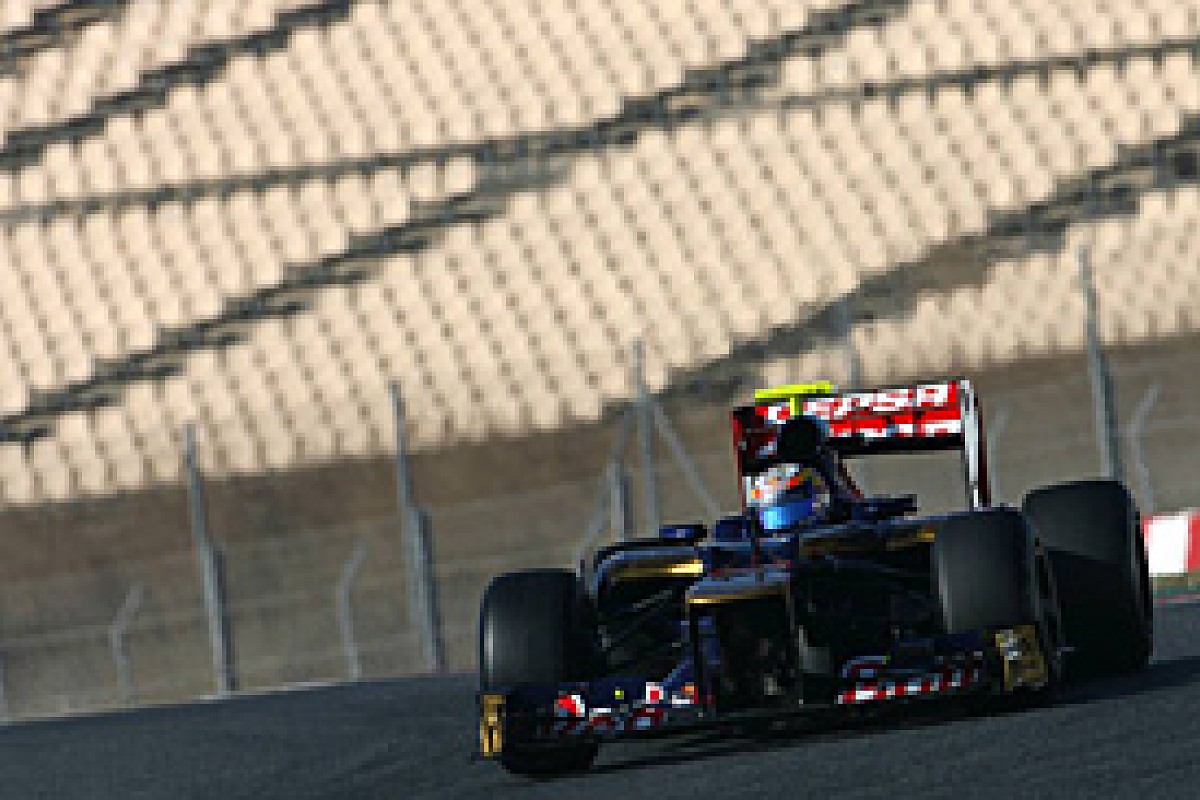 Toro Rosso is looking strong, even if it's only testing © XPB
Instead of opting to go for Hollywood lap times late in the day, Toro Rosso twice focused on an area that it clearly believed was important to get right. It could be this thoroughness that makes the difference against the likes of Lotus, Sauber and Force India.
"We did make quite a lot of pitstops," explained Vergne, "but I think that's important for me. The more I practise, the best it is, for the guys as well. They have to trust me. It's complicated for them, it must sometimes be a little bit scary to have a new driver coming so fast into the box.
"The more consistent you get, the better feeling the team has with you. I'm a new driver, the team needs to trust me, because it must be hard to see a new driver coming in at 120km/h in this little place."
Predictably, Vergne holds back from claiming that Toro Rosso could be the surprise of 2012. It may be that he's waiting to see if the engineers can win the low-speed corner grip war with the STR7. It may also be that, like most drivers, he's playing it safe in front of the media.
"I don't know, we don't know," he said. "We are two new drivers, new car, new tyres from last year; everything is new. So, it's impossible to say. No qualifying has been done so far."
Lotus seems a little less guarded about where it is at. As if trying to divert attention from the disaster that was the first Barcelona test, Grosjean has come out firing in the opening two days this time around. Fastest on Thursday, straight into the 1m23s bracket in the first hour on Friday, and then another late lap to top the times again on Friday evening - by more than half a second. The intention to steal the headlines for the right reason is obvious.
"There are a few teams that are ahead, take Red Bull and McLaren, they are clearly really good at the moment, but we have a good car," Grosjean said.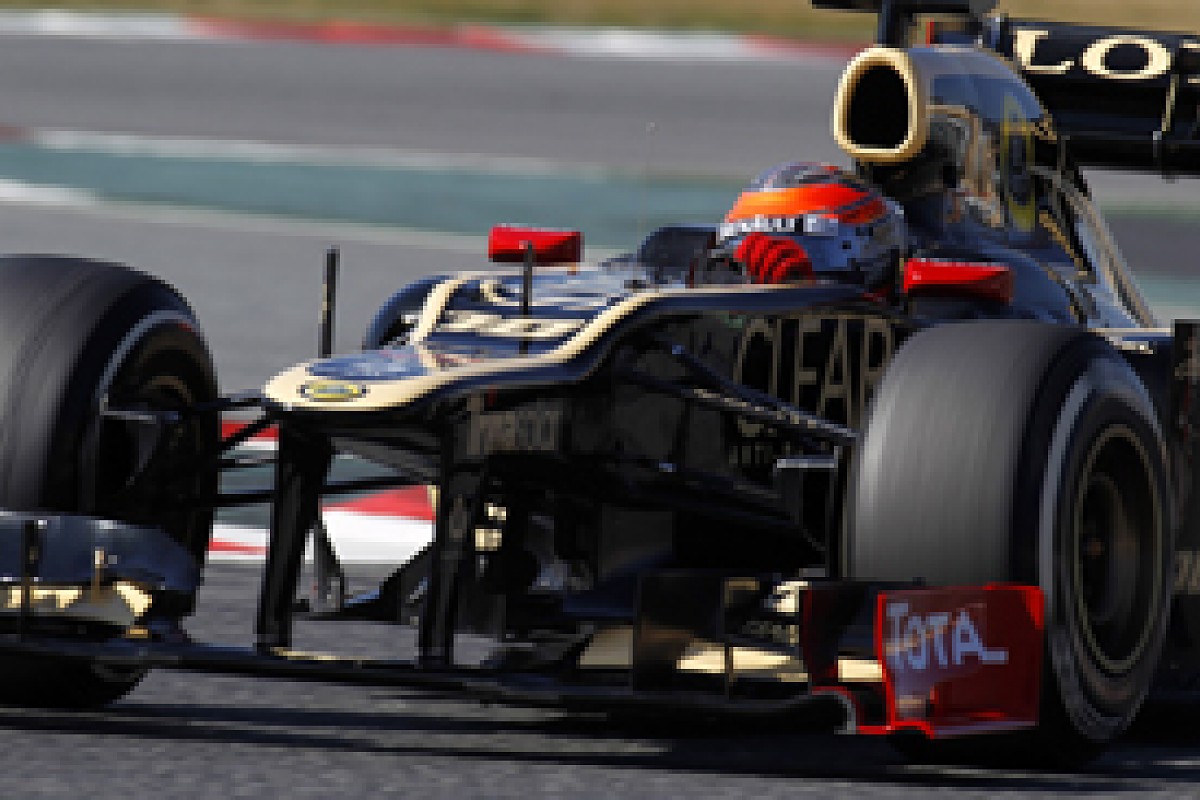 Grosjean is the first man to be quickest twice in testing tihs year © LAT
"What we found at Jerez is still working well here and the car is as good as it was there. So that is a positive answer we got, and that is an encouraging sign for the next tests and the first race of the season."
Some of the Lotus confidence was justified on Friday afternoon. Grosjean's 60-lap race simulation was reasonably impressive, especially given that it overlapped with a similar simulation from Fernando Alonso. While Alonso seemed to genuinely struggle to make Pirelli's soft tyre last for more than a few laps, Grosjean was getting some life out of it.
On the hard, the Frenchman was fast and consistent. Without knowing exact fuel loads it's hard to make too bold a statement, but, in identical track conditions, Grosjean's hard-shod Lotus was able to consistently outpace the Ferrari on mediums.
It made last week's Barcelona test seem like it was a long time ago, and it even got Lewis Hamilton's attention. Perhaps Lotus will be the surprise of 2012.
"If we can be the surprise, I will be happy!" said Grosjean.
The opposite of a surprise would be continued Red Bull dominance, and while the mid-field battle is fascinating, the RB8 is quietly showing signs of being a very, very good race car. As mentioned earlier in the blog, the longer runs have all pointed to an excellent aerodynamic package - and the race simulations are yet to come. In other words, there is reason to believe that we haven't quite seen the raw pace of the Red Bull just yet.
"I still see Red Bull as the strongest at the moment," said Daniel Ricciardo, who's been an astute pitwall viewer for the past two days while Vergne has been in the Toro Rosso.
"I still believe they are a team who has a bit in reserve from testing. They may well be the only team holding anything back at this point."
Webber, naturally, is quick to shoot down any suggestions that RBR is foxing.
"It is a normal test programme for us, we are not hiding anything," he said.
"We are here to do a job, and we don't have many days to do things, so we need to get the most out of the car. And like you say, let's hope there are no surprises in Melbourne."
Webber might not be hoping for any surprises in Melbourne, but the odd curve-ball wouldn't be a bad thing for Formula 1 after Vettel-Fest 2011.
Who knows? With the Lotus fast on low-fuel runs and promising in a race simulation, and Toro Rosso looking sleek and organised, we could be surprised yet.
• Barcelona testing: Image gallery.
Thursday - Test day 1 by Jonathan Noble
While Red Bull Racing, McLaren and Ferrari bolted on their new bits during day one at Barcelona, and Lotus got itself back on top of the timesheets after its troubles last week, it was hard not to spare a thought for what was going on at the other end of the pitlane - or, to be more precise, what wasn't going on down there.
For while the focus for the big boys is now firmly on race preparation and finding those extra points of downforce, as well as unlocking the key to tyre consistency, at HRT and Marussia there is a battle going on at their factories to get a car that will make it out of the pitlane when first practice gets underway at Albert Park.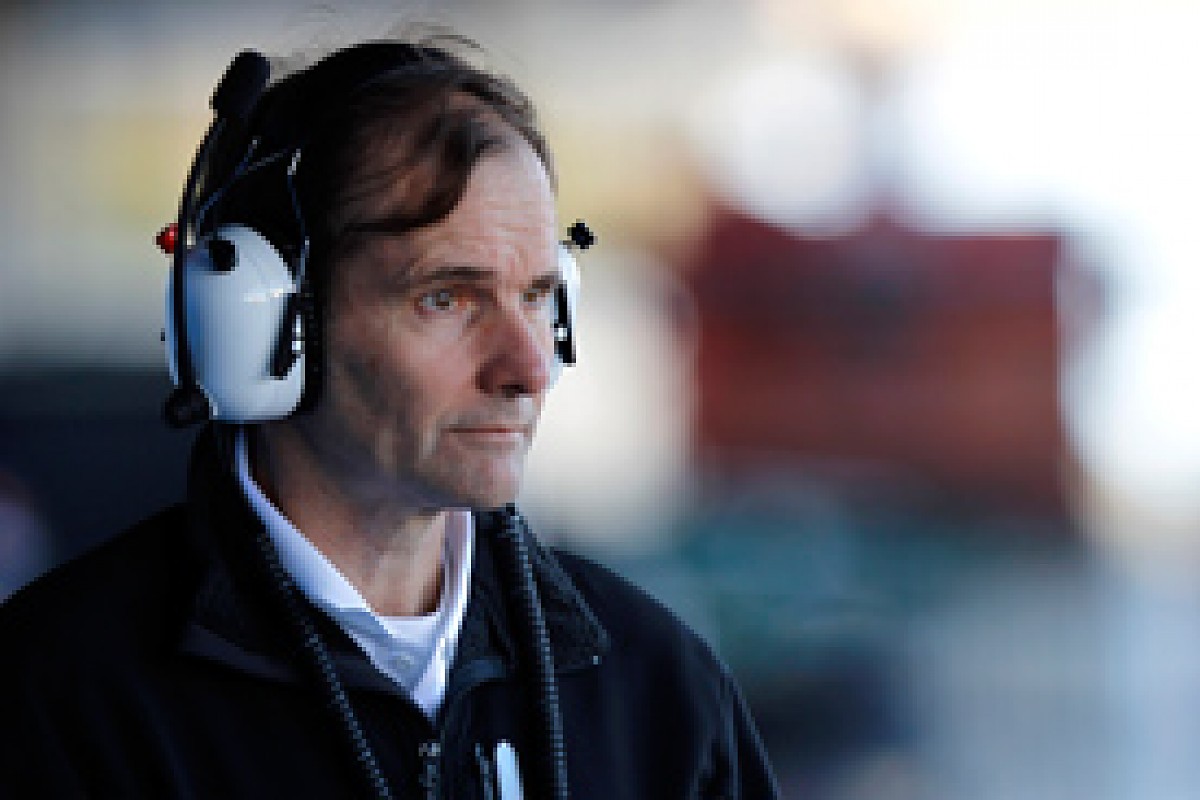 Luis Perez-Sala will fly to Munich to oversee the build of HRT's F112 © LAT
Neither team has yet had its 2012 challenger turn a wheel in anger. HRT team principal Luis Perez-Sala is flying to Munich today (Thursday) to oversee the build of its F112. Marussia, which should have launched its new car today, is facing a few butterflies as it readies itself for a crunch retake of the final crash test.
While many in the Barcelona paddock this week will not bat an eyelid over the absence of two teams who have yet to score a point between them since they first joined the grid in 2010 - and may argue that if they can't stand the heat they shouldn't be in the kitchen - it's an attitude that's probably not shared by many fans.
Such a viewpoint was pretty clear at the FOTA Fans' Forum in Barcelona on the eve of the test, when time and again the team bosses were probed on what the sport could do to help the smaller teams.
With HRT on home soil - and Pedro de la Rosa clearly a favourite among those present from Spanish motorsport authority the RACC - it was inevitable there would be a feeling of support for the Spanish outfit. Even so there was some pretty worthy debate about what rule changes could help make life better for those at the back of the field.
Nobody is suggesting that freebies be handed out so that second-rate outfits could simply turn up, fire up their cars and roar away to secure world championship points. But could more not be done - like allowing teams to race older-spec cars from the bigger outfits, or an easing of testing restrictions - to stop it being so difficult for teams to simply get cars ready for the first race?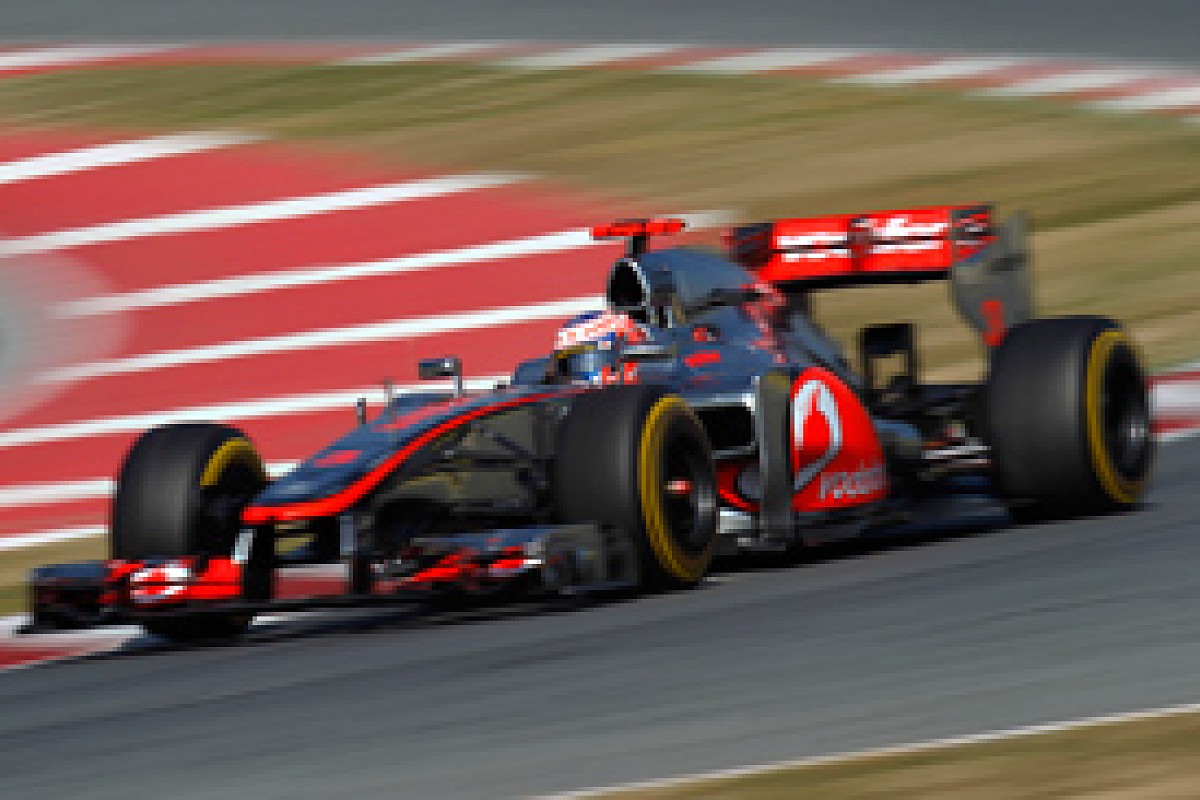 McLaren came close to doing a customer-car deal with Prodrive © LAT
As McLaren's Jonathan Neale, whose own team came close to doing a customer-car deal with Prodrive several years ago, conceded at the FOTA Forum: F1 does need full grids.
"Co-operation between the established teams that are highly capitalised and have been in the business for a while, and to support new teams coming in, is important," he explained. "There are business models that can make that happen, which are short of being a B-team.
"F1 needs a full field if it is going to be a grid and going to be a show. It needs a race. FOTA has done a good job to bring cost reductions to lower the barriers - but it does not make it easy. It is difficult at that end of the grid."
The idea of customer cars has been debated many times, and rejected, but what about some sort of compromise that goes beyond what is currently allowed? And was it really such a bad thing for F1 that Scuderia Toro Rosso proved so strong in the era when it was allowed to use Red Bull Technologies' designs?
F1 has long been a meritocracy; and it has been as much of an attraction for those taking part as it has for those following it.
But what has been happening recently is that the gap between the haves and the have-nots is widening dramatically; there is less money as a whole to keep the wheels turning - and what there is tends to find its way to the top outfit, rather than filter its way down. There is also the issue of big sponsors not even getting as far as the top teams; for Bernie Ecclestone is cleverly signing more and more deals for 'official F1 partners'.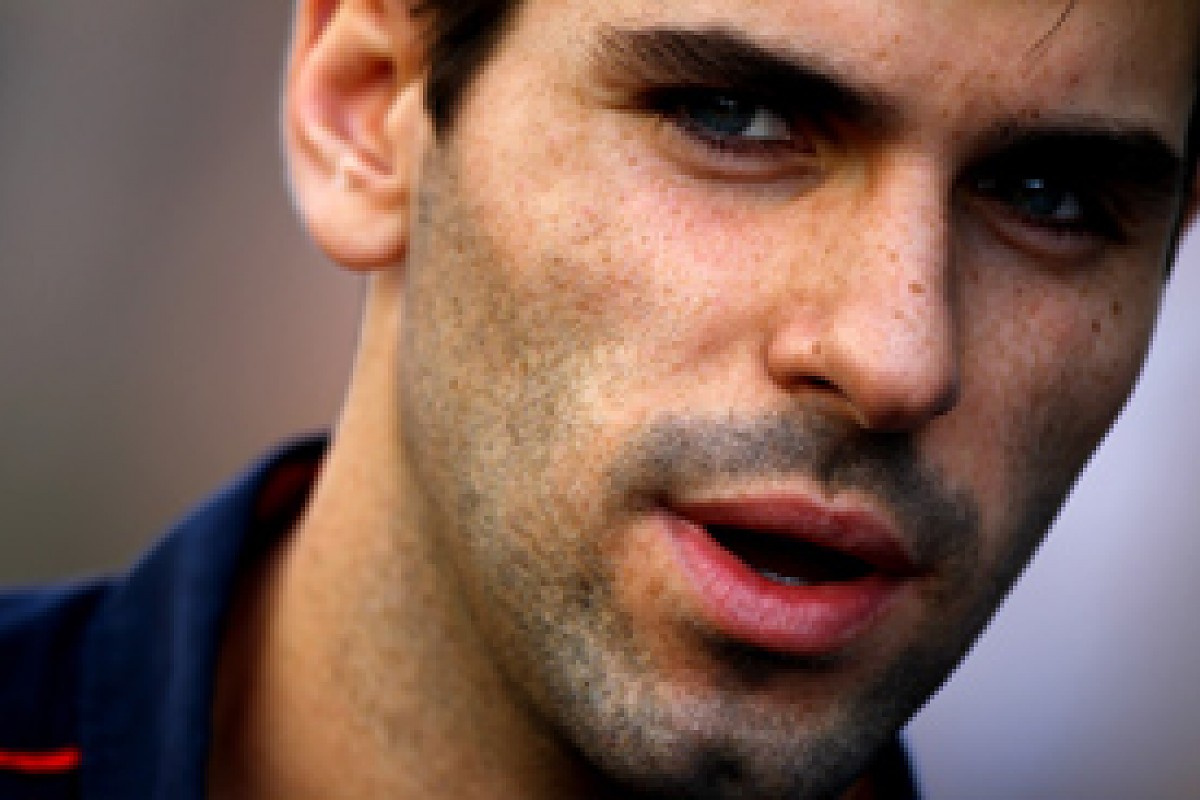 At just 21 Alguersuari was cast aside by Toro Rosso © LAT
Yet, for all the big teams' talk about doing what they can to look after all contenders, when it has come to considering a redistribution of the television-rights income there has always been a resistance to extending the benefits to those outside the top 10.
Perhaps now we are reaching a tipping point when F1 is going to have to look carefully at itself - and whether self-interest has to be put aside. We're seeing more and more teams needing to find funded drivers for their seats. Talented racers (look at Jaime Alguersuari, who has effectively been cast aside at 21) are struggling for their rightful place, and there is a growing unease from a number of outfits about their bottom lines.
Things tend to snowball quite quickly in F1; and the problems that HRT and Marussia face today are those that could start bothering bigger outfits in the future. Can teams like Sauber and Williams guarantee that they have the capital in place to secure their future for the next five to 10 years?
F1 is a harsh business and we all love it partly because of that, but it's the very dog-eat-dog existence that makes it its own worst enemy at times. What benefit is there to pushing teams to the brink? Would it not be better to do everything possible to ensure the long-term healthy survival of all 12 teams? Wouldn't it be better to have 12 strong teams on the grid rather than see the minnows struggling so much?
It is all good food for thought for those 10 teams able to keep the laps coming at Barcelona this week.
• Barcelona testing: Image gallery.