Sauber ended last week's Barcelona test with the fastest time overall, courtesy of Kamui Kobayashi on the final day.
While it's clear that Sauber will be running in the midfield this year, rather than setting the pace despite what the timesheets say, the team is pretty happy with progress in the first eight days of running.
AUTOSPORT caught up with Sauber chief designer Matt Morris to talk about the team's progress, how close everybody is and the thorny issue of exhaust legality.
Q. How would you assess the progress you've made with the car so far?
Matt Morris: We've had a pretty packed programme in terms of going through all the new components on the car. We've done a lot of aero evaluations and a lot of mechanical set-up evaluations as well and we've got a decent amount of mileage on the car. We've had a few niggly little problems but nothing major really. In terms of reliability we haven't really got any concerns and we are pretty happy with the base car.
Q. The stated aim was to carry over the Sauber C30's tendency to be easy on its tyres while at the same time solving the warm-up problems that held the car back in qualifying. How has that process gone?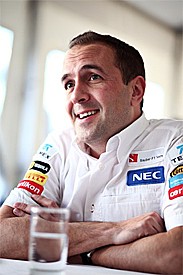 Matt Morris © LAT
Morris: In Barcelona, the track temperatures were pretty low and we didn't have any tyre warm-up problems. From that side, we are pretty happy.
The tyres have changed a lot since last year and we need to fully understand what they require, but we have done quite a few tests both in Barcelona and Jerez and so far we don't have any tyre warm-up problems.
Q. And that hasn't come at the expense of increased degradation or wear?
Morris: We don't think so. At the moment, we are pretty happy with the degradation.
Q. Do you feel that in broader terms you now have a car that will have more even performance in qualifying relative to the race?
Morris: That was the target and we think with the changes that we've made that we are more balanced. It's a bit difficult to tell until we get to the first race, but the conditions in Barcelona were fantastic because usually it's freezing cold and you can't get the tyres to work so the weather has not been too different from a European race weekend. We've got a good handle on it. There are still lots of things that we need to understand about the cars and the tyres but we are quietly confident!
Q. It seems very congested in the midfield. You do you see that?
Morris: It is. The usual midfield suspects are all together and it's very difficult to pick a leader out of that pack. That pack is a lot closer, and it's closer to the guys at the front as well, which is great because you have got a sniff of them. Rather than being two seconds up the track, they are probably under a second away. So it's within an upgrade's distance, if you like.
Q. Making a lot of assumptions from the outside based upon data that might be misleading, it seems that the time spread from front to back of the 2012 cars is around the two second mark. Would you agree with that?
Morris: Yes. And it might even be tighter than that come the first race, which is fantastic. Maybe, McLaren and Red Bull are faster than the rest of us and I'm sure that Ferrari will be there at Melbourne, but the difference between seventh and 17th could be a tenth or two! The difference between going out in Q1 and making Q3 is going to be tiny which is great for the sport and great for us.
Q. How would you describe the balance and behaviour of the car?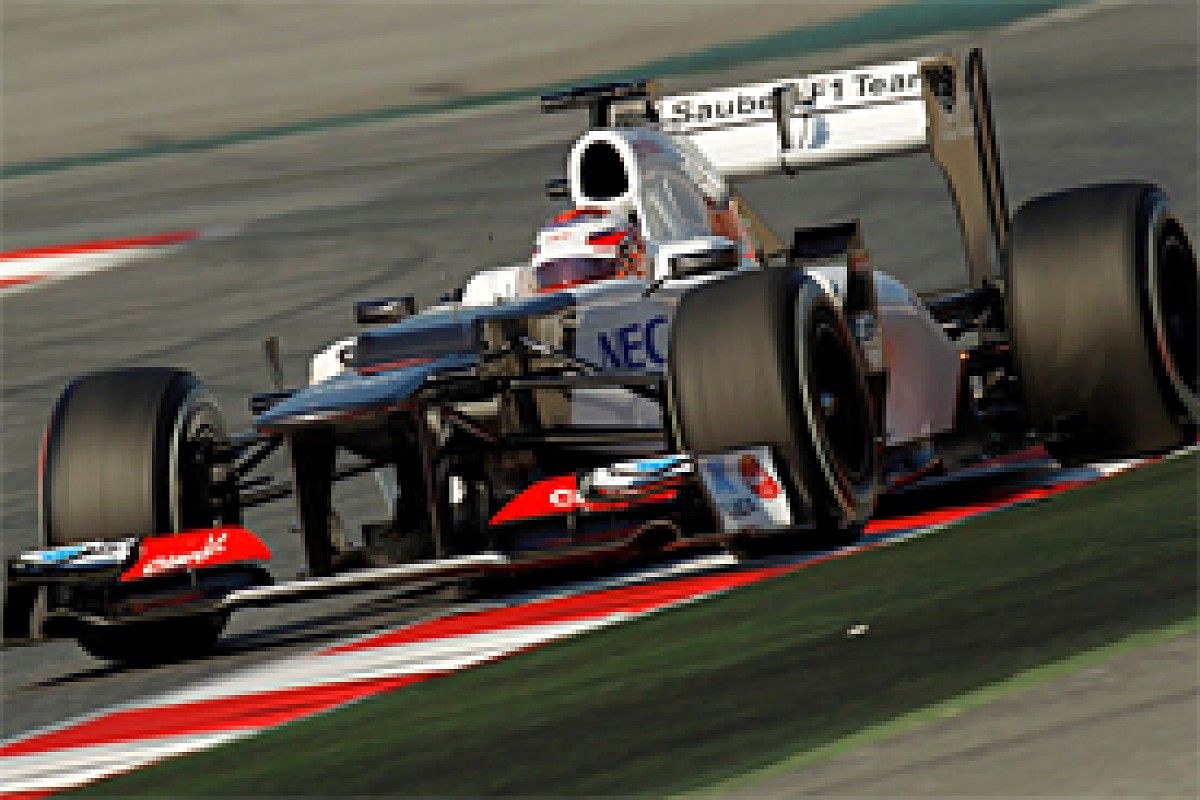 Sauber ended Barcelona's test on top © LAT
Morris: It's a pretty well-balanced car. Both drivers are relatively happy with it. There's always room for improvement, but we've not got any major instability issues. The other thing is that the car is doing what we expect in terms of the aero performance and the mechanical set-up performance, we have a good correlation back to the simulation data, the windtunnel and the vehicle dynamics guys. That's a real benefit for us that we understand what it's doing and when we make a change it does the right thing.
Q. How close are you to locking in to the final aero package for Melbourne?
Morris: After Jerez, there was a point in the road where we had to make our decision and we did that. So in terms of the base car, particularly around the rear end, that's the direction that we will be going in for the first few races. There are quite a lot of parts that form the Melbourne package coming for [the second] Barcelona test, about 75 per cent of them, so it will be good to get a handle on that. There are a few small things now that we need to make some decisions on, but in terms of our general direction, we fixed it after Jerez. We're happy that that performance carried over to Barcelona, because it's a very different track to Jerez.
Q. There's a lot of talk about the legality of various exhaust designs as well as question marks about engine mapping. Are you happy with the clarity of the rules and the technical directives and where the line is now?
Morris: Yes. We were pretty clear on it anyway and we have been in contact with the FIA over the last few weeks making sure that they are happy with what we are doing and that we understand what they want. The FIA have put a couple of clarifications out in the last few weeks and we're happy we can deal with that; not that it really affects us, it's just some minor detail changes for the next test and Melbourne. The FIA have done a pretty good job of making it clear so we're happy. For us, the more clarity, the better because we don't have the resources to explore all of these other routes. For teams like us, it's better to have a smaller box to work in.
The FIA put out an engine mapping clarification last Thursday and in the engine mapping it's a maze of settings and the engine manufacturers have people working out how to get the most out of the settings. That's all people have been doing. But now there has been a clear directive set in terms of what is allowed, even if people do find a loophole it's easy for the FIA to put a technical directive out to stop it. Now, it has been agreed by everybody that we don't want it [exhaust blown diffusers] there, it's easy for the FIA to say something has been found, so take it off.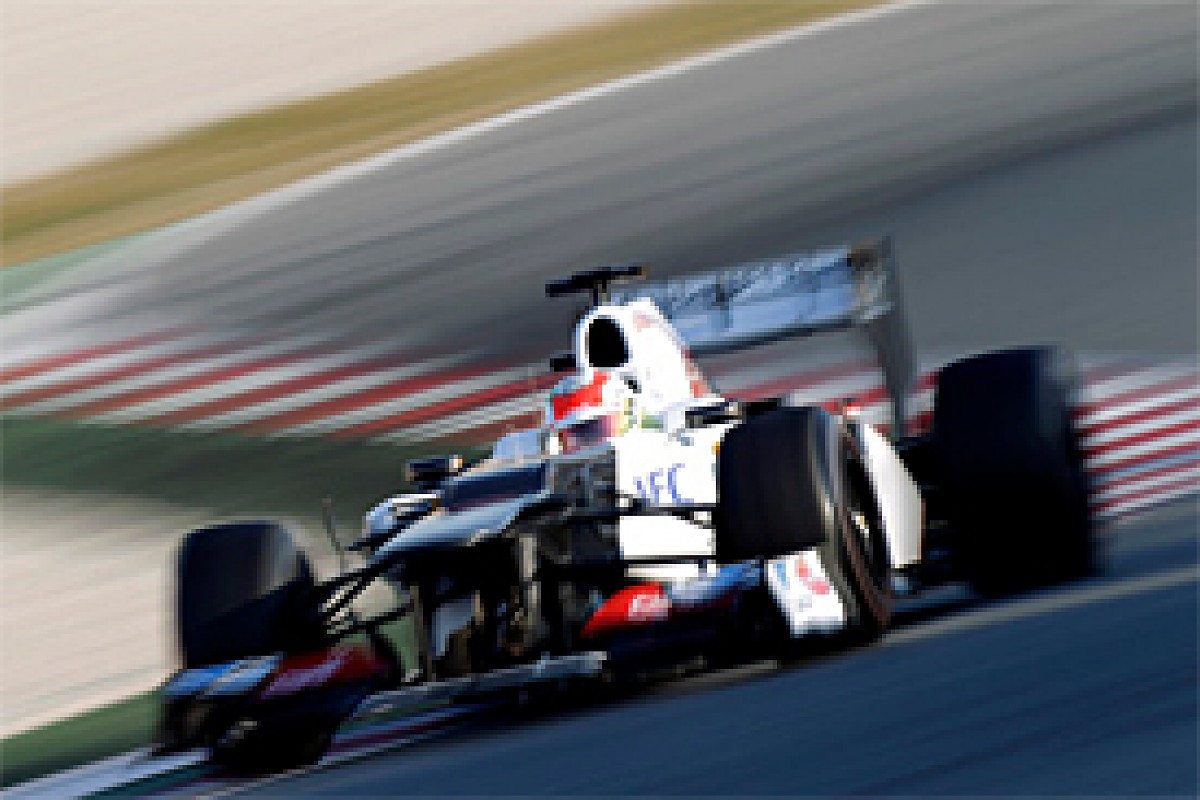 Sauber has been pleased with its car so far © LAT
Q. So come Australia, there will be no problems?
Morris: Oh, I don' t know about that! I think that there might be some people trying. Even if you get one race with something before it's clarified, then you could argue it's worth doing. But these clarifications are tiny things and I don't think it's going to be big performance differences. It's just the FIA tidying up the details.
Q. Ferrari had a few transmission glitches during last week's Barcelona test. Did you encounter any seeing as you also use the 2012 Ferrari gearbox?
Morris: No. We have been fine. In Jerez, we had a bit of debris in a filter, which stopped us for a few hours, but there was no damage to everything. We've had no issues with our powertrain reliability.
Q. It's been a few weeks since technical director James Key resigned and the new structure was put in place. How is it working?
Morris: Every day, we come across a different situation to deal with, so we are just taking those one at a time but overall it's working really well. There are no problems whatsoever.