Marcus Gronholm sounded glad of the distraction. Busy with spanners in his garage, clearly the two-time world champion thought he'd seen the back of building cars in the cold.
That was until his 15-year-old son Niclas decided he wanted to follow in his father's footsteps.
So, when the big man's mobile buzzed into life, he was mid-way through building a Fiesta. Not a World Rally Car, something slightly more basic.

"Don't tell Malcolm [Wilson, M-Sport managing director]," laughed Gronholm. "He won't be happy that I didn't go and spend some money with him!"
Having run a restaurant and a shopping centre - and now picking up the spanners again - since his retirement from the sport, it's good to see Gronholm back behind the wheel of something with a turbocharger and a roll cage. He's heading west back over the Atlantic for a full season of the Global RallyCross Championship this year.
And America doesn't know how lucky it is to be getting 'Bosse'.
But will America get him?
Probably not.
I've been lucky enough to cover the World Rally Championship for a while now and I can't remember a more charismatic and amusing driver ever to grace the sport.
Without trying, much of his work has become comedy gold. Try this one - - which came after Timo Rautiainen suffered a steel bar slicing through the bottom of their Peugeot 307 WRC and into his... Just hit the link, Gronholm describes it far better than I could!
This year he'll be on his own in the car but sharing the road ahead with plenty of other motors offering twice the amount of power his World Rally Cars once developed. And one of those diving for the apex will be Gronholm's Best Buy Racing team-mate, top British rallycrosser David Binks.
"The car is good," says Gronholm. "Fiesta, hey, it's really got good power now and we can use the power. The cars are really coming and so is the championship. The promotion is getting better and better; I think this championship can be something good."
He's not wrong. Global RallyCross must be getting good - because Ken Block's bringing his Monster team to monster it. Block is a rally fan through and through, but he's more than well aware of the commercial realities of settling the sponsor's balance sheet. And if that means racing in rallycross, KB's well up for it.
Marcus Gronholm competed in some rallycross events last year © LAT
I have to be honest here: beyond what I've seen on YouTube, I don't know too much about GRC, but seeing a calendar that supports NASCAR, IndyCar and runs high on the X Games bill is a very good sign for rallycross in the US.
If America gets this right and Block and 'Bosse' fire the imagination of the masses, then Stateside motorsport fans might finally get cars getting dirty.
Here's hoping.
In the meantime, we won't have to wait too long before we can see more rally cars on television, thanks to the opening round of the Intercontinental Rally Challenge coming our way, via Eurosport, this weekend.
Now, Ponta Delgada may not have the same ring as Monte Carlo, but racing around an island in the middle of the Atlantic on Rally Azores will offer the same number of points taken for haring through the French Alps on round one last season.
And it's the first big test for defending champion, Skoda UK Motorsport's Andreas Mikkelsen. The Norwegian has put the controversy of his tenure of a seat seen by so many as the absolute right of somebody from closer to home behind him. And rightly so. There really wasn't anybody in Britain capable of delivering the IRC title for Skoda UK this time last year, so the Milton Keynes firm put its investment in the right place.
It did look a bit risky every now and then, though...
As you can read in this week's AUTOSPORT magazine, Mikkelsen's well up for his second season with Skoda UK and he's well aware that he's got a lot to lose this time around.
Mikkelsen's the Fabia pace man right now; alongside the big Union Flag on his car, his rivals have just finished painting a target. He's the one they're all going to be chasing this year.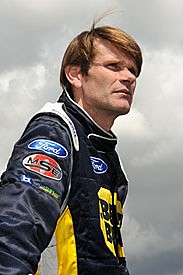 Including Juho Hanninen. The man Mikkelsen succeeded as IRC champion will be fighting for his career this year. As well as being the form man in a Fabia, Mikkelsen's face also appears to be a perfect fit in a Volkswagen Motorsport team that was once thought to be a certain next step for the Finn.
Right now, nothing and nobody beyond Sebastien Ogier is confirmed for 2013, so Hanninen absolutely has to blow Mikkelsen into the weeds if he wants to boot the boy out of the seat we once thought was his.
Finally, if you feel the need for the breeze instead of just being an armchair fan, get down to the south coast for Rallye Sunseeker - round one of the British Rally Championship.
Yeah, yeah, I know there won't be any four-wheel-drive cars fighting at the front of the field, but there will be Jarkko Nikara and some other mighty quick youngsters pedalling front-wheel-drive motors as hard as they will go. I've heard all the arguments about these cars not being spectacular to watch - in fact I heard them all 15 years ago when Formula 2 arrived. Funny, I remember another Finn in a French front-wheel-drive car changing a few of those opinions. Tapio Laukkanen and a Renault anybody?
Now, I can't guarantee Nikara's Citroen will scream as loud as Tapsa's Maxi Megane once did, but it will be just as worthwhile a reason to take the trip down to Bournemouth on Saturday.