Friday - Test day 4 by Sam Tremayne
"They say that testing means nothing, but you must be pleased to be on top still?"
"No, I mean, why? It's testing. Better than nothing, better than last, but I don't think this is a real result."
So went the opening exchange of Kamui Kobayashi's post-test debrief with the media, and in one reply came an inadvertent - and yet perfectly apposite summation - of Formula 1's phoney war.
Kobayashi was adamant that the Barcelona timesheets mean nothing © LAT
Ostensibly, Kobayashi had reason to be cheerful. He had not only risen to the top of the timesheets on the final morning of F1's second pre-season test, but his Sauber C31 - shod with Pirelli's yellow soft compound rubber - recorded the fastest lap seen in four days at Barcelona. Even with the allowance that it is only testing, it is hard to resist ascribing some sort of value to times and a relevance to each day's order.
Part of that compulsion ties in with how F1 is consumed as a sport. No other discipline features anything like the F1 winter, when the work that will shape a season is carried out in strict secrecy. The desire to unravel months of design and development is inevitable and compelling, but it can lead to false results.
One need look no further than the fact that there have been eight different drivers on top at the end of the eight days of testing (four here, four at Jerez) to debunk that myth. Sebastian Vettel, Nico Hulkenberg and Pastor Maldonado topped days one to three respectively in Catalunya, while Kimi Raikkonen, Michael Schumacher, Nico Rosberg and Fernando Alonso completed the honours list at Jerez. Remove the two Mercedes drivers, running in 2011-spec machinery at Jerez, Mark Webber and Romain Grosjean step up.
There are obvious candidates in that selection - few would bet for example that Vettel will not be in the mix come the season's start. But there are also surprises like Williams and Sauber, and to an extent Ferrari, which was struggling badly to get the F2012 dialled in when Alonso went clear at Jerez.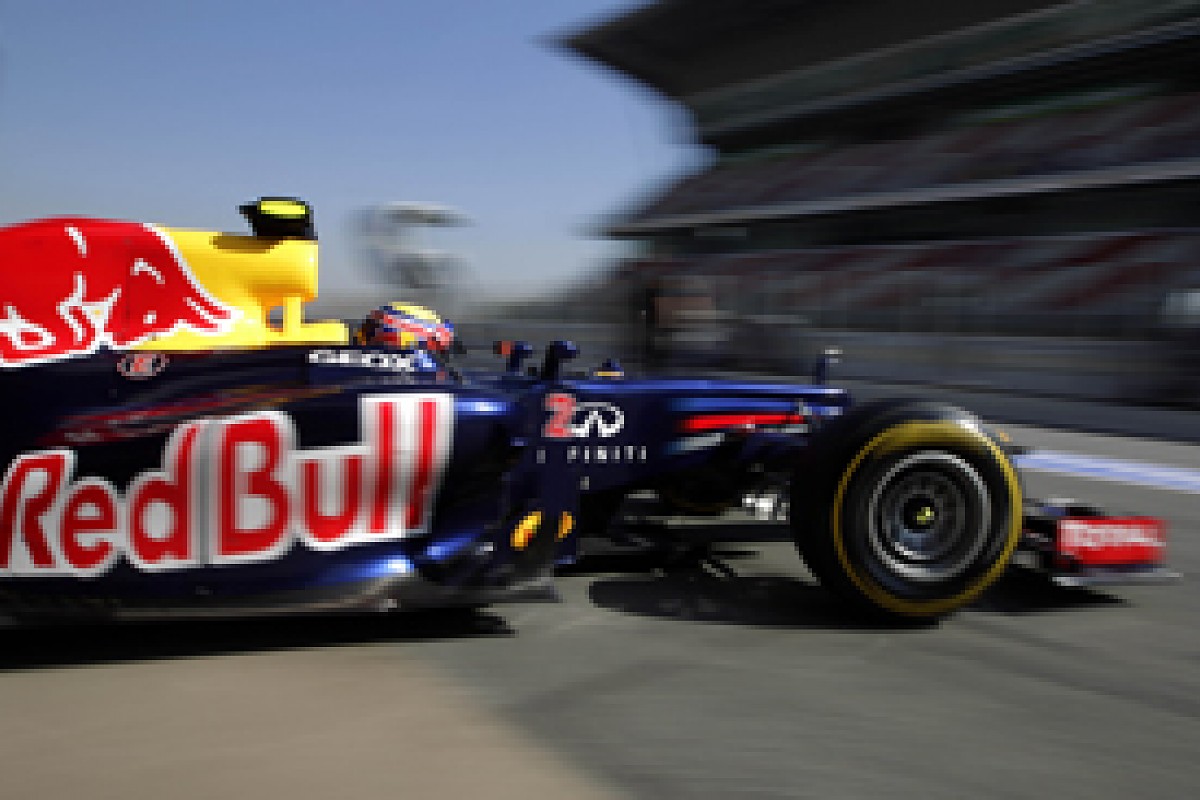 Times inconclusive or not, the Red Bull will be on the pace come Melbourne © LAT
Simply put - and as noted so casually by Kobayashi - we still don't know enough; times alone tell us almost nothing. This is hardly groundbreaking, but that does not change its underlying veracity.
There is an added dimension to further complicate the testing issue. Even if a team looks good and is quick - genuinely quick, and not as a result of pre-conceived strategy - there is still time for others to catch up, and for it to fall behind. The opposite is therefore also true, and one need only look back to McLaren's 2011 pre-season for evidence.
It is that added dimension that keeps everyone guessing. After eight days of public running, the F1 teams have collectively accumulated more than 32,000 track miles. It is fair to imagine that they have an idea of how they will match up to their pre-season expectations; what they still don't know is how the other teams will.
Mark Webber attested to as much when he was asked about Ferrari's seeming difficulties, and what that implied about their 2012 prospects.
"As long as Fernando has a steering wheel in his hand he is always there," Webber replied. "You can never discount Fernando."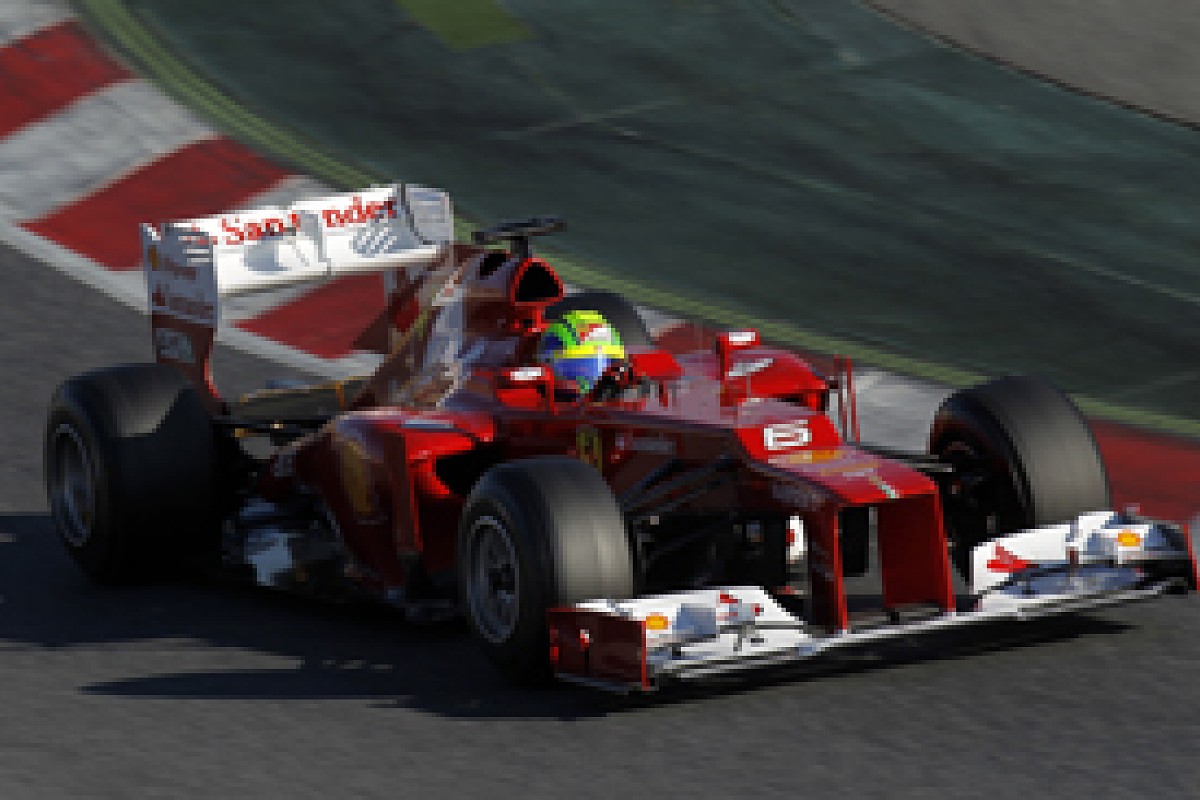 The F2012 looked far more comfortable in Massa's hands on Friday © LAT
Nor can you discount Ferrari, even before Felipe Massa reported that the team had made something of a breakthrough on the Friday afternoon; that it had "found the right direction [and] can see the development coming."
Perhaps the most valuable guide to performance is a studied analysis of each and every run, accounting for tyres and - where possible - potential fuel levels. On that front, fans interested in deciphering the testing enigma will find a full debrief from Barcelona in next week's AUTOSPORT magazine.
Of course, where you are in testing doesn't matter; it's what happens in Melbourne, and the subsequent season, that counts. For that reason all we see in testing is glimpses of performance, and even then we cannot know that what seems quick now will also be so in four days time, at the third and final test.
As Kobayashi notes, "I can say it feels good, but if our lap time is three seconds slower then we have no chance."
• Barcelona testing: Image gallery.
Thursday - Test day 3 by Edd Straw
In the times of plenty, nobody cares too much about a few splashes of water. Come the drought, what was once mindlessly allowed to spill suddenly becomes so much more precious. So it is when it comes to news during Formula 1 testing, even if the water is a little mucky.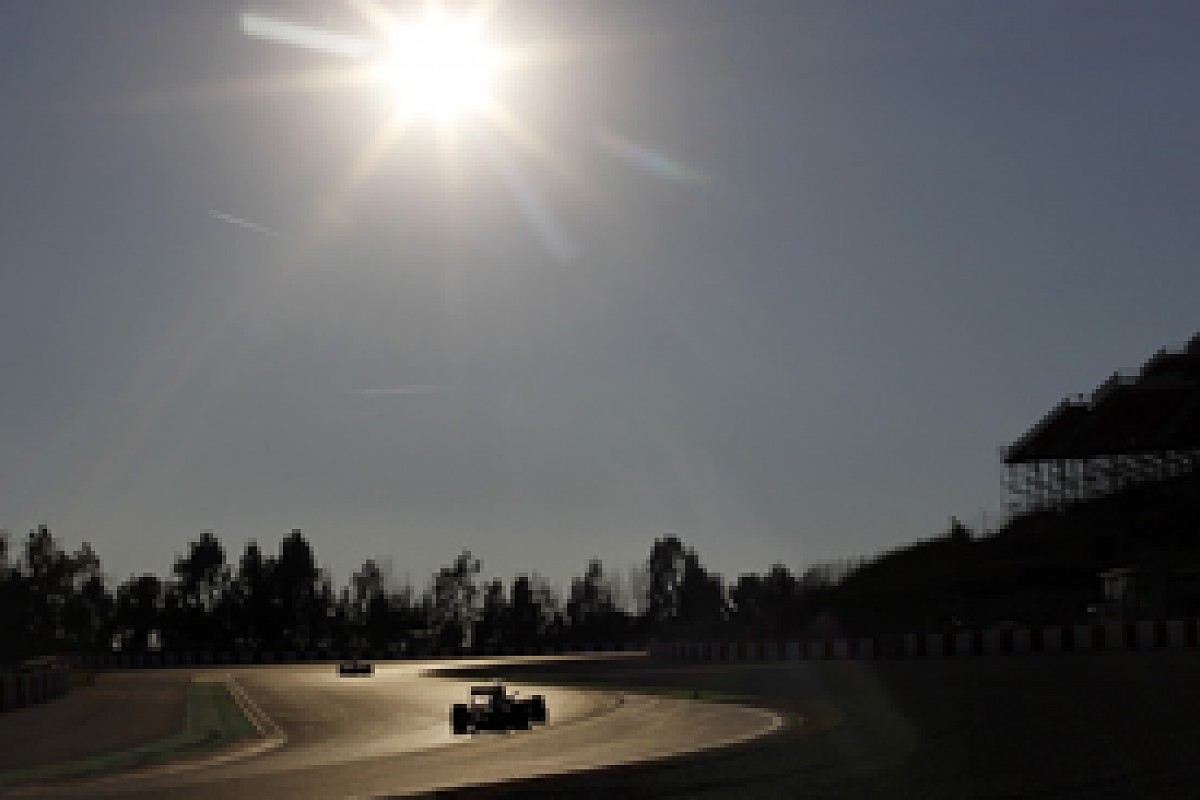 Another day dawns at Barcelona, and with it yet more rumours fly © LAT
We're now past the halfway mark in the 15-day pre-season test extravaganza. All of the top cars have long since broken cover, the shock of the new has faded as we acclimatise to the new nose styling and the storylines of the season are already taking shape. Things are looking good for Red Bull and McLaren, Ferrari still has some work to do, Lotus has a chassis problem related to the mounting of its front suspension and everyone else falls firmly into the spectrum of being 'cautiously optimistic'.
Yet there remains this insatiable appetite for testing news, snippets, glimpses from the world of F1 fans. That's great news for the sport, but it does also create an environment where the slightest thing gets seized upon for a feeding frenzy. Red Bull dismantled its prat perch (pitwall team area, for those unfamiliar with the colloquialism) at the end of the day and instantly the world tweeted that the world champion team was packing up and heading home, much to its amusement.
As for the plans for re-organised tests, there were rumours flying around all over the place, with every possible permutation of date and circuit flying around. In the end, it turned out that Ferrari and Red Bull had bumped their four days at Barcelona to March 2-5, a somewhat more prosaic arrangement than a rumour mill that had them running at a hundred different circuits on a dozen different days!
It's a similar story with the laptimes. Pastor Maldonado was top today for Williams, setting the fastest time of the test overall. His time was set on supersoft rubber while the track was at its quickest shortly before the lunch break, so it's reasonable to assume that he had a fair wind and wasn't lugging around too many kilos of fuel. The real story is elsewhere, but once again played out in nuggets of information.
Earlier in the week, we had Sebastian Vettel nodding admiringly in the direction of McLaren's long run-pace. Today, Jenson Button hailed the German as the pre-season favourite, but admitted that the advantage that Red Bull took to last year's Australian Grand Prix will not be repeated...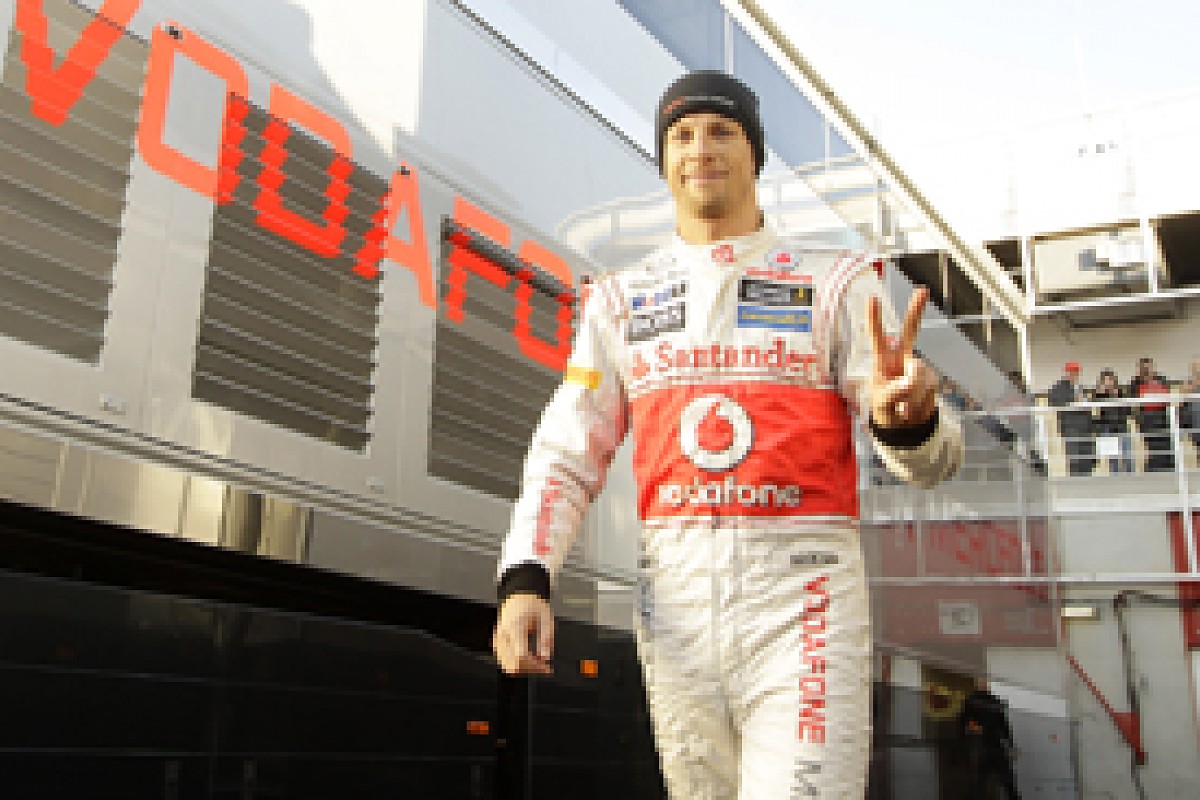 Button doesn't think Red Bull will have such a big advantage over McLaren © LAT
"I don't think they will have the advantage they had at the start of last year," admitted Button. As if to prove the point, Mark Webber's race run was cut short by a gearbox failure earlier today, with Red Bull's impressive pace tempered by the fact that its distance covered so far - a little over 1600 miles - is a little lower than Adrian Newey would ideally like.
Of course, these are all nuggets of information. By now, every team has done plenty of number-crunching and drawn up their rough ideas of the competitive order. Inevitably, the majority of them deny it, although at least Williams' Mark Gillan had the decency to admit that his team has a decent idea of where it is! But when it comes to the fight at the front, no-one can be completely sure.
Of course, such analysis is tempered by the knowledge that the final Barcelona test, which kicks off on March 1 for those who haven't decided to bump their running back by 24 hours for logistical reasons (logistical reasons being another F1 colloquialism for taking more time to make new bits that are being rushed out), should feature a plethora of car upgrades. Just as you've got a handle on the goal posts, they move and the game is changed.
One team that did make a big step forward today was Mercedes. On Tuesday, the new Mercedes GP W03 lost track time with a hydraulics problem and Wednesday's running was restricted by a gearbox glitch. That meant that today needed to be a good one to get back on target for the programme, and the perfect barometer of that success was that Michael Schumacher completed a race simulation in the afternoon.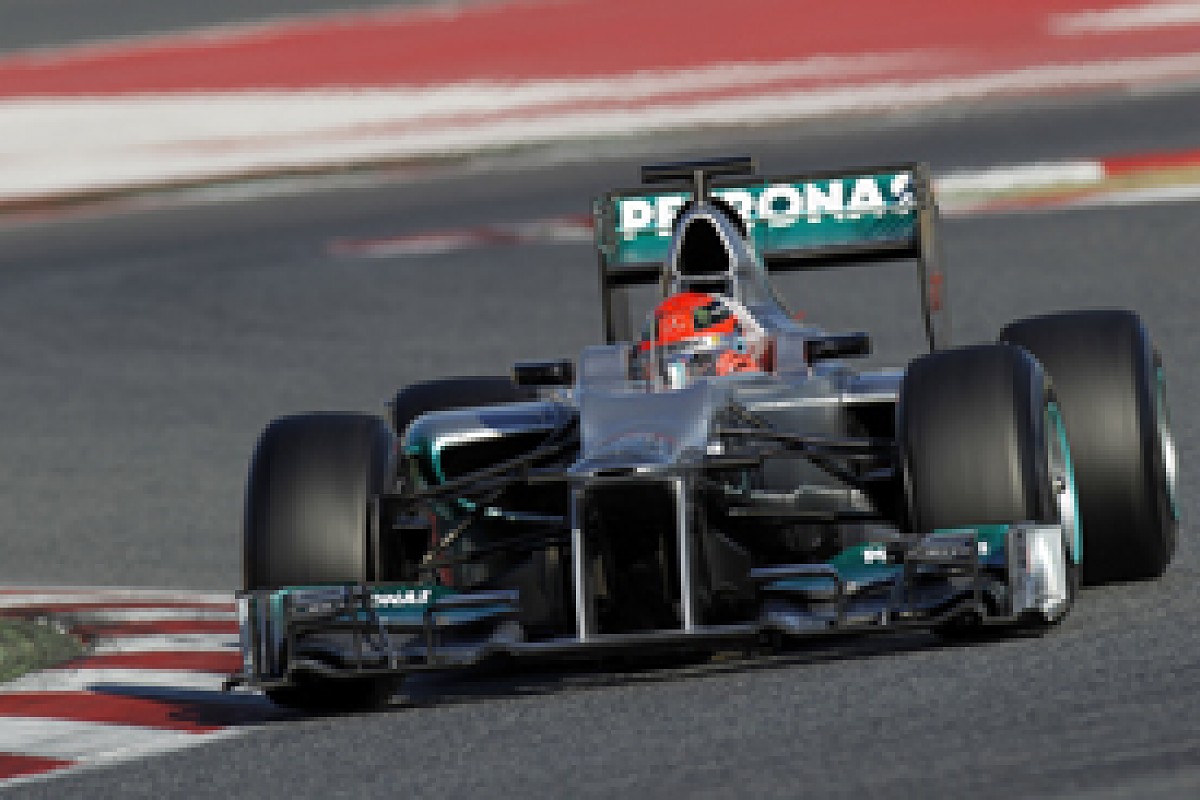 Schumacher completed two race distances for Mercedes © LAT
In total, he managed nigh on two full race distances in terms of laps completed and turned in some handy laptimes while carrying a heavy fuel load that suggested the stated aim of breaking into the top three in the championship isn't outside the realms of possibility.
"We did a race simulation and the competitiveness of the car is better than it has been," said Schumacher. "There are some promising signs that I hope we can transform in good results."
Schumacher also said "wait and see", pretty much summing up the mood of every team. With the start of free practice in Australia now only five 'running' days away, it"s getting awfully close to the serious stuff kicking off.
And you know how the old saying goes about when the flag drops...
• Barcelona testing: Image gallery.
Wednesday - Test day 2 by Sam Tremayne
If the devil is in the details when it comes to deciphering Formula 1 testing, day six of 2012's pre-season schedule offered plenty to delve into.
For a start, it was the first time this year that four teams racked up more than a century of laps, and that is discounting the 2011-spec Marussia. In total, the 10 teams present today - 10 due to Lotus's decision to abandon and HRT's failure to pass the mandatory FIA crash tests - racked up more than 4,300 km around the Catalunya circuit. Plenty to go on, then.
We also had the emergence of the first real race simulations as Red Bull and McLaren put their respective charges through 55 and 58 lap runs respectively - Red Bull in an unbroken string, and McLaren with the occasional minute gap between runs.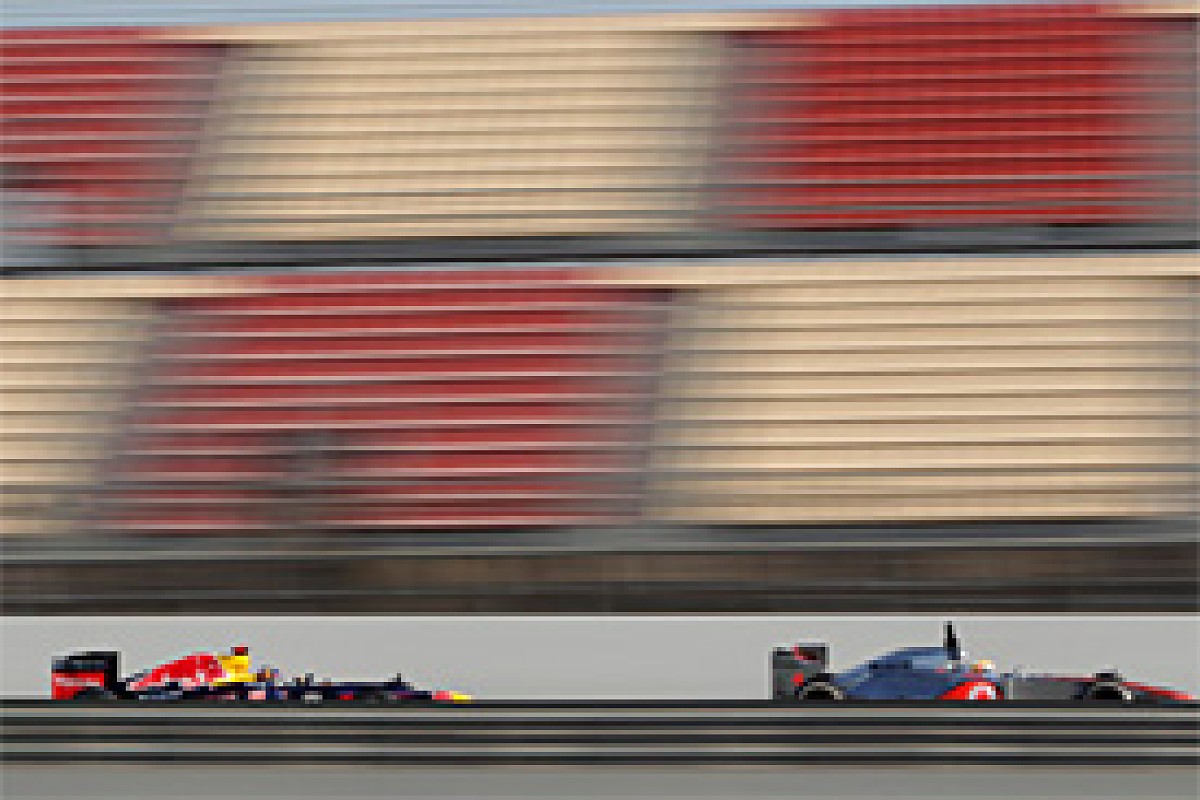 Vettel chases Hamilton during Wednesday's test © LAT
Such runs have value even when viewed in complete isolation. From today, for example, we know that Vettel completed his 55 laps with an average of 1m29.833s; Hamilton his 58 in an average of 1m29.329s; and that McLaren and Red Bull seem therefore to be relatively well matched.
Of course, as is ever the case with testing, there are variables we cannot fully know. Hamilton for example was rolled into the garage between runs - albeit momentarily - and we therefore cannot be exact with his fuel load. Interestingly, Vettel and Red Bull did not, choosing to pit only for tyres - meaning he must have started his near two-hour stint with a near full tank.
We also cannot fully compensate for tyres, with Vettel and Hamilton sampling between them Pirelli's soft, medium and hard compounds over the course of their stints. Yes, they were on track together and Vettel passed Hamilton, but Hamilton was on worn mediums, Vettel on fresh hards. As Edd Straw's trackside attests, both cars looked similarly capable and planted.
But the long runs were also significant because of what they signified about Red Bull and McLaren's testing programmes - namely that they are on top of their cars and satisfied with progress.
It is only once the glitches have been ironed out, and that the team is happy with its understanding of the car, that long runs can be seriously attempted. After six days, it is perhaps significant that Red Bull and McLaren were able to attempt similar runs, at similar times, and achieve similar pace. The noise from both camps seems to pinpoint the other as the main concern at present.
• Barcelona testing: Image gallery
Tuesday - Test day 1 by Edd Straw
When teams pack up for the day after only seven laps, it's never good news. Then again, when Lotus decided to stop running for the day after Romain Grosjean found the behaviour of the new monocoque (chassis two) "strange", it didn't seem unduly worrying. After all, chances are it was just a one-off manufacturing glitch, the kind of which are not unknown in F1, and the Lotus E20 would be back on track on Wednesday.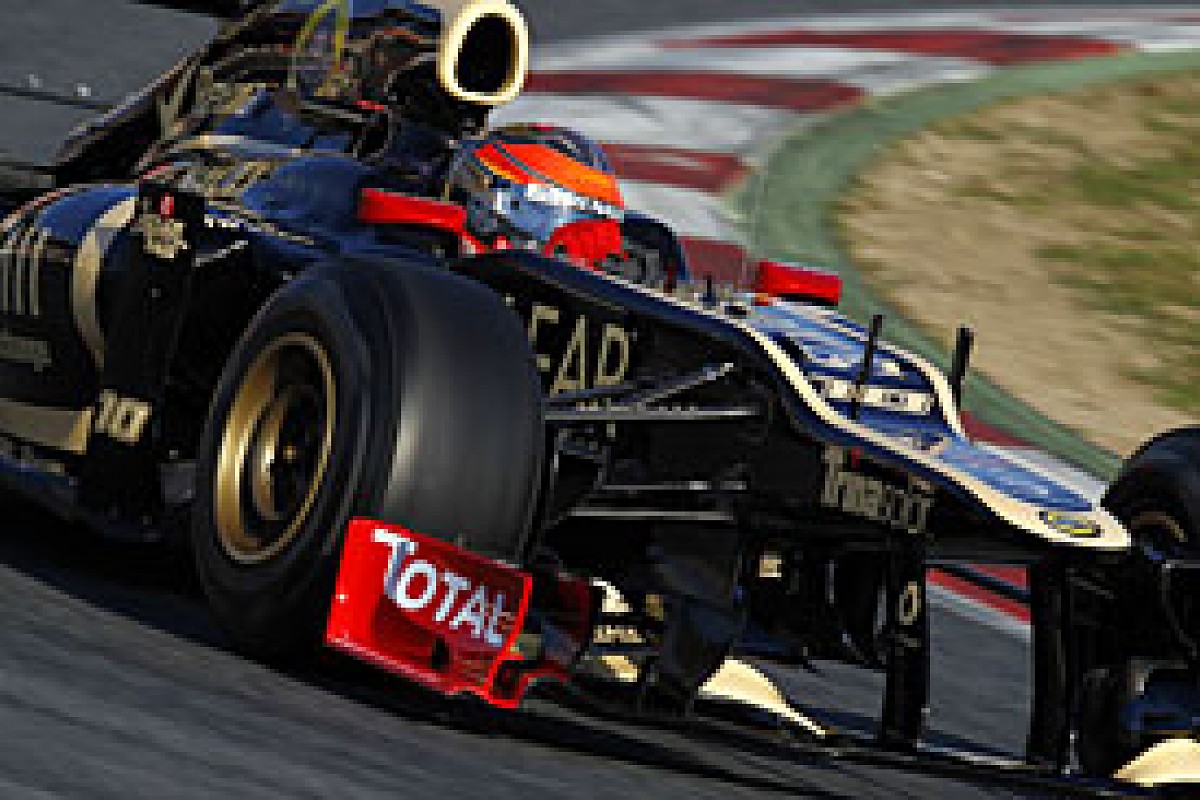 Romain Grosjean completed only seven laps today © LAT
Of course, back at the team's Enstone base, they took a good look at the chassis (number one) that completed almost 1400kms in the Jerez test two weeks ago, just to be on the safe side. As it had run so many laps then, it was a sensible precaution that would likely turn up nothing. But that wasn't the case.
Back at base, the team found that chassis one had a similar problem and what must have been a tremendously tough decision was made. Lotus abandoned the entire test and the 2012 F1 season had its first really big story. And it's a serious one.
Sure, the Jerez test had produced the gripping storyline of Ferrari admitting to being not happy with a car that was expected to send the Scuderia galloping back to the front, but the Lotus news was a huge bombshell. A team that had been one of the stars of the Jerez test had gone from hero to zero.
After a tough season in 2011, this was the last thing that Team Enstone needed, or deserved, and the question is how easy it will be to find a fix. Making modifications to chassis is never an easy task and as our technical correspondent Gary Anderson explained, it could be a tricky problem to solve. And even if it is relatively simple to do, say with a few different parts to be produced, losing four days of pre-season testing is a big blow.
At least the bottom falling out of Lotus's world made life seem a little easier for some of the other teams who have been in the wars. Ferrari themselves didn't have a perfect day, falling 25 laps short of the target Fernando Alonso had set after Jerez of completing 100 laps per day.
Maranello has been a busy place over the last couple of weeks, and it's clear that there's still work to do if it is to emerge as a McLaren or Red Bull-beater.
Tomorrow, we will have the chance to hear from Fernando Alonso. His demeanour will tell us a lot about where the Scuderia is at in its mission to regain the championship with its much-vaunted ultra-aggressive car. Certainly, a week-and-a-half of intensive work at Maranello has not unlocked all of the secrets of the 2012 specification Ferrari.
So, right now, when it comes to finding clues for how the battle at the front will pan out, all eyes are on Red Bull and McLaren. Sebastian Vettel ended the day on top of the timesheets, but went out of his way to talk up the pace of Lewis Hamilton.
Of course, this could all be in the interests of playing down your own performance by talking up a rival, but McLaren's first five days of testing have been reasonably smooth. Certainly, there are no signs of the chronic problems that afflicted it last year.
"McLaren looked very strong today," said Vettel, who went on to describe Hamilton's performance on the long runs as "interesting." A clear sign, perhaps, that the Red Bull camp sees McLaren as its most likely challenger.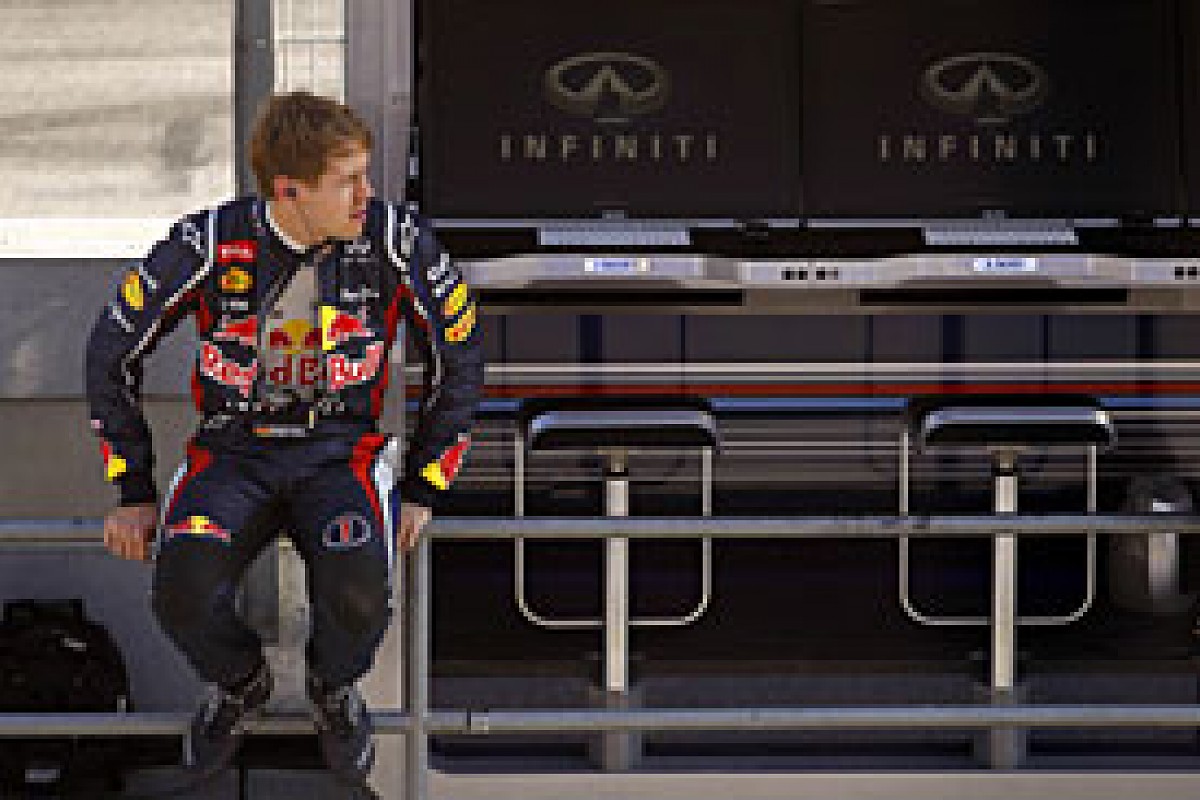 Sebastian Vettel was impressed with McLaren's long runs © LAT
But then we have the wild card...Mercedes. The new MGP W03 broke cover this morning in the kind of low-key unveiling that has become the norm and certainly it appears to be a more refined package that its predecessors. There is a quiet confidence within the team that it is moving in the right direction - and that its decision to delay introducing the W03 until the second test was correct.
"We were well behind the pace last year and the thing we had to do above all else is close that gap," technical director Bob Bell reported. "We did everything we could to give our team the time to develop the performance in our car, and I haven't seen anything yet that makes me believe it was the wrong thing to do."
The next three days will shed more light on how Mercedes stacks up against Red Bull, Ferrari and McLaren of course. But while Barcelona is the stage on which such developments play out, perhaps the most important story will be enacted behind the closed doors of Lotus's Enstone factory.
• Mercedes W03: Image gallery.
• Barcelona testing: Image gallery.