The Formula 1 season shifts several gears up its automatic 'box this week with car launches galore and the kick-off of testing at Jerez.
This week's AUTOSPORT brings full coverage and insight from the launches at Red Bull, Ferrari, McLaren, Williams, Lotus, Caterham, Force India, Sauber and Toro Rosso, with detailed technical analysis of the cars and interviews with some of the leading figures behind the conception of the new breed of F1 challengers.
Our team of experts - including Mark Hughes, Gary Anderson, Edd Straw, Jonathan Noble and Mark Glendenning - brings you the full story from the nine launches.
Mark Hughes column - The new trend for 'platypus' noses on F1 cars is offending aesthetes around the world. So our grand prix editor has gone back in time to find something even uglier. Actually, he had to go back 102 years to find something...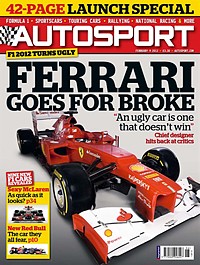 Who needs a great 2012? - Lewis Hamilton, the NASCAR Busch brothers, IndyCar, the World Touring Car Championship... All these people/entities are at something of a crossroads. Here we analyse what they can do to turn the negatives into positives.
The rally boys to watch - Believe it or not, Sebastien Loeb was a young up-and-comer once, although these days that seems to have been in the time of Erik Carlsson or Rauno Aaltonen. Anyway, David Evans has come up with 10 names he thinks you should watch climb the ranks and maybe one day knock on the door of being the (second)-best rally driver in the world.
World of Sport - Action from the Toyota Racing Series in New Zealand
Sports Extra - News from around the world of national motorsport, including Formula Renault, British GT and lovely old F1 Lotuses.
National focus - Aaron Steele got a free drive on the Daytona 24 Hours support programme as his reward for winning the Sunoco Grand-Am 200 Challenge thanks to his remarkable MSV F3 Cup season. Andrew van de Burgt finds him revved up for a move to the US.
From the archive - From platypus to walrus: think the current F1 noses are unsightly? Then what about the rather awkward-looking Williams of 2004?
Race of my life - Armin Hahne had a great career, mostly spent in touring cars. Find out what the German rates as the best of his life.
Read this week's AUTOSPORT digital magazine.