After what even team principal Martin Whitmarsh conceded was an "abysmal" testing programme before the 2011 season, McLaren made no secret of the fact that a much better build-up to the forthcoming season was going to be vital for its ambitions
That pressure to ensure things were improved this time out meant there were always going to be a few nerves at the outfit ahead of the first running of the MP4-27 at Jerez in Spain this week.
It did not take long, however, for such feelings to be replaced by relief - as the team quickly realised it had produced exactly what it needed: a car that driver Jenson Button believes is a solid platform to work from.
While too early to know if it has a Red Bull Racing beater on its hands, technical director Paddy Lowe delivered good news for fans of Jenson Button and Lewis Hamilton by claiming the outfit was already better prepared at this point in time than it was after all the pre-season tests 12 months ago.
In an exclusive interview with AUTOSPORT, Lowe reveals his feelings on the new car, the truth behind last year's exhaust system, why he is happy with his team's nose design, and offers his predictions for the development race that will now become key to the outcome of the 2012 title battle.
Q. After the first day of new car running at Jerez last year, McLaren had completed a similar number of laps with a similar lap time to day one here. However, is it fair to say that the feeling this year is very different compared to 12 months ago?
Paddy Lowe: Yes, I think Jenson [Button] is pretty happy so, so far so good. I think the way he put it best was, 'this is a car that I can work with'. And that is what you need for a championship, so you cannot say better than that really.
Q. As a team, what do you actually understand from a car on the first day of running? You will probably never know where it ranks at the top, but would you know if it had vices?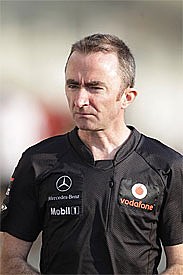 Paddy Lowe © sutton-images.com
PL: What you are trying to do on day one is some basic homework. First of all, you want to know if you can run the car safely. There are various things that you have to check and get through that are about whether the car will get around the track without destroying itself in some way. And then you are getting onto things like, can I run a number of laps strung together and depend on the car making it home? So you work your way up through those things.
And then there are other bits of homework - like, does it perform? Do the right levers cause the right things to happen? I think in your first day you hope to get to a point where you can say, 'yeah, I can comfortably work with this platform and I can go out tomorrow with reasonable expectations that I can run the programme I've designed and the things I have decided I want to learn and investigate.' Then, at that point, you are off.
You are not expecting to come out of day one and say, 'oh, this is a championship winner!' That may have been the case in the past, because the performance possibility that was available within a more open set of constraints gave you the opportunity to come up with something that would instantly tell you that you had a car that was two seconds quicker than everyone else's - and there were famous cars that did that. But with the rules we have got now, where they are so much closer, you don't often see that, and I am not expecting to see this year any revolutionary items that give you that immediate feeling.
Q. Were the warning bells ringing 12 months ago then, which are not ringing here now?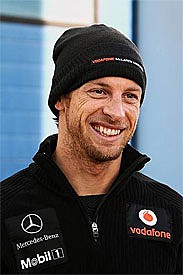 Button has been happy with the car so far © sutton-images.com
PL: I think the trouble last year was that we had not got through the very process that I have just described. We didn't actually have a platform that we could work with, because the car was inherently unreliable in terms of exhausts.
There was a lot of confusion at the time, even internally. We had a radical exhaust system, which we can quite openly describe these days. People called it an 'Octopus', but it had nothing to do with an Octopus. We actually called it a 'Fan tail' internally because it was a fan tail pipe that went into a slot, which blew through the floor. That specific bit did not work and was quite problematic.
But the real problem with the car was that the contingency exhaust system - which we had put in place because with our quite radical system we knew we needed some sort of back-up that was more conventional - was even more unreliable. So, something pretty basic and pretty simple would not get the car around past 11 o'clock every morning. And because of that we had no stock, because we had not expected to need to have a lot of stock of something that should be as reliable as normal. So every day you would see how you could keep going with the shrapnel that you were looking at.
We never, throughout the three track tests we had, which was 12 days, reached the point that we have reached here of feeling we had a platform we can work with, because we were fighting the exhaust reliability all the way through. Not even until the very last day. It was only when we went to Australia, did we suddenly find in P1 and P2 that we had a car that could go around.
Q. Were the lessons you learned last winter, where the difficult start put you on the back foot, have an impact on the way you set about ensuring that you have a good pre-season campaign this time around?
PL: You learn a lot more about risk management. It was certainly character building, and we all have stronger characters after that. Even though I have been in Formula 1 a reasonable amount of time now, that was the worst period of testing in my whole career! So it has built my character!! You learn from things like that, and it has served to deliver some different approaches in different areas.
Q. As a team, how do you balance out the desire to go for a radical approach and playing it safe. Especially when in recent years you have had innovations that have worked, like the F-duct, and those that have not, like the fantail exhaust?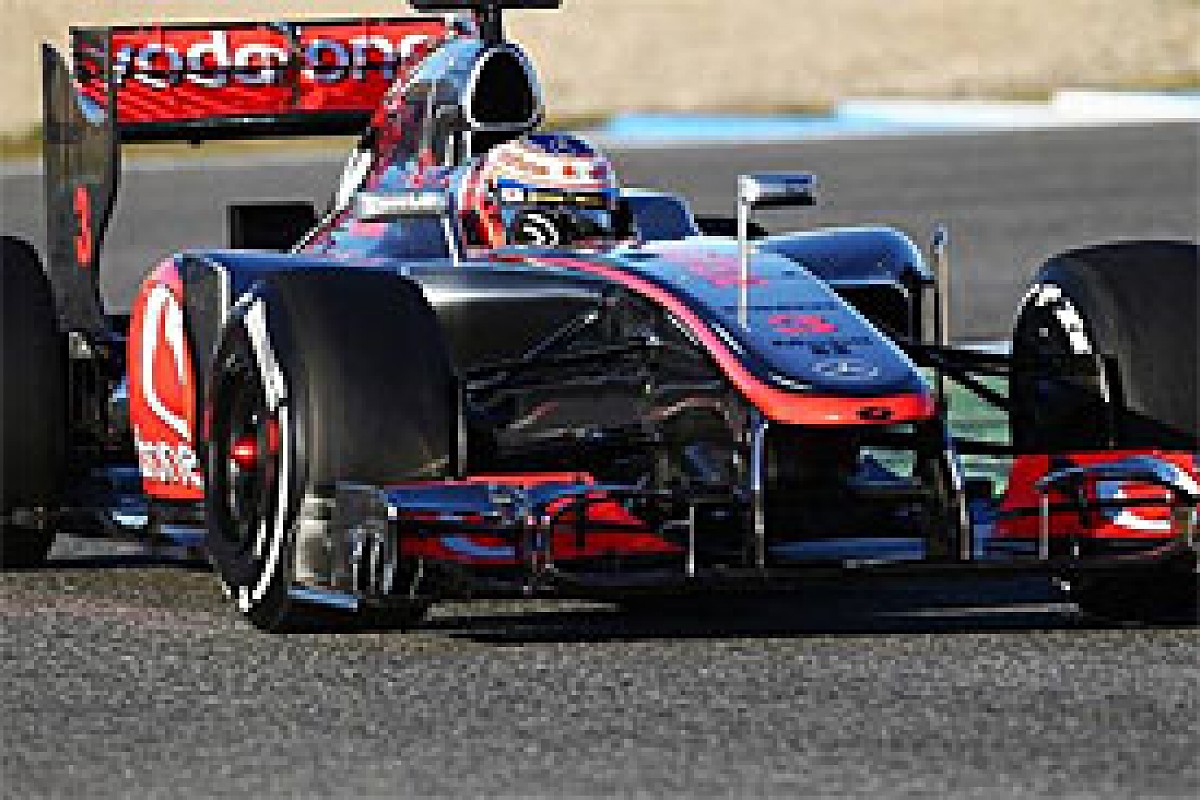 Button has not focused on fast times at Jerez © sutton-images.com
PL: In fairness, the F-duct was a very challenging project to make work. It was a bit easier for the teams following on because they knew it would work. That was something we committed to fairly early on in the car design, and to package it nicely you had to say this is a commitment, not just an interesting bit of R&D. But when we got to the February tests, it did not work.
So we went through quite a few of those tests before we got to the stage where it was a profitable item - although that was expected. It has hard work, stressful and there were a lot of late nights, but it was not stopping the car running, which is one of the problems you have got when you have an exhaust system that is not working.
Q. There is little disagreement about fans this year about which car has the prettiest nose, as you have stayed away from the so-called 'ugly' stepped-noses.
PL: Ah yes, the ugly rule...
Q. A lot has been said about why you have gone down your route and so far no-one else has. Does it worry you when you see every other car doing something different?
PL: Well, I would put it another way. We have not gone down a route, we have stayed in a route that we were on last year. Our car last year met this new rule, because we followed a philosophy of having a lower chassis and having a lower and more swept nose. That suited the various things that trade against each other to get what we think is the best net gain.
This new rule came along and, like every year, you do revisit this stuff. So we revisited it, did our sums again and decided that we would stick with the philosophy we have got. Different teams will come out with different answers to those equations always, because they have different sensitivities. There is no good or bad way - so that rule has not affected us.
For those teams that went down that [high chassis] trend, which Red Bull Racing startedoff,pushing particularly the front of the chassis and the nose high, they have continued to pursue that policy. And being the quickest car, it is no surprise that it became fashionable as a direction. A lot of people have migrated in that direction now, although I don't think it was so true last year.
They, then, are the ones that have been affected by the new rules and have had to drop the nose and introduce a compromise to that concept because you have got a step. Some people have some interesting ideas around the use of that step, and we are looking with interest at all of that stuff.
Q. But isn't the key to performance what is going on underneath the nose rather than on top anyway?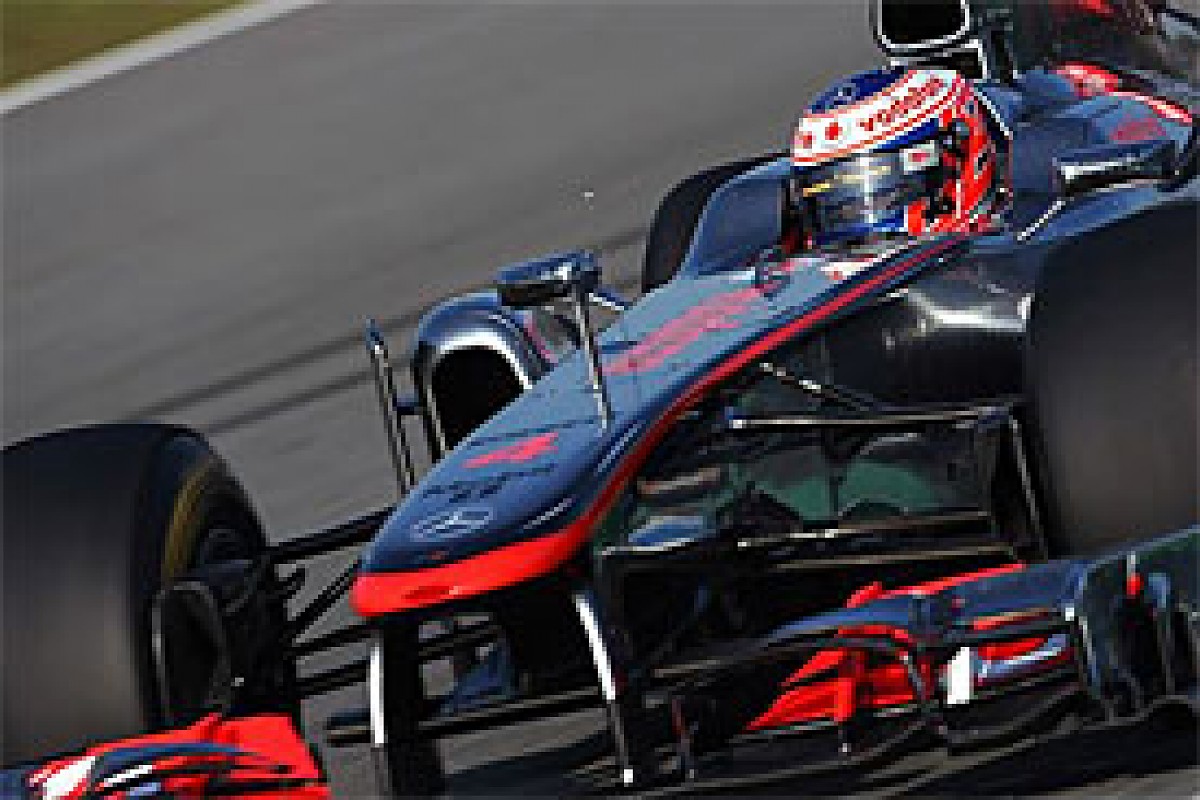 Pre-season testing was very tough for McLaren in 2011 © sutton-images.com
PL: Aerodynamically, yes. My model of it is, it is not that we have missed some trick. It is not a trick or a loophole that we did not spot. We have always known that you can lift your chassis there, but have chosen to not do it now. We did not do it before either, when there was not nearly the same constraint that you have now. That is the philosophy we have gone with.
We will never know if it is right or wrong. Some cars have longer wheelbases or shorter wheelbases. There is rarely a right answer in this stuff because it is a matter of what your philosophy is, what your sensitivities are, and where you put your effort. What is great about F1 is how it brings together competitors with teams of fantastically innovative people - who all work on their own independently and come up with answers that come from a different set of ideas, and different thinking and produce results that are so close. You look at our car and Red Bull Racing last year - they were rarely more than 0.1-0.2% different in terms of lap time. That is not a lot.
Yet, if you go and look at those cars and every detail, there are a thousand different things that make up that net performance, which are all taking different decisions. So you cannot look at one single thing and say, 'ah, that is why they are quicker than them'. It is one of a thousand things.
Q. How much focus have you had on the exhaust area of the car this year - especially with teams like Lotus evaluating some radical ideas to divert gases into air ducts?
PL: It is certainly going to be one of the more active development areas. Any time that you have a rule change around the exhaust geometries then of course it is the richest area of development to find gains. But as it matures over two or three years, then people will settle on generally the right answer. But when you have the rule change and disturbance, then people try different things - which is fascinating.
So, because of that, it is something we have had a good look at here at Jerez. You want to know what the other teams have done and work out how they are going to make it work. Always you find interesting ideas that you did not think of, or questions as to why rival teams have done what they have done, and what it means about other areas of the car.Although the constraints on the exhaust are much tighter than last year, in terms of location, you still have 10 quite different solutions out there, even though it is a reasonably small box where you have got to put your tailpipe. And that is fascinating.
I think there is going to be a lot of development in that area throughout the year, as that aspect starts to mature. The problem we had last year with exhausts was that because it was such a new area of rapid development the precise application of the rules proved difficult. We are very happy that for 2012 the FIA has defined clear and measurable guidelines because that gives us all definite boundaries to work to.
Everybody knows that exhausts will always generate some limited aerodynamic performance - you cannot stop that altogether. But what is so much better than 2011 is that the limits have been clearly defined and in a way which restricts the performance to a small fraction of what was possible before.
I see this as being very similar to the situation with wings: in theory any wing which deflects in the slightest is illegal but we all know that real wings must bend, so to solve this the FIA set practical limits using specific stiffness tests. Actually, both examples are based on the interpretation of the same technical regulation: Article 3.15. What F1 always needs is clarity over what is OK and what is not OK, and I think the FIA have achieved that: Charlie has done a great job."
Q. Is there going to be any philosophical change in approach in terms of how you operate a car over a race weekend in 2012, knowing that much of Sebastian Vettel's success last year was the result of getting pole, getting a lead early on and then looking after tyres to the finish?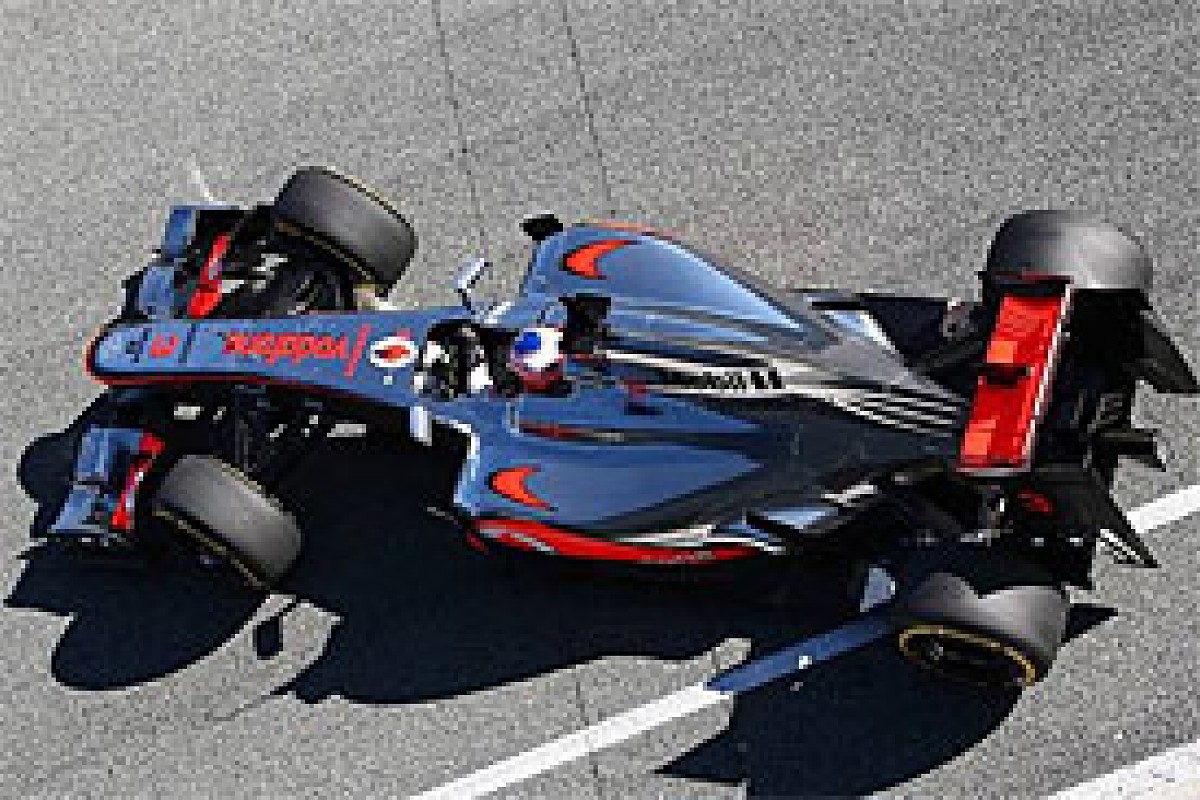 Only racing will tell if the new McLaren is a Red Bull beater © sutton-images.com
PL: I think because of the parc ferme regulations, the extent to which you can configure the car differently between qualifying and the race is very, very limited - unless there is something we are missing, which I don't believe so. So I don't think there is a great deal of engineering that you can put into that distinction.
In the end, would we like to qualify on pole and control the race from the front? Well, yes please - that is always our intention. That is unchanged and that is something you try and do. There may have been rule packages in the past where that might not have been the best solution, but it certainly is at the moment. There is no fuelling implication between qualifying and the race - so you qualify with the minimum amount of fuel, do the best job, and you get the lap.
The only slight trade may be how you use your tyres. Do you consume more tyres in qualifying and therefore compromise your race performance some way? We saw a lot of effort last year from people to see if there was a way you could save a set in the early stages, so you had new sets in the race or two new sets inQ3.That was the gain - and that was about it.
Q. What do you see as the main performance differentiator this season. Is there going to be one area that stands out, like we had with the blown diffuser last year?
PL: I am not sure what will be the outstanding area. There will be the exhausts that we have mentioned. There is still performance in the exhausts - because just projecting your exhausts rearwards is worth lap time as thrust. But inevitably you can use it in some way to affect a flow over the rear wing or around the floor. It is much de-tuned relative to the huge effects that were achievable last year. But they are still finite, and in these days where the differences between cars are quite small, and you put a lot of effort into quite marginable performance differences, you will see a lot of work in that area.
I think DRS will remain an area - that has not fully matured yet. It is only one year old as a technology. And tyres, again only one year into Pirelli, so managing the tyres both in how you set up the car up and how you use them will still be a big factor. Those will be the three main areas I think.
Q. Jenson Button reckons that the field is going to be very close in performance in Australia, but that the gaps between teams will open up as the season goes on. Do you agree with that view?
PL: You do tend to see a little bit of that effect each year, because with the way that teams are resourced some of them are able to maintain a much higher in-season development rate than others. And then you get factors like some teams giving up and putting their efforts on the following season.
From 2012 to 2013, at this stage, it seems to be an evolutionary year in that there are no real rule changes on the horizon, so maybe we will see less of that effect because anything that you can get to work on this year's car can still be used next year. Traditionally over the last four or five years, ourselves, Ferrari and Red Bull Racing have led that development rate, but we should also expect strong performances from Mercedes GP and Lotus Renault.