It was no great surprise that Paul di Resta won the support of the readers of this website to earn the 2011 AUTOSPORT Rookie of the Year prize, and given that he finished 13th in the world championship - ahead of the other new boys - the honour was well deserved.
However, the man who ran him closest, Sergio Perez, is also worthy of attention, not least because he missed two races in which he could have made a useful addition to his final score.
Perez didn't start in either Monaco or Canada, and in those events his Sauber team-mate Kamui Kobayashi scored 16 points.
It's worth noting that by co-incidence Perez subsequently finished 2011 precisely 16 points behind the Japanese driver - and indeed only 13 behind top rookie Di Resta.
Of course there's no guarantee that Perez would have matched the sort of results that Kobayashi achieved over those races, and equally you could argue that his penalty was self-inflicted, given that his massive crash in Monaco qualifying was a result of trying just a little too hard.
Nevertheless, sometimes the final statistics don't tell the full story.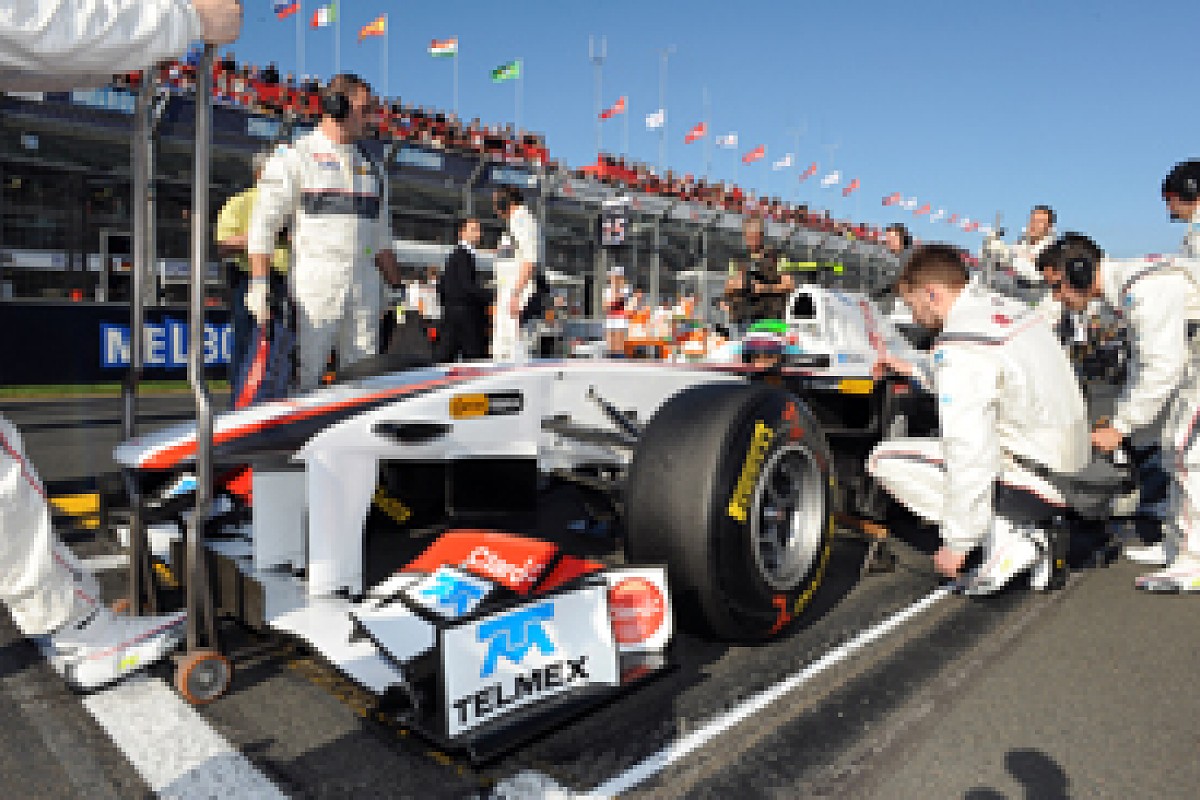 The Mexican's debut in Australia brought a point... and then it didn't © LAT
Perez now heads into his second season with confidence high, and with a tasty carrot dangling in front of him.
From the start of the season many eyes will be on the performance of Felipe Massa, who is going to have to massively raise his game if he is to hold onto his Ferrari seat for 2013.
And Perez, as Luca di Montezemolo recently made clear, is high on the list of potential replacements.
Obviously there are other candidates, notably Robert Kubica, but just like Massa before him, Perez is being groomed for the role.
He's already a member of the Maranello team's Driver Academy, and in September he had a chance to demonstrate what he'd learned when he tested a 2009 car at Fiorano.
It's easy to forget that Perez only turns 22 in a couple of weeks, given his mature and unfazed approach. His career has been carefully managed by his sponsor, and each step was made at just the right time.
He wasn't always placed in the best team in each category, so he didn't have an easy ride. But it was all part of the education process that led to his graduation last season.
"I came at the right time, and I came to the right team as well, with the right people," he says. "I think everything in my career is looking fine at the moment. I'm happy where I am.
"I left Mexico at a very young age, and it was difficult - not seeing your family so often. But when I look back I think every single step we did, together with [backer] Telmex, was the right way to make it."
Despite his solid grounding, like any other rookie Perez had a lot of learning to do last year on reaching the top level, not least because he arrived at the same time as DRS, KERS and Pirelli, all of which made the sport even more complex.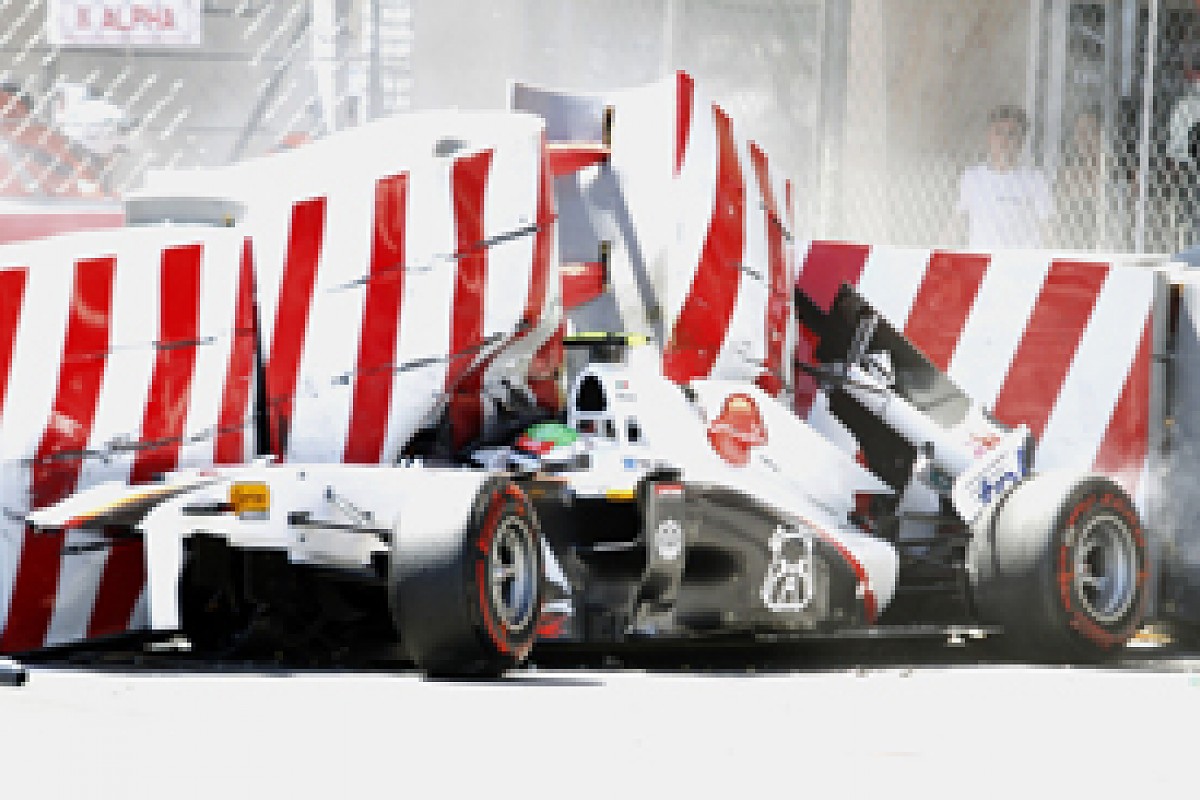 Monaco crash cost Perez two mid-season starts - and potential points © LAT
"You realise that F1 is another world compared to what you are used to from GP2 or other categories in terms of media, of how busy you are during the season. There's a lot more of everything.
"But it's fun, it's what I always dreamed about, and I'm very happy to have finally achieved it.
"You get used to it very quickly - at least in my case I got used to all the buttons very quickly. I've enjoyed it a lot.
"Also the changing conditions you have during a race - you have the supersoft and soft compounds, and you have to drive in a different style, a different way. It's not so easy.
"I think Sauber is a great team to start your career with, because it's a team that can teach you very well. You learn a lot here, and they push you a lot.
"I'm happy here, and I think I showed a lot of promise in my first season of F1."
It didn't hurt that Perez had one of the most spectacular debuts we've seen in many a year, even if the record books don't reflect his performance.
In Australia he stunned the whole pitlane by completing the first race of the Pirelli era with just one change of tyres. An unfortunate wing infringement cost him his seventh place, but nevertheless he had made a mark with a typically cool and unflustered drive.
You only get one chance to make a first impression, and he took it.
"Yeah, of course it always helps to come into F1 and straight away show yourself. For me it worked quite well from the first race.
"But then it took some time. In Malaysia I was unlucky because something from a Toro Rosso hit my car, and I couldn't finish the race!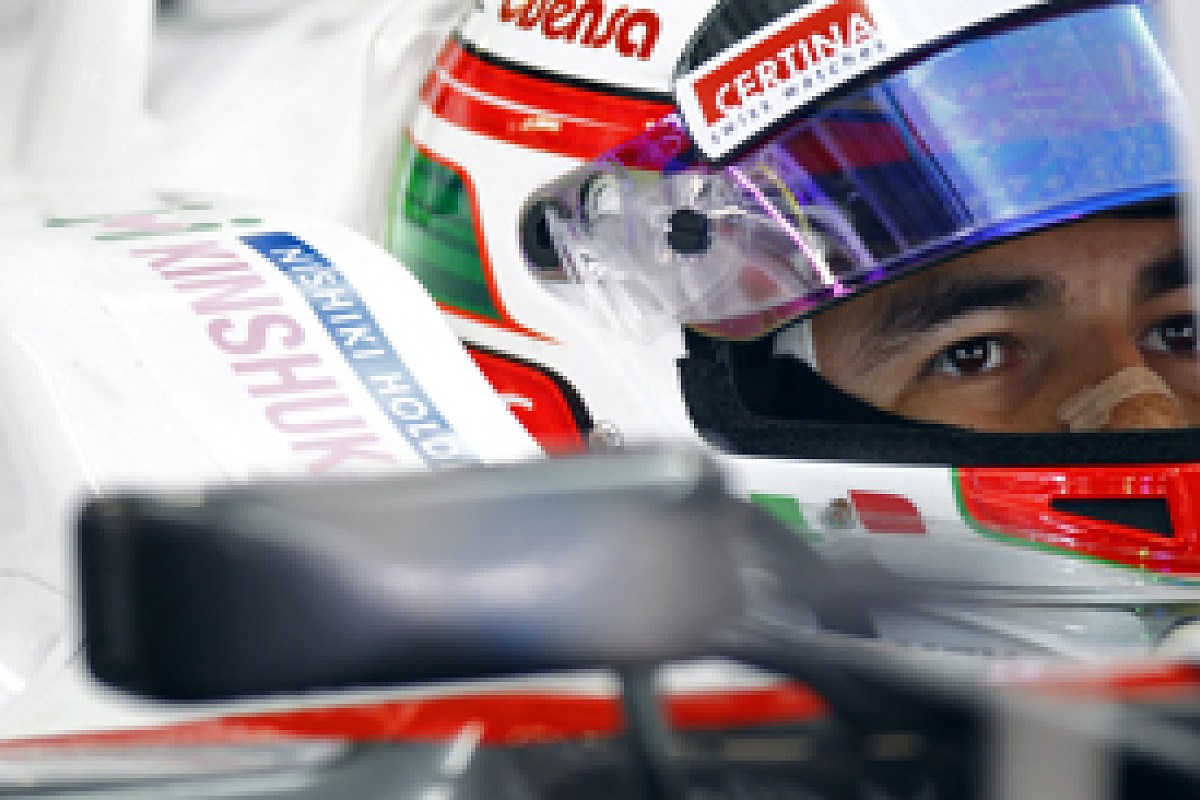 The Mexican's focus has remained unbroken during the season © LAT
"Probably when you look at the points it doesn't look so great, but if you consider my season, they took my points away in Australia, and then I missed two very important races where my team-mate scored very good points, which was Monaco and Montreal.
"I had a very bad accident in Monaco, and it took me three races to be 100 per cent again."
Perez was stunning on the streets of the principality (as was fellow rookie and former GP2 rival Pastor Maldonado), and just making Q3 was an achievement in itself.
The crash he then suffered could have had much worse consequences, but it still cost him two starts, and the effects lingered for a couple more races after that.
He'd been given a clean bill of health prior to Montreal, and it came as a surprise to everyone when he struggled in P1 on Friday.
"Out of the car I was feeling alright, but when I jumped into it, it was not so good. As soon as I braked all my brain was moving! And any change of direction was bad.
"I was very dizzy, on braking, at the exit of the corners. It was a very bad situation, a very bad feeling, and I was losing a lot of concentration.
"The visibility was very bad. I didn't expect it to be that bad, but it was impossible to drive.
"Then I went back home for a week, tried to get ready for Valencia, and when I jumped in the car it was very, very tough again, but not as bad as Montreal; I could at least manage to race. Qualifying was the most difficult part.
"I made a mega effort in Valencia to do the race - it was very difficult for me - and I finished 11th.
"Silverstone was super-hard for me, because it was the second race after my accident, and my head still wasn't feeling right.
"It went alright, and was another good result - seventh like in Australia. That was quite a good race in difficult conditions, especially with me not at 100 per cent.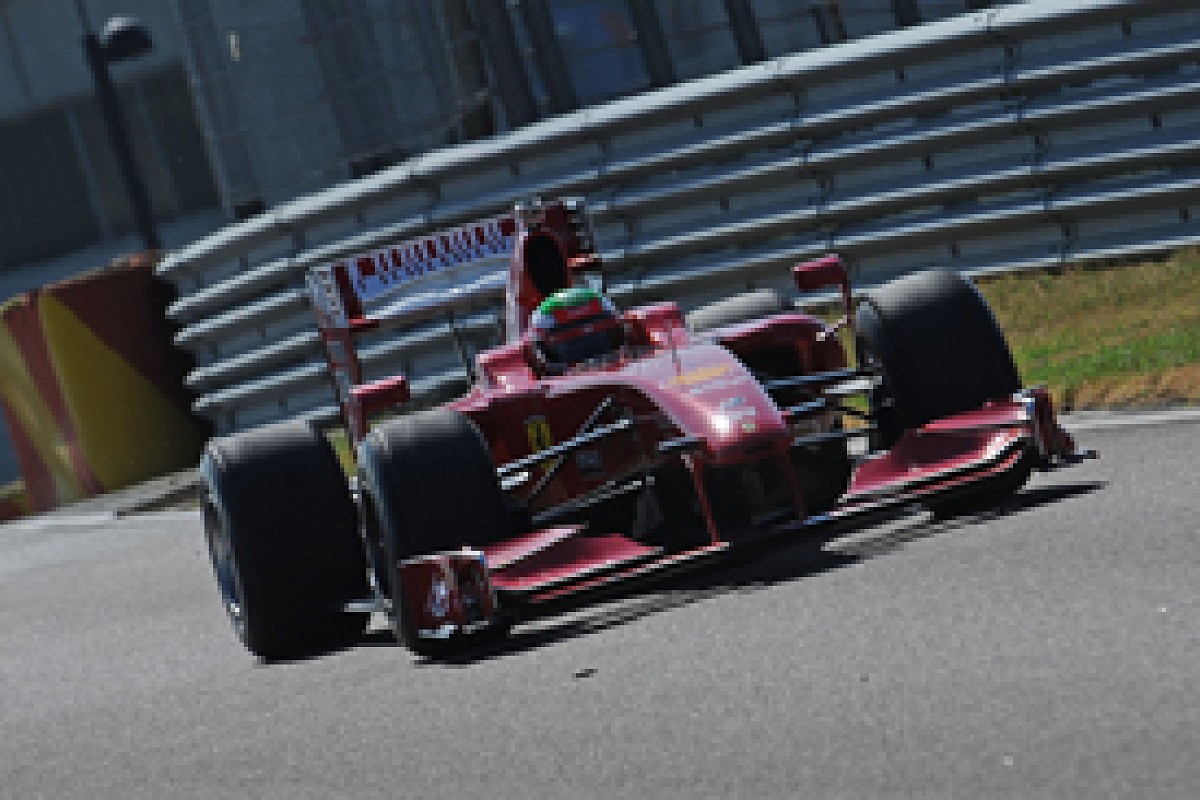 Ferrari test, albeit in a 2009 car on GP2 tyres, came at Fiorano during the Autumn
"In Canada it was impossible to drive, Valencia was very difficult, and Silverstone was very tough as well. Nurburgring was already better, and Budapest was fine, completely okay."
The last part of the season was highlighted by a strong eighth in Japan, while seventh went astray at Monza thanks to a gearbox failure.
There's no doubt that Sauber struggled more than most to get on top of the blown diffuser technology, and that cost performance relative to rivals Force India and Toro Rosso.
What mattered was Perez's form relative to Kobayashi's, and while the aforementioned circumstances hurt his points tally, he outqualified Kobayashi 10-7, and that tally doesn't include Monaco.
Ferrari could draw its own conclusions not just from his Sauber performances and feedback from its engine guys, but also from his form in the Maranello simulator.
The September test, albeit in a car that hardly set the pace in 2009, was another part of the auditioning process.
"It had GP2 tyres, but it was a great experience to test for Ferrari at Fiorano," says Perez.
"In F1 I have a big boast: I want to become world champion, and I think Ferrari can be a team that can give me a chance to become champion.
"The tyres were very complicated at some points, we didn't know if it was a hard tyre or a soft tyre! We enjoyed the day a lot, and I learned how to work with a different team.
"It always helps to have different perspectives in F1. That was the most I learned from that day - how they work, what they do right, or what they do better, and also try to make our team better.
"It's always good to be a leader and try to push the team forward."
Perez knows that it's inevitable his name will be linked with the 2013 chance, but he's keen to play it down.
"I don't think I'm fighting with Felipe to take his seat. Felipe is a very good driver, that's why he's in a Ferrari. I'm in a Sauber, and I'm starting my career.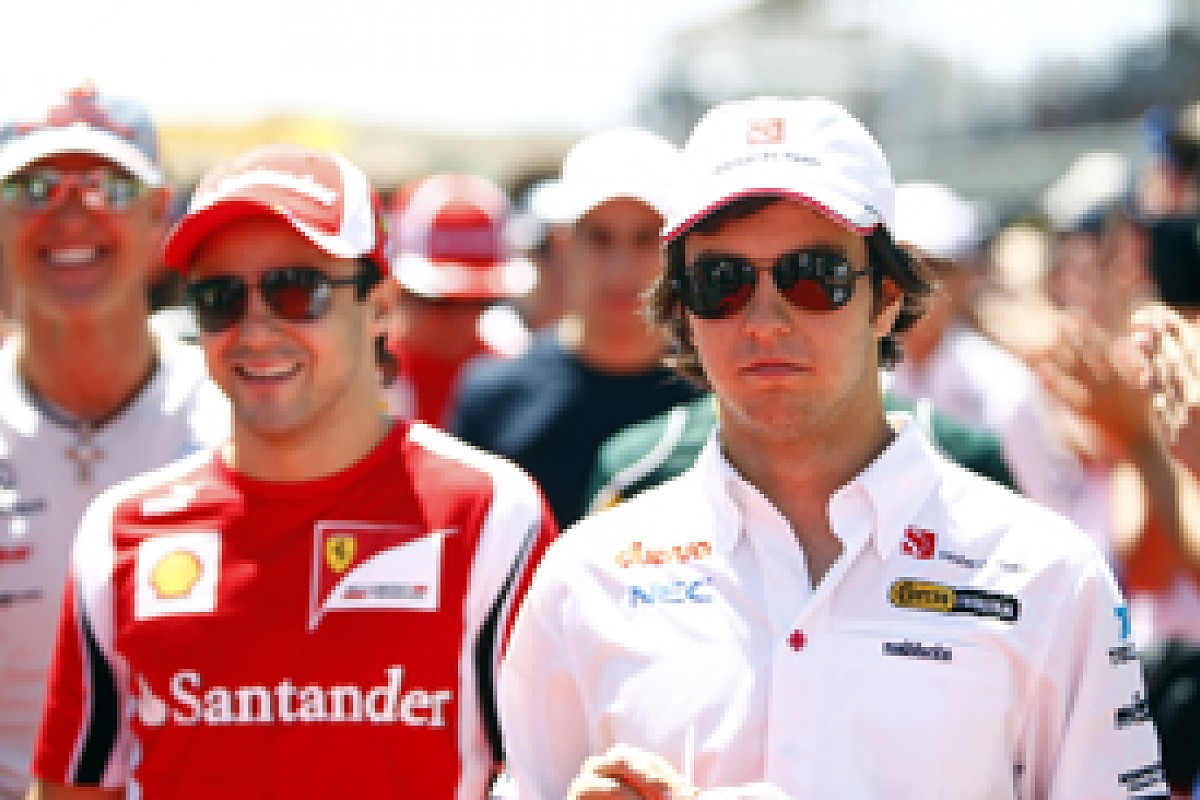 Perez says he's not fighting Massa for a Ferrari seat in 2013 © LAT
"As I said, I want to become world champion. If Ferrari is a good option, then who knows? But I'm happy at Sauber and I'm just thinking about the present now."
If he does make it to Ferrari in 2013, the sport will obviously receive a massive boost in Mexico. Efforts are already underway to bring a grand prix back to the country (the last race there was in 1992).
It's hard to believe that a country with such a history in the sport, and a population of 112 million, has had to wait four decades for a truly competitive grand prix driver.
"Yeah, of course, the interest is high, which is great to have that from your home country," says Perez.
"Also the sponsors are quite interested, so it's good motivation. Of course the interest will grow more when I start to win races, but at the moment I'm getting very good support."