The Circuit de Catalunya, just outside Barcelona, can be a bleak place in the winter. But the cold chill didn't matter during the third pre-season test on February 18-21. That test, specifically the time spent watching trackside at Turn 3, sticks in my mind as the moment that the 2011 Formula 1 season really started for me.
The early days of testing are a phony war. You can look at the cars, marvel at an innovative design features such as Renault's forward-facing exhaust or Scuderia Toro Rosso's 'twin floor' sidepod arrangement, but teams have very different priorities to the watching world when it comes to their on-track work. It's only once the 'boring' stuff is out of the way, proving systems work, checking for overheating, finding the correct set-up parameters and making sure that the car is behaving on track in a manner that roughly correlates with the windtunnel and CFD, that the real fun begins. Usually, that's the second half of testing.
Barcelona is a hugely aero-dependent circuit, which makes it arguably the best track to judge car performance. That is why myself and AUTOSPORT's technical correspondent Gary Anderson headed out to the fast, right-hander at Turn 3 to have a look at the cars. What we saw was fascinating, and for me it was amplified by being able to quiz Gary about the way that the cars were behaving. His vast knowledge and experience allowed him to pick up on every last nuance and detail of what we were seeing and we left Turn 3 that day with a good idea of where everyone was at.
As well as being a great learning experience for myself in terms of picking Gary's prodigious racing brain, it told us a lot about the cars. In particular, it's the memory of Nico Rosberg desperately trying to provoke the Mercedes into turning in with anything like the decisiveness that he wanted that stands out. It was absolutely clear that this was not a car that would be winning grands prix and, sure enough, a month or so later Rosberg ended up two seconds off the pace in qualifying in Melbourne.
Then there was the McLaren. We already knew they had problems - the fact that it kept switch exhaust layouts and seemed to spend more time in the garage than on the track told us that. But again, it was clear that it didn't have the downforce of many of its rivals and the turn-in was approached very gingerly. It's difficult to recall, looking back, just how much of a hole McLaren was in and it's to the team's credit that it was able to turn around the situation and finish second in Australia.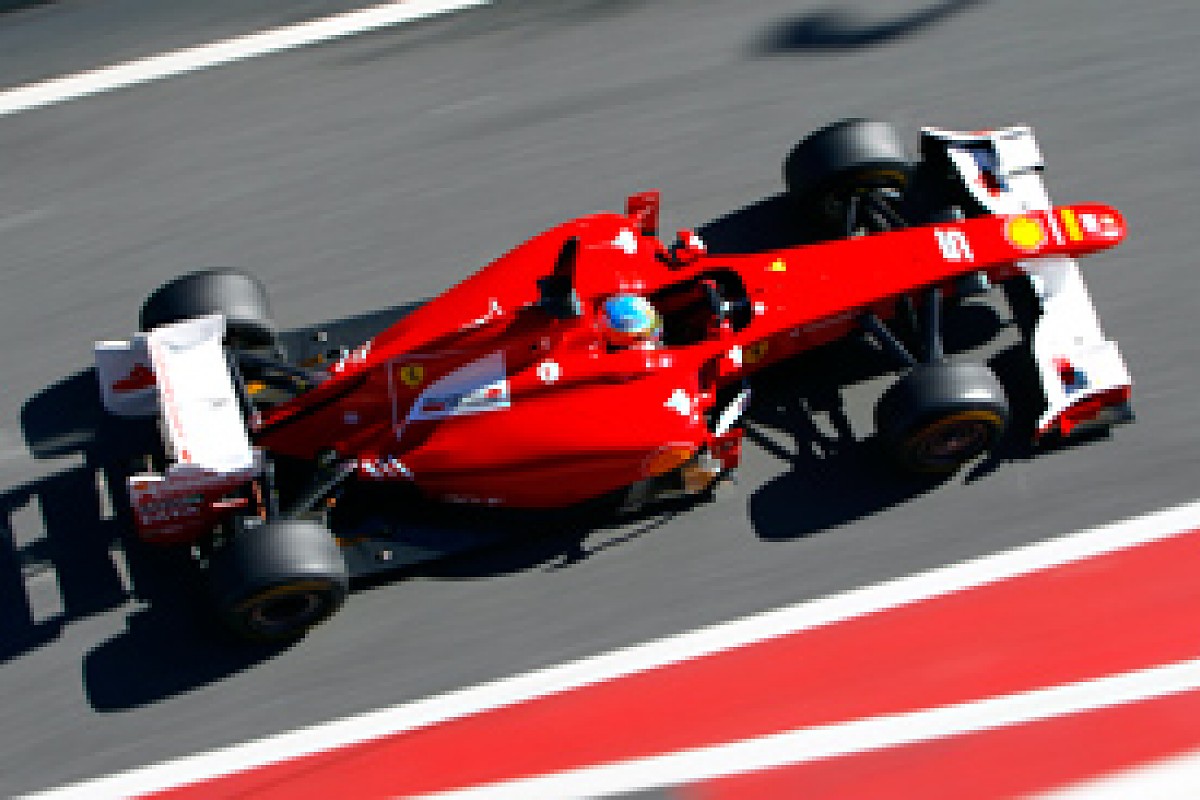 Ferrari, before it bolted on its final aero package, looked good during testing at Barcelona © LAT
Of course, there was also the Red Bull. It looked serene and untroubled by the world. While the Ferrari, which was yet to bolt on its unsuccessful final-test aero upgrade, also looked planted it just did not seem quite as lively as the RB7.
Combined with the places that Sebastian Vettel and Mark Webber were able to open the DRS, which showed just how much rear downforce was being generated by the exhaust blown diffusers, it convinced me that we were on the cusp of another Red Bull season.
While I certainly didn't foresee just how dominant Vettel and the team would be, it again proved that half, or more, of the battle is ensuring that you have the best all-round car straight out of the box. Given that Vettel's form in particular will always leap to mind when someone mentions the 2011 F1 season, it was that day in Barcelona that I'll always remember as the real start of it all.