He proved he had what it takes by winning the 2009 world championship, but what happened in 2011 to raise Jenson Button to another level - and convince the sceptics that he really should be considered in the same breath as Sebastian Vettel, Fernando Alonso and Lewis Hamilton?
In fact, a combination of factors came together and created a perfect storm that allowed Button to perform at his very best, race after race.
In his second year he felt more at home at McLaren, he had a greater input into the car, and his confidence was high. On top of that, the 2011 rules played to his strengths, with tyres dominating the season, and races requiring patience and a deep understanding of strategy. And then of course, there was the fact that his team-mate underperformed, which made Jenson look even better.
You can't overstate the importance of the comfort zone that Button has quickly built around himself at McLaren, and against the odds, at least as far as the outside world is concerned. Most people thought it was a crazy decision to try and take on Hamilton, and the timing didn't do him any favours.
It's easy to forget now that he was not confirmed in the camp until November 18 2009, shortly after he won the title for Brawn. He thus arrived way too late to have any impact on the MP4-25, and like any driver at a new team, he had to settle in.
Given that he'd been at his previous team for seven years, it was bound to take time. And to make matters more complicated, his new team-mate had a unique bond with the management, which had grown over the years since he was first taken on board as a young karter. From the outside, many doubted that Jenson would ever be able to truly establish himself as anything other than a very solid number two, the David Coulthard to Hamilton's Mika Hakkinen.
Two rain-assisted wins in the first four races in Australia and China gave him a flying start, and helped to give him a voice in the camp. However, no one would deny that for most of 2010 Hamilton still had the edge, and Jenson was still finding his feet.
One of Button's great strengths has always been his ability to work with and lead a team, and while the dynamic is different with Hamilton alongside, he has proved again that he can do just that. Crucially, over the latter half of 2010 and into this season he was able to push the development of the new MP4-26 in a direction that suited him. It's well known that he likes a car to be just right - you just have to listen to McLaren's team radio to have an appreciation of that - and for most of 2011, he had what he wanted.
"I'm happy with the thing that I'm sat in at the moment, and that makes a big difference to me," Jenson noted towards the end of the season. "I really worked with the team to develop the car in a direction that I'm really happy with, and it's really starting to pay off.
"I still felt pretty good in the car last year, I still had some pretty good races, but when the car is one direction it takes a long time to change it around to what you like. The team have always listened to what I have to say, it just takes a bit of time.
"Every time I'm in the simulator we work on something for the future, because certain things I like take time. It's not just change the set-up here and there, it's development. That's something we're working on and it's going to help Lewis and myself in the future."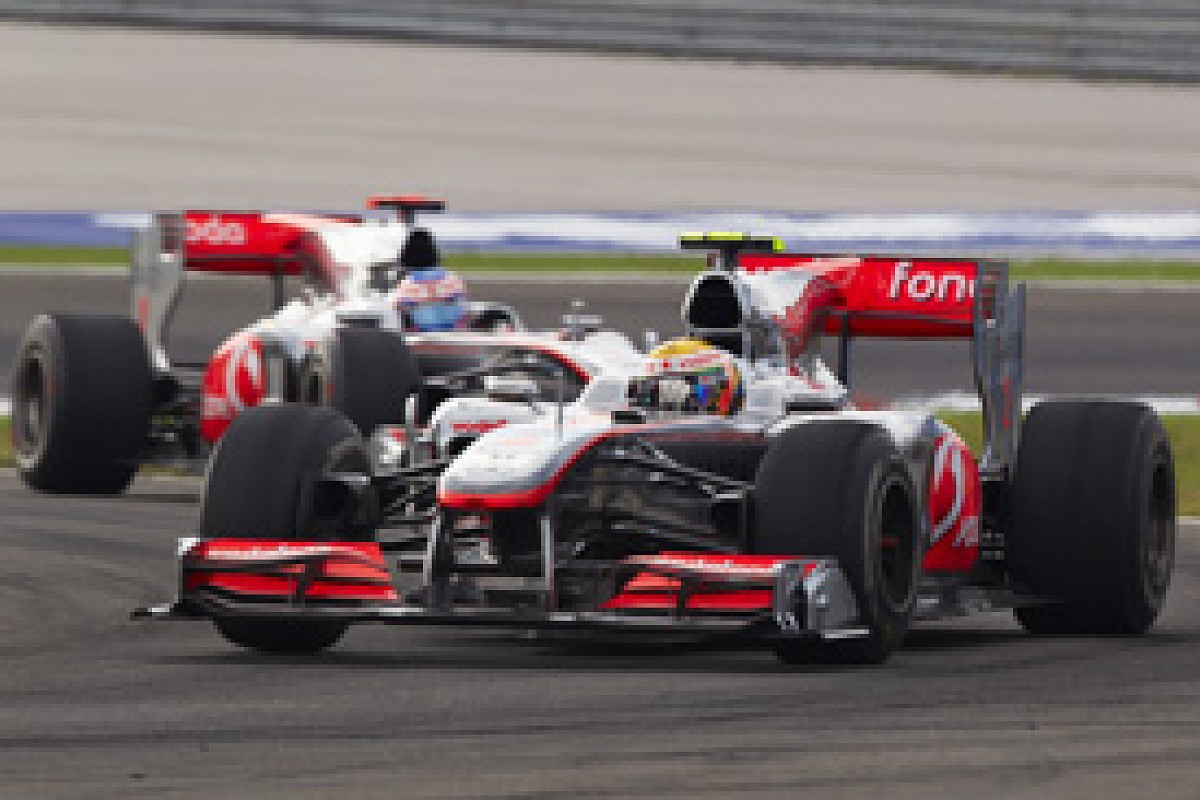 Button shadows team-mate Lewis Hamilton © LAT
As noted, races in 2011 were dominated by tyres and strategy. The consensus before the start of the season was that a 'smooth' driver such as Jenson would not get more life of the Pirellis than anybody else, and that tyre performance would simply be determined by the number of laps completed. But very often Button did seem to find something in the tyres at crucial moments, and his calculated approach paid dividends. That was particularly evident in Japan, where he took a superb win.
"Jenson knew what he had to do," says McLaren's principal race engineer Phil Prew of that race. "He knew exactly what we were targeting on the tyres and how he was going to make the strategy work for us, which did involve nursing the tyres a little bit. He made sure they lasted to our target laps, so we only had to make a three-stop race and could maintain performance all the way through."
He didn't make mistakes, and he didn't panic when things went wrong. The most celebrated example of that was in Canada, when his race appeared to have turned to disaster, and yet he kept his emotions under control and scored a most remarkable victory. There were also races, such as Monza, where he recovered from a bad first lap, kept chipping away, and came home in second.
"He had the worst start but he kept his head down and kept pushing," says Prew. "We've seen that time and again from Jenson, he doesn't allow setbacks to put him back. He had a good grid position and a bad start, but he still got on with the job."
Suzuka was another great drive, and it was important for Button that he finally scored a victory that was based purely on performance in the dry, with rain playing no part.
"I think Jenson was just driving with great confidence and great smoothness to score a fantastic win," said Martin Whitmarsh after that race. "He was the guy who did the fastest lap, which he did two weeks ago [in Singapore] as well, so he had the pace. And he just knew how to control it. He used his experience and he used his intellect to preserve tyres and be truly competitive."
As always, a driver's performance can only really be put into perspective by that of his team-mate. It shouldn't be forgotten that Hamilton still beat Button 13-6 in qualifying, and the younger man clearly still has an edge over one lap, although it's a closer contest than might have been expected.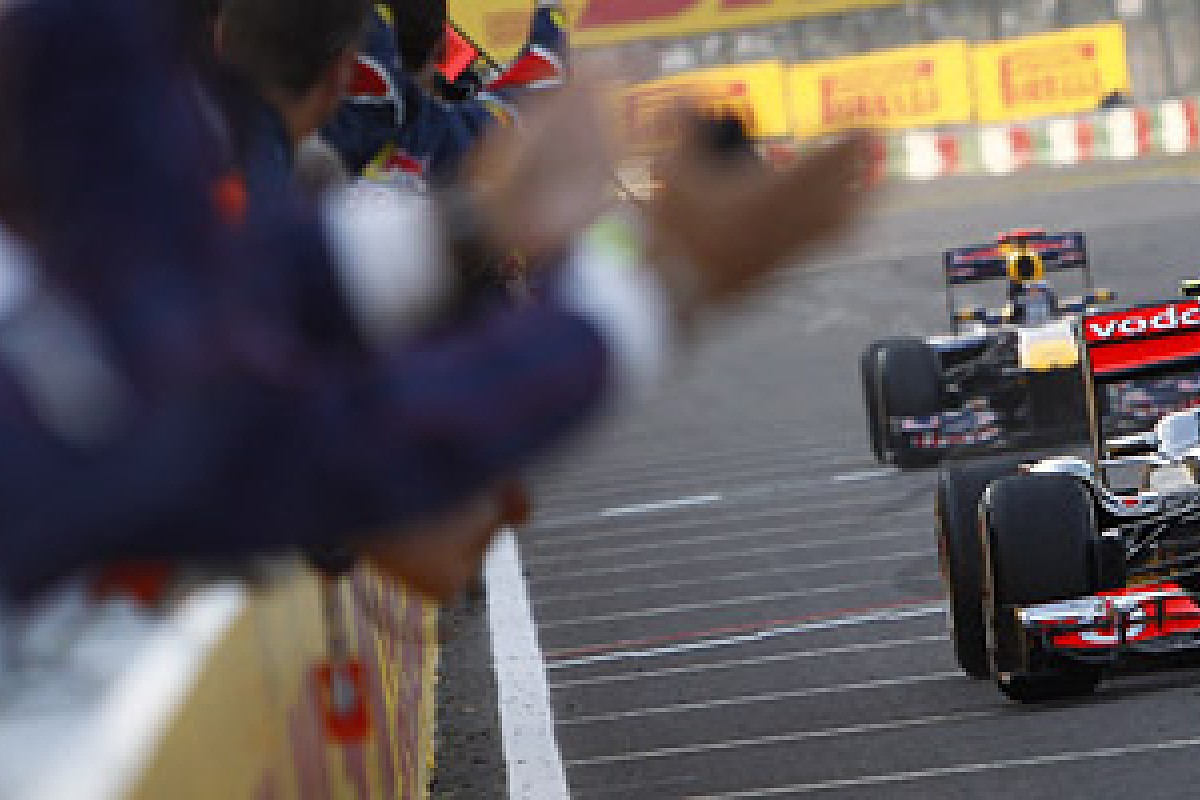 Sunday is what counts, and there were times when Jenson compromised qualifying to be in a better position come the race. Time after time Jenson outscored Lewis, who didn't help matters by getting involved in a string of incidents. Indeed, in Canada he retired after hitting Button, who was himself lucky to be able to continue after a clash that could have had much more serious consequences, both in the actual race and for the level of harmony in the camp. It was to the credit of both men that they were able to shrug it off as a racing incident.
Button always plays down the inevitable comparisons with Lewis, but the world championship rankings - he was second with Hamilton fifth - tell their own story.
"When you're working closely with a team-mate," says Button, "off the track you're sharing everything, trying to make the car go quicker and trying to improve your performance compared to other teams, which is the way it should be.
"But when you're on the circuit, you obviously both want to get the best out of the car, which means beating your team-mate is necessary. I think if we're fighting for the world championship and one of us came out on top it would be a very special feeling, but we're not in that position right now.
"It's not so much about whether you beat your team-mate over a whole season, because so many things can happen - reliability issues, incidents that maybe aren't your fault. I think if you clinch the title, it makes a big, big difference, but when you're fighting for second it's not quite the same."
It did matter though, as the world was watching and making a judgement. Inevitably there was more focus on what was wrong with Hamilton than what was right with Jenson. In Abu Dhabi Lewis gave a fascinating insight into his own psyche while also neatly summing up Button's comfortable position.
"There's not a lot of people who really understand the issues I've had this year and the problems I've been going through," he said. "And which I've been going through for the last two years. I just can't comment on them because it's not really the place or time to do so.
"But Jenson's done a great job to get things in the right place. He's got his dad there, who's there every single race, he's got his management there, he's got his friends, he's got his girlfriend there all the time. He's got a great bubble around him, which he is really happy with.
"With that he's able to go out and perform without any worries on his mind. Which I did have at one point, and lost that bubble, and I don't have that around me at the moment. I'm working on having that for the future. The conscious and subconscious part of your mind is very important in this business."
Everything went perfectly to plan for Button in 2011 - it was as if he had a Midas touch. Aged 31, and in his 12th season, he achieved a high level of maturity and experience, and that paid off time and time again.
"I thought I drove pretty well through my championship-winning season, especially the first part of the year," he says. "But I'm definitely a better driver now, thanks to the experiences that I've been through - good and bad - since then.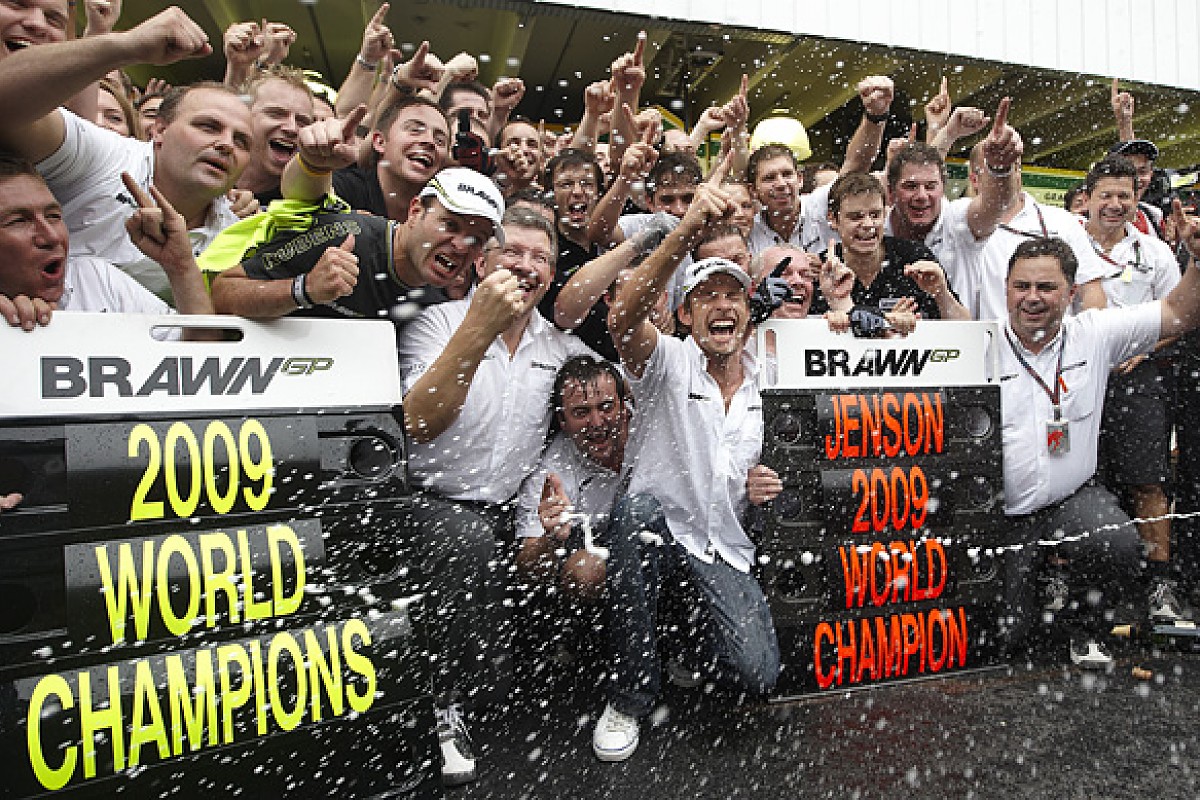 "It's pretty traumatic when you're fighting for a championship and you're struggling for pace, so the experiences I've been through and the confidence that I have now and the team that I'm working with - they definitely help my performances.
"Am I more content? I don't know. I've been pretty content over the last few years, in terms of racing and in terms of private life, so that's not making a difference.
"All I can say is that I am very happy. I think this is a great opportunity over the next couple of years to really work closely with McLaren. We are so close to fighting with Red Bull, but yet so far. I think it is good to have the continuity going forward for the next couple of years. It is going to help us take the fight to them next season, I hope. That's what we are working towards."
The focus now turns to 2012. It's impossible to make any predictions about how the MP4-27 might fare against its rivals, but McLaren can hardly make a worse start than it did with the 26. If the winter is a smooth one, and bearing in mind that Button has had a further chance to push the car in the direction he wants, there's no reason to suspect that he won't be as strong as he was this year. Hamilton insists that he will have his act together - the faultless Abu Dhabi win was a crucial boost for him heading into the winter - but he'll have to do his talking on the track.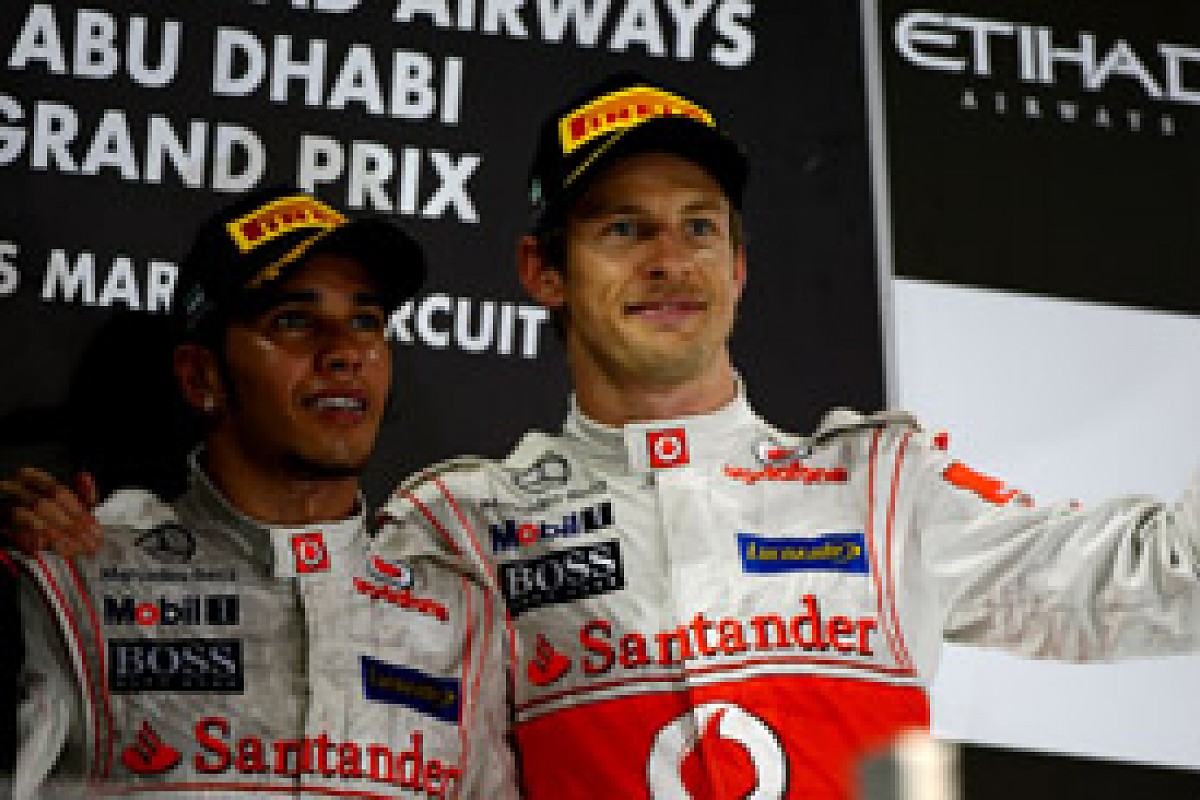 Hamilton and Button work well as a team on and off the track © LAT
"A lot of people underestimate Jenson because he's such a relaxed and mature individual," says Whitmarsh. "But he's massively competitive. You can see he never gives up. The team has had six great wins and he has contributed three of those. Canada was phenomenal.
"To beat Lewis Hamilton as a team-mate is a tough act. It hasn't been Lewis's greatest season, but nonetheless Jenson had a well-deserved second place in the drivers' championship. Everyone talks about the dominant Red Bull car. Mark is a good driver, but the fact is he was beaten in the championship by Jenson.
"He'd had some good qualifyings, he has been a world champion, and he can be again. Next year we're in a good place. We have two great drivers, they have a great relationship, and I think we can win both championships."