It's taken 18 races of the 2011 Formula 1 season for it to happen, but finally Sebastian Vettel's run of amazing form is at an end.
The world champion's retirement from the Abu Dhabi Grand Prix as a result of suspension damage caused by a punctured - and flailing - right-rear tyre, brought to an end the German's quest to set a couple of the sport's all-time records.
Vettel was the first retirement in Abu Dhabi © LAT
Here's a recap of what his DNF means for Vettel in what has already been a record-breaking year. He can no longer equal Michael Schumacher's record of 13 wins in a season, the Red Bull driver currently sits on 11 victories with just the Brazilian Grand Prix to go.
His retirement was his first since last year's Korean Grand Prix - which was also the last time a Red Bull failed to finish for mechanical reasons. Vettel's most recent first lap retirement came when he raced for Toro Rosso at the 2008 British Grand Prix.
Vettel's 19-race streak of consecutive points finishes leaves him second in the all-time list, behind Schumacher, whose 24-race run came from Hungary 2001-Malaysia 2003.
Prior to Abu Dhabi, Vettel has been on the podium in seven consecutive races; all events he'd led too.
Arriving at Yas Marina, Vettel was the only driver to complete every lap of the 2011 season. The only man to have made such an achievement stick across a whole year was Schumacher in 2002.
Red Bull's string of 19 consecutive podium finishes came to an end in Abu Dhabi. The streak nevertheless leaves the squad third on the all-time list.
Is no news good news?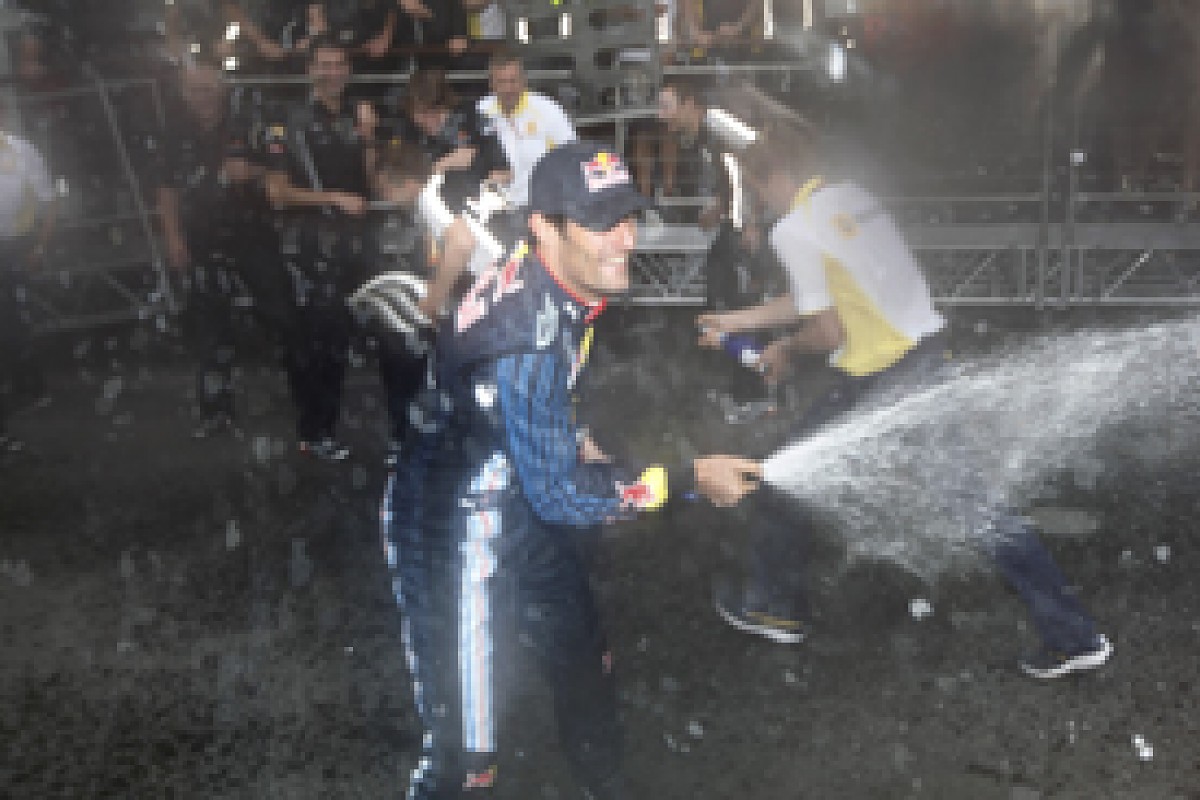 Webber was the last 'new' winner at the Nurburgring in 2009 © LAT
The Abu Dhabi Grand Prix was the 45th straight race without a new winner in F1; a new record and one that stretches back to Mark Webber's victory at the Nurburgring in 2009. The previous record was the 44 races between Alessandro Nannini at Suzuka in 1989 and Michael Schumacher at Spa in 1992.
Only Jenson Button - at the 2006 Hungarian Grand Prix - prevented the record going sooner; the gap of 43 races stretching back to Jarno Trulli's Monaco victory in 2004. These long droughts are probably the price the sport pays for having five world champions in good cars at the same time.
Williams in the record books for the wrong reasons
Williams' disastrous qualifying performance at Yas Marina was the worst in the team's world championship history. Or was it?
It certainly marked the first time that the British team had started a grand prix with both its cars on the back row, but a trawl through the record books actually turns up an even worse performance.
At the 1983 European Grand Prix, Williams entered three cars; with test driver and F2 champion Jonathan Palmer joining team regulars Jacques Laffite and Keke Rosberg.
Mechanical problems ruining the weekend plus a practice accident for Rosberg meant the reigning world champion was only 16th on the grid, while Palmer was 25th and Laffite didn't make the grid, having gone only 29th quickest in practice.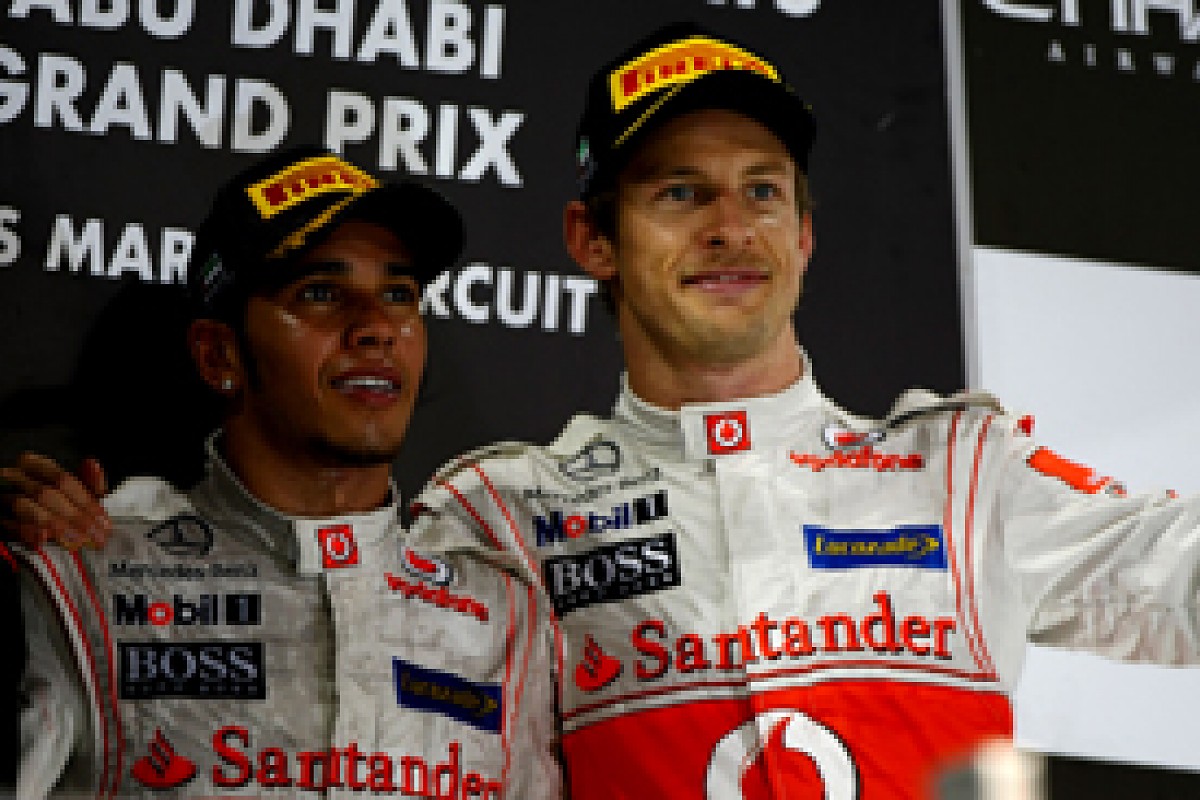 First double podium for McLaren since Spain © LAT
Race notes
• Lewis Hamilton and Jenson Button scored their 42nd podium finishes in Abu Dhabi, bringing both up to equal 15th spot on the sport's all-time list along with another British world champion, Damon Hill. It was the first double podium for McLaren since May's Spanish Grand Prix.
• Despite Hamilton's win, the points situation means he will finish behind Button in the championship, the 2008 champion 28 points behind with only 25 on offer in Brazil. It is the first time Hamilton will have been beaten by a team-mate across a season.
• Fernando Alonso's second place means he has now taken a podium finish at every circuit he's raced at in his F1 career. Indian Grand Prix venue Buddh is the only track at which he has not been either first or second. His achievement was also the first time a Ferrari driver has made the podium at Yas Marina - in full view of Ferrari World.
• Mark Webber broke new ground in Abu Dhabi, setting fastest lap for the sixth time in a still winless season. No other driver has finished an F1 season with more than five FLs without taking at least one victory.
• One positive for Webber is that he has now gone 40 races without a mechanically-induced retirement. Only Schumacher (58 races from Hungary 2001-Malaysia 2005) and Hamilton (51 races from Australia 2007-Abu Dhabi 2009) have gone further. Webber's last mechanical failure was brake-related in Singapore in 2009.
• Button has finished third in each of the Abu Dhabi Grands Prix staged to date, and each such a result has come from a different grid position. He made the podium from fifth in 2009, fourth in 2010 and third this time.
• Curiously, the only two grands prix led by Webber this year; Germany and Abu Dhabi, are the two races that Vettel has not led even a lap.
• For the fifth time in 2011, Felipe Massa equalled his season's best result of fifth place, while Alonso secured his 10th podium - the same number he scored last year.
• The Force Indias must like the darkness; Adrian Sutil and Paul di Resta scored double points in Abu Dhabi. The only other race this was achieved at was the Singapore Grand Prix - also a night race.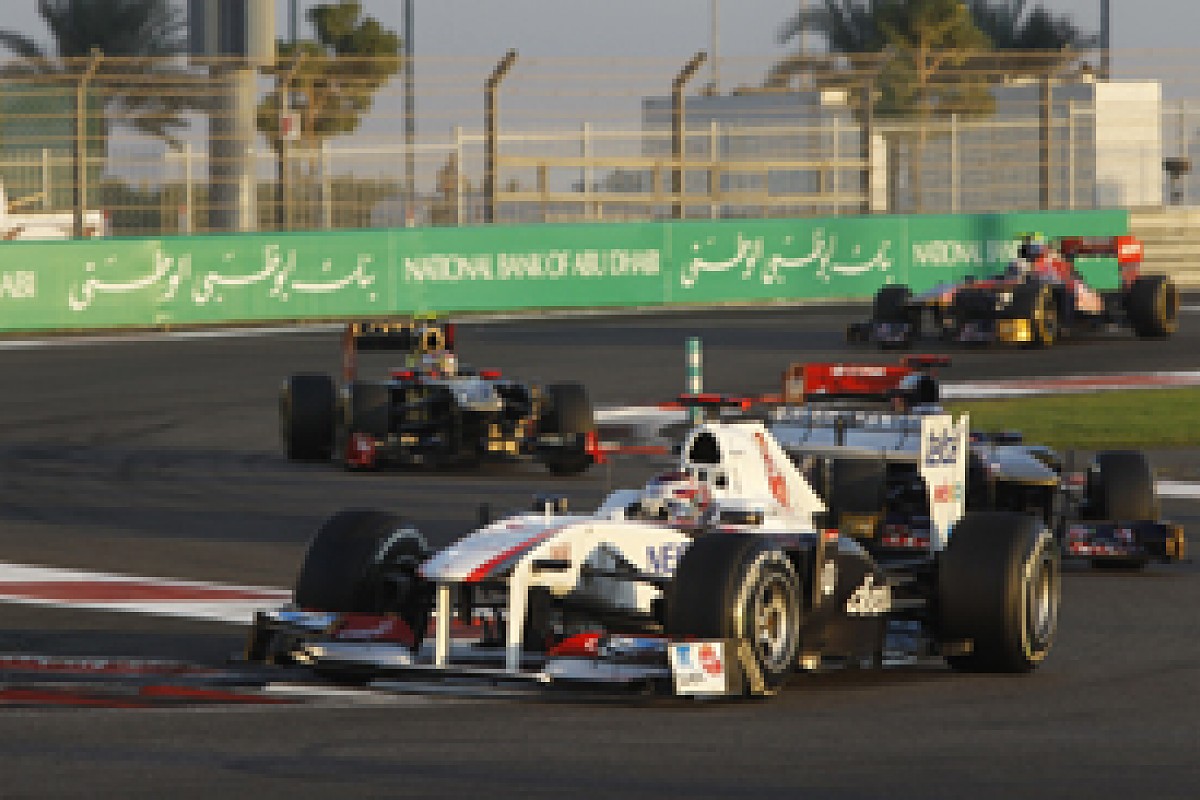 Kobayashi recovered to 10th, ending his pointless run © LAT
• Kamui Kobayashi's 10th spot ended the longest pointless streak of the Sauber driver's F1 career, seven races.
Qualifying notes
• If the race didn't pan out for Vettel, at least qualifying did. The Red Bull driver scored his 14th pole of the year to equal the all-time record of Nigel Mansell from 1992, and also became the first driver to start on the front row 17 times in a single year.
• For the 10th time in the last two years, only a Red Bull prevented Hamilton taking pole position.
• Qualifying went as expected for Ferrari with Alonso fifth for the eighth time in 2011 and Massa sixth for a fifth occasion. Mercedes performed along similar lines, Nico Rosberg seventh on the grid for a ninth time this year and Schumacher bringing up the rear of the fourth row for a seventh time.
• Both Force Indias made it into the top 10 in qualifying, marking something of a turnaround for the team. It was in Abu Dhabi in 2009 where the squad last had both cars dropped in Q1.
• It is now two years since Lotus driver Jarno Trulli made it out of Q1.
• Even without Pastor Maldonado's 10-place grid penalty, Daniel Riccardo would have taken his career best grid position in Abu Dhabi. The Australian put his HRT 20th.
• Rubens Barrichello started 24th, the worst qualifying result of his career. The veteran Brazilian started 22nd twice in 2007 for Honda and was officially 24th on the grid for the 1994 San Marino Grand Prix, but didn't start the race after his Friday qualifying crash.
• Maldonado started 23rd, the worst grid spot of his F1 career.